March, 27, 2015
Mar 27
12:00
PM ET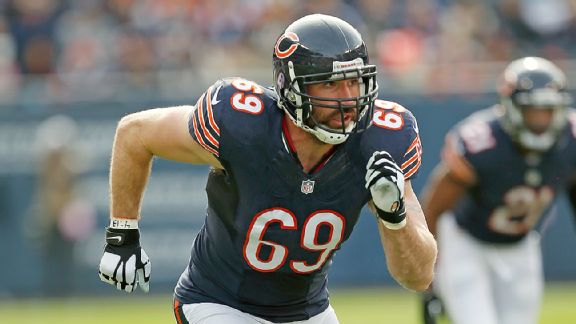 AP Images/Scott BoehmJohn Fox recently talked to Jared Allen, who will move from defensive end to outside linebacker this season.
Chicago Bears coach John Fox spoke briefly during the NFL owners meetings last week with Jared Allen, who lives in Arizona during the offseason.
Fox came away from the brief talk with Allen encouraged about the veteran's prospects for 2015.
"I don't know that [2014] was his best season. I think there were reasons, not excuses," Fox said. "I talked to him briefly out here. He lives out here. So it's good to touch base, air and share some ideas. He'll get that opportunity to compete. He could be one of those guys that might make a big jump."
Having played defensive end his entire 11-year career, Allen makes the switch to outside linebacker in Vic Fangio's 3-4 front in 2015, and faces competition for time on the field from players such as Lamarr Houston, Willie Young and recent signee Pernell McPhee.
Houston and McPhee possess enough bulk to play inside at defensive end in base packages, but Allen will play exclusively at outside linebacker, according to Fox and general manager Ryan Pace. Based on Fangio's past, it's expected the Bears will deploy Allen in creative ways in the team's substitution packages.
Allen played in 15 games last season, producing 64 tackles and just 5.5 sacks. Prior to the 2014 season, Allen had racked up double-digit sack totals for seven consecutive years, including eight of the last nine seasons.
Allen missed the team's Week 4 loss to Green Bay due to pneumonia, which caused him to lose 15 pounds, and ended a streak of 113 consecutive starts.
Fox also cleared up confusion regarding the expected role for 2012 first-round pick Shea McClellin, who moved to linebacker last year, after spending his first two seasons at defensive end. Fox plans to try McClellin at inside linebacker in the club's base package, which means he'll be fighting for playing time alongside new signee Mason Foster, Jonathan Bostic and Christian Jones.
McClellin started 10 games in 2014 and contributed 84 tackles and a sack.
"We don't really know. I think the biggest success I saw of him was when he came out of Boise State was as a 3-4 outside backer," Fox said. "It hasn't gone as well for him as far as position fit, in fairness to him, and that's not being judgmental on anyone. I think we're going to start him inside because it's a harder position to learn, but he will be both. So we don't really have a position per se. A linebacker is a linebacker, and he'll get a chance to compete at both. But more likely, we'll start him inside."