Chicago Bears:

NFL Combine
February, 21, 2014
Feb 21
9:00
AM ET
With the NFL combine starting Feb. 22, here's a look at Chicago's positions of need and which prospects the Bears might be looking taking a closer look at in Indianapolis. Positions of need are listed in order of importance.
Position of need
: Center
Finally, the
Chicago Bears
achieved stability along the offensive line in 2013, but that's already in jeopardy with veteran center
Roberto Garza
set to hit free agency.
Garza
On an offensive line that featured four new starters in 2013, Garza was the club's lone holdover from the 2012 team but put together one of his finest performances since switching to the center position full time. Garza received $2.05 million in base salary in 2013, but moving forward the club isn't inclined to pay in that range for the veteran, who next month turns 35.
So given the club's current cap situation, all indications are Garza will strongly consider moving on in 2014.
"I've let Roberto know that I was proud of his season and obviously we will work through it, but we would like him back," Bears general manager Phil Emery said. "I'm sure he'll have some choices to make and we'll see how it goes. But very pleased with his season. We use STATS, Inc. to give us an independent source of disruptions, hits, sacks [and] knockdowns given up. A year ago he was at 11 total for the season. This year he was at five. I've told him I thought he made a big push up. He got a lot better with his overall body position and his hip-placement. He's obviously very important in terms of calling signals for our offensive line and making point adjustments. He did a lot of good things. Obviously there are some dynamics about where he's at in his career. He's 35-years-old, not to get too far into the discussion. But Roberto knows that we want him to come back."
Garza would like to return, too. But he'd also what he deems a fair contract.
"I'm going to definitely want to come back. I feel like I can still play. I can still go out there and help the team by going out there and playing as good as I can. So hopefully it all works out," Garza said. "It's the first time I'll be in this situation since I got here. So we'll see what happens, see what the future holds. I definitely want to keep playing."
Outside of Garza the Bears have few options at center, which means there's a sure bet the team looks to add at the position through the draft or free agency. Even if the team brings back Garza, it still needs to start making contingency plans for the future.
Taylor Boggs
was Garza's primary backup last season, and he's an exclusive-rights free agent (a player with an expiring contract who has less than three accrued seasons. He can only sign with the Bears if he's offered a one-year tender. If the team doesn't offer a tender, he can sign with any team) while
Eben Britton
, who took reps at center during training camp, is set to hit unrestricted free agency.
Three players the Bears could be targeting
Travis Swanson, Arkansas:
Drew mixed reviews at the Senior Bowl, where he played both center and guard. Swanson moved well during drills at the Senior Bowl, but wasn't dominant. At Arkansas, Swanson started all 50 games of his career, becoming the first player at the school to start 50 consecutive outings. So the durability is there. Swanson was also elected a team captain in each of his last two years, which speaks to his leadership abilities. He should be an immediate starter in the NFL.
Weston Richburg, Colorado State:
Like Swanson, Richburg receives high marks for durability (started every game over the last four years, including three starts at guard). He surprised scouts at the Senior Bowl with his quickness and ability to neutralize some of the more powerful interior defenders. Richburg projects to be a second- or third-round pick, but if he continues to perform the way he did at the Senior Bowl, his stock should rise.
Marcus Martin, USC:
An early draft entrant, Martin isn't as experienced as Swanson or Richburg because he played guard his first two seasons before making the switch last season to center. Martin possesses the frame scouts covet, in addition to impressive quickness, flexibility and natural leverage. Martin also plays with the nastiness coaches covet. Martin is expected to be taken in the third round or below, and could be a solid prospect the Bears could spend a year developing behind Garza, provided he's brought back.
February, 20, 2014
Feb 20
9:00
AM ET
With the NFL combine starting Feb. 22, here's a look at Chicago's positions of need and which prospects the Bears might be looking taking a closer look at in Indianapolis. Positions of need are listed in order of importance.
Position of need
: Cornerback
With franchise stalwart
Charles Tillman
pondering pending free agency,
Tim Jennings
, who signed a four-year deal in January worth $11.8 million guaranteed, remains the only cornerback on the club's roster with experience as a starter.
Even if the Bears manage to bring back Tillman to start opposite Jennings in 2014, they still need to add depth in addition to addressing the future at the cornerback position. Of the nine cornerbacks on the roster at the end of the season, four are free agents; a list which includes Tillman,
Kelvin Hayden
,
Sherrick McManis
and
Zack Bowman
.
Tillman started in eight of nine games before finally going on the injured reserve with a torn triceps.
"We dearly missed the on-the-field leadership of Charles Tillman after his injury," Bears general manager Phil Emery said at the end of the season. "He is a physical, playmaking football player who the players greatly respect. All of his teammates respect him. His loss had a significant impact on where we were as a defense."
That loss could wind up being permanent despite the sides remaining engaged in dialogue about a deal that could bring back Tillman for 2014.
Three players the Bears could be targeting
Justin Gilbert, Oklahoma State:
Some mock drafts project Gilbert going to the Bears at No. 14. In addition to running track in college, Gilbert picked off seven passes, running two back for touchdowns. Considered a big-play specialist, Gilbert also provides versatility as a potential return man. He averaged 25.2 yards per kick return at Oklahoma State, including five returns for TDs.
Darqueze Dennard, Michigan State:
Not as big as Gilbert, but a case can be made for Dennard being the only shutdown corner in this year's class. Dennard won the Thorpe Award, given annually to the top defensive back in the nation. Dennard picked off four passes last season, in addition to contributing 59 tackles. There have been questions about Dennard's true speed, but he's considered one of the more fundamentally sound corners of the class.
Jason Verrett, Texas Christian:
Florida State's
Lamarcus Joyner
possesses similar size, but played with a better supporting cast than Verrett, who is instinctive, anticipates well, and physical, despite a lack of ideal size. Opponents threw away from him during his final season, but Verrett picked off nine passes and broke up 34 more in three years as a starter. Verrett's explosiveness is similar to that of Jennings.
February, 19, 2014
Feb 19
9:00
AM ET
With the NFL combine starting Feb. 22, here's a look at Chicago's positions of need and which prospects the Bears might be taking a closer look at in Indianapolis. Positions of need are listed in order of importance.
Position of need:
Safety
The Bears made changes in the starting lineup at the safety position more than 50 times under former coach Lovie Smith prior to last season, but it was expected in 2013 the turnover would finally come to an end.
Conte
Wright
It did last season -- which was expected to be a breakout year -- with
Major Wright
and
Chris Conte
starting all but one game together. But the numbers say the Bears perhaps should've considered changes at the position because both safeties struggled tremendously. A team source said after reviewing tape from the season that there was "no explanation" for Conte and Wright's inconsistency.
"I saw with our safety play, and I'm sure that Major and Chris would agree, they did not play at the ability and capability level throughout the season that we would have expected," Bears coach Marc Trestman said. "I think they would be their own worst critics in this area; that they would have wanted more out of themselves."
Opposing quarterbacks generated a passer rating of 104.5 on passes thrown in Conte's coverage area, according to Pro Football focus, and the safety allowed a 21.5-yard average on 22 completions while surrendering four touchdowns, including the 48-yard scoring strike on fourth down from
Aaron Rodgers
to
Randall Cobb
, which essentially ended Chicago's season. Wright performed worse, allowing a 77.8 completion percentage as quarterbacks produced a passer rating of 146.8 on throws his direction for five touchdowns.
In addition, Wright and Conte combined for 31 missed tackles.
Wright is a pending free agent, while Conte enters the final year of his original rookie contract. So it's almost a given the Bears will target at least one safety in May's NFL draft, while possibly adding to the position in free agency as well.
Three players Bears could be targeting
Ha Ha Clinton-Dix, Alabama:
Played at a big-time program at Alabama, and Bears general manager Phil Emery has an affinity for SEC players because of the level of competition they face on a week-to-week basis. Clinton-Dix is already well-versed in directing somewhat of a pro-style defense, and is considered instinctive and fluid. The knock on Clinton-Dix so far has been a perceived lack of physicality, but he'll likely be a first-round pick, which might be too rich for the Bears.
Calvin Pryor, Louisville:
Perhaps one of the more rounded safeties of this year's class, Pryor entered the draft early. Former Louisville coach Charlie Strong says the safety is one of the best players he's ever coached. Pryor produced 75 tackles and intercepted three passes last year, and possesses range comparable to Clinton-Dix. But he is perhaps a more physical player that will mix it up at the line of scrimmage against the run. Pryor might push Clinton-Dix to be the first safety taken, which again, might be too rich for the Bears at No. 14.
Jimmie Ward, Northern Illinois:
Not as big as the safeties listed above (5-11, 193), Ward caught the attention of scouts at the Senior Bowl and was named most outstanding defensive back of the week. Atlanta's staff lined up Ward in multiple spots, and the safety didn't disappoint. An aggressive hitter, Ward picked off seven passes and broke up 10 more at Northern Illinois, and has started games at cornerback. He projects as a second- or third-round pick, which might be the ideal range for the Bears.
February, 18, 2014
Feb 18
9:00
AM ET
With the NFL combine starting Feb. 22, here's a look at Chicago's positions of need and which prospects the Bears might be looking taking a closer look at in Indianapolis. Positions of need are listed in order of importance.
Position of need
: Defensive end
Questions remain as to whether the Bears should cut or retain defensive end
Julius Peppers
, who produced 11 sacks or more in 2011 and 2012, but finished 2013 with 7.5 sacks. That production isn't bad for most, but most players don't carry a cap charge of $18.183 million in 2014, which is why a decision on Peppers remains one of the club's top offseason priorities.
Complicating the situation is the fact former first-round pick
Shea McClellin
hasn't produced at a level commensurate with his draft slot, while veteran starter
Corey Wootton
is set to hit free agency.
David Bass
,
Cheta Ozougwu
and
Cornelius Washington
are the only other defensive ends on the roster, which means the team could look to the draft or free agency for more help at the position.
The problem is the 2014 draft isn't very deep at defensive end, which makes keeping Peppers or adding through free agency attractive options.
"Julius had a lot of good games like a lot of our players, and he had games he would want back," Bears general manager Phil Emery said. "We will work through each and every player on our squad to determine where we're going with him in the future. Julius is under contract. We're proud he's a Bear, and that's where we're at."
Emery has talked in the past about players that transcend scheme. Below are a few potential Bears options capable of playing in multiple defensive schemes.
Three players the Bears could be targeting
Kony Ealy, Missouri:
Versatility sticks out as a hallmark of Ealy's game. At Missouri, he lined up in different spots all along the defensive line, and also stood up on the outside as a rusher. Projected to be taken in the mid-to-late first round, Ealy could play the role of a traditional 4-3 defensive end, but is believed by some to be better suited to play outside linebacker in a 3-4 system.
Stephon Tuitt, Notre Dame:
Big enough (6-foot-6, 312 pounds) to play inside in a 4-3 scheme or at end in a 3-4. Over the past two seasons, he's produced 19.5 sacks. Tuitt is projected to be a late first-round or second-round pick, and despite his scheme versatility, he might not be the type of penetrating force the Bears covet from their defensive tackles, but he's plenty capable of holding the point against the run.
Kareem Martin, North Carolina:
Lined up at defensive end and defensive tackle at the Senior Bowl, according to reports, and is coming off an 11.5-sack senior season. Martin appears to be more of a traditional 4-3 end at 6-foot-6, 272 pounds, but he believes he could play outside linebacker in a 3-4 scheme. Martin's draft projections vary widely, but if he falls into the second or third round, he could be a solid addition for Chicago.
February, 17, 2014
Feb 17
9:00
AM ET
With the NFL combine starting Feb. 22, here's a look at the Chicago Bears' positions of need and which prospects the team might be looking taking a closer look at in Indianapolis. Positions of need are listed in order of importance.
Position of need
: Defensive tackle
The Bears lost two defensive tackles in franchise player
Henry Melton
and his reserve,
Nate Collins
, over a span of 15 days last season, leading to a domino effect that would collapse the entire defense into ineffectiveness, not to mention failure of historic proportions.
The Bears gave up the most points (478) and total yards (6,313) in franchise history, and in the process surrendered 10 100-yard rushing performances, in addition to a 211-yard outing by Minnesota's
Adrian Peterson
. Bears general manager Phil Emery took responsibility for the Bears not having a successful contingency plan up front to counteract all the losses.
"It starts with me," Emery said at the end of the season. "We had injuries. They are not an excuse. So for me, I have to look at did we have enough depth to win football games? The answer is no. From a personnel perspective, from my perspective, I had not done enough to provide enough depth. We were at least one defensive lineman short. At the tackle position going into the season, for that fourth tackle, we felt like we had a tackle signed in
Sedrick Ellis
; that didn't work out (because he retired on the eve of training camp. That's on me. The fact that we couldn't replace Sedrick, that's on me. We didn't have enough pass rush from the outside or the inside. We needed one more."
Look for the Bears to try to fulfill that need in May during the NFL draft.
Melton and Collins are free agents, as are
Jeremiah Ratliff
and versatile end/tackle
Corey Wootton
, who is recovering from offseason hip surgery, and
Stephen Paea
is entering the final year of his original rookie deal.
Three players the Bears might be targeting
Timmy Jernigan, Florida State:
Projected as a penetrating one-gap defensive tackle, Jernigan fits Chicago's scheme, provided it decides to continue to operate out of a 4-3 front in 2014. Jernigan appears to have more upside than Melton in terms of his ability to disrupt running plays in the backfield. At the very least, Jernigan could come in and become a part of the team's defensive line rotation as a rookie if he doesn't outright win a starting job.
Louis Nix III, Notre Dame:
Probably not an ideal fit for a one-gap scheme, but has ideal size to produce as a two-gapping 3-4 nose. The question is whether the Bears plan to transition over to that front. If so, Nix might be the perfect foundation for that construction project. Based on the team's current personnel, it might not be ready just yet to make the 3-4 transition, which means Nix might not be Chicago's man at No. 14.
Aaron Donald, Pittsburgh:
Not as tall as Melton, but similar in terms of weight (288 pounds, but he could easily get up to 300) and skillset. Like Melton, Donald is probably most disruptive as an interior pass-rusher, but some scouts think he might be capable of holding the point consistently as a run defender. Donald fits what the Bears do defensively, but again, the caveat is whether the team decides to continue running the current scheme in 2014.
February, 22, 2013
2/22/13
8:13
PM ET
INDIANAPOLIS --
Notre Dame
's
Tyler Eifert
is exactly the type of player the
Chicago Bears
are missing on offense.
Checking in at 6-foot-5, 250 pounds, Eifert's greatest strength is his ability to use his size and speed from the tight end position to create mismatches downfield in the passing game. With 140 catches for 1,840 yards and 11 touchdowns in three seasons for the Fighting Irish, Eifert might be the closest thing to
Jimmy Graham
or
Aaron Hernandez
in the 2013 NFL draft.
February, 26, 2011
2/26/11
7:05
PM ET
INDIANAPOLIS --
Martez Wilson
fantasizes about taking the
Derrick Rose
route.
Like Rose, Wilson attended Chicago Simeon. Like his basketball counterpart, Wilson sees himself starting a professional sports career in his home town of Chicago.
"If I could, that would be great to play for a team I grew up rooting for," Wilson said. "But no matter who drafts me, I'll be happy."
[+] Enlarge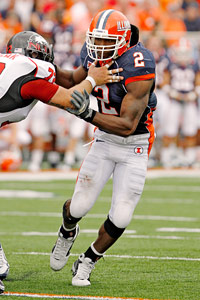 Chuck Rydlewski/Icon SMIMartez Wilson hopes to match the NFL success of so many Illinois linebackers before him.
A standout linebacker at
Illinois
and one of the country's most highly-coveted recruits coming out of high school, Wilson spent Saturday at the NFL Combine at Lucas Oil Stadium explaining to reporters what he's probably telling coaches, scouts and general managers around the league when addressing concerns about his character, injury history and mostly-underachieving career in college.
Wilson missed most of the 2009 season after undergoing neck surgery, but returned last season to lead the Illini in tackles, in addition to posting four sacks and an interception to go with 11.5 tackles for lost yardage. It was the type of season Illinois expected from Wilson when he arrived on campus in 2007, but he never seemed to deliver.
"It was very much-needed," said Wilson, a junior who gave up his final year of eligibility. "Just having that moment [after] coming off neck surgery; most people wouldn't want to play football again after an injury of that nature. It was important to come out like that. To have a great season like I did was wonderful. I loved every minute of it. It was precious."
What probably isn't as cherished an experience, though, is all the poking, prodding and interviewing with Wilson going on behind closed doors here at the combine.
In addition to having to answer questions about injury concerns, Wilson will have to address questions about character. Wilson was stabbed prior to the 2009 season while reportedly helping a former teammate during a fight outside a bar.
Wilson's underachieving college career will also become a topic of conversation. He posted 112 tackles in 2010 to go with four sacks, after generating a combined 102 tackles and five sacks over his first two seasons.
"I was told for the past two months that it's a job interview, so give as much information as they need and want, and be up front and honest with them," Wilson said. "So that's what I've been doing so far."
He's also showcasing his confidence in meetings with teams.
Scouts like Wilson's upside and quickness, but question his instincts. They also express concerns about why Wilson never lived up to all the hype coming out of high school.
Wilson, meanwhile, says he has "the potential to be one of the best ever."
"I'm very confident in my game, and as you can see, I don't show [any] shyness" Wilson said. "I want [scouts and coaches] to know this kid really loves the game and plays with passion. If I do everything well that I need to do here and continue to improve even after the combine and impress scouts, impress coaches and general managers, I think my chances are very high. I'm confident in myself and I'll be working very hard. The sky is the limit."
Wilson is considered a potential first-round talent by some, and a raw third- or fourth-round prospect by others. Illinois sports a talent-rich tradition of linebackers that went on to stellar NFL careers, and Wilson wants to become the latest addition to the group.
When a reporter mentioned former Illinois greats Dick Butkus and Ray Nitschke, Wilson countered quickly.
"And
Dana Howard
,
Simeon Rice
, the list goes on," Wilson said. "The coach said if you want to be one of those great guys, you have to do what's needed to be great. You have to do what people aren't doing. You've got to watch more film, exercise more, stretch more, things like that. I take [note of] everything and I do those things."
February, 26, 2011
2/26/11
5:20
PM ET
INDIANAPOLIS -- The Bears aren't looking for a quarterback, obviously, with
Jay Cutler
in the fold.
But we couldn't resist blogging about former Arkansas quarterback
Ryan Mallett
, who took plenty of flak for his comportment Saturday during an interview here at the NFL Combine.
The interview was cut somewhat short by a combine official, as reporters repeatedly questioned Mallett about rumors concerning drug use in the past. Although Cutler is often criticized about his personality and demeanor, we've never witnessed him in an exchange similar to this (and he's been grilled way more thoroughly by Chicago media than Mallett was on Saturday).
Questioned about the drug rumors, Mallett said, "I'm not going to talk about that right now. I've got the interviews with teams, and when teams need to know what they need to know… I'm going to leave it at that. Obviously, somebody did it for a reason right before the combine and before the draft. But that's the last I'm going to talk about it."
Obviously, Mallett meant what he said. The interview continued for a few more minutes, before a reporter later told the quarterback that rumors concerning him would likely continue if he refused to address them.
Mallett responded with "thanks" as a combine official escorted him away from the podium.