Chicago Bears:

Nick Perry
March, 25, 2014
Mar 25
6:20
PM ET
Don't put a label on new
Green Bay Packers
defensive end
Julius Peppers
.
In fact, he probably shouldn't even be called a defensive end.
The way Packers coach Mike McCarthy
explained it to reporters on Tuesday
at the NFL annual meetings in Orlando, Fla., the newest addition to the Packers' defense will play a hybrid position -- a combination of an outside linebacker and defensive lineman the Packers will call an "elephant."
[+] Enlarge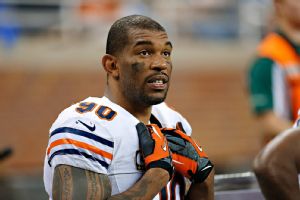 AP Photo/Paul SancyaThe Packers plan to use Julius Peppers in a variety of ways along their defensive front.
It's a spot that McCarthy first revealed
during an interview at the NFL scouting combine
last month that was in his plans, well before he knew he would have Peppers on his roster.
In preparing for that role, Peppers will spend most of his individual practice time and meeting sessions with the linebackers, who were merged into one group under assistant head coach Winston Moss and position assistant Scott McCurley following the resignation of outside linebackers coach Kevin Greene shortly after last season ended. It also means Peppers will not work directly under defensive line coach Mike Trgovac, who was Peppers' defensive line coach and defensive coordinator with the
Carolina Panthers
from 2002-08.
"Elephant is a term used for a multiple-position player along the defensive front," McCarthy told reporters at the league meetings. "Julius will be part of that group.
"The specifics I'd rather get into once the players find out, once we go through it with the players, but that's the big-picture outlook for the way we'll use Julius defensively."
In his only public comments since he signed with the Packers, Peppers, who was released this month by the
Chicago Bears
, told the Packers' web site he expected his role to be "something different" than it was during his stint with the Bears.
This would qualify as such.
Even before the Packers signed Peppers to a three-year, $26 million contract on March 15, they had planned to use the elephant position for
Mike Neal
and
Nick Perry
. In some defenses, the elephant position is used to describe an end who lines up between the offensive tackle and the tight end (in what is called the 7 technique) but based on McCarthy's comments on Tuesday, it appears he has multiple positions in mind for his elephants.
Perry, a former first-round draft pick, was a defensive end in college but switched to outside linebacker with only moderate success the past two years. Neal played his first three NFL seasons at defensive end before he switched to outside linebacker last season.
The trio of Neal, Peppers and Perry could be interchangeable this season.
"It's not only your position, your alignment, it's your assignment," McCarthy said. "So he has more to offer in his opinion, and I agree with him, from an assignment standpoint. So where he aligns, competing against Julius, he's lined up on both sides at defensive end. He has been an inside rusher, so those experiences he already has and will continue to do so."
The addition of Peppers and the redefinition of some positions could make coordinator Dom Capers' defense look a lot less like the traditional 3-4 he has run throughout his 28-year NFL coaching career. But McCarthy said Capers' defense has evolved into a two-linemen look more than ever to combat the spread offenses used so prolifically around the league.
"How much 3-4 defense do we play?" McCarthy said. "We've been averaging 24-25 percent over the past five years. So we're playing so much sub."
When the Packers do use their base defense, McCarthy confirmed that recently re-signed lineman
B.J. Raji
will return to his old position, nose tackle. Raji played more at defensive end the past three seasons, when his productivity waned. McCarthy said the plan for Raji will be to "cut him loose."
May, 22, 2013
5/22/13
10:30
AM ET
As rosters shake out this summer, you'll hear a fair amount about the "youngest" and "oldest" teams in the NFL. Sometimes those figures and rankings can be skewed by aged kickers or an exceptionally youthful set of reserves, so I like what colleague Mike Sando compiled this week over on the NFC West blog.
Sando has
a comprehensive chart
ranking teams by the average age of their projected starters, ostensibly the most important 22 players on the roster. (Specialists weren't included, mostly because age isn't as relevant for them.) Naturally, there are some best guesses involved when you're looking at a starting lineup in May, but most teams have provided enough clues either through minicamps or organized team activities (OTAs) to make a reasonable projection.
As it turns out, the
Chicago Bears
have the NFL's oldest set of starters when viewed in this way. As it stands now, their starting defense includes four players who are at least 30 and two more who are 29. That figure could change if either (or both) of their two rookie linebackers,
Jon Bostic
(22) and
Khaseem Greene
(22) win a starting job. But for now, the Bears' starting linebackers are
Lance Briggs
(32),
D.J. Williams
(30) and
James Anderson
(29). They are set to play alongside defensive end
Julius Peppers
(33), cornerback
Charles Tillman
(32) and cornerback
Tim Jennings
(29).
The
Detroit Lions
rank No. 16 overall largely because their offensive starters are the NFL's sixth-oldest, headed by center
Dominic Raiola
(34), receiver
Nate Burleson
(31) and tight end
Tony Scheffler
(30). For the purposes of this projection,
Corey Hilliard
(28) is considered the right tackle over
Jason Fox
(25).
Meanwhile, starters from the
Minnesota Vikings
and
Green Bay Packers
rank among the NFL's nine youngest.
Making a value judgment here is much harder than compiling the figures. Younger isn't necessarily better, especially at key positions, unless it represents a longer-term fixture at the position. And in some cases, age represents the staying power of an elite player. For 2013, at least, I'm sure the Bears would prefer Briggs over, say, the Lions'
DeAndre Levy
(26) or the Packers'
Nick Perry
(23).
NFL team-building can be cyclical, however. What we can say, I think, is that teams with older starters have more urgency to identify and develop their next generation of players. Presumably, those with younger starters have already begun that process.
Related:
The Packers and Vikings
lead the division
, respectively, with draft picks remaining on their roster.
December, 11, 2012
12/11/12
2:30
PM ET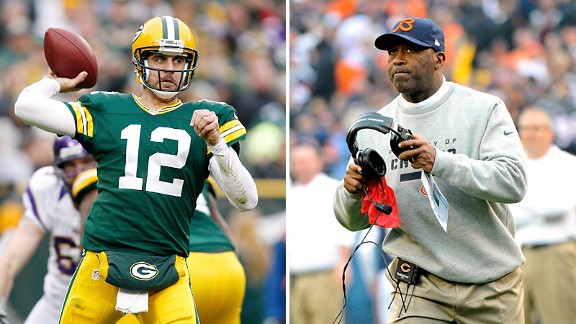 Getty Images, USA TODAY SportsThe future for Lovie Smith as Bears coach may be in question with another loss to Aaron Rodgers.
You know how we are around here. We don't like to live in the moment. We want to look ahead, to anticipate what's next, to project and speculate and prognosticate. When at all possible, we look for deep meaning and revealing symbolism in everyday events.
Week 15 provides us an opportunity to do just that. So I'll introduce this sentiment for your consideration: Sunday's game at Soldier Field could put the competitive rivalry between the
Chicago Bears
and
Green Bay Packers
on hiatus for several years.
A Packers victory would be their sixth consecutive win over the Bears, including the 2010 postseason. More importantly, it would clinch the Packers' second consecutive NFC North title. And while the Packers appear poised for continued success, the Bears could soon be jolted into a significant overhaul this winter.
A division championship would validate the Packers' re-tooling effort, one that has centered around getting younger on defense. A loss for the Bears could leave them needing help to get into the playoffs even if they win out and finish at 10-6. (
ESPN.com's Playoff Machine
will show you how they could lose a tiebreaker to the
Washington Redskins
at 10-6.)
Thus the Bears would be at risk of becoming the second team in the 23-season history of this playoff format to miss the postseason after a 7-1 start, a collapse that would pile a number of difficult decisions on the desk of general manager Phil Emery. Topping his list would be the status of coach Lovie Smith, but this season has also exposed the Bears' aging defense as well as their continued inability to find continuity on their offensive line.
Emery's course for the franchise will hinge in part on whether he re-signs quarterback
Jay Cutler
, whose contract will expire after the 2013 season. Cutler mused about various possibilities
during his ESPN 1000 radio show
Monday and acknowledged the franchise's path isn't clear.
"I don't know how they feel about me and where they see the franchise going," Cutler said. "You get a new GM in and we'll see how it goes. He's got a lot of tough decisions coming forward. ..."
[+] Enlarge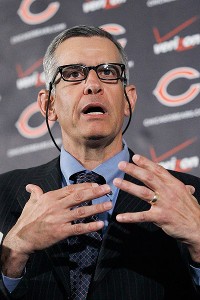 AP Photo/Charles Rex ArbogastWith another late-season fade in progress, Bears GM Phil Emery could find himself in rebuilding mode soon.
It's hard to imagine the Bears parting ways with Cutler under any circumstances. But
Brian Urlacher
's physical fade in the past year illustrates why Emery might want to plan more aggressively for the eventual departure of linebacker
Lance Briggs
, cornerback
Charles Tillman
and defensive end
Julius Peppers
. He will also need to re-evaluate the franchise's in-house strategy for building an offensive line. For three consecutive seasons, the Bears have fielded a patchwork group that has left Cutler battered. In 2011 and 2012 alone, 10 different linemen have made at least one start.
From a big-picture perspective, the biggest gap between the Bears and Packers is that Cutler has been forced into the role of the Bears' sole difference-maker while the Packers have reduced their reliance on quarterback
Aaron Rodgers
. One piece of surprising evidence: Rodgers has thrown only two touchdown passes in his past three games, the fewest over any three-game stretch of his career, according to ESPN Stats & Information.
Instead, the Packers are building a running game based on patience, if nothing else. They have averaged 135.8 rushing yards over their past five games, giving carries to five different running backs over that period in what has amounted to a mini tryout. And of the six defensive players the Packers selected at the top of the 2012 draft, four are part of the regular rotation and a fifth -- linebacker
Nick Perry
-- would be were it not for a season-ending wrist injury.
The Bears have a much shorter list of young building blocks at this point. Of the 56 players on their active roster or injured reserve, you could count maybe six as established and credible starters who will be under the age of 28 next season. That list includes defensive tackle
Henry Melton
, guard
Lance Louis
, receiver
Earl Bennett
, safeties
Major Wright
and
Chris Conte
and receiver
Alshon Jeffery
.
These issues will exist whether or not the Bears win Sunday, and they won't dissipate even if they go on to win the Super Bowl. But a loss would be the Bears' fifth in six games, a year after they dropped five of their final six to scuttle a 7-3 start. That might be enough to spur the kind of sea change we haven't seen in Chicago in a decade, one that cedes divisional competitiveness for a stretch.
Just a thought. We'll be here all week.
November, 7, 2012
11/07/12
11:00
AM ET
As we noted last month, we've done away with the weekly Stock Watch post and instead will hit it after every quarter of the season. Here's what we posted
after every NFC North team had played four games
, and below is our assessment now that everyone has played at least half of the games on their 2012 schedule. I'm such a happy guy that I went crazy and shifted a slot from our "Falling" category to "Rising" to reflect the fact that all four of our teams are at least .500 at the moment. The glass is half-full up in here.
FALLING
[+] Enlarge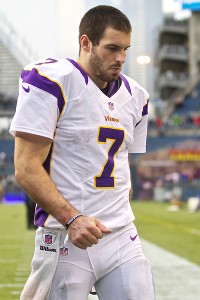 Stephen Brashear/Getty ImagesChristian Ponder has thrown six interceptions in the past four games, three of them losses.
1. Minnesota Vikings' vision:
The most important task facing the Vikings this season was not challenging for a postseason spot, something a 5-3 record through eight games put them in position to do. Instead, it was developing and cementing quarterback
Christian Ponder
as their long-term answer at the position. Ponder made clear progress during training camp and
played efficiently in the Vikings' conservative structure
early this season. But a slump has now extended to five games, lowlighted by a pair of sub-70 yard efforts, and raised an uncomfortable specter. If Ponder can't straighten himself out, his second NFL season will be a failure. The Vikings' long-term plan centers around his successful development. Would they give him an unchallenged third season to prove himself? Or would they need to start considering contingency plans? NFL franchises are lost without a quarterback, putting the Vikings at a critical point under their current leadership.
2. Health in Green Bay:
Nearly half of the
Green Bay Packers
' Week 1 lineup has missed at least one game because of injuries. All told, the Packers have lost 40 starts from players who were either listed as the starters on the team's opening depth chart or moved into that role as a result of other injuries. They face a post-bye landscape without receiver
Greg Jennings
, right tackle
Bryan Bulaga
, running back
Cedric Benson
, linebackers
Nick Perry
and
Clay Matthews
, and cornerback
Charles Woodson
, for various periods of time. Receiver
Jordy Nelson
's status is uncertain. Optimists recall the Packers won the Super Bowl two years ago with 15 players on injured reserve. A realist would wonder how likely it is to repeat that feat under such circumstances.
RISING
1. Cornerbacks in Chicago:
Even in a passing league, NFL teams have devalued the cornerback position in favor of pass rushers in recent years. Conventional wisdom has suggested that rules inhibiting aggressive coverage made pressure a better defensive weapon. But the
Chicago Bears
have proved otherwise this season, getting dominant performances from cornerbacks
Charles Tillman
and
Tim Jennings
both in coverage and playmaking. Their coverage has helped the Bears' pass rush compile an NFL-high 21 sacks from a standard four-man alignment, and as playmakers they've contributed a combined eight interceptions, three touchdowns, 21 defensed passes and seven forced fumbles. Oh, and they're combining to earn $6.55 million this season. That might have to change between now and the start of the 2013 season.
2. Scott Linehan, Detroit Lions offensive coordinator:
The Lions have faced considerable criticism for not forcing more downfield passes against defenses who are blatantly aligned to stop those plays. That strength-on-strength argument sounds good around the water cooler, but it's a suicidal long-term approach. Linehan and coach Jim Schwartz understood that and, from the beginning, have insisted on a traditional antidote: The running game. Personnel shortages
made that difficult earlier this season,
but the emergence of
Mikel Leshoure
and
Joique Bell
provide hope for the second half of the season. The two combined for 149 yards on 29 carries last Sunday against the
Jacksonville Jaguars
, and Leshoure scored three touchdowns. Linehan deserves credit for maintaining a sane thought process amid early season panic around the team. A successful running game might not force radical defensive changes, but it will give the Lions a reliable way to move the ball and score if they don't.
3. Adrian Peterson, Vikings running back:
Exactly 315 days ago, Peterson's left knee was a mangled mess. We've already noted
his stunning comeback,
but it's worth updating after his 182-yard performance last Sunday against the
Seattle Seahawks
. In his past three games alone, Peterson has amassed 458 yards and four touchdowns, including breakaway runs of 74 and 64 yards. He leads the NFL in rushing yards (his total of 957 this season is 163 more than the NFL's next-most productive running back), yards from scrimmage (1,107), yards per carry (5.7), yards after contact (515) and runs of at least 20 yards (11). His comeback has been no less impressive than that of
Denver Broncos
quarterback
Peyton Manning
, and his recovery came in less than half the time.
4. Jay Cutler, Bears quarterback:
From this vantage point, Cutler made substantial progress on multiple fronts over the past month. We got to the point where Cutler's quirks and sideline exchanges became
a matter of course rather than cause for personality debates.
We acknowledged how good
he has been in clutch situations
. And now we should note that the Bears are 12-1 in Cutler's past 13 starts dating to last season. Since the start of the 2010 season, in fact, the Bears have a .750 winning percentage in his starts (24-9). For reference, the Packers have a .769 winning percentage under quarterback
Aaron Rodgers
in that same span.
September, 14, 2012
9/14/12
1:00
PM ET
After the Green Bay Packers' 23-10 win over the Chicago Bears, here are three issues that merit further examination:
ESPN.com

The Packers' first touchdown came on a fake field goal that got lost in the postgame shuffle Thursday night, at least on this blog. So let's first note how gutsy the call was considering it came on fourth-and-26 from the Bears' 27-yard line. The play essentially had to score to work; the Bears would have taken over if reserve tight end Tom Crabtree had been stopped outside of the 1-yard line. "That's like the call of the year," cornerback Tramon Williams said. "Fourth-and-26? You would never think anyone would go for that. You've got Tom Crabtree and you give the ball to him to get 26 yards? You never think that would happen again." Coach Mike McCarthy said the Packers have been waiting "two or three years" for the Bears to give them an alignment that would make the play work. To me, the first key was that Bears cornerback Charles Tillman -- aligned over Crabtree on the left side of the Packers' formation -- chased place-kicker Mason Crosby away from the play for several steps. That gave Crabtree some separation to catch holder Tim Masthay's pitch and get a head of steam.

There are many ways to determine the motivation for a fake field goal. Did the Bears simply provide a once-in-a-lifetime look the Packers knew they could capitalize on? Was McCarthy pulling out all the proverbial stops to avoid going 0-2? Or was it, at least in part, an acknowledgment that the Packers' offense left them needing to find alternative ways to score touchdowns? I think an argument could be made for the latter motivation. We noted last week the sharp decrease in the Packers' explosiveness and wondered what adjustment they would make. We got at least a one-game answer Thursday night: With Greg Jennings (groin) sidelined and the Bears aligned to take away the deep pass, the Packers powered down and emphasized their running game along with their short(er) passing game. They ran 25 running plays, nearly tripling their Week 1 attempts, and were rewarded when tailback Cedric Benson (81 yards on 20 carries) got warmed up and began churning up yardage. The longest pass quarterback Aaron Rodgers completed was a 26-yard touchdown to receiver Donald Driver, and their longest play overall was Randall Cobb's 28-yard run off a pitch play. Overall, the Packers averaged 4.9 yards on 66 plays, holding the ball for 32 minutes, 11 seconds. It was a very Black and Blue approach in what we once thought was the Air and Space division.

As we discussed Thursday afternoon, the Packers weren't dumb enough to take up quarterback Jay Cutler on his offer to press receivers Brandon Marshall and Alshon Jeffery. Instead, they played man-to-man coverage with Williams, Sam Shields, Charles Woodson and rookie Casey Hayward with two safeties -- Morgan Burnett and another rookie, Jerron McMillian -- stationed deep. Williams turned in an awesome performance on Marshall, and afterwards reiterated his approach to playing big receivers. "With a guy that size," Williams said, "you can't be too physical on him. That's what he wants. He'll beat you most of the time. I didn't give him that."
And here is one issue I still don't get:
Did the Packers settle their defensive rotation Thursday night or add a level of intrigue? Shields (60 snaps, according to Pro Football Focus) and Hayward (24) appeared to leapfrog Jarrett Bush on the cornerback depth chart. And McMillian (44 snaps) has jumped ahead of M.D. Jennings at safety. On the other hand, the Packers rotated veteran linebacker Erik Walden (36 snaps) with rookie Nick Perry (20), and Walden's active (half sack, two quarterback hits) probably played a role in Clay Matthews' 3.5-sack outburst. Rookie Dezman Moses also got 19 snaps. My guess is the Packers would like to establish some consistency at defensive back but could use their linebackers more to match with specific aspects of opponents. In all, it should be noted that the Packers got substantive contributions from five defensive rookies Thursday night: Perry (three hurries, via PFF), Hayward, McMillian, Moses (two hurries) and defensive lineman Jerel Worthy (sack, two quarterback hits). "We've got a good group of young talent," Matthews said.
April, 24, 2012
4/24/12
9:15
AM ET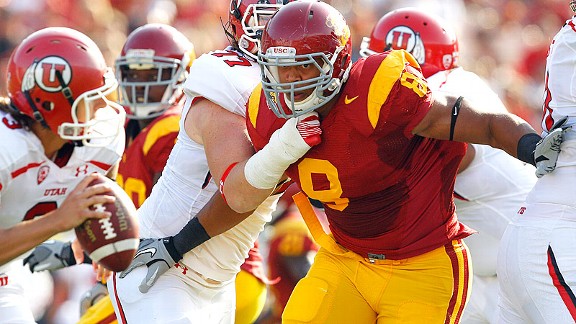 Ric Tapia/Icon SMIUSC's Nick Perry is one of five defensive ends the Bears are known to have worked out or hosted before the draft.
The need to boost the pass rush seems to always serve as an offseason theme in recent years for the
Chicago Bears
headed into the draft.
The club's responses to the deficiency have become monotonous.
"Do we need to do a better job with it? Yes," Bears coach Lovie Smith said. "I think those guys would say that. We're saying that because we're capable of doing more."
The difference now, though, is the Bears seem to have intensified their search to add a capable pass rusher opposite
Julius Peppers
, and it appears the club could target a defensive end with the 19th pick in the NFL draft. The Bears' pre-draft activities seem to indicate as much.
Of the top 20 players at the position, the Bears have either worked out or hosted at least five of the prospects including South Carolina's
Melvin Ingram
, Illinois'
Whitney Mercilus
, and Southern Cal's
Nick Perry
, in addition to West Virginia's
Bruce Irvin
, and
Tim Fugger
of Vanderbilt.
The extensive work done on the prospects surely stems from the team's production in 2011. The Bears tied for 19th in sacks last season, with 17 of their 33 sacks coming from the defensive end position. The club brought back veteran
Israel Idonije
(five sacks in 2011) for another season, but it's likely the Bears would use him as a rotational player if it can land a starter in the draft to play opposite Peppers.
"Julius Peppers is arguably the best player in the NFL. That's what I think," Smith said. "He will very seldom lead the league in sacks because he gets respect; always double-teamed, triple-teamed."
That's exactly why it's imperative the Bears land another pass rusher at some point in the draft, especially in a division with so many talented quarterbacks such as
Aaron Rodgers
of Green Bay and Detroit's
Matthew Stafford
.
The next 10:
11.
Trevor Guyton
, California, 6-3, 285; 12.
Cam Johnson
, Virginia, 6-4, 268; 13.
Malik Jackson
, Tennessee, 6-5, 284; 14.
Jake Bequette
, Arkansas, 6-5, 274; 15.
Jack Crawford
, Penn State, 6-5, 274; 16.
Jacquies Smith
, Missouri, 6-3, 253; 17.
Justin Francis
, Rutgers, 6-2, 268; 18. Tim Fugger, Vanderbilt, 6-3, 248; 19.
Kourtnei Brown
, Clemson, 6-5, 256; 20.
Frank Alexander
, Oklahoma, 6-4, 270.
Position grade:
B.
Analysis:
The Bears have scoured this year's class extensively to find what they believe could be a fit opposite Peppers. They shouldn't experience too many problems finding it because of the sheer depth of this class, headlined by Melvin Ingram and Quentin Coples. The Bears have either worked out or hosted at least five of the top 20 players at the position. That's a strong indication that at some point, the team will draft a defensive end.
April, 12, 2012
4/12/12
5:07
PM ET
ESPN analyst
Todd McShay's fifth mock draft

of the year contemplates multiple scenarios for each pick in the first round, and so it takes a little more time to digest than usual. Its Insider status prevents me from bringing you every scenario in the NFC North, but I can pass along what McShay considers ideal for each team.

3. Minnesota Vikings
McShay:
A trade that nets an additional first-round pick but also keeps the Vikings in the top 10 of the 2012 first round.
Seifert comment:
I think the Vikings would make a deal for something less than that bounty, perhaps an additional second- and third-round pick in addition to their partner's No. 1 pick. There is a cost to be considered for falling outside of the so-called blue-(chip) zone of the first round, but the Vikings' across-the-board needs might well make it worth their while.

19. Chicago Bears
McShay:
South Carolina cornerback
Stephon Gilmore
Seifert comment:
Gilmore wouldn't be in position to play right away on a team that has
Charles Tillman
,
Tim Jennings
,
D.J. Moore
and
Kelvin Hayden
under contract. But he would be a start in a necessary replenishment of depth behind the Bears' 30-something defensive stars.

23. Detroit Lions
McShay:
Alabama defensive end/outside linebacker
Courtney Upshaw
Seifert comment:
In this mock, Gilmore and fellow cornerback
Dre Kirkpatrick
of Alabama are both off the board. Pass-rushers are a premium asset, and we know that the Lions won't look elsewhere merely because their defensive line is already well-stocked.

28. Green Bay Packers
McShay:
Clemson defensive end
Andre Branch
Seifert comment:
Branch could play outside linebacker in the Packers' 3-4 scheme. Most mockers seem to think the Packers will draft the best available defensive end/linebacker at this spot, and in this exercise USC defensive end
Nick Perry
is off the board. You also wonder if Notre Dame safety
Harrison Smith
is a possibility here.