October, 17, 2013
10/17/13
5:02
PM ET
LAKE FOREST, Ill. --
Jay Cutler
expressed encouragement with how the
Chicago Bears
are trending toward no longer depending on the defense to carry the team, but understands that while it's shown signs, the offense hasn't exactly arrived.
"We didn't do enough on our part to help win games [in the past]," Cutler said. "We put the defense in a lot of bad spots."
The majority of the time now, it's the offense bailing out an injured Chicago defense, which hasn't surrendered fewer than 21 points in a game all season. The Bears rank No. 3 in scoring, and 11th in total offense, with Cutler sitting in the top 10 in five passing categories (passer rating, touchdown passes, completion percentage, completions, and passing yards).
[+] Enlarge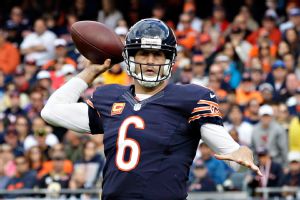 AP Photo/Nam Y. HuhTBD
Still, Cutler admits the offense hasn't put together a complete game, but has found ways this season to put together some of the best showings of the quarterback's tenure in Chicago.
"We're getting there. We're getting better and better," Cutler said. "We've got a lot of good guys on the outside. The way the offensive line's playing, we just got to keep it simple and get the ball to those guys efficiently because the way we're blocking it's making things easy for me."
What might be easiest for the team, however, is a consistently complete effort from the offense, defense and special teams. Defensively, the Bears are allowing 395 yards per game, which ties for 26th in the league, and the unit is surrendering 28.6 points per game (27th).
But the defense has found a way to continuously force turnovers, which have been beneficial in helping the offense. The Bears are tied for second in takeaways (17), and rank No. 2 in points scored off takeaways (62).
"The most empowering thing is that turnovers are most of the game. If you play smart and create turnovers and take care of the ball, that's the No. 1 factor in final scores," Bears coach Marc Trestman said. "It's not time of possession. It's not yards gained. It's turnovers. Turnovers are the most relevant stat, and up to this point we've been very good at it, which has enabled us to be in every game and have opportunities to win in the fourth quarter."
The special-teams unit, meanwhile, has allowed a punt return for 57 yards, and a 105-yard kickoff return touchdown by Minnesota's
Cordarrelle Patterson
, in addition to a 46-yard return by
Jerrel Jernigan
in the win over the
New York Giants
.
In recent years, defense and special teams carried the Chicago Bears, and picked up the slack left by the team's anemic offense.
Now, offense is arguably the strongest facet of the team.
"It's a team deal, like we say," said Bears offensive coordinator Aaron Kromer. "The receivers have been doing a good job of getting open. We've been protecting. [Cutler] has been getting the ball off quickly. And so that's when everybody looks good. When guys aren't getting open or guys aren't getting picked up in a blitz, that's when [Cutler] doesn't look good."
Cutler calls what's transpired over the first six games as "give and take" between the offense and defense, but looks forward to the time when his side of the ball can consistently carry the load.
"It takes the whole team," Cutler said. "We haven't put together four quarters yet. We've made some plays when we had to. We leaned on the defense in the fourth quarter in the Giants game, and they came through for us. I think we can be happy with the progress we've made offensively and the strides that we're [making]."
October, 9, 2013
10/09/13
2:09
PM ET
LAKE FOREST, Ill. --
Chicago Bears
offensive coordinator Aaron Kromer took exception Wednesday to the perception that the club has struggled in the running game and at adequately protecting quarterback
Jay Cutler
.
The Bears gave up three sacks in their first 12 plays from scrimmage Sunday in a loss to the
New Orleans Saints
, and the ground game churned out 94 yards with the offense in pass mode due to the club falling behind 20-7 at the break.
"Right now, if you look at statistically where we are -- and that's what a lot of people do; we're seventh in the league in rushing yards per carry, and we're sixth in the league in sacks given up," Kromer said. "So we have had one [bad] quarter and everyone panics that we can't play football in Chicago anymore. I say they're wrong."
Kromer's partially correct in his assessment.
The Bears rank 11
th
in the NFL in total offense (368.6 yards per game), are tied for sixth in rushing average (4.6 yards per carry) and are tied for fifth in sacks allowed as just one of seven teams in the league to surrender fewer than 10 through the first five games.
Chicago's offense is also No. 3 in the NFL in scoring (29 points per game).
Perhaps the offense's two most pronounced areas of deficiency are third-down conversion percentage (36) and average time of possession (29:10), two areas in which the team is 21
st
in the NFL. Last week's game skews Chicago's overall time of possession stat somewhat, given the offense possessed the ball for just 24 minutes while the Saints maintained possession for 36.
So despite the Bears losing two in a row, the club knows the season hasn't gotten away; that they're still trending upward offensively in terms of development.
"I think the key is you keep doing the things you know are right. You keep working on the things to make the corrections. You stay even-keeled," Bears coach Marc Trestman said. "You don't lose your mind. You try to have common sense about it. You know it's a long road. It's a long journey and anything can happen, and you try not to reach and do things that others think you maybe should be doing. You try to be real pragmatic about it. We continue to grade ourselves, critique ourselves and try to find ways that we can detail our work and get better."
At this point, that's all the team should be doing to ensure they've developed sufficiently enough that during the playoff push in November and December they're able to deliver.
July, 12, 2013
7/12/13
11:33
AM ET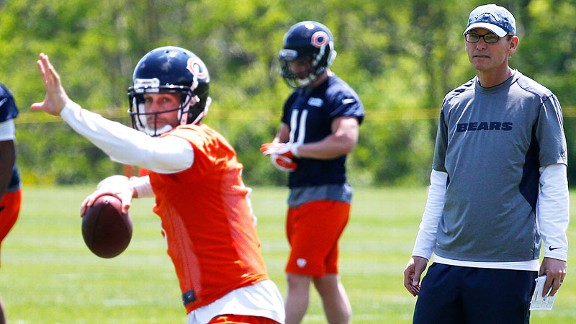 AP Photo/Charles Rex ArbogastJay Cutler's future in Chicago likely will depend on the success of his relationship with Marc Trestman.
Editor's note: Michael C. Wright and Jeff Dickerson will preview the top storylines heading to the Bears training camp.
How will
Jay Cutler
, Marc Trestman and Matt Cavanaugh get along throughout the season? Cutler has had strained relationships in the past with some coaches. Will that be the case again in 2013?

For the first time in four years, Cutler lacks the upper hand over the coaching staff.
In the past, Cutler could simply tune out former offensive coordinators Ron Turner, Mike Martz and Mike Tice because the quarterback had the security of a lucrative, long-term deal. Then there was the issue of compensation -- the Bears surrendered a pair of first-round picks and a third-rounder to acquire Cutler from Denver -- making it even more difficult for the organization to go in a different direction.
But that golden parachute is gone.
Trestman is a lock to be here in 2014. Cutler is not.
Ex-general manager Jerry Angelo is the one who engineered the Cutler trade. Phil Emery did not.
Cutler's talent is undeniable. To blame the quarterback for all the problems on offense in recent years would be unfair. Cutler has had some moments of brilliance.
Just not enough.
For this relationship to really work, Cutler needs to place a larger emphasis on working hard, toeing the company line behind the scenes, embracing the new style of offense and accepting the coaching of Trestman and Cavanaugh.
So far, the relationship between the three men appears to be fine.
But of course, we've seen this all before.
The true test will come during the season when the offense begins to face adversity and Cutler absorbs a couple of hits in the pocket. If the quarterback can maintain his composure and stop showing up his teammates on game day and on the practice field, the Bears could be a much better offense in 2013.
And if the Bears thrive on offense, Cutler will no doubt earn a monster new contract that will average somewhere in the range of $17-$19 million per year.
It's a win-win for everybody.
All three men have the incentive to make this work, but none more so than Cutler.
June, 12, 2013
6/12/13
10:06
AM ET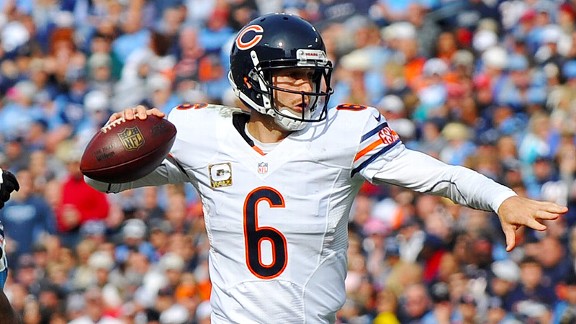 Don McPeak/US PresswireJay Cutler was tied for 20th in the NFL last season with a passer rating of 81.3.
Jay Cutler
's right. "It's hard to go out there Year 1 and blow the doors off," offensively. So asking him and the Bears to do that in 2013 simply isn't fair; especially considering Cutler is learning his fourth offense in five years.

What's fair however, are expectations for a markedly better campaign this season than any other Cutler has been a part of as a Chicago Bear. Why? It's contract time, first of all. Set to earn $8.47 million on a deal that expires after 2013, Cutler needs to make everything the Bears invested -- in terms of personnel acquisition, and coaches -- pay off for the front office if he expects the club to sink even more money into him as the quarterback of the future.
September, 23, 2012
9/23/12
7:16
PM ET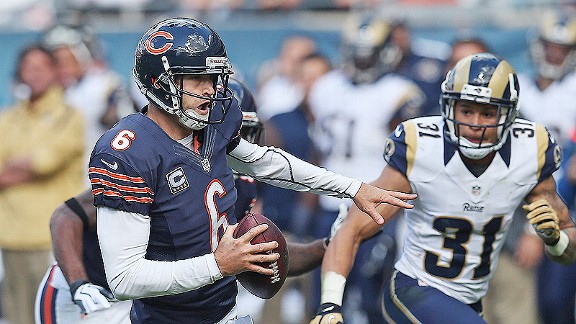 Jonathan Daniel/Getty ImagesAfter being teased with 41 points in the opener, Bears' fans are waiting for that offense to return.
CHICAGO -- Stop us when it starts sounding familiar. Bears defense and special teams lead the charge while Robbie Gould comes through with three field goals and the offense ekes out just two drives longer than 37 yards and one 3-yard touchdown run.
This was supposed to be the season the Bears didn't have to rely on a dominating defense, but it's not working out that way.
The well-worn formula was good enough for a 23-6 Bears victory against a decent St. Louis Rams team Sunday at Soldier Field, and for the defense, it was a satisfying one at that. But those expecting the Bears offense under Mike Tice, with new weapons in Brandon Marshall, Alshon Jeffery and Michael Bush, to be leading the league by now, instead got the second straight week of rickety, old-school.
Read the entire story.
June, 12, 2012
6/12/12
6:01
PM ET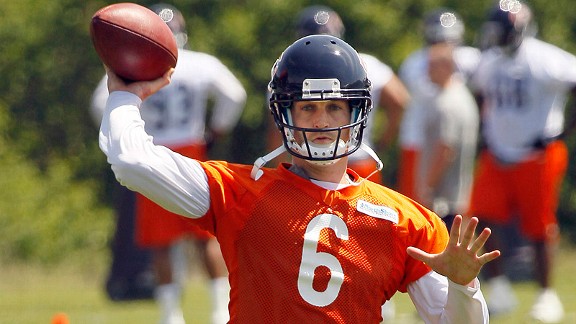 AP Photo/Charles Rex ArbogastWith some familiar faces by his side, Jay Cutler said the new Bears' offense feels right.
LAKE FOREST, Ill. -- With still over a month left on the calendar until players are required to report to training camp,
Chicago Bears
quarterback
Jay Cutler
told reporters on Tuesday he already has a strong comfort level with the club's new offense installed this offseason by coordinator Mike Tice.
"It's kind of surprising to see where we're at and how well the guys have picked it up," Cutler said at the onset of the team's mandatory minicamp. "It's a testament to how hard they have worked. There are a lot of fun guys. It's a good group. It's the best receiver group I've worked with. A lot of guys on this team like coming to work and like football so that makes my job a lot easier."
The non-contact nature of the NFL offseason program has made it counterproductive for the Bears to devote a huge chunk of practice time to the run game, but according to Tice, the group has been exposed to the entire offense.