May, 23, 2013
5/23/13
8:00
AM ET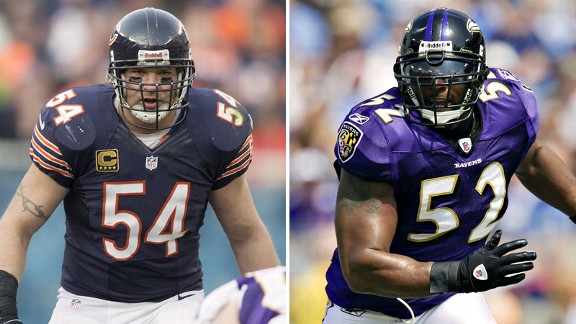 Getty ImagesBrian Urlacher and Ray Lewis will be on the 2018 Hall of Fame ballot together.
First
Ray Lewis
and now
Brian Urlacher
. Two middle linebackers who redefined the position won't be back in 2013 with each opting to end their certain Hall of Fame careers.
Urlacher and Lewis, who will be on the 2018 ballot for Canton, have been compared throughout their careers. Now that the final chapters have been written on their storied careers, who was the superior player?
ESPNChicago.com's Jeff Dickerson and Jon Greenberg state the case for each.
Championship make difference for Lewis
Brian Urlacher is one of the greatest athletes to ever play the middle linebacker position.



There is little doubt, at least in the mind of this reporter who covered Urlacher for the final nine years of his NFL career, that he is worthy of being enshrined in the Pro Football Hall of Fame.


But when asked to compare the legacies of Urlacher and fellow recently retired middle linebacker Ray Lewis, it's difficult to argue that Lewis did not have the better overall career of the two, who will be on the same Canton ballot in 2018.


An athletic freak at 6-foot-4, 258 pounds, Urlacher revolutionized the middle linebacker spot in the 4-3 "Cover-2" defense the Bears played under former coach Lovie Smith since 2004. There was nobody better at cutting off the middle of the field than Urlacher, who also excelled in the Bears' 4-3 style of defense implemented by Dick Jauron and Greg Blache from 2000-03.


But Urlacher never won a championship.


Lewis won two with the Ravens, and managed to go out in a manner that most professional athletes can only dream of -- as a winner.


Lewis played for 17 seasons, was named first-team All Pro seven times, earned 13 trips to the Pro Bowl, was twice named the NFL Defensive Player of the Year and took home Super Bowl XXXV MVP honors.


Urlacher's career spanned 13 seasons and included five first-team All Pro selections, eight Pro Bowl appearances and one NFL Defensive Player of the Year Award.


Again, both are Hall of Famers. But Lewis has the edge.


Now, it's not Urlacher's fault that Lewis played on better teams throughout his time in the NFL, although the Bears' defense from 2005-06 was the top unit in the league.


But when the assignment is to determine which player had the better overall run, championships and awards do matter.


They matter a lot.


In this generation, Urlacher takes a backseat to almost nobody, except for Lewis.

--
Jeff Dickerson


Urlacher's approach sets him apart
Comparing Ray Lewis and Brian Urlacher is a task best left to sportswriters with too much time on their hands. They were both great, so what's the big deal?


[+] Enlarge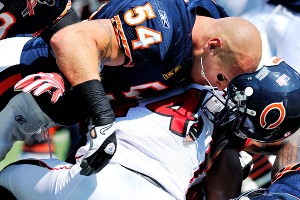 Mike DiNovo/US PresswireBrian Urlacher played a hybrid role in Lovie Smith's Cover 2 scheme.
Both were ferocious hitters with speed to burn in their younger days who settled into roles as veteran leaders and future Hall of Famers.


Lewis was loud, Urlacher was quiet. Lewis could never completely live down that awful night in Atlanta, Urlacher once dated Paris Hilton.


Both personify their teams, though in Lewis' case, he basically created the Baltimore Ravens mystique and he won two Super Bowls. Urlacher carried the middle linebacker legacy in Chicago.


Despite the absence of Super Bowl rings, I wouldn't put Urlacher second to anyone, even Lewis.


Imagine if Urlacher had been drafted into that Ravens' defense. Instead, he came to the Bears, which was perfect, I suppose, because this is where the middle linebacker was created, and the ex-safety became the heir to George, Butkus and Singletary. But imagine Urlacher unleashed.


And with Smith came his defense, rooted in Cover-2 principles, and Urlacher's job morphed into a hybrid, calling signals and directing traffic and patrolling the middle field with either a thrust to the ballcarrier or quarterback (he had 11˝ sacks in Smith's first two seasons) or a backpedal into the secondary, where he picked off 22 passes in 182 games.


He was the defensive MVP in the Bears Super Bowl season with 142 tackles (25 in that legendary game against Arizona), no sacks, just one forced fumble and three interceptions. But he was the heart of that defense, a role he would carry on through his final season.


How many could do what he did? Urlacher's athleticism was his calling card, and just because he wasn't as loud as Lewis, and didn't play for such a demonstrative defense, doesn't mean he suffers in comparison.


Urlacher was beloved by his teammates and coaches, and I can't imagine any of them would trade Urlacher for Lewis. He never put on any airs, never danced like a goon. He didn't play football as if it owed something to him, but rather as a game he enjoyed.

-- Jon Greenberg
May, 22, 2013
5/22/13
2:30
PM ET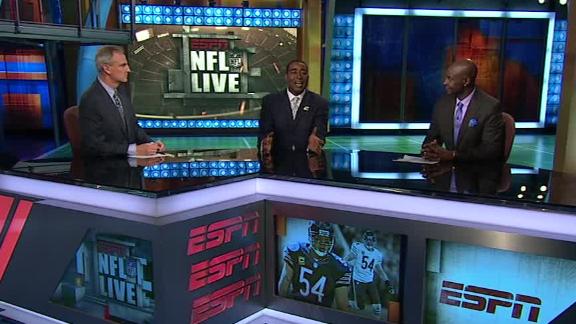 Reviewing the Pro Football Hall of Fame's list of middle linebackers is a sobering experience.
The position is well-represented, but almost all of the enshrinees -- Dick Butkus, Jack Lambert and Willie Lanier among them -- are drawn from a long-gone era of NFL defenses. In fact, former
Chicago Bears
star Mike Singletary is the only current Hall of Fame middle linebacker whose career started in the past 36 years.
The best case to be made for
Brian Urlacher
's candidacy, now that he has announced his retirement, is that his career reversed the decades-long decline in the value of the position. Along with the
Baltimore Ravens
'
Ray Lewis
, Urlacher modernized middle linebacking by adding speed and regular playmaking to the traditional role of helmet-jarring hits and fierce leadership.
Hall of Fame players can't simply be top performers over a period of NFL seasons. In a competitive environment where ballots are limited to five enshrinees per year, candidates must stand out. Some might be the best players in a generation, but if their position is as undervalued as middle linebacker has been over the past few decades, they also would need to have changed or impacted the game in a unique way.
I think Urlacher did that. It helped that he was drafted by a team that soon moved to a scheme that perfectly fit a middle linebacker who could run like a safety. It also helped that in his best years, Urlacher had some stud defensive tackles in front of him who limited free shots from offensive linemen.
Regardless, the Bears' defense in the Lovie Smith era wouldn't have worked without Urlacher covering the deep third of the field while also holding his own at the line of scrimmage. His ability to get 25 yards downfield, in between chasing runners from sideline to sideline, was a new development for the modern-day middle linebacker.
When Urlacher was sidelined, for 15 games in 2009 and four games last season, the Bears' defense dipped noticeably and obviously, especially against the pass. In the games that Urlacher missed over that stretch, opponents' Total Quarterback Rating (QBR) rose from 39.5 to 60.1 (on a scale of 0-100), according to ESPN Stats & Information.
He is one of four players in NFL history with at least 40 sacks and 20 interceptions in his career, as the chart shows, and he is one of seven players to win the NFL's Defensive Rookie of the Year and Defensive Player of the Year award. Of the other six, three are in the Hall of Fame and two others aren't yet eligible.
Urlacher's résumé of sustained elite performances,
even after his 2009 wrist injury
, and his notable impact on how the game is played merit Hall of Fame enshrinement. How long it will take for him to be elected is almost a silly discussion. We don't know what the backlog will be like in 2018, but there is a pretty strong group of players who will be eligible for the first time alongside Urlacher. The group includes Lewis,
Steve Hutchinson
,
Ronde Barber
and perhaps
Randy Moss
.
Timing, of course, is but a detail. I'm sure there will be plenty of discussion between now and then. But you would think Canton has room for Brian Urlacher. Frankly, he made that space for himself.
December, 18, 2009
12/18/09
1:30
PM ET
LAKE FOREST, Ill. --
Desmond Clark
didn't attend Miami, but he has plenty of background on
Baltimore Ravens
star linebacker
Ray Lewis
. Both prepped at Kathleen High School in Lakeland, Fla., back in the 1990s.
Lewis was two years ahead of Clark in school and even though a mouth injury prevented Clark from playing on the varsity team with Lewis as a sophomore (Florida students did not start high school until the 10th grade at that time), he knew his older classmate was destined for greatness.
"He was probably the most dominating player in the state at that time," Clark said. "Same kind of guy he is right now, team leader, guy that you would rally around to take you on the field. Pretty much the same guy you see now is the same guy he was in high school."
Besides being an all-conference quarterback, free safety and punt returner in high school, Clark was also the holder for former Bears kicker
Paul Edinger
on field goals and extra points. Small world.
December, 16, 2009
12/16/09
12:00
PM ET
[+] Enlarge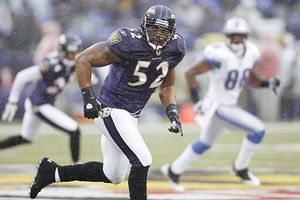 AP Photo/Rob CarrRay Lewis leads Baltimore with 132 tackles, and is second in forced fumbles (2) and fourth in sacks (2).
LAKE FOREST, Ill. -- Ray Lewis does yoga?


"Oh yeah, faithfully, faithfully," the Baltimore Ravens' star linebacker said Wednesday during a conference call with Chicago media members. "I take hour-and-a-half yoga classes. The crazy part about it is, once you actually get into it, two or three times, you really miss it. If you don't do it, you're like 'Oh, wow' because it stretches you that much, that for us (NFL players), being muscular people anyways, it's kind of really hard to keep your muscles very flexible. I've been doing it almost two or three years now."


It seems to be working. Lewis leads Baltimore with 132 tackles on the season, and is second on the team in forced fumbles (2) and fourth in sacks (2).


A 10-time Pro Bowl selection, Lewis, 34, serves as a reminder that life doesn't have to end for an NFL linebacker after 30 -- a relevant topic in Chicago since Brian Urlacher is 31.


"If you look at age, you'll really be in trouble," Lewis said. "It's based on understanding the game, understanding how to get from Point A to Point B without taking three or four false steps, and without reading the wrong thing. That's why I think (people) make age too big of a deal."


"I just think he [Urlacher] has to come back with the same mentality, and enjoy the game, Because if he enjoys the game, working out will be easy. He'll definitely come back with more fire, ready to play."