Chicago Bears:

Robert Griffin III
October, 20, 2013
10/20/13
8:40
PM ET
LANDOVER, Md. -- Here are five things we learned in the
Chicago Bears
' 45-41 loss to the
Washington Redskins
:
1. Bears are in serious trouble:
There is no excuse for a team to lose a game when its No. 2 quarterback comes off the bench and performs at the level
Josh McCown
did Sunday. None. McCown and the offense did everything in their power to win the game. But the defense is broken beyond repair. The
Green Bay Packers
could hang 60 points on the Bears' defense on Nov. 4. That's not an exaggeration. It's hard to envision the Bears beating any of the good teams remaining on their schedule. The bad ones? Sure, that still remains a possibility, but how can McCown possibly play any better than he did against the Redskins, if in fact he is the quarterback for the foreseeable future? Chicago wasted a golden opportunity to move to 5-2, even without
Jay Cutler
at quarterback. This will come back to haunt the Bears.
2. Defensive help is not on the horizon:
The problems start up front for the Bears' defense. While the safeties had a rough game Sunday, there is just no consistent pass rush. This sounds like a broken record to Chicago fans, but a defense cannot function if the opposing quarterback has all day to throw.
Corey Wootton
is a maximum effort guy. He is putting it all on the line every week, despite playing out of position at defensive tackle, but he needs help.
Julius Peppers
was around the ball more in Week 7 (seven tackles), but where are the impact plays? Where are the sacks? Where are the forced fumbles? And I don't mean just from Peppers. This is a defensive line epidemic. Undrafted rookie
David Bass
has potential and
Stephen Paea
looked good before he got hurt, but the Bears have a major need at the position. But with limited salary-cap space, general manager Phil Emery isn't in a position where he can do much tinkering with the roster. This is a problem that must be addressed in the offseason. Emery was able to rebuild the offensive line in one year; can he do the same on defense?
3. McCown was excellent in the loss:
Honestly, this couldn't happen to a nicer guy. McCown is the ultimate professional. He's a leader. He prepares every week like he's going to start. He works hard to master the offense. And we found out Sunday that he still has an above-average arm. McCown gives the Bears a chance at quarterback. That's all you can ask for from an NFL reserve quarterback. It will get more difficult as the season wears on for McCown, if the Cutler injury is as serious as it looked at FedEx Field, but the Bears do not run the risk of players throwing in the towel on offense. McCown has credibility. The Bears just better hope he can stay healthy.
4. Bears are leaving plays on the field:
The demise of the Bears' defense can be traced back to its inability to finish plays. I thought for the longest time the injuries on the defensive line led to the slide, but it's alarming how many times the Bears have failed to intercept balls that should be intercepted or whiffed on key tackles and sacks. Here are two perfect examples from Sunday: (1) RG III lobs up a terrible pass that either
Chris Conte
or
Charles Tillman
should pick off, but Conte falls down, Tillman stops running, and
Aldrick Robinson
hauls in a 45-yard touchdown falling backward in the end zone; and (2)
Shea McClellin
has RG III all but wrapped up on the Redskins sideline but can't bring him down, so RG III goes on to complete a critical third-down pass for a first down on Washington's final scoring drive. That's not a talent issue. That's an execution issue. Make a play.
5. Brandon Meriweather will never learn:
The Bears are so lucky that Meriweather moved on after only one regrettable season in Chicago when he stunk up the joint. But Meriweather isn't just the Redskins' problem. He's the NFL's problem. We were reminded again Sunday that Meriweather is the most undisciplined player in the league. There is a big difference between delivering hard hits and targeting the head. Meriweather targets the head. He leads with his head. He is the textbook example of how not to play defense in the NFL. Either Meriweather is going to end someone's career with one of his illegal hits or he is going to end his own career. This will not end well if Meriweather doesn't change his style. Someone is going to get hurt. I love hard hits on defense; it's part of the fabric of the game. But Meriweather is reckless. I have no use for a guy like that. Neither should the NFL.
October, 17, 2013
10/17/13
5:47
PM ET
LAKE FOREST, Ill --
Chicago Bears
linebacker
Lance Briggs
chooses not to listen to all the talk permeating the airwaves regarding whether
Washington Redskins
quarterback
Robert Griffin
III has lost a step coming off knee surgery.
Briggs
Griffin
With the Bears set to play the Redskins on Sunday at FedExField, Briggs considers Griffin "ready."
Responding to the suggestion that Griffin looked a step slow last week against the
Dallas Cowboys
, Briggs asked, "Did you watch last game?"
"I don't know, that second half, that burst was there," Briggs said. "That burst looked pretty good. Don't be deceived. Don't be deceived at all. He's playing better and better each week. Watching him in that second half against Dallas, I saw him pull away from some guys running the ball."
Griffin ranks second in the NFL in pass attempts per game (41.8), fifth in the NFC and eighth in the NFL in passing yards per game (289.6), and is coming off a game in which he rushed for a season-high 77 yards against the Cowboys.
"He's a phenomenal player. A very gifted athlete, a smart quarterback," Bears defensive coordinator Mel Tucker said. "He looks like he's full speed, so it's going to be a huge challenge for us."
With the frequency at which the Redskins throw the ball, the Bears know coverage on the back end is just as important as pressuring the elusive Griffin, who averages 5.5 yards per carry.
"Everything is intertwined with everything. Our coverage has been decent, decent to OK," Briggs said. "We've had some bonehead plays where some of our players left our safeties out on an island and made it very difficult on them or for any safety in this league to make a play. We've stunted our defensive linemen in a lot on passing downs, where we didn't give them an opportunity to create or generate a better opportunity for a rush. We had opportunities to make tackles on third down that would have gotten us off the field and we missed those tackles. Coverage-wise, have we been in position? Most of the time. Have we made the play? No, not all the time, and that has to improve."
Bears coach Marc Trestman agreed, and after watching some of Griffin's game against the Cowboys, thinks the quarterback is close to returning to the player he was in 2012, when he won Offensive Rookie of the Year.
"I caught a little bit of him the other night and I thought he looked like the Griffin of old in terms of his ability to run and the confidence level he had," Trestman said. "I think he's very close to being back to where he was a year ago. This is a team that is averaging close to 400 yards a game, and they are running the football well. [Redskins coach] Mike [Shanahan] and [offensive coordinator] Kyle [Shanahan] have done a really good job with that offense and they are really close. They are doing some really good things."
October, 17, 2013
10/17/13
1:00
PM ET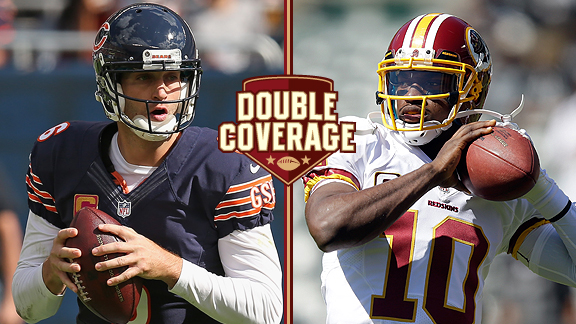 Getty ImagesJay Cutler will use his big targets; Robert Griffin III hopes to count on a stable run game.
The
Washington Redskins
again are facing a must-win game -- that is, if they want to start achieving what many thought they would this season. Otherwise, they're staring at a disastrous season. The
Chicago Bears
don't need to win with the same urgency, but they need to keep pace with Green Bay for first place in the NFC North.
There's no doubt quarterback
Jay Cutler
wants a better showing than what he provided the previous time he faced Washington. Redskins corner
DeAngelo Hall
made the Pro Bowl after the 2010 season in large part because of his four interceptions off Cutler in the road win.
The Bears have not played in Washington since Dec. 6, 2007, when the emotionally charged Redskins, playing shortly after the death of safety Sean Taylor, won 24-16.
This also will be a reunion between Cutler and Redskins coach Mike Shanahan, who drafted the quarterback in Denver in 2006. Cutler threw for a career-high 4,526 yards in his last season with Shanahan (2008). The Redskins tried to trade for Cutler before the 2009 season.
ESPN.com Redskins reporter John Keim and Bears reporter Michael C. Wright take a look at the matchup.
John Keim:
The Bears have a strong-armed quarterback who has some big targets. And the protection seems pretty solid. How dangerous is the Bears' passing game right now, and is this just about talent?
Michael C. Wright:
John, it's a combination of talent and scheme. The Bears prioritized protecting Jay Cutler when new coach Marc Trestman took over. So they went out and signed left tackle
Jermon Bushrod
and left guard
Matt Slauson
in free agency, and drafted right guard
Kyle Long
and right tackle
Jordan Mills
. The Bears also added
Martellus Bennett
to give them a threat down the middle and somewhat of a mismatch against safeties and linebackers. The club already possessed weapons outside in
Brandon Marshall
and
Alshon Jeffery
and in the backfield with
Matt Forte
. So the Bears used a combination of additions and Trestman's West Coast scheme, which emphasizes getting the ball out of Cutler's hands quickly, to get to where they are today.
It's difficult for me to characterize the passing game as "dangerous" right now because we haven't yet seen the Bears put together a full game in that department. What I will say is that Cutler has more weapons at his disposal than he's used to, and he's playing a much more efficient game now than he has in the past.
Sticking with quarterbacks, RG III clearly isn't the same guy, so I've got to ask whether the Redskins are trying to find a way to compensate for that? And if so, what are they doing?
Keim:
That's a tough question to answer because there have been too many games in which they had to change their offense just because they had fallen far behind, especially in the first couple of games, when Griffin was not going to run the ball. He is running much better, so they're now back to what they used to do; it's just a matter of executing.
Griffin ran the zone read-option more Sunday night at Dallas than he had all season -- the Cowboys' playing a lot of man coverage helped open the outside for him. What they need to do is stay in games and run the ball. Their offense looks different at times because they can't use as much play-action, thanks to game situations. They're so much better when they're running well and using play-action. Griffin can operate in the pocket, but it's not what he does best. And he's shown signs of growth in terms of keeping the ball alive and finding receivers and not just running.
I wonder if the Bears will be able to pressure him. I know the Bears have had injuries up front, but it still seems like
Julius Peppers
is a bit too quiet. Is he still a dangerous player?
Wright:
You want to say Peppers is, because it's hard for me to believe he has all of the sudden lost it after back-to-back seasons of 11 sacks or more. But we might finally be seeing Peppers on the decline. In four career games against the Redskins, Peppers has registered just two sacks. So far this season, he's posted only one, which is a concern, considering Peppers collected 3 1/2 sacks in 2012 through the first six games. Certainly, the injuries inside at tackle play a role in Peppers' lack of production. The Bears lost two starters at defensive tackle in franchise player
Henry Melton
(six sacks last season) and his replacement,
Nate Collins
. The club also has played without
Stephen Paea
, who is fighting through turf toe. That has forced the Bears to play starting defensive end
Corey Wootton
inside at tackle, along with a host of unheralded players such as
Landon Cohen
, who signed two days before the club faced Detroit on Sept. 29, and surprisingly played in that game. I think Peppers is still dangerous, but he certainly doesn't look the part now.
It looked to me like
Alfred Morris
was a big part of RG III's success last year, but early on he seemed to struggle. I know lack of opportunity played a part in that because the Redskins were behind. But do you see Morris sort of regaining his form moving forward because he looked better against the Cowboys?
Keim:
I like Morris a lot and it's funny because I didn't think he looked that great against Dallas, with the exception of a few runs (including his touchdown). There's no doubt the coaches want him carrying the ball more, and his main issue this season has been the lack of carries. He's averaging 5.2 yards per carry, but has yet to carry more than 16 times in a game (he had three such games last season). Morris is a better runner than a year ago; a little quicker and more knowledgeable about where to hit the hole. With his patience and vision, he does an exceptional job setting up his blocks. But he needs more work -- and unlike last year, the Redskins have been unable to establish the run early in games. That must change.
The Redskins also need to make more big plays. And I see that the Bears have allowed 29 pass plays of 20 yards or more and have a new middle linebacker this week. Where do you think the Redskins can take advantage?
Wright:
Not only do they have a new middle linebacker, John, but the Bears will line up rookie Jonathan Bostic, a second-round pick. So the Redskins might be able to take advantage there. Bostic turned heads in the preseason with big hits and a couple of impressive plays. But he made too many mistakes, which is why the Bears opted to start
D.J. Williams
at that spot in the first place. As far as the explosive plays in the passing game go, I think they're a function of the team being unable to generate pressure with the front four, which in turn leaves the secondary in coverage for way too long. Chicago's injury situation up front likely means it won't improve the pass rush sufficiently to help out a secondary that has struggled some at the safety position with
Major Wright
and
Chris Conte
.
Let's turn to the Redskins' defense. It pretty much shut down Dallas' high-powered offense Sunday. What can Chicago expect to see?
Keim:
Good question, because the defense was dreadful for the first three games and in the fourth, it faced
Matt Flynn
playing behind a bad line in Oakland. Sunday night was a bit of a surprise, but in reality it's how I expected the defense to play entering the season. They have the talent to be middle-of-the-road, capable of a good game and also a clunker if the matchup is bad. They have used three corners and one safety in the secondary quite a bit, adding speed and giving them the ability to disguise coverages a little longer. They will blitz, from the slot in particular. They will run stunts up front -- linebacker
Brian Orakpo
, end
Stephen Bowen
and nose tackle
Barry Cofield
work well together. They will use five linebackers at times in obvious pass situations, with
Ryan Kerrigan
in a four-point stance. They need to play out of their base defense because their main goal is to stop the run. Their secondary has done a better job lately of limiting big plays, but everything starts with their ability to stop the run. If Forte has a big game, I have a hard time seeing the Redskins limiting this offense enough to win the game.
.
August, 26, 2013
8/26/13
1:05
PM ET
Chicago Bears running back Matt Forte on Monday made the latest installment of ESPN's NFL Rank project, which lists the top 100 offensive and defensive players in the league heading into this season.
Forte enters his sixth season in 2013, and ranked No. 48 among offensive players headed into this year, one spot behind Seattle Seahawks quarterback Russell Wilson (No. 47) and Washington Redskins quarterback Robert Griffin III (46).
ESPN Stats & Information said this about Forte:
"Since entering the league in2008, Forte has 15 100-yard rushing games. The Bears are 14-1 in those games. Of the 19 running backs with at least 10 100-yard games over that span, Forte's 14-1 record is the best."
That's not a surprise, considering the brand of football the Bears play, which is highlighted by a stifling, turnover-producing defense that allows the team to play keep-away.
Football Outsiders said: "Matt Forte's struggles at the goal line, and shaky O-line has held him back a bit."
I agree with the second part of that sentence, but disagree with the first part. Statistically, the numbers definitely indicate Forte has struggled from the goal line in the past. But I don't think he's a guy that can't get it done on the goal line.
Forte provided proof of that against the San Diego Chargers on Aug. 15. From the 11-yard line, the Bears handed to Forte on three consecutive snaps, and the running back gained a total of 8 yards on back-to-back plays, before capping the drive with a 3-yard burst.
Obviously, the offensive line is a little better now with all the moves the Bears made through free agency and the draft. But credit also goes to Bears coach Marc Trestman and offensive coordinator Aaron Kromer, who have implemented zone-blocking schemes, which allow Forte to pick his own holes.
With the new blocking schemes in place, my guess is Forte will eventually shed his reputation as a poor producer on the goal line.
November, 28, 2012
11/28/12
1:31
PM ET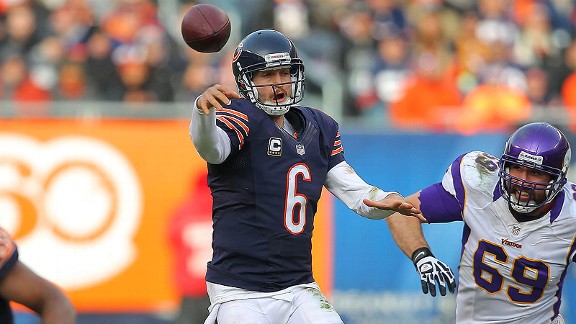 Dennis Wierzbicki/US PresswireDoes Chicago Bears quarterback Jay Cutler have a case for being in the MVP conversation? The numbers don't necessarily back it up.
The
Chicago Bears
have a 13-2 record in
Jay Cutler
's past 15 starts.
They have a 1-6 record in the games he has missed during that time.
That has to make Cutler a prime candidate for MVP Watch, right? His presence must mean everything for the Bears. We all know quarterbacks are usually the most important players on their teams. And we've all heard about what a gunslinger Cutler can be with that strong arm and defiant nature.
"MVP! MVP! MVP!"
Now comes the hard part: proving Cutler is indeed such a key player for the Bears.
Let's take a closer look at the Bears' 1-6 record without him.
That record includes a defeat at San Francisco this season. Cutler wasn't going to stop
Aldon Smith
from getting 5.5 sacks. He wasn't going to stop
Colin Kaepernick
from lighting up the Bears' defense. He wasn't going to win a game the Bears lost 32-7 without him.
Cutler missed the final six games last season, five of them losses. Running back
Matt Forte
missed the final three-plus games. Having Cutler available probably would have enabled the Bears to finish better, but Chicago wasn't going to win at its usual clip without Forte. Lots of starting quarterbacks improve their teams' chances for winning relative to what a backup would provide. That doesn't make them MVP candidates.
The one game Chicago won without Cutler during the 1-6 stretch in question came during Week 17 last season, against Minnesota. The Bears picked off three passes from Joe Webb and Christian Ponder, returning one for a touchdown.
In 2010, the Bears won the lone game Cutler missed, defeating a horrendous Carolina team on its way to winning the
Cam Newton
sweepstakes. Bears backup
Todd Collins
threw four picks in that game. Forte carried 22 times for 166 yards. The Bears won 23-6.
Doesn't exactly enhance those MVP credentials for Cutler, does it?
Neither do the stats.
Cutler ranks 20th in Total QBR at 50.4 this season; 50 is average.
Tom Brady
is in the low 80s. Pro Bowl-caliber quarterbacks usually score in the mid-60s or higher. Cutler ranks a distant third
among NFC North quarterbacks
by this measure. He isn't all that far ahead of Minnesota's
Christian Ponder
(47.7).
Cutler ranks 26th in NFL passer rating at 81.1, which is below the 86.9 figure covering every pass thrown in the league this season. He has 13 touchdowns and 11 interceptions.
But Cutler comes through in the clutch, right? Yes and no.
Cutler has a 92.9 QBR score (out of 100) on 16 fourth-quarter plays when the score was within eight points. That ranks second to MVP Watch leader
Peyton Manning
and right ahead of St. Louis'
Sam Bradford
. That's fine, but all 16 of those plays were against the Rams and Panthers. Cutler completed 10 of 14 passes with no touchdowns. He also rushed twice for 20 yards in those situations.
To further explore the clutch theory, I filtered ESPN's charting database for higher-leverage situations, defined as those when play results have above-average impact on win probability.
It's a more complicated way to measure what the vernacular calls clutch situations, but the math is sound. Ten years of charting information says teams are either more or less likely to win based on the results for each play. Some situations are more pivotal than others.
Cutler's QBR score falls to 44.4 with two touchdowns, five picks and 14 sacks in higher-leverage situations, meaning situations when the stakes were above average. That compares to a 63.3 QBR score with four touchdowns, one pick and nine sacks in lower-leverage situations.
Overall, Cutler has three touchdowns, six picks and a 47.0 QBR score in one-score games, defined as those when the margin is within eight points.
Perhaps someone else can build the MVP case for Cutler. I'd like to hear it.
November, 21, 2012
11/21/12
10:31
AM ET
As the
Minnesota Vikings
return from their bye this week, it's worth circling back on a weapon that should work to their extreme benefit as long as tailback
Adrian Peterson
is running at his current pace.

The Vikings' play-action game
dipped inexplicably at midseason,
coinciding roughly with three losses in four games, but the team revived it with a near-perfect implementation Nov. 11 against the
Detroit Lions
. As the Vikings put up a season-high 34 points, quarterback
Christian Ponder
completed eight of nine play-action passes for 60 yards and the first touchdown of the game.
As we've discussed, the Vikings aren't constructed to be a high-flying downfield passing team.
They don't want to be
, and as long as Peterson stays on the field, they don't have to be. That's why the play-action game makes so much sense. Defenders must respect every step that Ponder takes toward Peterson, and any hesitation is enough to give the Vikings' pass-catchers an advantage.
To offensive coordinator Bill Musgrave's credit, Ponder has thrown the third-most play-action passes (104) of any quarterback in the NFL. They represent nearly a third of his total attempts (32.3 percent), trailing only
Robert Griffin III
of the
Washington Redskins
(39.4 percent) in frequency.
Like anything else, play-action can become predictable. But we've reached the point of the season when teams shave the fat from their playbook, focus on what they do well and try to ride it to the postseason. The Vikings' play-action game should be a consistent and productive weapon as they make their playoff push.
October, 24, 2012
10/24/12
1:09
PM ET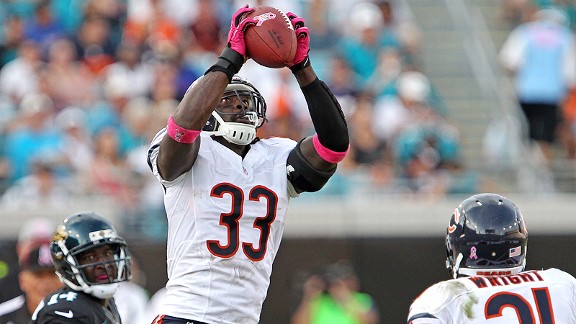 John J. Kim/Getty ImagesChicago Bears cornerback Charles Tillman makes his first appearance on our MVP Watch list.
The
Chicago Bears
have owned one of the NFL's best records, backed by a dominant defense. They haven't had an obvious MVP candidate.
How about
Charles Tillman
?
The 10th-year cornerback earned Pro Bowl honors for the first time last season. He
blanketed
the
Detroit Lions
'
Calvin Johnson
during a 13-7 victory Monday night.
With two forced fumbles against the Lions, Tillman has 32 for his career. That ranks tied for third since Tillman's rookie season (2003) and the most for a defensive back, according to the Bears. Tillman has two picks and scored on both.
Tillman is playing very well. He's playing for a dominant defense. His team is winning. He makes the MVP Watch list this week, his first appearance.
Tillman joins MVP Watch mainstay
J.J. Watt
as the only defensive players to appear on the list this season.
Lawrence Taylor
was the most recent defensive player to win the Associated Press version of the award. He won following the 1986 season.
Note: ESPN Stats & Information contributed to this item.
August, 18, 2012
8/18/12
3:35
PM ET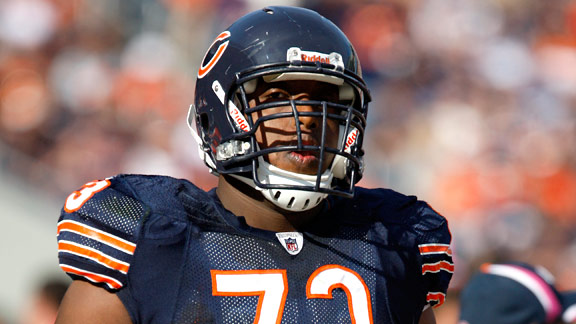 AP Photo/Nam Y. HuhMike Tice seemed to put J'Marcus Webb on notice after his performance wasn't "up to par" in the preseason opener against Denver.
CHICAGO --
Chicago Bears
offensive tackle
Chris Williams
understands the precarious position he might be in, regardless of his first-round pedigree.
That's why he can't go into Saturday's matchup against the
Washington Redskins
with the mentality that it's just another preseason game.
"I'm not in that position," Williams said. "Preseason is like a regular game for me. You go out there, you play hard, and you try and win a starting job."
A candidate competing with third-year veteran J'Marcus Webb for the starting job at left tackle, Williams produced a solid performance in the club's preseason-opening loss last week to the
Denver Broncos
, which earned him more repetitions from the coaching staff as it intensifies the evaluation process to nail down the starters as soon as possible.
[+] Enlarge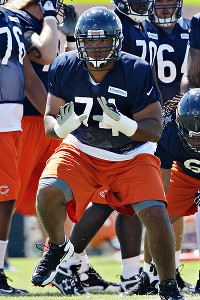 AP Photo/Nam Y. HuhChris Williams doesn't care where he start on the offensive line, he just wants to start.
Webb emerged early as the favorite to win the starting job, and still might be in that position. But Williams knows how he stacks up against Redskins pass rushers such as
Brian Orakpo
(9 sacks in 2011) and
Ryan Kerrigan
(7 ½ sacks in 2011) could change the completion of the left-tackle competition.
After all, neither Webb nor Williams is excelling at camp.
Webb is coming off a performance last week that wasn't "up to par as far as the standards we're trying to set to protect our quarterbacks," according to offensive coordinator Mike Tice, who also singled out Williams for having a "solid" outing.
"Not many of us performed the way we needed to last week," Bears coach Lovie Smith said. "I assume we're all going to do a good job this week, left tackle included."
Williams isn't reading too much into the team's decision to give him more repetitions in recent days or the fact Tice wants to see him working against Washington's starters. Williams just wants a legitimate opportunity to win a starting job, regardless of where.
Webb could make that tougher for him, because he's come on in recent practices, according to Tice.
"I don't know if I would (classify) it as a second chance, but it's a chance for me to go out and win a starting job, which I've been trying to do all along," Williams said. "We've all got something to prove. I want to prove I can go out and block anyone, and block people consistently. There's nothing extra there for me. I've been trying all camp to win a starting job. So I'm not going to do anything different."
There's a good chance the top performer at left tackle against the Redskins eventually wins the starting job, with the club looking to name its starting five up front as soon as possible so the offensive line can develop cohesion going into the regular season. Typically the third preseason game for teams is somewhat of a dress rehearsal for the regular season, with most teams sitting out starters during the final exhibition matchup.
So if either player is to make a move toward separating themselves as the clear cut starter, preseason Game No. 2 is the time to do it.
Here's a look at a few matchups to watch Saturday when the Bears host the Redskins at Soldier Field:
[+] Enlarge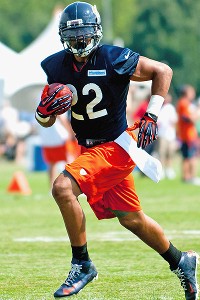 Bradley Leeb/US PresswireMatt Forte will make his preseason debut on Saturday against the Redskins.
RB Matt Forte vs. LB London Fletcher: Without Forte, the Bears managed a paltry 36 rushing yards on 21 attempts last week versus Denver which averaged out to 1.7 yards per carry. A healthy Forte dropped into the mix should help the Bears ground game as the all-purpose tailback is set to see his first live game action (besides the 2012 Pro Bowl) since he injured his MCL last season in Week 13. Fletcher is a highly decorated linebacker entering his 15th NFL season who spent time in St. Louis early in his career with Bears coach Lovie Smith.


DE Shea McClellin vs. QB Robert Griffin III: McClellin had a decent preseason debut in front of the home fans last week as he recorded a sack against Denver quarterback Caleb Hanie. McClellin should have ample opportunities Saturday night to chase down RGIII, who is expected to play around 30-35 snaps. After a slow start to camp, McClellin is now working as an outside rusher in the Bears' nickel package and will be on the field against Washington in obvious passing situations. Can the Bears' first-round pick chase down the athletic Griffin -- the No. 2 overall pick and 2011 Heisman trophy winner -- like he did Hanie in the preseason opener?


QB Jay Cutler vs. CB DeAngelo Hall: Cutler helped punch Hall's ticket to the 2010 Pro Bowl when the cornerback intercepted the Bears quarterback four times in a regular season game at Soldier Field. That game represented rock bottom for Cutler in a Bears uniform, but he has since rebounded and played above average football for the past year and a half. However, Cutler isn't one to forget and would no doubt relish the chance to burn Hall on a deep pass down the field while the starters are still in the game.
August, 16, 2012
8/16/12
5:05
PM ET
BOURBONNAIS, Ill. – Preseason football has nothing to do with wins or losses. The whole point of training camp and exhibition games, besides the obvious goal of staying healthy, is to re-enforce good habits on the field and try to avoid glaring mistakes in regards to fundamentals and techniques.
[+] Enlarge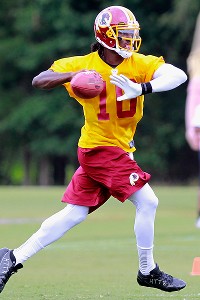 Geoff Burke/US PresswireRobert Griffin III figures to test the Bears with his arm as well as his legs.
With that in mind, it should be beneficial for some of the younger Chicago Bears' defenders to face
Washington Redskins
rookie quarterback
Robert Griffin
III on Saturday night in their second preseason game. Far from a finished product, Griffin -- the 2011 Heisman Trophy Winner and No. 2 overall selection of the NFL draft out of Baylor -- got strong reviews after this first preseason game where he completed 4 of 6 passes for 70 yards and a touchdown.
"Been impressed with him for a long time," Bears coach Lovie Smith said. "His college coach is an old high school friend of mine so of course I've followed them quite a bit. He can do everything you want a good quarterback to do. I think he had over a 145.0 quarterback rating in the 14 plays he played last week. He'll be a good challenge for us.
"It seems like most of the quarterbacks nowadays are athletic and they can beat you moving around, buying time to complete passes. He can do that."
Although Griffin was credited with just one official rushing attempt in his preseason debut against Buffalo, he routinely made plays outside the pocket while in college where he rushed for 2,254 yards and 33 touchdowns. That element of Griffin's game could test the ability of the Bears' younger defensive ends to keep contain and not allow the quarterback to get in the open field where he is more than capable of picking up chunks of yardage.
"He's a great athlete and a great passer," Bears defensive end
Corey Wootton
said. "When you have guys that fast who can get out of the pocket in Mike Shanahan's offense it's tough because it leaves doubt some plays here and there. But you have to follow your keys and take angles on a guy like that.
"Coach has been stressing angles, especially on a guy who can run a 4.3 or 4.4 (40-yard dash)."
April, 18, 2012
4/18/12
2:30
PM ET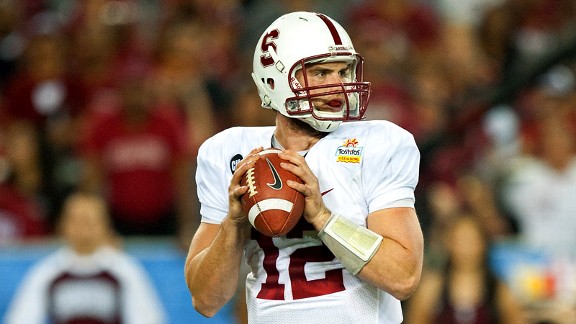 Rob Tringali/SportsChrome/Getty ImagesAndrew Luck, who is expected to be the first overall pick of the draft by the Colts, likely will make his NFL debut against the Bears in Week 1.
The
Chicago Bears
believe they have remedied roster deficiencies at backup quarterback by re-signing veteran
Josh McCown
and acquiring
Jason Campbell
through free agency to back up
Jay Cutler
.
With four signal callers on the current roster, the prospect of adding a quarterback in the NFL draft seems remote. So don't expect the Bears to go down that path. In fact, it's not even likely the team will add a proverbial camp arm.
"We feel real good about our quarterback position now," Bears coach Lovie Smith said.
That certainly wasn't the sentiment toward the end of 2011, when ineptitude behind Cutler derailed what should have been a playoff season. After starting 7-3 with Cutler at the helm, the Bears lost five of six down the stretch when the quarterback suffered a season-ending thumb injury in a Nov. 20 win over the
San Diego Chargers
.
Smartly, the Bears leaned on hard lessons from last season in opting to take experience over youth when they brought aboard Campbell and re-signed McCown.
"Each year you learn something," Smith said.
In 2012, it won't be a new or inexperienced backup quarterback.
The next 10:
11.
Kellen Moore
, Boise State, 6-0, 197; 12. B.J. Coleman, Tennessee-Chattanooga, 6-3, 234; 13.
Case Keenum
, Houston, 6-1, 208; 14.
Austin Davis
, Southern Mississippi, 6-2, 219; 15.
Darron Thomas
, Oregon, 6-3, 220; 16. G.J. Kinne, Tulsa, 6-1, 234; 17.
Aaron Corp
, Richmond, 6-4, 215; 18.
Tyler Hansen
, Colorado, 6-1, 222; 19.
Patrick Witt
, Yale, 6-4, 225; 20.
Jacory Harris
, Miami, 6-3, 203.
Position grade:
A.
Analysis:
It's anticipated that teams will take quarterbacks with the first and second picks for the first time since 1999, Cleveland and Philadelphia selected
Tim Couch
and
Donovan McNabb
at No. 1 and No. 2. Obviously everyone knows how the careers of Couch and McNabb widely differed, but Luck and Griffin III appear poised to enjoy successful careers. The new rookie salary structure makes it much more advantageous than in years past to take a gamble on a quarterback early. So there's a good chance this class of quarterbacks could produce a few starters. ESPN draft analyst Mel Kiper Jr. predicts that five or six quarterbacks could be off the board by the end of the second round.