Chicago Bears:

Rod Woodson
October, 18, 2011
10/18/11
9:38
AM ET
After the Chicago Bears' 39-10 victory against the Minnesota Vikings, here are three issues that merit further examination:
Kevin SeifertThe Chicago Bears take their turn in the examination room after beating the Minnesota Vikings.

The Bears' best game of the season came with some good news the next morning. Receiver/kick returner Devin Hester, who scored a pair of touchdowns before leaving with an unspecified chest injury, is not expected to miss extended time. Hester's 98-yard kickoff return was the 17th overall return for a touchdown in his career, pulling him into Hall of Fame company. He is tied with Hall of Fame cornerback/safety Rod Woodson for the second-most overall returns in NFL history. Only Deion Sanders (19) has more.

As you probably know by now, safety Chris Harris has asked for a trade by Tuesday's NFL trade deadline after being a healthy scratch in Sunday night's game. Harris confirmed the news during an interview with ESPN 1000, and agent Albert Elias has been empowered to seek a trade partner. I suppose it's possible the Bears have suddenly decided that Harris can't play anymore. I don't think that's the case quite yet. But regardless, given how often they change their starters at safety, the Bears would be silly to part ways with Harris. Assuming he remains with the team, the law of averages suggests Harris will be back on the field sooner than later. It's doubtful that either Major Wright or Chris Conte will be removed from the lineup after a victory, but injuries and other factors could arise on a weekly basis.

This will be the oddest week of the Bears' season. They'll practice at Halas Hall on Wednesday and Thursday, and then leave Thursday evening for London, where they will play the Tampa Bay Buccaneers on Sunday. There are no perfect ways to handle the travel portion of this game, but in essence they have an overnight flight that puts them into London by Friday morning. They'll have about 60 hours to adjust before kickoff. In a different approach, the Bucs took off Monday and will spend the week in unfamiliar surroundings. It's a tough road regardless of when the trip is timed.
And here is one issue I still don't get:
The feeling throughout last week was that defensive end Julius Peppers would play despite a sprained knee suffered Oct. 10. That theory seemed shot when the Bears listed him as doubtful on the final injury report. But in the end, Peppers played, started and had two sacks. Did the Bears manipulate the injury report to their advantage? "Doubtful" technically means a player has a 25 percent chance to be available. So even though it usually means a player will be out, a team can justify it without explanation if one out of every four doubtful players ends up in uniform. I suppose it's possible the Bears were upset that the Vikings reversed course last season after declaring quarterback Brett Favre out for the teams' December 2010 matchup, but "retaliating" in this instance seems like more trouble than it's worth. The Bears might have preferred to keep the Vikings guessing, but it's hard to imagine them being petty enough to let what happened last season influence their classification of Peppers' injury.
July, 7, 2010
7/07/10
8:25
AM ET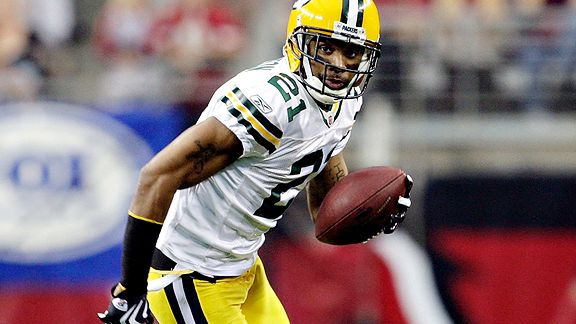 Jamie Squire/Getty ImagesA new offseason workout plan should make reigning defensive player of the year Charles Woodson even more dangerous.
Thanks for stopping in to check out Day 2 of our series on the NFC North, in which we tap the brains of beat reporters around the division to get the skinny on their teams.
We took a
look at the Vikings
on Tuesday with Minneapolis Star-Tribune reporter Judd Zulgad.
We move onto Green Bay today with
Milwaukee Journal-Sentinel Packers reporter Greg Bedard
.
Five things the Packers need to worry about
1. Special teams:
The Packers claim they will improve on special teams this season, and that should happen almost by default. But will this group improve simply through better coaching (with the same staff)? The unit needs to cut down on penalties. The Packers continue to go the cheap route at punter, and neither option has kicked in so much as an exhibition game. Indications are that
Mason Crosby
is still suffering a confidence problem.
2. Depth at outside linebacker:
The Packers should be fine with
Brad Jones
at left outside linebacker, although he needs to show enough to keep double teams off
Clay Matthews
. The real worry is behind them. If Jones or Matthews is injured, the Packers have zero depth. That's not a good thing at a crucial position in the 3-4.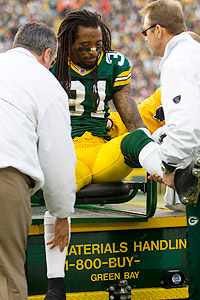 Jeff Hanisch/US PresswireHow cornerback Al Harris recovers from an injured knee will be crucial for the Packers.
3. Al Harris' health:
The Packers put a lot of money into cornerback with Harris,
Charles Woodson
and
Tramon Williams
. The group -- if intact -- should be one of the league's best. But if Harris isn't the same player after knee surgery,
Pat Lee
or
Brandon Underwood
will need to be better.
4. Offensive line slow out of the gates:
The Packers are notorious for getting off to slow and sloppy starts on the offensive line under coach
James Campen
. That can't happen anymore. If it does, it could torpedo the season, like it nearly did last season.
5. Overall team mindset:
For whatever reason, the 2009 Packers got full of themselves, and their performances suffered. Just ask Woodson about the mindset going into the Cardinals playoff game. This team plays better with an edge and its backs against the wall. The Packers have to find a way to handle all the Super Bowl hype better. On the flip side, the Packers, starting with general manager Ted Thompson, look like they're getting a bit tight [due to the Super Bowl hype]. That stance has a tendency to filter down to the players, and negatively affect the on-field product. The Packers need to find a way to strike the right balance.
Five things not to worry about
1. Donald Driver's age:
Driver's play tailed off toward the end of last season, but offseason scopes on his knees should help immensely. The Packers are a better offense with Driver, 35, in the mix. Nobody else can do the dirty work he does.
2. Left guard:
Incumbent
Daryn Colledge
is a lot better than Packers fans (and some of the coaches) want to give him credit for. Does he need to be more consistent? Yes. But he might be the best left guard in the division.
Jason Spitz
should be ready to compete for the job as well.
3. Whether Bryan Bulaga plays:
The Packers drafted Bulaga in the first round with a year down the road in mind. He's not ready to unseat
Chad Clifton
, and Bulaga has never played guard before. Bulaga needs to just concentrate on learning left tackle because at some point Clifton won't be able to answer the bell.
4. Defensive line depth:
Whether the troubled
Johnny Jolly
is on the Packers' roster at the start of training camp, the club still has more than enough depth between
Ryan Pickett
,
B.J. Raji
,
Cullen Jenkins
,
Mike Neal
,
C.J. Wilson
, and, perhaps,
Justin Harrell
.
5. Charles Woodson slowing down:
The reigning NFL defensive player of the year, Woodson looks like he's ready for a repeat after taking part in an offseason routine for the first time that used boxing. The leader of the Packers' defense, Woodson should make even more plays this season with a healthy supporting cast around him.