Chicago Bears:

Ryan Quigley
November, 14, 2012
11/14/12
11:28
AM ET
September, 9, 2012
9/09/12
10:58
AM ET
August, 31, 2012
8/31/12
9:00
AM ET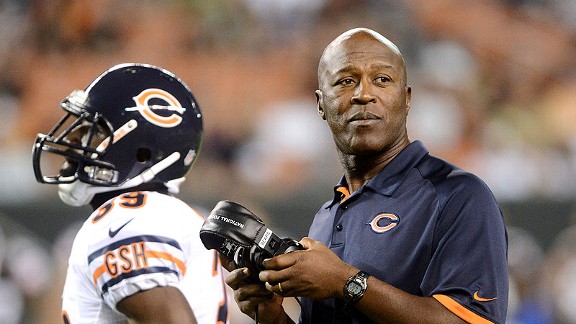 Eric P. Mull/US PresswireLovie Smith made a smart move by resting all of his starters in Thursday's preseason finale.
CLEVELAND -- Here are Five Things We Learned in the
Chicago Bears
' 28-20 win over the
Cleveland Browns
in the preseason finale.
1. Lovie Smith treats preseason in proper fashion:
It's a shame that NFL fans have to purchase two preseason games in their season ticket package, but head coaches simply cannot afford to lose a starter or even a quality reserve in the final preseason game to an injury. Imagine the backlash if
Jay Cutler
or
Julius Peppers
got hurt in a meaningless game 10 days before the regular season opener. Heck, imagine the concern if the Bears lost a well-paid back up such as
Jason Campbell
or
Michael Bush
. That is why Smith took absolutely no chances on Thursday night when he started, in some cases, third-stringers with no shot of cracking the 53-man roster. Smith's job is to put the Bears in the best position to win games in the regular season, not the preseason season. They don't hand out championships in the summer.
2. The Bears can trust Josh McCown:
If the absolute worst case scenario happens and the Bears are down to their No. 3 quarterback, at least the club can take comfort in knowing McCown can still perform at a reasonable level. The veteran had an excellent first half -- albeit vs. Cleveland's second- and third-stringers -- in the preseason finale, completing 16 of 20 passes for 137 yards, two touchdowns and a passer rating of 128.5. Although it isn't cheap to carry a third quarterback with 10 years of NFL experience, McCown gives the Bears an extra layer of protection in the event injuries strike again at the most important position on the field. It's never a bad thing to have a quarterback with 33 career starts at the bottom of your depth chart if you can afford to carry three at the position.
[+] Enlarge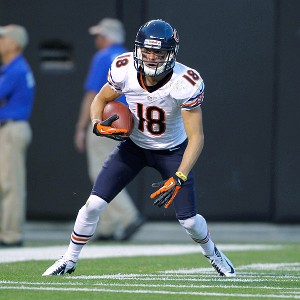 AP Photo/Ron SchwaneDane Sanzenbacher should be in good shape if the Bears keep six receivers.
3. Dane Sanzenbacher sticks if Bears keep six:
We simply don't know if the Bears want six receivers, so if they go with five, then Sanzenbacher is in trouble. But the Toledo, Ohio native put on a show Thursday night when he made a difficult 30-yard touchdown grab in the first quarter. All preseason, Sanzenbacher has made the most of his opportunities in the passing game, while at the same time quietly improving on special teams. Of course, it's also nice when the quarterback likes you. Cutler has gone on record several times saying Sanzenbacher does enough to be on the team. The second-year wideout has made his case, now let's see how the numbers shake out.
4. No. 3 running back went down to wire:
Too bad Booker left the game with a head injury because his battle with
Armando Allen
had been one the best in camp. Depending on the severity of Booker's injury, this could be a difficult call for the Bears to make. Booker has shined on special teams the entire preseason, not just in the return game, but also as the all-important personal protector on the punt team. He flashed some slick moves on the ground Thursday, rushing for 81 yards on 15 attempts. Allen led the Bears with 83 rushing yards and 51 receiving yards and forced a fumble on a punt. Allen fought through some late game fatigue to rip off a 49-yard run that sealed the victory for the Bears. It would be cheaper to keep Allen over Booker from a financial standpoint, but remember the Bears were willing to pay
Kahlil Bell
$700,000 to be their No. 3 running back, which is the same amount Booker would earn in 2012. That's why this is a great competition because there is no clear-cut winner.
5. Ryan Quigley continues to rise to occasion:
Make it two straight impressive performances for the undrafted rookie punter out of Boston College who is fighting to convince Dave Toub he should be the one who fills in for
Adam Podlesh
the first couple of weeks of the regular season -- if necessary. Quigley might not have struck the ball as well as he did last week against the
New York Giants
, but he still managed to drop three of his four punts inside the 20-yard line and have a long boot of 45 yards. The Bears had done plenty of homework on the available free agent punters, but after watching Quigley in the final two preseason games, do they really need to sign a guy off the street? They could always waive Quigley on Friday and re-sign him to the practice squad on Saturday with the idea of activating him later next week to face the
Indianapolis Colts
. That is an option. Regardless of what the Bears decide to do, Quigley has proven that he is a legitimate NFL punter.
August, 31, 2012
8/31/12
12:34
AM ET
CLEVELAND -- Ryan Quigley can punt in the NFL. That much is clear.
The issue now is whether the undrafted rookie free agent did enough in the last two preseason games to convince the Bears he should be allowed to punt for the team in the regular season until Adam Podlesh returns from a left hip flexor injury.
"You talk about taking advantage of your opportunities; last week on a national stage in New York he stepped up and did a great job," Bears head coach Lovie Smith said. "He's been doing it in practice and he did it again tonight."
Quigley's better of the two games was probably against the Giants, but he still placed three of his four punts inside the 20-yard line and had a long kick of 45 yards in the preseason finale.
"I can't thank the Bears enough for this opportunity and for sticking with me," Quigley said. "I think I hit the ball a little better last week but just overall, I think I did okay. I know I can play in this league. I proved to myself and hopefully to other coaches I can play in this league. Coming in as a tryout guy, if you told me I'd have this opportunity during OTAs I would have been ecstatic."
The Bears could go in a couple different directions. They have done their homework on several free-agent punters with actual regular-season experience. That said, there is something to be said about sticking with a player who has been with your program throughout the entire offseason and preseason, such as Quigley.
Because of that comfort level, the Bears might keep Quigley on the 53-man roster or they could save a little money by waiving him Friday with the hope of re-signing him to the practice squad over the weekend. That way Quigley would still be on the team and the Bears could activate him off the practice squad closer to the actual regular-season opener against the Indianapolis Colts on Sep. 9. Regardless, Quigley will get another opportunity to punt in the NFL, whether in Chicago or someplace else.
August, 27, 2012
8/27/12
5:49
PM ET
LAKE FOREST, Ill. -- Rookie punter
Ryan Quigley
showed the Bears enough in the third preseason game to earn himself another opportunity to try and nail down the team's starting job if a left hip flexor injury forces veteran
Adam Podlesh
to miss any regular season games.
Quigley will again handle punting duties in Thursday's night preseason finale in Cleveland after he performed admirably last week on the road against the
New York Giants
, according to Bears special teams coordinator Dave Toub.
"He's our guy," Toub said. "He's our punter. He's the only one we have left. We're counting on him."
Toub said Quigley exceeded his expectations last week when he punted seven times for an average of 43.6 yards. The undrafted rookie also dropped the ball inside the 20-yard line on three separate occasions and had a long punt of 50 yards.
"He had a great game," Toub said. "He did a really good job. We just allowed him to punt it away. He relaxed and carried over what we've seen in practice on to the field. The first two games, not so good, the third game he was really good."
There is a chance, however, the Bears could still go in another direction if for whatever reason Quigley falters.
Spencer Lanning
, who was with the Bears last summer in training camp, was waived by Browns over the weekend. The Bears also brought in
Matt Dodge
for a tryout last week and could be inclined to explore other experienced options if Podlesh remains sidelined when the regular season begins next week.
August, 25, 2012
8/25/12
11:31
AM ET
[+] Enlarge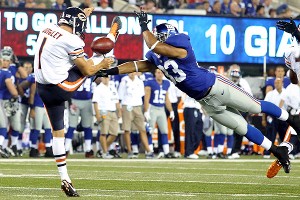 Brad Penner/US PresswireDespite this block, Ryan Quigley impressed Lovie Smith and should get another shot against the Browns.
EAST RUTHERFORD, NJ. -- Bears head coach Lovie Smith singled out the performance of rookie punter
Ryan Quigley
as one of the highlights to come out of Saturday night's third preseason game against the
New York Giants
.
Starting in place of injured veteran
Adam Podlesh
(hip flexor), Quigley displayed an impressive leg the entire evening, punting the ball seven times for an average of 43.6 yards per kick and a long of 50 yards.
"Ryan Quigley did a good job punting the football," Smith said. "He's done that for us in practice. I like seeing a guy with a great opportunity in front of him (who) steps up to the plate, and he did that. I was really pleased with what he was able to do tonight."
Quigley, who is Boston College's career punting leader with 283 attempts for 11,418 yards, is auditioning to open the season as the Bears No. 1 punter in the event Podlesh's strained hip flexor forces him to miss any regular season games. Quigley should get another opportunity to impress the Bears' coaching staff in the preseason finale next Thursday at Cleveland.
"After the first two punts I felt comfortable and ready to go," Quigley said. "When Pat (Mannelly) is putting the snaps right in your hip every time and with the coverage that we have, I'm comfortable back there to put the ball where it needs to be. It was a good night."
August, 24, 2012
8/24/12
12:45
PM ET
In which we look ahead to the remainder of Week 3 in the NFC North's preseason schedule:
Chicago Bears

Opponent:
New York Giants
Location:
MetLife Stadium
Day/Time:
Friday/8 p.m. ET
Personnel notes:
After an intense
week of discussion
about linebacker
Brian Urlacher
's future, there is more reason than ever to scrutinize
Nick Roach
's play at middle linebacker. Whereas we once considered it a lock that Urlacher will be ready to start the season, there now seems at least a chance that Roach will open the year at middle linebacker. It's not his best position. … Punter
Adam Podlesh
has a hip flexor, so rookie
Ryan Quigley
will handle all of the punting duties Friday night. His performance will determine whether the Bears need to consider other options if Podlesh isn't ready to start the season. … The game will be televised nationally on CBS.
Focal point:
What else, if not for the Bears' offensive line? The Giants aren't expected to play All-Pro defensive end
Jason Pierre-Paul
because of back spasms, but they should still give the Bears' line its best test yet. The Bears would like to make a final decision on their starting left tackle, where
J'Marcus Webb
is trying to hold off
Chris Williams
, as well as at left guard.
Chris Spencer
and
Chilo Rachal
are competing for that job.
Minnesota Vikings


Opponent:
San Diego Chargers

Location:
Metrodome

Day/Time:
Friday/8 p.m. ET

Personnel notes:
Tailback
Adrian Peterson
won't play but will participate fully in pregame warmups, according to
ESPN's Chris Mortensen
. … Cornerback
Chris Cook
(concussion) and nose tackle
Letroy Guion
(knee) aren't expected to play. … The Vikings will continue to search for possibilities to replace receiver
Jerome Simpson
during his three-game suspension. Look for second-year player
Stephen Burton
, along with veterans
Michael Jenkins
and
Devin Aromashodu
, to all get long looks. … Rookie cornerback
Josh Robinson
has impressed the Vikings in training camp and could get a chance to work with the first team Friday night. … Quarterback
Charlie Whitehurst
will start for the Chargers, who don't want to risk starter
Philip Rivers
behind an injury-riddled offensive line. Tight end
Antonio Gates
will also sit out.

Focal point:
This might be middle linebacker
Jasper Brinkley
's final chance to secure the starting job. The Vikings haven't been thrilled with his tentative preseason performances, coming after a hip injury cost him the 2011 season. Another poor outing could put the team on a search for replacements.
Detroit Lions

Opponent:
Oakland Raiders
Location:
Oakland-Alameda County Coliseum
Day/Time:
Saturday/7 p.m. ET
Personnel notes:
Tailback
Mikel Leshoure
is expected to make his NFL debut, nearly 17 months after he was drafted and nearly 20 months from his last live game. Leshoure last played for Illinois on Dec. 29, 2010. He missed last season because of a ruptured Achilles and a portion of training camp this summer because of a hamstring strain. The Lions want to get him some preseason work because he'll has been suspended for the first two weeks of the regular season. ... New special teams ace
Kassim Osgood
isn't expected to play. ... Rookie
Kellen Moore
's chances of making the team increased with the release of R.J. Archer, but he still must earn a roster spot even though he is one of only three quarterbacks on the roster. The Lions could keep only two on their final 53-man roster.
Focal point:
It would be nice to see defensive tackle
Nick Fairley
have
a signature, breakout game to
reinforce projections that he will be a significant factor this season. But in reality, a game with impact would suffice.
August, 24, 2012
8/24/12
11:08
AM ET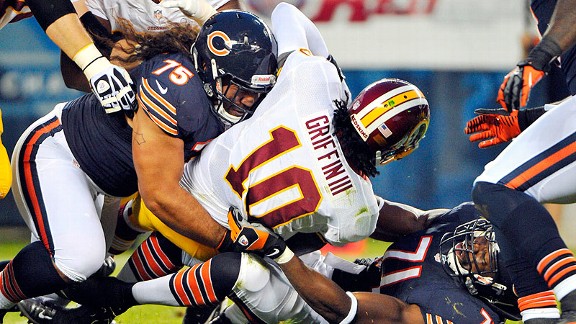 Rob Grabowski/US PresswireMatt Toeaina and Israel Idonije could be in for another big game against the Giants' line.
NEWARK, N.J. -- The
left tackle competition
headlines the position battles, but there are other areas to keep an eye on as the
Chicago Bears
take on the
New York Giants
in their third preseason game on Friday night. Here are three to watch:
Bears pass rush:
Perhaps the most encouraging aspect of last week's game against the
Washington Redskins
was the play of veteran defensive end
Israel Idonije
, who registered 2.5 sacks and a forced fumble deep in Redskins' territory that the Bears eventually turned into a touchdown. With Giants left tackle
Will Beatty
expected to be sidelined with back issues, the Bears defensive line, led by Idonie and
Julius Peppers
, could be in store for another big night. This is also another chance for defensive tackle
Matt Toeaina
to impress the coaching staff as
Stephen Paea
remains out due to a sprained ankle, as well as
Nate Collins
, who has been one of the pleasant surprises of camp. Even though Collins is set to be suspended for Week 1 of the regular season, the Bears will strongly consider holding a roster spot for the athletic tackle.
[+] Enlarge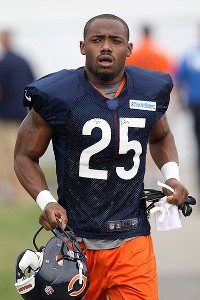 AP Photo/Nam Y. HuhArmando Allen's chances of making the Bears roster improved when the team released Kahlil Bell.
No. 3 RB:
The release of
Kahlil Bell
on Thursday night has opened the door for
Armando Allen
or
Lorenzo Booker
to earn a spot on the final 53-man roster. Both tailbacks have stood out in the preseason, but neither really gives the Bears much on special teams. Of course, Booker had a terrific 105-yard kickoff return touchdown against Washington, but the Bears' return jobs are already taken by
Devin Hester
and
Eric Weems
. Allen gives the Bears a player who can operate in space, while Booker might be the better all-around running back. It's just a matter of what the Bears are looking for. Allen also helped his cause by showcasing his ability to pick up the blitz in the second preseason game, something Bell struggled to do.
Ryan Quigley:
This is a wonderful opportunity for the undrafted rookie free agent punter out of Boston College to put some good punts on film. That being said, the odds of the Bears opening the season with a punter without any NFL experience -- in the event
Adam Podlesh
has to miss a few weeks because of a hip flexor strain -- are not very good. A more likely scenario would be for the Bears to pick up
Spencer Lanning
if he fails to win the starting punting job in Cleveland, or eventually place a call to
Brad Maynard
after Week 1. The Bears might already have their punter plan in place, but a good effort by Quigley on Friday would help out his prospects of being an NFL punter.
May, 13, 2012
5/13/12
5:23
PM ET
Lovie Smith hinted earlier Sunday the Bears would sign "a couple" tryout players who participated in the club's three-day rookie minicamp. So it came as no surprise when the team announced later in the day it had inked seven of the tryout players to three-year contracts.
The seven players are: Wisconsin-Whitewater quarterback Matt Blanchard, Texas Southern receiver Joseph Anderson, Illinois State tight end Brandon Venson, Concordia tackle Tyler Hendrickson, Central Florida guard Nick Pieschel, Boston College punter Ryan Quigley and Connecticut kicker David Teggart.
Blanchard is a native of the Chicagoland area. He was a prep star at Lake Zurich High School who originally attended Northern Michigan before transferring to Wisconsin-Whitewater where he won 25 games in two seasons, passing for 44 touchdowns to just six interceptions.