Chicago Bears:

Special teams
September, 5, 2013
9/05/13
8:32
AM ET
LAKE FOREST, Ill. -- Offense and defense dominate most of the conversation about the matchup between the
Chicago Bears
and
Cincinnati Bengals
, but special teams could ultimately decide the winner in this one.
Special teams coach Joe DeCamillis and head coach Marc Trestman understand the challenge the Bears face Sunday when they host the Bengals at Soldier Field.
"Special teams is going to be huge," Trestman said. "They're sitting there with
(Brandon) Tate
and
(Adam) Pacman Jones
as their returners. They're both exceptional. They've been as aggressive as any team in the National Football League in the last few years in faking field goals and making big plays. They've got speed on their team just like we do. They've got a punter (
Kevin Huber
) who can direct kicks and kicks it high. It's the first of three left-footed punters we're going to see over the next three weeks. That'll be an issue just covering kicks and doing those types of things."
Huber set Cincinnati's record for gross punting average (46.6 yards) last season, as well as net average (42). In addition, Huber led the NFL last season in punts downed inside the 5 (11). During the preseason, Huber averaged 44.9 yards on punts (39.3-yard net), and hit three inside the 20 with no touchbacks.
Kicker
Mike Nugent
, who missed the last four games of 2012 with a calf injury, hit 19-of-23 attempts, including a 55-yarder against Oakland. The year before, Nugent set team records for field goals (33) and points (132).
"The field goal kicker is a real solid guy and the punter is a real solid guy," DeCamillis said. "Darrin Simmons is the coach and does a great job. It's going to be a heck of a challenge for us coming right out the gate."
Tate is already Cincinnati's career leader in punt return average (10.1 yards), and Jones, who didn't return a punt in the preseason, has returned five punts for touchdowns during his career, including one last season. Only Chicago's
Devin Hester
has returned more punts for TDs (12) than Jones among active players.
"They've got excellent returns," DeCamillis said.
Jones ranked seventh in 2012 in punt return average (11.6 yards). Meanwhile, Tate averaged 24.8 yards on kickoff returns, and finished the preseason with a 30.5-yard average on four returns. Tate also returned a punt for a TD in the preseason.
"There's a lot of issues on special teams," Trestman said. "It's going to be huge. We feel we've got good matchups. We feel it's going to be a heck of a game from that standpoint."
January, 16, 2013
1/16/13
2:17
PM ET
By
Staff
| ESPNChicago.com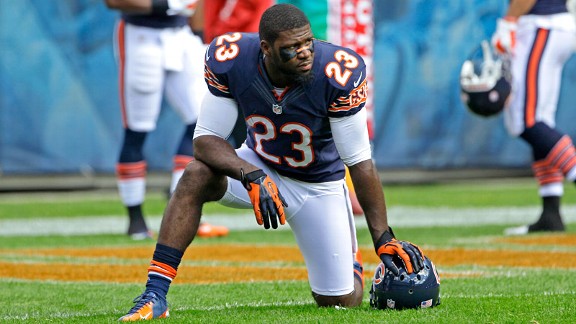 AP Photo/Nam Y. HuhDevin Hester had just 23 catches for 242 yards and one touchdown this season.
Dave Toub, who left the
Chicago Bears
to become the
Kansas City Chiefs
special teams coach on Tuesday, said
Devin Hester
just needs to get his mind right and start having fun to return to the form that made him one of the most dangerous players in the NFL.
"He still has a lot of talent," Toub said on "The Waddle & Silvy Show" on ESPN 1000. "You see it in practice.
"It's more mental with him. He has to get his mind right, and once that thing starts clicking, he's going to be fine."
January, 16, 2013
1/16/13
1:06
PM ET
The Chicago Bears replaced departed special-teams coach Dave Toub on Wednesday with Joe DeCamillis of the Dallas Cowboys.
After speaking with new Bears coach Marc Trestman on Wednesday, DeCamillis and the team came to an agreement to be special teams coach and assistant head coach.
Read the entire story.
October, 20, 2012
10/20/12
10:53
AM ET
[+] Enlarge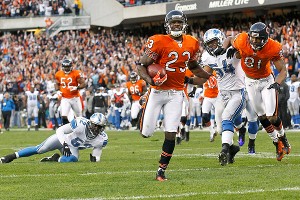 AP Photo/Charles Rex ArbogastThe last time Devin Hester scored on a return was this 82-yard punt return against the Lions on Nov. 13, 2011 at Soldier Field.
LAKE FOREST -- Early in the week,
Chicago Bears
coach Lovie Smith said he wants to see more out of his team's kick return game. Then
Devin Hester
echoed those comments. But special teams coach Dave Toub is staying the course. He knows things will come if the Bears don't panic.
"You have to be careful," Toub said after practice on Friday. "You have to be careful you don't go back and start second guessing yourself and have guys start pointing fingers. We have to stay the course, do what we're doing. Keep playing hard and it will happen eventually."
Monday night against the
Detroit Lions
is as good a time as any. It's been well documented how porous the Lions are on special teams. They've given up two punt returns and two kick-off returns for touchdowns.
"This is a team we see some opportunities there," Hester said on Wednesday. "At the same time we have to be patient ... It's seven years for me now, and I know once they hit they come in a bunch. When it comes it comes."
Hester's last punt return for a touchdown came against these Lions last November.
"He's an old veteran now," Toub said of Hester. "He's been down this road before. You watch the tape. If he was getting pummeled, and as soon as he touched the ball he was getting hit on punt returns, those things aren't happening. Guys are blocking ... He's been real close."
August, 2, 2012
8/02/12
12:04
PM ET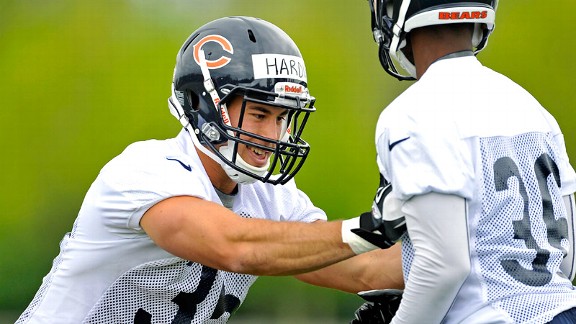 Brian Kersey/Getty ImagesBrandon Hardin is ready to contribute on special teams, but he'll be ready to start if needed.
BOURBONNAIS, Ill. --
Chicago Bears
rookie safety
Brandon Hardin
considers special teams the most reasonable route onto the field.
At the same time, he wants current starters
Chris Conte
and
Major Wright
to be on alert.
"Definitely, I want the (starting) spot," Hardin said. "I'm coming for it, and hopefully that will elevate everybody's play. If I'm right behind Chris and Major wanting the spot, trying to earn it, it's gonna push them and they're gonna have to earn it more, which will make our safeties and our team better."
Hardin's itch to take the field likely stems from inactivity, considering the rookie played in only one game (the 2012 Senior Bowl) in more than a year, after missing his entire senior campaign at Oregon State with a shoulder injury.
What's more is Hardin is attempting to transition from college cornerback to NFL safety. As a corner at Oregon State, Hardin played in 38 games, finishing with 105 tackles, three forced fumbles an interception and seven pass breakups.
Although Wright and Conte remain the starters, defensive coordinator Rod Marinelli wouldn't discount the possibility of a rookie overtaking a vet for the starting nod.
"In camp, it's open," Marinelli said. "We let every guy come in and compete. Show me game, put it on tape, and we'll see what you've got."
Interestingly, the Bears' selection of Hardin in the third round of the NFL draft last spring marked the third consecutive safety taken by the club with a third-round pick. Prior to Hardin, the Bears drafted Wright in the third round of 2010, and Conte the following year in the same round.
"Athletically, he's got everything you want," Bears defensive backs coach Jon Hoke said of Hardin. "He's just not played the position. He's learning as we go, and he's a smart guy. So he's able to pick it up. With him, it'll just be (about) reps."
A two time all-Pac 10 academic selection, Hardin likely won't struggle to pick up the X's and O's of the game. One of the most significant chances for Hardin, he said, is the difference from corner to safety in terms of how he sees the field.
"It can be distracting. That's one thing I'm continuing work on and try to improve on, seeing the big picture if you will, seeing number one receiver all the way to number one receiver (basically, scanning the entire field), reading the quarterback, reading the linemen, reading how the formations come out and how routes develop," Hardin said. "You see everything, but it's (about) trying to now refine that and focus on what I need to focus on to be an effective safety. I'm finding that I'm reacting. It's just raw reaction. When the quarterback is stepping to go one way, I'm going full speed and trying to make a play. That's something that's helping me out so far. But also I need to learn how to control some of that. I can't be breaking full speed if the quarterback's looking me off. So it's really (about) taking that raw natural ability that I've been using right now and trying to refine it."
So far, the undertaking seems to be going well for Hardin, who is also is a part of every special teams unit. Hardin knows he'll contribute first on special teams, but hopes it's only a matter of time before he gets onto the field at safety.
History suggests he'll do so sometime as a rookie. After all, the Bears used eight combinations of starting safeties in 2011 over 16 games.
"The way I see it is kind of like college; freshman year all over again," Hardin said. "Get your foot in the door and start on special teams trying to help this team whichever way I can. But at the same time, I've got to be ready if my number's called."
July, 27, 2012
7/27/12
7:45
PM ET
BOURBONNAIS, Ill. -- The Bears went to great lengths to replenish their special teams during the offseason after losing Pro Bowler Corey Graham to the Baltimore Ravens in free agency. But special teams coordinator Dave Toub is still searching for a replacement to Graham at right gunner on the punt team. With Eric Weems set to replace Zack Bowman at left gunner on punt, Toub is auditioning a handful of players this summer to fill the role Graham manned for the past several seasons.
[+] Enlarge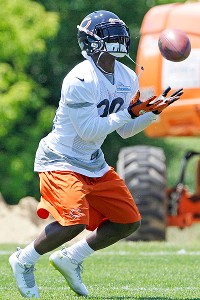 AP Photo/Nam Y. HuhD.J. Moore may get his chance as a gunner on the Bears' kick coverage units.
"We're looking at D.J. Moore," Toub said. "He's one of the quickest players we have so we're thinking he's going to get to the edge real quick and put the corner behind him so he has to chase. Devin Thomas is another guy [we're looking at] and both rookie corners (Greg McCoy and Isaiah Frey) are going to get shots in there as well.'
"If you don't have a big guy they better be quick and able to hit the edge like D.J. or have a guy like Devin who can be a little more physical at the line on releases. At the end of the day, it all comes down to effort as a gunner. That's one thing about Corey [Graham], if you watched Corey he didn't have the greatest quickness or the greatest speed, but his effort was second to none. That's what made him so good. We're trying to find the next Corey Graham."
Moore has never before been thought of as a candidate to see much action on special teams, outside of the return game, where the 5-foot-9 defensive back returned 55 kickoffs for 1,256 yards over a three-year career at Vanderbilt.
"We really haven't used him a lot on special teams," Toub said of Moore. "He's been such a specialist on defense playing nickel ... this is the first year we're going to hope to depend on him. We'll see what happens."
The opening two practices of training camp also marked the first time 2012 top draft choice Shea McClellin lined up on special teams. Bears general manager Phil Emery commented on draft night that McClellin graded out as a future impact player on special teams, even though he was selected in the first round for the purpose of one day being the Bears starting defensive end.
"We left him off [special teams] the whole offseason and let him spend time with Rod [Marinelli] trying to get that stuff down," Toub said. "Now we started working him in. I'm not sure if you noticed today but we had him back there on kickoff return so we're going to start working him in. If not in the [rotation at defensive end] early in the year we're going to use him on special teams ... kickoff return, punt return possibly... maybe have him rush the punt. He can certainly help us.'
"He's drafted to be our end but anything he can give us on special teams is a bonus."
January, 20, 2011
1/20/11
5:48
PM ET
LAKE FOREST, Ill. -- Blocking for Devin Hester is reward enough, you'd think.
"If they block hard, they have a chance to be a SportsCenter highlight," said Bears long snapper Patrick Mannelly.
Read the entire column.
September, 10, 2010
9/10/10
1:24
PM ET
[+] Enlarge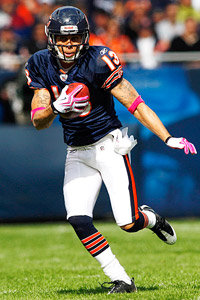 Jerry Lai/US PresswireJohnny Knox's 102-yard kick return against Detroit last year was a moment he'll never forget.
LAKE FOREST, Ill. -- The
Detroit Lions
held their ground in the first thirty minutes of last year's matchup at Soldier Field.
Things were looking good for the Lions after
Kevin Smith
's 3-yard touchdown run with 26 seconds left in the first half capped a 98-yard drive that tied the score at 21-21.
But then
Johnny Knox
slammed the door on the Lions' prospects for an upset.
Knox electrified the home crowd by returning the opening kickoff of the second half 102 yards for a touchdown, and the Bears never looked back.
"That was something special for me," Knox said Friday. "We came in at halftime, and [Bears special teams] coach [Dave] Toub said this is going to be a big one for us. Sure enough, when we came out my teammates gave me great blocks and it opened up for me."
Knox, along with
Danieal Manning
, still is expected to return kickoffs Sunday, but unlike last year, the 2009 fifth-round draft choice is now considered one of the top options on the Bears offense. Initially, Knox was supposed to be inactive Week 1 of his rookie campaign versus Green Bay, but an injury to
Devin Aromashodu
allowed Knox to play against the Packers. Knox hauled in a 68-yard reception that night, en route to some impressive first-year totals -- 45 catches, 527 yards and five touchdowns.
"Coming into my second year, I'm a lot more confident," Knox said. "I know the system better, and I know how to approach this game. Just all around, I just feel more comfortable out there just playing and not guessing."
A solid preseason led many to predict that Knox could lead the Bears in receptions in the Mike Martz offense. If that happens, it would be a remarkable feat, especially when you consider Knox is only two years removed from playing his college ball at Abilene Christian.
"It means a lot because you want to live up to those expectations, [even though] I have high expectations for myself," Knox said. "But we have a lot of good receivers on this team. Anybody can be that guy throughout the season, each game anybody can get the ball and make big plays."
August, 16, 2010
8/16/10
4:15
PM ET
BOURBONNAIS, Ill. -- Few things are easy to predict when it comes to the Bears.
But special-teams consistency is one of them.
Since the arrival of special teams coach Dave Toub in 2004, the Bears' third phase has been ranked in the top 10 in five of the last six seasons, including being No. 1 overall in 2006 and 2007, and No. 6 in 2009.
That's why it was so noteworthy when the Bears committed three special teams mistakes Saturday night in San Diego.
Allowing kickoff returns of 51 and 35 yards, not to mention surrendering a blocked punt, usually don't happen to such a consistent and elite unit.
"They [Chargers] played faster than we did," Toub said Monday. "It does get your attention. We looked at it on tape and they saw that we weren't playing as fast as we need to. We'll make the necessary corrections next week. If it shows up again, then we have issues, but I think the guys see it and will perform next week."
On the positive side, Toub singled out
Kahlil Bell
and
Major Wright
for their efforts against the Chargers, and predicted Wright should have a big role on special teams once his finger injury is healed. He'll have surgery on his left index finger and miss Saturday's game against the Raiders.
"He's never played special teams before," Toub said of Wright. "But he's accepting it, and he's going to be our slot on the punt team if he stays in that role. If he's not a starter, he's going to be a four-phase player for us."
Mistakes are correctable, but a serious injury to a core player is tough to overcome. For a moment Saturday, Toub began to panic, after veteran long snapper
Patrick Mannelly
got injured making a tackle on the punt team. Mannelly has handled every snap for the Bears in 121 consecutive games, making him an invaluable member of the organization, not to mention a team captain.
"I thought it was his [right] hand, because he was holding his hand," Toub said. "But really it was a nerve thing, he had the whole vibration down his back and down his arm. Typical burner is what he had, because he hit himself on the shoulder. When you look at the tape, he didn't hit his head, which is good. He made a nice assisted tackle on the play, but yeah it did scare me.
"I thought he broke his right hand. Then I saw it was just a stinger, so I said you're fine, get back out there."
August, 15, 2010
8/15/10
12:35
AM ET
By
Michael Wright
| ESPNChicago.com
SAN DIEGO -- Three special-teams gaffes by the Bears against the Chargers on Saturday aren't necessarily cause for concern.
Yet it's a given that the Bears will spend extensive time this week in an attempt to remedy the mistakes -- two long kickoff returns, and a blocked punt -- they made on special teams in a 25-10 loss to the Chargers.
"I'm not concerned about it at all because I know we'll fix it," said linebacker Tim Shaw, one of the club's top special-teams contributors. "I know we'll look at it on tape. I know I can personally be better. We'll be better."
The club couldn't have done much worse.
The Bears allowed a 51-yard return by Richard Goodman in the first quarter, which could have gone for a touchdown if kicker Robbie Gould hadn't pushed the return man out of bounds. The club also gave up a 35-yard return in the second quarter, in addition to a blocked field goal in the third quarter that bounced out of the end zone for a safety.
Shaw, who posted a franchise-record 30 special teams tackles last season, attributed some of the woes to the club utilizing all of its depth on the unit, but mentioned, "that big return they had, that was against our [No.] 1 kickoff [team]."
"Anytime you're in a situation where you're going three and four deep [into the each position on the roster], things like that are gonna happen. A lot of times, this is the best experience that we and the younger guys may get. They don't a lot of reps at practice, so they get chances in the game," Shaw said. "The tape will show what happened. Those are definitely learning opportunities for guys. We've definitely got some things to clean up. I hate to say that's how a first preseason game goes, but a lot of times, that's it."