Chicago Bears:

Steve Hutchinson
May, 22, 2013
5/22/13
2:30
PM ET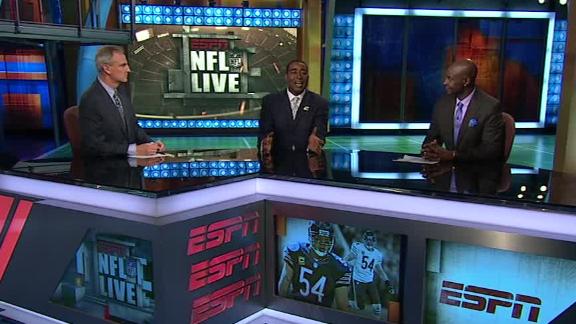 Reviewing the Pro Football Hall of Fame's list of middle linebackers is a sobering experience.
The position is well-represented, but almost all of the enshrinees -- Dick Butkus, Jack Lambert and Willie Lanier among them -- are drawn from a long-gone era of NFL defenses. In fact, former
Chicago Bears
star Mike Singletary is the only current Hall of Fame middle linebacker whose career started in the past 36 years.
The best case to be made for
Brian Urlacher
's candidacy, now that he has announced his retirement, is that his career reversed the decades-long decline in the value of the position. Along with the
Baltimore Ravens
'
Ray Lewis
, Urlacher modernized middle linebacking by adding speed and regular playmaking to the traditional role of helmet-jarring hits and fierce leadership.
Hall of Fame players can't simply be top performers over a period of NFL seasons. In a competitive environment where ballots are limited to five enshrinees per year, candidates must stand out. Some might be the best players in a generation, but if their position is as undervalued as middle linebacker has been over the past few decades, they also would need to have changed or impacted the game in a unique way.
I think Urlacher did that. It helped that he was drafted by a team that soon moved to a scheme that perfectly fit a middle linebacker who could run like a safety. It also helped that in his best years, Urlacher had some stud defensive tackles in front of him who limited free shots from offensive linemen.
Regardless, the Bears' defense in the Lovie Smith era wouldn't have worked without Urlacher covering the deep third of the field while also holding his own at the line of scrimmage. His ability to get 25 yards downfield, in between chasing runners from sideline to sideline, was a new development for the modern-day middle linebacker.
When Urlacher was sidelined, for 15 games in 2009 and four games last season, the Bears' defense dipped noticeably and obviously, especially against the pass. In the games that Urlacher missed over that stretch, opponents' Total Quarterback Rating (QBR) rose from 39.5 to 60.1 (on a scale of 0-100), according to ESPN Stats & Information.
He is one of four players in NFL history with at least 40 sacks and 20 interceptions in his career, as the chart shows, and he is one of seven players to win the NFL's Defensive Rookie of the Year and Defensive Player of the Year award. Of the other six, three are in the Hall of Fame and two others aren't yet eligible.
Urlacher's résumé of sustained elite performances,
even after his 2009 wrist injury
, and his notable impact on how the game is played merit Hall of Fame enshrinement. How long it will take for him to be elected is almost a silly discussion. We don't know what the backlog will be like in 2018, but there is a pretty strong group of players who will be eligible for the first time alongside Urlacher. The group includes Lewis,
Steve Hutchinson
,
Ronde Barber
and perhaps
Randy Moss
.
Timing, of course, is but a detail. I'm sure there will be plenty of discussion between now and then. But you would think Canton has room for Brian Urlacher. Frankly, he made that space for himself.
March, 30, 2012
3/30/12
2:47
PM ET
»
AFC Assessments
:
East
|
West
|
North
|
South
»
NFC
:
East
|
West
|
North
|
South
Chicago Bears
Key additions:
Running back
Michael Bush
, linebacker/special teams
Blake Costanzo
, quarterback
Jason Campbell
, receiver
Brandon Marshall
(trade), receiver
Devin Thomas
, receiver/returner
Eric Weems
.
Key losses:
Running back
Marion Barber
(retired), cornerback
Zack Bowman
, cornerback
Corey Graham
.

Come on back:
Lost in the shuffle of the Marshall trade were the return of three free agents who should play key roles in 2012. Tight end
Kellen Davis
figures to get an expanded role in offensive coordinator Mike Tice's scheme, especially as a receiver. Cornerback
Tim Jennings
should retain his starting role opposite
Charles Tillman
, with
D.J. Moore
in the nickel. And safety
Craig Steltz
will provide reliable depth at safety and will be one of the Bears' special teams leaders after the departure of Graham and Bowman.
What's next:
There is no urgency yet, but the Bears will need to make peace with tailback
Matt Forte
at some point before the summer. Forte isn't happy that he's been made the Bears' franchise player and briefly lost his public composure when Bush signed a deal that guaranteed him about the same amount of money as the franchise tag will pay Forte. It's not a big deal if Forte skips the Bears' offseason program or even misses a few days of training camp, but the Bears will want to find a way to eliminate this issue by early August. Meanwhile, it wouldn't be surprising if the Bears address their offensive line during the draft.
Detroit Lions
Key additions:
Defensive end
Everette Brown
, cornerback
Jacob Lacey
.
Key losses:
Cornerback
Eric Wright
.

All in the family:
With the exception of Wright, the Lions were able to retain the core of their 10-6 team. Among those who re-signed: Tackle
Jeff Backus
, safety
Erik Coleman
, defensive end
Andre Fluellen
, quarterback
Shaun Hill
and linebacker
Stephen Tulloch
. And don't forget that receiver
Calvin Johnson
is locked up for perhaps the rest of his career. He signed a new eight-year contract worth $132 million.
What's next:
The Lions appear interested in adding competition at safety, having hosted free agent
O.J. Atogwe
earlier this month. Adding a safety remains a possibility, if not through free agency, then probably through the draft. And while Backus is re-signed for two years, it wouldn't be surprising if the Lions look for a long-term replacement in the draft.
Green Bay Packers
Key additions:
Defensive lineman
Daniel Muir
, center
Jeff Saturday
, defensive lineman
Anthony Hargrove
.
Key losses:
Quarterback
Matt Flynn
, center
Scott Wells
.

Shocker:
The Packers usually do whatever it takes to keep their own players and avoid having to search the free-agent market for other the castoffs of other teams. They started off that way by re-signing tight end
Jermichael Finley
to a two-year contract, but when they were unable to sign center Scott Wells, they quickly targeted veteran Jeff Saturday and made him their first starting-caliber free-agent signee in five years. General manager Ted Thompson also authorized the acquisition of Hargrove and the pursuit of
Dave Tollefson
.
What's next:
It's not out of the question that the Packers will add a veteran pass-rusher, whether at defensive end or linebacker. Then they'll get back into their comfort zone and start preparing for the draft, where it's reasonable to think they'll use at least one of their 12 picks on a center while also continuing to pursue pass-rushers.
Minnesota Vikings

Key additions:
Cornerback Zack Bowman, tight end
John Carlson
, running back Jerome Felton and offensive lineman
Geoff Schwartz
.
Key losses:
Nose tackle
Remi Ayodele
(release), guards
Anthony Herrera
(release) and
Steve Hutchinson
(release), tight end Jim Kleinsasser (retire), running back Jerome Felton.
Methodical methodology:
The Vikings made one big-money signing, bringing in Carlson as a new weapon for quarterback
Christian Ponder
, and otherwise have spent their offseason getting younger and signing complementary players. General manager Rick Spielman wants to end a cycle of seeking blue-chip players via free agency and instead count on the drafts for his difference-makers.
What's next:
One way or the other, the Vikings need to find a deep threat for Ponder. The draft would seem the most likely place for that will happen. They are also midway through a rebuild of the secondary that could use at least one more cornerback and perhaps two safeties.
November, 22, 2011
11/22/11
12:00
PM ET
»
NFC Stock Watch
:
East
|
West
|
North
|
South
»
AFC
:
East
|
West
|
North
|
South
FALLING
1. Offensive line, Minnesota Vikings:
I don't want to pick only on left guard
Steve Hutchinson
, who quite clearly isn't playing at the same level he did at the height of his career. The biggest problem is that Hutchinson remains the Vikings' best offensive lineman. Watching this group get manhandled Sunday by the
Oakland Raiders
suggested it will need a significant overhaul in the coming months. We've discussed the need to find a long-term replacement for departed left tackle
Bryant McKinnie
, but the reality is that no job should be safe. The Vikings have a pair of 2011 draft picks, center/guard
Brandon Fusco
and tackle
DeMarcus Love
, serving as backups at the moment. I'm not sure if either projects as a long-term starter, but it's clear that immediate action is necessary one way or the other.
[+] Enlarge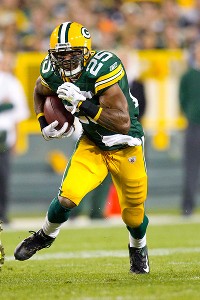 Jeff Hanisch/US PresswirePackers running back Ryan Grant could see a lot of action on Thursday against Detroit.
2. Bench-warming time for Ryan Grant, Green Bay Packers tailback:
Grant has started nine of the Packers' 10 games this season but is averaging about nine touches per game. That figure could increase significantly Thursday at Ford Field, given the knee/ankle injury of "backup"
James Starks
, who is averaging about twice as many touches per game. Even if Starks is available, you would think Grant could see his workload increased. Grant has been a perfect citizen and teammate during what must be a personally disappointing time. Typically, players who understand the big picture get an opportunity to make a big contribution at some point and in some way. Odds are that Grant will get that chance soon, if not Thursday.
3. The future of Chris Cook, Minnesota Vikings cornerback:
Cook hasn't played since he was arrested Oct. 23 on a charge of felony strangulation following a domestic incident with his girlfriend. He is currently on what amounts to a paid suspension as he sorts through his issues, but you wonder whether his standing with the team will change at all after prosecutors added a second charge of third-degree assault.
According to reports
, the second charge resulted from news that the victim suffered a perforated eardrum during the incident and has experienced hearing loss. Cook has a court appearance scheduled for Tuesday.
RISING
1. Donald Driver, Green Bay Packers receiver:
It was
overshadowed by the performance of some teammates
, but Driver had his most productive game of the season Sunday against the
Tampa Bay Buccaneers
. His four catches matched the season high he set in Week 1, and his 72 yards -- powered by a 35-yard catch-and-run in the third quarter -- were the most he has had in a regular-season game since Week 13 of 2010. Those figures are a reminder that Driver, 36, is no longer a primary option in the Packers' offense. But Sunday served notice that he can still make plays downfield when the opportunity presents itself.
2. Amateur medical practices in Chicago:
Everyone has an opinion, medically based or otherwise, on how long a fractured right thumb should keep
Chicago Bears
quarterback
Jay Cutler
out of action. Initial reports suggested he would miss the rest of the season and possibly be unavailable for the playoffs, but coach Lovie Smith appeared confident Monday that Cutler will return before the end of the regular season. But Smith wouldn't divulge enough details about Cutler's condition to give us a chance to verify his timetable. What we do know is that
the American Academy of Orthopedic Surgeons
recommends a cast or splint for between two and six weeks after surgery. Depending on severity of the injury, the rule of thumb (sorry) is that it can take up to three months to regain full use of the hand.
3. Matthew Stafford, Detroit Lions quarterback:
We noted Monday how Stafford reversed his early game struggles against the
Carolina Panthers
on the way to a five-touchdown performance. Let's allow the folks at
Cold Hard Football Facts
to provide a wild glimpse at the big picture. In his three-year career, Stafford has trailed by at least 17 points in 10 of 23 starts. He has led game-winning comebacks in four of them. That's a pretty impressive trend for any quarterback, let alone one who is four months away from his 24th birthday.