Chicago Bears:

The Jay Cutler Show
December, 24, 2013
12/24/13
8:00
AM ET
Chicago Bears
quarterback
Jay Cutler
praised receivers
Brandon Marshall
and
Alshon Jeffery
for their contributions this season, saying the former needs to make his first playoff appearance in eight seasons as a pro, while the latter deserves to make the Pro Bowl.
A four-time Pro Bowler, Marshall has caught 94 passes for 1,221 yards and 11 touchdowns, while Jeffery is responsible for 1,341 yards and seven TDs on 86 receptions. Marshall and Jeffery form the league's top receiving duo in the NFL with 2,563 yards, with the combined receiving yards ranking as the most in franchise history by a duo.
Jeffery
Marshall
On multiple occasions, Marshall has discussed making the Pro Bowl and receiving lucrative contracts, but he claims the goal now is to finally play in a postseason contest for the first time in his career and eventually compete in the Super Bowl.
"I feel bad for him," Cutler said Monday during the "Jay Cutler Show" on ESPN 1000. "An amazing player on his third team and has played at a high, high level. I saw a stat at some point. He's the first player to have two 1,000-yard seasons for three different teams. We've talked about it. We've mentioned it to some of the coaches and some of the guys. Everyone is just shocked eight years have went by and he still hasn't made the playoffs. So he deserves it. Like I said, we're gonna do everything possible Sunday and I know he will, too."
As for Jeffery, the quarterback is hoping the second-year pro is recognized for his breakout 2013 campaign. A second-round pick, Jeffery played in just 10 games as a rookie due to hand and knee injuries that forced him out of six contests.
After spending the offseason working out with Marshall, Jeffery returned in 2013 to make a significant impact on the offense.
"I think he deserves it," Cutler said, when asked if it's important the receiver is recognized for his accomplishments. Given the rule changes for the Pro Bowl, it was mentioned to Cutler that eight receivers would be taken overall, regardless of conference. "I think he's a top-eight receiver in the league, and I think he'll get recognized," the quarterback said.
Cutler also believes Jeffery's work habits will help him enjoy a long career. When Cutler first watched Jeffery as a rookie, his talents and abilities were "off the charts," the quarterback said.
"You watched him make some plays, and you're like, 'Man, if this happens consistently, he's gonna be hard to stop,'" Cutler said. "He's just too good. He makes too many big plays. He's too consistent at practices. It's every day with this guy. He's doing things on the sideline when we're not going. He's a consummate pro at Year 2, which is hard to find. Most guys, it takes three or four years to figure out what they need to do on and off the field. But Alshon's got it nailed. He's very even-keeled. He's gonna be around for a long time."
November, 20, 2013
11/20/13
5:22
PM ET
LAKE FOREST, Ill. –
Chicago Bears
quarterback
Jay Cutler
is no longer wearing a hard cast on his lower left leg to stabilize the high ankle sprain he suffered versus the
Detroit Lions
on Nov. 10.
Cutler arrived at Wednesday's practice inside the Walter Payton Center with a standard football cleat on his left foot, and not the hard cast and walking boot he was required to wear last week to move around the facility.
"He had a very small brace on," Bears head coach Marc Trestman said. "He's the got the sprain, but there is stability there (in the ankle). There is enough stability where they could take the (hard cast) off. Again, it's day-to-day and I'm optimistic that it will stay that way, but we'll have to see."
Trestman refused to speculate whether Cutler would be medically cleared to start versus the
Minnesota Vikings
on December 1. Veteran
Josh McCown
will make his third start of the season at quarterback for the Bears when the club travels to face the
St. Louis Rams
on Sunday.
"I'm just going to stay on a week-to-week (timetable) right now," Trestman said. "I'm really not the doctor. They tell me it's week-to-week. I try not to put myself in a position where I get overly optimistic about these things. I just take them as they come. I look at it being week-to-week right now and we'll see where he is on Monday."
Cutler revealed Monday on ESPN 1000's "The Jay Cutler Show" that he originally targeted a Dec. 1 return date immediately after he suffered the high-ankle sprain, but that was before team doctors detected potentially more serious damage that could keep the quarterback off-the-field longer than expected.
"We're taking the cast off periodically, just kind of checking to see where I'm at," Cutler said. "We'll see again later this week, then early next week where it's at.
"There are a couple of ligaments that we're a little worried about that's different than the normal high ankle sprain," he said. "There are a few other things involved. If I just had a normal high ankle sprain, I wouldn't be in a cast. [A cast] helps it scar up and stuff, but the normal high ankle sprain isn't really a concern at this point."
October, 8, 2013
10/08/13
8:00
AM ET
Chicago Bears
quarterback
Jay Cutler
considers age at least a small detriment to the club's short turnaround going into Thursday's home matchup against the
New York Giants
.
Cutler
Coming off a loss to the
New Orleans Saints
on Sunday, the Bears play their second game in five days when they host the Giants.
"I'm 30 now, so my body doesn't really react like it used to a couple of years ago," Cutler said on ESPN 1000's "Jay Cutler Show" on Monday. "So that's the hardest part. Mentally, I think we'll be pretty clean. But physically, with some of the veterans and myself, Thursday (and) Friday you just start to kind of get full speed and start feeling better. It's gonna be tough, but we're up for it."
Chicago's roster features 13 players aged 30 or older, including a combined seven starters on offense and defense.
"I think physically, just being able to go out there full speed on Thursday is a challenge," Cutler said.
That's not to say the team isn't up to it, especially with the team losing two in a row after a 3-0 start.
"We talked about that: just getting back out there, let's play another one at home," Cutler said. "We'll have a great home crowd."
September, 23, 2013
9/23/13
8:14
PM ET
CHICAGO -- After going through training camp with a new coach and opening the season with a 3-0 record,
Chicago Bears
quarterback
Jay Cutler
said Monday that everything about Marc Trestman has exceeded his expectations.
[+] Enlarge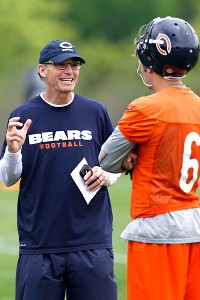 AP Photo/Charles Rex ArbogastMarc Trestman has impressed Jay Cutler beyond his work with the offense.
"He's better than I thought he was, to tell you the truth," Cutler said Monday during ESPN 1000's weekly "The Jay Cutler Show." "You knew he knew he was a smart guy. You knew he knew offense. You didn't know how well he was going to be in front of the team and being able to juggle the defense and the special teams and getting everybody to buy in, and do things early in training camp that are relative right now. It's just little things. I would say he's better (than I thought)."
After a circuitous coaching route over the past 32 years that took him from the college ranks to eight different NFL teams, before heading back to college and then on to Canada to coach in the CFL, Trestman could not have gotten off to a better start in his first NFL head coaching job.
After playing for head coach Lovie Smith the previous five seasons, not to mention a revolving door of offensive coordinators that included Ron Turner, Mike Martz and Mike Tice, Cutler is learning yet another new system that he has embraced thus far.
"It feels right," Cutler said. "It's always different with somebody else, but it definitely feels right. I think Trest has a good feel for the team right now, the direction we're going. I think he's calling plays really well, with the state of where the offense is. He's not throwing us out to the wolves."
In other words, despite a deep playbook, Trestman is not requiring too much of the offense thus far and hasn't put too much on his quarterback too soon. Cutler has already said that he still will be learning the offense in Week 15 of the 16-game season.
"He's giving us opportunities to make plays, and he's protecting us when he thinks he should protect us, even though we might not have the right perspective to see what he's doing," Cutler said. "It's a tough job, it really is, especially in this market, in this city, inheriting a 10-win team."
And if anybody had any lingering doubts over Trestman's dedication, they only had to look at his work day Monday, shortly after the 40-23 victory over the
Pittsburgh Steelers
on Sunday night.
"The guy lives and breathes it," Cutler said. "Last night, me and [backup quarterback]
Josh [McCown]
were talking to him. We said, 'Go get some sleep, and we'll come in at 10 or 11 [a.m.] to watch some film and come talk to you.' I went in there at like 10, 10:30, 11 to talk to him. I asked what time he got up. He said six. He had some coffee and came in. The guy just lives it. The whole staff does. The whole staff does a great job."
If Trestman has shown his dedication, members of the coaching staff have taken it even further.
"We have coaches that are spending the night last night when we got back [from Pittsburgh] to get up in the morning and get going," Cutler said. "We have a great group of guys. It's always comforting to know that your coaches are spending those amount of hours to make sure that you have the right plays, offensively, defensively and special teams-wise. It's not a bad thing to have by any means."
September, 17, 2013
9/17/13
2:10
AM ET
CHICAGO -- A fresh start and a renewed focus, combined with lessons learned, have created a perfect storm that has allowed new
Chicago Bears
tight end
Martellus Bennett
to thrive in the early going.
Bennett, who signed a four-year deal with the Bears this past offseason, already has 10 catches for 125 yards and three touchdowns in two games, including the game-winning score in Sunday's 31-30 victory over the
Minnesota Vikings
.
[+] Enlarge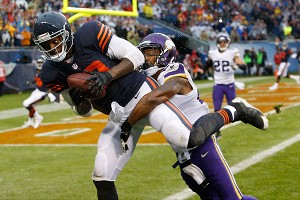 AP Photo/Charles Rex ArbogastBears tight end Martellus Bennett has 10 catches for 125 yards and three touchdowns this season.
After playing four seasons in Dallas and last season with the
New York Giants
, the Texas A&M product said Monday that only now does he have all the tools needed to have true, sustained success at the NFL level.
"Being behind [tight end
Jason] Witten
[in Dallas], I learned a whole lot of stuff I didn't even realize I was learning because I watched and took notes on every single thing he was doing but really didn't have a chance to use it," said Bennett, who was a guest Monday on ESPN 1000's "The
Jay Cutler
Show."
"Going to New York, I had a chance to take three-year deals in different places, but I decided to bet on myself and take the one-year deal because I felt like I was worth more than they were offering me."
With the Giants, he hooked up with tight end coach Michael Pope and delivered his best season, with 55 receptions for 626 yards and 5 touchdowns. Calling himself "a sponge" over the past couple of seasons because of all the learning he was doing, he is now unleashing that knowledge.
"I'm really starting to understand what goes in to playing football," Bennett said. "A lot of times, I used to put the cart before the horse, so to speak. I'm involved in a lot of things, and when things don't go your way on the field, you can easily put more into those other things you're interested in."
He now says he has understanding of how to prioritize outside interests to go along with football, while also learning the benefits of eating right.
"Today's my day when I can have a Shirley Temple and I can eat chicken tenders and french fries," Bennett said. "Tuesday is back to healthy. I can have a piece of cake right now, but then it goes back to my regular routine. So I develop a routine with my study habits and listening. I think my listening skills have improved. My wife would probably agree. My listening skills are off the radar right now, so I've become a great listener and not a talker."
Bennett has always been known for his gift of gab, but it's all about his play on the field now. His friendship with wide receiver
Brandon Marshall
hasn't hurt things.
"Yeah, it's fun," Cutler said. "They kind of push each other out there. We all can't be on every single day, so it's between us two and [Marshall,
Matt Forte
],
Alshon [Jeffery]
,
Earl [Bennett]
. All of us are in this thing together. We have to have all those guys going.
"I can't run around without those guys. I need them at full speed on Wednesday, Thursday and Friday. They're all pushing each other trying to get better and better. It's a really good group. I think any quarterback in the league would like to have the horses I have on the outside."
September, 10, 2012
9/10/12
11:04
AM ET
By
Staff
| ESPNChicago.com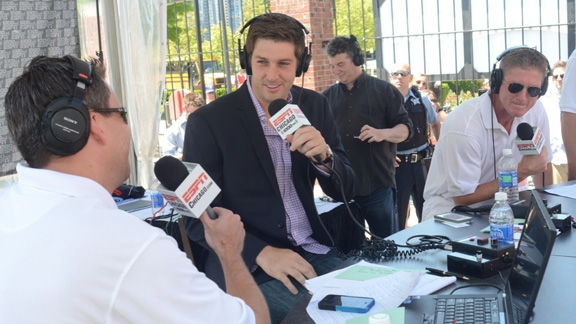 Chris W. PestelJay Cutler joins Waddle & Silvy today at 5 p.m. CT.
"The
Jay Cutler
Show" debuts on Monday at Joe's on Weed Street at 5 p.m. on "The Waddle & Silvy Show" on ESPN 1000, and you can participate even if you don't attend.
Send a question here to our mailbag
and it's possible Jay will answer it.
So send in a question and then attend the show at Joe's. You don't need reservations, just your Bears enthusiasm.