Chicago Bears:

Tom Clements
January, 14, 2013
1/14/13
1:04
PM ET
Of the 13 known candidates interviewed by the
Chicago Bears
for their head coaching vacancy, at least one expects the club to settle on one of the last four to meet with general manager Phil Emery.
That group consists of offensive coordinators Tom Clements (Green Bay), Rick Dennison (Houston), Darrell Bevell (Seattle), and Bruce Arians (Indianapolis).
"I would bet on one of the last four candidates," said one of the coaches who had already been interviewed.
January, 13, 2013
1/13/13
9:21
PM ET
Chicago Bears
general manager Phil Emery acknowledged Jan. 1 that in his search for a new head coach "the playoffs are a consideration," but that potential roadblock appears to have come down Sunday with the conclusion of the divisional round of the postseason.
[+] Enlarge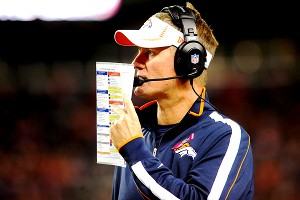 Byron Hetzler/US PRESSWIREDenver's Mike McCoy is one of four offensive coordinators whose season ended this weekend, opening the door for the Bears to move forward in their coaching search.
Of the known candidates, four coached for teams that lost in the divisional round, a group consisting of four offensive coordinators: Seattle's Darrell Bevell, Houston's Rick Dennison, Green Bay's Tom Clements and
Mike McCoy
of the
Denver Broncos
. The losses by the Seahawks, Texans, Packers and Broncos open up availability for those coaches to talk more in the coming days, with Emery expected to move into the next phase of the process. He'll probably pick two to three finalists for second interviews that will also involve team president Ted Phillips and Bears chairman George McCaskey.
"There may be a candidate that's in the playoffs and may be unavailable to us (that) we may have to wait out," Emery said. "After we're at the point where we feel good (that) we have quality candidates to select two or three as finalists, we will either have them come to us or go to them so we can have an opportunity for them to talk to George or to talk to Ted and that George and Ted can interact with them and get a feel for them. At the end, the final decision will be mine."
The timeline for Emery making the choice seems now to be a little less difficult.
January, 13, 2013
1/13/13
11:53
AM ET
By the end of Sunday, it's possible the
Chicago Bears
will have concluded their first round of interviews in what has already been an epic coaching search.
Indianapolis Colts
offensive coordinator Bruce Arians was scheduled to be the 13th known candidate to speak with general manager Phil Emery. If there are more first-round interviews scheduled, they haven't been reported.
My educated guess is that some interviews have been completed in secrecy, so I wouldn't be surprised if Emery has spoken with 15 or more candidates.
We've discussed the possibility
that Emery is using this opportunity to pick the brains of as many smart assistant coaches as he can, but I think we have also seen an undeniable quality emerge as well.
Here's how
Tennessee Titans
general manger Ruston Webster put it last week during an interview with my AFC South colleague Paul Kuharsky on 104.5-FM in Nashville: "I know Phil Emery, and Phil Emery is about as thorough of a human being as I've ever known."
Meanwhile,
according to ESPN's Adam Schefter
, two of the coaches Emery has spoken with said "they never have interviewed with anyone as prepared and detailed" as him.
So before we try to ascribe some kind of ulterior motive to Emery's approach, and rather than conclude he is flailing blindly in the night, perhaps this search is best viewed as a physical extension of Emery's meticulous personality. Where and when it ends remains anyone's guess. Former NFL coach Jimmy Johnson tweeted that Emery favored his former assistant, current Montreal Alouettes coach Marc Trestman, but
nothing more has come
of what appears to be Johnson's personal view.
For the record, here are the Bears' Lucky 13 to this point:
Arians
Atlanta Falcons special teams coordinator Keith Armstrong
Seattle Seahawks offensive coordinator Darrell Bevell
New Orleans Saints offensive coordinator Pete Carmichael Jr.
Green Bay Packers offensive coordinator Tom Clements
Dallas Cowboys special teams coordinator Joe DeCamillis
Houston Texans offensive coordinator Rick Dennison
Denver Broncos offensive coordinator Mike McCoy
Minnesota Vikings special teams coordinator Mike Priefer
Vikings special assistant to the head coach Mike Singletary.
Tampa Bay Buccaneers offensive coordinator Mike Sullivan
Trestman
Bears special teams coordinator Dave Toub
January, 10, 2013
1/10/13
11:27
AM ET
January, 3, 2013
1/03/13
11:19
AM ET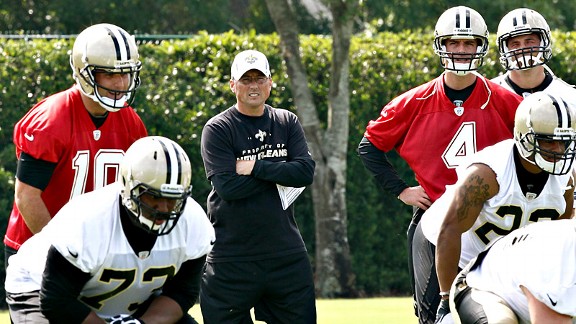 Derick E. Hingle/US PresswireSaints offensive coordinator Pete Carmichael is scheduled to interview with Bears GM Phil Emery on Thursday, according to sources.
Chicago Bears
general manager Phil Emery on Thursday characterized his state of mind during the team's search for a head coach as "fast, furious and thorough" after conducting the initial round of interviews with prospective candidates.
Despite having a target date in mind for the hire, Emery stressed the importance of remaining patient throughout the process.
"A position like this, we've reached out to all the people, and we've had a lot of people reach out to us," Emery told WBBM-AM 780. "We're working through that, and like good scouts do, also making sure we do our homework and know the candidates well. It's not just an interview, it's a thorough evaluation process."
According to sources, Emery was scheduled to conduct an interview with
New Orleans Saints
offensive coordinator Pete Carmichael Jr. on Thursday. On Wednesday, Emery met with
Tampa Bay Buccaneers
offensive coordinator
Mike Sullivan
in Atlanta, according to a source, who also said Emery interviewed
Atlanta Falcons
special teams coordinator Keith Armstrong on Tuesday in Atlanta.
January, 2, 2013
1/02/13
3:43
PM ET
January, 2, 2013
1/02/13
12:51
PM ET
The
Chicago Bears
' request to interview
Green Bay Packers
offensive coordinator Tom Clements,
as reported
by multiple
news outlets
, necessitates a review of the NFL's complicated tampering rules for assistant coaches who are under contract.
Because the Bears want to discuss their head-coaching position, the Packers are required to grant permission for an interview. (In 2010, the Packers exercised their right to deny Clements permission to interview for the Bears' offensive coordinator job.)
But a review of the full policy makes clear the Packers can delay the interview until after their season is over. That could be next week or it could be next month if they make the Super Bowl. Below are the key clauses from the policy.
"If a club is interested in discussing its head-coaching position with an assistant coach whose playing season (excluding Pro Bowl) is over, and who is contractually obligated to another club, the assistant coach's employer club must permit the coach the opportunity to discuss, and possibly accept, such employment through March 1 of any year."
For teams in the playoffs, like the Packers, "the owner or operating head of the inquiring club may contact the owner or operating head of the employer club to request written permission to discuss its head coaching position with an assistant coach."
According to the reports, the Bears have done that. The NFL's policy puts the timing in the Packers' hands. The earliest the interview could occur is next week.
"If the employer club elects to grant permission to the inquiring club, the one (1) interview between the inquiring club and the assistant coach must be conducted at any location acceptable to the employer club and at a time that is convenient for the employer club. … For assistant coaches of clubs that participate in a Wild Card game and advance to the Divisional Playoffs, interviews must be conducted after the Wild Card games and prior to the conclusion of Divisional Playoff games."
The policy only allows second interviews to take place during the week between conference championships and the Super Bowl. So if the Packers win Sunday and delay Clements permission to interview next week, he would have to wait until after the season is over.
We'll pass along any news regarding timing that develops. Other names on the Bears' list include
Denver Broncos
offensive coordinator Mike McCoy,
Tampa Bay Buccaneers
offensive coordinator Mike Sullivan,
Atlanta Falcons
special teams coordinator Keith Armstrong and
Dallas Cowboys
special teams coordinator Joe DeCamillis.
January, 11, 2010
1/11/10
10:23
PM ET
CHICAGO -- Cross
Green Bay Packers
quarterbacks coach Tom Clement's name off the list of potential offensive coordinators for the
Chicago Bears
.
As expected
, the Packers denied the Bears' request to speak with Clements about the opening, a league source confirmed Monday night. Even though going from position coach to coordinator is a major promotion in the coaching ranks, teams are allowed to block their assistants from interviewing for other positions, unless that position is head coach.
A 13-year NFL coaching veteran, Clements has spent the last four seasons working with quarterbacks in Green Bay, after a two year stint calling plays for the
Buffalo Bills
.
The news was first reported by the Chicago Sun-Times.
January, 10, 2010
1/10/10
4:24
PM ET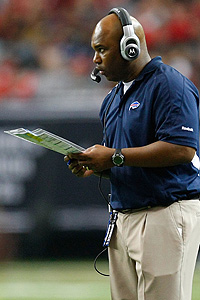 Kevin C. Cox/Getty ImagesPerry Fewell led the Buffalo Bills to a 3-4 finish after taking over for Dick Jauron as interim head coach.
CHICAGO -- It's going to be a busy upcoming week at Halas Hall as the
Chicago Bears
attempt to begin filling the vacant spots on their coaching staff. Just to recap, here is where we stand as of Sunday afternoon:
The Bears want Perry Fewell to be the new defensive coordinator -- a fact that's been obvious since the season ended -- so the job is his for the taking. The only hold up may be Fewell, who remains somewhat undecided about his next move, according to people familiar with the situation. Perhaps some of that uncertainty may be related to possible (but not guaranteed) head coach openings in Carolina and Jacksonville. For example, if Jack Del Rio leaves for USC, Fewell would probably be a candidate for the Jaguars' job considering he coached the Jacksonville secondary from 1998-2002. However, it's not a slam dunk that Del Rio or Panthers coach John Fox will go elsewhere, so holding out for one of those positions may prove to be pointless.Fewell also met with the Giants and has a strong relationship with Tom Coughlin, but Romeo Crennel and Dick Jauron have also been rumored as possible defensive coordinator hires in New York. Fewell will interview with the Bears on Monday, and may feel like he can't pass up an opportunity to work in such a familiar and comfortable setting. Since the Bears' defensive staff is currently re-evaluating certain aspects of their scheme, Lovie Smith probably wants a new coordinator in place as soon as possible.

What a wild weekend on the Jeremy Bates watch. First, he was reportedly headed to Seattle with Pete Carroll. Then just a few hours later, he was back in play for the Bears. It's never been a question about the Bears wanting to add bright, young minds like Bates and Jedd Fisch to the staff. The issue has been in what capacity. Can the Bears bring Bates to Chicago as quarterbacks coach, and not as offensive coordinator? How would that dynamic play out between Bates, Jay Cutler and a different play caller? Would such a set-up even work? If not, then the Bears have a tough decision to make. Whose happiness is most important at Halas Hall? As for Fisch, he was the Broncos' wide receivers coach in 2008, so it's not like he can only work with quarterbacks. Brandon Marshall and Eddie Royal seemed to do fine when Fisch was their position coach. Bates is scheduled to interview with the Bears early next week.Mike Martz wants the job of offensive coordinator and would make Smith very comfortable. But it's still unclear how Martz would mesh with certain players, especially Cutler, who he publicly criticized earlier last season. That might sound silly and petty, but it's the reality of the situation.If Green Bay loses to Arizona, then maybe the Bears re-visit earlier talks regarding Tom Clements.

Either way, things should become clearer once Carroll officially takes the Seahawks job and begins to assemble his staff. At least then we'll find out how Carroll really feels about Bates.
January, 8, 2010
1/08/10
10:28
AM ET
[+] Enlarge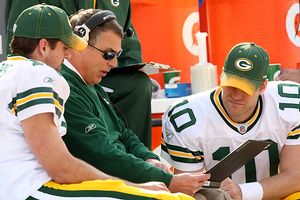 Aaron Josefczyk/Icon SMIPackers quarterbacks coach Tom Clements has played a big role in the development of Aaron Rodgers, left.
CHICAGO -- Judging by the amount of e-mail received since Monday, it appears many
Chicago Bears
fans are unfamiliar with Tom Clements, a name David Haugh first brought up over a month ago on our ESPN 1000 radio show as a potential candidate for the Bears offensive coordinator job.
Since then, we've tried to give background information on Clements' impressive career on the air multiple times, but since the offensive coordinator opening is the hottest topic in town, let's do it again.
First of all, Clements is under contract with the
Green Bay Packers
(quarterbacks coach), and the Packers are probably in no rush to let a talented coach leave for the rival Bears. If Clements makes enough noise to get out of his deal, maybe Green Bay would allow it, but is there enough security in Chicago for somebody to make that move?
Mike Martz needs a job, so he would take it. Jeremy Bates is a college coach, so he would likely take it. But Clements works for a solid organization, and is held in high regard for his work with quarterback
Aaron Rodgers
. What if he comes here for one season, and then Lovie Smith gets fired? Where does that leave him? They are all questions any experienced coach ponders when contemplating a big career move.
Plus, there's also a chance the Packers go deep into the playoffs. Would the Bears wait for Clements? If the answer is yes, and if Clements and Green Bay give the green light, then he should be strongly considered for the job.
Clements has been the Packers quarterbacks coach since 2006, helping transform Rodgers into an elite passer the past two seasons. He also coached quarterbacks in Pittsburgh (2001-03), Kansas City (2000) and New Orleans (1997-99), so if the Bears are looking for an experienced hand to deal with
Jay Cutler
; this is the guy.
Clements also served as Buffalo's offensive coordinator in 2004-05, a vital element of his resume, since hiring a play-caller with experience should be a prerequisite for Smith.
Some may view Clements as a safe choice given some of the other candidates. I view him as an intelligent choice. But are the Packers on-board with the idea?