Chicago Bears:

Tony Fiammetta
September, 24, 2014
Sep 24
4:24
PM ET
LAKE FOREST, Ill. --
Chicago Bears
coach Marc Trestman announced Wednesday that strongside linebacker
Shea McClellin
will miss his second consecutive game Sunday when the club hosts the
Green Bay Packers
at Soldier Field.
Trestman called McClellin "week-to-week," but also said the third-year linebacker won't be working out with the team this week. McClellin broke his right hand last week during practice.
In other injury news, Trestman said he's "not optimistic, quite frankly" about the potential availability of starting center
Roberto Garza
(ankle) and left guard
Matt Slauson
(ankle) for the matchup versus the Packers.
"But it is possible they could be ready to go on Thursday and Friday at practice," Trestman said. "But it's day-to-day and we'll stay with the injury report on that."
Despite the injuries, the club's fill-ins at McClellin's linebacker spot and along the offensive line have performed well.
Second-year pro
Jon Bostic
replaced McClellin in the starting lineup Monday night against the Jets, and racked up a career-high 13 tackles to go with a couple of pass breakups.
"Very good to the football," Trestman said of Bostic's performance. "Obviously, we'd love him to catch that ball [for an interception] there at the end of the game. But other than that, I thought he took on blocks at the line of scrimmage, at the point. He fit the run and ran to the ball. Really, I thought he played well and used his athleticism and physicality to really help our football team."
Up front,
Brian de la Puente
replaced Garza in the starting lineup, while
Michael Ola
filled in for Slauson. The duo has filled in now for two games, as the offensive line has surrendered a total of six sacks in that span.
Because of the short week of preparation coming off Monday night's win over the
New York Jets
, the Bears took part in walk-throughs instead of a full workout. Had the Bears practiced, defensive end
Jared Allen
(illness), fullback
Tony Fiammetta
(hamstring), Garza, Slauson, receiver
Brandon Marshall
(ankle), cornerback
Sherrick McManis
(quadriceps), and defensive tackle
Jeremiah Ratliff
(concussion) would have been non-participants. Safeties
Ryan Mundy
(shoulder) and
Chris Conte
(shoulder) would have been limited.
Mundy suffered what he called a "serious stinger" against the Jets.
"I'm feeling good right now and just doing the necessary things I need to do to make sure I'm ready to play on Sunday," Mundy said.
September, 16, 2014
Sep 16
4:14
PM ET
LAKE FOREST, Ill. -- A black briefcase lying in front of him at the podium,
Chicago Bears
guard
Kyle Long
took a businesslike approach Monday in assessing the team's dismal performance in the run game during the club's triumph over the
San Francisco 49ers
.
"I was embarrassed," Long said.
Bears coach Marc Trestman worded his thoughts a tad more delicately, but the fact remains the offense -- after averaging 4.8 yards per rushing attempt in the season opener -- took a major step backward running the ball against the 49ers.
Obviously several factors played into the performance, most significantly, a 17-point deficit in the second quarter, which put the team into passing mode. Still, when Chicago ran against the 49ers, it averaged just 2.7 yards per attempt, with
Matt Forte
finishing with 21 yards on 12 attempts.
[+] Enlarge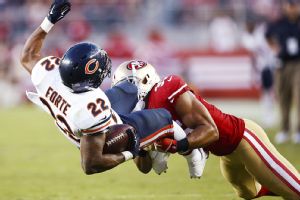 AP Photo/Tony Avelar)The Bears struggled to run the ball against the 49ers, averaging just 2.7 yards per carry.
Jay Cutler
led the way with 25 yards rushing, with all of that coming on one scramble.
"Very poor in our run game performance," Trestman said. "We're gonna throw that away, and try to work off where we got started in the Buffalo game, and try to continue progress and get better there. [San Francisco is a] very difficult defense to run against. But nonetheless, the tape has certainly shown us we have some work to do. It got our guys' attention, which is a good thing."
The club's rushing aspirations become more difficult Monday night on the road when the Bears face the
New York Jets
, which boast the league's to run defense. Jets opponents averaged 2.8 yards per attempt and 52.5 yards per game on the ground. New York's defense is one of just seven units in the NFL which still hasn't given up a rushing touchdown.
The longest run surrendered by the Jets this season was 12 yards.
"We need to run the ball," Long said. "I know we got the win on the road, and it was big. I'm sure everybody else in our room will echo that. So will Matt. You need to run the ball in the National Football League, and we'll be better at that."
Chicago certainly needs to be Monday night to prevent New York from making it one dimensional, which in turn would allow the Jets to pin back their ears and come after quarterback Jay Cutler. If the Bears can string together success on the ground against the Jets, the playbook opens up and allows them to attack with all the weapons at their disposal as opposed to relying solely on Jay Cutler and the receivers to make the offense go.
Long attributed the offense's problems running the ball to simply "techniques, different looks." But ultimately, Long said there's no excuse for Chicago's inability to run the ball effectively.
"You run the ball. You grab the guy in front of him. You move him, and the running back has an opening," Long said. "It's hard to break that down any simpler than that. [The Jets] pose another challenge for us. When you can break through walls like those, you become stronger as a unit. I feel like it's an opportunity for us. It's a mountain. We've got to climb it, and we've got to put our flag in the top of it. We're gonna figure out a way to run the ball against the Jets."
Balancing out the run-pass ration might help (83 passes to 35 runs so far this season), as well as bringing back fullback Tony Fiammetta. Fiammetta missed the opener due to a hamstring injury. Then the team -- reeling from injuries along the offensive line and receiver -- cut the fullback last week as it adjusted the roster to compensate. The Bears brought Fiammetta back on Monday, and Trestman is hopeful he can help spark the rushing attack as Forte's lead blocker.
"He certainly could [help]," Trestman said. "Tony Fiammetta is an excellent player, and we haven't had a chance to utilize him because of the hamstring injury. Very, very good as a lead back. I know Matt likes running with Tony leading the way."
September, 13, 2014
Sep 13
12:43
PM ET
CHICAGO -- A rash of injuries on the offensive line and at wide receiver prompted the
Chicago Bears
to make a handful of roster moves in advance of Sunday night's road game against the
San Francisco 49ers
.
Sources confirmed the Bears waived quarterback
David Fales
and released veteran cornerback
Kelvin Hayden
and veteran fullback
Tony Fiammetta
.
The Bears announced following Friday's practice that Fales (shoulder) and Fiammetta (hamstring) had been officially ruled out for Week 2.
Hayden was a healthy inactive in Chicago's 23-20 overtime loss to the
Buffalo Bills
in the season opener.
The expectation is the Bears will look to fill some of the open roster spots off the practice squad. With
Brandon Marshall
(ankle) and
Alshon Jeffery
(hamstring) questionable, and
Josh Morgan
(groin) doubtful, the Bears could choose to promote one, or more, of their current practice squad wide receivers: Josh Bellamy, Greg Herd,
Chris Williams
and Rashad Ross. Practice squad center/guard Taylor Boggs is a candidate to help with depth on the offensive line after starters
Roberto Garza
(high-ankle sprain) and
Matt Slauson
(high-ankle sprain) were both declared out for the 49ers game.
September, 5, 2014
Sep 5
2:43
PM ET
LAKE FOREST, Ill. --
Chicago Bears
fullback
Tony Fiammetta
(hamstring) was limited in practice on Friday and listed as questionable for the regular-season opener versus the
Buffalo Bills
, the team announced.
A five-year NFL veteran, Fiammetta appeared in 16 games (seven starts) for the Bears last season, catching four balls out of the backfield for 57 yards. The 6-foot, 250 pound fullback helped block for Pro Bowl tailback
Matt Forte
, who rushed for a career-high 1,339 yards in 2013.
Safety
Chris Conte
(concussion) and offensive lineman
Brian de la Puente
(knee) are probable to face the Bills, after both practiced without restrictions on Friday.
Conte is expected to play significant snaps at safety in Week 1, despite sitting out the entire offseason program and the bulk of training camp.
No. 3 quarterback
David Fales
remains out with a shoulder injury he sustained in the preseason finale in Cleveland.
September, 4, 2014
Sep 4
4:07
PM ET
LAKE FOREST, Ill. -- Safety
Chris Conte
received medical clearance to return from a concussion he suffered on Aug. 22, and is expected to play Sunday when the
Chicago Bears
kick off the regular season against the
Buffalo Bills
at Soldier Field.
Conte practiced without restrictions on Thursday.
On Wednesday, Bears head coach Marc Trestman revealed the team planned to use a rotation at the safety position in Week 1 between Conte,
Ryan Mundy
and
Danny McCray
. Mundy and McCray will be asked to additionally contribute on special teams, where both players have excelled at during their respective NFL careers. Trestman did not announce the starting safeties for the Bills game. That decision may come on Friday.
"I'm excited," Conte said. "It was a good little warm-up in [the third preseason game in] Seattle and now it's the real deal. I know I'm excited and the rest of my teammates are excited too.
"I've heard that there is going to be a rotation going, so however that works and whenever I get an opportunity, I need to make the most out of it."
Conte is looking to recover from a rocky 2013 campaign, which was exasperated by a porous defensive line that finished dead last in rushing yards allowed per game. (161.4). The line has since been revamped.
"I don't plan on having a lot of support [from the fans]. That's for sure," Conte said. "But I'm going to go out there and play football. That's what my job is, and that's what I'm going to do."
One area to monitor on Sunday is Conte's conditioning. The safety missed the entire offseason program and the first couple of weeks of training camp because of offseason surgery. Conte did return to face the Seahawks, but the concussion he sustained at Century Link Field forced him back off the practice field the following week. Conte was officially listed as having limited practice participation on Monday and Wednesday.
Conte's lack of preseason reps is one reason Trestman wants all three safeties prepared to play.
"We'll see where Conte is as the game moves along," Trestman said. "We feel good about the fact we have guys we can move in there. That's kind of the approach we are going to take. It would be that way with anybody who is coming off this type of situation; who hadn't had a lot of training camp."
In other injury news, fullback
Tony Fiammetta
(hamstring) had limited participation on Thursday, but offensive lineman
Brian de la Puente
(knee) had full participation, according to the Bears' official injury report. Quarterback
David Fales
has been ruled out with a sore shoulder.
September, 3, 2014
Sep 3
5:13
PM ET
LAKE FOREST, Ill. --
Chicago Bears
safety
Chris Conte
(concussion), center Brian de la Puente (knee) and fullback
Tony Fiammetta
(hamstring) all practiced on a limited basis Wednesday as the team started to install its game plan for the regular-season opener this weekend against the
Buffalo Bills
.
The Bears ruled out No. 3 quarterback
David Fales
due to a shoulder injury he suffered last week in the preseason finale in Cleveland.
Conte is expected to receive medical clearance to face the Bills later in the week.
Safety
Ryan Mundy
practiced with a large bandage on his forehead after having 15 stitches removed Monday. Mundy sustained a deep laceration to his forehead in the third week of the preseason and for some time was unable to wear a helmet.
"My head is good enough for me to practice," Mundy said. "I got my stitches out Monday morning. Fifteen [stitches]. It's a minor setback, but I feel good out there, and I'm preparing to play on Sunday.
"I've just got to make sure [the wound] is covered up. I'm really trying to have as little contact as I possibly can right now to give it time to heal. But the doctors said it looks good."
Mundy said he switched to a Riddell brand of helmets in the wake of the injury.
August, 26, 2014
Aug 26
4:05
PM ET
LAKE FOREST, Ill. -- The
Chicago Bears
held five players out of their final full practice before Thursday's preseason finale in Cleveland: safety
Ryan Mundy
, offensive lineman Brian de la Puente, wide receiver
Marquess Wilson
, fullback
Tony Fiammetta
and safety
Chris Conte
.
Cornerback
Isaiah Frey
also missed the workout due to a sore hamstring, but Frey and guard
James Brown
were later waived to trim the Bears' active roster down to 75 active players before the 3 p.m. CT deadline.
Generally speaking, the first-team plays very little, if at all, in the fourth preseason game.
However, an argument can be made that certain veterans would benefit from some playing time versus the Browns. Among that group is
Jordan Mills
. A foot injury forced the starting right tackle to miss the first three preseason games. Mills did return to practice on a full-go basis on Monday and probably would relish the opportunity to knock off some of the rust before the regular-season opener against Buffalo.
"That's a good question," Bears head coach Marc Trestman said regarding Mills' availability. "He did practice today. I haven't talked to the trainers about that situation. We really haven't made any decisions on those types of situations. We're still working on who is going to play and who is not. But Jordan did practice today, which was a good thing."
Veteran offensive lineman
Eben Britton
also practiced on Tuesday and should make his preseason debut in Cleveland, although his roster spot is far from assured. Britton's hamstring injury early in camp opened the door for
Michael Ola
and
Dennis Roland
to impress the coaching staff and potentially earn a spot on the final 53-man roster.
January, 21, 2014
Jan 21
8:00
AM ET
2014 free agents
: None.
Forte
The good
:
Matt Forte
earned his second Pro Bowl berth after finishing the season ranked No. 2 in the NFL with 1,339 rushing yards, third in yards from scrimmage (1,933), third in first downs (97), fourth in receiving yardage by running backs (594) and tied for No. 6 in rushing touchdowns (nine). The rushing yardage and yards from scrimmage were career bests for Forte. In all, Forte ranked in the top 10 in eight statistical categories, while also serving as a crucial component of the protection schemes. Forte's primary backup,
Michael Bush
, finished second on the team in rushing with 197 yards.
Bush
The bad
: As well as Forte played in 2013, he can't do it all by himself. So the Bears need to explore the possibility of bringing in a complementary back. Bush averaged just 3.1 yards per attempt, and ran seven times for minus-five yards in a Nov. 24 loss at St. Louis. Given that Bush outweighs Forte by 27 pounds, it would seem logical he'd be a more viable short-yardage option. But that didn't seem to be the case in 2013. The team's 1,828 rushing yards ranked as the team's lowest total in three years, and the 404 attempts were the club's fewest since 2009. The Bears also finished last in the league in third-and-1 rushing situations, converting just 33.3 percent.
The money
(2014 salary-cap numbers): Forte ($7.5 million), Bush ($3.85 million),
Tony Fiammetta
($730,000),
Michael Ford
($496,616). The cap numbers are manageable, but the Bears might look into upgrading in Bush's spot given that his contributions aren't commensurate to the $3.85 million cap figure. Perhaps the Bears will give Ford an opportunity to win the No. 2 job during training camp. Ford excelled during training camp and tied with Forte for the team lead in preseason rushing, but he'll have to improve at pass protection for the team to feel comfortable enough to increase his role.
Draft priority
: Low. The Bears would be fine going into the season with Bush as the primary backup to Forte. But it wouldn't be a bad idea to see whether they can upgrade there because Forte, while healthy in 2013, has missed time in the past. Teams are increasingly going to a running back-by-committee approach, but in Chicago, Forte has shouldered the majority of the workload. That just doesn't seem to be a sustainable plan moving forward.
December, 29, 2013
12/29/13
10:59
PM ET
CHICAGO -- Three-time Pro Bowl return man
Devin Hester
wants clarity on his future with the
Chicago Bears
.
Hester, who is scheduled to be an unrestricted free agent after earning $2,107,523 in the final year of his contract, hopes to hear in the near future if he fits into the Bears' plans beyond 2013.
Peppers
Hester
"I really want to know right away," Hester said following the Bears' 33-28 loss to the
Green Bay Packers
. "I am the type of guy, I don't want to go through the whole offseason not knowing where I am going to be at. I want to retire as a Bear. I put in too much hard work here and did a lot of things around here. I am pretty sure the fans want me back, so who knows."
One of the organization's most popular players since he debuted in the league in 2006 as a second-round pick out of the University of Miami, Hester said he's currently in the dark regarding the Bears' offseason intentions.
"To be honest, I don't know what's going to happen," Hester said. "It really hurts walking off the field knowing that this could be my last time wearing a Chicago Bears uniform. It's the most hurtful feeling that I have right now. This is where I was born and raised (as an NFL player). It's not like I played three years somewhere else or six years somewhere else, but I know this is a business.
Everything I had in me I left it all on the field tonight. We just came up short."
Hester returned a punt 49 yards in Week 17 while also handling five kickoffs for 127 yards. In his first season of being exclusively a return man, Hester finished 2013 with a 27.7 yard average on kickoff returns and 14.2 yard average on punt returns, including an 81-yard touchdown.
He joins a long list of prominent Bears players with expiring contracts. Among the players on the list: quarterback
Jay Cutler
, cornerbacks
Charles Tillman
and
Tim Jennings
, defensive lineman
Corey Wootton
, safety
Major Wright
, center
Roberto Garza
, linebacker
James Anderson
and left guard
Matt Slauson
.
The future of veteran defensive end
Julius Peppers
is also in doubt. Although Peppers is under contract through 2015, he is currently projected to count $18,183,333 against the Bears' salary cap next season. Peppers lead the Bears this year with 7.5 sacks, but he didn't look nearly as dominant as he had in previous seasons.
"I'm not sure, I don't know [what's going to happen]," Peppers said. "I'm in a contract. You'll need to talk to a decision-maker about that."
The Bears failed to extend player contracts for almost the entire season until they re-signed kicker
Robbie Gould
and fullback Tony Fiammatta in the week leading up to the Packers game. General manager Phil Emery is expected to work quickly in the coming weeks to try to re-sign some of his own free agents that he views as long-term parts of the team.
November, 27, 2013
11/27/13
3:44
PM ET
LAKE FOREST, Ill. -- The NFL fined
Chicago Bears
offensive guard
Kyle Long
$7,875 for his role in an altercation that broke out in the second quarter of the Bears' 42-21 loss to the
St. Louis Rams
last Sunday, Long confirmed on Wednesday.
Long
With 8:59 left in the first half, Bears quarterback
Josh McCown
threw an incomplete pass that bounced in the direction of fullback
Tony Fiammetta
and scooped up by St. Louis cornerback
Trumaine Johnson
. Because none of the officials blew a whistle, Fiammetta grabbed Johnson's facemask as the Rams' defender attempted to advance the ball up field.
Further up the field, Long went after St. Louis defensive end
William Hayes
near the Rams' sideline and had to be restrained by several players, including Long's older brother Chris, a star defensive end for the Rams who left his team's bench to try to break up the fight.
Long received a 15-yard unnecessary roughness penalty but was not ejected from the game. He did not elaborate on what sparked the incident when speaking with reporters in the postgame locker room, but did apologize via his official Twitter account (@Ky1eLong).
"I want to apologize to the fans for losing my cool today," Long tweeted on Sunday. "Not a representation of the person that I am or the Bears. Shouldn't happen."
Long, the Bears' 2013 first round draft choice, has started all 11 games this season at right guard.
June, 11, 2013
6/11/13
8:31
PM ET
LAKE FOREST, Ill. -- Here are some observations from Day 1 of the
Chicago Bears
' three-day mandatory minicamp:
Bears offensive coordinator/offensive line coach Aaron Kromer recently underwent hip surgery, which forced the veteran assistant coach to miss the on-field portion of Tuesday's minicamp workout. However, Kromer was in the building during practice and did attend meetings. Kromer will not meet the media following the conclusion of minicamp on Thursday as had been previously scheduled.


The signing of defensive tackle Sedrick Ellis gives the Bears' the maximum 90 players on their offseason roster. Although the team worked out three quarterbacks last week, including 2007 No. 1 overall pick JaMarcus Russell, the Bears appear to content to enter training camp with just three quarterbacks. The feeling is that if the club added another veteran passer, it would come at the expense of No. 3 quarterback Matt Blanchard, a young player the Bears are committed to developing.


June, 10, 2013
6/10/13
6:18
PM ET
The
Chicago Bears
wrap up offseason work starting Tuesday with a three-day veteran minicamp at Halas Hall.
The team doesn't convene again until July 25 at training camp.
Let's take a look at a few things to keep an eye on during this three-day minicamp.
Who will participate:
Given that this minicamp is mandatory, players without excused absences are subject to fines from the team. So look for the entire roster to show up minus rookie first-round pick
Kyle Long
, who won't be able to attend. A possible starter at guard, Long won't be eligible to attend due to an NFL rule that prohibits draft picks and college free agents from participating in offseason work until after final exams at their respective schools.