Chicago Bears:

Training camp
July, 23, 2014
Jul 23
7:48
PM ET
BOURBONNAIS, Ill. -- Chicago's signing of veteran safety
Adrian Wilson
in June slipped past some observers, with the pundits paying attention believing the team acquired a player no longer capable of consistently performing at a high level.
The
Chicago Bears
obviously view Wilson differently. In fact, Wilson is very much in contention for one of Chicago's two starting safety jobs, which are currently up for grabs.
Wilson
"I've talked to Adrian enough to know he's truly a professional," Bears coach Marc Trestman said. "He's committed to the game and being great at the game. He's got an opportunity to come back and play the game in a situation he thinks he can not only help our football team, but to continue to play at a high level. So we'll see. We're excited to have him. He's been an outstanding player in this league for a very long time; one of the best to play this game."
The 6-foot-3, 230-pound Wilson caught the eye of the team's personnel men with a strong workout in June, and one source within the organization believes if the veteran remains healthy, he could give Chicago's secondary the intimidating presence it has lacked at the safety position in recent seasons. None of the contenders currently on the roster are as physical as Wilson, according to the source.
However, Wilson, a five-time Pro Bowler, missed all of the 2013 season due to injury. It was reported that Wilson suffered a torn Achilles, but the safety posted on Twitter recently that he was dealing with Haglund's deformity, which is a bony enlargement on the back of the hell that rubs against and irritates the Achilles.
In 181 career games, Wilson has racked up 978 tackles, 25.5 sacks, 27 interceptions, 106 pass breakups, and 13 forced fumbles in addition to recovering nine fumbles.
"We brought Adrian in for a workout. It was obvious he still has a very good burst," Bears general manager Phil Emery said. "In terms of how he moved around, the burst he displayed, the hand and ball skills, there [was] no reason not to sign him, to put him in the competitive mix. The position is wide open. If Adrian Wilson walks in here and he's in football shape and, like the rest of them, stays healthy, he can claim the job. But he's gonna have a fight on his hands."
The Bears lost last season's starter at strong safety,
Major Wright
, to Tampa Bay during free agency, and free safety
Chris Conte
will begin training camp on the active physically unable to perform list after undergoing offseason shoulder surgery. The Bears signed veterans
Ryan Mundy
, M.D. Jennings, and
Danny McCray
during the early portion of free agency before bringing aboard Wilson late.
Mundy took the majority of repetitions with the starters at strong safety during organized team activities and minicamps. But in Chicago's defense, the safety "positions are essentially interchangeable," according to Trestman, which means that Wilson could wind up playing either spot for the Bears, as could Mundy and the other candidates.
"We want to find the best two guys," Trestman said. "In other words, if Ryan and Adrian are both at the strong safety position on Friday, that doesn't mean Ryan can't go to free [safety] on Saturday and Adrian can't be at strong safety. I'm not trying to get into how we're going to start this thing. I'm just saying we're going to move these guys around and try to find the best two guys that can play every down."
July, 16, 2014
Jul 16
11:12
AM ET
With the start of training camp closing , here's the final player in our a look at the three Chicago Bears rookies most poised to make an impact in 2014. It's no surprise that every one of the rookies to watch are defensive players:

He took repetitions with the starters during organized team activities and minicamp, but at this point it's unknown whether Brock Vereen is capable of consistently performing at the level required of a first teamer.

That's why Bears coach Marc Trestman cautioned against heaping too much praise on Vereen, a fourth-round pick out of Minnesota.

"The simple fact we've rotated him with the 1's is a clear indication we think he can compete, but we're not going to anoint him yet," Trestman said. "There's no reason to think he can't put himself in position to compete for one of those jobs, but it's way, way too early."

Besides that, Vereen needs to beat out some veterans to hold onto the starting job. The Bears signed M.D. Jennings and Danny McCray in free agency among others, but it appears Vereen's chief competition for the starting gig will be Chris Conte, who has missed most of the team's on-field work this offseason after undergoing offseason shoulder surgery.

While likely it's unknown whether Conte will start training camp on the physically unable to perform list. If he does, Vereen needs to take full advantage of the veteran's absence to secure the starting job.

"I told Chris I can't wait to get him out there. He said he can't wait to get out there, and that's where we are," said Bears defensive coordinator Mel Tucker. "Whenever he's available, we'll start working him in, get him up to speed and get him the reps."

In the meantime, Vereen wants to pick up the concepts of Chicago's defense as quickly as possible. The staff's approach should help. The Bears plan to reinstall the defense at training camp, according to Tucker, while adding "some things as we go that we didn't cover in OTAs and the coaching sessions."

"One of the first things our coaches said is, 'You're gonna make a mistake, but make it fast," Vereen said. "I'm just trying to show my speed, and hopefully, that I can pick up the concepts quick."

If that happens, it should make for an interesting competition at the free-safety position.

"He's smart, he plays fast," Tucker said. "He does not make a lot of mistakes. We'll see how it goes. We have competition there. There's nothing set in stone. We'll just continue to monitor him and the rest of the guys, and we'll end up with a good group I think."
June, 19, 2014
Jun 19
7:59
PM ET
The
Chicago Bears
released their 2014 training camp schedule with the first practice set for Jul. 25 at Olivet Nazarene University in Bourbonnais, Illinois.
For fans wishing to attend, parking is free and the gates at training camp open at 9 a.m. for morning practices and 2:30 p.m. for afternoon workouts. The team portions of the sessions will start at approximately 10 a.m., the team announced.
During the first week of camp, the Bears practice Jul. 25-28 before taking Jul. 29 off and resuming workouts on Jul. 30 and Jul. 31. This year marks the 13
th
consecutive season the Bears have held training camp at ONU.
Here's a quick look at the first week of the schedule. The entire schedule can be found
here
:
Thursday, Jul. 24: Players report, no practice.
Friday, Jul. 25: 9 a.m. practice (no pads).
Sat. Jul. 26: 9 a.m. practice (no pads).
Sun. Jul. 27: 9 a.m. practice.
Mon. Jul. 28: 9 a.m. practice.
Tues. Jul. 29: no practice.
Wednesday, Jul. 30: 9 a.m. practice.
Thursday, Jul. 31: 9 a.m. practice.
July, 15, 2013
7/15/13
2:20
PM ET
By
Staff
| ESPNChicago.com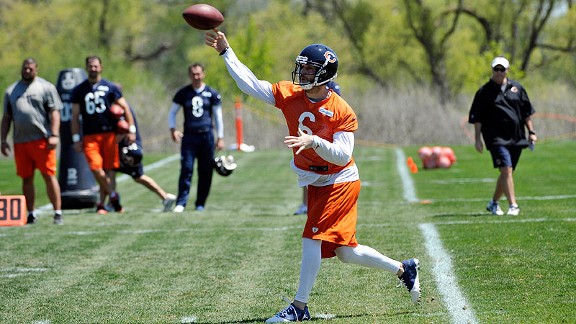 David Banks/USA TODAY SportsESPN Chicago takes a look at the Bears as they prepare for training camp in Bourbonnais.

From Jay Cutler's contract year to the challenge facing the offensive line, the Bears are preparing for an interesting training camp.
Will Marc Trestman succeed in his first shot as an NFL head coach?
How will the defense look without Brian Urlacher?
ESPNChicago.com takes a look at the team in pictures.
Click here.
July, 25, 2012
7/25/12
9:33
AM ET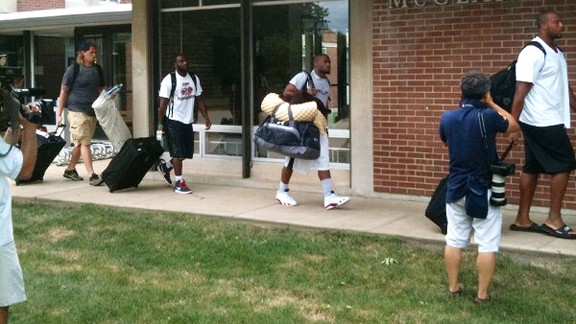 Jeff DickersonBears' rookies arrive at camp, and GM Phil Emery welcomed them with sound advice.
Chicago Bears
general manager Phil Emery provided somewhat of a roadmap to success for the rookies set to hit the practice fields Thursday for training camp at Olivet Nazarene University.
Asked what it would take for a rookie to impress him at training camp, Emery stressed the importance of silence and humility.
"(It's) kind of like
Brian Urlacher
said: 'Be quiet, be humble.' Work. Work," Emery said. "Find a way to contribute to the team whether that's on special teams, or as a role player as a pass rusher; whether that's a role player or a first- and second-down player. Whatever that role is, being a great practice player, being a guy that busts everybody else's but -- work ethic, attitude -- and showing us those skills that we drafted and that they contribute towards our goals in a positive way."
Sure, that's quite a mouthful from Emery. But they're definitely words rookies and on-the-bubble players need to remember in the coming days as most of the training camp battles begin to unfold.
The team undergoes physicals and conditioning tests on Wednesday before it goes into full action Thursday night at 2:30 p.m. The first workout will be without pads.
"We want to win championships now. We want to make progress towards our goals now," Emery said. "That's where I'm at with a sense of urgency and I believe that's where our team is. I liked how our team looked in OTAs. I like the talent base of our football team. But we've got to earn our place, though. That'll come starting Wednesday."
June, 22, 2012
6/22/12
3:02
PM ET
July, 27, 2011
7/27/11
12:12
PM ET
The Bears open their 10th training camp at Olivet Nazarene University in Bourbonnais, Ill., on Friday. Their first practice is set for 2:30 p.m. Saturday.

Here is their complete training camp schedule:

Saturday, July 30: 2:30 p.m. practice (no pads)
Sunday, July 31: Noon practice (no pads)
Monday, Aug. 1: 7 p.m. practice
Tuesday, Aug. 2: 2:30 p.m. practice
Wednesday, Aug. 3: 7:00 p.m. practice
Thursday, Aug. 4: Off day
Friday, Aug. 5: 7 p.m. practice (Soldier Field)
Saturday, Aug. 6: 2:30 p.m. practice
Sunday, Aug. 7: 7 p.m. practice
Monday, Aug. 8: 2:30 p.m. practice
Tuesday, Aug. 9: 7 p.m. practice
Wednesday, Aug. 10: 2:30 p.m. practice
Thursday, Aug. 11: Off day
Saturday, Aug. 13: Bears vs. Bills
Sunday, Aug. 14: Off day
Monday, Aug. 15: 2:30 p.m. practice
Tuesday, Aug. 16: 7 p.m. practice
Wednesday, Aug. 17: 2:30 p.m. practice
Thursday, Aug. 18: 7 p.m. practice
Friday, Aug. 19: 1:30 p.m. practice
Saturday, Aug. 20: Break camp
July, 25, 2011
7/25/11
2:01
PM ET
CHICAGO -- Chicago Bears player representative Robbie Gould confirmed on Monday that the Bears are heading to training camp on Fri., July 29 on the campus of Olivet Nazarene in Bourbonnais, Ill.
Read the entire story.
June, 6, 2011
6/06/11
11:51
AM ET
The
Chicago Bears
continue to take an undecided approach regarding their training camp home in the event of the NFL lockout extending deep into the summer.
Pointing out the fluidity of the situation, a team spokesman on Monday said the club hasn't made contingency plans to move camp from Olivet Nazarene University to another location if the lockout extends to a time where the Bears' presence on campus would affect the students.

Read the entire story.
April, 28, 2011
4/28/11
7:34
PM ET
LAKE FOREST, Ill. -- The
Chicago Bears
are tentatively scheduled to report to training camp on the campus of Olivet Nazarene in Bourbonnais on July 22.
The first practice is expected to be held on July 23.
The Bears are scheduled to open the preseason by facing the
St. Louis Rams
in the Hall of Fame game in Canton, Ohio on Aug. 7, therefore requiring the organization to report to camp a week earlier than usual.
This marks the 10th consecutive year the Bears have held training camp at Olivet Nazarene. The club recently signed an extension to keep the team training in Bourbonnais through at least 2012, with a team option for 2013.