Chicago Bears:

Tramon Williams
November, 1, 2013
11/01/13
12:00
PM ET
On the day former
Chicago Bears
coach Lovie Smith got the job, he said that one of his priorities was to beat the
Green Bay Packers
.
First-year Bears coach Marc Trestman made no such promises about this rivalry, but it goes without saying that he's eager to end Chicago's six-game losing streak to the Packers.
The last time Chicago beat Green Bay was on Sept. 27, 2010, on "Monday Night Football." The teams meet again in prime time Monday night at Lambeau Field.
ESPN.com's Packers reporter Rob Demovsky and Bears reporter Michael C. Wright break down the matchup.
Rob Demovsky:
We all know how much Smith wanted to beat the Packers. He stated as much the day he got the head coaching job. What has Trestman's approach to this rivalry been like?
Wright
: Rob, my man, you know that rivalries have to cut both ways in terms of wins and losses for it to be truly considered a rivalry. Counting the postseason, the Bears have lost six in a row and nine of the last 11. So, if anything, this is more Green Bay dominance than a rivalry. But the interesting thing about Trestman is he's a guy who likes to compartmentalize everything. He looks at today rather than the past or the future. So while it sounds cliché, Trestman is looking at the Packers as just another opponent on the schedule. That's just the way Trestman likes to operate, and I think for him it sort of makes things easier.
I keep looking at Green Bay's sack numbers, and I'm a little surprised the club is still in the top 10 in sacks with
Clay Matthews
out the last three games and other key members of the defense missing time. What is Dom Capers doing over there schematically to keep up the production?
Demovsky:
I figured when Matthews broke his thumb, Capers would have to blitz like crazy. Now, he's picked his spots, but he hasn't gone blitz-happy like I thought he might. However, he has been sending different pass-rushers to keep offenses off guard. One game, against the
Baltimore Ravens
, linebacker
A.J. Hawk
came a bunch and sacked
Joe Flacco
three times. Also, they've finally found a defensive lineman with some rush ability in second-year pro
Mike Daniels
. Three of his team-leading four sacks have come in the past two games.
As long as we're on the topic of quarterbacks, in 2011, backup
Josh McCown
played a halfway decent game against the Packers on Christmas at Lambeau Field, but he threw a couple of interceptions. What do you expect from him this time around as he starts in place of the injured
Jay Cutler
?
[+] Enlarge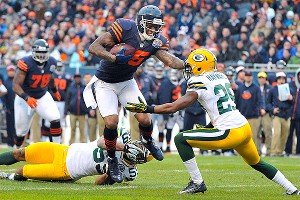 Rob Grabowski/USA TODAY SportsThe Packers have limited Brandon Marshall to 8 catches for 80 yards in their past two meetings.
Wright
: Believe it or not, I expect little to no drop-off from McCown in this game. The biggest difference between now and then is that in 2011, McCown joined the team in November, fresh from a stint as a high school football coach in North Carolina, and four weeks later became the starter. So he basically came in cold and still played relatively well. This time around, McCown has become immersed in the offense from the ground level, when Trestman first came on board, and even had some input as the team constructed the scheme. In fact, during the offseason, McCown was holding film sessions with all the club's new additions to teach everyone the new offense. So he's got complete mastery of the offense just like Cutler, which is why McCown came in against the Redskins and the offense didn't miss a beat. Obviously, McCown doesn't possess Cutler's arm strength. But he'll make up for that deficiency with anticipation. I'm quite sure the Bears won't scale down the offense to accommodate McCown at all, because they don't need to. So I expect McCown to play well. I'm just not sure Chicago's offense can keep up with Green Bay's in what I expect to be a high-scoring game.
Speaking of high scoring, the Packers put up 44 points on the
Minnesota Vikings
. How is Green Bay handling the preparation process for the Bears?
Demovsky
: Well, they certainly don't have as much time as the Bears do, considering the Bears are coming off their bye week. But the Packers have gotten themselves into a rhythm. They've won four in a row after their 1-2 start and look like a different team than they did the first three weeks of the season. Mike McCarthy probably doesn't get enough credit nationally, but show me another coach who has stared injuries in the face and hasn't blinked. What other team could lose playmakers like
Randall Cobb
,
James Jones
,
Jermichael Finley
and Matthews and still keep winning? That's a testament to the program he has established here. You can argue with some of his in-game coaching decisions, but you can do that with every coach. What you can't question, though, is the team's preparation.
The Bears, obviously, have had their share of injuries, too, losing Cutler and linebacker
Lance Briggs
. What's a bigger loss -- Cutler to the offense or Briggs to the defense?
Wright
: Well, Cutler's replacement is a veteran in McCown who has plenty of experience and a ton of weapons surrounding him on offense, while rookie
Khaseem Greene
will likely fill in for Briggs on a bad defense that will also feature rookie
Jon Bostic
in the middle. From my vantage point, losing Briggs is much more significant. The Bears have already proved to be horrible against the run (ranked 25th), and that issue certainly won't improve with two rookies at linebacker and a defensive line decimated by injury. It's also worth noting that Briggs made all the defensive calls and served as somewhat of a coach on the field for Bostic. Given that Green Bay seems to be running the ball so well, the current situation with Chicago's front seven could be devastating.
Now that the Packers are running the ball so well, how has that changed the way the offense is called? It seems Green Bay runs well regardless of which running back they line up in the backfield.
Demovsky
: It's remarkable -- and even a bit stunning -- to see
Aaron Rodgers
check out of a pass play and in to a run play at the line of scrimmage. That kind of thing hasn't happened around here in a long, long time -- probably not since
Ahman Green
was piling up 1,000-yard seasons nearly a decade ago. Teams no longer can sit back in a Cover-2 look and dare the Packers to run. Because guess what? The Packers can finally do it. It also has given the receivers more one-on-one opportunities, so it's helped the passing game, too. Right now, this offense almost looks unstoppable.
If the Packers keep playing like this, they might be tough to catch in the NFC North. What are the Bears' prospects for staying in the NFC North race until Cutler and Briggs return?
Wright:
To me, this game is the measuring stick for making that determination. But I'm not really confident about Chicago's chances, and that has more to do with the team's struggling defense than Cutler's absence. There have been conflicting statements made about Cutler's recovery time frame. Some teammates think he'll be ready to return by the time the Bears face Detroit on Nov. 4, while Trestman said the plan is to stick to the minimum four-week time frame prescribed by the doctors. Either way, if the Bears lose to the Lions you can kiss their prospects for the playoffs goodbye. The Bears might be able to afford a loss to the Packers because they'll face them again on Dec. 29. But a sweep by the Lions kills Chicago's chances to me because just from what we've seen so far, it appears one of the wild cards will come out of the NFC North with the other coming from the NFC West. Obviously it's too early to predict that, but that's the way things seem to be shaking out.
Without two of his top receivers and tight end Finley, Rogers still hit 83 percent of his passes against the Vikings. Is that success a product of the system, a bad Minnesota defense, or is Rodgers just that good at this point?
Demovsky
: The more I see other quarterbacks play, the more I'm convinced it's Rodgers. For example, seldom-used receiver
Jarrett Boykin
makes his first NFL start two weeks ago against the
Cleveland Browns
, and he ends up with eight catches for 103 yards and a touchdown. How many catches do you think he would have had if he were playing for the Browns that day? Their quarterback,
Brandon Weeden
, completed only 17-of-42 passes. That's not to minimize what Boykin did or what players like
Jordy Nelson
do week in and week out, but Rodgers is special, and special players elevate the play of those around them. Look at what
Greg Jennings
has done since he left for the Vikings. Now tell me the quarterback doesn't make the receiver, not vice versa.
Speaking of receivers, other than
Anquan Boldin
, who lit up the Packers in the opener at San Francisco, they've done a solid job shutting down other team's No. 1 receivers -- most recently Jennings and Cincinnati's
A.J. Green
. How do you think the Bears will try to get
Brandon Marshall
involved against what has been a pretty good Packers secondary?
Wright
: This question brings me back to the 2012 massacre at Lambeau Field on Sept. 13. The Packers bracketed Marshall with two-man coverage, and the Bears struggled tremendously. Shoot, cornerback
Tramon Williams
caught as many of Cutler's passes as Marshall, who finished the game with two grabs for 24 yards. Obviously, this offensive coaching staff is a lot different than last year's group. So the Bears will go into this game with a lot more answers for that coverage. I definitely see McCown leaning on Marshall and trying to get him involved as early as possible, but the only way he'll be able to do that is for the Bears to establish the rushing attack with
Matt Forte
so the quarterback can operate off play action. When the Bears go to Marshall early, expect to see a lot of short passes that will enable the receiver to gain some yardage after the catch.
Over the years, Green Bay has been pretty successful at limiting the impact of return man
Devin Hester
. So I was a little shocked to see the Packers give up a kickoff return for a touchdown to
Cordarrelle Patterson
. As you probably know, Hester is coming off a pretty strong return game against the Redskins. Do you think the Packers fix the problems they encountered last week, and minimize Hester's impact?
Demovsky
: Part of the Packers' problem on special teams has been that all the injuries have created a trickle-down effect. Here's what I mean: On the kickoff coverage until they gave up the 109-yard return to Patterson, they lined up six rookies, two of whom weren't even on the opening day roster. The Packers always have feared Hester, as they should, and in various games in recent years have shown they'd almost rather kick the ball out of bounds than give him any return opportunities. He's one of those special players who make rivalry games so entertaining.
July, 19, 2013
7/19/13
12:00
PM ET
NFC Eight in the Box:
East
|
West
|
North
|
South
»
AFC:
East
|
West
|
North
|
South
What are the three key camp issues facing each NFC North team?
CHICAGO BEARS

Offense: Kyle Long's readiness
The Bears drafted Long in the first round to help an offensive line that has struggled for years to protect quarterback
Jay Cutler
. Long, however, had a short Division I career and missed almost all of the Bears' offseason work because of the timing of Oregon's final academic quarter. The Bears will find out in camp, and during the preseason, whether Long is ready to be an immediate starter as you would expect based on his draft position.
Defense: Configuring linebackers
After the retirement of
Brian Urlacher
and the departure of
Nick Roach
, the Bears gave themselves two tiers of options at linebacker to play alongside
Lance Briggs
. If all else fails, they can use veteran
D.J. Williams
in the middle and
James Anderson
on the strong side. But they also drafted two players who one day will get their chance:
Jon Bostic
in the second round and
Khaseem Greene
in the fourth. The process of determining the best combination will begin in training camp.
Wild card: Coaching transition
This will be the Bears' first training camp in 10 years without Lovie Smith as the coach. Marc Trestman began the transition process during offseason workouts, but training camp is the time for establishing the meat of his program. How does he expect players to practice? How quickly does he expect scheme assimilation? How do players know when he's happy? When he's angry? The first training camp will set the parameters.
DETROIT LIONS

Offense: Line changes
One way or the other, the Lions will enter the season with three new starters on the offensive line.
Riley Reiff
is at left tackle after the retirement of
Jeff Backus
, and there will be competition at right guard and right tackle. Pulling off an overhaul of the offensive line in a win-or-else season is an ambitious task. All discussion of improvement for quarterback
Matthew Stafford
, and the impact of newcomer
Reggie Bush
, is made on the presumption that the offensive line won't take a step back.
Defense: Ziggy Ansah's development
Usually, the No. 5 overall pick of a draft is ready to step in and play right away. But Ansah was a late arrival to football and was almost an unknown to NFL scouts a year ago at this time. There was a sense during pre-draft evaluations that Ansah would need more development time than the typical No. 5 pick, but the Lions have high hopes of putting him into the starting lineup right away. They gave themselves some flexibility by signing free agent
Israel Idonije
, but they'll find out in camp if Ansah is going to be ready to play a full-time role in Week 1.
Wild card: Ryan Broyles' status
Broyles was a value pick in the 2012 draft, but he is very much needed after the release of
Titus Young
.
Nate Burleson
has returned to play alongside All-Pro
Calvin Johnson
, but the Lions' depth would be thin if Broyles isn't ready to play soon after tearing his ACL in Week 13 last year. The Lions hope Broyles can be full-speed by the start of the season, a pace he must confirm with at least some significant work in training camp.
GREEN BAY PACKERS

Offense: Running back rotation
The Packers added two rookies,
Eddie Lacy
and
Johnathan Franklin
, to a group that includes holdovers
DuJuan Harris
,
James Starks
,
Alex Green
and
John Kuhn
. Unless the Packers suddenly convert to a run-based offense, an impossibility as long as
Aaron Rodgers
is at quarterback, the Packers will have to thin this herd in training camp. Not everyone from that group will make the team, and a few who do aren't likely to get much action in games. Harris, Lacy and Franklin seem the likeliest candidates -- in that order -- to be feature backs.
Defense: Replacing Woodson
The Packers have openings at safety and cornerback following the release of
Charles Woodson
. Training camp should provide significant insight, if not an outright answer, into who will start at safety --
M.D. Jennings
?
Jerron McMillian
? -- alongside
Morgan Burnett
. We'll also get a sense for who is ready to step into the cornerback and nickel job opposite veteran
Tramon Williams
. Top candidates for that job include
Sam Shields
,
Casey Hayward
and
Davon House
. The Packers' cornerback group is by far the deepest in the NFC North.
Wild card: Crosby's state of mind
No one expects
Giorgio Tavecchio
to beat out place-kicker
Mason Crosby
, who went through a well-publicized extended slump last season. But how will Crosby react to the first competition of any sort he has faced since taking over as the Packers' kicker in 2007? That's what the Packers want to find out, frankly. If he isn't sharp in camp, the Packers might need to consider their options elsewhere.
MINNESOTA VIKINGS

Offense: Cordarrelle Patterson's development
The Vikings know they want Patterson to be their kickoff returner, replacing
Percy Harvin
, but is Patterson ready to take over any part of Harvin's role as a primary offensive playmaker? Patterson's short stay at Tennessee once suggested he will need some development time before contributing regularly on offense. His performance in offseason practices, however, suggested he might be further along than once believed. Training camp will tell us for sure.
Defense: Linebacker alignment
Will newcomer
Desmond Bishop
play middle linebacker or on the outside? What would that mean for
Erin Henderson
, who spent the offseason transitioning to the middle position? It seems pretty clear that Bishop, Henderson and
Chad Greenway
will be the Vikings' three linebackers. Training camp should give us a better idea of where they will line up and, importantly, who will come off the field in nickel situations.
Wild card: Chemistry in passing game
The Vikings are expecting a jump in the efficiency, if not raw numbers, of their passing game this season. Quarterback
Christian Ponder
will have to accomplish that by developing quick chemistry with his new receivers, including Patterson and veteran
Greg Jennings
. That task appeared to be a work in progress during offseason practices.
July, 16, 2013
7/16/13
2:15
PM ET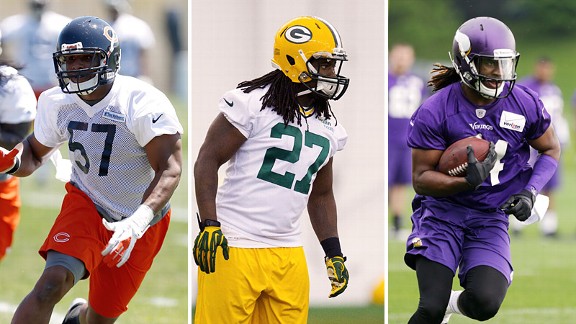 Getty ImagesOpportunities await Jon Bostic, left, Eddie Lacy, center, and Cordarrelle Patterson in training camp.
In 10 days, all four NFC North teams will have stepped onto the practice field for their 2013 training camps. I can't think of a better way to wade through these final days than by identifying 10 key issues we will no doubt be focusing on over the next six weeks or so.
I'm staying away from some of the obvious ones and instead focusing on developments for which we have a reasonable expectation of resolution before the start of the regular season. We won't know by Labor Day, for example, if
Jay Cutler
is a good fit for the
Chicago Bears
' new offense under Marc Trestman. It'll be impossible to conclude whether
Christian Ponder
has taken a step forward as the
Minnesota Vikings
' quarterback, or whether the
Detroit Lions
'
Matthew Stafford
has fixed his mechanics or if the
Green Bay Packers
know how to stop the read-option.
Answers to those questions won't be evident until regular-season games start. I think it's reasonable to expect quicker resolution to the questions identified below.
Issue:
Jon Bostic
and the Bears' middle linebacker job
Analysis:
General manager Phil Emery gave the team a safety blanket by signing veteran
D.J. Williams
, who is expected to open training camp in Brian Urlacher's old spot. But the Bears used a second-round draft pick on Bostic, and one day he almost certainly will have the job. If he can win it in training camp, the Bears can move Williams to the outside or use fellow newcomer
James Anderson
there.
Issue:
A role for Bears defensive end
Shea McClellin
Analysis:
McClellin was the Bears' first-round draft pick just one year ago, but he'll have to compete hard to establish a role commensurate with that status.
Julius Peppers
and
Corey Wootton
finished last season as the Bears' starting defensive ends, and Wootton is in a contract year and thus will be highly motivated. The Bears cleared some space by allowing
Israel Idonije
to depart via free agency, but McClellin's path to regular playing time is far from certain.
Issue:
Starting
Kyle Long
Analysis:
There has been an assumption that Long will be plugged into the starting lineup at one of the Bears' guard positions, but it's only fair to reiterate his relative lack of experience (four starts) in Division I. Moreover, Long was unable to participate in most of the Bears' offseason program because of NFL rules regarding the timing of college graduation. In other words, Long is as green as it gets for a first-round draft pick. It will be nice to see, finally, what the Bears have in him.
Issue:
Ryan Broyles
' status in Detroit
Analysis:
Broyles tore his ACL in Week 13 last season and will push to be ready for camp. If Broyles is healthy and available, he will join
Calvin Johnson
and
Nate Burleson
to form a really good trio. If he needs more time, the Lions will be thin at the position to start the season.
Mike Thomas
, a slot receiver acquired last season from the
Jacksonville Jaguars
, would be next up.
Issue:
Ziggy Ansah
's development
Analysis:
Generally speaking, the No. 5 overall pick of a draft should be ready to step into the lineup and make an immediate contribution. Ansah, as has been well-documented, was a late arrival to football and might need more development time than most No. 5 overall picks. Idonije gives the Lions an option if Ansah isn't ready to start, and in truth snaps are more important than the starting lineup. But when you draft a defensive end at No. 5 overall, you expect him to be ready to handle a full-time load almost immediately.
Issue:
Packers' running back rotation
Analysis:
The Packers gave themselves a good problem this offseason by adding two draft choices,
Eddie Lacy
and
Johnathan Franklin
, to a group that also included
DuJuan Harris
,
James Starks
and
Alex Green
. It seems unlikely that all of them will make the roster, but the more pressing matter is how they will be used and how often. Harris would have been the favorite to start entering training camp, but he missed the offseason because of injuries, and the position should now be considered wide open.
Issue:
Mason Crosby
's reaction to competition
Analysis:
Crosby's extended slump last season prompted the Packers to bring a second place-kicker to camp for the first time since he established himself as the Packers' full-time kicker. There is every reason to consider Crosby the heavy favorite over
Giorgio Tavecchio
, but that's assuming Crosby handles the competition well. It has been a while since Crosby had to secure his job.
Issue:
Replacing
Charles Woodson
in Green Bay
Analysis:
Woodson played safety and cornerback for the Packers last season. Now, they have a competitive situation at both spots. Training camp should tell us whether
M.D. Jennings
or
Jerron McMillian
is ready to grab a safety spot next to
Morgan Burnett
. We'll also get to see a spirited competition at cornerback between
Sam Shields
,
Casey Hayward
,
Davon House
and others for the chance to play alongside
Tramon Williams
.
Issue:
Vikings linebacker alignment
Analysis:
It is reasonable to expect
Chad Greenway
,
Erin Henderson
and
Desmond Bishop
to start in the Vikings' 4-3 base. But what positions will they play? Training camp should make that clear. Bishop would seem best suited for the inside, with Henderson returning to his former role outside, but it's not out of the question that the Vikings could experiment in the reverse during camp to find the best combination.
Issue:
Cordarrelle Patterson
's development
Analysis:
Shortly after the draft, we were led to believe that the Vikings rookie would fit in as a kickoff returner this season while he learned how to play receiver at the professional level. But if offseason practices were any indication, Patterson might be ready for a bigger role on offense right away. Can he emerge from training camp as a starter opposite
Greg Jennings
? That's the Vikings' best-case scenario, one that didn't seem possible in April but can't be ruled out on the eve of camp.
December, 17, 2012
12/17/12
4:53
PM ET
After the Chicago Bears' 21-13 loss to the Green Bay Packers, here are three issues that merit further examination:
ESPN.com

Everyone wants to know what will happen to coach Lovie Smith after the season. The truth is there are too many possibilities remaining to make an accurate judgment. General manager Phil Emery was noticeably vague when discussing Smith's future with the team's flagship radio station, but that's because the Bears could finish anywhere between 8-8 and 10-6. They could miss the playoffs or they could conceivably make a deep playoff run. Despite the current despair surrounding the franchise, to me it's fair to make Smith's continued employment contingent on a playoff berth. If he makes the playoffs, a firing would be an awfully harsh verdict. But if the Bears miss the playoffs for the fifth time in the past six years, that's a sufficient timeframe to expect better results. Based on what we've seen over the past month, it's hard to envision the Bears winning out and making a deep playoff run. But we have to leave open that possibility before making any grand guesses about Smith's future.
Offensive pass interference calls aren't as rare as you might think. Through Week 14, officials had called a total of 72. Still, that's an avearge of about one for every three games this season. So Bears receiver Alshon Jeffery certainly set a new bar by getting three on his own Sunday -- only Kenny Britt of the Tennessee Titans had that many all season entering the week. Packers defenders made clear they thought Bears receivers routinely get away with illegal contact. Charles Woodson said he was "very, very surprised but also very happy" to see the calls made because of "blatant push-offs" Bears receivers usually employ. Cornerback Tramon Williams said he was "pleasantly surprised" to see the calls. My sense is that Jeffery will learn how to create separation more subtly as he becomes a savvier player. It's absolutely part of the game, but there are ways to accomplish the goal without getting called. He might want to start by watching the tape of Packers receiver James Jones' 29-yard touchdown reception. Jones did just enough with his left hand to keep cornerback Kelvin Hayden away from him, but not enough to merit a penalty.
I don't blame players for struggling with the constant scrutiny they face from fans and media. It's no doubt part of the gig, but that doesn't make it easy. So I'll give injured linebacker Brian Urlacher a pass on his televised statement that "two of the people I don't care about" are "fans or the media." The only way to live with the scrutiny is to ignore it as best you can. But at least part of Urlacher's rant was factually inaccurate. The Bears are most definitely not the only team in the NFC North who get booed by their home fans, despite what Urlacher suggested. I've spent the past five seasons covering games at the Soldier Field, Ford Field, Lambeau Field and the Metrodome. I've heard the boos first-hand in each locale. (I guess I never considered whether they were booing the NFC North blog. Probably not, though.) I'm sure Urlacher is frustrated and perhaps he can see the end of a long run for the nucleus of players and coaches he's spent the past decade working with. But I really doubt he has made it this long in the NFL while holding on to the notion that most local fans treat their teams with kid gloves.
And here is one issue I still don't get:
What is it about the Packers that has so befuddled quarterback Jay Cutler? Since arriving in 2009, Cutler is 1-6 against the Packers and 11-3 against the rest of the NFC North. And to be clear, his performance in most of those games has been terrible. His Total Quarterback Rating was 6.9 (out of 100) Sunday and 4.7 (still out of 100) in Week 2 against the Packers. In fact, four of the six lowest QBRs in Cutler's career have come against the Packers. His frustration ran sky high Sunday, at least based on his reaction to a huge second-quarter interception. I don't blame him. It has been four years of this now.
September, 14, 2012
9/14/12
1:00
PM ET
After the Green Bay Packers' 23-10 win over the Chicago Bears, here are three issues that merit further examination:
ESPN.com

The Packers' first touchdown came on a fake field goal that got lost in the postgame shuffle Thursday night, at least on this blog. So let's first note how gutsy the call was considering it came on fourth-and-26 from the Bears' 27-yard line. The play essentially had to score to work; the Bears would have taken over if reserve tight end Tom Crabtree had been stopped outside of the 1-yard line. "That's like the call of the year," cornerback Tramon Williams said. "Fourth-and-26? You would never think anyone would go for that. You've got Tom Crabtree and you give the ball to him to get 26 yards? You never think that would happen again." Coach Mike McCarthy said the Packers have been waiting "two or three years" for the Bears to give them an alignment that would make the play work. To me, the first key was that Bears cornerback Charles Tillman -- aligned over Crabtree on the left side of the Packers' formation -- chased place-kicker Mason Crosby away from the play for several steps. That gave Crabtree some separation to catch holder Tim Masthay's pitch and get a head of steam.
There are many ways to determine the motivation for a fake field goal. Did the Bears simply provide a once-in-a-lifetime look the Packers knew they could capitalize on? Was McCarthy pulling out all the proverbial stops to avoid going 0-2? Or was it, at least in part, an acknowledgment that the Packers' offense left them needing to find alternative ways to score touchdowns? I think an argument could be made for the latter motivation. We noted last week the sharp decrease in the Packers' explosiveness and wondered what adjustment they would make. We got at least a one-game answer Thursday night: With Greg Jennings (groin) sidelined and the Bears aligned to take away the deep pass, the Packers powered down and emphasized their running game along with their short(er) passing game. They ran 25 running plays, nearly tripling their Week 1 attempts, and were rewarded when tailback Cedric Benson (81 yards on 20 carries) got warmed up and began churning up yardage. The longest pass quarterback Aaron Rodgers completed was a 26-yard touchdown to receiver Donald Driver, and their longest play overall was Randall Cobb's 28-yard run off a pitch play. Overall, the Packers averaged 4.9 yards on 66 plays, holding the ball for 32 minutes, 11 seconds. It was a very Black and Blue approach in what we once thought was the Air and Space division.
As we discussed Thursday afternoon, the Packers weren't dumb enough to take up quarterback Jay Cutler on his offer to press receivers Brandon Marshall and Alshon Jeffery. Instead, they played man-to-man coverage with Williams, Sam Shields, Charles Woodson and rookie Casey Hayward with two safeties -- Morgan Burnett and another rookie, Jerron McMillian -- stationed deep. Williams turned in an awesome performance on Marshall, and afterwards reiterated his approach to playing big receivers. "With a guy that size," Williams said, "you can't be too physical on him. That's what he wants. He'll beat you most of the time. I didn't give him that."
And here is one issue I still don't get:
Did the Packers settle their defensive rotation Thursday night or add a level of intrigue? Shields (60 snaps, according to Pro Football Focus) and Hayward (24) appeared to leapfrog Jarrett Bush on the cornerback depth chart. And McMillian (44 snaps) has jumped ahead of M.D. Jennings at safety. On the other hand, the Packers rotated veteran linebacker Erik Walden (36 snaps) with rookie Nick Perry (20), and Walden's active (half sack, two quarterback hits) probably played a role in Clay Matthews' 3.5-sack outburst. Rookie Dezman Moses also got 19 snaps. My guess is the Packers would like to establish some consistency at defensive back but could use their linebackers more to match with specific aspects of opponents. In all, it should be noted that the Packers got substantive contributions from five defensive rookies Thursday night: Perry (three hurries, via PFF), Hayward, McMillian, Moses (two hurries) and defensive lineman Jerel Worthy (sack, two quarterback hits). "We've got a good group of young talent," Matthews said.
September, 14, 2012
9/14/12
1:53
AM ET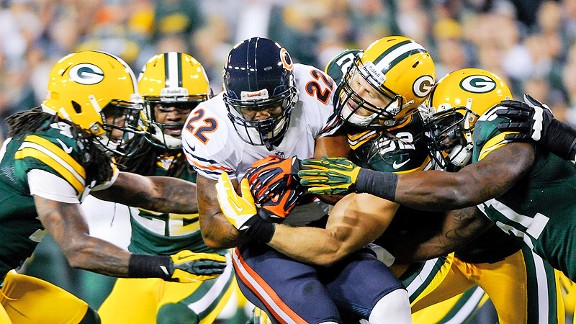 Benny Sieu/US PresswireThe Packers defense forced four turnovers, had seven sacks and limited Chicago to 168 total yards.
GREEN BAY, Wis. -- Yes, the
Green Bay Packers
were miffed in the days and hours leading up to Thursday night's divisional showdown with the
Chicago Bears
. No, it had little to do with Bears quarterback
Jay Cutler
's
challenge to their defensive backs
. The issue was much larger than that, and it goes all the way back to March 13 -- the day the Bears made their surprise trade for receiver
Brandon Marshall
.
"We thought it was kind of funny," cornerback
Charles Woodson
said, "that all of a sudden they were the team to beat because they got a couple new guys."
So it was with great delight that Woodson and his defensive teammates tore up the Bears' offense in a
23-10 victory
at Lambeau Field. It wasn't because Cutler had wished them "good luck" this week if they tried to play press coverage against Marshall and rookie
Alshon Jeffery
. It was the larger notion that Marshall's arrival had elevated the Bears to a level where they would challenge the Packers' supremacy in this division.
As a result, this game had an edge rarely seen in what is normally a friendly rivalry. The Packers got under Cutler's skin early, sacking him on the Bears' first play from scrimmage and ultimately forcing him into
one of the worst games of his career
. They sacked Cutler seven times, including 3.5 by linebacker
Clay Matthews
, and intercepted him four times. Cornerback
Tramon Williams
grabbed two of those interceptions, but even more notably, he blanketed Marshall for almost the entire game.
The Packers left the Bears' hype in ruins, limiting them to 168 total yards and 11 first downs in 57 plays. Woodson, for one, appeared quite satisfied afterward to have challenged the Bears' narrative.
"Their offense didn't look any different to me," he said. "We know those guys. We've played them a lot. They didn't look much different. They just have some new players."
The primary newcomer, Marshall, didn't see a single pass thrown his way until Williams slipped in coverage with 8 minutes, 59 seconds remaining in the third quarter. Wide open for a touchdown, Marshall dropped the ball in the end zone.
Williams said Cutler's words this week didn't get him "out of whack" but made clear that "guys wanted to come out and put on a good performance, and we did that."
[+] Enlarge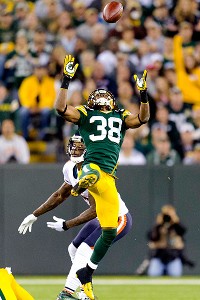 Jeff Hanisch/US PRESSWIREGreen Bay cornerback Tramon Williams grabs one of his two interceptions.
Said Woodson: "Tramon is a tremendous player, and he helped us dominate today."
Indeed, Bears coach Lovie Smith said there were plays called throughout the game for Marshall "that we couldn't get off."
This was as complete of a defensive game as I've seen the Packers play in some time, even dating back to the elite level they played during portions of their 2010 Super Bowl season. They limited tailbacks
Matt Forte
and
Michael Bush
to 85 yards on 21 carries, putting the Bears' offensive line in the unenviable position of pass-blocking against rushers highly motivated to reach Cutler. As a result, the Packers' blitz was highly effective. Defensive coordinator Dom Capers sent an extra rusher on 13 of Cutler's 35 dropbacks, according to ESPN Stats & Information. They sacked him on four of those blitzes and recorded interceptions on two others.
Most importantly, I thought, the Packers' defense got after it in a way that permeated the entire game. Cutler was hit a total of 12 times, frustrating him to the point that he was screaming at his offensive linemen and even kicked Woodson after a third-quarter blitz. Bears left tackle
Gabe Carimi
was penalized 15 yards in the second quarter after retaliating to a shove from Packers linebacker
A.J. Hawk
, and Bears players protested loudly when Packers cover man
Rob Francois
roughly shoved returner
Devin Hester
out of bounds.
You could see the tension on both sides of the ball, and even Packers quarterback
Aaron Rodgers
gestured angrily and screamed at receiver
James Jones
after a fourth-quarter interception put the Bears in position for their only touchdown. (Rodgers said afterward he and James were "not on the same page" on the play call.) The Packers' best offensive player Thursday night might have been tailback
Cedric Benson
, who helped set the physical tone by grinding out 81 tough rushing yards.
"There was definitely words out there," Packers cornerback
Sam Shields
said. "You could tell Cutler was getting frustrated. We know what Cutler does. We were just out there as a defense trying to take advantage."
Matthews, meanwhile, now has six sacks in two games this season after abusing Bears left tackle
J'Marcus Webb
all night. Matthews said he hopes the performance "becomes our theme for this defense and this team."
Yes, the Packers revealed Thursday night how amused they were by the Bears' new status as media darlings. But were you expecting their defense to be the group that realigned our thoughts on that? I'm not sure I was. So it goes. That's, as they say, why they play the games.
August, 28, 2012
8/28/12
1:15
PM ET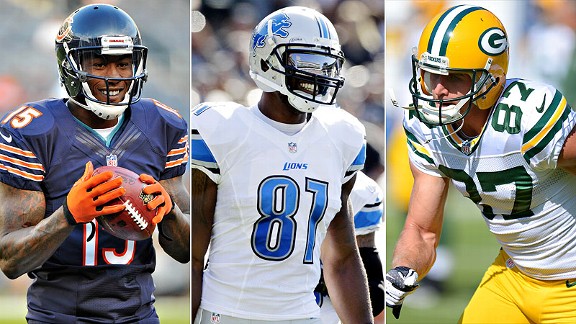 US PresswireBigger receivers like Chicago's Brandon Marshall, Detroit's Calvin Johnson and Green Bay's Jordy Nelson present unique challenges for the division's defensive backs.
You've already read half of this story. Surely you're aware of the increasing size disparity between NFL pass-catchers and cornerbacks. That train has left the station, and there's no going back.
So here's what I'm interested in: Assuming they don't plan to forfeit the season, how will NFC North cornerbacks and coaches deal with what looks like an increasingly one-sided matchup?
I spent part of
CampTour'12
asking cornerbacks, receivers and coaches a version of that question. After all, the
Chicago Bears
' acquisition of receiver
Brandon Marshall
means that each of our teams has at least one receiver taller than 6-foot-2 and one or more tight ends who stand at least 6-4. In total, the division boasts six "big" receivers and seven "big" tight ends based on those qualifications, as the first chart shows.
On the other hand, there are only three NFC North cornerbacks taller than 6-feet among the 12 expected to make up each team's primary rotation. (See second chart.) Cornerbacks don't always match up in single coverage against big receivers, and bigger safeties often take on tight ends. But at some point there is no choice. Eventually, NFC North teams will have a 5-foot-9 cornerback assigned to a 6-foot-4 receiver, a height differential of more than half a foot.
Most everyone engaged thoughtfully on the issue, and below I've categorized their thoughts in three ways. Let's take a closer look.
Muscle up or play off?
The game is football, of course, so the instinct of many cornerbacks is to get physical with big receivers -- especially at the line of scrimmage and even as the ball approaches. That approach is almost always a mistake, NFC North cornerbacks agreed.
"A guy that big, you don't want to be too aggressive with him,"
Green Bay Packers
cornerback
Tramon Williams
said. "You want to feel him, but you don't want him to feel you. As a big receiver, he wants you to be aggressive. That's his thing. He can push you off and do things like that. He can get separation and get you off your stride. So you don't want to be too aggressive with guys like that."
Instead, cornerbacks often are best served to "stalk" bigger receivers as they run downfield.
"They love for a little guy to get physical so they can body you," said
Detroit Lions
cornerback
Chris Houston
, who spends most practices matched up on 6-foot-5 receiver
Calvin Johnson
. "You've got to be smart, use your technique throughout the game. You can body them sometimes, but the majority of the time, they like for you to try to get in there. Their arms are much longer, so they can get you before you get them. You've got to be smart on your technique and stay disciplined."
The NFC North's shortest cornerback is
Antoine Winfield
of the
Minnesota Vikings
, whose reputation as a physical tackler overshadows the fact that he rarely tussles with receivers until after the ball arrives.
"I like to play off," Winfield said. "It's hard for me to be fighting with a guy who is 6-4, 6-5 at the line. He has the advantage. The first thing he is probably going to do is run at me, grab me, throw me to the side and take off."
Thinking back over his career during training camp, Marshall said "every guy plays a little differently." But Marshall could identify only one cornerback who deliberately got physical with him at the line of scrimmage: the
Denver Broncos
'
Champ Bailey
, who is just shy of 6-foot.
"A guy like that, he loves to go against big guys," Marshall said. "He trusts himself."
Everybody jump, jump
What Bailey and many other cornerbacks lack in height, however, they try to make up with timing and leaping ability. Bears coach Lovie Smith, in fact, said that vertical jumps are one of the most important attributes he seeks in defensive backs.
"Once the receiver gets off the ball," Smith said, "and he gets in position and the ball is thrown up in the air, just throwing it up high and it's a jump situation, that height and that vertical is going to come into play. And for us, most of our DBs have good verticals. They're 36-[inches] plus, 37-plus for a reason.
"If you have a good vertical, eventually if the ball is in the air, you can go out there and get it. I just don't think it's a gimmee just because you have a tall receiver and the cornerbacks are shorter. Most of the guys in the league are playing under six feet at the corner position and they're making a lot of big plays."
Indeed, the Bears employ two cornerbacks shorter than 5-10 --
Tim Jennings
and
D.J. Moore
-- among their top three. Jennings recorded a 37 1/2-inch vertical jump at his scouting combine, Moore hit 39 1/2.
Charles Tillman
, who at 6-1 1/8 is the second-tallest cornerback in the division, had a 40-inch vertical leap.
"You never concede a jump ball," said the Packers' Williams, whose vertical has been recorded at 41 inches. "I've always been confident in my jumping ability. Me, personally, I haven't had many jump balls caught on me."
Of course, big receivers watch film and usually know who the good jumpers are. Packers receiver
Jordy Nelson
said there are ways to maintain the height advantage against a cornerback who can jump.
"When we watch them, we see how they can play a deep ball," Nelson said. "If we know that so-and-so is out there, we know that you really have to attack the ball in the air. He is going to go up and get it. You've got to go compete for it. You can't let it come down and try to catch it over your shoulder. There's things like that that we watch."
In the absence of jumping ability, Vikings coach Leslie Frazier said, shorter cornerbacks must rely on extraordinary quickness and speed. The Vikings, for example, this year drafted the player who ran the fastest 40-yard dash at the 2012 scouting combine, Central Florida cornerback
Josh Robinson
(4.33 seconds). Robinson is 5-foot-9 1/2.
"What we try to find is a guy who is extremely quick," Frazier said. "Sometimes you can out-quick guys who are long striders, and they're usually better a little bit down the field. If you can offset some of that with the quickness and you are a gnat, just harassing them, that helps."
Scheme
Coaches can play an important role in equalizing the physical mismatch as well. Although it is bound to happen at some point, the least appealing way of defending a big receiver is putting him in a pure man-to-man matchup with a cornerback.
"There are things you can do where you don't get isolated in coverage," said Lions coach Jim Schwartz, whose top four cornerbacks are all shorter than 5-10. "You're playing man but you get a double team from somewhere, and so you're not playing the 'whole' man. You're not playing that whole 6-foot-3 receiver. You're only playing a portion of him. Those ways can be significant."
If you're not in position to double-team, the Bears' Smith said, zone concepts usually work better in physical mismatches. Players in man coverage usually turn their backs to chase the receiver they're assigned to, while players in zone are taught to keep receivers in front of them so they can watch the quarterback.
"It helps to play a little bit more zone," Smith said, "where you have your defensive backs with their eyes on the ball. When you're short and you're playing man-to-man and you have your back to the quarterback, there's a lot of things going against you in that situation."
So where does this leave us? When I spoke with Marshall about this topic, he smiled and said he didn't want to give up any secrets for exposing height mismatches. In truth, however, there aren't many.
Cornerbacks must play smart, both in technique and within the scheme. They need a physical attribute, especially jumping ability, that helps compensate for their height disadvantage. And they need to realize that, no matter what approach they take, NFC North teams are going to utilize their big receivers to complete plenty of passes. The defense that can best minimize the impact of those completions will put its team in position for the NFC North title.
February, 7, 2012
2/07/12
3:33
PM ET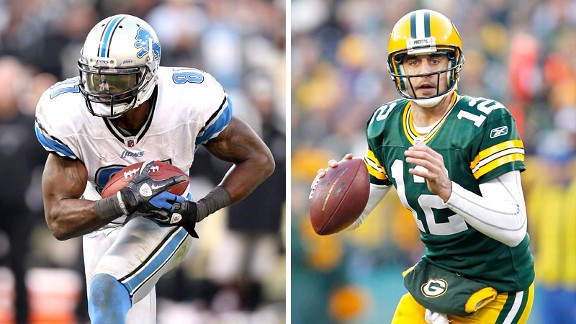 Getty ImagesCalvin Johnson, left, and Aaron Rodgers were easy picks for the All-NFC North team.
It took longer than expected. Preliminary decisions were questioned. Debates extended into the wee hours. We went through a first draft, then a second and even a third. Countless observers were consulted. It wasn't until I had a full week to
mull the 2011 All-NFC North team
that I was prepared to make the big reveal.
Via Twitter,
@jpberthiaume
asked: "Do people really care about these 'teams?'" I guess it's a fair point. I doubt few, if any, of the players listed in the chart wrote a fifth-grade essay about their plans to one day make the All-NFC North team on ESPN.com, even if it was only because the NFC North hadn't yet been formed in those days and ESPN.com was operating out of a Bristol-based closet.
So I'll let you be the judge. This is annually a fun exercise, even if it doesn't lead to a deep understanding of the human condition or even reveal any breakthroughs about the just-completed season. If nothing else, it offers us a blank template to recognize the best-performing players in the division without the hindrance of the politics and reputation.
Some notes on some of the tight decisions, for which I seriously received input from multiple angles:
One of the fiercest debates came at wide receiver. Everyone agreed that the Detroit Lions' Calvin Johnson deserved one spot, but there was a split about the other two. Did the Green Bay Packers' Greg Jennings, who missed three games because of a knee injury, deserve an automatic bid? And if he did, should the Packers' Jordy Nelson or the Minnesota Vikings' Percy Harvin get the third spot? I thought Jennings' 67 receptions, 949 yards and nine touchdowns in 13 games merited a spot. And ultimately I chose Nelson over Harvin. I realize Harvin caught 87 passes in a punchless offense and added 345 rushing yards to his total, but in the end I couldn't overlook a player who scored more touchdowns (15) than all but four players in the NFL this season. Plus, as Hatterbot pointed out: "Rushing yards don't count in the WR category."
I went with the Lions' Rob Sims at left guard in part on the advice of John McTigue of ESPN Stats & Information, who noted that Sims was the only NFC North left guard to play the position for 16 games this season. Sims also had the best pass-sack ratio (19.7 passes per sack) of the group, based on video study.
There is no doubt that the Lions' Brandon Pettigrew (83 catches) had a more productive season than the Packers' Jermichael Finley (55). But the Lions often used Pettigrew as a substitute for their punchless running game, and that's why his per-catch average of 9.4 yards was lower than any other tight end with at least 30 catches. According to ESPN Stats & Information, the average pass to Pettigrew this season traveled 6.5 yards in the air. The average pass to Finley traveled 11.4 yards. Finley caught five passes of at least 30 yards. Pettigrew's longest was 27. Both players had their share of drops, combining for a total of 15, but I thought Finley made a bigger impact on his catches than Pettigrew did.
I really debated the Bears' Julius Peppers and the Lions' Cliff Avril at defensive end. Avril (11.5) had a half-sack more than Peppers (11) and forced twice as many fumbles. But one of the advantages we have on this team is investigating beyond the conventional numbers. Our friends at Pro Football Focus (PFF) credited Peppers with 53 quarterback pressures, the second-highest total in the NFL. Avril ranked No. 8 with 37, but in a close race I chose the maximum number of plays impacted over Avril's slight edge in "playmaking" statistics.
I used a similar approach in choosing the Vikings' Kevin Williams and the Lions' Ndamukong Suh as my defensive tackles. It's true that the Bears' Henry Melton led the NFC North's defensive tackles with seven pressures, but PFF had Suh with 27 quarterback pressures, an NFL high for an interior lineman. Williams tied for No. 3 with 25. Melton wasn't that far behind at 23, but I also took into account that the Bears nearly benched him for inconsistency at one point in the season. (Coach Lovie Smith in November: "He hasn't showed up as much. Whether teams have adjusted to him or whatever, we need to get more production from him because he's capable of it.") Meanwhile, I thought Packers defensive lineman B.J. Raji took a step backward in 2011. PFF credited him with only 10 stops (the cumulative number of plays made that constitute an offensive failure) in 842 snaps.
If you want to say I chickened out at linebacker, go ahead. I originally left open the middle and one of the outside spots, but in the end I went with our division standbys: Brian Urlacher and Lance Briggs. For starters, Briggs was one of six non-offensive linemen to play 100 percent of his team's snaps in the NFL this season. There's something to be said for being available to your team. And while I do think that the Packers' Desmond Bishop and the Lions' Stephen Tulloch had good seasons, I couldn't find a statistic or an opinion that convinced me they were better than Urlacher. Someday, there will be turnover among NFC North linebackers. But it didn't happen this season.
Safety play was poor throughout the NFC North, so I'm not at all ashamed to have chosen a third cornerback to replace one of the safeties on this team. It came down to the Lions' Chris Houston and the Packers' Tramon Williams. Both had their ups and downs in coverage. Houston had five interceptions and two touchdowns in 14 games, while Williams had four interceptions and one touchdown in 15 games. In the end, I chose Williams because I think it was pretty clear he was pushing through a really limiting shoulder injury for much of the first half of the season.
I chose the Packers' specialists, kicker Mason Crosby and punter Tim Masthay. Crosby converted 24 of 28 kicks, including a 58-yarder, and ranked third in the NFL with 49 touchbacks. Masthay downed a division-high 23 punts inside the 20-yard line despite a division-low 55 punts.
I mistakenly left off a coverage specialist from our original post. There should be no debating that the Bears' Corey Graham deserves that spot.
Go ahead. Rip away....
Coming later this week:
Some supplementary NFC North awards, including our top coordinators.
January, 17, 2011
1/17/11
7:12
PM ET
Admit it, you can't get enough of the pre-game hype concerning the Chicago Bears' matchup with the
Green Bay Packers
in the NFC championship game.
So here at ESPNChicago.com, we decided to feed the beast, kicking off a week of extensive coverage before one of the year's biggest games. Here's a potpourri of remarks from the Packers about Sunday's game against the Bears:
[+] Enlarge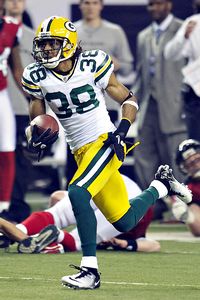 Dale Zanine/US PresswirePackers cornerback Tramon Williams returned an interception for a touchdown against the Atlanta Falcons on Saturday.
CORNERBACK TRAMON WILLIAMS

How would you describe the Packers defense?
Williams:
Relentless. We just finished watching the film. And as a [defensive back] you don't get to see the front seven doing their job because you are in coverage all the time. But when you come back and watch film and see the way those guys are playing up front, it's crazy. They've done a great job up there and kind of made our job easy in the back end.
How different will it be to play the Bears a third time?
Williams:
It's not going to be much different. It's one of those deals to where you know someone so good that you know the game is going to be a battle. It's going to come down to the small details. When you play a team like that, you may not feel that you have to put in as much studying because you feel you know that team. But you don't take that approach. You have to go back in, pay attention to more details, and kind of go into
Chicago Bears
locker room and see [whether you] can understand their players like they understand it. That's something that my coach just finished telling me that he's going to do, detailing this work like that. That's something that our defense has been doing, detailing their work all year. I think that's what made us play the way we've been.
CENTER SCOTT WELLS

What's it like to be the favorite after being considered underdogs most of the season?
Wells:
No, we're going in this week, we're playing the Bears. Huge rivalry game. We have a lot of respect for them. I think they do for us as well. We're focused on what we have to do to go in there and get the win.
What's the biggest challenge to neutralizing the Bears defense?
Wells:
For us, we want to be a two dimensional offense, want to run the ball and pass the ball effectively. They use the front four, and two -- mainly [linebackers
Lance] Briggs
and
[Brian] Urlacher
-- and I guess all three of their linebackers to create penetration up front, try to funnel things up to their linebackers to eliminate explosive gains in the run game. So our key is going to be to eliminate that penetration, create some seams and try to be a two dimensional offense.
How much does the rivalry between the teams factor into this matchup?
Wells:
For one, I think it's great for the fans. It's a huge rivalry game. There's some great history between these two teams. So we're familiar with them. They're familiar with us. So the preparation's really going to go back to trying to evaluate what we do and controlling what we do going into this game and being at our best effort to go out there and get the win.
How much mutual respect is there involved in this rivalry?
Wells:
I think there's a lot of respect with that. But when it comes game time, there's some hatred and emotions that come up. You want to beat your opponent. The fact that we see them twice a year, you know, they see us, and they're always tight games. Our fans and their fans are so close geographically, I think adds to it. So there's as far as a rivalry goes -- yeah, there's some hatred there as far as the rivalry goes, but at the same time there's mutual respect in the fact that the games are so close, they're so physical, and there's outstanding players on both teams.
[+] Enlarge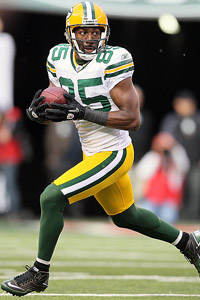 Jim McIsaac/Getty ImagesPackers wide receiver Greg Jennings says the Bears have the fastest defense he's faced this season.
RECEIVER GREG JENNINGS

How aware of this rivalry were you growing up?
Jennings:
Honestly, I didn't become aware of it until I got here. I could have cared less for the Bears, and should I say the Packers, too? I really didn't watch either the Packers or the Bears. I was a
Barry Sanders
follower. So whatever Barry did, I knew everything he did. But once I got here, I started to understand how in depth the rivalry was and how important it was to not only the players, the organization, but to the fans.
Are there any advantages or disadvantages to playing a team three times?
Jennings:
Well, there are advantages and disadvantages. But the number one thing, I'll go with the disadvantages first. There are tons of disadvantages, just basically because they know you inside and out. You know them inside and out. But at the same time, you can flip that and that's an advantage at the same time. Obviously we know those guys. They know us. There's nothing that they're going to do different that we're going to be like, 'Oh my gosh, where did that come from?' And there's nothing that we're going to do that says, 'wow we didn't prepare for that.' They know what we are. They know how we operate. And we know who they are. We know how they operate. Obviously we've played them twice already. Two close games, two games that could have gone either way. And here we are again, when it really counts this time. Well, it really counted the last time we played, too.
Are the Bears the fastest defense you've faced all season?
Jennings:
I would have to say yes. They do a great job of flowing to the ball. Obviously a lot of those guys, veteran guys, savvy guys. So they know what it takes to get wins. And that's why they're in the position they're in as well. Obviously what they bring to the table defensively is pretty much the ground and the foundation of their team.
LINEBACKER A.J. HAWK

Where does Devin Hester rank among the most elusive guys you've faced?
Hawk:
He's right at the top of the list, I would say. For sure. He can do everything. Once he gets the ball in his hands, he's tough to stop. Tough to get down. He does a great job of especially returning punts. When he gets the ball, he might make a few moves, make the first guy miss. He gets vertical quick. When a guy does that, as you've seen against us, he got one earlier this year on us. They can crease you pretty quick and he can get in the end zone fast.
What will it be like to face the Bears a third time?
Hawk:
It will be good. That's why I think it's going to be a great matchup, just because there's no secrets. They're not going to do anything new. We're probably not going to do anything new. It's going to be football. It's going to be up to the guys on the field, I think. I think coaches can sit back and sometimes try to complicate things and come up with new schemes and crazy situations, but when it comes down to it, it's the guys on the field that are playing the game. For us, we know each other so well that it's fun. It's football. This is how it should be. In Chicago, cold weather game. Big rivalry. It's going to be a good one.
What do you see from Bears quarterback Jay Cutler right now?
Hawk:
I mean, I think he's the type of guy that his teammates, I can tell, I think they love having a guy like Jay Cutler, because he brings a lot of energy and big-play capability to the field. I think he's done a really good job all year of kind of capitalizing on the defense's mistakes. He seems like he just has great command of the offense, great command of the game. That's what you want out of a quarterback. Everyone knows he has a huge arm and can make all the throws, but I think he's really whoever he's working with over there -- I think they're doing a great job. He's just growing into being a great quarterback.
July, 7, 2010
7/07/10
8:25
AM ET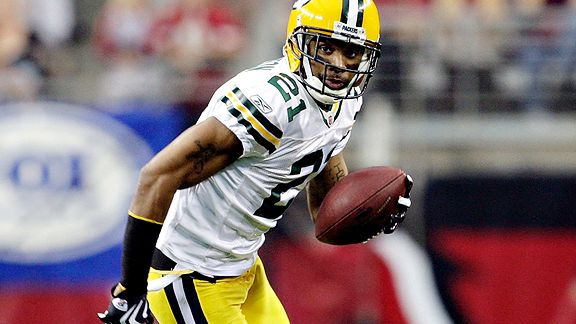 Jamie Squire/Getty ImagesA new offseason workout plan should make reigning defensive player of the year Charles Woodson even more dangerous.
Thanks for stopping in to check out Day 2 of our series on the NFC North, in which we tap the brains of beat reporters around the division to get the skinny on their teams.
We took a
look at the Vikings
on Tuesday with Minneapolis Star-Tribune reporter Judd Zulgad.
We move onto Green Bay today with
Milwaukee Journal-Sentinel Packers reporter Greg Bedard
.
Five things the Packers need to worry about
1. Special teams:
The Packers claim they will improve on special teams this season, and that should happen almost by default. But will this group improve simply through better coaching (with the same staff)? The unit needs to cut down on penalties. The Packers continue to go the cheap route at punter, and neither option has kicked in so much as an exhibition game. Indications are that
Mason Crosby
is still suffering a confidence problem.
2. Depth at outside linebacker:
The Packers should be fine with
Brad Jones
at left outside linebacker, although he needs to show enough to keep double teams off
Clay Matthews
. The real worry is behind them. If Jones or Matthews is injured, the Packers have zero depth. That's not a good thing at a crucial position in the 3-4.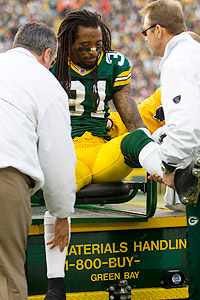 Jeff Hanisch/US PresswireHow cornerback Al Harris recovers from an injured knee will be crucial for the Packers.
3. Al Harris' health:
The Packers put a lot of money into cornerback with Harris,
Charles Woodson
and
Tramon Williams
. The group -- if intact -- should be one of the league's best. But if Harris isn't the same player after knee surgery,
Pat Lee
or
Brandon Underwood
will need to be better.
4. Offensive line slow out of the gates:
The Packers are notorious for getting off to slow and sloppy starts on the offensive line under coach
James Campen
. That can't happen anymore. If it does, it could torpedo the season, like it nearly did last season.
5. Overall team mindset:
For whatever reason, the 2009 Packers got full of themselves, and their performances suffered. Just ask Woodson about the mindset going into the Cardinals playoff game. This team plays better with an edge and its backs against the wall. The Packers have to find a way to handle all the Super Bowl hype better. On the flip side, the Packers, starting with general manager Ted Thompson, look like they're getting a bit tight [due to the Super Bowl hype]. That stance has a tendency to filter down to the players, and negatively affect the on-field product. The Packers need to find a way to strike the right balance.
Five things not to worry about
1. Donald Driver's age:
Driver's play tailed off toward the end of last season, but offseason scopes on his knees should help immensely. The Packers are a better offense with Driver, 35, in the mix. Nobody else can do the dirty work he does.
2. Left guard:
Incumbent
Daryn Colledge
is a lot better than Packers fans (and some of the coaches) want to give him credit for. Does he need to be more consistent? Yes. But he might be the best left guard in the division.
Jason Spitz
should be ready to compete for the job as well.
3. Whether Bryan Bulaga plays:
The Packers drafted Bulaga in the first round with a year down the road in mind. He's not ready to unseat
Chad Clifton
, and Bulaga has never played guard before. Bulaga needs to just concentrate on learning left tackle because at some point Clifton won't be able to answer the bell.
4. Defensive line depth:
Whether the troubled
Johnny Jolly
is on the Packers' roster at the start of training camp, the club still has more than enough depth between
Ryan Pickett
,
B.J. Raji
,
Cullen Jenkins
,
Mike Neal
,
C.J. Wilson
, and, perhaps,
Justin Harrell
.
5. Charles Woodson slowing down:
The reigning NFL defensive player of the year, Woodson looks like he's ready for a repeat after taking part in an offseason routine for the first time that used boxing. The leader of the Packers' defense, Woodson should make even more plays this season with a healthy supporting cast around him.