Chicago Bears:

Vernon Davis
November, 20, 2012
11/20/12
1:51
AM ET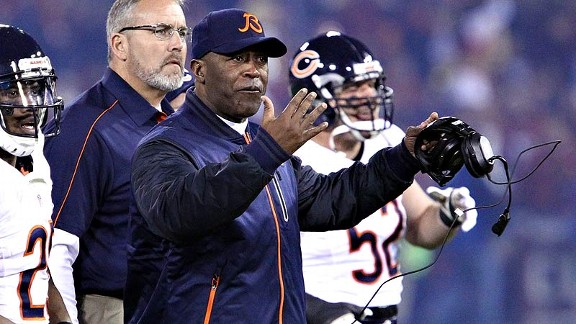 John J. Kim/Chicago Tribune/MCT/Getty ImagesLovie Smith's Bears will have to put their two-game slide behind them with the Vikings up next.
SAN FRANCISCO -- Here are Five Things We Learned following
Chicago Bears
' 32-7 loss to the
San Francisco 49ers
on Monday night:
1. Bears could be in trouble:
Their record still stands at 7-3, but Monday night's foundation-shaking loss raises serious questions about the Bears' ability to recover in time to face the NFC North rival
Minnesota Vikings
on Sunday Soldier Field. The Vikings game is huge for the Bears, but will they be able to shake off this awful loss to the 49ers, handle the short week and deal with all the normal distractions that come during a holiday week? The schedule doesn't get much easier with three division games over the next four weeks, so it's time for the Bears to put their cards on the table. Are they a good team that simply got to seven wins by beating up on weak opponents or are they in fact an average team that feasted on inferior competition? We'll know soon enough.
November, 20, 2012
11/20/12
12:54
AM ET
SAN FRANCISCO -- Cornerback
Tim Jennings
used one word to describe the Bears' defensive performance in their 32-7 lopsided loss to the
San Francisco 49ers
: Embarrassing.
[+] Enlarge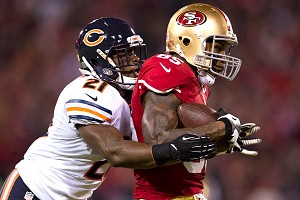 Paul Kitagaki Jr./Sacramento Bee/MCT/Getty ImagesSan Francisco's Vernon Davis has been one of the NFL's most durable tight ends in recent seasons.
"Man, (it was) embarrassing," Jennings said. "On Monday Night Football, we look for tests like this to come out and show the world where we are as a team and we didn't show up today at all. San Francisco came out and had a great game and a great game plan and they beat us the whole game. It was embarrassing."
Behind second-year quarterback
Colin Kaepernick
, who got the start in place of
Alex Smith
, the Niners picked the Bears apart in the passing game. Kaepernick threw for 243 yards and two touchdowns while posting a quarterback rating of 133.1.
"I've seen him (Kaepernick) in college and knew he was a good player," Bears free safety
Chris Conte
said. "I knew their coaches were ready and their scheme would be good. He didn't have to do a lot. He threw the ball to the outside when he had to and knew where he had to go with the ball. He really wasn't doing any reading at all. They just had a good scheme and they executed well."
One of most troubling aspects of the Bears' defensive collapse was the amount of big plays the 49ers were able to complete down the field. All year the Bears defense had done an excellent job in deep coverage where they limited opponents to just five passing plays of 30 or more yards. But they allowed Kaepernick to connect on three throws of 30 or more yards Monday, including a 57-yard strike to
Kyle Williams
.
September, 10, 2012
9/10/12
5:48
PM ET
After the Green Bay Packers' 30-22 loss to the San Francisco 49ers, here are three issues that merit further examination:
ESPN.com

Results were inconclusive, at best, on the Packers' primary offseason thrust. On the positive side, press box statistics show their pass rush got to 49ers quarterback Alex Smith for four sacks and two other post-throw hits. Linebacker Clay Matthews was credited with 2.5 sacks and defensive back Charles Woodson got the other 1.5. And two of Smith's biggest throws -- 29 yards to tight end Vernon Davis and 14 yards for a touchdown to Randy Moss -- were the fault of busted coverages. Smith threw plenty of quick-release passes, but in the end he had enough time to connect on nearly three-quarters of his throws. So to me it was a mixed bag. And for what it's worth, the Packers were blitzing heavily for a good portion of the game to ratchet up their pressure. They sent at least one extra rusher on 10 of Smith's first 21 dropbacks, according to ESPN Stats & Information. Woodson insisted the Packers' pass defense is "nowhere close to where it was last year" and said he liked the energy he saw. We'll see.

Tight end Jermichael Finley was targeted a team-high 11 times and caught seven passes for 47 yards and a score. He also had one clear drop, another that could have been called one if you're a tough grader and a third play where he had enough trouble controlling the ball that the 49ers challenged the ruling of a completion. Afterwards, it was interesting to note how Finley responded when asked about the Packers "dropping" their first game. He misunderstood the question and belied his insistence that he isn't going to mourn drops this season. Here's what he said: "I thought about it all last year. I let it stress me. But this year, a drop is a drop. An interception is an interception, and we've got to move on from it. And go to the next play."

If there was any doubt before, it's clear now: Veteran Donald Driver ranks no better than fifth on the Packers' receiver depth chart. He doesn't play on special teams, so the blunt truth was that he was active Sunday for insurance purposes. He didn't play until the final three snaps of the game, when starter Greg Jennings waved himself off the field. Before that, Driver did not get a snap. As we noted Sunday, second-year receiver Randall Cobb was a key part of the primary set the Packers used Sunday: Four receivers with Cobb lined up, initially, in the backfield. They used a variation of that formation on 31 of their 61 plays. Still, I actually think it makes sense to keep Driver on the roster as injury protection. If the Packers lose Jennings, Cobb, Jordy Nelson or James Jones, they could plug in Driver and not lose any formational versatility. Without him, they would be limited to three-receiver sets if someone were injured. It's worth a September roster spot.
And here is one issue I still don't get:
Who did officials initially believe had committed an illegal block on Cobb's 75-yard punt return? I hope it was linebacker Brad Jones, whose block seemed questionable at best, and not linebacker Terrell Manning -- who blatantly hit Anthony Dixon in the back. The officials eventually picked up the flag, allowing the touchdown to stand. Such plays aren't reviewable, but Manning's illegal block was clear and undeniable. For the sake of the integrity of this replacement experiment, I hope they simply missed it altogether and didn't actually judge Manning's block to be legal upon further consideration.