April, 15, 2013
4/15/13
4:20
PM ET
Let's review the timeline while we have a moment.
In January, general manager Phil Emery admits the
Chicago Bears
need to
improve their mid-range passing game
, an area often reserved for tight ends.
Hours after the free-agent market opens in March, the Bears sign veteran tight end
Martellus Bennett
to a
four-year contract
. Veteran
Steve Maneri
, meanwhile, signs a one-year contract.
As the April 25 draft approaches, a number of respected mock drafters -- including
ESPN's Todd McShay

and the
Chicago Tribune's Dan Pompei
-- predict the Bears will make Notre Dame tight end
Tyler Eifert
the No. 20 overall pick of the draft. Meanwhile,
Michael C. Wright of ESPNChicago.com
reports the Bears have genuine interest in Stanford tight end
Zach Ertz
.
So what's going on here? Have the mock drafters forgotten about Bennett and Maneri? Do they really think the Bears would use one of their five draft picks to further stock the tight end position when more pressing short- and long-term needs exist at other positions?
Here's what I can tell you: The Bears aren't just working back from a deficit at the position. Statistically speaking, at least, they had one of the worst tight end situations in the NFL last season. As the chart shows, Bears tight ends had the NFL's lowest production in terms of receptions. Only two teams targeted their tight ends fewer times than the Bears.
Can Bennett alone spark a turnaround? (Maneri is generally considered a blocking tight end.) That might be a lot of pressure to put on one player who has caught more than 20 passes in only two of his five seasons. And it's worth noting that Bennett's contract, ostensibly worth $20.4 million, is probably better viewed as a one-year deal worth $5.315 million. Bennett's 2014 salary includes $4 million guaranteed for injury only, which means the Bears could release him if he is healthy after the 2013 season without owing him more money. (It will be guaranteed for skill as well as injury if he is on the roster on the third day of the 2014 league year.)
I don't think you could argue that tight end is the Bears' top need entering the draft. On the other hand, everything must be viewed in context. The Bears' pick at No. 20 overall puts them in good position to select the best tight end in the draft. Indeed, over the past 10 drafts, 10 tight ends have been selected in the first round. Only two,
Vernon Davis
in 2006 and
Kellen Winslow
in 2004, were selected higher than No. 20.
Pass-catching tight ends are a requirement in modern-day NFL offenses, and last year the Bears didn't have one. If they are serious about making it a strength of their offense, perhaps they do need more than one.
April, 15, 2013
4/15/13
4:07
PM ET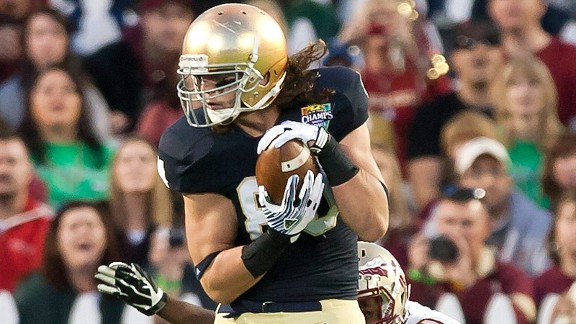 Cal Sport Media/AP ImagesTyler Eifert, the top tight end in the draft, might be hard for the Bears to pass up if he is still there at No. 20.
ESPNChicago.com continues its daily Bears draft preview series with a look at the tight ends.
The acquisition of veteran
Martellus Bennett
in free agency should have alleviated the need to add a tight end in the upcoming draft, but apparently the
Chicago Bears
might not stop there, judging from their interest in Stanford's
Zach Ertz
.
According to sources, the team is genuinely interested in Ertz as a second tight end. So, if there's interest in Ertz from the Bears, the club is surely also eyeing the draft's top prospect:
Tyler Eifert
of Notre Dame.
"Obviously, you see the Patriots with the two tight ends and how they utilize that," Eifert said. "An offense like that would be beneficial to me personally. I'm lucky to be coming in at a time where the type of tight end that I am is being used quite a bit in the passing game, but (I'm) also a guy that can stay in the game on every down and can also block (and) create matchup problems in the passing game."
With the roles of tight ends expanding around the NFL, and many teams utilizing more two tight end formations to exploit matchups in passing and running situations, it makes sense the Bears would consider adding another vertical threat to the equation. But would the Bears do that at the peril of not filling other perceived needs at linebacker, defensive tackle and along the offensive line?
It's a possibility, given the emphasis of the team to add an impact player, regardless of position.
"Last year we were in a very similar spot, and we had about seven players on the board that we felt good about, and we took one of them. I'm assuming now working through this process that that number will probably be seven to 10 that we feel good about," Bears general manager Phil Emery said. "We'll find the best player that can help us win now; the one that has the biggest impact now."
The next 10:
11.
Joseph Fauria
, UCLA, 6-7, 259; 12.
Matt Furstenburg
, Maryland, 6-3, 242; 13.
Nick Kasa
, Colorado, 6-6, 269; 14. Jake Stoneburger, Ohio State, 6-3, 252; 15.
Mychal Rivera
, Tennessee, 6-3, 242; 16. MarQueis Gray, Minnesota, 6-3, 240; 17.
Kyle Juszczyk
, Harvard, 6-1, 248; 18.
Jack Doyle
, Western Kentucky, 6-5, 254; 19.
Justice Cunningham
, South Carolina, 6-2, 258; 20. D.C. Jefferson, Rutgers, 6-6, 255.
Position grade:
C+
Analysis:
Bennett's presence makes it less likely the Bears will use their first-round pick on a tight end, but Emery hasn't built a long enough track record to indicate whether he'll go against the conventional thought of adding a player at a position of need. New Bears tight ends coach Andy Bischoff has been vocal about the changing nature of the tight end position, and the need for the club to add a dynamic player at the position that can exploit defenses all over the field. Eifert and Ertz possess those qualities. Certainly, the Bears will be in the position at 20 to draft one of them. The club could also explore the possibility of moving back to a position late in the first round or early second, where they could still land a player such as Ertz. According to sources, at least one tight end is among the seven to 10 prospects the club is considering with its first-round selection.
April, 11, 2013
4/11/13
3:05
PM ET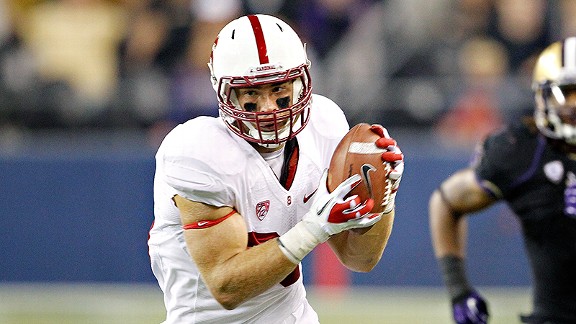 Joe Nicholson/USA TODAY SportsStanford's Zach Ertz led all tight ends with 69 catches and 898 yards.
Just days before the 2012 NFL draft,
Chicago Bears
general manager Phil Emery divulged the club was "working on a core of about seven players" as potential first-round targets.
While it's unclear what that number is for 2013, NFL sources count former Stanford tight end
Zach Ertz
among the group of players the Bears are focusing on, with one source saying he's "very much in play" to be the club's choice.
Considering the recent investment in veteran free agent Martellus Bennett (four years, $9.215 million guaranteed), and perceived needs in other areas, the interest in Ertz would seem somewhat peculiar. Still, a source said the Bears have "genuine interest (in Ertz) as a second tight end."