Chicago Bears:

Zach Miller
March, 19, 2015
Mar 19
4:50
PM ET
The Chicago Bears re-signed veteran free agent tight end Dante Rosario to a one-year contact, the team announced Thursday.
Rosario has extensive history with new Bears head coach John Fox dating to the Carolina Panthers (2007-10) and Denver Broncos (2011).
Since the Bears acquired Rosario in a trade with the Dallas Cowboys in 2013, the eight-year veteran has started six games with 17 receptions for 129 yards.
Rosario finished sixth on the Bears in catches (16) last season and contributed two tackles on special teams.
For his career, Rosario has caught 116 passes for 1,235 yards and eight touchdowns in 32 starts.
After adding Rosario, the Bears now have five tight ends under contract: incumbent starter Martellus Bennett and potential reserves Zach Miller, Jacob Maxwell and Blake Annen.
The Bears reportedly tried to sign another free-agent tight end with ties to Fox, Denver's Virgil Green, but Green decided to return to the Broncos on a three-year contract worth $8.4 million with $4.2 million in guarantees.
February, 27, 2015
Feb 27
3:55
PM ET
LAKE FOREST, Ill. -- The
Chicago Bears
announced Friday they signed tight end
Zach Miller
to a one-year extension.
Miller
Miller, 30, landed on the injured reserve last August after suffering a season-ending Lisfranc injury (torn foot ligament) in the preseason, but caught the staff's eye prior to that with a strong preseason debut against the
Philadelphia Eagles
(six catches, for 68 yards and two touchdowns) and promising workouts during training camp.
Miller suffered the injury in the second quarter of the team's win in the second preseason game over the
Jacksonville Jaguars
.
Prior to that, the Bears had been experimenting more with Miller in the lineup opposite starter
Martellus Bennett
in double tight-end formations.
Miller played in 29 games over his first two years in the NFL (2009-10) with the Jaguars, but since 2011, he's participated in just four contests as injuries continue to keep him sidelined. Miller hasn't been a part of an active roster since 2011. He spent 2012 on the injured reserve in Jacksonville, and in 2013, Miller worked with Tampa Bay in the offseason, but was waived prior to the start of the regular season.
In all, Miller has played in 33 games with five starts, contributing 45 catches for 470 yards and four touchdowns.
The Bears signed Milller originally in December of 2013.
August, 15, 2014
8/15/14
1:45
AM ET
CHICAGO – Here are five things we learned in the Chicago Bears'
20-19
preseason victory over the Jacksonville Jaguars.
1. Relax, it's the preseason:
Emotions run high for NFL fans no matter what time of the year. But preseason games don't count for a reason. No, the Bears defense did not look particularly sharp in the first quarter as Jaguars quarterback
Chad Henne
guided the Jacksonville offense down the field with relative ease on multiple occasions. But again, it's the preseason. As defensive end
Jared Allen
put it: "Look, this was an ugly game. But if we win this game in the regular season, we're loving it, because you have to learn how to win ugly games. Better to have this stuff happen now as opposed to the regular season." In 2010, the Bears' defense couldn't stop a soul in the preseason. That year seemed to work out pretty well for the team, if I remember correctly.
2. Bears lose valuable piece on offense:
Now, when a key player is injured in the preseason that is an important development. Tight end
Zach Miller
was having an outstanding summer before he suffered what sounds like a serious foot injury Thursday night. Too bad. After
Martellus Bennett
, Miller had emerged as the next best threat in the passing game from the tight end position. Miller will be missed.
3. Jon Bostic flashes in run defense:
When Bostic eventually puts it all together; he's going to be a good NFL player. Bostic blasted
Toby Gerhart
for a 4-yard loss on a third-and-1 in the first quarter, in the process demolishing the Jacksonville offensive lineman that stood in his way. You can't teach speed, and Bostic has an abundance of it. Say what you want about Bostic's struggles last year, and there were plenty of them, the linebacker has showed the ability to make plays. Sure, Bostic needs to even out his game and improve on the mental aspects of playing linebacker, but his athleticism is off the charts.
4. Rookie punter looks tough to beat:
Pat O'Donnell had a decent night versus the Jaguars. He had a 48.7 average and 48.3 yard net average on three punts with a long of 57 yards that happened when the Jacksonville return man slipped and fell down allowing the ball to roll.
Tress Way
also booted a 54-yard punt, but averaged 43.3 yards per kick with a 40.0 net average. Kind of seems like O'Donnell -- while not as consistent as he needs to be -- makes fewer fatal mistakes over the course of a game. The Bears probably have a higher level of trust in O'Donnell at this stage of the competition.
5. Return woes apparent:
Say what you want about
Devin Hester
, the Bears never had a kick return controversy in the preseason. Some fans acted pleased when Hester left for Atlanta in the offseason, but there is a major void in the return game.
Eric Weems
has done little to impress in that phase of special teams (Weems remains excellent in coverage), and
Chris Williams
has been out with a hamstring injury. The Bears better have something else up their sleeve.
August, 15, 2014
8/15/14
1:03
AM ET
CHICAGO -- Finally, it seemed
Zach Miller
conquered all the injuries that were derailing his NFL career, only to watch it come crashing down Thursday during Chicago's
20-19 win
over the
Jacksonville Jaguars
.
Miller
Playing against the team that drafted him in 2009, Miller suffered a foot injury during the second quarter and was carted off the field. Bears quarterback
Jordan Palmer
, once a teammate of Miller's in Jacksonville, called the injury "heartbreaking."
"Zach is a guy I've been trying to spread the word on," Palmer explained. "I tried to get Arizona to get him last year. He's worked so hard. He was dealt a really bad hand last year, and he just worked through it. I talked to him throughout the whole process. He's one of my best buddies. He's had an unbelievable camp. This is the kind of camp when you come off the streets, this is the kind of camp you dream of."
Perhaps it is now a nightmare for Miller.
Making his
Chicago Bears
debut against the
Philadelphia Eagles
last week, Miller caught six passes for 68 yards and a pair of touchdowns. Prior to that, Miller had impressed the coaching staff by taking advantage of every repetition given to him, and those snaps certainly increased when tight end
Martellus Bennett
was suspended indefinitely.
Miller wasn't available to speak with the media after the game. At halftime, Miller received X-rays, but was expected to undergo more tests later.
"You're patient. There weren't a lot of opportunities early, but when he got those opportunities, he made the most of them," Palmer said. "Goes in the game last week and has six catches and two touchdowns, and we're riding high. He's so confident. And then to get one of those injuries; it's not a work-ethic injury. It's not that he's out of shape or has bad technique. It's just a total bad luck injury."
Miller played in 29 games over his first two years in the NFL, but since 2011, he's participated in just four contests.
Bears coach Marc Trestman said the club would know more Friday about the extent of Miller's injury.
"He's going to rehab and do everything they ask him to do, and he's going to contribute somewhere," Palmer said. "If it's here, hopefully he comes back. Whatever his situation is, he's going to play a long time in this league because he is a great player."
August, 14, 2014
8/14/14
12:00
PM ET
The
Chicago Bears
(1-0) host the
Jacksonville Jaguars
(1-0) in preseason game No. 2 at Soldier Field. The game will be nationally televised on ESPN.
1. Backup quarterback battle:
Jordan Palmer
received first crack at the No. 2 job in the preseason opener, but in this matchup, the plan is for the Bears to go with
Jimmy Clausen
once
Jay Cutler
is finished for the night. Palmer played fairly well in the preseason opener, but Clausen stole the show when he came in, finishing with two touchdown passes and a passer rating of 134.6. If Clausen performs similarly against the Jaguars, it's likely the Bears take away all the suspense in this battle and name him the No. 2. Remember, Cutler hasn't played an entire 16-game season since 2009, which makes the backup quarterback job important.
2. Linebacker play:
Collectively, the group played poorly in the opener against the Eagles. But in its defense, the team was matched up against a high-octane, no-huddle offense that featured plenty of zone-read concepts that the Bears hadn't game-planned for. Specifically,
Jonathan Bostic
and
Shea McClellin
need to play better. Considering he started nine games as a rookie, Bostic should be poised to take a major step in his development, but we haven't yet see that. McClellin is making the transition from defensive end, and the staff remains confident he'll progress enough that the team would feel confident about making him the starter on the strong side.
3. Zach Miller's bid for the No. 2 tight end job:
Incumbent
Dante Rosario
missed practice Tuesday with soreness in his calf, and if he's held out of this matchup, Miller basically will receive the opportunity to solidify what appears to be a stranglehold on that No. 2 tight end spot. Miller caught six passes for 68 yards and two touchdowns in his preseason debut, and has since been given more repetitions with the starters when the offense goes to two-tight-end sets. Another strong showing by Miller in this game could outright win him the job, and he needs to take advantage. So far, Miller has taken advantage of every opportunity he's been given. This game should be no different for him.
August, 12, 2014
8/12/14
11:00
AM ET
BOURBONNAIS, Ill. -- Lovie Smith finished 10-6 in his final season with the
Chicago Bears
before being fired. Marc Trestman comes in and leads the Bears to an 8-8 record in 2013. Yet expectations soar here on the campus of Olivet Nazarene University, where crowds for training camp practices routinely swell to 10,000.
It's easy to see why. For a fan base accustomed to hard-nosed defense and shaky-at-best offense, Trestman flipped the script in 2013, taking Chicago's attack to new heights with a major assist from general manager Phil Emery's shrewd personnel moves.
The Bears broke record after record on offense last season, and the defense stumbled to historic lows.
If Trestman and Emery could basically work a miracle on offense in just one season, why can't they do it on the other side of the ball in 2014?
"[I] feel very good about the competitive depth and the fights for positions that we're going to have," Emery said. "Out of the three camps, I would say this camp has the best competitive level among the roster from 1 to 90."
Emery achieved that by loading up on defenders: acquiring a mix of players poised to hit the sweet spot of their careers in
Lamarr Houston
and
Willie Young
Jared Allen, and drafting potential stars such as first-round pick
Kyle Fuller
. The Bears bolstered those moves with an overhaul of the scheme and additions to the defensive coaching staff.
"We started [with], 'What could we do to get this team better?'" Trestman said. "I sat down with Phil [Emery], and we began to lay out a road map together on how we were going to rebuild this football team, and here we are at a stage where I don't think there's a player in our meeting room who doesn't feel like there's hope and high expectations. Now, it's time to go to work."
[+] Enlarge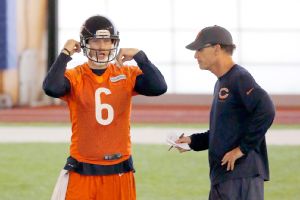 AP Photo/Charles Rex ArbogastJay Cutler is more comfortable in coach Marc Trestman's system, and all of his offensive weapons are healthy and ready to go.
THREE REASONS FOR OPTIMISM
1.
Jay Cutler
's grasp of the offense is firmer in Year 2 of Trestman's system, and his performance this year at camp is significantly different from in 2013. Offensive coordinator Aaron Kromer said Cutler is his own problem solver and is making on-field adjustments so instinctively that he doesn't need guidance from the staff. In his first camp under Trestman, Cutler misfired routinely, and there were concerns about whether he'd be effective in the regular season. After one particularly bad session in 2013, Trestman gathered Cutler and the other quarterbacks in the middle of the field in what could be described as a turning point. That's not happening this year at camp as Cutler has become a bona fide field general.
2.
Brandon Marshall
is Brandon Marshall. He wasn't at camp in 2013. He was coming off hip surgery that hindered his season preparation. Fully healthy now with an offseason to condition, Marshall is ready to go -- and with full comprehension of the offensive system. Throw in
Alshon Jeffery
's ascension and you have the makings of something lethal on offense. The duo has certainly looked that way at camp as both routinely make so many eye-popping plays that Cutler could almost throw it up blindly and one of them would come down with the ball.
3.
There's a nastiness on defense and intense focus reminiscent of the units put on the field in Smith's heyday. Practicing against one of the best offenses in the league, the defense should be losing more than it does at training camp. But this group routinely bests the offense, with dominating play by the front seven as a hallmark. Chalk it up to a combination of personnel additions and a culture shift brought about by an overhaul of the scheme and the acquisition of no-nonsense, get-in-your-face coaches such as Paul Pasqualoni, Reggie Herring and Clint Hurtt.
[+] Enlarge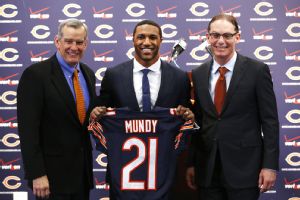 AP Photo/Charles Rex ArbogastThe Bears brought Ryan Mundy in to compete at safety, but the position, at least in camp, continues to look shaky.
THREE REASONS FOR PESSIMISM
1.
The defensive line makes plays at training camp. The corners and linebackers make plays. But you rarely see the safeties making an impact. That could be a result of a lack of chemistry because, with both spots up for grabs, the Bears are using several combinations at the position involving players such as
Ryan Mundy
, rookie
Brock Vereen
,
Danny McCray
,
Adrian Wilson
and
M.D. Jennings
. Horrid play at this position in 2013 contributed significantly to the defense's demise, and we haven't seen many indications at camp that the Bears will turn that around in 2014.
2.
Protecting Cutler could become an issue if some of the injuries suffered by the team's offensive linemen linger. Guard
Kyle Long
(ankle) and tackle
Jordan Mills
(foot) missed the preseason opener, and the latter was seen wearing a walking boot when the club returned to training camp after that game. Reserve center
Brian de la Puente
is expected to miss time to a knee injury, and reserve guard/tackle
Eben Britton
still hasn't returned from a strained hamstring suffered earlier at camp.
3.
Cutler hasn't played an entire 16-game season since 2009. So naturally, you'd think at some point in 2014 the Bears will have to turn to the backup quarterback. The problem is the candidates vying for the No. 2 job --
Jordan Palmer
and
Jimmy Clausen
-- have done little to inspire confidence the way
Josh McCown
did last year at training camp. For the most part, Palmer and Clausen have been merely average at camp, misfiring on occasion and making mistakes typical of players acclimating themselves to a scheme. The duo needs to pick it up or the Bears could wind up looking outside the current roster for a suitable No. 2.
OBSERVATION DECK
Chris Conte says he's the best athlete in Chicago's secondary. He needs to prove it, which he'll finally have a chance to do now that he's off the physically unable to perform list. Conte certainly possesses the athleticism to be a playmaker on the back end, provided he regains his confidence. But time is running out for Conte to make a real push for one of the two open jobs at safety. What Conte has going for him right now is that none of the safeties vying for the starting jobs is making plays at camp.
The Bears hired martial arts expert Joe Kim to teach the defensive linemen hand fighting techniques as part of the scheme overhaul that requires the front four players to be technicians with their hands. It'll be interesting to see how the results manifest themselves on the field. Every day after practice at camp, several defensive linemen -- and even some defensive backs -- work intricate hand fighting moves with Kim for several minutes. The players say the moves become almost natural once routinely put into practice on the field. We'll see whether Kim's assistance plays a role in the front four anchoring a run defense that finished last in 2013.
Zach Miller and Matthew Mulligan are pushing Dante Rosario hard for the No. 2 job at tight end. Miller is more of a move tight end, and Mulligan is a classic in-line blocker who shows some impressive skills as a receiver. The two have received extra reps because of Martellus Bennett's suspension.
August, 11, 2014
8/11/14
5:20
PM ET
BOURBONAIS, Ill. -- A daily review of the hot topics coming out of
Chicago Bears
training camp:
Morning showers soaked the practice fields at Olivet Nazarene University on Tuesday. So the Bears moved their session across the street to Ward Field, where the club could practice on FieldTurf. "The players handled the transition today and the weather. We moved some things around, went indoors for our walk-through, came out here for the first time in full pads, got a lot of work done, moved some guys around and we made it through the day," Bears coach Marc Trestman said. "We wanted to make sure we got this one in. We had Plan B and Plan C. Plan A worked pretty good and we got a lot of work done." According to a school official, the same company that installed the surface inside the Walter Payton Center laid the FieldTurf at ONU, with the work being completed approximately three weeks ago. The school's soccer teams used the field for the first time on Monday, and the Bears were the first football team to put the surface to use.
Zach Miller continues to state a strong case to win the job as the club's No. 2 tight end. Miller put together another solid outing, catching every ball thrown his way during the various team periods.
Backup quarterback Jordan Palmer struggled during Tuesday's workout, throwing a pair of interceptions to safety Chris Conte and defensive end Willie Young. The INT thrown to Young hit the defensive end squarely in the chest. Conte secured his pick in the end zone during a red-zone drill on a pass intended for Micheal Spurlock. Trestman declined to say whether Jimmy Clausen had overtaken Palmer on the depth chart. "I don't think we've had any movement there at all," Trestman said. "We'll move people around. We'll see how they play in different environments and we'll make a decision when we have to."

Trestman said "it's too soon to talk about" whether Conte will play Thursday against the Jacksonville Jaguars. Conte came off the physically unable to perform list on Monday and has practiced just two days.
Ryan Mundy and Danny McCray continued to take snaps at safety with the starters. The club did work in Conte and Adrian Wilson with the starters as well.
Brandon Marshall spent time catching punts during special-teams periods, but don't expect the club to use him in that capacity during games. "Brandon Marshall likes to get into some drills that maybe he shouldn't be in," special-teams coordinator Joe DeCamillis said.
Non-participants for Tuesday's session included Chris Williams (hamstring), Eben Britton (hamstring), Jordan Mills (foot), Brian De La Puente (knee), Marquess Wilson (collarbone), Isaiah Frey (hamstring) and Lance Briggs. Briggs isn't injured. He was given a day off, which Trestman routinely does for veterans.
Keep an eye out for linebacker Jerry Franklin, who is taking snaps with the starters on some of the coverage and return units on special teams. He's also been taking reps with the second team on defense.
August, 8, 2014
8/08/14
11:34
PM ET
CHICAGO -- With
Martellus Bennett
serving an indefinite suspension, reserve tight end
Zach Miller
took full advantage of the extra repetitions, catching six passes for 68 yards and a pair of touchdowns as the
Chicago Bears
soared past
the
Philadelphia Eagles
34-28 on the strength of strong play from their quarterbacks.
Chicago's top three signal callers combined for 339 yards and four touchdowns.
Here are some other thoughts on the Chicago Bears' first preseason game of the year:
January, 23, 2014
1/23/14
8:00
AM ET
2014 free agents
:
Dante Rosario
.
Bennett
The good
: Free-agent acquisition
Martellus Bennett
finished with 65 catches for 759 yards and five touchdowns as he produced career highs in receptions, and receiving yards while tying a career high for TDs. Bennett ranked eighth among NFL tight ends in catches, tied for ninth in yards and tied for 12th in TD receptions. Bennett is now one of eight tight ends in the league to gain more than 1,000 receiving yards in addition to catching at least 10 TD passes since 2012. Bennett also finished third on the team in receiving yardage and fourth in receptions, providing Chicago the threat down the middle of the field it had lacked in years past.
The bad
: Bennett was plagued by nagging injuries, and that limited his effectiveness as a blocker on occasion, especially in the first three games. Bennett gave up two sacks and was responsible for six hurries on the season. The Bears often brought in offensive tackle
Eben Britton
as an extra blocker at the tight end position. Rosario played in 15 games with three starts, but caught only one pass for 13 yards while promising prospect
Fendi Onobun
spent the entire season on Chicago's practice squad.
The money
(2014 salary-cap numbers): Bennett ($6.025 million),
Zach Miller
($645,000), Onobun ($570,000).
Draft priority
: Low. Bennett is an ideal fit for what the Bears do offensively, and if one of the club's younger players such as Miller or Onobun steps up, the team could be set for years to come at the position. Athletically, Onobun is probably the most talented tight end on the roster. But he's struggled to make the transition into the NFL game, and has been plagued by concentration lapses. Miller, meanwhile, is a former fifth-round pick of the
Jacksonville Jaguars
, and caught 41 passes over his first two seasons in the NFL, but has since bounced from Tampa Bay to Chicago. It's unlikely the Bears will bring back Rosario.