December, 18, 2014
Dec 18
2:55
PM ET
ESPN.com news services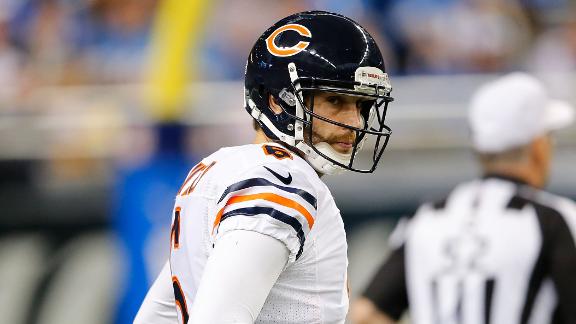 The Chicago Bears will start Jimmy Clausen at quarterback this week over Jay Cutler, coach Marc Trestman confirmed at a news conference Thursday.
"I think we need a lift at quarterback. We need a spark," Trestman said, adding that the "weight of the world shouldn't be on the shoulders of Jimmy Clausen."
Trestman said he discussed the situation with general manager Phil Emery, but the call to send Cutler to the bench was "ultimately my decision."
Cutler said he was "shocked" at first at the benching and then "disappointed."
"I didn't see it coming," he said.
Trestman said the benching is just for this week at this point and that Cutler would be active and serve as the backup in Sunday's game against the Detroit Lions.
"We're not playing well enough at the quarterback position on a consistent basis," Trestman said.
Asked if he could play for Trestman next season, Cutler said, "Yes ... but we'd have to work on some things."
Cutler has struggled this season in leading the Bears to a 5-9 record.
In Monday's 31-15 loss to the New Orleans Saints, he threw for two touchdowns but had three interceptions to bring his NFL-leading totals to 18 interceptions and 24 turnovers. He produced a season-low passer rating of 55.8 and generated a total QBR of 6.8, which registered as his second-worst performance of the season in that category (6.0 QBR in Week 10 against the Green Bay Packers).
He also was sacked a season-high seven times against the Saints.
December, 18, 2014
Dec 18
2:35
PM ET
A day after naming Jimmy Clausen as the starting quarterback over Jay Cutler, the Bears will hold a news conference with coach Marc Trestman, Jay Cutler, Clausen and offensive coordinator Aaron Kromer.
Follow along with ESPN's Michael C. Wright and Jeff Dickerson as they dispatch live updates from Chicago beginning around 2:50 p.m. ET.
December, 18, 2014
Dec 18
1:00
PM ET
CHICAGO --
Chicago Bears
head coach Marc Trestman dropped a bombshell Wednesday when he decided to start quarterback
Jimmy Clausen
on Sunday against the
Detroit Lions
, instead of
Jay Cutler
. From a performance standpoint, Cutler deserved to be benched, especially following a dreadful, three interception game versus the
New Orleans Saints
on Monday night that raised the quarterback's season turnover total to a league-worst 24.
Clausen is not considered an upgrade. It's more an act of desperation. Clausen hasn't played meaningful regular season football since starting 10 games for the
Carolina Panthers
in 2010, going 1-9. In three appearances as a Bear, Clausen has passed for 42 yards. Keep in mind, Detroit's defense is No. 1 overall in points allowed (17.0) and No. 2 in total defense. Chicago hasn't played well since October. The Lions can clinch a playoff berth with a victory. The writing is clearly on the wall.
My prediction: Lions 41, Bears 16
December, 18, 2014
Dec 18
12:47
PM ET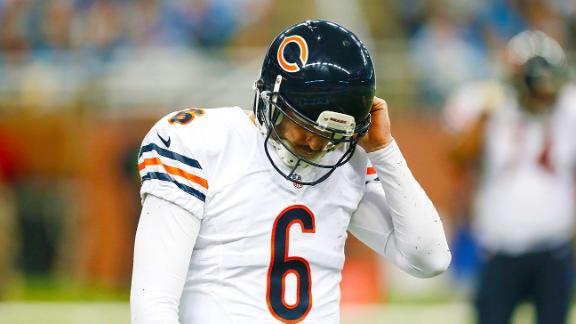 Sports books downgraded the Chicago Bears by less than a field goal after news broke Wednesday that quarterback Jay Cutler would be benched in favor of backup Jimmy Clausen for Sunday's home game against the Detroit Lions.
The Bears began the week as seven-point home underdogs to the Lions, with Cutler as the presumed starter. ESPN NFL Insider Adam Schefter reported Wednesday that Clausen would get the start, and sports books immediately began adjusting the point spread.
The adjustments varied, with oddsmakers attempting to gauge the difference value between Cutler and Clausen. Las Vegas sports book operator CG Technology had the Lions minus-9 (-105) Thursday morning, while the Westgate SuperBook and Station casinos were offering Detroit minus-8.5. It's not a large adjustment, but it does move the point spread off the key number of minus-7. A seven-point margin of victory is the second-most common outcome of an NFL game, behind three points.
The last time the Bears have been this big a home underdog was in a Dec. 28, 2009, game against the Minnesota Vikings. Chicago is 1-7 against the spread as a home underdog in the last four seasons. The Bears are 5-9 straight-up and against the spread overall this season.
In his NFL career, Cutler's teams in Denver and Chicago are a combined 45-72-2 against the spread in his starts. That's the worst record against the spread of any established current starter in the league.
December, 18, 2014
Dec 18
11:00
AM ET
The Chicago Bears' move to bench quarterback Jay Cutler sure looks like a prelude to releasing or trading the NFL's 2014 leader in turnovers. It would be an amazing, perhaps even unprecedented move one year after the Bears signed Cutler to a seven-year contract averaging $18.1 million per season. The Cutler deal would go down with Washington's ill-fated contract with Albert Haynesworth as one of the worst in league history, although Haynesworth made it to a second season, at least.
The Cutler contract carries $15.5 million in fully guaranteed salary for 2015. As I wrote Tuesday, that commitment means the Bears are pretty much stuck with Cutler next season unless they're willing to eat that $15.5 million, or unless they can find a trading partner. Benching is not the same as releasing or trading, but it's the strongest indication yet that Cutler could be finished in Chicago after six seasons and a 52.2 total QBR score that ranks 17th out of 29 qualifying players over the past six years. The team has a 44-37 record (plus 1-1 in postseason) with Cutler starting.
The Bears' moving on from Cutler seems unlikely on the surface because of the cost involved -- as I wrote Tuesday -- but if the team decides that's what it has to do, what options are at Chicago's disposal?
Over the past couple of days, three front-office executives from other teams shared their thoughts on potential exit strategies for the Bears, should the team decide to go that route. Two of them suggested the same trade partner -- one that would add another high-profile name to the already long list of coaches who have bet on Cutler. The third executive explained why a trade could be tricky. Another thought benching Cutler could diminish his value, but the move also could shield the team from considerable liability if Cutler is indeed finished with the Bears.
There is much to consider as Cutler heads into Week 16 as the backup to Jimmy Clausen just 350 days after the Bears marked his new contract by saying they were "very excited to have Jay for the long term."
December, 18, 2014
Dec 18
10:26
AM ET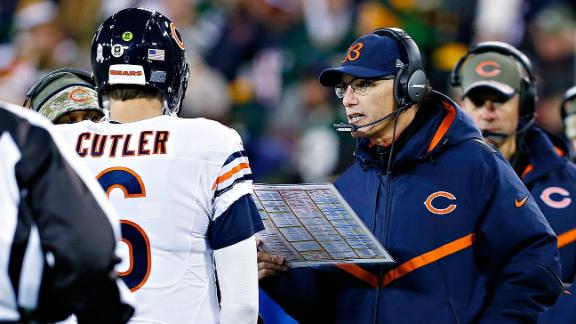 LAKE FOREST, Ill. -- A pair of accomplished and respected Chicago Bears players told ESPNChicago.com on Wednesday night that a portion of the locker room feels "confused and uncomfortable" over how coach Marc Trestman handled Jay Cutler's benching compared to the minor discipline offensive coordinator Aaron Kromer received last week.
From a pure performance standpoint, neither of the players, who requested to remain anonymous, objected to Cutler losing his starting job to Jimmy Clausen for Sunday's game versus the Detroit Lions.
But while noting that a faction of Cutler detractors exists inside Halas Hall, the general belief is that the respective punishments for Cutler and Kromer are gravely inconsistent, after the Bears offensive coordinator received "basically a slap on the wrist" for his public indiscretions when he tearfully revealed in a team meeting Dec. 8 that he was the anonymous source cited in a published NFL Media report that was highly critical of the quarterback.
Kromer coached the Bears from the sideline during Monday night's 31-15 loss to the New Orleans Saints and is expected to finish out the season.
This further magnifies the distrust between Trestman and the locker room, an ongoing issue during much of the Bears' disappointing 5-9 season, according to the players.
December, 17, 2014
Dec 17
10:59
PM ET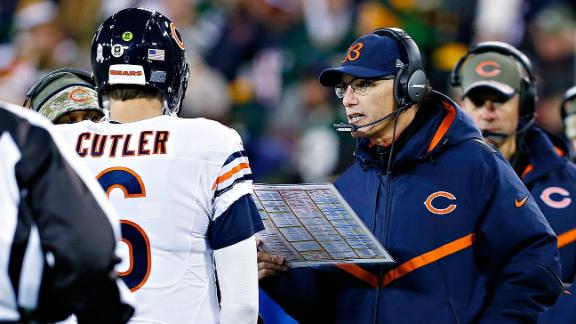 CHICAGO -- You can imagine the scene here on Wednesday.
Thousands of Chicago Bears fans checking their smartphones on their train ride home, or stewing in late-afternoon traffic, or getting dinner ready for their kids, and realizing the moment they never thought would happen had already happened.
ESPN Insider Adam Schefter had the news: "Stunner from Chicago: Bears starting QB Jimmy Clausen this week, per source."
Fathers called sons. Bartenders poured shots. Radio lines were open, then jammed. Lots of people blinked and refreshed their Twitter feeds. Is this another Schefter fake account?
Nope, it was real.
Where were you when Jay Cutler was benched?
Bears head coach Marc Trestman getting fired? That's expected. General manager Phil Emery getting canned? Sure, makes sense.
But Cutler? I thought he'd never leave. If we had a zombie apocalypse, he'd find a way to get $20 million.
"Well, he's really good at firing rocks at zombies," the rebel leader would say with a shrug.
The Bears finally benched Cutler after nearly six seasons, 81 games, 129 touchdowns, 93 interceptions, four offensive coordinators, two contract extensions, two head coaches, two general managers and about 60 million tweets debating his value, personality, moxie, toughness, face, head, hair, heart and arm.
We've parsed every bit of Cutler's being these past six years, and the only thing we've learned is Cutler isn't The Guy. He's just a guy. Another failed quarterback for a franchise bedeviled by the position.
December, 17, 2014
Dec 17
9:35
PM ET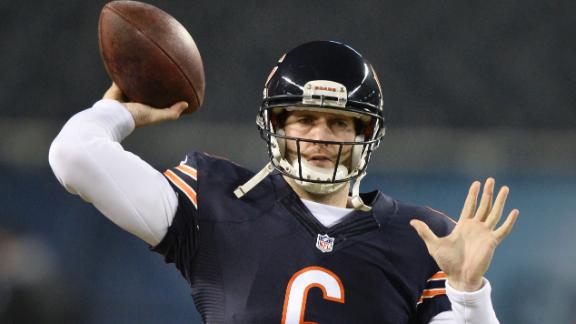 ESPN NFL Insider
Adam Schefter dropped a stunner Wednesday night
when he reported the
Chicago Bears
' plan to bench $126.7 million quarterback
Jay Cutler
in favor of backup
Jimmy Clausen
on Sunday when the club hosts the
Detroit Lions
at Soldier Field.
The situation brings to mind one that
transpired in 2008 in Jacksonville, Florida
, when former head coach Jack Del Rio made the decision to bench and eventually cut former No. 7 overall pick Byron Leftwich in favor of David Garrard.
When Del Rio informed people inside the organization of the decision he'd long been wrestling with, the team's assistants agreed -- at least publicly -- while folks on the personnel side, including former front-office boss James "Shack" Harris, vehemently disagreed. The situation became so heated it forced a meeting with then team owner Wayne Weaver involving Del Rio and those on the personnel side against the move.
Del Rio swayed Weaver to give him final say in that decision by making the argument that, ultimately, ownership holds the coach accountable whether the team is successful or not. So if Del Rio was going down, he wanted to do it with the man he preferred under center.
That's not to say that's exactly what's going on behind closed doors at Halas Hall. But with questions concerning Marc Trestman's job security, if he is going to go down in flames, he'd likely prefer to do so with a quarterback he knows will execute the system the way he asks. As opposed to someone doing his own thing, which is what Cutler has done for the better part of the season -- based on observations from NFL experts such as Trent Dilfer -- leading to serious struggles and the quarterback leading the league in turnovers (24).
Former Bears backup
Josh McCown
played within the confines of Trestman's scheme last season, filling in for an injured Cutler and finishing with 13 touchdown passes and one interception while setting the single-season franchise record for passer rating (109.0). While it would be foolish to expect similar success from Clausen against the Lions on Sunday, what Trestman is likely counting on from the backup is for him to simply execute the offense the way he's asked to, as opposed to freestyling and making the types of game-changing mistakes seen from Cutler.
It may be far-fetched to believe at this point that Trestman can save his job, but if he can find a way to defeat Detroit and the Lions' vaunted defense with Clausen at the controls, the coach might be able to prove to ownership that he's not the issue pulling down the team; that it was actually Cutler.
A quarterback whisperer if you will, Trestman made an admission Wednesday regarding Cutler that was telling.
Asked if he'd been able to coax the best from Cutler, Trestman admitted, "I think that's evident I haven't up to this point. Am I working on it? Yes. We've seen moments, but we haven't done it on a consistent basis. I can't hide from that."
During a nationally televised loss Monday night to the
New Orleans Saints
, Cutler tossed three interceptions and generated a season-low passer rating of 55.8. He also produced a total QBR of 6.8 against the Saints, which registered as his second-worst performance of the season in that category (6.0 QBR in Week 10).
The highest-paid offensive player in the NFL this season, Cutler has averaged a turnover every 33.3 snaps, which ranks as third worst among all qualified players in the NFL, according to ESPN Stats & Information.
Trestman doesn't need Clausen to flash Cutler's immense physical skills: that rifle arm, that sneaky mobility. The coach just needs Clausen to execute within the system the way McCown did in 2013, and the way the team believed Cutler would when the club signed him last January to a seven-year contract extension.
It's unlikely starting Clausen will save Trestman's job. But at the very least, it allows him to go down his way as opposed to being forced to play a quarterback who has demonstrated time and time again a maddening inability to lead the team and consistently execute the scheme.
December, 17, 2014
Dec 17
8:35
PM ET
By
ESPN Stats & Information
Even though the
Chicago Bears
are eliminated from postseason contention, they got some national attention on Wednesday.
ESPN NFL Insider Adam Schefter reported that the team is planning a starting quarterback switch from
Jay Cutler
to
Jimmy Clausen
. The Bears have not made an announcement related to a potential move.
Cutler posted a 6.8 Total QBR and was sacked seven times in Monday night's loss to the Saints. It was the second-worst quarterbacking performance of the week, better than only
Johnny Manziel
.
It was also the second time in six weeks that Cutler posted a Total QBR below 7.0 and the third time in that span in which he had a Total QBR lower than 25.
Cutler had a 59.0 Total QBR through Week 11, which ranked 15th-best in the NFL. His Total QBR since then is 43.6, which ranks 21st.
The cash value of Cutler's contract this season is $22.5 million. That's the highest in the NFL for a player who leads the league in both interceptions (18) and turnovers (24).
Cutler has averaged a turnover every 33.3 snaps. The average NFL quarterback averages a turnover for every 65.3 snaps.
The replacement
Clausen hasn't started a game since the 2010 season and the reason is likely due to his ineffectiveness then. Clausen went 1-9 as a starter for the Panthers that season. In those 10 games, he threw three touchdowns and nine interceptions, posting a league-worst Total QBR of 11.0
In fact, that Total QBR is the lowest season-ending QBR for a quarterback for any of the nine seasons in which that stat has been tracked.
Far from the only thing wrong
The problems for the Bears have been magnified in recent weeks because of the team's struggles.
The other big issue they're currently dealing with is that they can't stop anyone. They lead the NFL with 409 points allowed.
Their defense added a league-leading 7.6 expected points per game in 2012. Last year they fell all the way to 30th, costing the team about 6.6 expected points per game. They are again 30th this year, costing the team about 7.3 expected points per game.
Opposing quarterbacks have completed 67.6 percent of their passes against the Bears this season, the second-highest completion percentage in the NFL. Their 3,811 passing yards allowed are the second-most of any team. They've allowed 33 touchdown passes, most in the NFL.
Teams have exposed the Bears secondary with intermediate-length passes. The Bears have allowed 48 completions on throws 11 to 15 yards downfield, the most in the NFL. Opponents have completed 59 percent of passes thrown at least 11 yards downfield, the worst percentage for a defense this season.
Opponents are putting up big numbers outside the numbers. They've allowed 18 touchdowns on such throws, one fewer than the team with the most, the Steelers.