December, 28, 2014
Dec 28
8:23
PM ET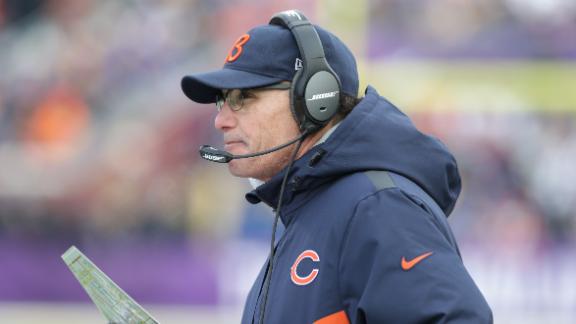 MINNEAPOLIS -- As Jay Feely's kick sailed through the uprights, Chicago Bears chairman George McCaskey stood up in his luxury suite and executed a full-body fist pump.
The kick that got him all goosed up tied the Bears and Vikings at a field goal apiece just before the first half ended.
What a moment!
When your family legacy is in the middle of a downward spiral, I guess you take your small victories where you can get them.
Feely's heroics couldn't save the day as the Bears (5-11) finished their season with five straight losses, the final blow a meaningless, almost unwatchable 13-9 defeat at TCF Bank Stadium.
The McCaskeys didn't have much to cheer about in 2014, a year that began with Jay Cutler getting a monster contract extension and ended with Cutler getting unexpectedly benched for one game before his not-so-triumphant return Sunday.
This game was the first time in Marc Trestman's two seasons as head coach/failed offensive savior that the Bears didn't score a touchdown. This loss embodied all of the offense's failings, which are many.
Bad seasons happen, especially in a franchise as perennially mismanaged as this one, but this season was especially egregious.
The 2014 Bears did nothing well. Even their minor achievements were tainted, like Matt Forte setting an NFL record for catches by a running back with a 10-yard gain on third-and-19 play in a failed game-winning drive.
We don't have room to go over the Bears' failures. The Internet has only so much space.
December, 28, 2014
Dec 28
7:53
PM ET
December, 28, 2014
Dec 28
7:11
PM ET
MINNEAPOLIS -- Here are five things we learned in the
Chicago Bears
' 13-9 loss to the
Minnesota Vikings
on Sunday.
1. Marc Trestman defiant to the end:
Trestman (13-19 overall) went to the podium after Sunday's defeat and announced that he's the best man the fix the Bears' current woes. Not even the most ardent Trestman supporters believe that to be true. Forget about the laundry list of embarrassing moments the Bears endured in 2014, the biggest indictment for Trestman is the pathetic body of work by the offense. His offense, mind you. On a day when defensive coordinator Mel Tucker had tears in his eyes after his group stuffed the Vikings on fourth-and-goal from the 1-yard line to keep the team alive, the offense responded with a whimper. The offense is terrible. The play-calling is terrible. The quarterback is terrible. The execution is terrible. Trestman never fixed it. Nothing more needs to be said on Trestman's behalf.
2. Jay Cutler regressed:
Trestman deserves plenty of blame for the state of the offense, but Cutler took major steps backward in 2014. Don't let the inflated completion percentage fool you. Cutler's balls were horribly inaccurate for much of the year. Fundamentals and mechanics continue to be problem areas. Twenty-four turnovers are unacceptable. Cutler's contract makes it difficult for the Bears to move on, but the club ought to explore every option. Hiring Mike Shanahan seems like an easy way to keep Cutler, but isn't it time for the organization to stop catering to the quarterback.
3. Mel Tucker leaves on high note:
The defense showed up Sunday. Tucker's group did its part to contribute to a victory -- interception, goal-line stand and three sacks. Laugh if you want, but the Bears' defense played well at certain points of the year. It's hard to win games when the offense can't score more than 28 points. At least Tucker can leave town with the satisfaction that his defense never quit playing hard. Tucker seems limited as a coordinator, but he clearly connected with the players. That's more than can be said for other coaches on the Bears' staff.
4. Contract year for Matt Forte:
Forte reached two milestones Sunday: 1,000 rushing yards for the third straight year and a new NFL record for single-season receptions by a running back (102). Don't be surprised if Forte looks for a new contract in the offseason. His current deal expires after the 2015 season. Forte has been a workhorse. Let's see how the Bears handle the situation given Forte's age, and the rate at which NFL running backs fall off the proverbial cliff in terms of production.
5. Offseason figures to be hectic:
Team matriarch Virginia McCaskey and chairman George McCaskey were present at TCF Bank Stadium to watch the Bears limp to 5-11 (the worst finish since 2004). Expect changes. Ownership cannot be pleased with how this current group managed to alienate the fan base. The Bears need to act swiftly. The team cannot interview 10-15 head coaching candidates this time. Focus on three or four top guys, and get one of them. The same applies if the Bears decide to make further changes above the head coach. The clock is ticking. Right now, Bears fans have no reason to think 2015 will be any better.
December, 28, 2014
Dec 28
6:50
PM ET
Week 17 Report Card: Bears at Vikings

D
Passing Offense
Jay Cutler completed just 23 of 36 passing attempts for 172 yards (75.2 quarterback rating). Matt Forte caught eight balls for 23 yards. Opponents figured out how to stop the Bears' screen game months ago. Cutler was erratic with many of his throws. The whole operation is in complete shambles. A fitting end to a horrific season.

D
Rushing Offense
Cutler was the only person to gain sizeable yardage on the ground. The quarterback scrambled three times for 39 yards. Forte carried the ball 17 times for 51 yards (3.0 average per rush). Even in a low-scoring game, the Bears drifted away from the run. When Forte did carry the ball, he found little room to maneuver.

B-
Passing Defense
The secondary busted a coverage on Adam Thielen's 44-yard touchdown reception. Vikings quarterback Teddy Bridgewater went 17-of-25 for 209 yards (90.2 passer-rating). Rookie cornerback Kyle Fuller did intercept a bobbled Bridgewater pass and returned it 31 yards. The Bears recorded three sacks.

B-
Rushing Defense
Matt Asiata gained 91 yards on 19 rushing attempts. However, the Bears defense stuffed the Vikings on fourth-and-goal from the 1-yard line late in the game to give the team a chance to win. Minnesota finished with 121 rushing yards on 33 attempts.

B-
Special Teams
Marc Mariani returned a kickoff 67 yards that gave Chicago excellent field position, although the inept offense had to settle for a field goal. Jay Feely hit 3 of 4 field goal attempts. Punter Pat O'Donnell averaged 45.5 yards per kick, but had a net average of only 32.8 yards.

D
Coaching
The defense played hard for Mel Tucker. The offense continued to struggle under Trestman. Trestman is 13-19 in two seasons with the Bears. He thinks he's the right man to fix the Bears' problems moving forward. Many would disagree.
December, 28, 2014
Dec 28
6:10
PM ET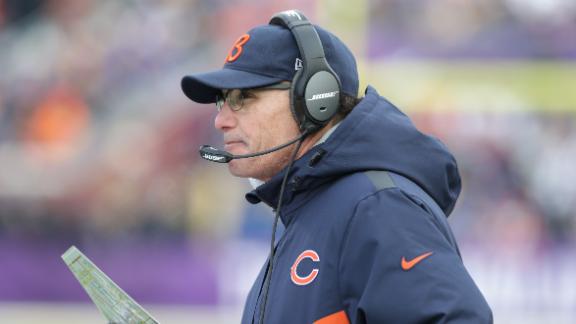 MINNEAPOLIS -- Chicago Bears head coach Marc Trestman told reporters following Sunday's 13-9 regular season finale loss to the Minnesota Vikings that he expects to be Chicago's head coach in 2015.
"I do," Trestman said. "I don't have to go into the reasons. I expect to be back. I couldn't look at it any other way or with any other focus. My plan is to continue to finalize my notes now that the season is over and make sure that opportunity arises, I'll be able to explain how to fix this thing, because we have to get better."
Trestman added: "Nobody understands the situation better than I do. I've lived it every day for the last two years and certainly the last six months, so I think I have some expertise in that area. I don't think there's anybody in a better position to assess it other than myself and Phil (Emery)."
ESPN's Michael C. Wright reported Sunday morning that three Bears assistant coaches expected to be fired at the conclusion of the year.
Under Trestman, the Bears crumbled in 2014 to finish 5-11, the franchise's worst single-season mark in ten years. In two seasons in Chicago, Trestman's record stands at 13-19, with zero playoff appearances.
The Bears offense plummeted in Trestman's second year, entering Week 17 ranked No. 21 in points scored, No. 20 in total offense, and No. 26 in rushing offense, a far cry from last year's group that ended 2013 as the NFL's second-highest scoring team (27.8).
Quarterback Jay Cutler
December, 28, 2014
Dec 28
6:00
PM ET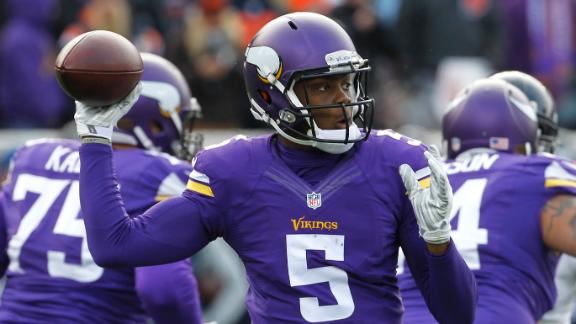 MINNEAPOLIS -- Matt Forte of the Chicago Bears set an NFL record with 102 catches in a season, the most ever by a running back.
How Forte did it in a 13-9 loss to the Minnesota Vikings on Sunday is emblematic of the Bears' offensive struggles in a 5-11 season.
Catch No. 102 went for 10 yards on 3rd and 19 as the Bears tried, and failed, to score a touchdown on their final drive of the season. It was his longest gain of the day.
Forte caught eight passes for 23 yards and got 17 carries for 51 yards.
He finished with 1,044 rushing yards and 808 passing yards. He scored six rushing and four receiving touchdowns.
It's been an odd season for Forte, who came into the game sixth in the NFL in receptions. He rarely got the carries that he wanted as head coach Marc Trestman and quarterback Jay Cutler led a dysfunctional offense, but he did get the ball a fair amount because the Bears couldn't go deep.
"Later on, long down the road, when I look back at my career it'll probably mean something," Forte said of the record. "It'll mean a lot more to me than right now."
The underachieving Bears were plagued by mental mistakes all season and on that record-setting drive, they had three penalties, two false starts and an illegal touch.
"It's just boneheaded mistakes," Forte said. "But it happens to all of us. The teams who do it the least amount obviously have the best chance to succeed on a play."
December, 28, 2014
Dec 28
5:55
PM ET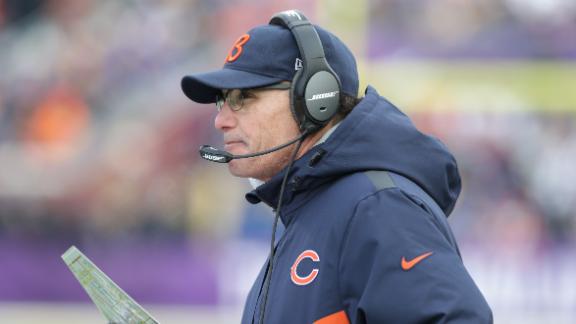 Chicago Bears
general manager Phil Emery spoke confidently Sunday during a pregame interview Sunday on WBBM as if business would continue as usual at Halas Hall in the wake of the team's season-ending
13-9 loss
to the
Minnesota Vikings
.
"Obviously, it's at the end of the season," Emery said. "So on Monday, we'll have a team meeting. Our coaches will hold that meeting. After that, they'll start evaluating players. We've already done that from a personnel perspective, and we'll move forward."
Perhaps Emery knows what the coaches don't at this point, which is unlikely, as multiple staffers believe as soon as Monday they'll be fired, according to sources. But regardless of whether Emery or the coaching staff is retained, several key issues need to be addressed, and it's unclear whether it all can be accomplished in one short offseason.
The new league year and the start of free agency fall on March 10. Then on April 30, the 2015 NFL draft kicks off in Chicago. A few months later in July, the Bears begin training camp at Olivet Nazarene University.
So somewhere between now and July, the Bears need to make decisions and moves that push the franchise in the right direction. Coach Marc Trestman believes he has the answers, and plans to present them soon at Halas Hall.
"I expect to be back. I couldn't look at it any other way. My plan is to continue to finalize my notes now that this season is over, and make sure that [when] the opportunity arises, I'll be able to explain how we fix this thing," Trestman told reporters after the finale in Minneapolis. "All I know right now is we've got a meeting tomorrow at 11 o'clock with the team, and we're moving forward from there. Nobody understands the situation better than I do. I've lived it every day for the last two years, and certainly the last six months. So I think I have some expertise in that area. In putting my thoughts down, I don't think there's anybody in a better position to assess it other than myself and Phil [Emery]."
In stumbling to a 5-11 record, ending with five consecutive losses to close the season, the Bears fielded a roster in 2014 featuring an NFL-high 17 rookies, which would be a positive heading into the offseason if the majority of the young players were promising. Some are no doubt, but for the majority that's not the case.
Regardless of whether the organization drops the general manager or the coaching staff, once the preliminary decisions are made in the coming days, the Bears need to upgrade the personnel on both sides of the ball.
Offensively, the Bears possess several talented weapons at the skill positions and adequate blockers in the middle. But the club needs to add a legitimate deep threat in the slot to take some of the pressure off
Brandon Marshall
and
Alshon Jeffery
on the outside, in addition to acquiring some depth at the position.
[+] Enlarge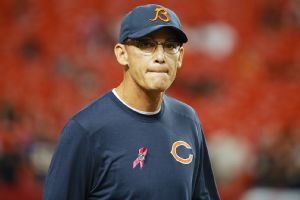 AP Photo/David GoldmanDespite a five-game losing streak to end the 2014 season, Bears coach Marc Trestman expects to return to the organization for 2015.
Most importantly on that side of the ball, the Bears need to figure out what to do with enigmatic quarterback
Jay Cutler
, who finished Sunday's game with a passer rating of 75.2 on 23-of-36 passes for 172 yards and no touchdowns. Cutler's 2015 salary of $15.5 million is already fully guaranteed, and if he remains on the roster on the third day of the new league year, a $10 million guarantee kicks in on his 2016 salary. Given the team's decision to bench Cutler after a horrid performance during a
31-15 loss
to New Orleans on Dec. 15, his future appears to be murky, and there's no guarantee a new coaching staff or general manager would be on board with the quarterback leading the 2015 Bears.
Trestman said Sunday he believes Cutler can be a part of the team's plans in 2015, but that's not set in stone, either. Given Cutler's immense arm talent, there's no doubt a market will exist for the quarterback's services this offseason. But the Bears need to make a move on that front sooner rather than later.
Cutler said he hasn't considered the possibility of having to play for a fifth offensive coordinator since 2009 if the team fires the current coaching staff.
"I don't think anyone knows what's going to happen," Cutler told reporters. "No one knows what direction we're going. I'm pretty confident we'll know soon. I don't think it's going to be something that's going to drag out. We won't consider anything until decisions are made, then we'll take it from there."
On defense, Chicago needs a severe talent makeover, mainly in the secondary at both safety positions as
Ryan Mundy
was basically a career backup before joining the Bears, while
Chris Conte
isn't likely to be brought back as his deal is set to expire. The Bears could also help themselves by acquiring at least one cornerback to pair with promising rookie
Kyle Fuller
, as veteran
Tim Jennings
has underperformed since signing a four-year deal last January worth $24 million. Perhaps he's better suited at this point to play nickel.
Charles Tillman
isn't likely to return either, considering he's finished on the injured reserve in each of the past two seasons due to tearing the same triceps muscle, and the club also needs to upgrade at linebacker as franchise stalwart
Lance Briggs
isn't expected back.
"It's an absolute necessity this offseason you don't just sit around and talk about what happened last year," defensive tackle
Jeremiah Ratliff
told WBBM just hours before Sunday's game. "Get up and do something about it every day; weight room, running. Everyone individually knows what they need to get ready for next year. So don't dream about it. Go do it."
Same goes for this franchise's ownership.
December, 28, 2014
Dec 28
4:15
PM ET
Associated Press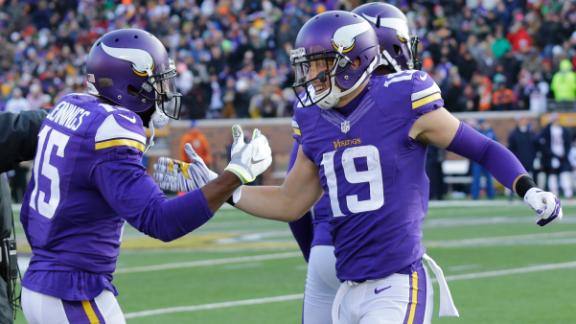 MINNEAPOLIS -- Teddy Bridgewater threw the go-ahead 44-yard touchdown pass to Adam Thielen in the third quarter, guiding the Minnesota Vikings past Chicago 13-9 on Sunday to put one more blemish on a forgettable year for the Bears.
Blair Walsh kicked two field goals, Audie Cole had 11 tackles in his first start of the season and the Vikings (7-9) ended coach Mike Zimmer's first year on a winning note.
Jay Cutler returned from a one-game benching with 172 yards on 23-for-36 passing without a fumble or an interception, but he rarely threw long and the offense was off all afternoon.
The Bears (5-11) finished with their worst record in 10 years, perhaps the last game for coach Marc Trestman.
---
AP NFL websites: http://www.pro32.ap.org and http://www.twitter.com/AP-NFL

December, 28, 2014
Dec 28
3:55
PM ET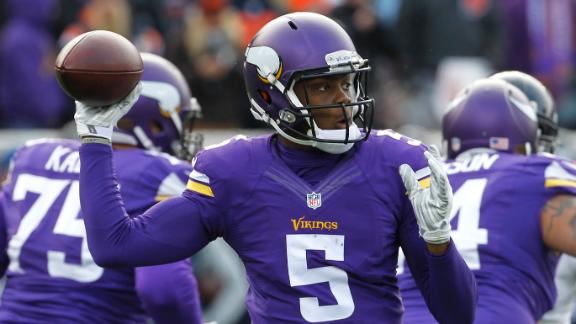 MINNEAPOLIS -- A few thoughts on the
Chicago Bears
'
13-9 loss
to the
Minnesota Vikings
at TCF Bank Stadium.
What it means:
The season is mercifully over. With team matriarch Virginia McCaskey and team chairman George McCaskey in attendance, the Bears' record dropped to a disappointing 5-11, the franchise's worst single-season finish since 2004 (also 5-11). Embattled head coach Marc Trestman awaits word on his future after posting a futile 13-19 record in two years on the job. For weeks, Trestman refused to directly answer questions related to job security, but ESPN.com's
Michael Wright reported Sunday
morning that at least three assistant coaches expect to be fired. Now it's only a matter of time before the general public learns Trestman's fate.
General manager Phil Emery's future is unknown. Emery hit on recent draft picks
Alshon Jeffery
,
Kyle Long
and
Kyle Fuller
, but he's responsible for two colossal blunders: hiring Trestman and awarding quarterback
Jay Cutler
a lucrative contract extension. Emery watched Sunday's game in a private suite alongside the McCaskey family.
Stock watch:
Defensive coordinator Mel Tucker is not a popular figure in Chicago. However, the defense turned out to be the least dysfunctional of the club's three groups. Tucker's defense limited Minnesota to three points and 118 total yards of offense in the first half. On multiple occasions throughout the year, the defense did enough to keep the Bears in games, only to be let down by the offense. Sunday was no exception. Fuller's early third-quarter interception, and subsequent return, gave the offense the football at the Vikings' 9-yard line. Sadly, the Bears had to settle for a field goal.
Eventually, the defense made its share of mistakes in the second half -- including a busted coverage on Adam Thielen's 44-yard touchdown reception -- but the effort was evident. The Bears even stopped Minnesota on fourth-and-goal from the 1-yard line.
Trestman's offense predictably struggled in Week 17, even with Cutler back at quarterback in place of concussed
Jimmy Clausen
. The Vikings' 15th-ranked total defense stymied the Bears for much of the afternoon. The Bears end 2014 without scoring more than 28 points in a single game.
Forte milestones:
Bears tailback
Matt Forte
passed Larry Centers for the most single-season receptions by a running back (102). Forte also topped the 1,000-yard rushing plateau for the third consecutive season and the fifth time in his seven-year NFL career.
Game ball:
In a lost year, Forte again proved to be one of the most versatile all-purpose tailbacks in the league, topping the Bears in rushing yards and catches. His current contract is set to expire following the 2015 season, meaning Forte's agent is likely to press the Bears for another extension in the offseason.
What's next:
The Bears return home to Lake Forest, Illinois, for exit physicals and one final team meeting on Monday. While the team is scheduled to hold an open locker room period Monday for reporters, the Bears have not released any further media information.
December, 28, 2014
Dec 28
10:11
AM ET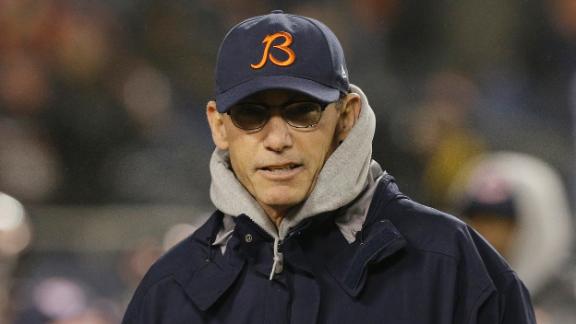 While it comes as no surprise given the team's struggles, at least three members of the Chicago Bears coaching staff expect coach Marc Trestman and the staff to be let go after the regular-season finale Sunday at Minnesota.
The staff hasn't yet been told of general manager Phil Emery's or ownership's intentions, but one staffer said he'd be "shocked" if sweeping changes aren't made.
Finishing the season on a five-game losing streak after losing 13-9 to the Vikings on Sunday, the Bears (5-11) are expected to be looking for their second head coach in three years, and it's not a given Emery will return, although his signing of Roberto Garza on Friday to a one-year extension indicates he'll be back in 2015.
Multiple members of the coaching staff for weeks have anticipated being fired at the conclusion of the season. But publicly, Trestman and his assistants have said they were focused solely on the task at hand.
Asked whether he dreaded what could be coming after Sunday's contest at TCF Bank Stadium, Bears special-teams coordinator Joe DeCamillis said, "No," as he, Trestman and defensive coordinator Mel Tucker expect there to be speculation concerning their job security, given the team's record.
"You're going to say, 'He's not telling the truth,' but you deal with this," DeCamillis said. "I've been on staffs that it's an issue. I'm just trying to roll through this thing and try to get ready for Minnesota. You have quiet times where you have quiet times where you think about that stuff. But this isn't a quiet time right now. I'll worry about that stuff whenever it happens, I guess. What did you say, Monday?"
Tucker made similar comments.