December, 19, 2014
Dec 19
8:00
AM ET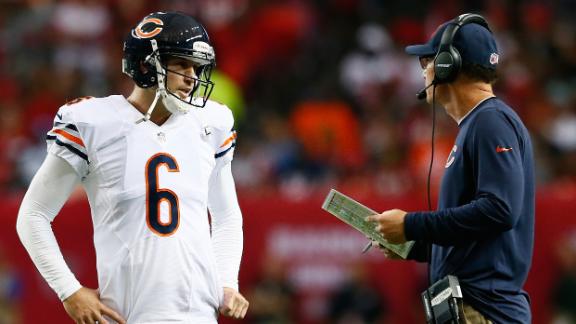 When:
1 p.m. ET, Sunday
Where:
Soldier Field, Chicago
TV:
Fox
The
Chicago Bears
' brass spewed plenty of tough talk after Lovie Smith's firing about plans to close the gap on the
Green Bay Packers
in the NFC North.
But while Chicago was talking grand plans, the rest of the division was actually executing them, which is how we've come into Sunday's matchup at Soldier Field with the last-place Bears hosting the NFC North-leading
Detroit Lions
.
ESPN Bears reporter Michael C. Wright and Lions reporter Michael Rothstein break down the matchup:
Wright:
Looking at all the playoff scenarios, it's clear all the Lions need to worry about is winning Sunday against the Bears. That has to be a refreshing feeling considering all this franchise has been through. What is the mood in the locker room, how confident is this team headed into such a crucial stretch, and do you feel the Lions are catching fire at just the right time?
Rothstein:
That's all the Lions have been talking about, Michael. You ask a playoff question, you're pretty much getting an answer about focusing on Chicago or beating Chicago. Personally, I was hoping there would be a Lions player this week who would answer every question with just the word "Chicago." That could have been entertaining. It all starts with coach Jim Caldwell, though. He won't talk about the playoffs with anybody, not even his family. Considering how much the Lions have really bought into all of his motivational messages this season, it isn't surprising they have continued doing that. As far as catching fire, Detroit's defense has been consistent all season. The offense seems to vary depending on the opponent. Facing the Bears could be a good thing for the Lions since Chicago's defense is one of the worst in the league.
The last time Detroit faced Chicago, the Bears seemed to be in a bit of a downward spiral. How has it gotten worse over the past four weeks?
Wright:
Oh, Mike, let me count the ways. Instead of this being a "downward spiral," it's now just a cliff with essentially everyone -- from team president Ted Phillips to the equipment staff -- trying desperately to prevent the inevitable tumble off the edge. Two nationally televised embarrassments in a row at Soldier Field in losses to Dallas and New Orleans. Do you realize nearly 11,000 fans didn't show up for the club's dismal showing against the Saints? Mike, you know it's bad when you have a nationally televised game on tap, yet all the coverage throughout the week focuses on offensive coordinator Aaron Kromer's
tearful admission
that he was the anonymous source for a report by the NFL Network, and the ensuing fallout from that. Right now, do you think the media in Chicago is talking about
Matthew Stafford
,
Calvin Johnson
or
Ndamukong Suh
? Nope. All the questions and speculation going into this game concern the futures of general manager Phil Emery, the coaching staff and whether ownership can stomach enough of this futility to resist cleaning house before the conclusion of the regular season. Mike, it's bad. Very bad. It's worse than anything I've ever covered, and the feeling I get is this team has thrown in the towel and is simply anticipating what appears to be the inevitable. I don't think news this week of the team naming quarterback
Jimmy Clausen
the starter
over
Jay Cutler
eases the drama.
When the Lions first hired Caldwell, there was skepticism about his abilities as a head coach. There is no doubting Caldwell now, in my opinion. How different is the players' belief in Caldwell as this team's leader compared to how they felt with Jim Schwartz?
Rothstein:
I will readily admit I was one of Caldwell's biggest doubters, even at his opening news conference when I asked him about having a losing record in college and being out in Indy after three seasons. But he has really been the perfect coach for this team. His calmness has been the biggest factor in why Detroit has been able to continually come from behind this season and why Detroit is 10-4 with two games to go. The players, as mentioned, really buy into everything he's saying and also appreciate his coaching style and that of his defensive coordinator, Teryl Austin. Austin often implements in-game adjustments from his players based on what they are seeing on the field, and it's worked. Last week is a good example, as Minnesota scored 14 points early and didn't score again the rest of the game. That has been huge for the Lions.
The Bears essentially abandoned the run against Detroit on Thanksgiving, and there are other games this season where they have done that, too. Does Chicago try to run on Detroit a second time, or do you expect more of the same Sunday?
Wright:
The last time these teams met, Chicago knew running the ball against the Lions would prove to be an exercise in futility. So the Bears tried to attack Detroit the same way the Patriots did with the short passing attack. They figured short passes to
Matt Forte
would be an extension of the rushing attack. The game plan seemed to work at first, before Detroit turned a 14-3 deficit into a 24-14 lead at intermission on the strength of a trio of touchdowns on three consecutive possessions. Forte finished with five attempts -- which tied a career low -- for 6 yards. If the Bears attack similarly in this contest, you can count on the Detroit Lions engineering a blowout. As good as Detroit's run defense is, the Bears would render play-action totally ineffective if they abandon the run. So Chicago likely will start off the game trying to run the ball. But as you predicted, the Bears will abandon the rushing attack at some point. It's just a matter of time in this game.
Mike, you cover a team with so many interesting storylines. What is the latest with the right tackle situation? Can you give me the lowdown on undrafted rookie
Cornelius Lucas
, since he might be the next man up at that position with
LaAdrian Waddle
suffering a knee injury against Minnesota?
Rothstein:
I don't quite have the storylines you have, Michael. Caldwell essentially ruled Waddle out of Sunday's game against Chicago, and Lucas is going to be the guy. He has had some struggles this season, but Lucas considers his best game of the season the only other one he started -- against the Bears on Thanksgiving. He was responsible for no quarterback sacks and no quarterback hurries in that game. Lucas might have been an undrafted free agent, but his size and foot speed make him a player with a lot of potential in the future. There is a reason Detroit coveted him in the UDFA market. It will be interesting to see him go up against
Willie Young
on Sunday, because Young is having his own breakout season and could really take advantage of Lucas if he isn't careful. It could be one of the most hidden matchups to watch if Chicago has a chance at an upset.
Typically, it's been the Lions in the role of spoiler throughout the recent history of this rivalry. Yet that is what the Bears are playing for this week. Is that a big motivation for them, or are the other issues taking over?
Wright:
Self-preservation takes precedence over playing the spoiler role in this outing, my man. By and large, a good portion of the coaching staff believes it is on the way out. In fact, multiple coaches on that staff have told me as much. But they have also said it's important for them to go out and conduct themselves as professionals, because when it's all said and done, most if not all will be seeking employment elsewhere once ownership finally makes the decision to clean house. The Bears started the season losing three in a row at Soldier Field, and it appears this team is destined to end the season the same way. So I'm sure the Bears want to finish out with a victory in their last game of the season at Soldier Field. But honestly, I think spoiling Detroit's season is the furthest thing from this team's thinking at this point.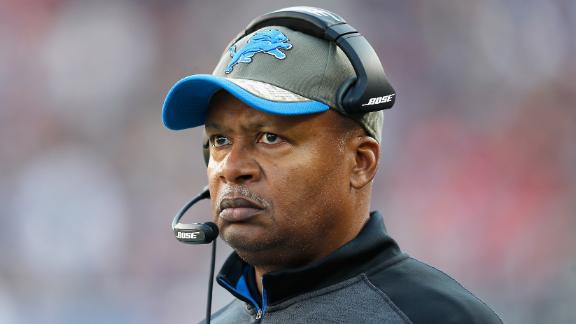 December, 18, 2014
Dec 18
6:31
PM ET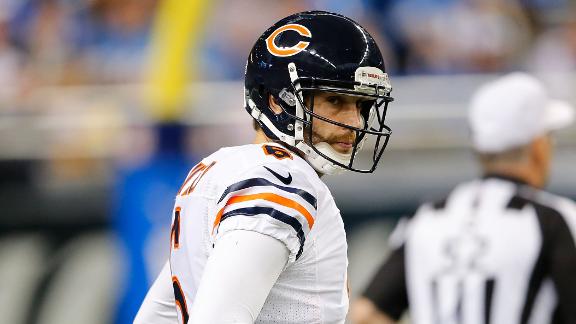 LAKE FOREST, Ill. -- Football players talk a lot about the importance of "tape."
Tape is where you find answers and tape is where you want to shine. In what might have been his last news conference at Halas Hall,
Jay Cutler
got some great stuff on tape.
For a guy known for a lack of composure on the field, he continued his impressive streak of keeping it together under duress off the field.
[+] Enlarge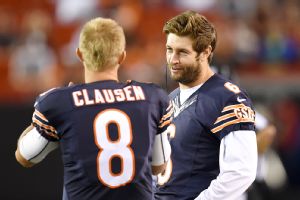 Joe Sargent/Getty ImagesJay Cutler admitted he did not take the news well when he was told he would be benched for Jimmy Clausen.
In his first comments since his surprise benching by coach Marc Trestman on Wednesday, Cutler impressed NFL people from coast to coast. He was self-effacing, respectful, funny and insightful in talking to local reporters, a group with which he has had an up-and-down relationship.
It was the second straight week in which he looked a lot more professional than Trestman, who has been reduced to a defensive, mournful soul who is likely seeing the end of his professional dream.
There are no winners in the Bears' situation, save for
Jimmy Clausen
, who gets his first start since 2010 this Sunday against the
Detroit Lions
. At 5-9, the
Chicago Bears
aren't just subpar, they're getting embarrassed on a weekly basis. Cutler has been part of the problem, and in this case, he's the scapegoat for the organizational dysfunction that has crippled the historic franchise.
Chicago is used to the Bears missing the playoffs, but we're in rare territory here as the Bears are operating like the
Oakland Raiders
.
While Cutler's reputation as a sourpuss has been solidified through years of televised grimacing, he has been very good with Chicago media this year in his podium appearances. He even joked about the now-famous miscommunication Monday night when he answered three questions in the postgame media room and left before reporters had scurried over from the locker room.
"Glad you guys could make it," he said. "I missed you after the game."
It figures this happens now. Cutler isn't going to win a Super Bowl in Chicago, but he won the room in Lake Forest. I can't speak for anyone else, but I found him sympathetic Thursday. If he's gone, he's going out, well, professionally.
December, 18, 2014
Dec 18
5:58
PM ET
December, 18, 2014
Dec 18
5:10
PM ET
ALLEN PARK, Mich. -- When
Golden Tate
heard the news about one of his closest friends, he immediately sent him a message.
In it, he told new
Chicago Bears
starting quarterback
Jimmy Clausen
to be safe.

Clausen
Tate
"I sent him a text saying I'm happy for you, but I'm also nervous for you," Tate said. "Our defense ain't nothing to mess around with, so for that to be your first start with your new team, it can be nerve-racking.
"But I hope he does well. I hope he stays safe out there. I hope he puts some good stuff on film, but I hope we still beat him pretty bad."
Tate knows Clausen better than anyone else on the Lions. The two have been close friends since their time at Notre Dame together, when Clausen threw passes to Tate during Tate's Biletnikoff Award-winning season in 2009.
Tate said he has wanted to see Clausen get another chance after he was thrown into the Panthers' lineup as a rookie. Clausen went 1-9 in his rookie year in 2010, completing 157 of 299 passes for 1,558 yards, three touchdowns and nine interceptions. He was sacked 33 times and posted a QBR of 11.0.
"I think it was unfair when he was in Carolina," Tate said. "He wasn't on a great team, being a rookie. The next year they draft
Cam Newton
. He sits as a No. 3 [QB] because (
Derek Anderson
) was No. 2. They wouldn't let him go, so he couldn't even get an opportunity to go somewhere else to prove himself.
"Meanwhile, you've got tons of other, in my mind, terrible quarterbacks getting drafted in the first round. I'm sure you guys would agree with that, that have proven to be terrible, I'm not going to mention any names.
"That could have been his chance to shine, and then he tore his labrum last year and had to sit out the whole year and then he had to wait for someone to call. Wait for a chance. Gets to Chicago, gets a chance and beats out the No. 2 guy and is the backup quarterback. I believe in him and hope he makes the best of his opportunity for these last two games."
Well, he hopes he does well -- just not too well.
"In a perfect world he would play well and throw no touchdowns," Tate said. "And we would win."
December, 18, 2014
Dec 18
4:56
PM ET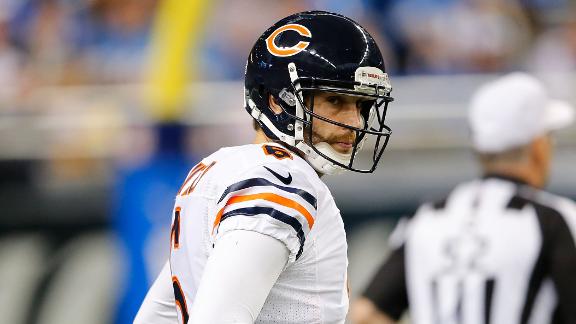 LAKE FOREST, Ill. -- Despite coach Marc Trestman benching him just 14 games into a seven-year, $126.7 million contract, quarterback Jay Cutler hopes to remain with the Bears, but he acknowledged Thursday "it definitely crossed my mind" that he has possibly played his final game with the team.
Trestman pulled Cutler and backup Jimmy Clausen into a meeting Wednesday to inform the quarterbacks of the decision to go with the latter Sunday when the Bears host the Detroit Lions at Soldier Field.
Cutler said he "didn't take [the demotion] well at the time."
"You sign a seven-year deal, and you think you're going to be here for a while," Cutler said Thursday at Halas Hall. "I'm still hopeful that's going to ring true, that we'll have another shot at this. But after this last game, a lot could happen."
Trestman benched Cutler after the quarterback produced a season-low passer rating of 55.8 in Monday night's loss to the New Orleans Saints while throwing three interceptions and generating a total QBR of 6.8, which registered as his second-worst performance of the season in that statistic (6.0 QBR in Week 10 against the Green Bay Packers). Cutler also absorbed a season-high seven sacks against the Saints.
In leading the Bears to a 5-9 record, Cutler has racked up a league-high 24 turnovers (18 interceptions and six forced fumbles).
NFL Insider Adam Schefter first reported news of Cutler's benching Wednesday night, and the team held a meeting Thursday "to cover up what got out yesterday," according to Bears left tackle Jermon Bushrod
December, 18, 2014
Dec 18
2:55
PM ET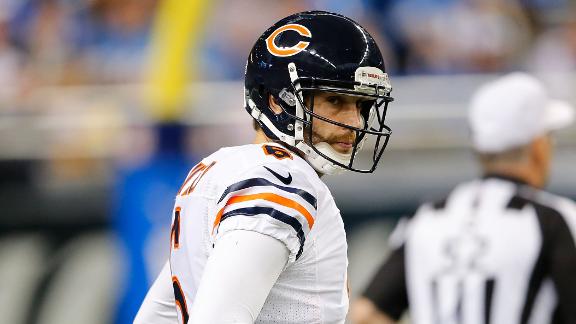 LAKE FOREST, Ill. -- The Chicago Bears will start Jimmy Clausen at quarterback this week over Jay Cutler, coach Marc Trestman confirmed at a news conference Thursday.
"I think we need a lift at quarterback. We need a spark," Trestman said, adding that the "weight of the world shouldn't be on the shoulders of Jimmy Clausen."
"He [Clausen] is going to get a chance to play, and I'm hoping that our team, against a very good defense...that there will be some response from our football team," Trestman said. "I'm looking forward to seeing how it unfolds."
Trestman said he personally informed both quarterbacks of the switch Wednesday prior to meeting with general manager Phil Emery, insisting the call to send Cutler to the bench was "ultimately my decision."
"It's a coaching decision," Trestman said. "It's [a] 46-man roster [decision]. Everybody was made aware of the process, and that was finalized with my discussions with Phil last night and with our staff. That decision on the 46 [man roster] is ultimately mine."
Cutler said he was "shocked" at first at the benching and then "disappointed."
"I didn't see it coming," he said. "But any time you lose a lot of games and don't do as well as you hoped, there's a chance that could happen."
Cutler paused for a moment when asked if Trestman's decision was fair.
"There's a lot in that question," Cutler said. "I haven't really thought about it that deeply. All I know is there is a lot of money involved in my contract, which comes with a lot of expectations, and a lot of responsibility. Whenever you're not winning and performing the way you should there's a likelihood that can happen [being benched]."
Trestman said the benching is just for this week at this point and that Cutler would be active and serve as the backup in Sunday's game against the Detroit Lions
December, 18, 2014
Dec 18
2:35
PM ET
A day after naming Jimmy Clausen as the starting quarterback over Jay Cutler, the Bears will hold a news conference with coach Marc Trestman, Jay Cutler, Clausen and offensive coordinator Aaron Kromer.
Follow along with ESPN's Michael C. Wright and Jeff Dickerson as they dispatch live updates from Chicago beginning around 2:50 p.m. ET.
December, 18, 2014
Dec 18
1:00
PM ET
CHICAGO --
Chicago Bears
head coach Marc Trestman dropped a bombshell Wednesday when he decided to start quarterback
Jimmy Clausen
on Sunday against the
Detroit Lions
, instead of
Jay Cutler
. From a performance standpoint, Cutler deserved to be benched, especially following a dreadful, three interception game versus the
New Orleans Saints
on Monday night that raised the quarterback's season turnover total to a league-worst 24.
Clausen is not considered an upgrade. It's more an act of desperation. Clausen hasn't played meaningful regular season football since starting 10 games for the
Carolina Panthers
in 2010, going 1-9. In three appearances as a Bear, Clausen has passed for 42 yards. Keep in mind, Detroit's defense is No. 1 overall in points allowed (17.0) and No. 2 in total defense. Chicago hasn't played well since October. The Lions can clinch a playoff berth with a victory. The writing is clearly on the wall.
My prediction: Lions 41, Bears 16
December, 18, 2014
Dec 18
12:47
PM ET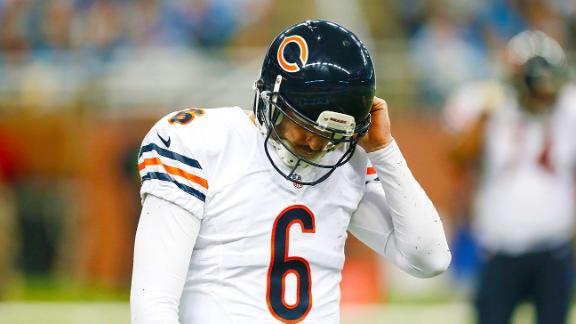 Sports books downgraded the Chicago Bears by less than a field goal after news broke Wednesday that quarterback Jay Cutler would be benched in favor of backup Jimmy Clausen for Sunday's home game against the Detroit Lions.
The Bears began the week as seven-point home underdogs to the Lions, with Cutler as the presumed starter. ESPN NFL Insider Adam Schefter reported Wednesday that Clausen would get the start, and sports books immediately began adjusting the point spread.
The adjustments varied, with oddsmakers attempting to gauge the difference value between Cutler and Clausen. Las Vegas sports book operator CG Technology had the Lions minus-9 (-105) Thursday morning, while the Westgate SuperBook and Station casinos were offering Detroit minus-8.5. It's not a large adjustment, but it does move the point spread off the key number of minus-7. A seven-point margin of victory is the second-most common outcome of an NFL game, behind three points.
The last time the Bears have been this big a home underdog was in a Dec. 28, 2009, game against the Minnesota Vikings. Chicago is 1-7 against the spread as a home underdog in the last four seasons. The Bears are 5-9 straight-up and against the spread overall this season.
In his NFL career, Cutler's teams in Denver and Chicago are a combined 45-72-2 against the spread in his starts. That's the worst record against the spread of any established current starter in the league.
December, 18, 2014
Dec 18
10:23
AM ET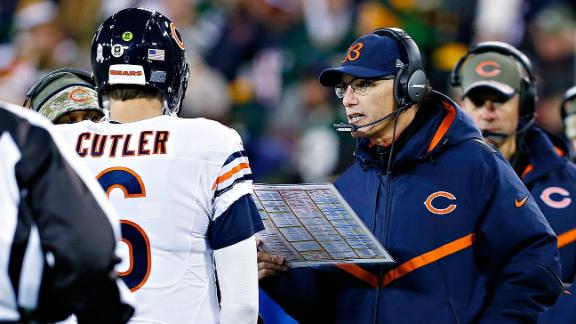 LAKE FOREST, Ill. -- A pair of accomplished and respected Chicago Bears players told ESPNChicago.com on Wednesday night that a portion of the locker room feels "confused and uncomfortable" over how coach Marc Trestman handled Jay Cutler's benching compared to the minor discipline offensive coordinator Aaron Kromer received last week.
From a pure performance standpoint, neither of the players, who requested to remain anonymous, objected to Cutler losing his starting job to Jimmy Clausen for Sunday's game versus the Detroit Lions.
But while noting that a faction of Cutler detractors exists inside Halas Hall, the general belief is that the respective punishments for Cutler and Kromer are gravely inconsistent, after the Bears offensive coordinator received "basically a slap on the wrist" for his public indiscretions when he tearfully revealed in a team meeting Dec. 8 that he was the anonymous source cited in a published NFL Media report that was highly critical of the quarterback.
Kromer coached the Bears from the sideline during Monday night's 31-15 loss to the New Orleans Saints and is expected to finish out the season.
This further magnifies the distrust between Trestman and the locker room, an ongoing issue during much of the Bears' disappointing 5-9 season, according to the players.