September, 15, 2014
Sep 15
4:20
AM ET
SANTA CLARA, Calif. – Here are five things we learned in the Chicago Bears' 28-20 victory over the San Francisco 49ers:

1. NFL is a wild league: Never envisioned the Bears defeating the 49ers in brand new Levi's Stadium. Especially not after the Bears lost at home in Week 1 to the Buffalo Bills, while San Francisco went on the road and dismantled Dallas. But the NFL is fluid. Calling it a week-to-week league isn't simply a cliché. It's the truth. You just never really know what's going to happen on any given Sunday. That's what makes it fun. Would I pick the 49ers again if the two teams re-match in the playoffs? Absolutely. In a heartbeat. But even though I still firmly believe San Francisco is the more talented of the two teams, the Bears won on Sunday night. The NFL is unpredictable. Embrace it. I mean, the Bills are 2-0. What is this football world coming to?

2. Proud effort on defense: It took the offense until the end of the first half to have a pulse, but the defense came to play from the opening whistle. The 49ers seemed poised to blow the game wide open, but the defense held San Francisco to only 17 first half points. That's a major accomplishment when you consider the offense and special teams put the defense in bad spots with all of their penalties and poor play. Mel Tucker's defense turned the ball over four times, limited the 49ers to 129 yards rushing, and sacked Colin Kaepernick four times. Not even key injuries to Charles Tillman (triceps), Chris Conte (shoulder) and Jeremiah Ratliff (concussion) slowed the group down.

3. Kyle Fuller belongs: Fuller is fast approaching Kyle Long status: a first-round draft choice that is talented and smart enough to make an immediate impact. Fuller looks to be a keeper. His two fourth-quarter interceptions were critical plays. If Fuller fails to turn the ball over on either occasion, who knows if the outcome of the game would have changed. It's entirely possible the Bears lose without Fuller's heroics. The plan always called for Fuller to contribute as a rookie. But Tillman's injury opens the door for Fuller to get a jump start on permanently lining up at cornerback in the base defense, not just in the nickel sub-package. Fuller seems to have adapted to life in the NFL. Not every game will be great. A cornerback will have his share of bad moments versus the plethora of great receivers in the league. But Fuller appears to be confident and mature enough to handle it.

4. Credit to Marshall and Jeffery: The Pro Bowl wide receiver tandem played at less than full-strength in Week 2. But Marshall (ankle) and Jeffery (hamstring) pushed past their respective injuries. Marshall, in particular, had a memorable performance with three touchdown catches, including a spectacular one-handed grab on a 17 yard score in the closing seconds of the first half. Jeffery managed to haul in just three passes for 47 yards, but his mere on-field presence aided the Bears' offense. The extra day before the Week 3 Monday nighter versus the New York Jets should help the wideouts further heal.

5. What's worse: special teams or officiating: Pat O'Donnell's 47.6 yard per punt average (32.3 net) saved the Bears from complete embarrassment on special teams. But that phase of the team needs to get its act together. Penalties, blocked punts, lackluster returns…..we've seen it all in 2014. Another team has been suspect officiating. The game took forever on Sunday, partly because the officials tossed 26 combined penalty flags that were accepted. Many more were declined or waived off. Too many. The flow of the game is being stunted by all the yellow flags. I've also noticed it's talking certain crews much longer to come to a consensus on calls or explain why a decision is made. Come on everybody, the preseason is over. Act like it.

September, 15, 2014
Sep 15
2:50
AM ET
SANTA CLARA, Calif. -- Going into the season, the consensus was that the
Chicago Bears
would have a prolific offense and a first-rate pass rush.
After an opening-week loss to the
Buffalo Bills
, those beliefs were tested.
The offense was just OK and the defense gave up nearly 200 rushing yards last week. Big free-agent signing
Jared Allen
could have been off roping cattle somewhere, because you could barely tell he was on the field. The pass rush was minimal.
[+] Enlarge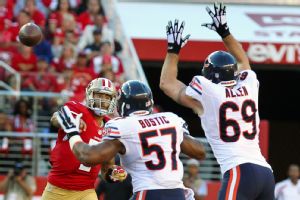 Lance Iversen/USA TODAY Sports"Sometimes adversity can set you on the right path," defensive end Jared Allen said Sunday after the Bears' D turned things around following a poor effort last week.
But led by Allen and the defensive line, the Bears' defense rebounded in a big way in Chicago's 28-20 win over the
San Francisco 49ers
on Sunday night.
The defense was challenged by a creative 49ers offense, but ultimately it made more than enough big plays to influence the outcome.
"None of us have the history of being pushovers or push arounds," said defensive end
Willie Young
, who had two sacks Sunday. "We're going to ball until we fall."
Chris Conte
made a diving interception, rookie cornerback
Kyle Fuller
picked off passes on consecutive possessions that led to Bears touchdowns in the second half and Chicago sacked
Colin Kaepernick
four times. Allen forced a Kaepernick fumble that the Bears recovered.
"We're trying to find our identity, too, and this is a huge step to it," Allen said. "Sometimes adversity can set you on the right path. And if we can keep this edge about us, we can play good defense all year."
While
Jay Cutler
was the star, completing 13 of 14 passes in the second half, he pointed to the defense for giving them good field position and putting pressure on Kaepernick.
Allen spelled it out.
"We were able to be successful on first and second downs the majority of the game, and we were able to force them to get into some one-dimensional situations so we could dictate the pace," Allen said. "Even though Kaepernick got out a couple times, we were able to control the rush for the most part, set high walls limiting his scrambling capabilities."
The Niners gained 129 yards on 27 carries, with Kaepernick getting 66 and
Frank Gore
63. The Bears had some questionable tackling in the first half. But considering what happened against Buffalo last week -- with an array of bad reads and bad tackling -- this was a major step in the right direction for a defense that has struggled mightily under Mel Tucker and Marc Trestman.
"I was just happy to see the success we were seeing in practice," Trestman said. "I said throughout the week, we were seeing it on tape in practice. We're fitting the run better; we were running to the ball better."
The Niners had a chance to tie the game on their last possession with a 14-play drive that ended at the Bears' 17 on a loss of downs.
Young said they had one goal on that drive.
"Let's hit the ball carrier," he said. "I don't care how we would get there, but let's hit that guy by any means."
Young is new around here, but he sure sounds like a Bears defensive lineman of old.
September, 15, 2014
Sep 15
2:07
AM ET
Week 2 Report Card: Bears vs. 49ers
September, 15, 2014
Sep 15
1:47
AM ET
SANTA CLARA, Calif. -- Veteran defenders gushed over the performance of rookie cornerback
Kyle Fuller
; the 2014 first-round draft choice responsible for two fourth-quarter interceptions that helped lead the
Chicago Bears
to a 28-20 upset over the heavily favored
San Francisco 49ers
.
Fuller's first pick of 49ers quarterback
Colin Kaepernick
occurred deep in Niners' territory, setting up a quick
Jay Cutler
to
Martellus Bennett
three yard touchdown strike that put the Bears in front 21-20.
Fuller's encore interception killed another potential San Francisco scoring drive when the cornerback stepped in front of 49ers tight end
Derek Carrier
on a deep throw down the left sideline.
"Those plays were huge, because those were key drives when we were up by eight points [late in the game]," Bears linebacker
Lance Briggs
said. "If they take the ball down and even settle for field goals, that makes it closer points wise. So for us to get the ball back to the offense and let them go to work and get the job done, so that was huge for the entire team."
Defensive end
Jared Allen
added: "I think we all saw what Kyle did with his opportunity. We are going to expect him to play at that level going forward, obviously. But you can really say that his first test was a great one. He passed it."
Fuller's opportunity came about when two-time Pro Bowler
Charles Tillman
suffered a right triceps injury at the 10:26 mark of the third quarterback. Fuller is no stranger to the field. He spent the entire preseason and Week 1 firmly entrenched on the Bears' nickel defense sub-package, but he played every snap at cornerback after Tillman went out.
"The mentality of the game is you're one play away," Fuller said. "If somebody goes down, you have to step it up and
do the same things that he does, like make plays.
"I was just using my technique [on the interceptions] and doing my job. I was just in the right place and the right time."
Fuller opened eyes in training camp. The No. 14 overall pick of the draft routinely held his own when matched up against Pro Bowl wideouts
Brandon Marshall
and
Alshon Jeffery
during practices.
"Day 1 he came out there and was competing with Jay and Alshon," Bears quarterback Jay Cutler said. "You could tell he could play and he was going to be really good in this league."
Marshall revealed that he spent extra time watching tape on Fuller; in an attempt to gain an edge over the first-year defensive back.
"I remember when I was a rookie with the Broncos; some of the guys told me that [cornerback] Champ Bailey was watching me on film. I had to do the same thing this summer. I had to go in there and study [Fuller's] moves. I told him that he needs to have Hall of Fame on his mind. There is no fear. He has a great skill set. But his attitude is amazing. You'd think he's been in the league for five or six years."
September, 15, 2014
Sep 15
1:27
AM ET
September, 15, 2014
Sep 15
1:22
AM ET
SANTA CLARA, Calif. -- Observed and heard in the locker room after the
Chicago Bears
' 28-20 win over the
San Francisco 49ers
.
Brandon Marshall
admitted that after a few days of matching up with rookie
Kyle Fuller
during training camp, the receiver found himself spending time studying the cornerback to find ways to beat him. That's how much of an impression Fuller had on Marshall. In fact, quarterback
Jay Cutler
said, "You'd think [Fuller] has been in the league five or six years from the way he carries himself."
Fuller performed like it against the 49ers, picking off two passes, including the interception that allowed the Bears to pull ahead.
Christmas tree:
Tight end
Martellus Bennett
finished Sunday night with 37 yards receiving on a team-high seven receptions, and joked in the locker room after the game that he was a "true West Coast tight end." With reserve
Matthew Mulligan
dressing next to him, Bennett goaded his teammate to explain the tight end's route tree.
Mulligan refused, joking, "Don't get him started."
Turns out, Bennett says his route tree is different than most tight ends in the NFL. He's got a "Christmas" route tree.
"Other tight ends, their route trees are plastic and come in a box," Bennett joked. "You've got to go out and cut mine down."
High-fives:
Immediately after the locker room opened, Bears general manager Phil Emery could be seen high-fiving players on his way through the room. Emery is usually low key and doesn't show much excitement, but Sunday night obviously was different.
September, 15, 2014
Sep 15
12:59
AM ET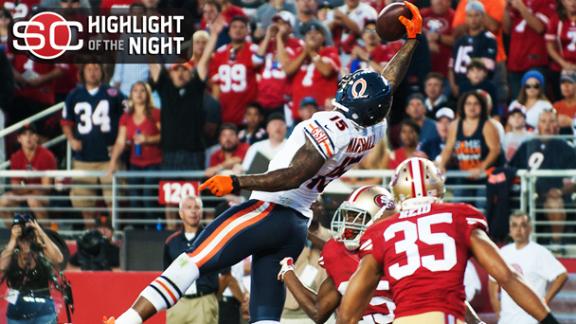 SANTA CLARA, Calif. -- Wearing a loud blue sports coat and a smile, Brandon Marshall walked into the Levi's Stadium media room as Jay Cutler was talking, sauntered up to the podium and planted a kiss on Cutler's well-coiffured head.
Forty-some miles from Haight-Ashbury, the Chicago Bears showed everyone it still could be the Autumn of Love in Chicago.
One week after an inconceivable home loss to the Buffalo Bills, the Bears shocked the world with a wild 28-20 comeback win at the Santa Clara, er, San Francisco 49ers.
With the stars aligning against this team, and the offense sputtering, the two stars of the O acted like stars Sunday night, connecting for three touchdowns and maybe, just maybe, saved a Bears season from going off the rails after just two games.
Last week, every Chicago sportswriter picked the Bears to beat the Bills. This week, everyone picked the 49ers to beat the Bears.
Don't worry, we'll go back to being right all the time this week.
Of course, who would have picked the Bears in this game after last week? Add in that the Bears hadn't beaten the Niners on the road since 1985.
Maybe that's a harbinger. Anything else happen that season?
To be fair, things looked pretty dire early. The Bears' first possession went like this: special teams penalty, three plays for 1 yard and a blocked punt.
The Niners scored quick, Cutler couldn't connect with his receivers and the special teams were a mess. And while the defense was better than against Buffalo, it still looked vulnerable, especially when starters went down with injuries.
September, 14, 2014
Sep 14
11:48
PM ET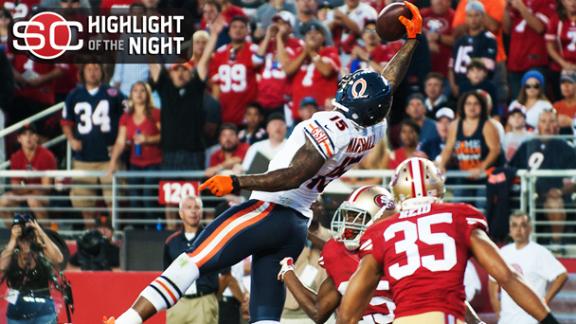 SANTA CLARA, Calif. -- A few thoughts on the
Chicago Bears
'
28-20 win
against the
San Francisco 49ers
at Levi's Stadium.
What it means:
The Bears avoided significantly reducing their postseason chances, while preventing a fourth consecutive loss dating back to Dec. 22 of last season with their come-from-behind triumph over the 49ers. How big was this victory? Well, under the new playoff format, which started in 1990, just 12 percent of teams to start the season 0-2 advanced to the postseason. Meanwhile, 41 percent of teams to start 1-1 make it to the playoffs. With the Bears headed to New York to face the Jets next week on "Monday Night Football," this certainly qualifies as a major victory.
Stock watch:
Chris Conte
caught plenty of flack (undeservedly) for his performance in the club's season-opening loss to the
Buffalo Bills
, but the fourth-year veteran put together a strong outing prior to leaving in the second quarter because of a shoulder injury (the extent of his injury wasn't known). In addition to swooping in to make a touchdown-saving tackle in the second quarter on
Michael Crabtree
, who had gotten past
Tim Jennings
and
Ryan Mundy
, the safety dove in front of a pass down the seam intended for
Anquan Boldin
for an interception. Conte flashed speed and aggression. But what's most important is Conte appears to have not lost any confidence after such a difficult 2013 season, and a horrid showing in the opener. Conte's stock is definitely up after his outing against the 49ers.
Draughn bombs:
Chicago started the game on its own 9 due to a holding penalty on the opening kickoff by
Shaun Draughn
. Then, when the team elected to punt on fourth down, it was Draughn, who
Aaron Lynch
blew past to tip
Pat O'Donnell
's punt, causing it to roll out of bounds at the Chicago 8. Three plays later,
Colin Kaepernick
hit Crabtree for an 8-yard touchdown. That took place just two minutes and 14 seconds into the game, and put the Bears in a hole.
This problem seems bigger than just Draughn though, as the front office basically gutted the corps of the special-teams unit. In the past, this team emphasized special teams and consistently fielded one of the league's best units. The team has since elected to go with younger, less-experienced players and we're starting to see the results.
Prior to the start of the season, a source said special-teams coordinator Joe DeCamillis would have to do the best coaching job of his career. Apparently, the source wasn't lying.
Game ball:
Brandon Marshall
overcame injury and a slow start to outmuscle San Francisco's aggressive defensive backs for three touchdown grabs. Marshall receives the game ball for the second consecutive week.
September, 14, 2014
Sep 14
11:16
PM ET
[+] Enlarge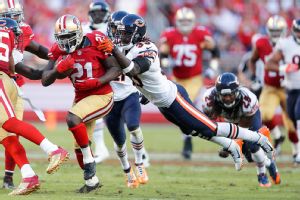 AP Photo/Marcio Jose SanchezCharles Tillman suffered a torn triceps muscle in the same right arm last November, and the setback resulted in the Bears placing the cornerback on the injured reserve with a designation to return.
SANTA CLARA, Calif. -- Chicago Bears cornerback Charles Tillman suffered a right triceps injury Sunday in a 28-20 win over the San Francisco 49ers, and didn't return.
Tillman suffered a torn triceps muscle in the same arm last November, and the setback resulted in the team placing the cornerback on the injured reserve with a designation to return.
Tillman sustained the injury in the third quarter, when he appeared to become tangled up with a 49ers player near the sideline. Immediately after the injury, head athletic trainer Chris Hanks and a team physician ran tests on Tillman, who appeared to be in considerable pain.
A 12-year veteran and two-time Pro Bowl selection, Tillman (152 career starts) ranks third in franchise history with 36 interceptions. Tillman leads the franchise in career interception return yardage (675), interception return touchdowns (eight) and defensive return touchdowns (nine).
Tillman leads the NFL with 42 forced fumbles since 2003. Tillman is also the only player since 2003 to record 40 forced fumbles and 30 interceptions.
September, 14, 2014
Sep 14
9:34
PM ET
Associated Press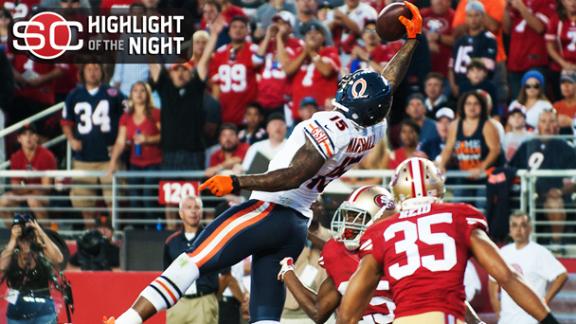 SANTA CLARA, Calif. -- Jay Cutler passed for three fourth-quarter touchdowns after much of Chicago's starting defense went down, and the Bears beat the San Francisco 49ers 28-20 Sunday night to spoil their Levi's Stadium debut.
Cutler threw three TD passes to Brandon Marshall, two in the wild fourth quarter, as Chicago erased a 13-point deficit and quieted the sellout crowd. Cutler threw for two scores in a 27-second span early in the final period, aided by the gutsy play of a backup cornerback.
Kyle Fuller made two late interceptions for the depleted Chicago secondary, and the first set up the go-ahead score.
San Francisco's Colin Kaepernick was hit with an unsportsmanlike conduct penalty for "inappropriate language" following Fuller's first big play. That gave the Bears first-and-goal on the 3, and Cutler threw a 3-yard TD pass to Martellus Bennett as the Bears went ahead 21-20.
Kaepernick threw three interceptions in all, lost a fumble and his cool, a far cry from his breakout start on the Monday night stage nearly two years ago in a rout of the Bears. Cutler sat out that night with a concussion.
A sloppy game filled with 26 penalties -- 16 by the Niners -- and a crazy collapse overshadowed the fanfare of the regular-season debut for the sparkling $1.2 billion stadium under the lights of prime time.
The Bears (1-1), in a stretch with six of eight games on the road, go home with some serious momentum despite injuries on both sides of the ball.
September, 14, 2014
Sep 14
7:27
PM ET
SANTA CLARA, Calif. -- The Chicago Bears announced receivers Brandon Marshall and Alshon Jeffery will play Sunday night against the San Francisco 49ers after the duo tested their respective injuries during pre-game warmups at Levi's Stadium.
The club officially listed them as questionable heading into the game.
The Bears held out Marshall from Friday's practice, as he's been hobbled with a sore right ankle. Jeffery participated in practice in a limited capacity on Friday, and took part in team drills. But Bears coach Marc Trestman said both players' potential availability would be game-time decisions.
During pre-game warmups, Marshall and Jeffery spent several minutes with strength and conditioning coordinator Mike Clark stretching and running routes to test whether they could handle the rigors of a live game. As the duo warmed up, Trestman huddled at the 5-yard line near the North end zone with head athletic trainer Chris Hanks, general manager Phil Emery, offensive coordinator Aaron Kromer, offensive quality control coach Carson Walch and quarterbacks coach Matt Cavanaugh to watch the receivers and presumably make a decision as to whether they'd play.
Marshall and Jeffery suffered their injuries during the second half of the club's season-opening loss to the Buffalo Bills. Marshall said on Thursday he planned to play, while Jeffery seemed a little more measured about his prospects.
September, 14, 2014
Sep 14
9:14
AM ET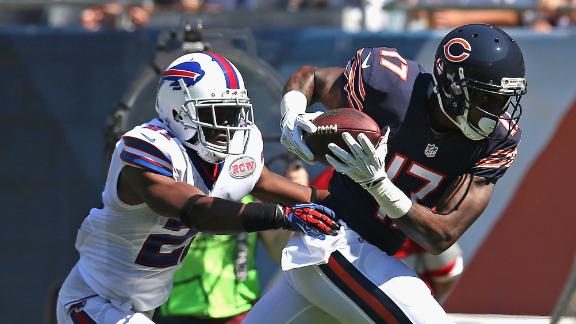 There are major questions about whether Chicago Bears starting wide receivers Brandon Marshall and Alshon Jeffery will play Sunday night against the San Francisco 49ers.
Both players were listed as questionable to play and one source said he was "75 percent" sure neither would play. In addition, receiver Josh Morgan is listed as doubtful on the injury report with a groin injury.
The Bears had just four receivers on their active roster before signing Josh Bellamy and Chris Williams off their practice squad Saturday. Veteran Santonio Holmes would start at one receiver spot if both Marshall and Jeffery are out. It is unclear who would fill the other spot if Morgan also is out Sunday, although the team spent extra time at Friday's practice working with Bellamy.
Marshall (ankle) and Jeffery (hamstring) were both injured in the Bears' Week 1 loss to the Buffalo Bills.
The Bears held out Marshall from Friday's practice, but he came out and participated during the walk-through portion. Jeffery practiced in a limited capacity and took part in some of the full team drills.
Information from ESPN.com Bears reporter Michael C. Wright was included in this report.