December, 21, 2014
Dec 21
8:30
PM ET
CHICAGO -- Here are five things we learned in the
Chicago Bears
'
20-14 loss
to the
Detroit Lions
:
1. Marc Trestman needs to be fired, immediately:
Trestman needs to be stripped of his control over the 46-man active game-day roster for the decision to keep
Jay Cutler
active on Sunday. Under no circumstances can the Bears expose Cutler to unnecessary injury in the final two weeks, even if the eventual offseason plan calls for the organization to keep Cutler in 2015. Cutler's season is finished. It's over. He has completely checked out. He's done with Trestman and offensive coordinator Aaron Kromer. Accept it, and move on. Let's say the Bears ultimately decide Cutler gives them the best shot to win next year. The last thing the organization wants is for Cutler to be pressed into relief duty versus Detroit or Minnesota, likely unprepared, and suffer an injury that affects his availability for the (presumably) new head coach's offseason program or, even worse, triggers the injury-protection clause in Cutler's contract. Most potential head-coaching candidates (save Mike Shanahan) will be leery of working with Cutler, even if he's healthy. A beat-up Cutler only makes the sales job that much harder for the Bears organization in coming months. Now, let's say the Bears plan to shop Cutler around to other teams. The very idea of Cutler serving as the No. 2 in two meaningless games, in that scenario, is pure madness. Let me repeat: pure madness. I understand Trestman wants to win another game. His credibility and reputation are under attack. But the future of the franchise is far more important. Whether Bears fans want to admit it or not, Cutler is an extremely important piece of the puzzle moving forward, trade or no trade. Subjecting him to further risk is foolish. Let Joe DeCamillis coach the season finale in Minnesota. Trestman is worried about his own interests, not the organization's. When that happens, it's time for change, even if one is already scheduled to occur Dec. 29.
2. Jimmy Clausen is a legitimate No. 2:
Clausen belongs in the NFL next year in a reserve role. Congratulations. Clausen played OK: 23-of-39 for 181 yards, two touchdowns and one interception. Some wondered if Clausen even deserved to be in the league. He does. Clausen clearly took his role seriously and put in the necessary work to learn the offense, without the benefit of practice snaps, over the past five or six months. Clausen might struggle next week versus a scrappy
Minnesota Vikings
team, but decent No. 2 quarterbacks are difficult to find. Clausen is decent. He should have no trouble finding work in the offseason, either in Chicago or someplace else.
3. Keep Jeremiah Ratliff:
Whatever defense the Bears run in 2015 needs to include Ratliff, who is under contract through next year. Ratliff is a leader. He also happens to be the best player on defense. Ratliff is intimidating. The veteran defensive tackle does an excellent job holding teammates accountable. The only issue is durability. The Bears need Ratliff to stay healthy for all 16 games next season, because if he does, Ratliff remains capable of playing at a Pro Bowl level. He might be the most underrated player on the team.
4. Suspend Dominic Raiola:
Raiola is a cheap-shot artist. Stomping on the back foot of a prone and unsuspecting
Ego Ferguson
was a pure amateur-hour move. Raiola has the reputation of a dirty player. He is not a first-time offender but tends to fly under the radar due to the highly publicized behavior of teammate
Ndamukong Suh
. Two games would be an appropriate punishment for Raiola. Force him to miss the first round of the playoffs. Ferguson said it best: "We all saw the play. You can't take back what happened with that play. I don't have to explain that." The NFL should act swiftly. A 14-year veteran ought to know better.
5. When did Detroit rehire Jim Schwartz?
The Lions got lucky Sunday. Detroit self-destructed on several instances and played undisciplined football. Lions fans were accustomed to that style of play under ex-head coach Jim Schwartz, but not Jim Caldwell. Detroit better clean it up. Otherwise their postseason run will be a brief one.
December, 21, 2014
Dec 21
8:08
PM ET
December, 21, 2014
Dec 21
7:40
PM ET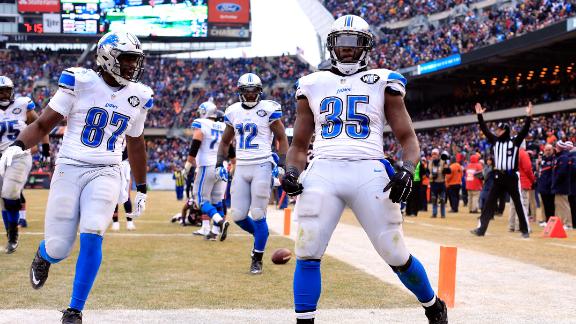 CHICAGO -- It was an almost-win for the history books.
For the first time since Oct. 5 -- a span of six losses by an average of 21.3 points -- the Chicago Bears lost by only single digits: 20-14 to the Detroit Lions on Sunday.
Pop the RC Cola reserve, McCaskey family. A six-point loss! They covered the spread!
Oh wait, this also tied for the fewest points the Bears have scored all season. Cancel the Jimmy Clausen statue dedication. But still -- close loss! Close loss!
In what could be a franchise-changing season, the Bears have lost 10 games, and only three were by single digits: a 23-20 loss to the Buffalo Bills in the season opener, a 31-24 loss to the Carolina Panthers and now, this game.
All three of those games were at home, so don't say the Bears don't appreciate their fans. Chicago went 2-6 at Soldier Field, the same as in 2004, which was Lovie Smith's first season as coach.
They can tie the 2004 team for the worst record in the past decade with a loss at the Minnesota Vikings next week, or they could win for the first time since Nov. 23.
Either way, this one will go down as one of the team's most disappointing seasons in the modern era. It might be No. 1.
"I've said this far too many times over the last few weeks," Bears coach Marc Trestman said. "We have a disappointed locker room in there."
At least there's only one game left in the season -- and likely in the Trestman era, as well.
Before this season, we had Brandon Marshall
December, 21, 2014
Dec 21
7:05
PM ET
CHICAGO -- The body-language police likely focused a critical eye on
Jay Cutler
during Chicago's
20-14 loss
Sunday to the
Detroit Lions
, but behind the scenes, the benched quarterback spent extra time at Halas Hall preparing
Jimmy Clausen
for his first start since his rookie season with the Carolina Panthers in 2010.
Cutler
"He was involved during the week in the meetings, actively and vocally involved," Bears coach Marc Trestman said of Cutler. "Today, he did what you would expect him to do. He was with Jimmy and [quarterbacks coach] Matt [Cavanaugh] between series and was part of the dialogue."
Clausen threw two touchdown passes and an interception, with a passer rating of 77.0. But with just two days of prep time, Clausen said Cutler and rookie
David Fales
stayed with him until nearly 9 p.m. those nights at the team's facilities.
When Clausen signed with the team in June, Cutler immediately took the backup quarterback under his wing.
"We only had two days to prepare for this game, so we stayed pretty much until 8:30 p.m. every single night, trying to watch as much tape as possible, get all the calls down," Clausen said. "Get everything down to make sure we were prepared for this game. But Jay was great. David Fales was great in helping me to go through all the calls, watching the film. Staying real late, they helped me out a lot."
December, 21, 2014
Dec 21
7:00
PM ET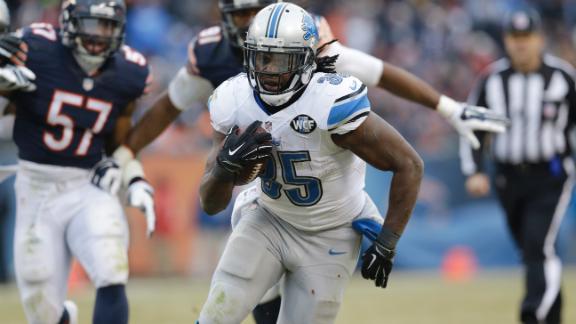 CHICAGO -- No brilliant aerial display or 100-plus passer rating for
Jimmy Clausen
. Not even a victory for that matter.
Yet when Chicago walked off the field 20-14 losers to the
Detroit Lions
on Sunday at Soldier Field, the feeling permeating the locker room and postgame press conference room wasn't one of despair with Clausen falling short in his first start since 2010 because the quarterback kept the Bears in it until the end.
"What do I think I did for myself?" Clausen asked. "I think I just went out there and competed. That's the biggest thing I think I did, and showed I can play in this league. It's not about me or anything about that. It's about winning football games. That's what we were trying to do today against a division opponent, and we came up short."
With
Jay Cutler
, the NFL's highest-paid offensive player backing him up, Clausen tossed two touchdown passes and absorbed a pair of sacks on the way to producing a passer rating of 77.0. Clausen passed for just 181 yards on the day against a Lions defense that entered the contest ranked No. 1 in the NFL in points allowed (17.0) and second in total yards (300.3-yard average)
[+] Enlarge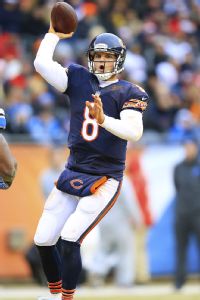 Jamie Squire/Getty ImagesJimmy Clausen avoided the types of game-changing mistakes that have plagued Jay Cutler all season.
So Marc Trestman probably didn't save his job by benching Cutler last week in favor of Clausen, because the new starter didn't exactly light up the Lions. But it's important to note the Bears attacked Detroit's vaunted defense with a scaled-back game plan due to Clausen's limited repetitions, while taking the field with a pair of rookie backups (
Ryan Groy
and
Michael Ola
) at the guard positions along an offensive line that gave up seven sacks just six days prior against New Orleans' 31st-ranked defense.
Trestman sought "a spark" when naming Clausen the starter, and received as much in Sunday's loss.
Against the playoff-bound Lions, the Bears led 14-10 to start the fourth quarter.
"I think that Jimmy, as the game went on, continued to get more comfortable," Trestman said. "We cut down the quantity of plays we had in the game plan. We matched it up against things we've seen Detroit do defensively, and tried to give them the things and packages he would need to get it done. We certainly had more than enough today to utilize that. He did a nice job during the week, not only during practice, but after practice with the guys, getting the reps and assignment checks he needed to see everything. I felt good about that going in today."
The coach also likely feels positive vibes about the way Clausen stayed within the confines of the scheme -- which is what Trestman wanted all along from the original starter -- without taking unnecessary risks and making the same game-changing mistakes that ultimately led to the decision to bench Cutler.
Trestman paused for nearly five seconds last week when asked whether general manager Phil Emery was on board with his decision to bench Cutler. That pause indicated the coach and general manager, who signed Cutler to a seven-year, $126.7 million deal last January, may not have seen eye to eye regarding that decision.
But if Clausen plays mistake-free football within Trestman's scheme and experiences success to close the season next week at Minnesota, perhaps it proves the coach's system works just fine, and that Cutler was the problem all along. Again, it's probably too late for Cutler's benching to save Trestman's job. But if Clausen closes on a positive note, it at least gives ownership pause when making decisions about the futures of Trestman, Cutler and even Emery, who has been steadfast in his support of the quarterback.
Down 20-14 with 2:30 left to play, Clausen hit
Marquess Wilson
for a 7-yard gain on first down. On second down, Clausen scrambled around right end, only to be rocked by
Ezekiel Ansah
, who was penalized 15 yards for unnecessary roughness after knocking off the quarterback's helmet.
Clausen popped up quickly, later admitting "my emotions are going 100 miles a minute at that time, I'm just fired up." But that sequence rubbed off on the rest of the team.
"I respect that," Bears defensive tackle
Jeremiah Ratliff
said.
"Oh yeah, he's a fiery guy, man," said center
Roberto Garza
. "He was in the game trying to make plays all through the game, and he was the reason we were in this game."
Not the reason the Bears were out of it, like they'd been so many times before with Cutler and his NFL-high 24 turnovers at the helm.
When the Bears fell 34-17 on Thanksgiving at Detroit, Cutler passed for 280 yards and two touchdowns, but he also tossed two interceptions, with the Lions converting one of the turnovers into a
Matt Prater
field goal.
Clausen threw an interception in the fourth quarter on a desperation shot on fourth-and-10 from the Chicago 45 with just 2:02 left to play.
Trestman declined to name Clausen the starter for the season-finale at Minnesota, but the quarterback whose record as a starter now stands at 1-10, hopes the brass gives him another shot.
It's not like the Bears have anything else to lose.
"I've never given up," Clausen said when asked if he thought he'd never receive another shot to start in the NFL. "You can never give up. The only thing you can ask for is another opportunity. That's what Coach Trestman gave me today, another opportunity. I just went out there and tried to compete to the best of my ability, make the plays when the plays were there."
December, 21, 2014
Dec 21
6:45
PM ET
Week 16 Report Card: Lions at Bears

C
Passing Offense
Quarterback Jimmy Clausen did OK replacing Jay Cutler, completing 23 of 39 throws for 181 yards, two touchdowns and one interception (77.0 passer rating). Drops hurt the Bears. Alshon Jeffery had a rough afternoon, catching only six of his game-high 15 targets for 72 yards and one touchdown. Clausen targeted tight end Martellus Bennett just three times. Clausen seemed in command of the offense, but the overall results (14 points) were unchanged.

D+
Rushing Offense
At least Chicago attempted to run, unlike in their first meeting with Detroit when Matt Forte carried the football a season-low five times. But yards proved tough to come by against the NFL's No. 1 rushing defense. Forte ran 19 times for 55 yards (2.9 yards per carry). Clausen scrambled three times for nine yards. The Bears missed the presence of right guard Kyle Long, who skipped the game because of a hip injury.

B
Passing Defense
Lions quarterback Matthew Stafford had a rotten afternoon. The Bears picked off Stafford twice (Brock Vereen and Ryan Mundy), and sacked the rival quarterback four times. All-world receiver Calvin Johnson caught six passes for 103 yards, but Johnson disappointed for stretches during the game. Cornerback Tim Jennings picked up a costly fourth-quarter pass interference penalty that set up the Lions' go-ahead touchdown. That proved to be a turning point.

D
Rushing Defense
Detroit tailback Joique Bell made several defenders miss on a 17-yard touchdown run that sealed Chicago's fate. Bell (13-74-1) and Reggie Bush (7-54-1) combined to rush for 128 yards on just 20 attempts. The numbers are particularly galling when you consider Detroit entered the game with the league's 30th-ranked rushing offense.

B
Special Teams
Detroit embarrassed themselves on special teams; botching a punt and allowing a field goal block. The Bears were actually decent. Punter Pat O'Donnell did struggle with six punts for 242 yards (40.3 average/36.7 net average), but Chicago avoided fatal errors on special teams.

C
Coaching
Give Marc Trestman credit for Clausen's preparedness on short notice. Trestman, Mel Tucker and Joe DeCamillis appeared to put together decent plans of attack for Week 16. But it's a result-based business. The Bears still only scored 14 points en route to dropping their 10th game of the season. They simply were not good enough to win.
December, 21, 2014
Dec 21
6:26
PM ET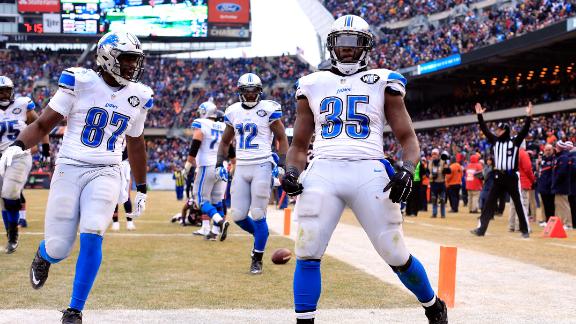 CHICAGO -- Detroit Lions center Dominic Raiola said his stepping on the leg of the Bears' Ego Ferguson was "not intentional" and that he did not see the defensive lineman on the ground.
Raiola was caught on tape stepping on Ferguson's ankle during the third quarter of Detroit's 20-14 victory.
"It was totally unintentional," Raiola said. "I remember I was stumbling out. I didn't see the end of it. I apologized at the end of the game, told him it was unintentional and we shook hands and that was it."
Raiola also said he explained what happened to Chicago offensive lineman Roberto Garza, one of his friends, and told Garza to tell Ferguson again that it was unintentional.
Raiola said he felt something when he stepped down on what ended up being Ferguson and that his ankle almost rolled on him when he ended up making contact with Ferguson's leg. Lions coach Jim Caldwell said he would need to see the tape of it, but "from what I understand, that was inadvertent. He apologized to the guy. They shook hands."
Ferguson ended up coming back into the game after initially having to leave the game. After the game, Ferguson had a different interpretation of what happened.
"Y'all saw the play," Ferguson said. "I don't have to explain that. You need to stay in between the [whistles]."
He also didn't want to get into what Raiola said to him after the game.
"None of that matters," Ferguson said. "We all saw the play. You can't take back what happened with that play. That's the end of that."
December, 21, 2014
Dec 21
5:30
PM ET
CHICAGO -- Observed and heard in the locker room after the
Chicago Bears
' 20-14
loss
to the
Detroit Lions
:
Martellus Bennett
Martellus Bennett
mentioned he didn't "think the passion is always there" for some players after his club's
loss on Dec. 15
to the
New Orleans Saints
, but after a defeat to the Lions on Sunday, the Bears tight end commended the effort of teammates.
"I felt guys brought it a little bit more today," Bennett said. "Overall, I think everybody's playing hard. Guys are playing hard until the end of the game. That's all you can ask for, your teammates to come out and give everything they've got, and try to do the most they can. I felt like all three phases, that's what guys were doing."
Dry-erase message:
With no postseason to play for, the message left on the team's dry-erase board in the locker room said, "Play for the guy next to you."
Strange scene:
The lockers of Bennett,
Jay Cutler
and
Jimmy Clausen
are all in a row, and in that order. Interestingly, a large crowd on one side gathered near Bennett's locker, while Clausen conducted a postgame interview with WBBM. In the middle, Cutler's locker sat empty, and there was no sign of the benched quarterback in the locker room after the game.
December, 21, 2014
Dec 21
4:28
PM ET
Associated Press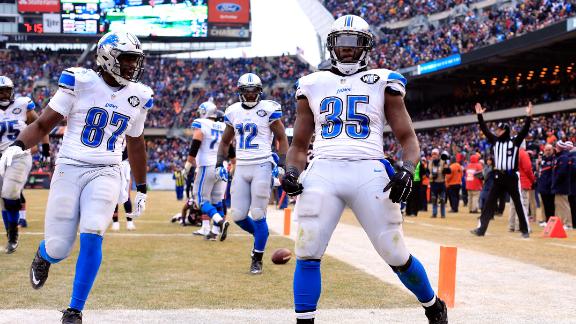 CHICAGO -- Joique Bell scored the go-ahead touchdown on a sweet run in the fourth quarter, Ndamukong Suh had two sacks and the playoff-bound Detroit Lions beat Jimmy Clausen and the Chicago Bears 20-14 on Sunday.
Calvin Johnson added six catches for 103 yards for Detroit (11-4), which came away with a narrow victory over a struggling team after locking up its second trip to the postseason in 15 years. The Bears benched quarterback Jay Cutler last week in favor of the undistinguished Clausen.
The Lions secured a playoff spot with Philadelphia's loss to Washington on Saturday. They were hoping to lock up their first division championship since 1993. But because the Packers beat Tampa Bay, the NFC North race will come down to next week's game at Green Bay.
Matthew Stafford overcame two interceptions and completed 22 of 39 passes for 243 yards. He hit the 4,000-yard mark for the fourth straight year, but it was hardly an easy afternoon for him.
---
Online: http://pro32.ap.org/poll and http://twitter.com/AP-NFL
December, 21, 2014
Dec 21
4:06
PM ET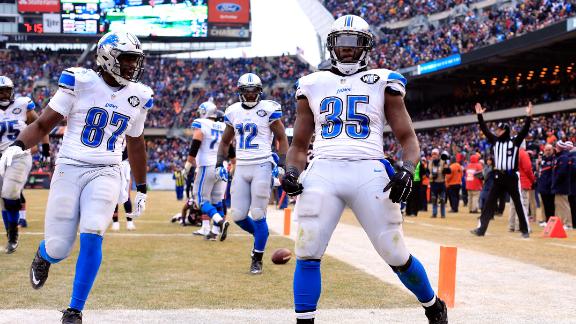 CHICAGO -- A few thoughts on the
Chicago Bears
'
20-14 loss
to the
Detroit Lions
at Soldier Field.
What it means:
Nothing tangible as this team has been out of postseason contention for quite some time, but at the very least,
Jimmy Clausen
's performance could give ownership pause regarding what seemed to be an inevitable conclusion (firing) for Bears coach Marc Trestman.
Trestman stirred controversy last week by benching
Jay Cutler
, the club's $126.7 million signal-caller, in favor of Clausen, a backup with a career record of 1-9 as a starter. Facing a playoff-bound Detroit squad which ranks No. 1 in the NFL in points allowed and No. 2 overall, without the services of both starting guards, Clausen may have proved that Cutler, not Trestman, was the offense's problem all along. Perhaps that viewpoint is too simplistic, but ownership definitely has to at least ponder Clausen's strong outing in determining the futures of general manager Phil Emery, Trestman, the rest of the coaching staff and Cutler.
Clausen probably didn't save Trestman's job. But given Clausen's limited prep time, the caliber of competition, and the fact that he faced the Lions without two starting interior protectors, ownership has to be feeling some buyer's remorse regarding Cutler, while questioning Emery's skills as an evaluator. After all, Emery has been steadfast in his support of Cutler, calling the benched starter a franchise quarterback on multiple occasions.
Stock Watch:
Chicago's offensive line gave up seven sacks in the team's loss to the
New Orleans Saints
' 31st-ranked defense, yet it kept Clausen relatively clean against Detroit's No. 2-ranked defense. The Bears lined up with their seventh combination of starters against the Saints, only to see that number climb to combination No. 8 against the Lions as
Kyle Long
was forced out of the lineup due to a hip injury. With
Ryan Groy
and
Michael Ola
filling in at the guard spots, the Bears limited Detroit's dominant front four to only one sack.
Attendance waning:
Undoubtedly Chicago's struggles on the field have manifested themselves at the ticket gate. The Chicago Bears announced 9,028 unused tickets for Sunday's game. During the team's 31-15 loss to the New Orleans Saints on "Monday Night Football," the Bears announced there were nearly 11,000 unused tickets.
Game ball:
Despite limited prep time, a scaled-back game plan and two backups in the starting lineup along the offensive line, Jimmy Clausen performed efficiently enough to keep the Bears in the game until the very end. Instead of taking unnecessary chances and turning the ball over the way Cutler did prior to his benching, Clausen stayed within the confines of the offense, and helped the Bears take a 14-10 lead into the fourth quarter. Clausen tossed one interception, but that came on a desperation pass on fourth down with less than two minutes remaining.
What's next:
The Bears take the next two days off before heading back to Halas Hall to kick off preparations for the season finale at Minnesota.
December, 21, 2014
Dec 21
3:13
PM ET
CHICAGO -- The Chicago Bears fear that defensive end Willie Young suffered a torn Achilles tendon Sunday against the Detroit Lions, a league source confirmed to ESPN NFL Insider Field Yates.
Chicago's athletic training staff carted off Young to the locker room early in the third quarter before later announcing he'd miss the remainder of the contest due to a left Achilles injury.
Young suffered the injury while rushing Lions quarterback Matthew Stafford. After the play, Young stayed down for several minutes and athletic trainers helped the defensive end off the field, before calling for a cart to take him to the locker room for further examination.
Minutes later, the team announced Young would miss the remainder of the game.
"He's got an Achilles. Obviously, it's an injury that's going to take some time and certainly he won't be ready to play this week," Bears coach Marc Trestman said after the game, a 20-14 Lions victory. "I'm not sure the details of it. I know he's got an Achilles issue, and he's going to be out this week. It's certainly going to take him out of this week's practice and game."
Young, a fifth-year veteran and former Lion, entered Sunday's game with a career-high 10 sacks, and played a key role in helping Chicago's defensive line generate four sacks in the first half.