November, 28, 2014
Nov 28
6:01
PM ET
Associated Press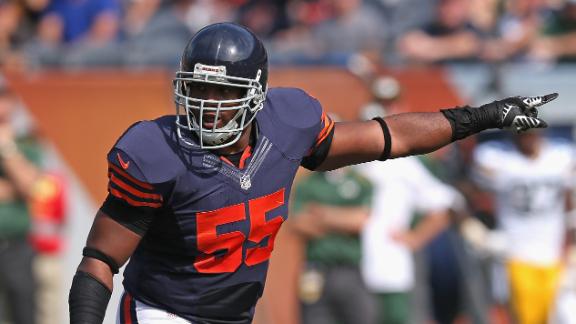 The Chicago Bears placed linebacker Lance Briggs on injured reserve Friday due to a groin injury, and it's likely the 2014 season was his last with the team.
A 12-year veteran, Briggs suffered a groin injury in the second quarter of the team's Nov. 23 win over the Tampa Bay Buccaneers, and the ailment kept the linebacker out of Thursday's loss to the Detroit Lions.
During the team's pregame show on WBBM, Bears general manager said Briggs would be "out for an extended period of time."
A seven-year Pro Bowler with a contract set to expire at the end of the season, Briggs, 34, isn't expecting the Bears to put an offer on the table prior to him hitting free agency.
"It's the last year of my deal. It's not like I'm going to magically show up after this year, and they're going to open the gates up for you," Briggs said Nov. 6. "I've talked to my buddy [former Bears defensive end] Alex Brown. Those gates are closing, you're a free agent. I know the reality of it, and I'm proud of all the years I've had here. It's been great."
Prior to sitting out Thursday's game, Briggs missed three other games this season due to a rib injury.
Briggs currently earns $4.75 million in base salary from a three-year extension he signed in 2012, but likely won't be able to command such a salary to return to the Bears in 2015. Briggs said "I don't know" when asked whether he thinks 2014 will be his last season in the NFL.
Besides, Briggs watched negotiations go awry with former Bears teammate Brian Urlacher, who wasn't re-signed prior to the 2013 season, and subsequently retired.
November, 28, 2014
Nov 28
1:30
PM ET
DETROIT -- This week,
Chicago Bears
defensive end
Willie Young
spent almost 20 minutes on a conference call with Detroit reporters, cracking jokes, answering questions about his time with the Lions, and generally enjoying himself.
Young
See, Thanksgiving Day was his first trip back to Detroit as an opponent instead of a Lions player, and though this happens a decent amount in the NFL, there was still some excitement from the fifth-year pro out of North Carolina State.
Detroit beat Chicago, 34-17, and after, Young still enjoyed the experience as he scooped out a helping of a postgame Thanksgiving meal set up for Bears' players to grab before heading to their bus.
"Fun, man," Young said. "A lot of adrenaline. It took me like a quarter to kind of settle down. Just amped up, man. Hyped, man.
"But it was fun. It was fun. We'll see these guys again."
Young played 64 of 73 snaps against his former team -- second-most of any Chicago defensive lineman behind
Jared Allen
, who played every snap -- but was fairly quiet. He defended one pass and hurried Detroit quarterback
Matthew Stafford
once.
He did sack Stafford once, too, but it was wiped off the board by a roughing-the-passer penalty on Young.
The Lions had some fun with Young, too. Before the start of some possessions, Young, Allen and
Dominic Raiola
would have chats while waiting for the game to start up again. And after
Andre Fluellen
-- who is close with Young -- sacked Chicago quarterback
Jay Cutler
, he imitated Young's fishing reel sack dance and then looked to the Chicago bench.
November, 28, 2014
Nov 28
10:30
AM ET
Hopefully, your Thanksgiving turkey went down smoother than the
Chicago Bears
' 34-17 loss Thursday to the
Detroit Lions
.
Let's take a quick spin around the Chicago Bears beat:
-- ESPNChicago.com's Jon Greenberg captures a
scene
of disappointment in the locker room after Chicago's loss to the Detroit Lions. The Bears simply aren't receiving return on their investment on the offensive side of the ball.
Greenberg writes: The future is going to be a hot debate over the next month, as the 5-7 Bears face three playoff contenders at home, including the Lions again, before finishing the season in what should be a frigid, unwatchable game at Minnesota.

Changes will be made for 2015, that's for sure. What they will be might depend on how the team comes down the stretch.

But the present is clear: The highly touted individual talent on offense doesn't equal team success. It sure doesn't add up to points. The Bears are averaging 21 points per game. That's truly embarrassing, considering the money allocated to that side of the ball and the hire of Marc Trestman.

"The talent we have on the team, we're definitely underachieving right now," Matt Forte said. "Some guys got to do some soul-searching for the rest of the season to plan on how they're going to play the rest of these games."
-- ESPNChicago.com's Jeff Dickerson runs down the
five things we learned
in Chicago's loss to the Lions.
--Matt Forte wasn't happy about his
role in the offense
, and understandably so considering he carried just five times in the loss to the Lions.
-- Brad Biggs of the Chicago Tribune takes a look at the team's continued
ineptitude
on offense.
Biggs writes: That gets us back to what has troubled the Bears most all season. Sure, Matthew Stafford sliced apart the secondary for 390 yards — 146 to Calvin Johnson — and the Lions rolled up 474 yards of offense but the most confounding and problematic aspect of the Bears remains rooted on the offensive side.

The Bears were supposed to win games with offense, not defense. Before you say the defense isn't keeping them in games, realize blowout losses have been just as much the result of offensive incompetence.
-- Rick Morrissey of the Chicago Sun-Times might be on to something
here
.
Morrissey writes: A fiction has risen up around the Bears. It says they are too talented to be flailing the way they have flailed most of this season. Subscribing to that fiction allows you to believe they should be better than they are. And once you believe that, you're free to think they're not that far from being competitive.

So why make changes, the thinking goes. Stay the course. Trust me, the Bears will, heading nowhere.

There's no point anymore in calling for heads that aren't going to roll. Not Phil Emery's. Not Marc Trestman's. Not Jay Cutler's. The Bears have anesthetized everyone into surrender. Their fans might as well sleep the sleep of the dead, like their team. Ownership is not going to make significant changes.
November, 27, 2014
Nov 27
8:50
PM ET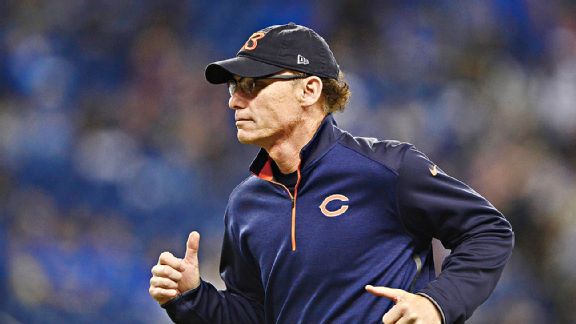 Andrew Weber/USA TODAY SportsThe creativity seems to have disappeared from Marc Trestman's play calling.
DETROIT – Here are five things we learned in the
Chicago Bears
' 34-17 loss to the
Detroit Lions
on Thursday:
1. Playing for pride:
What's left? The Bears now sit 1-3 in the NFC North, three full games behind Detroit and 3½ behind Green Bay (the Packers play the
New England Patriots
on Sunday). This is not a playoff team. The organization's eye must be toward the future, but the present is equally important. Think about it. The new regime has watched the whole operation slide from 10-6 (Lovie Smith's final season), to 8-8, to whatever record the team manages to salvage over the next month. Coach Marc Trestman needs to win games. General manager Phil Emery needs to win games. Quarterback
Jay Cutler
needs to win games. This is worst-case-scenario stuff. The Bears need to build for 2015, but they remain stuck in 2014. They're trapped. I used to call it "the march to 8-8." Will they even get to eight wins? Can it get worse?
2. Screen-pass fatigue:
Cutler completed 31 of 48 pass attempts for 280 yards. Lions quarterback
Matthew Stafford
completed 34 of 45 throws for 390 yards. Don't get me wrong,
Matt Forte
is a great receiver out of the backfield -- probably the best in the NFL -- but why can't the Bears, with
Brandon Marshall
and
Alshon Jeffery
, stretch the field in the vertical passing game? Marshall and Jeffery aren't blessed with blazing speed. However, they are big targets with long arms. Find me a 6-foot-5 defensive back. They barely exist. The Bears should win that matchup down the field almost every time. Because the Bears prefer to keep it simple, teams figure out the offense. After a sluggish start, the Lions defense began to sit on the Bears' underneath routes. Get creative. Of course, the Bears need to actually run the ball for play-action to work. Five carries for Forte. Five! Forte said the offense is "underachieving." He's spot-on. It starts at the very top. The Bears don't seem to make any in-game adjustments. It's a mess.
3. Marshall in a funk:
Marshall caught six passes for 42 yards. He's on pace for 77 receptions. Marshall is talented enough to catch 100 balls in his sleep. What are the Bears going to do here? They just awarded Marshall a contract extension. He is supposed to be a cornerstone of the franchise. Instead, he appears almost disinterested at times. Marshall is clearly frustrated. He is having a bad year, by his lofty standards. How will he react when Jeffery receives a lucrative extension in the offseason? This is another major issue the Bears will need to address. Marshall is a star. Why is he not playing like one? Is his ankle that badly injured?
4. Trial by fire for Fuller:
Give rookie cornerback
Kyle Fuller
credit for playing hurt (knee) on a short week. He has shown the ability to push through pain. The first-round pick is tough. One hopes Fuller becomes a better player because of what happened Thursday, when future Hall of Famer
Calvin Johnson
torched him and the rest of the Bears' secondary for 11 receptions, 146 yards and two touchdowns. Fuller matched up against the best -- and lost. He should benefit from the experience.
5. Time to invest at safety:
As with the majority of the NFL, the Bears do not value the safety position above other spots on the roster. Cornerbacks are paid the big dollars, not safeties. Maybe the Bears need to be trailblazers and change that culture of thinking. Almost every year, the Bears seem to have a need at safety. This offseason will be no different.
Ryan Mundy
is a nice player. In my opinion, the Bears still need to find a home-run hitter.
Chris Conte
has battled through adversity, but he's having a difficult time staying on the field.
Brock Vereen
doesn't strike me as a future Pro Bowler, although it would be unfair to write off such a young player with such a professional attitude. I like Fuller on the 53-man roster. I'd like somebody else to be the starting free safety in 2015. Spend some money, or use a high draft pick to address the position. Otherwise, we will probably be having this same conversation next November.
November, 27, 2014
Nov 27
8:25
PM ET
Week 13 Report Card: Bears at Lions

C
Passing Offense
Jay Cutler completed 31 passes for only 280 yards. Almost everything was underneath. Alshon Jeffery did catch two touchdown passes, but only tight end Martellus Bennett had more than 71 receiving yards (he finished with 109). Cutler tossed two interceptions. The Bears seem to be lacking creativity in the passing attack.

F
Rushing Offense
Matt Forte carried the ball five times for six yards. What a joke. The Bears' unwillingness to run the ball is baffling. Forte is one of the best tailbacks in the league -- call some run plays and stick with them at the line of scrimmage. What a waste of Forte's talents.

D
Passing Defense
Calvin Johnson torched the secondary for 11 catches for 146 yards and two touchdowns. Johnson is a monster -- and rookie Kyle Fuller had little chance to slow him down. Golden Tate had eight grabs for 89 yards. Lions quarterback Matthew Stafford had a big day, going 34-of-45 for 390 yards and two touchdowns.

C
Rushing Defense
The Bears started strong against the run, but Detroit tailback Joique Bell managed to rush for 91 yards and two touchdowns on 23 carries. The Lions had one of the NFL's worst running attacks coming into Thanksgiving.

A
Special Teams
The Bears did a great all-around job on special teams. No complaints.

D
Coaching
The Bears haven't looked impressive in more than a month, despite wins versus Minnesota and Tampa Bay. The organization is underachieving. It starts with the coaching staff. Poor job. And I still can't figure out the play calling on offense.
November, 27, 2014
Nov 27
7:50
PM ET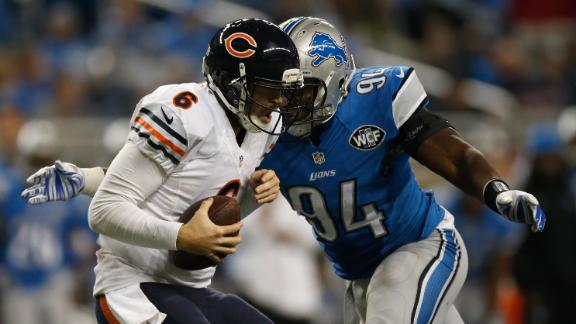 DETROIT -- Strong outings by Chicago's defense in wins against Minnesota and Tampa Bay conjured the illusion it might be headed toward respectability.
But what the
Chicago Bears
really proved Thursday in a
34-17 loss
to the
Detroit Lions
is they are closer to the group that gave up 50 points in back-to-back weeks at New England and Green Bay than the one that forced four turnovers last week in a triumph against the Buccaneers.
"It was extremely disappointing today, and I don't put it on the defense," Bears coach Marc Trestman said. "We lose as a team here. We had opportunities here offensively to move the football, to keep drives alive, to keep the defense off the field. We just didn't play well offensively, [and] we didn't play well enough defensively to win this game."
[+] Enlarge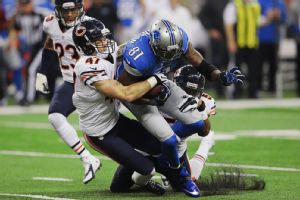 AP Photo/Duane BurlesonThe Bears lost Chris Conte, 47, in the first half, and Detroit and Calvin Johnson, 81, took advantage, outscoring Chicago 21-0 in the second quarter.
Since Week 4 of the 2013 season (a game the Bears lost 40-32 at Detroit), Chicago's defense has allowed an NFL-high 34.2 points per game in road contests. This season, the Bears have surrendered 31 points or more in four out of five outings.
Prior to reeling off 474 yards of total offense, including 390 through the air, the Detroit Lions hadn't scored a touchdown since Nov.9.
"They were going to score eventually," defensive end
Jared Allen
said, laughing. "You think they're going to keep
Calvin Johnson
out of the end zone? Look at the first half [of the season]. They were going through a slump, then they came out. I didn't want it to be on us. I felt like that first quarter, I felt we had a bead on them. You've got to play a full game, and we didn't do that today. Defensively, we'll take the credit for this loss. It's unrealistic thinking you'll keep somebody out of the end zone for the entirety of the game."
The Bears stormed to a 14-3 lead in the first quarter with Allen scooping up a loose ball after his a strip-sack on
Matthew Stafford
with 4:26 left in the quarter that set up
Jay Cutler
's 6-yard scoring strike to
Alshon Jeffery
.
Despite the Lions holding the ball for more than nine minutes in the quarter, Chicago stuffed the run and held them to 0-for-2 on third-down conversions.
But in the second quarter, the Lions adjusted and Chicago's defensive floodgates opened up as the home team reeled off 21 unanswered in the second quarter. Similar to how Chicago's offense attacked Detroit early in the game, the Lions moved to a quicker, more rhythmic passing game that put the Bears on their heels.
Free safety
Chris Conte
left the game with an eye injury in the second quarter, which only worsened matters as Johnson caught two touchdown passes just before intermission. Rookie
Brock Vereen
filled in for the injured Conte and the Lions took advantage.
The Bears also made the mistake of leaving rookie
Kyle Fuller
, who missed practice all week because of a knee injury, in single coverage against Johnson, who finished the game with 146 yards and two touchdowns on 11 catches.
"I was pretty excited," Stafford said of Chicago's decision to play Johnson one-on-one. "We had an aggressive game plan when it came to that. They had shown it on tape that they were going to do it. They were successful against Tampa doing it, rushing with five guys and getting after the quarterback. Our guys up front did a heck of a job, and every time we dropped back to throw, it seemed like good things were happening, so we continued to do that."
Johnson wasn't the only Lion doing damage.
Golden Tate
caught eight of the 10 passes thrown his way for 89 yards, and
Joique Bell
rushed for 91 yards and two touchdowns.
Chicago has given up 140 points in its past three road games; outscored 31-7 in the second quarter in New England, 28-0 in the second quarter against Green Bay, and 21-0 Thursday against the Lions.
"We've still got to take it one day at a time. In this league, it's week to week. Once you get into the game, your record is out the window," safety
Ryan Mundy
said. "You look at the Lions, they didn't score an offensive touchdown the last few games and they lost their last two games. But that's a hill of beans when it comes to this game, because this is a new game."
So what's next for Chicago's embattled defense? Defensive end
Willie Young
said quitting isn't an option, nor is showing frustration.
"It's about figuring out how to come back next week and beat Dallas," Young said. "I can't speak offensively, but defensively we've got to make corrections. If we were to throw it in the tank, then next week, Dallas will do the same thing that Detroit just did to us. I can look at these guys' eyes and know they feel the same way. We're never down. We could've easily given up late in the game. We could've laid down. But we'd never do that; too much pride on the defensive side of the ball."
November, 27, 2014
Nov 27
7:26
PM ET
DETROIT -- There were times this week when
Detroit Lions
wide receiver
Corey Fuller
wasn't sure if his brother, Kyle, would play for the
Chicago Bears
.
Kyle Fuller
, a cornerback, had been injured Sunday against Tampa Bay, and it seemed like there was a good chance that the first on-field meeting of the Fullers might not happen on Thursday. But Kyle ended up active, and the Fuller brothers lined up across from each other for a few plays.
Fuller
They were lined up opposite one another during
Calvin Johnson
's first touchdown reception in the Lions' 34-17 win over Chicago, but they also went against each other for a few plays at the end of the game.
And when they did, Corey did exactly what he said he was going to. He laughed.
"It was a lot of fun," Corey said.
Corey said Kyle was talking, trying to get quarterback
Matthew Stafford
to throw at him toward the end of the game for a real Fuller vs. Fuller moment. That didn't happen, but it still became a nice moment for a family that had custom jerseys made for the occasion and planned on spending Thanksgiving dinner at Corey's place in Michigan on Thursday night -- Kyle included.
Corey, who talks trash with his brother often, got his teammates involved as well. Johnson, who was Fuller's assignment a good portion of the game, had 11 catches for 146 yards. After the game, Johnson was asked if Corey had asked Johnson to apologize to his brother for having a big game on him.
Nah, Johnson said, Corey told him to keep going at him. Johnson did -- but Corey was still impressed what he saw from his brother.
"I did," Corey said. "I told him to pour it on him. You know, for Kyle to travel and cover Calvin Johnson, that's big. That says a lot for a rookie.
"So he can only get better. So he had a great year. I actually think he did a pretty good job today. He was just covering Megatron, and he didn't get the name Megatron for nothing."
November, 27, 2014
Nov 27
6:10
PM ET
DETROIT --
Matt Forte
almost made it out, but once again, his path was blocked.
As reporters huddled at different lockers trying to make sense out of a desultory
34-17 loss
to the
Detroit Lions
, Forte put on his sports coat and grabbed a camouflage rolling bag and headed toward the door.
But one reporter stopped him, and then the rest piled on, and Forte had to talk about a game in which he had little impact aside from a nifty 22-yard screen catch-and-run on the first drive of the game, which just happened to be the only good one of the game.
[+] Enlarge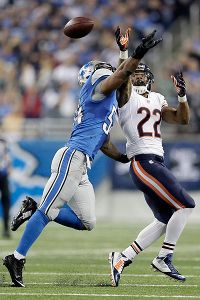 AP Photo/Duane BurlesonIt was a tough day for Chicago's Matt Forte, who had with five carries for six yards in Detroit.
Forte finished with five carries, which tied a career low, for six yards. He also caught six passes for 52 yards.
Was it too tough to run the ball against the Lions' front four?
"I don't know," Forte said. "Because we didn't run it."
The Lions came in with the No. 1 rushing defense, allowing 70.7 yards per game, so the Bears knew it wasn't going to be a ground-and-pound game. But five carries for Forte puts a lot of pressure on the quarterback,
Jay Cutler
, who now has 20 turnovers for the season.
"It's hard," Cutler said. "You know, I think we went into the game thinking some of these shorter passes would be an extension of our run game, some longer handoffs. It worked early on, and then we had to try and push the ball down the field a little bit."
He's right, though it seemed like the screen passes stopped working before the Bears got behind by double digits.
"That's what defenses do, they adjust," Forte said.
As it often happens, coach Marc Trestman sent in run-pass options, but the Bears scuttled run calls at the line. That's normal.
"Forte only had five runs, but we probably called 15 for him," left tackle
Jermon Bushrod
said. "When we got up there to run these plays, it wasn't a correct look or we had too many people in the box or they dropped a safety or they did this. It's a lot that goes into these plays that we run. If it doesn't look good to the quarterback, we've got to go out to the edge."
Forte said he didn't know exactly how many runs were called, but said they shifted some to "smoke throws," screens to
Brandon Marshall
and
Alshon Jeffery
.
"Brandon and Alshon did a good job on that, scored on one of them," he said.
That would be Jeffery's first of two touchdowns in the first quarter, a screen he took 10 yards for the score.
After 12 games, Forte leads the Bears in rushing attempts and yards (201 for 828), and catches (78 for 650). His eight total touchdowns ties him with Marshall for the team lead.
Though running backs always lose carries when a team is behind, when your best player becomes a forgotten man in a must-win game, it's a sure sign of fundamental problems on a fundamentally poor football team.
"The talent we have on the team, we're definitely underachieving right now," Forte said. "Some guys got to do some soul-searching for the rest of the season to plan on how they're going to play the rest of these games."
As for the offense, which continues to disappoint, Forte said he didn't have the time to explain.
"I could stand here all day and talk about it," he said. "I'm not going to point the finger or nothing like that. There's a thousand things you can talk about, penalties, all kind of stuff, shooting ourselves in the foot a lot of times."
With four games remaining, it's obvious all the talk about the potential of the Bears' high-powered offense was just that, talk. The Bears are averaging just 21 points per game.
"We've talked about it all year long," Forte said. "We got a lot of talent, but talent only gets you so far. You can look at it like that, you can have the most talent in the world, but if you don't put it to work out there, you ain't going to do anything with it."
November, 27, 2014
Nov 27
5:43
PM ET
November, 27, 2014
Nov 27
5:32
PM ET
By
ESPN Stats & Information
AP Photo/Rick OsentoskiCalvin Johnson lived up to his Megatron nickname against the Bears
The
Lions
spotted the
Bears
an 11-point first quarter lead, but outscored Chicago 31-3 from the second quarter on to win 34-17. It's a familiar story for the Lions, who have three double-digit comebacks this season, tied for the most in the NFL.
The win gives the Lions back-to-back wins on Thanksgiving for the first time since winning four straight from 1997-2000. The Lions are now 8-4 for the first time since 2000.
For the Lions, this game represented a return to form for the
Matthew Stafford
-to-
Calvin Johnson
connection. Meanwhile, for the Bears, it was more of the same away from Soldier Field.
Megatron is Back
After combining for 117 yards the last two weeks, Johnson tallied 146 yards and two touchdowns on a season-high 11 receptions.
The performance gives Johnson 10,052 career receiving yards. He became the fastest player in NFL history to reach 10,000 career receiving yards (115 games), passing Torry Holt, who accomplished the feat in 116 games.
Johnson was a weapon for Stafford against the blitz. Stafford, who had a season-high 390 passing yards, completed 14 passes for 200 yards against the blitz, both career highs. Ten of those completions went to Johnson for 137 yards and both touchdowns.
The Stafford-to-Johnson connection had struggled in the previous three weeks. Stafford completed just 43 percent of his passes when targeting Johnson since the star receiver returned from an ankle injury. Thursday, Johnson was targeted a season-high 16 times and he caught 69 percent of those targets.
What went wrong for the Bears
The Bears started off strong, leading 14-3 after the first quarter. It was the first time the Bears had scored in the first quarter since week five. However, it all fell apart in the second quarter when they were outscored 21-0.
Chicago's defense continued its road struggles. In the Bears last three road games, they allowed a combined 140 points (46.7 points per game), including being outscored 80-7 in the second quarter.
The 10-point halftime deficit led to the Bears abandoning their run game. The Bears attempted just one rushing play in the second half and finished with 13 rushing yards. That ties the fewest rushing yards by a Bears team since the 1970 merger.
Without a running game, the Bears' offense failed to make big plays.
Jay Cutler
attempted a career-high 13 screen passes, while he completed three of 12 passes at least 11 yards down the field. The approach put the Bears in five third downs of at least 18 yards, the most by any team in the last two seasons.
November, 27, 2014
Nov 27
5:18
PM ET
DETROIT -- Observed and heard in the locker room after Chicago's
34-17 loss
to Detroit at Ford Field:
Young
Inconsistency on defense played a major role in the Bears' loss to the
Detroit Lions
, and despite the club's 5-7 record, the players in the locker room seemed even-keeled, but that's a product of professionalism according to defensive end
Willie Young
.
"No frustration, no frustration," Young said. "I'm not frustrated one bit. You have to be a professional. If you get frustrated, to me that's like being a wimp."
Quick conversation:
Cornerback
Tim Jennings
and defensive end
Jared Allen
stood in one corner of the locker room discussing different aspects of the game. The conversation wasn't animated, and it appeared the two were talking strategy.
Marshall cuts it short:
Receiver
Brandon Marshall
spent less than two minutes addressing the media at his locker in the aftermath of the game, and the tenor of his remarks were of extreme disappointment as opposed to anger. Marshall caught six passes for 42 yards.
November, 27, 2014
Nov 27
4:21
PM ET