October, 30, 2014
Oct 30
9:00
AM ET
It's understandable if Chicago fans caught a case of Gronk envy Sunday when watching
Rob Gronkowski
put on a pass-catching clinic during New England's 51-23 stomping of the Bears.
It's probably unavoidable since Chicago's roster features a player in
Martellus Bennett
with similar physical attributes to Gronkowski, which is why Bears coach Marc Trestman needs to find fresher ways to feature the tight end more prominently when he breaks down the tape during the bye week to evaluate the first eight games of the season, while devising a plan of attack for the team's final eight outings.
Brandon Marshall
would like to see more of Bennett as well as running back
Matt Forte
.
"Martellus Bennett's a beast," Marshall said Monday during "The Brandon Marshall Show" on ESPN 1000. "I don't know if you guys have been noticing this kid, but this kid is maturing right before our eyes. This guy is really a beast. I would give it to those two guys, man, and let those guys carry the weight."
Would Marshall be happy with a Bears attack emphasizing more Bennett and Forte?
"Absolutely not," Marshall joked. "But it's all about winning. You can have all the catches you want, but if you're not winning, you're probably going to be a sad guy if you really care about the game."
Bennett led the Bears with six catches for 95 yards and a touchdown in the team's loss Sunday at New England. The game marked the first time Bennett caught more than five balls in a game since the club's Sept. 28 loss to the
Green Bay Packers
, a game in which the tight end hauled in a season-high nine passes for 134 yards.
Bennett scored four touchdowns and caught 20 passes over the first three games of the season, but has scored just one touchdown over the last five weeks.
Bears general manager Phil Emery on Monday discussed the need for the team to put "our best players in better matchup situations." By not featuring Bennett more, the club isn't doing that, as the tight end is a matchup nightmare for linebackers and safeties.
"We've got to do a better job with our matchups," Trestman said, "finding the right matchups, offensively, in terms of getting all of our players the opportunity to get the football in the manner that we would want them to."
October, 29, 2014
Oct 29
5:40
PM ET
IRVING, Texas -- Cowboys defensive tackle
Henry Melton
enters Sunday's game against Arizona coming off one of his best games of the season.
Melton had two sacks, three tackles for loss and was credited with two quarterback hurries in Monday's overtime loss to Washington. Melton, who plays defensive tackle, was moved to defensive end on several plays against the Redskins to create some mismatches.
Melton
"It felt pretty good and I was moving around a little bit to trying to give me better looks and I was in position to make some plays," Melton said. "It felt good. It was something we looked at and said we were going to try and do in the game. I did it in practice a little bit and it transferred a little bit to the game."
This isn't the first time Melton was moved to end during a game. When Melton played for the
Chicago Bears
, then-defensive coordinator Rod Marinelli, moved him around the defensive line to maximize his potential.
Melton was signed to become a starter at defensive tackle, but he's coming off the bench behind
Tyrone Crawford
. Melton was coming along slowly after his recovery from a torn ACL yet he's generating more pressures the past few weeks.
In addition to his two sacks, the first multi-sack game since the 2012 season opener, Melton has five quarterback pressures the last three weeks. If his health continues to improve the Cowboys expect him to have a bigger impact.
"It's an ongoing process," Melton said. "We'll see keeping my reps up and still working through it week-to-week. It felt pretty good."
October, 28, 2014
Oct 28
11:00
AM ET
A weekly look at what the
Chicago Bears
must fix:
Bears coach Marc Trestman discussed the need to find some balance offensively. In its
loss to New England
, Chicago called runs on five consecutive plays to start the game, but finished the contest with 25 runs and 35 passes because the Patriots built a 38-7 halftime lead, which forced the Bears to abandon the run. Moving forward, look for the Bears to work harder to establish
Matt Forte
and the run game, which will enable them to keep opponents off balance in third-and-short situations. Trestman also said the Bears plan to study ways to put their players in more advantageous matchups against opponents.
The Bears are on a bye this week, but they should be able to focus on the run on Nov. 9 in Green Bay as the Packers are allowing a league-worst 153.5 rushing yards per game.
One way the Bears can achieve balance is to utilize the pass-catchers on the team not named
Brandon Marshall
or
Alshon Jeffery
. Against the Patriots, Cutler completed 3 of 9 passes for 35 yards and his lone interception while targeting Marshall, while hitting 17 of 21 passes for 192 yards and three touchdowns throwing to the club's other targets. Cutler threw to Marshall and Jeffery 18 times, while targeting the other receivers a total of 17 times. What's the use in lining up in multiple-receiver sets if the opponent knows the quarterback will look only at Marshall and Jeffery?
October, 28, 2014
Oct 28
9:00
AM ET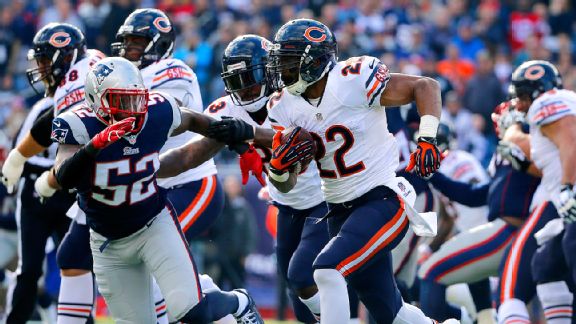 AP Photo/Elise AmendolaMatt Forte is an undeniable threat rushing and receiving. Will he get more touches going forward?
RISING
Forte

1. Matt Forte:
Forte touched the ball 25 times Sunday (19 carries for 114 yards, six receptions for 54) for 168 all-purpose yards, and scored the
Chicago Bears
' only non-garbage-time touchdown on a 25-yard catch in the second quarter. To label Forte as one of the lone bright spots in the humiliating 51-23 defeat at New England is an understatement. Forte has been the Bears' best offensive player in the season's first half, period. The versatile tailback leads the team with 58 receptions, 562 rushing yards and six touchdowns. Forte has already topped 1,000 yards from scrimmage (1,052) and, with 490 receiving yards, is on pace to better the career high of 594 he set last season. He is the key to a second-half comeback, if one is possible. Give Forte to ball 30 times per game over the final eight weeks. Why not?
Bennett
2. Martellus Bennett:
Bennett's 20-yard touchdown reception in Sunday's third quarter is highlight-reel material. Seriously, it's a candidate for catch of the year, although it occurred when the Bears trailed 45-7. Bennett is an interesting guy to cover. He often comes across as petulant and immature, but his on-field talent is undeniable. It takes an army to tackle Bennett in the open field. He is tied for the Bears lead with five touchdown receptions and is second in receptions (47) and receiving yards (517). This will be the most productive season in Bennett's seven-year NFL career, barring injury.
3. Kyle Fuller:
Fuller never returned after leaving the game in the opening half, but at least he tried to gut it out. The rookie cornerback was active despite a broken right hand and a painful hip-pointer injury. That says a lot about Fuller's willingness to sacrifice for the greater good.
4. Rob Gronkowski's dehydration:
The Bears owe a debt of gratitude to whomever is responsible for the lack of fluids for Gronkowski (nine catches for 149 yards and three touchdowns). The Patriots probably score 70 points if the star tight end stays in the game.
FALLING

Trestman

1. Marc Trestman:
Trestman acts professionally at all times. Some of his players, however, need to take a cue from the head coach. The Bears are inconsistent, undisciplined and occasionally downright petty. Instead of being so worried about fan behavior and media stories, how about the players focus on winning some football games? Trestman and the rest of his coaching staff work long hours. The Bears are not 3-5 due to a lack of effort. Trestman is always focused on the task at hand, sometimes to a fault. So where is the disconnect? The whole situation is troubling. The head coach needs a better handle on the locker room. My unsolicited advice is for Trestman to lean on some the true professionals on the roster --
Jermon Bushrod
,
Roberto Garza
,
Jared Allen
,
Willie Young
,
Ryan Mundy
,
Robbie Gould
, etc. -- to figure out how to sharpen the club's focus. The Bears have eight games to get it right. How many more will Trestman have after this season if the Bears once again fail to reach the postseason? It's a fair question to ask in the cruel NFL landscape.
2. The entire defense:
What a complete abomination the defense was on Sunday.
Tom Brady
completed 30 of 35 passes for 354 yards and five touchdowns (zero interceptions) without being sacked a single time. Zero sacks and zero turnovers when it mattered. New England had 22 first downs and 298 total net yards in the first half alone. Gronkowski is
still
wide open. Not exactly sure I buy the theory that the Bears had "tight coverage" on Gronkowski and
Brandon LaFell
. It certainly looked as if multiple Patriots receivers were given free releases off the line of scrimmage for much of the game. We knew going into Sunday that the Bears' defense was overmatched. However, we all expected the unit to offer up more resistance, no?
3. Lamarr Houston:
Come on, dude. Seriously?
4. Brandon Marshall:
Marshall (10 targets, three catches for 35 yards in Week 8) is on pace for 68 catches for 768 yards. What is going on here? Marshall and
Jay Cutler
need to get on the same page, pronto.
October, 27, 2014
Oct 27
5:15
PM ET
LAKE FOREST, Ill. --
Chicago Bears
general manager Phil Emery responded on Monday to Brian Urlacher's refusal to label
Jay Cutler
as an elite quarterback by saying Urlacher enjoyed a mutually beneficial on-field relationship with Cutler for better parts of five seasons.
"No, it didn't bother me. Everybody is entitled to their thoughts and opinions," Emery said. "It did hit a research project for me, so I went back and looked at their time together on the field at the same time starting the game healthy, they played 38 games together and during those games, they were 26-12. So, they definitely won together. When Jay was off the field and Brian started, they were 1-6. When Jay was on the field without Brian, they were 9-12. So the only thing that I can get from all that is they were really good for each other. They're both fine football players, lead in their own way and are both great for the organization. So, no, it didn't bother me."

Urlacher
Urlacher questioned the validity of including Cutler in the conversation of elite NFL quarterbacks during an interview last week with 87.7 The Game in Chicago.
"Financially, he is one of the elite guys in the NFL. ...He just hasn't produced like an elite quarterback," Urlacher said.
"You look at the Bradys, the Mannings, the Rodgers, the Brees, those guys win every year, even with no one around them. Rodgers has no offensive line. He wins. [Tom] Brady has no receivers. He wins.
Cutler
"And you look at Jay. He's got
Brandon [Marshall]
,
Alshon [Jeffery]
,
Matt [Forte]
, this great offensive line,
Martellus Bennett
, and they can't seem to put it together, for some reason. I'm not sure if that's his fault, but for some reason, they just can't figure it out."
Cutler has a base salary of $22.5 million this season ($5 million was converted into a signing bonus in March) as part of a seven-year, $126.7 million contract extension he signed earlier this year, putting him at the top of the list of quarterback salaries in 2014.
Despite committing 12 turnovers (eight interceptions and four lost fumbles) in eight games, Bears coach Marc Trestman praised Cutler's worth ethic and leadership on Monday. Cutler has completed 197-of-293 pass attempts (67.2 completion percentage) for 2,093 yards, 17 touchdowns for a quarterback rating of 95.8.
"His leadership has been at a premium through all of this on a consistent basis throughout the season," Trestman said. "We have to help him more in terms of playing better complementary football, giving him more of a run game and that goes to complementary football again. And that means everybody working together to get that done. But I think there's a lot of positives here and we're going to work to try and negate some of the negatives that we do see, that we want him to get better at."
October, 27, 2014
Oct 27
4:02
PM ET
Sweeping changes won't be coming to the
Chicago Bears
' coaching staff in the aftermath of the club losing its fourth game in five outings headed into the bye week, according to head coach Marc Trestman.
"We have everybody in position right here," Trestman said. "We feel, without question, we've built a work ethic. A system of doing things in this building is in place to have the consistency we need to win. We're disappointed because we haven't done that. We're 3-5, like [general manager] Phil [Emery] said. It's not good. We understand that is not a good situation. But we do feel we have to the foundation to build from here, and that's the next step."
In each of Chicago's five losses, every facet of the game has played a role.
In
the opener
against the
Buffalo Bills
, the defense allowed 193 yards rushing and against Green Bay in Game 4, the group allowed the Packers to score five touchdowns and a field goal in their first six possessions. In a loss at Carolina in Game 5, the team's special-teams unit allowed a 79-yard punt return for a touchdown, while the offense turned over the ball in each of its final three possessions to help the Panthers score 10 unanswered points in the fourth quarter.
Then,
in a loss
to the Dolphins in Game 7, the offense put up just 54 yards and two first downs in the first half, leading to a 14-0 halftime deficit, and lost the turnover battle 3-0 on the way to a 27-14 defeat.
Against the Patriots on Sunday,
Tom Brady
lit up the Bears for 354 yards through the air with five touchdowns, including three to tight end
Rob Gronkowski
.
"You know, we've got a great staff," Trestman said. "In all three phases, we've got an excellent staff. [Defensive coordinator] Mel [Tucker] and I spent enough time that I'm acclimated to what we're trying to get done defensively. [Special teams coordinator] Joe [DeCamillis] and I spend time to make sure that going in, we understand, and I understand what we're trying to get done special teams-wise. And offensively, we've got a staff that separates a lot of the process during the course of the week. We've got guys responsible for third down, the red zone, goal line and short yardage, certainly in the passing game and running game, we all work together."
October, 27, 2014
Oct 27
3:46
PM ET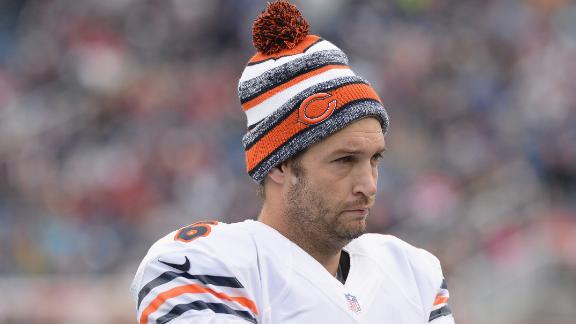 Despite Jay Cutler having a direct hand in at least four of Chicago's five losses through the first half of the season, Bears coach Marc Trestman and general manager Phil Emery remain committed to their $126.7 million quarterback.
Trestman and Emery made that clear Monday in the wake of the club dropping its fourth game in five outings Sunday in a lopsided 51-23 loss to the New England Patriots.
"His leadership has been at a premium through all of this on a consistent basis throughout the season," Trestman said. "We have to help him more in terms of playing better complementary football, giving him more of a run game, and that goes to complementary football again. That means everybody working together to get that done. But I think there are a lot of positives here, and we're going to try and negate some of the negatives that we do see, that we want him to get better at."
While Cutler deserves little blame for the team's performance against the Patriots, the quarterback did commit two turnovers, one resulting in a touchdown on Rob Ninkovich's 15-yard fumble return in the second quarter, which made the score 38-7. In each of Chicago's five losses, Cutler committed multiple turnovers, resulting in a total of 44 points for opponents.
"Obviously, we're a 3-5 team, and he's a 3-5 quarterback right now," said Emery, who called the quarterback "elite" last week during a chat on the team's official website. "There's a lot of things he's got to get better at. There are a lot of things we've got to get better at. In terms of protecting the ball, in the fumbles, he had one against San Francisco [in Week 2], had one this past week and had one the previous week against Miami. Some of them are just situations, a guy coming from the blind side. But obviously, you have to keep the ball up and away. We've got to get better at that. Obviously he knows that. He holds himself accountable for it, and he'll continue to strive to get better in that area."
By the time Cutler coughed up the ball for Ninkovich's return touchdown Sunday, the Patriots already held a 31-7 advantage. The quarterback's second turnover came on a Hail Mary on the final play of the second quarter that was intended for Brandon Marshall
October, 27, 2014
Oct 27
1:35
PM ET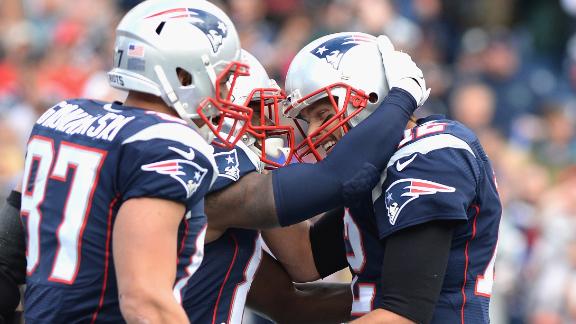 LAKE FOREST, Ill. -- Chicago Bears defensive end Lamarr Houston ruptured his right ACL while celebrating a sack of backup quarterback Jimmy Garoppolo during the fourth quarter of the club's 51-23 loss to the New England Patriots on Sunday, Bears general manager Phil Emery confirmed Monday.
Emery said Houston faces a rehabilitation of six to eight months.
The Bears signed Houston to a five-year, $35 million contract in March that included $14.9 million in guarantees, but the five-year veteran failed to register a sack until Sunday.
"Obviously, Lamarr had built up some frustration from not having a sack yet," Emery said. "We were very pleased with his play against the run and he led our team in hits on the quarterback, but he hadn't had a sack. Obviously, that's a big stat in the NFL. It's awfully big for a free agent coming in. He got his first sack, he let out all of his frustrations and ultimately paid a price for it.
"We're disappointed for him and in him. He knows he made an error. He's come into all of our offices and apologized for his error but ultimately the team paid a price and at the end of the day Lamarr paid a bigger price; he lost the season. So enough said."
The celebration and subsequent injury were reminiscent of an injury suffered by Detroit Lions linebacker Stephen Tulloch, who tore his ACL earlier in the season while celebrating.
October, 27, 2014
Oct 27
8:56
AM ET
Marc Trestman's reputation as a quarterback whisperer endeared him to the Chicago Bears as they built their franchise around Jay Cutler's strong right arm. The pairing has been a positive one for Cutler, even though he predictably remains an inconsistent player. But after watching the Bears endure a 51-23 embarrassment at New England in Week 8, it's getting clearer where this is headed. Cutler's strong right arm is going to pull down Trestman in Chicago if the coach isn't careful.
This is less an indictment of Cutler than it is a criticism of the Bears' insistence upon betting big on him without sufficient insurance. It's also an opportunity to consider how the Bears should proceed as they try to salvage this season and build a foundation for the future -- one that can still include Trestman and Cutler as part of a winning formula.
That's where we begin my weekly look at 10 takeaways from around the league, one that also sorts through situations in Atlanta, Seattle and beyond.
1. Trestman needs to adjust his formula with help from general manager Phil Emery.
When the Bears committed $18 million a year to Cutler last offseason, they assumed Trestman could help get the best from the quarterback more consistently. That obviously isn't going to happen, even though the Bears have armed Cutler with weaponry far beyond what Tom Brady has had available to him while tossing 14 touchdown passes without an interception over his past four games.
Trestman now must prove he's more than a gifted playcaller and quarterback coach. He must put together game plans designed to protect an undermanned defense. He must realize it's tough to outscore opponents consistently when your quarterback isn't consistent enough with his mechanics or decision-making. "Trestman has to nurture the defense the same way he has nurtured his quarterback," a veteran coach said after the Bears' record dropped to 3-4.