December, 6, 2013
Dec 6
8:00
AM ET
LAKE FOREST, Ill. -- The situation looks dire, but
Chicago Bears
cornerback
Tim Jennings
says "he's seen it done before" and "if we get that one spark," perhaps the club's dying postseason hopes can spring back to life.
That's the mentality the Bears take into Monday night's game against the
Dallas Cowboys
.

"This month of December, that's when it really starts counting. That's when teams catch fire," Jennings said. "We've got to continue with an upbeat attitude and realize we just need that one big spark. I think it's going to start Monday with a prime-time game."
That could wind up being the case, but the club's recent history doesn't inspire much optimism about the last four games of the season. The Bears clearly own the home-field advantage for Monday's game, but the club hasn't won a home contest in the month of December since the day after Christmas in 2010, when it defeated the
New York Jets
.
Let's not forget the Bears blew a 7-3 start in 2011 and lost five of six down the stretch when quarterback
Jay Cutler
suffered a broken thumb that knocked him out for the last month and a half of the season. Then in 2012 the Bears cruised to a 7-1 start before losing five of the final eight.
This time around, perhaps it's better to be at the bottom looking up than in the advantageous spots the Bears found themselves in the two prior seasons.
"We set our goal that we've got one game to play, and that's on Monday night," coach Marc Trestman said. "It's a prime-time game. We've done very well in prime time this year. We did it against Pittsburgh. We did it against Green Bay, and we did it against the Giants."
The truth is the Bears "did it" against three teams with a combined record of 15-20-1.
"I really can't speak for anyone else's emotions, and I try not to," tight end
Martellus Bennett
said. "But for me, I'm super-excited about this week's challenge, and you never know what's going to happen. It takes a lot for us to be able to get to where we need to be. But the only thing we can do is take care of what we have to take care of, and that's win the games that we have to win one game at a time, and see what happens then. Sometimes you have to travel the road and see where you end up."
December, 5, 2013
Dec 5
8:06
PM ET
LAKE FOREST, Ill. -- The
Chicago Bears
held out receiver
Brandon Marshall
(quadriceps) from Thursday's practice, but the injury isn't expected to keep him out of Monday night's game against the
Dallas Cowboys
.
Marshall
"He's got a little bit of a quad," Bears coach Marc Trestman said. "So we held him out."
Marshall missed time during preparations last week for the game against the
Minnesota Vikings
, but the injury didn't keep the receiver from playing. Marshall caught four passes for 45 yards, while teammate
Alshon Jeffery
went for a Bears single-game record 249 yards receiving.
Marshall needs just 10 yards receiving on Monday for he and Jeffery to become the first pair of Bears receivers since 1995 (Curtis Conway and Jeff Graham) to each record 1,000 yards in a season.
Trestman ruled out quarterback
Jay Cutler
, who returned to practice on Thursday, and linebacker
Lance Briggs
, but safeties
Anthony Walters
(groin) and
Major Wright
(hamstring) rejoined the team in a limited capacity after missing Sunday's game at Minnesota. Trestman said "we're optimistic" regarding Wright's status for Monday night. Veteran
Craig Steltz
replaced Wright in the lineup in the loss to the Vikings.
The team listed rookie guard
Kyle Long
(ankle) on the injury report, but he participated fully in Thursday's workout with no limitations.
December, 5, 2013
Dec 5
6:54
PM ET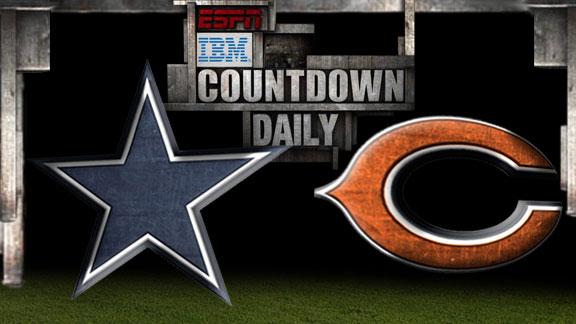 LAKE FOREST, Ill. -- While complimentary overall of the Dallas Cowboys, three former members of that organization now with the Chicago Bears considered the atmosphere there "Hollywood" compared to their current locale.
Bears special teams coach and assistant head coach Joe DeCamillis spent four years with the Cowboys (2009-12) and said "there can't be two different spectrums." Two more former Cowboys -- Bears defensive tackle Jeremiah Ratliff and tight end Martellus Bennett -- agreed as the teams prepare to face each other Monday night at Soldier Field.
Asked about the biggest difference between the Bears and Cowboys, Ratliff didn't hesitate.
"Football, first-class organization," he said of the Bears. "Just to put it bluntly, and it's not a shot -- if they take it like that, so be it. Here, it is all about football. You can really just focus on your craft. Focus on what it is you do. And no matter what's going on, you never forget what you're here for. That's a good thing."
A four-time Pro-Bowler, Ratliff was picked by the Cowboys in the seventh round of the 2005 draft, but he was released by the club on Oct. 13 and signed by the Bears on Nov. 2. Ratliff made his Bears debut Sunday against the Minnesota Vikings, participating in 23 snaps, and his workload will increase Monday night against his former team.
Ratliff said earlier in the week that Monday's matchup is "just another game," but that isn't the case for DeCamillis.
"I'm not going to lie to you and say it's like Ratliff and say it's like any other game," DeCamillis said. "Anytime you leave some place you always have a little bit more juice going back against them."
December, 5, 2013
Dec 5
4:53
PM ET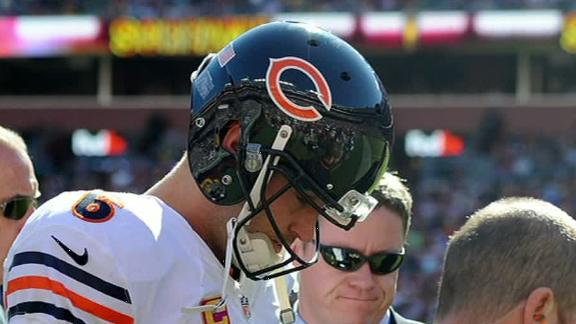 LAKE FOREST, Ill. -- The
Chicago Bears
' decision to sit quarterback
Jay Cutler
for Monday night's game against the
Dallas Cowboys
appears to be the smart play, and the perhaps the best way to avoid a repeat of the situation that put him where he is in the first place.
If you remember, Cutler rushed back from tearing a muscle in his groin during an Oct. 20 game against the
Washington Redskins
when the team faced the
Detroit Lions
on Nov. 10, only to bang up the ankle on a seemingly random hit in the second quarter. Now, it's easy to say one injury had nothing to do with the other because that's absolutely true.
But if you watched Cutler's movement early on in his return for the Lions game, it was quite apparent the quarterback's mobility was compromised. That likely didn't cause Cutler's ankle injury in the second quarter. But the end result is the end result.
Cutler returned to practice inside the Walter Payton Center on Thursday, but it would be unfair to ask the quarterback to try to overcome nearly a month of inactivity in just four days of prep time in advance of Monday's game. That's setting him up for failure.
"We want to be very, very careful," Bears coach Marc Trestman said. "I was encouraged today just by the work that he got in considering the injury wasn't that long ago. So we'll see where he is next week. It was a good first day for him to come and get some work. I thought he threw the ball very, very well."
Trestman said that when Cutler is medically cleared, he'll "absolutely" play. That clearance could come sometime next week or the week after, and at that time Cutler will receive ample opportunity to prove whether he's worth the long-term deal in Chicago he seeks. But really there's no reason to rush Cutler back into the lineup, even if the team were in the thick of race for the NFC North crown because backup quarterback
Josh McCown
has played well enough for this team to win.
McCown is 1-2 in his last three starts, throwing for 1,038 yards and five touchdowns to go with only one interception. In five starts on the season, McCown is 3-2 with an overall passer rating of 103.6.
"I think they both do a great job, different personalities definitely inside the huddle," tight end
Martellus Bennett
said. "Jay has a stronger arm and can do different things with just his arm strength, rely on his arm strength, and Josh relies on timing and being where we need to be. So Jay could make some throws that Josh may not be able to make in some different situations. But they both do a great job for us, and it shows. Every single week we've still been putting up numbers no matter who's [in] there."
December, 5, 2013
Dec 5
3:44
PM ET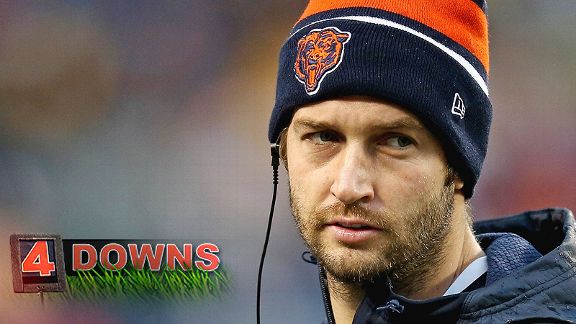 Jonathan Daniel/Getty ImagesQuarterback Jay Cutler could be a candidate for the Bears' franchise tag.
With
Jay Cutler
's deal coming to an end this season, are the Bears ready to sign him to a long-term contract, or is it a good idea to place the franchise tag on him and give themselves another year to commit to the quarterback?
Our panel weighs in on that and more:

Fact or Fiction: Using the franchise tag on Jay Cutler would be a mistake because it ties up too much cap space on one player.

Jeff Dickerson:
Fiction. Now, let me preface this by saying I think the Bears and Cutler will hammer out a new contract in the offseason, which makes the whole franchise tag argument a moot point. But let's pretend the Bears and Cutler do not agree on the framework of a new deal; while $16 million is a huge salary cap hit for one player, quarterback is the most important position on the field. If there's ever a reason to eat up an inordinate amount of cap space on one player, it needs to be the player most vital to the team's success. So I could certainly justify the Bears tagging Cutler if; (A) he simply wants too much guaranteed money, or (B) the Bears aren't entirely sure he's the guy for the long haul. But I have a feeling the Bears already have decided that Cutler is their guy, so the question now becomes: Can they find common ground on a new contract in the offseason.
Jon Greenberg:
Fact. The tag is supposed to be used as a placeholder so the two sides, player and team, can hammer out a long-term deal. The tag value, rising north of $15 million, would handicap the Bears next season, especially as they try to restock the aging, flagging defense. As most everyone knows by now, the franchise tag insures that all the money is paid in one season, whereas a long-term contract allows a team to creatively structure the payouts for salary cap purposes. With that in mind, I don't quite understand the point of tagging Cutler for the purpose of a one-year "tryout" deal. What don't they know about him? Sure, health is a concern but that's true of any NFL player. The one question the Bears must have had about Cutler before the season was: How would he relate to Marc Trestman? The answer seems to be: Quite well, actually. Since taking over as general manager, Phil Emery has made it a mission to give Cutler the tools to succeed, from receivers to linemen to coaches. Now it's time to negotiate a long-term deal.
---

Fact or Fiction: The emergence of Alshon Jeffery might actually make Brandon Marshall expendable when his deal is up.
[+] Enlarge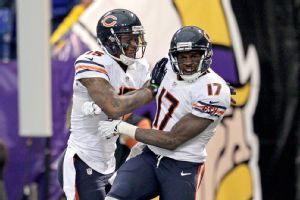 Brace Hemmelgarn/USA TODAY SportsAlshon Jeffery celebrates his touchdown against the Vikings with Brandon Marshall.
Jeff Dickerson:
Fact. Jeffery's presence will give the Bears leverage when they negotiate a new deal for Marshall, if that occurs. Currently, the Bears have Marshall under contract in 2014 for a modest $9.1 million base salary and $9.3 million projected hit on their salary cap. Both are extremely acceptable numbers. But Marshall wanted an extension last offseason after he re-wrote the franchise's record book with 118 catches for 1,508 yards and 11 touchdowns, and didn't get it. I can only assume he will once again push for an extension this upcoming offseason. And he is certainly justified in looking for one. But Jeffery's breakout season and pair of 200-plus yard receiving games should help the Bears at the bargaining table. It's not as if the cupboard would be bare at the position if Marshall left. Also, Jeffery will eventually want to get paid as he continues to outperform his original rookie contract. How much money can the Bears allocate to one position? If you can pay only one; do you choose the younger, homegrown talent, or Marshall? In a perfect world the Bears keep them both for the next five to seven years, but the NFL is a business, and there are several variables that have to be taken into consideration.
Jon Greenberg:
Fact. While Marshall has been, arguably, the most productive receiver not named
Calvin Johnson
since coming to the Bears, Emery has to consider his salary cap situation when Marshall's deal comes up. Marshall still has another year on his contract, but he turns 30 in March. He's in great shape, it seems, but that's the "magic number" for skill position players. So don't be surprised if the Bears make Jeffery the No. 1 while looking for a complementary receiver. Still, I think it's likely that they extend Marshall in a cap-friendly way this offseason. But I wouldn't be surprised if they decide to move on early. That's just life in the NFL.
---

Fact or Fiction: Jeremiah Ratliff is in for a big game against his former team on Monday.
[+] Enlarge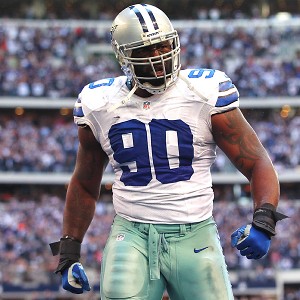 Tim Heitman/USA TODAY SportsJeremiah Ratliff will face his former team when the Bears play the Cowboys on Monday night.
Jeff Dickerson:
Fact. Never underestimate the desire of a player to prove people wrong. Ratliff and the Cowboys had a bad breakup, according to various reports, and he would probably love to stick it his former team. Ratliff did a decent job in limited snaps versus the Vikings, and is expected to see increased playing time Monday night against Dallas. If Ratliff wants to show the rest of the NFL that he is healthy and fully recovered from a groin injury that caused him to miss an entire year, what better showcase is there than squaring off against the team that let him go on "Monday Night Football"?
Jon Greenberg:
Fiction. Not sure this is a real storyline anyone cares about outside of the Chicago and Dallas media, and probably not even then. Sure, some guys play better using slights as fuel, but Ratliff just played his first game in a year last week in Minneapolis. He's probably more concerned about just existing out there in the trenches than making a statement. But hey, there's not much time left in the season, so a big game would be nice.
---

Fact or Fiction: DeMarco Murray will post just his second 100-yard rushing game of the season on Monday.
[+] Enlarge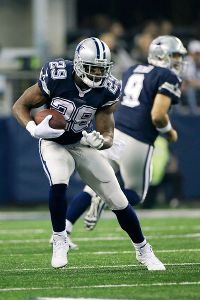 AP Photo/Tim SharpDeMarco Murray could have a big game against a shaky Bears run defense.
Jeff Dickerson:
Fact. The Bears are dead last in the NFL stopping the run (153.6 yards per game). Murray isn't on the level of
Adrian Peterson
, but he is a solid all-purpose back who is more than capable of reaching 100 yards against this Bears defense. Even though Peterson ran for 211 yards in Week 13, I believe the Bears had a much better effort on defense in the Metrodome. However, the Bears will not get the benefit of the doubt until they stop somebody in the run game.
Jon Greenberg:
Fact. The Bears rushing defense stinks, and their pass defense isn't much better lately. Since linebacker
Lance Briggs
got injured in the Washington game, the Bears are giving up more than 200 rushing yards a game, and they've given up at least 100 yards rushing in every game since Oct. 10. So, yeah, start Murray in your fantasy league. I know I am.
December, 5, 2013
Dec 5
2:42
PM ET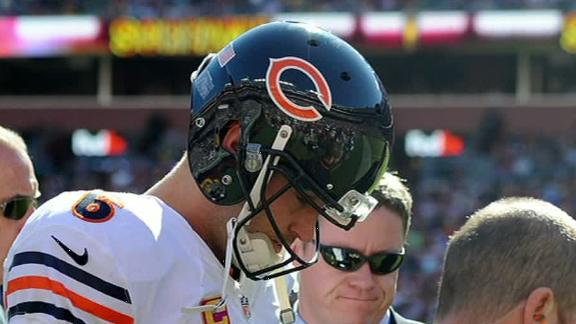 LAKE FOREST, Ill. -- Chicago Bears quarterback Jay Cutler returned to the practice field on Thursday and participated in a limited capacity, but he won't suit up for Monday night's clash with the Dallas Cowboys, according to coach Marc Trestman, who announced Josh McCown will start.
Cutler suffered a severe high ankle sprain in a loss to Detroit on Nov. 10 and has missed the club's past three games. The quarterback said during "The Jay Cutler Show" on ESPN 1000 on Monday that he feels "like I'm gonna get back here really soon. I want to play."
Trestman said Cutler "is continuing to progress" but remains week to week in terms of his recovery.
"There's a lot of clarity to Jay's and our communication," Trestman said. "Jay's very clear on where he is medically. We've been very, very clear that he's got to be released by the doctors before he can play. He's come to terms with that. He's a strong-willed, strong-minded guy. He can't control this decision on Monday other than to continue to work at his rehab."
Filling in for Cutler, McCown has produced a 1-2 record, throwing for 1,038 yards and five touchdowns with only one interception. In those starts, McCown generated a passer rating of 103.8, and for the season, he is 3-2 in five starts with an overall passer rating of 103.6, which currently ranks as the second-best in Bears single-season history.
McCown passed for 355 yards and two touchdowns in last week's loss to the Vikings.
"He's taken a lot of snaps and handled himself extremely well," Trestman said.
Chicago (6-6) enters Monday's critical game in second place in the NFC North, one game behind Detroit.
December, 5, 2013
Dec 5
8:00
AM ET
ESPN.com dropped its
2014 NFL draft order through Week 13
on Tuesday, and it at least plants the seeds for imagination -- or perhaps wishing -- about what the
Chicago Bears
might do in May.
As it stands now, the Bears hold the No. 18 pick. But more than likely, the team's draft position will drop to a lower spot over the next month of the season if it fights for a spot in the postseason the way we all expect the Bears to do.
It's obvious the Bears need to add depth to the defensive line, possibly upgrade the safety position, and maybe add some youth at cornerback, in addition to possibly drafting a quarterback to develop over the next few years. But if you're general manager Phil Emery, what would you do?
Emery hit the road to scout the matchup between Texas A&M and Missouri in Columbia, Mo., last Saturday, and he's definitely expressed appreciation in the past for the dynamic skill set of Aggies quarterback Johnny Manziel, who hasn't yet declared for the NFL draft. A scout at the core, Emery surely has done his due diligence on several of college football's top quarterbacks as well as at other positions, judging from his attendance on Sept. 12 at the matchup in Lubbock, Texas between Texas Tech and Texas Christian University.
After all, Chicago's roster features 30 players with contracts set to expire at the end of the season.
That group includes 11 starters on offense, defense and special teams, in addition to 10 key contributors such as backup quarterback
Josh McCown
and cornerback
Zack Bowman
.
So clearly it's time for Emery and the Bears to reload across the board through the draft and free agency in addition to making huge decisions on some of their own free agents such as
Jay Cutler
,
Charles Tillman
,
Tim Jennings
,
Roberto Garza
,
Major Wright
,
Matt Slauson
,
D.J. Williams
,
James Anderson
,
Robbie Gould
and
Devin Hester
.
While wading through those difficult decisions, Emery will be attending the Senior Bowl on Jan. 25, the NFL Combine in late February, and the regional combine at Halas Hall scheduled for Mar. 15.
So while we're caught up in Chicago's push over these next four weeks for a postseason berth, Emery has to deal with all that comes with that, in addition to the upcoming offseason schedule, which is where the general manager makes his money.
ESPN.com's release of the 2014 NFL draft order only reminds me of Emery's daunting road ahead, not to mention the fact I've got tons of homework to do for what should be one of Chicago's most challenging offseasons in the last four years.
As I asked before, if you're Emery, what would you do this offseason?
December, 4, 2013
Dec 4
8:00
AM ET
Just in case you missed it, we'll start Wednesday's Bears Essentials with ESPNChicago.com's weekly feature Stock Watch, penned by my colleague Jeff Dickerson.
In
this week's edition
, Dickerson rightfully gives receiver Alshon Jeffery some love for his outstanding performance in Sunday's loss to Minnesota. Dickerson writes:
"Marc Trestman's questionable decision-making in the 23-20 overtime loss to the Minnesota Vikings obscured Jeffery's brilliant performance in the Metrodome, in which he caught 12 passes for a team-record 249 yards and two touchdowns. In just his second year in the NFL, Jeffery is only the eighth player in NFL history to have two 200-yard receiving games in one season. On the year, Jeffery has 70 catches for 1,109 yards and five touchdowns, not bad production from a second-round pick who some viewed as a malcontent coming out of South Carolina. Jeffery and Brandon Marshall are rewriting the Bears' record book at wide receiver, and the duo has been together for less than two seasons."
Hopefully Jeffery and Marshall can stay together a few more seasons. Let's not forget Marshall's deal is up in 2014, and the club would be wise to try to re-up with him before that contract actually comes up on its final season.
-- Mark Potash of the Chicago Sun-Times believes
Jay Cutler is the better quarterback for the Bears
at this point than backup Josh McCown, which is obvious. But the difference between the two isn't as night-and-day as you might think. Yes, with McCown under center the Bears are gaining more yards but scoring fewer points than they did with Cutler running the show. But all the variables need to be taken into account when looking at the situation, instead of relying solely on statistics. See, the Bears scored four of their five touchdowns on defense this season with a healthy Cutler starting at quarterback, which skews the scoring average somewhat. With McCown under center, the Bears scored one defensive TD, on David Bass' interception return against Baltimore. Taking that into account, which means we subtract the defensive TDs and freebie extra-point kicks, the Bears averaged 21.75 points with Cutler engineering the offense and 19 with McCown at the helm. And just two games -- one Bears win and one loss -- this season were decided by two points or fewer.
We won't even get into comparing the turnover numbers.
When Cutler first went down against the Redskins on Oct. 20, he had completed 3 of 8 passes for 28 yards, with an interception and a passer rating of 8.3, before leaving the contest with 9:56 left in the first half. McCown led Chicago's offense to 24 points in that 45-41 shootout. Then, when Cutler went down again Nov. 10 at Detroit, the Bears trailed 21-13. So McCown accounted for six of the club's points in that loss by virtue of an 11-yard touchdown pass to Marshall in the final minute.
If we're looking at it from the standpoint of physical skill set, sure, Cutler undoubtedly is the man to lead the Bears over the next four games, provided he's healthy. But McCown certainly hasn't been a slouch, and he deserves some credit. He's played well, generating a passer rating of 103.6 and a touchdown-to-interception ratio of 9-to-1 that supports that assertion.
-- CSNChicago.com's John Mullin ponders
whether the loss of Cutler to the offense was more significant
than the loss of linebacker Lance Briggs to the defense.
December, 3, 2013
Dec 3
4:36
PM ET
Chicago Bears
general manager Phil Emery took questions Tuesday during a 90-minute chat on the team's official website. He weighed the pros and cons of using the franchise tag on quarterback
Jay Cutler
, in addition to admitting this offseason with the club will be his most challenging to date.
[+] Enlarge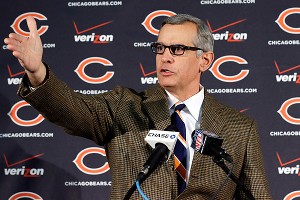 AP Photo/Nam Y. HuhBears GM Phil Emery will be slapped with a number of decisions on expiring contracts this offseason.
With Cutler's deal set to expire at the end of the season, the Bears need to decide whether to sign him to a long-term contract or use the franchise tag. In addition, the club must make decisions regarding the expiring contracts of 11 other starters as well as determine the fates of 10 key contributors -- such as backup quarterback
Josh McCown
-- with deals set to end.
"Each team is unique and each offseason definitely has a wide variety of challenges in putting together a team that has the opportunity to win championships," Emery wrote in response to a question. "This coming offseason will be the most challenging of the three due to the fact that we have a high number of Bears players with expiring contracts. It's a great opportunity to use all the resources the Bears have to put together a championship team."
Given the team's situation, however, it must allocate those assets selectively. That's part of the reason Emery continues to say the team won't address contracts until after the season, when it has expended enough time to thoroughly evaluate every player and how he might fit in the future in relation to potential targets in free agency and the draft.
So even though Cutler's body of work this season appears to be incomplete due to injuries, it's not exactly a slam dunk the Bears would use the franchise tag on the quarterback because of the ramifications it would have on the team's salary cap, which could hurt the team's effort to make additions at other positions.
"The franchise tag is a tool that's available if both parties can't reach an immediate agreement," Emery wrote. "It protects both the player and the team and allows you to continue to negotiate with the player knowing that you retain his rights for the upcoming season, and the player knows he will be paid within the average of the top five players at this position. The franchise tag for the quarterback position has unique challenges because the average comes out to be such a big portion of your cap and your total money available to spend on other players to acquire to help your team."
The franchise tag for quarterbacks in 2014 is projected to fall in the neighborhood of a little more than $16 million, which would be fully guaranteed with that entire amount hitting a team's books next season. So if the team decides Cutler is the team's franchise quarterback moving forward, it would rather work out a long-term deal with him than be forced to apply the tag.
If the team tagged Cutler, it would be on the hook in 2014 for the projected $16-plus million as well as the cap charge of $18.183 million tied to the contract of
Julius Peppers
if the defensive end's deal isn't renegotiated. The Bears would have to fit in those deals with potential new contracts for defensive tackles
Henry Melton
, Jeremiah Ratliff and
Nate Collins
as well as cornerbacks
Charles Tillman
and
Tim Jennings
, linebackers
D.J. Williams
and
James Anderson
, defensive end
Corey Wootton
and safety
Major Wright
provided the club decides it wants to bring them back.
Center
Roberto Garza
's deal expires at the end of this season, too, as do the contracts of left guard
Matt Slauson
, kicker
Robbie Gould
, return man
Devin Hester
and McCown.
"With the franchise tag being so high for the quarterback position, to use it and not sign the individual to a long-term deal hurts the team because you lose the ability to prorate the amount of guaranteed salary over the length of the contract," Emery wrote. "Proration lowers the salary cap number in relation to that player's contract. Obviously the lower the number in relation to the salary cap, the more players you can sign to help your team reach its goals."
December, 3, 2013
Dec 3
2:58
PM ET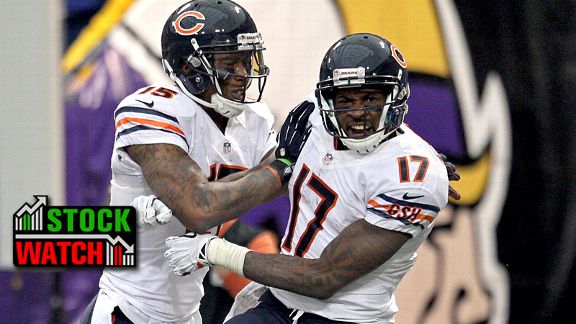 Brace Hemmelgarn/USA TODAY SportsAlshon Jeffery is fourth in the NFL with 1,109 yards receiving and tied for eighth with 70 receptions.
RISING


1. Alshon Jeffery, WR:
Marc Trestman's questionable decision-making in the 23-20 overtime loss to the
Minnesota Vikings
obscured Jeffery's brilliant performance in the Metrodome, in which he caught 12 passes for a team-record 249 yards and two touchdowns. In just his second year in the NFL, Jeffery is only the eighth player in NFL history to have two 200-yard receiving games in one season. On the year, Jeffery has 70 catches for 1,109 yards and five touchdowns, not bad production from a second-round pick who some viewed as a malcontent coming out of South Carolina. Jeffery and
Brandon Marshall
are rewriting the Bears' record book at wide receiver, and the duo has been together for less than two seasons.


2. Craig Steltz, S:
Even though Steltz started at strong safety against the Vikings, he was basically the team's best linebacker on the field. Steltz led the Bears with 12 tackles, lining up for much of the game as the Bears' eighth defender in the box to try and stop Minnesota running back
Adrian Peterson
. Although Steltz did miss an open-field tackle on
Cordarrelle Patterson
's 33-yard touchdown run, the six-year veteran made several key stops during the course of the game. Granted, the Vikings didn't really possess a vertical, down-the-field passing threat that Steltz had to worry about, but in the context of that game, he did everything the Bears asked him to do in 86 snaps on the field. Steltz usually rises to the occasion when the Bears require him to fill in on defense. He had the best stretch of his career in 2011 when he started five games and recorded a career-high 48 tackles, 1.0 sack and two forced fumbles. Steltz is also one of the Bears' core special teams performers with 52 special teams tackles since he entered the league in 2008.


3. Julius Peppers, DE:
Peppers can still bring the heat in certain weeks. He recorded 2.5 sacks against the Vikings, and now has 5.5 sacks in the past five games. Peppers also finished the game with five tackles, two tackles-for-loss, three quarterback hits and one pass break up. The Bears moved Peppers inside to defensive tackle Sunday on certain snaps, and he thrived. Peppers likely also benefited from the return of nose tackle
Stephen Paea
and the debut of Jeremiah Ratliff. Whatever the reasons, Peppers gave the Bears defense a major lift in the first half.


4. Matt Forte, RB:
Before we mention Forte's production in the ground game, it needs to be pointed out what a solid job he did picking up the blitz against the Vikings. That is an element of Forte's game that has improved over the years. Even with a sore knee, Forte carried the ball 23 times for 120 yards and caught two passes for 31 yards. Forte is now second behind only the great Walter Payton on the Bears' all-time list of yards from scrimmage with 9,068. Forte now has 1,400 from scrimmage in each of his first six years in the NFL, becoming just the third player in league history to accomplish that feat. Sunday also marked Forte's second 100-yard rushing performance of the season, and the 17th of his career.
FALLING


1. Marc Trestman:
He attempted to explain his decision to kick the field goal in overtime on second and 7 from the Vikings' 29-yard line, but I just don't believe his rationale is justified. This is a team built for offense. Let the offense, the strength of the team, pick up an extra couple of yards and give
Robbie Gould
a shorter kick for the game-winner. And I'm still kind of puzzled that Trestman allowed Gould to attempt a 66-yard field goal at the end of regulation with Patterson in the back of the end zone to return the short kick. Trestman said the Bears understood the risk with Patterson on the field for that play. But if Trestman was willing to accept the risk, why did the Bears sacrifice valuable field position the entire game by electing to squib kick on kickoffs in order to keep the ball out of Patterson's hands? It's almost as if Trestman did the exact opposite when the game was on the line. That doesn't make much sense. The bottom line is that if Gould hits the 47-yard field goal, Trestman's decisions on Sunday would not be as heavily scrutinized. But as much as I appreciate the way Trestman has attacked certain elements of the job since taking over in January, he had a rough day in the Metrodome.


2. Offensive line:
The Bears offensive line did not play a lousy game, but the Vikings were able to crank up their pass rush late in the game and sack
Josh McCown
a season-high four times. Right tackle
Jordan Mills
had some trouble with Minnesota defensive end
Brian Robison
, but on the other hand, Mills is an extremely physical player with a bunch of knockdown blocks on the season. And I particularly enjoyed the rookie mixing it up with
Jared Allen
after the whistle. Mills isn't going to back down and should only get better, but he's dealing with the standard rookie growing pains that affect so many in the NFL. Fellow rookie right guard
Kyle Long
had some issues with his run blocking on Sunday, but he also played hurt for much of the game with a sprained ankle. The Bears do need to figure out why they continue to struggle in short-yardage situations. That's a big reason why the stock of the offensive line is slightly trending downward following the overtime loss in Minnesota.