December, 24, 2014
Dec 24
5:18
PM ET
LAKE FOREST, Ill. -- The
Chicago Bears
started preparation for Sunday's season finale at Minnesota holding out four starters: defensive end
Jared Allen
(ribs), safety
Chris Conte
(back), kicker
Robbie Gould
(right quadriceps) and defensive tackle
Jeremiah Ratliff
(knee).
Gould confirmed on Monday he'd miss the remainder of the season. The club also held out quarterback
Jimmy Clausen
, who has already been declared out for Sunday's game because of a concussion suffered in last Sunday's loss to the
Detroit Lions
.
Defensive end
David Bass
(knee) and guard
Kyle Long
(hip) participated in a limited capacity at practice Wednesday along with receiver
Marquess Wilson
(knee).
Defensive tackle
Ego Ferguson
(ankle) was a full participant.
December, 24, 2014
Dec 24
5:15
PM ET
LAKE FOREST, Ill. --
Matt Forte
remained upbeat Wednesday despite missing out on being named to his third Pro Bowl as the running back eyes a couple of significant milestones Sunday when the
Chicago Bears
face the
Minnesota Vikings
.
With 94 receptions through 15 games, Forte needs just eight more to break the NFL single-season record for receptions by a running back, set in 1995 by Larry Centers (101 receptions). In addition, if Forte gains 13 yards rushing against the Vikings and catches six passes, he'll join LaDainian Tomlinson as just the second player in NFL history to finish a season with 1,000 rushing yards and 100 catches.
[+] Enlarge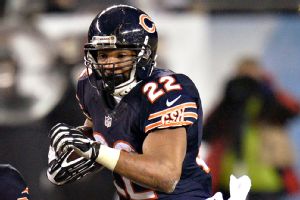 Brian Kersey/Getty ImagesMatt Forte is just eight receptions from setting the NFL record for running backs in a single season.
"It's important, but not the most important thing to me," Forte said of the single-season record for receptions by a running back. "I'm not going to go out looking to get eight catches. I'm really just going out there to run the ball, catch the ball, block, and do what I've got to do for us to be successful on offense and help us win the game."
Pro Bowl guard
Kyle Long
, however, wants to make the record reality for Forte.
"I was gonna butt in there when he was talking about how it's not important to him," Long joked. "We're in the National Football League, and I'm sitting next to a guy who has an opportunity to catch the single most passes in NFL history for a running back in a season. I know I'm gonna be yelling at our quarterback to throw him the ball. Are you kidding me? What a tremendous honor to get to play with a guy like Matt and have an opportunity to be a part of something like that that will stand for a really long time."
Bears coach Marc Trestman doesn't plan to alter the game plan to make sure Forte reaches his milestones. With nothing left to play for, it would be easy for the team to turn its attention to such matters.
"Last games, oftentimes there's those types of things that are up on the table," Trestman said. "But I think the primary focus is to do what we have to do on each and every play to win the game, and those things will usually take care of themselves."
That's fine by Forte.
"I'm just looking forward to this weekend. I've got a chance to do something special this week," Forte said. "Obviously I'm focused on winning the game first. But on this offense, we've obviously this year underachieved, but there's still room to go out there and improve and finish strong in the last game. It's not just, 'Oh, it's the last game of the season.' You've got to go out there and prove that you deserve to be in the league. We've got another chance to go out and play well."
December, 24, 2014
Dec 24
4:45
PM ET
LAKE FOREST, Ill. -- Nothing tangible remains to play for Sunday in the season-finale at Minnesota, but
Jay Cutler
plans to muster up investment for "the guys in the locker room" in what could wind up being his last game as quarterback of the
Chicago Bears
.
Cutler
"The guys that have been in the huddle all year long that I've been with, those are the guys I'll play for this week," Cutler said.
Signed to a seven-year contract worth $126.7 million last January, Cutler takes over as the starter after being benched last week in favor of
Jimmy Clausen
, who on Monday was diagnosed with a concussion. In 10 starts against the Vikings, Cutler has thrown for 2,434 yards, 23 touchdowns and 13 interceptions for a passer rating of 98.0.
Cutler declined to speculate on his future, but admitted it will be difficult to generate energy for the season finale with so little to play for and uncertainty about what might transpire as soon as the Monday following Sunday's outing at TCF Bank Stadium.
Cutler's 2015 base salary of $15.5 million is fully guaranteed, and another $10 million guarantee for his 2016 salary kicks in if the quarterback remains on the roster on March 12, the third day of the 2015 league year.
"I think you've just got to prepare yourself that anything could happen," Cutler said. "That's kind of what I'm prepared for. I mean, everyone could stay. Everyone could get axed. You just never know what direction it's going to go. You just have to stay open-minded and know that things happen for a reason."
Asked whether he's ever come to grips with the human element of what could take place on Monday and the number of people it could affect, Cutler said he ponders such scenarios during training camp.
"You chop [the roster] down, chop it down," Cutler said. "You wonder where those guys go, what happens to them. Some of them never play football again. The situation after the year, it's gonna be similar. Coaches could leave. Players could leave. I could leave. That's part of it."
Cutler has called the 2014 season his most difficult as a professional, and admits all the turmoil has conditioned him to "expect the least expected at this point."
"Hopefully, we can make it through the next couple of days without something else happening," he said. "You never know though."
December, 23, 2014
Dec 23
8:39
PM ET
SELECTIONS
Kyle Long, OG, Second Pro Bowl selection:
Long earned his second consecutive Pro Bowl selection and became the first
Chicago Bears
offensive lineman to receive the honor in each of his first two seasons with the franchise. Long became the first Bear since Devin Hester (2006-07) to be named to the Pro Bowl in each of his first two seasons. According to STATS, LLC, Long hasn't allowed a sack in 2014, and he anchors a Chicago offense that ranks first in franchise history in completion percentage (65.1), second in passing touchdowns (30), tied for second in completions (373), fourth in net passing yards (3,627) and sixth in passer rating (88.1). Long is part of an offensive line that has helped running back
Matt Forte
rank No. 3 in the NFL in yards from scrimmage (1,772).
Who he beat out:
Orlando Franklin
,
Louis Vasquez
,
T.J. Lang
,
Ronald Leary
,
David DeCastro
,
Mike Pouncey
,
Dan Connolly
SNUBS
Matt Forte, RB:
Forte racked up 1,772 yards from scrimmage through the first 15 games, which ties for third in the NFL. But the problem is the Bears refuse to commit to the rushing attack, which significantly affected Forte's numbers. Arguably the league's best all-around back, Forte leads the Bears with 94 catches for 785 yards, and he's just 13 yards shy of reaching 1,000 yards rushing for the fifth time in his seven-year career.
Who he should have beaten out:
LeSean McCoy
.
Alshon Jeffery, WR:
Jeffery generated a team-high 1,099 yards receiving and 10 touchdowns on 83 receptions, despite playing the majority of the year hampered by nagging injuries. Jeffery has gained 2,887 yards over his first three seasons. Jeffery has already gained the second-most receiving yards by a Bears player in his first three seasons, and he ranks No. 5 in the NFL in receiving yardage since 2013.
Who he should have beaten out:
A.J. Green
,
T.Y. Hilton
.
December, 23, 2014
Dec 23
6:22
PM ET
LAKE FOREST, Ill. -- The
Chicago Bears
officially placed defensive end
Willie Young
on injured reserve due to a torn left Achilles on Tuesday, and brought back defensive end
Austen Lane
, who spent the preseason with the club.
Young
"That's a tough one," Bears coach Marc Trestman said of Young's injury. "He has kind of been an inspirational leader. You guys know him in the locker room -- he's a charismatic guy. He keeps people up. He's fun to be around. He's a guy who is always up and around the building, and has played well and gotten better throughout the season. He'll be missed on Sunday, certainly."
Young posted a career-high 10 sacks in 2014, which also leads the Bears, and he's tied for 13
th
in the NFL and tied for sixth in the NFC in sacks. Young played in 15 games with eight starts this season, registering 55 tackles, one forced fumble, three pass breakups and 13 quarterback pressures.
A five-year veteran, Young also blocked a field goal this season. He's now posted 127 career tackles, 16 sacks, 10 pass breakups and 14 tackles for lost yardage.
Lane, meanwhile, has appeared in 30 games with 17 starts over four seasons with the
Jacksonville Jaguars
(2010-12) and
Detroit Lions
(2013), contributing 64 tackles, three sacks, a forced fumble, 13 quarterback hurries and five tackles for lost yardage.
A fifth-round pick of the Jaguars in 2010, Lane spent training camp with the Bears, but was released at the end of the preseason.
December, 23, 2014
Dec 23
6:15
PM ET
LAKE FOREST, Ill. -- Defensive coordinator Mel Tucker hears criticism from the fans regarding the Bears' struggling defense, but it's not anything worse than what he hears at home, considering his wife Jo-Ellyn and her family all hail from Chicago.
"You know, they want to win, too," Tucker said. "My wife is from Chicago. She's from the South side and so her mom, her whole family is here. They're all Bears fans. There's a little bit of, 'You spend all that time over there and that's the best you can do?' type of thing."
With Chicago mired in a four-game losing streak, the club's defense in Sunday's loss to the
Detroit Lions
, held an opponent to fewer than 31 points for the first time since Nov. 23, when the Bears limited Tampa Bay to 13 points during a 21-13 win. The season-finale at Minnesota could be the coaching staff's last game together, as it's expected Bears coach Marc Trestman and the staff will be let go at the conclusion of the season. Still, nobody is concerned about what might take place next week, as the staff is focused on prepping for the
Minnesota Vikings
.
[+] Enlarge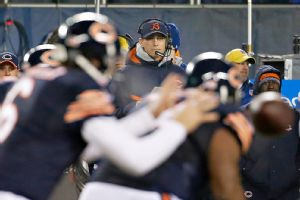 AP Photo/Charles Rex Arbogast"When you're sitting here with the record that we have, everybody's got something to say about it," Marc Trestman said.
"No one is happy at this time about where we are," Tucker said. "You can't sugarcoat it and think everyone is just on Cloud 9 right now. But we have to be mature about it. You have to handle it. You're going to have some moments, and we'll just work through it. We still have one more game to play, and so that's where our focus is. That's why it's difficult for me to reflect right now because we're not in reflect mode. We're in preparation mode for our last game. There will be plenty of time to reflect and look back. Right now, we've got a really big game ahead of us."
Trestman empathized with Tucker. After all, the team's high-priced offense underachieved in 2014 perhaps more than the embattled defense with Trestman presiding over it all. The team has endured plenty of off-the-field drama, too, with issues regarding trust between players and coaches in the locker room, and the benching of
Jay Cutler
just to name a couple.
"We're all getting earfuls, believe me, and certainly Mel's getting his share," Trestman said. "We all are, as we said. When you're sitting here with the record that we have, everybody's got something to say about it. That's part of the job we have right now, and we've had, is to deal with it and move forward and get our guys ready to play. That's where our responsibility lies, is the day-to-day process of doing our best as coaches to get our guys ready to play. That's our job."
That doesn't make it any easier for the staff to deal with, especially considering the high expectations entering the 2014 season. The Bears were coming off a promising 8-8 campaign in Trestman's first season at the helm. Like other teams around the league, the Bears have dealt with their fair share of injuries. But Trestman, Tucker and special-teams coordinator Joe DeCamillis all refused Tuesday to make excuses.
On offense, seven players with three years or fewer of experience have started at least one game. In fact, the Bears lined up on offense against the Lions with their eighth combination of starters along the offensive line. Defensively, the Bears have lined up with 11 combinations of starters in addition to losing five players, including four starters, to season-ending injuries.
Asked if he dreaded what's known around the NFL as Black Monday -- the day many coaching staffs are fired -- DeCamillis said, "No," as he's dealt with similar situations during nearly 30 years as a coach in the league.
"You're going to say, 'He's not telling the truth,' but you deal with this," DeCamillis said. "I've been on staffs that it's an issue. I'm just trying to roll through this thing and try to get ready for Minnesota. You have quiet times where you think about that stuff. But this isn't a quiet time right now. I've got to go back upstairs and figure out a way to cover these guys this week because they're definitely explosive. I'll worry about that stuff whenever it happens I guess. What did you say, Monday?"
December, 23, 2014
Dec 23
1:00
PM ET
A quick observation of quarterback
Jimmy Clausen
and how he played in the
Chicago Bears
' 20-14 loss to the
Detroit Lions
in Week 16:

Clausen
Seeking a "spark" to ignite Chicago's dormant offense, Bears coach Marc Trestman benched
Jay Cutler
in favor of backup Jimmy Clausen, and while the tactic appeared to work initially, ultimately the club dropped its fourth in a row as the unit put up just 14 points.
For the most part, Clausen produced an error-free game, but he did throw one interception with 2:02 left to play on a fourth-down desperation heave. So while Clausen didn't make many of the game-changing mistakes we've seen from Cutler, the truth is the quarterback proved only that he's a capable NFL backup. Nothing more. But we won't discount the fact Clausen played against one of the NFL's best defenses with little prep time, and without the services of starting left guard
Kyle Long
.
Still, Clausen was only mediocre in his first start since 2010, finishing the game with two touchdown passes and a rating of 77.0, while completing only one pass for a gain of more than 18 yards (20-yard touchdown pass to
Alshon Jeffery
in the third quarter). In Clausen's defense, Jeffery did drop four passes, and the Bears were unable to generate a sufficient rushing attack (55 yards rushing from
Matt Forte
). But the quarterback put together only one legitimate scoring drive (80 yards on 15 plays, aided by a roughing-the-kicker penalty that gave Chicago a first down after a stalled drive).
Clausen's second scoring drive came as the result of a muffed punt recovered on the Detroit 11.
December, 23, 2014
Dec 23
9:00
AM ET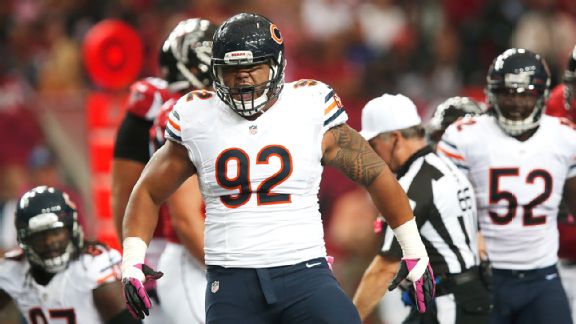 AP Photo/Brynn AndersonStephen Paea has had a consistently strong fourth year with the Bears.
RISING:

1. Stephen Paea:
Paea is steady. The fourth-year nose tackle had three tackles, one pass defense, one quarterback hit, and forced a fumble in the 20-14 loss to Detroit. Paea applies constant pressure up the middle, and when paired with
Jeremiah Ratliff
(more on him next), the Bears have a formidable combination at defensive tackle. From my vantage point, Paea is a safe investment in free agency, just as long as the numbers make sense. Paea is a hard-worker. He'd be the last person to shut it down after receiving a contract extension. He's a high-character guy, and has been since being drafted by the Bears in 2011.
Ratliff
2. Jeremiah Ratliff:
Bears general manager Phil Emery wisely re-signed Ratliff to a two-year contract in March. The 10-year veteran is now tied with
Jared Allen
for third on the team with 5.5 sacks, his highest sack total since 2009. Ratliff is a leader. He is extremely intense. The defensive tackle is a wonderful role model for impressionable rookie lineman
Ego Ferguson
and
Will Sutton
. Both will be better for having spent time with Ratliff. The only issue for Ratliff is health. He missed five games in 2014 due to injuries after sitting out much of 2013. Ratliff just needs to stay on the field. If he does, the veteran should be able to thrive in whatever defensive front the Bears employ in 2015.
3. Christian Jones:
Jones recorded a game-high 11 tackles, one sack, and one tackle for loss versus the Lions, according to the official NFL game summary. Jones is still raw but he's improving, a credit to linebackers coach Reggie Herring and defensive coordinator Mel Tucker. Kudos to the scouting department for having the foresight to sign Jones as an undrafted rookie free agent out of Florida State after the linebacker's draft stock dropped following a positive drug test at the NFL Combine. Jones figures to be in the mix for a permanent outside linebacker spot next fall.
FALLING:

Bennett
1. Martellus Bennett:
Bennett doesn't seem to have much of a connection with
Jimmy Clausen
, who did a nice job Sunday in place of
Jay Cutler
. Bennett was targeted only three times, catching one pass for 0 yards. Bennett needs eight receptions in the season-finale to reach 90 for the year.
2. Alshon Jeffery:
Jeffery had a rough afternoon against the Lions, dropping several passes for Clausen. Jeffery finished the game with only six grabs for 72 yards and one touchdown despite being targeted a game-high 15 times.
Jennings
3. Tim Jennings:
It's been a disappointing season for Jennings. He just hasn't played very well since signing a four-year extension in January. Jennings' 46-yard pass interference penalty set up the Lions' go-ahead touchdown. Jennings intercepted 12 passes from 2012-13. He has zero picks in 2014. That's a major problem.
December, 22, 2014
Dec 22
6:20
PM ET
Marc Trestman benched starting quarterback
Jay Cutler
in favor of backup
Jimmy Clausen
for Sunday's
20-14 loss
to the
Detroit Lions
.
Then mysterious circumstances -- the team's announcement that Clausen was ruled out after suffering a concussion Sunday for which delayed symptoms surfaced Monday -- called for
Trestman to go back to Cutler for the season finale at Minnesota
. Trestman mentioned that Cutler gives the Bears the best chance to win, which is absolutely true. But if Cutler's future is truly as murky as the team's recent actions indicate, why risk getting the quarterback hurt, which would diminish his trade value while potentially making the Bears liable for $10 million of the quarterback's $16 million base salary for 2016 if he's still on the roster on the third day of the 2015 league year (March 12)?
Remember, you can't move an injured player.
Cutler said all the right things last week in the wake of the benching. But from this vantage point, Trestman made a move in benching Cutler that he can't undo. In what appeared to be a desperate attempt to keep his job, Trestman damaged the relationship with Cutler. Likely forever.
[+] Enlarge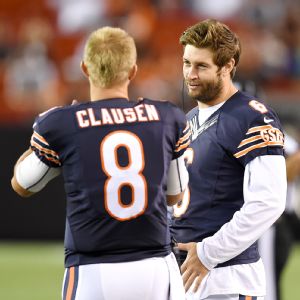 Joe Sargent/Getty ImagesIn a questionable move, Jay Cutler will start in the Bears' Week 17 game at Minnesota on Sunday.
So Trestman's decision to go back to Cutler makes little sense, given there's absolutely nothing left for the Bears to play for Sunday in Minnesota.
Even receiver
Brandon Marshall
admitted Monday during his radio show on ESPN 1000 he's "sure there's some bitterness there or something there," and that Cutler coming back "is playing with your emotions a little bit."
Cutler's salary guarantees make it difficult enough to trade the quarterback because any franchise grabbing him would basically be forced to make a two-year commitment. So the quarterback going down with an injury in a meaningless game would only increase the difficulty the Bears already face this offseason, if the plan truly is to move Cutler.
Trestman insisted the relationship with the quarterback isn't strained. But even if that's truly the case, it's still bad business to play Cutler against the Vikings. Besides, why not give rookie
David Fales
a chance to showcase his skills?
"Jay's comments to the media were very similar to mine. We didn't practice together, in terms of what we were going to say. I said very specifically that I believe that Jay can work his way out of this," Trestman said. "And I've enjoyed coaching him and working with him. And we had dialogue last week. And we worked together last week. It was a tough week on him. I empathize with him on that. But we're moving forward, both with the idea that we've worked together for a long time and that hasn't changed."
What has changed is the functionality in the
Chicago Bears
' organization. That, certainly needs to change.
December, 22, 2014
Dec 22
5:04
PM ET
Brandon Marshall blasted Detroit Lions center Dominic Raiola on Monday, calling him "a dirty player and a worse human being" for stomping on Ego Ferguson's ankle during Sunday's game.
Marshall also recounted a past incident in which Raiola allegedly poked fun at the receiver's mental health issues.
The NFL suspended Raiola for one game without pay for violating the NFL's safety-related rules, but to Marshall, that punishment is insufficient.
"This guy is a dirty player, and he's a worse human being," Marshall said during "The Brandon Marshall Show" on ESPN 1000. "He has no respect for himself, and [a] one-game [suspension] is freaking terrible. This was clear. This was clear. This guy literally jumped and stomped on this guy's ankle. And we give him one game? A game that means nothing to them; means nothing to them."
Marshall came under fire last November for calling Detroit "the little brother that kind of grew up a little bit." On Monday, Marshall claimed those remarks came as the result of a pregame incident in which Raiola made light of the receiver's battles with mental illness.
Marshall was diagnosed in 2011 with borderline personality disorder.
"See, a lot of people [ask], 'Why do you call Detroit [Chicago's] little brother?'" Marshall explained. "I apologize again, Detroit. I retract that statement. But I was really mad at him because in the game, I'm just warming up. I'm just standing there. He's like, 'Go take your medicine. Go do this you freaking weirdo, you freaking crazy guy. Go take your medicine.'
"Before the game. ... Like, bro, we play football and I understand we're rivals. But at the end of the day, this is a brotherhood. We're all men here. This is only a platform for us to be better. You're sitting here being defined by this sport. It's terrible."
Marshall, who is currently on injured reserve after breaking two ribs and puncturing a lung during a Dec. 4 loss to the Dallas Cowboys