December, 8, 2013
Dec 8
11:00
AM ET
December, 7, 2013
Dec 7
3:27
PM ET
LAKE FOREST, Ill. -- The
Chicago Bears
held out
Jay Cutler
from Saturday's practice, but coach Marc Trestman stressed the quarterback didn't suffer a setback in his rehabilitation from a high ankle sprain.
Cutler
Cutler returned to practice on Thursday, and worked two days before the team decided to rest him.
"We kept Jay out today. There's no residual effect from the work he did the last couple of days," Trestman said. "We just chose to rest him today."
With Cutler already declared out for Monday's game against the
Dallas Cowboys
, Trestman said he couldn't give a definitive timeline for when the quarterback might return. The coach also added that Cutler didn't experience "any residual effects this morning" from the last two days of work, no soreness or anything like that."
After the matchup with the Cowboys, the Bears hit the road next Sunday to face the
Cleveland Browns
.
"We can be optimistic, but we can't be definitive right now," Trestman said.
Trestman said team doctors will spend time examining Cutler as the team prepares to take the field for Monday's game, and "we'll see where we are on Tuesday" before making a decision on how to handle the starting quarterback situation leading into the week of preparation for the Browns.
Despite not practicing on Saturday, Cutler did take part in some drills.
With Cutler out of the lineup the last three games, veteran
Josh McCown
has filled in, winning only one of those outings while throwing for 1,038 yards and five touchdowns with only one interception. McCown owns a 2-2 record as a starter with an overall passer rating of 103.6, which currently ranks as the second-best in Bears single-season history. On Monday night, he gets the starting nod again.
In addition to missing the last three games, Cutler has been out of the lineup for portions of two games already. The quarterback has completed 63 percent of his passes for 13 touchdowns and eight interceptions for a passer rating of 88.4.
In other injury news, the Bears officially declared linebacker
Lance Briggs
(shoulder) out for Sunday's contest. Trestman also announced that
Major Wright
, who missed last week's game because of a sore hamstring, will start against the Cowboys.
Guard
Kyle Long
(ankle) and receiver
Brandon Marshall
(quadriceps) participated fully in Saturday's workout and are listed as probable for Monday's game. Safety
Anthony Walters
(groin) also participated fully but is listed as questionable.
December, 7, 2013
Dec 7
8:00
AM ET
LAKE FOREST, Ill -- The anticipated jersey retirement of former
Chicago Bears
tight end and head coach Mike Ditka reminds current coach Marc Trestman of his team's need to "play with the kind of passion and love for the game" the franchise icon had -- starting with Monday night against the
Dallas Cowboys
.
"That's what we're preparing to do this week," Trestman said.
[+] Enlarge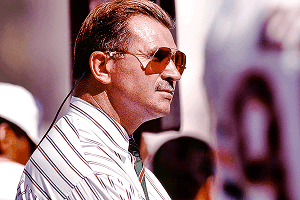 AP Photo/Warren Wimmer/file archivesCurrent Bears players and coaches say that Mike Ditka's words still carry inspiration.
Throughout the coach's tenure with the Bears, he and Ditka have remained in contact by phone and through text messages. Ditka played for the Bears from 1961 to '66 and is the only individual in the modern era of the NFL to win championships with the same team as a player (1963) and a coach (1985). At halftime, when the team retires Ditka's No. 89 jersey, he will be the 14th and final player to have his number retired by the club.
There's also a good chance Ditka's famous Bears coach's sweater will be a part of the halftime ceremony.
"I wanted him to know that I was excited about the ceremony he'll have on Monday night and that I probably wouldn't be able to see him much because we'll be busy," Trestman said. "But I wanted to take the time to congratulate him on that."
Earlier in the season, Trestman invited Ditka to Halas Hall to address the team. Ditka's visit to the facilities in August marked the first time the former coach had been back at Halas Hall since the club fired him in 1992.
The former coach encouraged the players to respect one another and relish the game -- and to cherish each day as a player in the NFL.
"He got a chance to speak to us earlier this year," quarterback
Josh McCown
said. "It's neat to hear from somebody who's played it, coached it, stepped outside of it. He had some great words for us. It's a cool thing that they're honoring him, and deservedly so. It's a special thing. Once the game gets kicked off, we'll be focusing on the game as usual. But knowing that's happening is really neat for Coach Ditka."
As a boy growing up in Minnesota, Trestman said he watched Ditka play "as a tight end breaking tackles" and "making catches," but later found himself as an assistant coaching against Ditka.
"You see why this community and this area, they love him," Trestman said. "We see that each and every week, and sincere on an individual basis. I've had a chance to know him on an individual basis, and it's a privilege to have the opportunity to connect with him the way I have and get to know him in the way that I have."
December, 6, 2013
Dec 6
3:56
PM ET
LAKE FOREST, Ill. --
Chicago Bears
receiver
Brandon Marshall
returned to practice Friday and participated fully after the club held him out of Thursday's workout because of his strained quadriceps.
Marshall
In addition, safety
Major Wright
participated fully Friday after being limited the day before, which means it's likely he'll start in Monday night's game against the
Dallas Cowboys
. Linebacker
Lance Briggs
(shoulder) did not practice Friday, while quarterback
Jay Cutler
(ankle) and safety
Anthony Walters
(groin) took part in a limited capacity.
"Lance didn't practice today. He was out there running around a little bit," Bears coach Marc Trestman said. "Jay was limited, you saw that. Anthony Walters was limited, but looks better. Kyle [Long], Major and Brandon all worked. So that was good."
For Dallas, cornerback
Morris Claiborne
(hamstring) and receiver
Dwayne Harris
(hamstring) were held out of practice.
Receiver
Dez Bryant
(back), linebacker
Justin Durant
(hamstring), tight end
Gavin Escobar
(hamstring) and defensive tackle
Jason Hatcher
(neck) participated full for the Cowboys, along with linebackers
DeVonte Holloman
(neck) and
Sean Lee
(hamstring).
December, 6, 2013
Dec 6
10:00
AM ET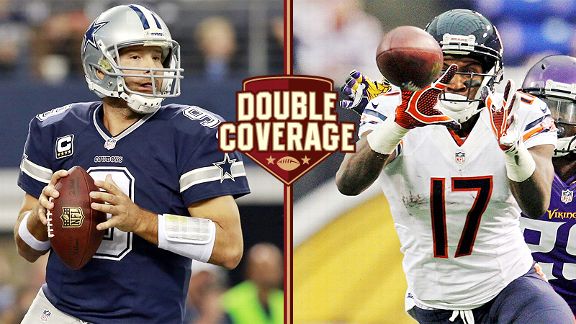 USA TODAY SportsTony Romo and Alshon Jeffery will aim to keep their respective teams in the NFC playoff hunt on Monday night.
The month of December, along with the
Dallas Cowboys
, has defined "collapse" the past two seasons.
But Dallas finds itself in an advantageous position at 7-5 with the NFC East title in its sights. And on Monday night, the Cowboys will face a 6-6
Chicago Bears
team with rapidly fleeting postseason aspirations.
ESPN.com Chicago Bears reporter Michael C. Wright and Cowboys reporter Todd Archer break down the matchup.
Michael C. Wright:
What's the real deal with this whole Jeremiah (I know you guys call him Jay) Ratliff situation? Based on Jerry Jones' remarks from his radio show, there seems to be a little underlying tension there, and Ratliff has been really reluctant to go too far into detail about went wrong out there.
Todd Archer:
There's some inside the organization who feel they were duped by Ratliff when he said that he could not play football this year because of his health. There's a lot of "he said, he said" stuff going on. When he underwent surgery last year for the sports hernia, the Cowboys did not place him on injured reserve hoping he could return for a playoff run that ultimately never happened. After he was cut, his agent, Mark Slough, said the injury was far more severe than a sports hernia and he would need a year to recover. It seems like a dubious claim because the Cowboys never put him on IR last December, restructured his contract in the offseason in a way that made cutting him more costly, did not draft a defensive lineman or go after anybody in free agency. If the team felt Ratliff needed 12 months to recover, would it have done any of those things? I know Jerry Jones isn't considered the best general manager, but even he would have done some things differently. Ratliff was always something of a loner here. He always felt trouble lurked around every corner. He was not very trusting of anybody. But the Cowboys and Jerry could have avoided this deal by just cutting him after he got in the owner's face in the locker room after a game. At that point they could have claimed "conduct detrimental to the team," and gotten some money back. Now they're really kind of stuck.
Since you asked about
Jeremiah Ratliff
, let me repay the favor. What are the Bears' expectations for Ratliff? Seems like a lot of former Cowboys have not had much success up there after leaving here.
Wright:
Boy, you're absolutely correct about the former Cowboys coming to Chicago (I'll point out however, that
Martellus Bennett
has been a good addition). But Ratliff's situation here could turn out to be different. The Bears went into the situation the right way: with no expectations. In fact, when the club first signed Ratliff, the move was such a low-risk acquisition (no picks given up, low salary) the Bears were prepared for the possibility the defensive tackle would have been unable to play this season. The Bears had already lost defensive tackles
Henry Melton
and
Nate Collins
for the year, and they've had to learn to utilize the little depth they have and switch players to other positions just to survive the majority of this season. So when they signed Ratliff, they weren't looking for him to come in and be a savior. They also made it a point to exercise extreme patience with Ratliff in his recovery. Ratliff played just 23 snaps last week in his Bears debut, and the only expectation the team has for him moving forward is to be able to handle a slightly increased workload. Ratliff went from being someone the Cowboys depended heavily on to just a guy in Chicago.
The Cowboys haven't run the ball especially well, and the Bears can't stop the run. Something has to give here. What does Dallas need to do to get the run game popping against Chicago's porous run D?
Archer:
The running game has been better here the last couple of games. Not great by any stretch but better. Losing
Lance Dunbar
hurts because he brought a change of pace from
DeMarco Murray
. But this is Murray's running game. He is the workhorse and will get even more work now. The Cowboys run better out of three-wide receiver sets when teams go to their nickel defense. They need to spread the Bears out. The Cowboys don't have an overpowering-type line or scheme. It's more built on zone schemes and finding creases. Dunbar was good at finding creases. Murray takes a little more time to hit them. The commitment to the run from coach Jason Garrett and offensive coordinator Bill Callahan sometimes wanes, especially on the road if things don't go well early. With the cold weather and I'm guessing windy conditions, then Murray will have to be a huge factor.
Josh McCown
has done a nice job, but what have the Bears missed in not having
Jay Cutler
and what's the sense you get on Cutler being a long-term answer?
Wright:
The Bears miss two things without Cutler in the lineup: that cannon of an arm, and his gunslinger mentality. McCown has been productive and efficient, and has moved Chicago's offense well. But you can see in games there are throws McCown doesn't make as well as Cutler, throws he won't even try. I think that's part of the reason that although the Bears are averaging more yards with McCown at quarterback than Cutler, the club is also averaging fewer points. McCown simply doesn't take chances, which has translated into a high quarterback rating (103.6). Cutler, meanwhile, is a lot like
Tony Romo
in that he'll gamble on occasion, and a part of that is he's confident in his arm. But Cutler also possesses uncanny chemistry with his receivers to where he can go off script on occasion and still make big plays.
Now I'm still not sure about whether the team views Cutler as the long-term answer. After eight years in the NFL, you are what you are. That's not to say Cutler isn't a good quarterback. He is. But the financial resources the Bears would have to sink into him to keep him around, in my mind, don't match up with the production. Cutler owns an 84.4 career passer rating, and he's thrown 149 touchdowns to 108 interceptions. I'm not sure that's worth $16 million-plus per year. General manager Phil Emery doesn't seem to be inclined to use the franchise tag on Cutler. So it'll be interesting to see whether the sides can come to a long-term agreement that's acceptable to both parties.
With Dallas eyeing a potential division title, Romo seems to be catching a lot of flak about his record during games in December. How much of it is on Romo, and how much does the rest of the team have to do with the quarterback's struggles during the month of December?
Archer:
Some of it is on Romo, but more of it is on the rest of the team. Would you be surprised if I told you Romo has 28 touchdowns and seven interceptions in 15 December/January regular-season games since 2009? Or that he has seven 300-yard games? Or 10 games with a passer rating of better than 100? He has two four-touchdown games -- with no picks -- and the Cowboys have lost them both. Ultimately, however, the record falls on the quarterback. Overall he is 11-15 in December and 7-8 since 2009. He has put the Cowboys in position to compete for the playoffs the past two seasons and lost in Week 17 both times. Without Romo the Cowboys are not sniffing playoff contention. I can't say he has to play better because 28 TDs and seven picks are pretty ridiculous, but he has to play better. The defense is something of a mess, even with
Sean Lee
returning and guys getting healthy. The run game is still hit or miss. If the Cowboys do make it to the playoffs, it will be because of Romo and the passing game.
I can see what kind of a difference Rod Marinelli has made here. How much have the Bears missed their former defensive coordinator?
Wright:
Tons. On the same day Marc Trestman was first introduced as the new head coach, all the assistants from the old staff were holed up in their offices at Halas Hall awaiting their fates as Trestman spoke to the media. The new head coach knew it was imperative to bring back Marinelli, which is why he tried to convince him to come back as soon as the news conference was over. But out of loyalty to former coach and close friend Lovie Smith, Marinelli declined the offer. The Bears have struggled ever since. Obviously, the team's rash of injuries is the most significant factor in the defense's slide. But Marinelli was revered among Chicago's players. They'd run through a wall for him. Marinelli is an excellent motivator and nobody knows Chicago's scheme better. His attention to detail, and the ability to relay the importance of those small details to the players, is what the Bears miss. Marinelli liked to break down players and make them focus on every single nuance from a technical standpoint. Marinelli was also a master of simplifying the most complicated aspects of a scheme or game plan for players. In fact, I think second-year defensive end
Shea McClellin
would be blossoming right now the way
Corey Wootton
is had Marinelli stayed.
December, 6, 2013
Dec 6
9:00
AM ET
Here is this week's edition of the mailbag:
1. JD, what is your best guess for what the Bears do with Jay Cutler? Franchise tag, long-term deal or let him walk? Thank you for the weekly mailbag posting. Happy Holidays. -- Marcus, Loves Park, Ill.

Dickerson:
My best guess is that Cutler signs a new deal with the Bears in the offseason. My sense is the Bears have already decided that Cutler is their guy -- even though Monday he will miss his fifth game due to injury in 2013 -- and will look to finalize a contract with him in next couple of months. The new trend in the NFL is for free-agent players to sign shorter deals for as much guaranteed money as possible. So it wouldn't surprise me if the Bears and Cutler eventually ink a three-, or maybe four-year contract somewhere north of $16 million per season. The franchise tag is always a negotiating tool for a team to use if the negotiations fall apart, but in this case, I think the scenario of Cutler receiving a new multi-year contract is the most likely.
---
2. DICKERSON, YOUR BUDDY MCNOWN STUNK UP THE PLACE IN MINNESOTA. ARE THEY GOING TO MAKE A MOVIE ABOUT THAT? GO PACK!!! -- Alex, Ashland, Wis.



Dickerson:
Alex, I can assure you
Cade McNown
did not start for the Bears at quarterback last Sunday in the Metrodome. Maybe your television reception is a little fuzzy living that far up north. Now if you're taking about
Josh McCown
, he struggled at times in the 23-20 loss to the Vikings. Let's just say it wasn't his best performance. But for all the people criticizing McCown for his lack of arm strength or the methodical manner in which he guides the offense down the field, let me ask you this question: how many NFL general managers would love to have a backup quarterback on their roster, who in six appearances is capable of completing 120 of 184 passes for 1,461 yards, nine touchdowns, one interception for a passer-rating of 103.6? Without the benefit of a scientific poll, I'd say most league executives would find McCown's contributions this year to be acceptable. Not to mention the fact that he almost brought the Bears back versus Washington and Detroit, and had the team up 20-10 versus the Vikings in the second half. This is not about McCown being the Bears' quarterback of the future. This is about acknowledging that an incredible job he's done so far in relief of Cutler. McCown is a backup quarterback. But he's a very good one, and the Bears are lucky to have him.
---
December, 6, 2013
Dec 6
8:00
AM ET
LAKE FOREST, Ill. -- The situation looks dire, but
Chicago Bears
cornerback
Tim Jennings
says "he's seen it done before" and "if we get that one spark," perhaps the club's dying postseason hopes can spring back to life.
That's the mentality the Bears take into Monday night's game against the
Dallas Cowboys
.

"This month of December, that's when it really starts counting. That's when teams catch fire," Jennings said. "We've got to continue with an upbeat attitude and realize we just need that one big spark. I think it's going to start Monday with a prime-time game."
That could wind up being the case, but the club's recent history doesn't inspire much optimism about the last four games of the season. The Bears clearly own the home-field advantage for Monday's game, but the club hasn't won a home contest in the month of December since the day after Christmas in 2010, when it defeated the
New York Jets
.
Let's not forget the Bears blew a 7-3 start in 2011 and lost five of six down the stretch when quarterback
Jay Cutler
suffered a broken thumb that knocked him out for the last month and a half of the season. Then in 2012 the Bears cruised to a 7-1 start before losing five of the final eight.
This time around, perhaps it's better to be at the bottom looking up than in the advantageous spots the Bears found themselves in the two prior seasons.
"We set our goal that we've got one game to play, and that's on Monday night," coach Marc Trestman said. "It's a prime-time game. We've done very well in prime time this year. We did it against Pittsburgh. We did it against Green Bay, and we did it against the Giants."
The truth is the Bears "did it" against three teams with a combined record of 15-20-1.
"I really can't speak for anyone else's emotions, and I try not to," tight end
Martellus Bennett
said. "But for me, I'm super-excited about this week's challenge, and you never know what's going to happen. It takes a lot for us to be able to get to where we need to be. But the only thing we can do is take care of what we have to take care of, and that's win the games that we have to win one game at a time, and see what happens then. Sometimes you have to travel the road and see where you end up."
December, 5, 2013
Dec 5
8:06
PM ET
LAKE FOREST, Ill. -- The
Chicago Bears
held out receiver
Brandon Marshall
(quadriceps) from Thursday's practice, but the injury isn't expected to keep him out of Monday night's game against the
Dallas Cowboys
.
Marshall
"He's got a little bit of a quad," Bears coach Marc Trestman said. "So we held him out."
Marshall missed time during preparations last week for the game against the
Minnesota Vikings
, but the injury didn't keep the receiver from playing. Marshall caught four passes for 45 yards, while teammate
Alshon Jeffery
went for a Bears single-game record 249 yards receiving.
Marshall needs just 10 yards receiving on Monday for he and Jeffery to become the first pair of Bears receivers since 1995 (Curtis Conway and Jeff Graham) to each record 1,000 yards in a season.
Trestman ruled out quarterback
Jay Cutler
, who returned to practice on Thursday, and linebacker
Lance Briggs
, but safeties
Anthony Walters
(groin) and
Major Wright
(hamstring) rejoined the team in a limited capacity after missing Sunday's game at Minnesota. Trestman said "we're optimistic" regarding Wright's status for Monday night. Veteran
Craig Steltz
replaced Wright in the lineup in the loss to the Vikings.
The team listed rookie guard
Kyle Long
(ankle) on the injury report, but he participated fully in Thursday's workout with no limitations.
December, 5, 2013
Dec 5
6:57
PM ET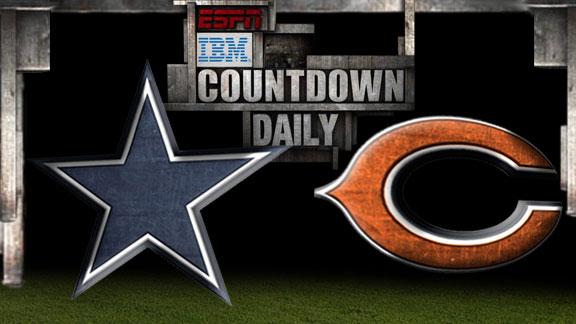 LAKE FOREST, Ill. -- While complimentary overall of the Dallas Cowboys, three former members of that organization now with the Chicago Bears considered the atmosphere there "Hollywood" compared to their current locale.
Bears special teams coach and assistant head coach Joe DeCamillis spent four years with the Cowboys (2009-12) and said "there can't be two (more contrasting) spectrums." Two more former Cowboys -- Bears defensive tackle Jeremiah Ratliff and tight end Martellus Bennett -- agreed as the teams prepare to face each other Monday night at Soldier Field.
Asked about the biggest difference between the Bears and Cowboys, Ratliff didn't hesitate.
"Football, first-class organization," he said of the Bears. "Just to put it bluntly, and it's not a shot -- if they take it like that, so be it. Here, it is all about football. You can really just focus on your craft. Focus on what it is you do. And no matter what's going on, you never forget what you're here for. That's a good thing."
A four-time Pro-Bowler, Ratliff was picked by the Cowboys in the seventh round of the 2005 draft, but he was released by the club on Oct. 13 and signed by the Bears on Nov. 2. Ratliff made his Bears debut Sunday against the Minnesota Vikings, participating in 23 snaps, and his workload will increase Monday night against his former team.
Ratliff said earlier in the week that Monday's matchup is "just another game," but that isn't the case for DeCamillis.
"I'm not going to lie to you and say it's like Ratliff and say it's like any other game," DeCamillis said. "Anytime you leave some place you always have a little bit more juice going back against them."
December, 5, 2013
Dec 5
4:53
PM ET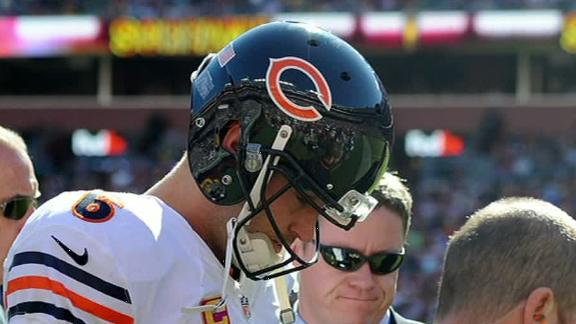 LAKE FOREST, Ill. -- The
Chicago Bears
' decision to sit quarterback
Jay Cutler
for Monday night's game against the
Dallas Cowboys
appears to be the smart play, and the perhaps the best way to avoid a repeat of the situation that put him where he is in the first place.
If you remember, Cutler rushed back from tearing a muscle in his groin during an Oct. 20 game against the
Washington Redskins
when the team faced the
Detroit Lions
on Nov. 10, only to bang up the ankle on a seemingly random hit in the second quarter. Now, it's easy to say one injury had nothing to do with the other because that's absolutely true.
But if you watched Cutler's movement early on in his return for the Lions game, it was quite apparent the quarterback's mobility was compromised. That likely didn't cause Cutler's ankle injury in the second quarter. But the end result is the end result.
Cutler returned to practice inside the Walter Payton Center on Thursday, but it would be unfair to ask the quarterback to try to overcome nearly a month of inactivity in just four days of prep time in advance of Monday's game. That's setting him up for failure.
"We want to be very, very careful," Bears coach Marc Trestman said. "I was encouraged today just by the work that he got in considering the injury wasn't that long ago. So we'll see where he is next week. It was a good first day for him to come and get some work. I thought he threw the ball very, very well."
Trestman said that when Cutler is medically cleared, he'll "absolutely" play. That clearance could come sometime next week or the week after, and at that time Cutler will receive ample opportunity to prove whether he's worth the long-term deal in Chicago he seeks. But really there's no reason to rush Cutler back into the lineup, even if the team were in the thick of race for the NFC North crown because backup quarterback
Josh McCown
has played well enough for this team to win.
McCown is 1-2 in his last three starts, throwing for 1,038 yards and five touchdowns to go with only one interception. In five starts on the season, McCown is 3-2 with an overall passer rating of 103.6.
"I think they both do a great job, different personalities definitely inside the huddle," tight end
Martellus Bennett
said. "Jay has a stronger arm and can do different things with just his arm strength, rely on his arm strength, and Josh relies on timing and being where we need to be. So Jay could make some throws that Josh may not be able to make in some different situations. But they both do a great job for us, and it shows. Every single week we've still been putting up numbers no matter who's [in] there."