November, 25, 2014
Nov 25
10:15
AM ET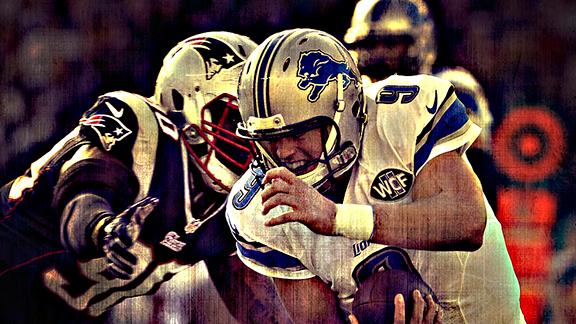 Let's take our weekly deep dive into the Sunday performance of five NFL quarterbacks, using data supplied by analyst Jacob Nitzberg of ESPN Stats & Information. After all, the numbers don't always speak for themselves. (For all Inside Slant posts, including the weekly QB Report,
follow this link
. For a full statistical breakdown of all NFL quarterbacks, see
ESPN.com's QBR page
.)
WEEK 12
CMP: 18
ATT: 46
YDS: 264
PCT: 39.1
TD: 0
INT: 1
WHAT YOU MISSED
Stafford completed just 18 of his 46 passes, giving him the lowest single-game completion percentage (39.1) in his career. How much of it was his fault? And how much of the blame falls on his receivers or pass protection? Here's what we found out: Of the 28 incompletions, 10 were judged to be over- or under-thrown in ESPN video review, tied for Stafford's second most in a game this season. Four of the incompletions were judged to be dropped and nine more were defended -- broken up, batted or intercepted -- by the Patriots. Both of those last two figures were season highs for Stafford. Seven of those defended passes were intended for receiver Calvin Johnson or Golden Tate. (Stafford targeted each of them with 10 passes and completed four apiece.) That provides a reliable explanation for most of the misses. Meanwhile, Stafford found himself under duress or hit on 10 of his dropbacks, third most for a quarterback in a game during Week 12.
FINAL ANALYSIS
When you throw 46 passes and complete only 18, there is plenty of blame to go around. Stafford's inconsistent accuracy was the biggest culprit, but the Patriots also played excellent defense. The drops, on the other hand, are best seen in context. Their total of 18 for the season is the sixth most in the NFL, but part of that is the result of 417 overall attempts, which ranks eighth in the NFL. The drop percentage, a more reliable measure, is 4.3 -- slightly higher than the NFL average of 4.0. Receiver drops shouldn't be disproportionately blamed.

WEEK 12
CMP: 38
ATT: 53
YDS: 349
PCT: 71.7
TD: 2
INT: 1
WHAT YOU MISSED
The Patriots used a pass-first approach against the Lions, but see if you can pick up on its true intent. Brady threw 11 screen passes and completed all of them, his highest total of both completions and attempts in at least five seasons. Of his 53 attempts, 29 traveled 5 yards or fewer past the line of scrimmage. Brady completed 25 of them, including 12 that were caught at or behind the line. Brady threw 21 passes on first down, tied for his most in a game this season, and converted eight first downs on those throws. He also completed 5 of 6 play-action throws on first down and 8 of 9 overall. The Lions backed off their blitz against him, sending an extra rusher on 15 percent of his dropbacks, and overall they pressured him on only 9.4 percent of his dropbacks, a season low for the Lions and for Brady. He was put under duress on five attempts, completing all five.
FINAL ANALYSIS
A week earlier, the Patriots defeated the Colts behind 201 rushing yards from power back Jonas Gray. They pivoted noticeably against the top rushing defense in the NFL, but they used their passing game often to simulate the run. The end result: The Patriots lit up the Lions for 34 points, more than twice their defensive scoring average entering the game.
WEEK 12
CMP: 17
ATT: 27
YDS: 130
PCT: 63.0
TD: 1
INT: 0
WHAT YOU MISSED
Cutler posted season lows in dropbacks, attempts, completions and passing yards for a game -- and it appeared by design. Playing against a defense that discourages downfield throws, Cutler attempted only three passes that traveled more than 10 yards past the line of scrimmage. His longest pass traveled 17 yards in the air past the line of scrimmage. The three attempts were Cutler's fewest in a game that he has finished since joining the Bears in 2009. His average air yards per throw was 3.85, by far his shortest this season and his second shortest in his Bears career. He attempted only five outside passes (passes thrown beyond the numbers). Entering the game, he had completed at least seven of those passes each week this season. He threw five play-action passes and three screens, completing all eight such throws. In eight red zone plays, the Bears threw only once -- the second time in as many weeks when they have run more often than passed in the red zone. The reverse had been the case the previous 10 weeks.
FINAL ANALYSIS
For at least one week, the Bears dialed it way back for a quarterback who entered the game with 17 turnovers. In the past two weeks, tailback Matt Forte has carried or caught a pass 60 times for a total of 287 yards. That makes sense, given Cutler's struggles and the arrival of December weather.
Cleveland Browns
WEEK 12 vs. ATL:
W, 26-24
WEEK 12
CMP: 23
ATT: 40
YDS: 322
PCT: 57.5
TD: 0
INT: 3
WHAT YOU MISSED
Hoyer's worst game of the season coincided with the return of downfield threat Josh Gordon from suspension. Hoyer targeted Gordon 17 times against the Falcons, completing eight but also throwing two of his interceptions on those throws. He threw downfield to Gordon -- at least 15 air yards -- eight times and completed two of them. Those 17 targets were tied for the most passes thrown to one player in an NFL game this season. Eight of his 17 incompletions were judged to be overthrows by ESPN video analysis, including two of his interceptions. In the red zone, Hoyer missed all six of his attempts, including one interception. His 0.0007 QBR in the red zone was the worst of his career. All three of his interceptions came against the Falcons' standard pressure, the same as his previous five this season. Hoyer had not previously thrown an interception against the blitz in 2014.
FINAL ANALYSIS
Did the Browns' eagerness to unleash Gordon knock Hoyer off his previously efficient game? It's difficult to dismiss that possibility as at least a partial explanation for his performance. Hoyer regained his composure to lead another game-winning drive in the fourth quarter, his fifth in 10 victories as a starter during his career, giving him a successful outcome with which to evaluate his approach.
WEEK 12
CMP: 17
ATT: 22
YDS: 211
PCT: 77.3
TD: 1
INT: 0
WHAT YOU MISSED
Wilson took seven sacks, tying his career high, and they came in a variety of ways. He spent an average of 2.56 seconds in the pocket per throw, his longest in a game this season, but three of the seven sacks came outside the pocket. The Cardinals blitzed him on 50 percent of his dropbacks, a season high for Wilson. They sacked him on three of those plays, but he also completed 11 of the 13 passes he got off against the blitz for 153 yards. When under duress, Wilson completed 5 of 6 passes for 70 yards and a touchdown. Wilson kept most of his passes short, attempting only three that traveled at least 15 yards downfield. Of his 211 passing yards, 138 came after the catch. He attempted a season-low seven passes to receivers and kept the ball on five of the Seahawks' 14 zone-read plays, accounting for 46 yards.
FINAL ANALYSIS
It's probably best to view the seven sacks as a byproduct of Wilson's ability to make plays against the blitz. When an opponent blitzes on half of your passing plays, you find any way you can to make it work. The Seahawks are more than happy to take the end result.