March, 8, 2014
Mar 8
9:00
AM ET
Thanks for everyone's participation because there is no Twitter mailbag without you guys.
Enjoy your weekend.
March, 7, 2014
Mar 7
1:16
PM ET
Chicago Bears
veteran long-snapper
Patrick Mannelly
has been voted the 2013 Ed Block Courage Award winner.
Mannelly will be presented with the award on April 8, at a luncheon held at Maryville Academy in Des Plaines.
The Ed Block Courage Award is given out annually to one player on all 32 NFL teams who best exemplifies a commitment to sportsmanship and courage and serves as an inspiration in the locker room. Teammates vote for the award. Ed Block Courage Award winners symbolize professionalism, great strength and dedication, and are considered role models in the community.
Past recipients of the Ed Block Courage Award include:
Nick Roach
(2012),
Brian Urlacher
(2011),
Anthony Adams
(2010),
Israel Idonije
(2009) and
Charles Tillman
(2008).
The Ed Block Courage Award Foundation promotes the prevention of child abuse by raising awareness and assisting agencies that provide for the care and treatment of abused children.
Mannelly holds the franchise record for seasons of service (16) and games played (245). He holds the honor of being the only player from the 1998 NFL draft (sixth round) that is still playing with the team that originally selected him. Mannelly has missed only 11 games in his career and has snapped the ball 2,282 times over the course of his illustrious career.
Mannelly, 38, is recovering from offseason hip surgery but is expected to be welcomed back to the Bears if he decides to play for a 17th season. The veteran long-snapper is scheduled to be an unrestricted free agent.
March, 7, 2014
Mar 7
11:00
AM ET
»
AFC Free-Agency Primer
:
East
|
West
|
North
|
South
»
NFC
:
East
|
West
|
North
|
South
Key free agents:
Charles Tillman
,
Henry Melton
,
D.J. Williams
,
Major Wright
,
Devin Hester
,
Corey Wootton
,
Josh McCown
.

Where they stand:
The club informed Hester it won't be re-signing him for 2014, but the Bears are making a concerted effort to try to bring back Tillman. Still, there's a chance the economics won't work out, as Tillman could have other suitors willing to pay more than Chicago. The Bears did some work in re-signing free agents, such as defensive tackle
Jeremiah Ratliff
, cornerback
Kelvin Hayden
along with center
Roberto Garza
, to cap-friendly deals. Negotiations to re-sign McCown have moved along slowly, which means there's a chance the Bears could lose him if another team gives the backup an opportunity to win a starting job. There's interest from both sides in re-signing Williams, and talks are expected to continue over the weekend.
What to expect:
At this point, it's unknown where Chicago's pro personnel department has rated its own unsigned free agents against what else is available on the market. So count on the Bears waiting to see what the market value for their own players is before moving to re-sign them, which is actually a smart move that will keep them from overpaying. The Bears aren't expected to overspend on big names in free agency, but general manager Phil Emery has been known in recent years to make a couple of surprise moves. The Bears would like to infuse youth on defense, but that could prove to be a pricey proposition in free agency for a team with limited cap space. They do have the flexibility to free up cash by cutting players such as
Julius Peppers
, or restructuring
Jay Cutler
's deal, which includes a base salary of $22.5 million in 2014.
March, 7, 2014
Mar 7
8:00
AM ET
Teams around the NFL can start contacting and negotiating with agents of players set to become unrestricted free agents on Saturday, but deals can't be executed until 3 p.m. CST March 11 when the new league year starts.
As that date quickly approaches, we take a look at Chicago's pending free agents, and their chances of returning to the team in the fourth part of our series we'll post all week.
2014 free agent:
Blake Costanzo
Position:
Special teams/linebacker
2013 statistics:
Special teams -- 17 tackles, one forced fumble and one fumble recovery; Defense -- two tackles
2013 salary:
$715,000 base salary and $25,000 workout bonus -- $740,000 cash value
Outlook:
Costanzo led the Bears in special teams tackles but the team has made no attempt to re-sign him since the end of the regular season. The outspoken Costanzo didn't seem to click with first-year head coach Marc Trestman. However, Costanzo is a valuable contributor on special teams. He is sure to find work, but the prospects of him returning to Chicago are bleak. Costanzo received a $400,000 signing bonus from the Bears when he inked his two-year deal in 2012. That would be a great guaranteed number for Costanzo to strive for in the next round of free agency that begins March 11.
2014 free agent:
Eben Britton
Position:
Guard/offensive tackle
2013 statistics:
None. Played in 13 games with four starts as an extra tight end.
2013 salary:
$715,000 base salary and no bonuses and $4,200 workout bonus -- $718,200 cash value
Britton
Outlook:
Didn't play the first three games before making his Bears debut Sept. 29 and later starting four games as an extra tight end in some of the club's run sets. In all, Britton played in 13 games and is a valuable backup with extensive experience as a starter. In fact, Britton could attract interest in free agency from teams wanting him to come in to compete for a starting job. Chicago will let Britton test the market to see how things shape up for him, and if he doesn't receive consideration as a potential starter, the Bears might look into bringing him back as a reserve with a veteran-minimum salary.
2014 free agent:
Patrick Mannelly
Position:
Long snapper
2013 statistics:
One special teams tackle
2013 salary:
$940,000 base salary and $5,250 workout bonus -- $945,250 cash value
Outlook:
When Mannelly recovers from offseason hip surgery he will have a one-year, veteran minimum salary waiting for him from the Bears. Entering his 17
th
NFL season, Mannelly's skills are still sharp. Maybe he doesn't snap like he did five years ago, but he certainly appears capable of being effective and his usual near-flawless self for the Bears in 2014. There is a chance Mannelly, who turns 39 next month, could decide to walk away from the game on his own terms. That is always a possibility. But if the Bears' all-time leader in games played still has the itch to snap in the NFL, the Bears are expected to welcome him back with open arms. Why wouldn't they?
2014 free agent:
Jonathan Scott
Position:
Special teams/linebacker
2013 statistics:
None. Inactive for all 15 games he spent with the team.
2013 salary:
$715,000 base salary -- $672,941 cash value
Outlook:
The Bears cut Scott in early September of last season to avoid being strapped with guaranteeing his salary for 2013 due to the fact he was a vested veteran. The Bears brought him back less than a week later, and although Scott was with the team for the final 15 games, he never saw action. Scott, 31, will test the market, according to his representatives, and it's unlikely the Bears will look to re-sign him unless they run into trouble finding younger players capable of contributing as reserves.
March, 6, 2014
Mar 6
5:04
PM ET
Former
Chicago Bears
linebacker
Brian Urlacher
weighed in Thursday on the team's
decision to part ways
with return man
Devin Hester
.
Hester played eight seasons with the Bears, but on Wednesday was informed the club was looking to "go a different way with me," he said on NFL Network. Urlacher told FoxSports.com he was "really surprised" to hear his former teammate would no longer be a Bear.
"You think of Devin returning all those punts and kicks as a Bear," said Urlacher, now an NFL analyst for Fox Sports 1. "He's going to break the record on another team, probably. It's crazy to think he won't be in a Bears uniform doing that. It's frustrating as an ex-Bear and a player to see that happen."
Especially when you've got firsthand experience with the business side of the NFL as Urlacher suffered a similar fate offseason when he and the Bears couldn't come to agreement on a new deal.
Although Hester turns 32 in November, he led the NFL last season with a career-high 1,436 kick return yards on a league-high 52 tries, and returned five kickoffs for a team-record 249 yards against Minnesota in Week 2 of last season..
With Hester focusing primarily on returns in 2013, it's likely the team held expectations that he would return to greatness on a more consistent basis.
But in 123 games (46 starts) over eight seasons (2006-13), Hester's 3,241 punt return yards are eighth most in NFL history and his 12.3 punt return average ranks No. 5. Hester is the club's all-time leader in total return touchdowns, punt return touchdowns, punt return yards, kickoff return yards (5,504), total kick return yards (8,745) and second in all-purpose yards (11,632).
"Look at what the Steelers have done the last couple days signing
Troy Polamalu
,
Heath Miller
, some older guys to a couple more years just so they can retire as Steelers," Urlacher said. "The Bears could do that with Devin. He should retire a Bear. He set all those records in a Bears uniform and his number 23 should be retired one day in Chicago.
"It's just the loyalty factor," he added. "It's just not there. He should be a guy that retires as a Bear."
Despite Hester expecting to play for another team in 2014, he would like to retire a Chicago Bear when his playing career comes to a close. In the meantime, Hester would like to reunite with former Bears coach Lovie Smith, who is now with the
Tampa Bay Buccaneers
.
"I look at Lovie as my number one coach right now because he's the one that took a chance on me coming out of the draft," Hester said. "He has all my respect so if he's a guy that is going to shoot at me and want me to come play with him again, my arms are open."
Urlacher believes a potential reunion with Smith would "be a great move" for Hester.
"He had great success from when Lovie was with Chicago," Urlacher said. "All those returns were when he was his head coach. Anyone leaving Chicago and joining Lovie is a great move. He's a great head coach and guys know what it's like playing for him. He has been successful in the league and he'll be successful down there, as well. I think Tampa would be a great fit for Devin."
The Bears fired Smith on Dec. 31, 2012, before hiring Marc Trestman as his replacement.
March, 6, 2014
Mar 6
5:00
PM ET
The
Chicago Bears
signed veteran defensive end
Trevor Scott
to a one-year contract, the team announced on Thursday.
Scott has appeared in 76 games with 18 starts over six seasons with the
Oakland Raiders
,
New England Patriots
and
Tampa Bay Buccaneers
. The 6-foot-5, 260 pound defensive end played in just four games and recorded three tackles for the Bucs last season.
Oakland's six-round choice (No. 168 overall) in the 2008 NFL draft out of the University of Buffalo, Scott had five sacks for the Raiders his rookie, then registered a career-high seven sacks, 37 tackles, 11 tackles-for-loss and 12 quarterback hits in 2009.
Scott also has 20 lifetime tackles on special teams.
The Bears view upgrading the defensive line as one of their top offseason priorities after the unit struggled last season due to injuries and inconsistent play.
Veteran defensive tackle
Jeremiah Ratliff
agreed to terms on a new two-year deal on Wednesday, while fellow defensive linemen
Henry Melton
,
Nate Collins
,
Corey Wootton
and
Landon Cohen
are scheduled to become unrestricted free agents when the NFL's new league year begins on March 11. The Bears signed former
Jacksonville Jaguars
and
Detroit Lions
defensive end
Austen Lane
to a one-year deal in February.
Another decision looming for the Bears on the defensive line is the roster status of eight-time Pro Bowl defensive end
Julius Peppers
. Peppers, 34 years old, is scheduled to count $18,183,333 against the Bears' 2014 salary structure under the terms of his current contract and is fresh off a mediocre 2013 season.
March, 6, 2014
Mar 6
2:00
PM ET
Todd McShay of Scouts Inc. dropped his Mock 3.0 on Thursday with the
Chicago Bears
staying true to filling their need at defensive tackle in using the No. 14 pick on Pittsburgh's
Aaron Donald
.
McShay writes: "Donald is a perfect fit for the Bears' scheme as a 3-technique defensive tackle. I don't know if there's been a prospect who has helped his stock more during the draft process than him. He was unblockable at the Senior Bowl, and that, put together with an unbelievable overall workout at the combine. He's shorter than prototype size, but he has long arms, a powerful upper body and creates a lot of big plays with his anticipation and quickness. FSU's Timmy Jernigan is a fit as a 3-technique as well, but Donald is a much better finisher as a pass-rusher."
At this point, Donald might make more sense than Jernigan at No. 14 because the Bears re-signed
Jeremiah Ratliff
on Wednesday, and could benefit tremendously from pairing the young talent with a veteran next season. If Donald doesn't pan out as a rookie, at the very least he would provide depth at a position that sorely lacked it in 2013 when injuries took hold of the front four.
In 2013, the Bears allowed the most points (478) and total yards (6,313) in franchise history as opponents ran all through through the team's beat-up defensive line and inexperienced linebackers later in the season. Chicago gave up 10 100-yard rushing performances, in addition to a 211-yard effort on Dec. 1 by Minnesota's
Adrian Peterson
.
Defensive tackles
Henry Melton
and
Nate Collins
suffered season-ending injuries in 2013, and both are set to hit free agency. At this point, Collins seems to be more likely than Melton to return in 2014 as the latter will speak to other teams on March 8 when the negotiation window opens.
If the Bears brought aboard Donald, and re-signed Melton, Collins, and
Corey Wootton
, they'd actually field a pretty formidable rotation up front; at least on paper.
McShay and ESPN draft analyst Mel Kiper Jr. have been pretty consistent in their mock drafts with most of them having the Bears using their 14th pick on a defensive tackles.
Uncertainty currently remains a hallmark along Chicago's defensive line, as the club needs more than just Ratliff and veteran
Stephen Paea
, who right now are the only defensive tackles under contract. It's worth noting that Paea's contract expires after the 2014 season.
"I feel like I can make an impact right away, feel like I can come in and have trust in the coaches and playbook and make plays right away," Donald said last month at the NFL combine. "I played nose tackle, played a three-man front in the five-tech, three-tech. I moved around in college a lot. So being versatile the way I am, I feel like that's a plus for me."
It could prove beneficial for the Bears, too.
Donald, like Melton, lacks ideal size. But the former Pittsburgh star's first step is off the charts, a trait he shares with Melton, who was the club's franchise player in 2013.
The Bears want youth on defense, and when you talk to folks within the organization, the words "tough" and "athletic" seem to be a common themes of the team's vision for the type of players they'd like to add in the future to that unit. Donald certainly possesses those traits.
The league's rookie slotting system, which would strap Donald to a cap-friendly contract over the next few years, makes him even more attractive.
March, 6, 2014
Mar 6
1:27
PM ET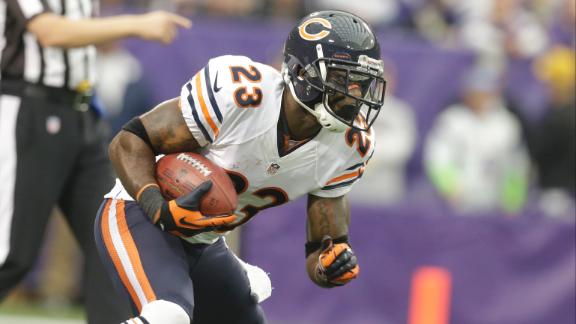 CHICAGO -- In a perfect world, Devin Hester's last moment as a Chicago Bear would've been a high punt down the middle, so he could pick and choose exactly how he would strike.
Hester would take off, wearing his high-top spikes with "Any" on one shoe and "Time" on the other, and he would run through the hapless special-team statues, down the Bears sideline, into the end zone and through the tunnel as the roars of the crowd echoed from here to Canton.
That's cliché sports-movie pablum. But in the cold reality of the National Football League, Hester's departure from the Chicago Bears was inevitable, unsurprising and sensible.
After talking to the NFL Network about his likely departure from the team that drafted him in 2006, Hester made it Facebook official on Wednesday night. By Thursday morning, the Bears confirmed they wouldn't be re-signing him for 2014.
This is how NFL careers end, so there's no indignity implied. In fact, the headline on the Bears' website was "End of an Era."
"While Devin has redefined the pinnacle standard of the return position in the NFL, the memories and contributions he has given us cannot be measured by stats or numbers," Bears general manager Phil Emery said in a statement.
As infuriating as Hester could be to the salary-cap counters and critics, when he was doing what he does best, he was the most exciting player in Chicago and as pure of an athlete as has ever graced a Bears uniform.
Who else could make Lovie Smith run down the field like a Pop Warner parent?
Who else could dance to "Crank That (Soulja Boy)" before receiving a kick and look cool as hell?
Who else would tell a reporter expecting his first child, "Have fun with the kid. Just don't watch him come out!"
March, 6, 2014
Mar 6
1:18
PM ET
While Chicago's decision to part ways with
Devin Hester
underscores the sentiment of almost every player out there that the NFL is a tough business, don't feel sorry for him because he's still got plenty of gasp-inducing returns to dazzle you with.
It's just we no longer get the audio gold dug up when
Chicago Bears
play-by-play man Jeff Joniak calls Hester "ridiculous."
We no longer have to listen to that ridiculous song "Crank Dat (Soulja Boy)" when Hester lines up to field a punt or kickoff.
[+] Enlarge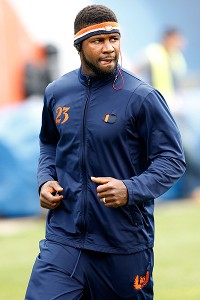 AP Photo/Charles Rex ArbogastThe Bears tried to find a place for Devin Hester at wide receiver and defensive back, but it didn't work out.
In the lead-up to free agency, neither general manager Phil Emery nor head coach Marc Trestman ever gave any strong indication the Bears wanted to bring back Hester for a ninth year in Chicago. So the move Wednesday and the corresponding statement of appreciation from the organization on Thursday didn't come as a surprise.
Clearly, Hester isn't the return man he once was. But he's still better than at least 95 percent of his return-specialist peers around the league, which is why some team -- perhaps even Tampa Bay under former Bears coach Lovie Smith -- is sure to snatch up Hester as soon as free agency hits on March 11. In fact, his agent, Eugene Parker, should be waiting by the phone when the negotiation window opens March 8 because he should get plenty of calls looking to add some pop to their return games.
Hester averaged 27.6 yards on kickoff returns last season, and took a punt 81 yards to the house against Washington. In fact, Hester ripped off runs of 20 yards or more on four of his 18 punt returns last season. So clearly, he's still got it. The Bears just didn't want it because of the associated cost paired with the lack of versatility.
A Bears source said on Thursday that Hester is loved and respected within the organization and that "things would be different" for his chances in Chicago if he had a true position on offense or defense. The club tried on numerous occasions over the years to give Hester opportunities to find roles on offense and defense.
Hester was unable to capitalize and counted $2.94 million against the club's cap in 2013, which is too much for a return specialist, regardless of his Hall of Fame résumé.
That shouldn't diminish Hester's legacy, as he's almost a lock to add to it with his next team.
Chalk the situation up to it being one of the harsh realities permeating the business side of the NFL.
Interestingly, Hester's story in Chicago comes almost full circle in a weird way. When the team was in the draft room discussing whether to select Hester in the second round back in 2007, the club's personnel men, like the rest of the league, were hesitant to take a chance on the return man because he wasn't a proven commodity at any set position on offense and defense.
Throughout that process, Smith was open-minded and receptive, which is part of the reason Hester landed in Chicago in the first place.
Perhaps it'll be Smith that gives Hester his next job.
March, 6, 2014
Mar 6
11:34
AM ET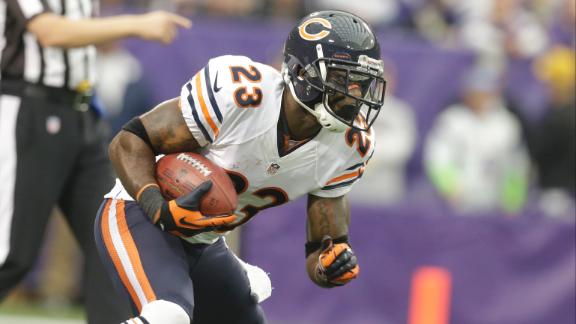 Despite all his accolades as a return man, Devin Hester won't be returning to the Chicago Bears in 2014.
After the Bears informed Hester he wouldn't be re-signed for 2014, general manager Phil Emery released a statement Thursday thanking the record-setting returner.
"For the past eight seasons, we have been honored to have Devin Hester as a part of our organization," Emery said. "While Devin has redefined the pinnacle standard of the return position in the NFL, the memories and contributions he has given us cannot be measured by stats or numbers."
Interestingly, the team parted ways in 2013 with future Hall of Fame linebacker Brian Urlacher in similar fashion.
Hester ranks as the NFL's all-time leader in punt return touchdowns (13) and total kick return touchdowns (18). Overall, Hester has generated 19 regular-season return TDs -- which ties Hall of Famer Deion Sanders for the most in league history -- including a 108-yard return of a missed field goal.
Hester returned the opening kick in Super Bowl XLI 92 yards for a score, giving him a league-record 20 return TDs in the regular season and playoffs.
"Not only is Devin a special player, he is also an exceptional person," Emery said. "He is a great teammate, husband and father. Devin represented the organization off the field as well as he did on it. When his career is over, he will always be a welcome member of the Bears family. We thank him for his dedication and wish him and his family all the best."
Hester made the news of his pending departure public Wednesday during an interview with NFL Network.
March, 6, 2014
Mar 6
11:00
AM ET
Todd McShay's third NFL mock draft for 2014 is out on ESPN Insider today. The Bears are mostly set on the offensive side of the ball. This is going to be an extremely defensive-heavy offseason for Chicago in an attempt to restore a once-proud defense that was among the worst in the league in 2013.
Every defensive position group needs major work right now but a defensive tackle upgrade would be a very welcome addition. If the Bears re-sign
Henry Melton
, another 3-technique, such as Pitt's
Aaron Donald
might be off the table because he is a very similar style of defensive tackle.
Julius Peppers
is very likely going to be released, but there isn't really a defensive end option for Chicago at No. 14, even though that too is a huge area of concern.
A dynamic young linebacker also would be enticing, keeping the Bears' great run of linebackers going strong. Chicago's secondary is in far-from-ideal shape right now as well and they might have had the worst safety play in the league in 2013. Defense. Defense. Defense.
Whom does McShay have the Bears drafting at No. 14?
Let's take a look
:
To continue reading this article you must be an Insider
March, 6, 2014
Mar 6
10:00
AM ET
Teams around the NFL can start contacting and negotiating with agents of players set to become unrestricted free agents on Saturday, but deals can't be executed until March 11 at 3 p.m. CT when the new league year starts.
As that date quickly approaches, we take a look at Chicago's pending free agents, and their chances of returning to the team in the third part of our series we'll post all week.
Williams
2014 free agent:
D.J. Williams
Position:
Linebacker
2013 statistics:
6 games (four starts); 39 tackles (21 solo), 2 sacks, 1 forced fumble, 2 tackles for lost yardage, 1 quarterback pressure.
2013 salary:
$900,000 base salary, $750,000 roster bonus, $100,000 workout bonus -- $1,281,250 cash value
Outlook:
The Bears mentioned Williams' strong play prior to a season-ending pectoral injury on multiple occasions shortly after the season, and all indications are the club wants the veteran to return for 2014. Williams has spent time rehabbing at Halas Hall and says he would like to remain a part of Chicago's defense in 2014. Given the mutual interest between the sides, it should be only a matter of time before the Bears sign Williams to a deal similar to what he received to join the club last spring. With Williams in the middle flanked outside by
Lance Briggs
and
Jonathan Bostic
(provided he wins the starting job at Sam), the Bears could field a solid linebacking corps next season provided the group stays healthy.
Steltz
2014 free agent:
Craig Steltz
Position:
Safety
2013 statistics:
16 games (one start); 14 tackles, one pass breakup and 14 special teams tackles.
2013 salary:
$715,000 base salary and $50,000 workout bonus -- $765,000 cash value
Outlook:
Steltz is a solid reserve safety and special teams contributor. He's spent his entire NFL career in Chicago and would no doubt prefer to stay with the Bears. League minimum contracts for NFL veterans are a sensitive subject. Minimum deals basically represent an invitation to try out for the team. Veterans that fall into the league minimum category will fight hard for signing bonus money. Steltz could possibly find himself in that situation. Steltz has always been a good soldier, hard worker and positive voice in the locker room. Whether the Bears reward Steltz with a signing bonus (he received a $125,000 signing bonus two years) remains to be seen. But he fits the mold of the type of player the Bears are looking to bring back.
Collins
2014 free agent:
Nate Collins
Position:
Defensive tackle
2013 statistics:
Five games (two starts); 13 tackles, three quarterback pressures and one sack.
2013 salary:
$630,000 base salary and $5,250 workout bonus - $635,250 cash value
Outlook:
Collins had a strong preseason and appeared poised to have a breakout year until he landed on injured reserve with a torn ACL. Collins is a pass-rusher. Players that can pressure the quarterback are not easy to find. The Bears decided not to tender Collins at the restricted free agent amount last season, and instead released him and signed him back to a minimum deal. Because of the knee injury, Collins is probably looking at the same kind of deal this time around. Collins, who has potential, seems like a decent candidate to return in the later waves of free agency unless the Bears feel confident enough in his health to extend him an offer in the coming week.
Anderson
2014 free agent:
James Anderson
Position:
Linebacker
2013 statistics:
16 games (16 starts); 129.5 tackles (76 solo), 7.5 tackles for lost yardage, 10 quarterback pressures, 4 sacks, 3 pass breakups, 1 fumble recovery.
2013 salary:
$950,000 base salary, $200,000 signing bonus, $100,000 workout bonus -- $1,250,000 cash value
Outlook:
Anderson led the team in tackles, and tied with
Shea McClellin
for second in sacks. But the Bears haven't shown much interest in bringing back Anderson so far this offseason. As of Wednesday afternoon, the team still hadn't approached the veteran about a possible return. Anderson doesn't seem to fit the mold of the tough, hardnosed athletes the Bears are looking to add to the defense. So once the negotiation window opens, Anderson will likely be speaking with other teams before the Bears make a move. Anderson will likely leave, but it's still too early to rule out a return to Chicago.
March, 6, 2014
Mar 6
8:00
AM ET
The signing of
Jeremiah Ratliff
to a two-year deal Wednesday night doesn't end
Henry Melton
's days in Chicago, but it didn't solidify a potential return either.
Melton
Now, with at least one of the defensive tackle spots solidified, it likely becomes easier for the
Chicago Bears
to opt to fill Melton's spot through the draft, given the number of talented prospects in this year's class, the team's desire to infuse youth on defense, not to mention the fact the rookie slotting system makes it much more feasible (and sustainable for the next few years) from a salary cap perspective. Perhaps that's why Melton's representatives fully expect their client to speak to other teams on March 8, when the window opens up for them to negotiate with other clubs.
The Bears are probably better with Melton than without him, with the most important caveat of a potential deal between the sides making sense for the club financially.
Coming off surgery to repair his left ACL, Melton isn't expected to be able to command megabucks in free agency. So he'll likely sniff around to see what's out there, only to find other teams will likely be offering deals similar to what the Bears might put on the table.
So in considering potential landing spots, Melton may need to basically just count out 2014 as the year to get a lucrative deal, and look at what playing next to Ratliff next season could possibly net in the future. After all, Melton is coming off a 2013 season in which he was paid handsomely; and at age 27, he'll have another opportunity to earn a rich, multi-year deal, provided he proves his mettle on the field while staying out of trouble off of it.
To me, playing opposite Ratliff provides the best chance for that. What do you think?
March, 6, 2014
Mar 6
12:05
AM ET
The
Chicago Bears
' decision to move on without
Devin Hester
is not a surprise.
There were no indications that general manager Phil Emery had given strong consideration to bringing back the three-time Pro Bowler return man, who has spent his entire eight-year NFL career in Chicago.
Hester can still play. He averaged 27.6 yards on 52 kickoff returns and brought back a punt for a touchdown last season, but he also counted $2,940,858 against the club's 2013 salary cap.
That is simply too much salary cap space for a team to allocate to strictly a return man. The Bears tried it last year, and even though the results were hardly disastrous, the organization needs to pour its remaining free agency resources (after the
Jay Cutler
offseason deal) to shoring a defense that ranked near the bottom of the NFL in many statistical categories in Mel Tucker's first year as coordinator.
However, this news should not diminish Hester's legacy.
There isn't a Bears fan alive who will forget Hester's electrifying 2006 rookie season, or when he returned the opening kickoff of Super Bowl XLI 92 yards for a touchdown.
When Hester had a chance to return a punt or kickoff, fans rarely left their seats in the stadium or at home.
He will be remembered as one of former general manager Jerry Angelo's best draft choices. Angelo once admitted to being "Hesterized" during the 2006 NFL draft process which led to the Bears selecting Hester in the second round out of Miami.
Who could blame him?
Hester helped the Bears win plenty of games and two division titles over his eight-year span and never embarassed the team with any off-the-field behavior problems.
Don't make the mistake of underestimating a player determined to prove people wrong. Several teams expressed interest in Hester last month at the combine, and a decent market is expected to develop for his services when free agency officially begins on March 11 at 3 p.m. CT.
Hester has plenty of ties around the league and his phone should be ringing from interested parties. The question, of course, becomes price. What will a team be willing to pay Hester after he pocked $2,107,523 from the Bears in 2013?
Hester could be in for a rude awakening if he believes a pay raise is on the horizon.
But these are issues for another day.
Hester should be celebrated from his accomplishments in a Bears' uniform. Although he had his faults, like every player, Hester easily goes down as one of the most exciting athletes to play in Chicago since the end of the Bulls' championship run in the late 1990s.
That is what people need to be talking about.