March, 16, 2014
Mar 16
1:00
PM ET
The Cowboys have a scheduled visit with free agent defensive tackle
Henry Melton
on Monday, according to a source.
Melton visited Seattle late last week and could have more planned if he doesn't reach a deal with the Cowboys.
Melton played in just three games with the
Chicago Bears
last season before suffering a torn ACL. While it's expected Melton will recover in time for training camp, he must prove to NFL teams, looking to sign him, health won't become a problem during the 2014 season.
The Cowboys are looking for a replacement for defensive tackle
Jason Hatcher
, who signed a four-year contract with the
Washington Redskins
, late last week. Melton is a favorite of Cowboys' defensive coordinator Rod Marinelli, who coached him to a Pro Bowl berth while they were in Chicago in 2012.
Melton is the biggest free agent to visit Valley Ranch since the period started last Tuesday. The Cowboys are looking to upgrade the defensive line and have expressed interest in
Julius Peppers
(signed with Green Bay),
Jared Allen
,
Robert Ayers
and Melton.
The Cowboys would also like to bring back one of their own free agent defensive lineman in
Anthony Spencer
. Spencer, who is coming off a torn ACL, is visiting the
New York Giants
on Sunday and visited the Washington Redskins along with Hatcher, last week.
March, 15, 2014
Mar 15
11:50
AM ET
We've covered the fact that Chicago's decision to release
Julius Peppers
on Tuesday was more about his $13.9 million base salary for 2014 and $18.183 million salary-cap hit than issues with production.
But surely the club never expected the defensive end to land with the division rival
Green Bay Packers
.
Peppers
signed a three-year deal
with the Packers on Saturday worth up to $30 million, including $7.5 million guaranteed, according to ESPN's Josina Anderson. Financially, the deal makes sense for the Packers, which begs the question of whether such a contract could've been done with the Bears.
[+] Enlarge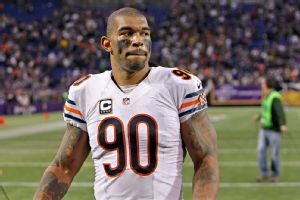 Brace Hemmelgarn/USA TODAY SportsJulius Peppers was a Pro Bowler in three of his four seasons with the Bears.
We'll probably never know.
According to a source familiar with the situation, that possibility was never explored between Peppers and the Bears.
Why? Well, one league source said the Bears simply didn't want to bring back Peppers. In four years playing for the Bears, Peppers started in every game (64), generated 37.5 sacks and made the Pro Bowl in all but one season (2013). In all, Peppers generated 118.5 sacks throughout his career, which puts him at No. 2 in the NFL since coming into the league in 2002, and 17
th
in NFL history since 1982, when the league began to tally sacks as an official statistic.
But in 2013, Peppers' effort wasn't up to snuff enough for the
Chicago Bears
to feel comfortable about bringing him back for 2014 on what's expected to be a youth-infused defense with a hard-nosed, physical mentality. Make no mistake about it: Peppers' salary played perhaps the largest role in his release. But a league source said Peppers gave the Bears only six to eight solid snaps per game, and the belief was the defense could consistently get better effort from less accomplished players.
That perception shouldn't be seen as foreshadowing for what the Packers will get in 2014 from Peppers.
Although some scouts said Peppers "didn't seem like he was into it" for a good portion of 2013, some of that could be attributed to playing on a horrid Bears defense riddled by injury, in addition to losing former defensive coordinator Rod Marinelli, who is known to be a strong motivator.
After all, in 12 seasons in the NFL, Peppers has finished with fewer than eight sacks in a season just three times (2003, 2007 and 2013).
Besides that, it's likely the Packers will get a highly motivated Peppers in 2014, caught up in the rivalry between the clubs and eager to prove Chicago made a mistake in cutting him loose.
We also shouldn't underestimate the potential power in a Peppers reunion with defensive line coach Mike Trgovac, who worked with the defensive end in Carolina during his prime (2002-08) or the fact he'll be a complement opposite
Clay Matthews
instead of the focal point in opponents' protection schemes.
Shortly after releasing Peppers on Tuesday, Bears general manager Phil Emery said, "We wish him the best."
Perhaps the sentiment changes now that Peppers has joined Chicago's hated rivals up north.
March, 15, 2014
Mar 15
9:22
AM ET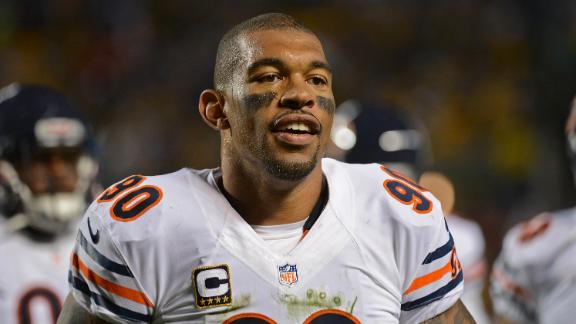 The Green Bay Packers have signed eight-time Pro Bowler Julius Peppers, the team announced Saturday.
The defensive end agreed to a three-year deal worth up to $30 million, his agent, Carl Carey, told ESPN's Josina Anderson. The deal includes $7.5 million in guaranteed money and will pay Peppers $8.5 million in salary for the first year, Carey told Anderson.
Peppers was released Tuesday by the Chicago Bears but found work four days later with the division-rival Packers.
"The teams that have the good quarterbacks are the teams that win. That obviously factored into some of my decision making," Peppers told the team's website of joining Packers quarterback Aaron Rodgers. "I'm looking forward to playing with Aaron. As much as I disliked chasing him around, I'm excited to join him."
"That's the most important thing. I haven't won a championship. That's where my focus is. I feel like the team is set up to make a run and I feel I can help get it there," Peppers added.
In Green Bay, Peppers will be reunited with one of his former coaches, Mike Trgovac, who is the Packers' defensive line coach.
Trgovac coached Peppers from 2002-08 with the Carolina Panthers. He was Peppers' position coach in 2002 and was Carolina's defensive coordinator from 2003-08.
Carey took to Twitter on Saturday morning, announcing that Peppers "is officially a Packer!"
Carey also tweeted a photo of his client standing in Lambeau Field.
March, 15, 2014
Mar 15
9:00
AM ET
Here's this week's edition of our
Chicago Bears
Twitter mailbag. Enjoy the weekend, and be safe.
March, 14, 2014
Mar 14
5:41
PM ET
The
Chicago Bears
talked after a disastrous 2013 season about wanting to revamp the defense and infuse it with youth, but the club's brass would've failed miserably at the effort had it elected to let cornerback
Charles Tillman
bolt via free agency.
Tillman
In laying out the team's vision for the offense moving forward, multiple sources talked about the Bears not necessarily wanting to pursue big names in free agency because the club wanted to gain toughness, and put a defensive unit full of athletic, physical players out on the field; dogs so to speak.
So although Tillman is a big name in Chicago, he certainly fits the above description. That's why the
Bears benefitted greatly Friday by agreeing to terms with Tillman
, who embodies all the traits Chicago's front office constantly raves about.
"Charles is one of the NFL's great players and a true leader on and off the field, and we're happy he will be staying in Chicago," Bears general manager Phil Emery said. "He remains the best in our game at forcing turnovers, and always has brought a tough, physical presence to our secondary. Charles also has a special connection to the people and community across Chicago and we're excited for that to continue."
A two-time Pro Bowler and the 2013 Walter Payton Man of the Year, Tillman ranks No. 3 in team history with 36 interceptions and leads the franchise in defensive return touchdowns (nine), INT return TDs (eight) and interception return yards (675).
Since Tillman came into the league in 2003, he's tied for fifth in INTs, fifth in INT return yardage, and he's tied for second in INT return TDs, all accomplished while starting in 150 of 154 games.
Tillman's 42 forced fumbles rank as second in the league since 2003, and is the most among active cornerbacks. Tillman ranks as the only player since 2003 to pick off 30 or more passes and force 30-plus fumbles. In six of the last nine seasons, Tillman has ranked in the top 10 in forced fumbles.
Tillman currently ranks No. 5 in franchise history in tackles, and he's broken up 132 passes which is good for fifth in the NFL since 2003.
At the NFL combine back in February, Emery said that defensive coordinator Mel Tucker told him a team's cornerbacks are usually indicative of a defense's toughness. Emery agreed, and with Tillman now in the fold paired with
Tim Jennings
, the stage is set for the Bears to build the defense exactly the way the front office envisioned.
"We need tough, physical players," Emery said at the combine. "That's what we want: tough, physical athletes. Mel [Tucker] has said it several times to me and I believe it. I know our players believe it: that, generally, the toughness of the team shows up at corner."
Well, they don't get much tougher than Tillman.
March, 14, 2014
Mar 14
4:49
PM ET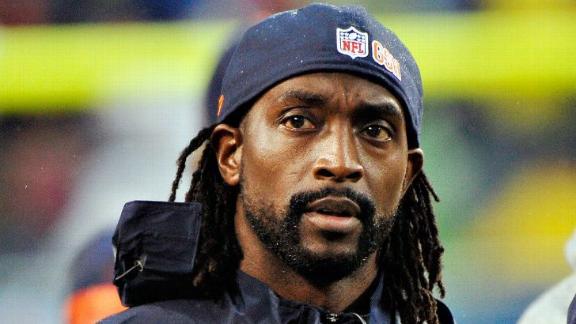 CHICAGO -- The Chicago Bears agreed to terms on a one-year deal with two-time Pro Bowl cornerback Charles Tillman, the team announced Friday.
Tillman's deal is worth about $3.5 million, a league source told ESPN NFL Insider Adam Caplan.
"Charles is one of the NFL's great players and a true leader on and off the field and we're happy he will be staying in Chicago," general manager Phil Emery said. "He remains the best in our game at forcing turnovers and always has brought a tough, physical presence to our secondary. Charles also has a special connection to the people and community across Chicago and we're excited for that to continue."
The Bears allowed Tillman to test the market in free agency, but he left Tampa Bay without a contract on Thursday. The Buccaneers were viewed as serious threats to sign Tillman because of the cornerback's relationship with new Bucs coach Lovie Smith, with whom Tillman spent nine years in Chicago.
The Bucs, though, inked Pro Bowl cornerback Alterraun Verner to a four-year, $22.5 million contract prior to releasing veteran cornerback Darrelle Revis earlier this week.
Tillman earned a total of $8,001,575 from the Bears in 2013, and the appeal of potentially finishing his career in Chicago and not having to uproot his family likely proved to be the determining factor in him accepting far less money to play for the Bears in 2014.
The 2013 Walter Payton NFL Man of the Year Award winner, Tillman started only eight games in 2013 before going on injured reserve with a torn triceps, but he still forced six takeaways (three interceptions, three forced fumbles).
Selected by the Bears in the second round of the 2003 draft out of Louisiana-Lafayette, Tillman is one of the greatest defensive backs in Bears history. His 36 interceptions rank third in franchise history and he owns club records for interception return yards (675), interception return touchdowns (eight) and defensive return touchdowns (nine).
Tillman's 42 forced fumbles are the second-highest total of any NFL player since he entered the league in 2003. He made the Pro Bowl in 2011 and '12.
The Bears have ensured that both starting cornerbacks from last year will return next season. They previously signed Pro Bowler Tim Jennings
March, 14, 2014
Mar 14
12:42
PM ET
With free agency moving at such a rapid pace, we figured it would be a good idea to give you some of the 2014 cap figures for the club's most recent signees after a quick look at ESPN Stats & Information's salary databases. You'll notice that the contract figures for cornerback
Charles Tillman
isn't in just yet. But once we get them, we'll be sure to give you an update.
DE
Lamarr Houston
, $5.040 million
DE
Willie Young
, $2.666 million
DT
Jeremiah Ratliff
, $1.578 million
MLB
D.J. Williams
, $1.5 million
S
Ryan Mundy
, $1.5 million
WR
Domenik Hixon
, $823,750
S
M.D. Jennings
, $745,000
DT
Nate Collins
, $730,000
LB
Jordan Senn
, $635,000
March, 14, 2014
Mar 14
9:00
AM ET
Perhaps the body bite allegedly made by
Chicago Bears
free-agent defensive tackle
Henry Melton
truly did inflict psychological damage on Donald Payne, owner of Chill Sports Bar & Grill in Grapevine, Texas, as his attorney Darren Wolf says in a lawsuit filed seeking "a sum greater than $1 million," according to WFAA-TV in Dallas.
[+] Enlarge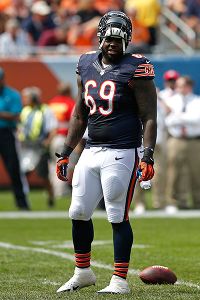 AP Photo/Charles Rex ArbogastThe Bears aren't as interested about Henry Melton's off-the-field issues as they are about his price tag, but the former does give an idea over how much the team is willing to pay to keep him.
But rest assured, Chicago's brass is thinking clearly regarding the possibility of the defensive tackle re-signing with the club. And what's quite apparent at this point is the Bears do want to bring back Melton for the 2014 season regardless of this civil suit, viewed as frivolous from this vantage point. But that's only going to take place if it's at the right price (translation: cheap) for the organization.
Why else would the Bears let Melton take multiple visits to other teams -- including one to the division rival
Minnesota Vikings
-- when they could've snatched him up before the start of free agency?
If you remember, Grapevine police arrested Melton in December with the club on the road preparing to face the
Philadelphia Eagles
, and he was charged with assault and public intoxication stemming from an altercation with a bartender. Payne, the owner of that establishment, is suing Melton, which is interesting considering the defensive tackle's legal representation was also planning to file a lawsuit.
Asked about the civil suit Thursday filed in Texas against Melton, Bears general manager Phil Emery admitted he was just hearing for the first time about the latest development.
"If that's related to the situation down in Texas, I think that's been an ongoing issue in terms of that issue coming to conclusion and that's all I can talk about it," Emery said. "In terms of evaluating Henry the player, that's separate from that. His on-the-field is one thing in terms of evaluation. The off-the-field is the other. It is a part of it, but that's a legal issue, and that's all I need to say about that."
Will that affect the club's desire to re-sign Melton? Absolutely not, but it does give the Bears ammunition when forming a position about the level of compensation at which they'd feel comfortable paying Melton, not to mention the fact he's coming off a torn ACL. That's not a surprise.
Emery had already been planting the seeds for what's transpiring this very minute back on Jan. 2, and rightfully so, given the cap situation.
"Henry, in particular, he has got to fully dedicate himself to rehab. He has to fully dedicate his mind and his focus to football, which is extremely important," Emery said then. "And as I have sat down and talked to him, there was a reason we franchise-tagged him [last season]. There was a reason for that investment. The under-tackle position in the scheme that we're in is the engine that drives the defense. When he was in the game, even though from a statistical standpoint he wasn't off to a fast start, it was very evident on tape that he was a very important part of the defense. So he knows, and that has been related to him that we signed you for a reason. Now let's focus in on getting healthy, and obviously he has some off-the-field issues that he needs to make sure he's focused in on football and having a passion for football."
Emery makes several valid points. But let's keep it real here: If the Bears wanted to sign Melton badly enough, they would've made a concrete offer (they haven't, by the way) instead of waiting for his agent, Jordan Woy, to first find the defensive tackle's value on the open market. You can't fault the team for taking that position, though. At the same time, the fact is the Bears want to bring back Melton as cheaply as possible.
It's not happenstance that Emery on Wednesday mentioned that teams are "very interested in [Melton's] medical status."
Starting with the Minnesota Vikings, Melton is taking several free-agent trips according to a source.
"We pretty much left it with Jordan that he was going to go through this process, and when he got through it and he had a pretty good idea of what his market is, we could talk at that time," Emery said. "Of course, the clock is ticking. So our resources or what we have at the time may have changed. But we'll see where we're at when that's all finished."
If somehow it all gets 'finished' as Emery says with Melton winding up in Chicago, you can bet the defensive tackle won't receive anything remotely close to the $8.45 million the club paid in 2013, when it tagged the defensive tackle as its franchise player.
But given the club's recent signings of defensive ends
Lamarr Houston
and
Willie Young
, in addition to
Jeremiah Ratliff
, the truth is Melton could prove to be the missing piece that completes the puzzle.
March, 13, 2014
Mar 13
6:21
PM ET
Chicago Bears defensive tackle Henry Melton was arrested back in December for assault and public intoxication stemming from an altercation with a bartender at Chill Sports Bar & Grill in Grapevine, Texas.
Now, the owner of the restaurant is suing Melton, according to WFAA-TV in Dallas, for "a sum greater than $1 million." Interestingly, Melton's legal representatives had been planning a lawsuit, too, as they had spent time in the weeks after the incident taking statements from witnesses in attendance at the bar the night of the incident.

According to the WFAA report, surveillance video shows a bartender instructing a patron to leave and a punch later being thrown.

Donald Payne, the owner of Chill Sports Bar & Grill, alleges Melton bit him during the altercation, according to his attorney, Darren Wolf.

"When he was asked to leave, his belligerence and unruliness turned into violence," Wolf told WFAA-TV. "It took four men to do this because he's a big guy. And in the process, my client Mr. Payne received a really, really horrific bite from Mr. Melton. He bit him in the side near the kidney through the skin."

According to Wolf, Payne visited a hospital for treatment. The attorney claimed Payne's ordeal extended beyond physical distress. A patron who claimed to witness the incident told ESPN.com in December that Melton "didn't really do anything."

"There's some psychological injury there," Wolfe told the television station. "The thought of another human being you don't know biting through your skin, piercing your skin: It's a pretty frightening experience, and it's dangerous."

According to the WFAA report, the lawsuit alleges that at the bar the night of the incident, Melton told restaurant workers he "was a millionaire and the bartenders were nothing but poor white trash."

An unrestricted free agent, Melton is currently on a string of visits with teams as he decides his football destination for 2014. In addition to a visit with the Minnesota Vikings
March, 13, 2014
Mar 13
5:33
PM ET
Chicago Bears
general manager Phil Emery offered no update on the team's chances of re-signing veteran cornerback
Charles Tillman
when he spoke with the Chicago media on a conference call on Thursday.
"No different than yesterday," Emery said. "It's an ongoing process."
Tillman
Tillman, 33, traveled to Tampa Bay for a visit with Bucs coach (and former Bears coach) Lovie Smith on Wednesday, but is believed to have left the building without a contract.
The Bucs released pricey veteran
Darrelle Revis
but signed Pro Bowl cornerback
Alterraun Verner
to a four-year, $25.5 million contract with $14 million guaranteed.
Tillman earned $8 million last season in the final year of his contract with the Bears but will be hard-pressed to find a similar market in free agency.
The Bears have made it seem that they want Tillman to return, although likely at a significantly reduced price.
Tillman started eight games for the Bears in 2013 until he landed on injured reserve (with the designation to return) due to a torn triceps muscle. However, Tillman never returned to action and finished the year with 52.5 tackles, 2.5 tackles for loss, three interceptions and three forced fumbles.
Tillman is arguably the greatest defensive back in the Bears' history. Since he entered the league in 2003, Tillman is tied for fifth in the NFL in interceptions (36), tied for second in interception-return touchdowns (eight), second in forced fumbles (42) and tied for fifth in passes defended (132) .
If Tillman wants to continue to explore his options, he has a large network of contacts spread out throughout the league, including Ron Rivera and Steve Wilks in Carolina, Bob Babich in Jacksonville and Rod Marinelli in Dallas. The
Washington Redskins
remain in the market for a cornerback after missing out on former Bears special-teams standout
Corey Graham
, who signed a four-year, $16 million deal with Buffalo.
March, 13, 2014
Mar 13
2:00
PM ET
ESPN NFL draft analyst Mel Kiper Jr.
unveiled his Mock 3.0

on Thursday, and just like his draft-guru colleague Todd McShay of Scouts Inc., he projected the
Chicago Bears
to take Pittsburgh's
Aaron Donald
with the No. 14 pick.
Chicago's signings thus far in free agency certainly make such a move prudent. Although the Bears re-signed defensive tackle
Jeremiah Ratliff
and
Nate Collins
before the start of free agency, the club still hasn't put together an enticing enough offer to bring back
Henry Melton
, who, according to a league source, is visiting Minnesota but also has several other visits lined up.

If the Bears can't re-sign Melton or any other starting-level defensive tackles in free agency, they'll certainly turn to the draft to address that need. Kiper sent Florida State defensive tackle
Timmy Jernigan
to the Bears at No. 14 in his first two mock drafts, writing in Mock 2.0 that "I'm a bigger fan of Jernigan in a 4-3 look, where he's using his power to go through a blocker and not trying to beat people off the snap and use quickness."
McShay chose Donald in his last mock draft, saying, "Donald is a perfect fit for the Bears' scheme as a 3-technique defensive tackle. I don't know if there's been a prospect who has helped his stock more during the draft process than him. He was unblockable at the Senior Bowl, and that, put together with an unbelievable overall workout at the combine. He's shorter than prototype size, but he has long arms and a powerful upper body and creates a lot of big plays with his anticipation and quickness. FSU's Timmy Jernigan is a fit as a 3-technique as well, but Donald is a much better finisher as a pass-rusher."
Kiper and McShay have both been consistent throughout their mock drafts in Chicago's using its first-round pick to address the defensive tackle position, and from this vantage point they're on the money.
Donald might actually be more of a fit than Jernigan at No. 14 because the Bears might benefit from pairing him with Ratliff next season. If Donald doesn't pan out early, the worst-case scenario is he would provide depth at a position that lacked it in 2013 when injuries rendered the defense rudderless.
The Bears last season gave up the most points (478) and total yards (6,313) in franchise history as opponents put together 10 100-yard-rushing performances.
Uncertainty still exists along Chicago's defensive line despite the signings of Ratliff, Collins and free-agent defensive end
Lamarr Houston
. The Bears need to add along the front four to avoid experiencing another catastrophe such as what they endured in 2013.
"I feel like I can make an impact right away, feel like I can come in and have trust in the coaches and playbook and make plays right away," Donald said last month at the NFL combine.
At this point, that's certainly what the Bears need in their attempt to revamp the defense.
March, 13, 2014
Mar 13
12:53
PM ET
Lamarr Houston
's five-year, $35 million contract was a start, but the Bears had been sending out clear signals the organization intended to further address defensive end via free agency.
Twenty-eight-year-old
Willie Young
fit the mold of what the Bears were searching for.
While the Bears never had serious interest in former
Minnesota Vikings
star pass-rusher
Jared Allen
, Young's three-year, $9 million signing allows general manager Phil Emery to continue his mission of getting younger on defense, while at the same time stealing a productive player from the division rival
Detroit Lions
.
[+] Enlarge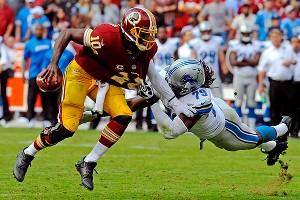 AP Photo/Richard LipskiWillie Young posted 47 tackles and three sacks last season for the Detroit Lions.
Young started 15 games for the Lions last year and recorded 47 tackles and three sacks. But the 6-foot-4, 251-pound edge rusher has a reputation for being extremely disruptive when asked to pressure the opposing quarterback.
Young also has ties to Bears coach Marc Trestman from their time spent together at NC State.
To add some perspective,
Julius Peppers
was scheduled to earn $14 million in 2014 and eat up $18,183,333 worth of cap space. Young lands in Chicago at a fraction of the cost, and at six years younger than Peppers, figures to have a much greater impact on the Bears' defense for the next several seasons.
Young probably isn't a household name in the NFL, but the deal looks solid on the surface.
For all the criticism directed toward the Bears' secondary in 2013, notably the safeties, the front four needed the most work in the offseason. Houston and Young represent a significant upgrade over what the Bears lined up last year at defensive end when the club barely managed to muster a pass rush or effectively stop the run.
The Bears simply weren't in a position to wait and see when
Corey Wootton
recovered from offseason hip surgery to make their second move at defensive end in free agency. Maybe Wootton is back in the mix when healthy (June or July), but with a thin crop of defensive ends expected to be available in May's NFL draft, the Bears knew they had to be aggressive in free agency in regards to the position.
The respective contracts of Houston and Young speaks to the dire situation the Bears found themselves in on the defensive line. In total, the Bears awarded deals totaling eight years, $44 million to defensive ends, while safeties
Ryan Mundy
and
M.D. Jennings
, linebackers
D.J. Williams
and
Jordan Senn
and wide receiver
Domenik Hixon
all received modest deals by comparison.
Instead of rolling the dice on older and somewhat more established defensive ends on the market, the Bears secured the bookends of their defensive line for the future.
In free agency, it isn't always about reeling in the biggest names. It's about making the moves that make the most sense for the health of the franchise.