December, 12, 2013
Dec 12
5:13
PM ET
LAKE FOREST, Ill. --
Chicago Bears
coach Marc Trestman repeatedly said Thursday that the plan all along was to put
Jay Cutler
back in the starting lineup once he regained health.
The problem is nobody truly listened to what he'd said for nearly a month. But by saying it, Trestman and the Bears put themselves into a position where they absolutely had to insert Cutler as the starter as soon as he was ready, regardless of how well backup quarterback
Josh McCown
performed.
Despite the impressive numbers put up by McCown over the past four games, Trestman made the right decision to name Cutler the starter for Sunday's game at Cleveland as opposed to going back on his word, which he'd uttered almost ad nauseam since way before Thanksgiving.
"This decision was made a long time ago: that when Jay was ready to play, he would play," Trestman said. "That's how we planned to do it. I look at it [as] Jay's our quarterback, and when he was ready to play, he was going to play. That's the same words I used a month ago, and there's no change today."
And if Cutler iss truly the quarterback to lead this franchise into the future, what is the problem with that? After all, a major part of the player-coach relationship dynamic is the ability of both parties to trust one another.
So leaving McCown as the starter after publicly -- and repeatedly -- stating Cutler would be the man again once healthy, Trestman would have damaged his relationship with the quarterback and set a dangerous precedent for the rest of the locker room, too.
Perhaps that is why Cutler said, "no" when asked whether there was any doubt in his mind he'd be the starter once doctors cleared him to play.
"I think that is how it was presented to me. That is how it was presented to Josh," Cutler said. "It was just a matter of when I could come back, what game, when I felt comfortable, and when I got cleared to get ready to roll."
That's not to say Trestman's move won't be questioned if Cutler falls on his face in Cleveland. That's not to say I'm not already questioning it, because realistically, it's probably a stretch to expect Cutler to return after a month out of football and toss the ball all over the yard without showing signs of rust against Cleveland's seventh-ranked defense. It is possible Cutler could make mistakes and turn the ball over while working out the kinks, and ultimately put the Bears in a deficit situation Sunday that they can't overcome.
Let's not forget McCown won two of his four starts filling in for Cutler, throwing for 1,271 yards and nine touchdowns with only one interception for a passer rating of 109.8, which ranks third in the NFL. McCown also filled in for an injured Cutler on Nov. 10 at Green Bay, leading Chicago to a 27-20 victory.
McCown, 34, leads the NFL with a Total QBR of 85.7, compared to Cutler's 63.2, and at this point appears to be the quarterback with the hot hand, despite most of his success coming against subpar defenses. But in all honesty, would anybody have questioned Trestman's decision to rename Cutler the starter in the aftermath of the club's Dec. 1 overtime stinker at Minnesota?
Remember, Cutler was originally hoping to return for that game, but the club held him out so he could regain full health. The club held out Cutler again for the Monday night game against Dallas, and McCown lit up the Cowboys for four touchdown passes and rushed for another in what could be termed the game of the backup quarterback's NFL career. The performance made you easily forget about the team's losses at Minnesota and St. Louis with McCown at the helm.
"I've said all along my role as a backup quarterback on this team [is]: when Jay is healthy, he plays," McCown said. "So it's no surprise. You want guys on your team that know their roles and understand that. I understand my role on this team. It's the backup quarterback. That being said, if Jay is healthy, he's ready to go, I'll support him and help as much as I can."
As for Cutler, the quarterback sounded confident about his future in Chicago despite his contract expiring at the conclusion of the season. Asked whether he had heard about general manager Phil Emery's remarks about not being inclined to use the franchise tag on him, Cutler nodded.
"I heard what he said about the franchise tag. It is what it is," Cutler said. "I think Phil has a plan. Actually, I know Phil has a plan. You guys might not know Phil's plan, but he has a plan."
December, 12, 2013
Dec 12
4:52
PM ET
With word coming on Wednesday that
Chicago Bears
QB
Jay Cutler
successfully completed a full-speed workout, the decision to start Cutler on Sunday came down to coach Marc Trestman. And one thing is clear: Trestman is a man of his word.
All along Trestman has maintained that once Cutler recovered to the point of receiving medical clearance, he would reprise his role as starting quarterback for the Bears. On Thursday, the
Bears announced
that Cutler will indeed be the starting quarterback in Week 15 when they face the
Cleveland Browns
.
"I expect that he'll go out and play effectively and efficiently," Trestman said, according to Michael Wright of ESPNChicago.com. "I don't have any reservations, and I don't feel there's any risks. Jay's the quarterback, and he's playing on Sunday because he's been released and he's at 100 percent, or certainly close to it."
[+] Enlarge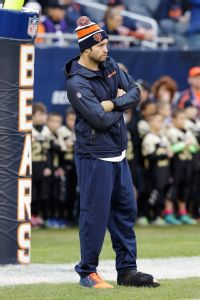 AP Photo/Nam Y. HuhJay Cutler, recovering from an ankle injury, will start for the Bears on Sunday.
Cutler has been sidelined since Nov. 10 due to a left high-ankle sprain sustained in the first half of that week's game. He returned to attempt to finish out the game but ultimately had to be removed in the fourth quarter when the ankle became too problematic. Although the severity was not immediately made known, Cutler was placed in a hard cast shortly after the injury, an indication that the medical staff did not want him moving the joint at all. Ten days later, his ankle was out of the cast and placed in a smaller protective splint, but Cutler remained limited in terms of activity. Within the next two weeks he began treadmill running, and late last week he was finally cleared to return to practice. Cutler went through light drills but was not cleared for game action by Monday night.
This week, he increased his practice activity, going through a full-speed workout Wednesday, something the staff wanted him to do to see how his ankle responded. Trestman said there were no ill effects Thursday morning, which cleared Cutler to test the ankle with a full-practice effort. As noted by Wright, Cutler went through a variety of drills Thursday to test his throwing effectiveness and his pocket mobility, which Trestman wanted to observe before making his decision.
The primary challenges following a high-ankle sprain on the lead leg of a quarterback are being able to step onto the front leg and advance the body weight over a stationary ankle, stressing the joint and the ligaments which support it. Twisting and rotational movements also significantly stress the injured area, making it difficult for quarterbacks to perform handoffs or make cross-body throws if still compromised by a high-ankle sprain. Cutler apparently passed all the necessary tests for Trestman to confidently sign off on his starting Sunday.
It's worth noting that Cutler was returning from a groin injury the week he injured his ankle. The downtime required to recover from the ankle sprain undoubtedly helped the groin area continue to heal, as well. One thing Cutler has not yet proved is that he can handle four quarters of action at game speed. While there are alternate means of maintaining cardiovascular health, there is no match for the demands of playing in a football game. Virtually all players say it takes time to get up to game speed after an extended absence. That said, Cutler's playing style is such that it does not demand excessive running as long as he is able to protect himself. He may still be able to play effectively even if he isn't in top cardiovascular shape.
Perhaps the biggest risk of reinjury will come if Cutler gets caught in the pocket with his foot planted and his leg gets forcibly twisted on top of it. Based on Trestman's comments, there is no worry on the part of the Bears in terms of Cutler facing undue risk (translation: no more risk than anyone else who steps onto a football field for a living). But if something happens to Cutler that would force him out of what will be just his ninth game of the season,
Josh McCown
has already proved he is more than capable of being the next man up.
December, 12, 2013
Dec 12
4:11
PM ET
In terms of name recognition, the decision shouldn't be a hard one. Jay Cutler is the starter, Josh McCown has been the career backup. Even during the course of McCown's current stretch as the Chicago Bears' starter, coach Marc Trestman has maintained that Cutler is the preferred starter when he returned to health. In that light, Trestman's decision to go back to Cutler makes total sense.
But that position discounts the recent performance of McCown under center. Career backup or not, McCown has performed at an extremely high level since relieving the injured Cutler. And that's what makes Trestman's decision surprising. In sitting McCown, the Bears aren't benching a run-of-the-mill backup, they're benching the hottest QB in the National Football League. And in the context of what best aids Chicago's postseason chances, the Bears are making a mistake.
To continue reading this article you must be an Insider
December, 12, 2013
Dec 12
4:09
PM ET
December, 12, 2013
Dec 12
2:06
PM ET
LAKE FOREST, Ill. -- Jay Cutler successfully completed a full-speed workout Wednesday, prompting Chicago Bears coach Marc Trestman to name him the starting quarterback over Josh McCown for the team's game Sunday against the Cleveland Browns.
"We plan on him playing, and we plan on him playing well," Trestman said Thursday. "I expect Jay to play efficiently and play well on Sunday. That's why he's gonna be up."
The move didn't come as a surprise, as Trestman said Wednesday he anticipated Cutler performing well enough that the team would "be moving forward" toward officially naming him the starter.
"We have a very close quarterback room," Trestman said Thursday. "Everybody knows our situation. There was never a doubt that this was the direction we were gonna go. We said that from the beginning. Josh did a tremendous job filling in as the backup. Jay's healthy and ready to go and will play on Sunday."
Trestman said McCown has "been probably Jay's biggest supporter."
Cutler said the support he has received from teammates "means a lot."
"I think all the guys in the offense have been behind me the entire time. The coaches have kept me involved. I've been involved in the whole process each and every week," Cutler said. "So it just feels good to get back out there and help out the guys, and hopefully we get another win."
McCown wasn't surprised by Trestman's decision.
"I've said all along my role [is] as a backup quarterback on this team," he said. "When Jay is healthy, he plays. So it's no surprise. I knew he was getting close, so I'm glad he's healthy."
December, 12, 2013
Dec 12
1:40
PM ET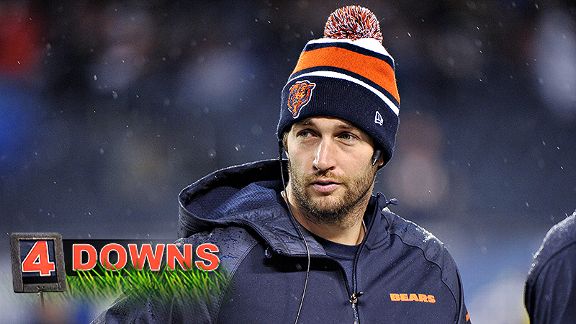 Rob Grabowski/USA TODAY SportsWhat can the Bears expect out of Jay Cutler when he returns?
After four straight successful starts by
Josh McCown
,
Jay Cutler
will take back the reins as the starter on Sunday in Cleveland. Is it the right move? Our panel weighs in on that and more:

Fact or Fiction: It's a good decision to play Cutler this week.
[+] Enlarge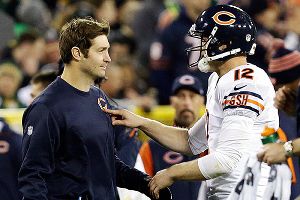 AP Photo/Mike RoemerJosh McCown has posted three straight 300-yard passing games in place of Jay Cutler.
Jeff Dickerson:
Fact. The Bears have no reason to sit Cutler on Sunday if the quarterback is medically cleared to play. That has been the organization's stance since Cutler suffered the high ankle-sprain in the
Detroit Lions
game on Nov. 10. Cutler is the starting quarterback when healthy. It's too late to go back. Plus, it would be nice to see what Cutler can accomplish in the offense over the final three games given that McCown basically lit the world on fire coming off the bench. Cutler's effort down the stretch is likely to directly impact the kind of money he can demand on the open market. This is a crucial stretch for Cutler that could shape the remainder of his career. He deserves the right to play Sunday. And the Bears can always go back to McCown if Cutler struggles badly against the Browns.
Jon Greenberg: Fact. This basically goes against the column I just wrote about McCown being the best option right now, but if you're going to start Cutler this season with the playoffs in mind, you have to start him now. No sense in letting him go another week without real reps. The Browns have good defensive numbers, but they're vulnerable in certain areas. If he's healthy, Cutler should be more than capable of beating Cleveland. With three games left, I have to say I'm more confident in the hot hand, McCown, than Cutler, who had back-to-back lower-body injuries. But the reality of the NFL is you stick with your starter, all things being equal anyway.


---

Fact or Fiction: Regardless of Cutler's status for 2014, the Bears have to draft a quarterback in May.

Jeff Dickerson: Fiction. I don't necessarily think the Bears have to draft a quarterback if they re-sign both Cutler and McCown in the offseason. Bears general manager Phil Emery has a ton of work to do on the defensive side of the football, and limited draft picks to do so. Of course, the Bears might swing a couple of deals and acquire more picks, a real possibility with an aggressive general manager such as Emery calling the shots. Bringing back Cutler and McCown would give the Bears more time to find a young quarterback. Sure, if the Bears have an opportunity to draft a quarterback they love in May, then absolutely, go for it. But what if that guy isn't on the 2014 board for the Bears? Then what? A good team never reaches for a player. Emery doesn't strike me as the type of general manager who would draft a quarterback just for the sake of drafting one. The player needs to make sense for the Bears and fit into what Trestman demands from the quarterback position in his offense. Cutler and McCown back in the fold next season allows the Bears to be patient. In the end, that patience could pay off for the organization in a big way.

Jon Greenberg: Fiction. I know there's a big buzz about this draft, given the supposed number of NFL-caliber quarterbacks, but the Bears should just commit to drafting the best available player, with an emphasis on defense. They have major holes on the defensive line and the secondary. Now if they think they can great value on a quarterback after the third round, go for it. But if you're going to re-sign Cutler, which I think the Bears will do, what's the sense in grooming an understudy so early? If he signs, Cutler will probably get a four-year deal, so in my mind you have a couple drafts to find a young quarterback to take his place.


---

Fact or Fiction: Lance Briggs won't play again for the Bears this season.
[+] Enlarge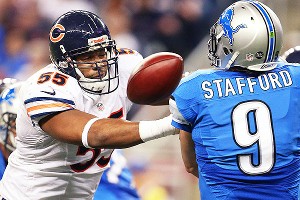 Mike Carter/USA TODAY SportsLinebacker Lance Briggs' four-to-six-week injury is now on Week 8.
Jeff Dickerson: Fiction. I don't particularly feel good about this one, but isn't it too early to rule out Briggs for the rest of the season? After all, Briggs did return to the practice field in limited fashion on Thursday, a good first step toward playing before the season is over. Truth be told, I'm surprised Briggs isn't back at this point. The initial timeline when he suffered a small fracture in his left shoulder Oct. 20 in Washington called for Briggs to miss four to six weeks. This is Week 8 and counting. The Bears claim Briggs' bone still isn't completely healed. I'm not a doctor. I have no other choice but to take their word for it. Briggs is one of the best linebackers in franchise history. The Bears have to hope he does everything in his power to return and help the ailing defense before the season runs out.

Jon Greenberg: Fact. Briggs, who is out with a fractured left shoulder, told the Sun-Times he was evaluated by doctors on Tuesday and wasn't cleared to play. Marc Trestman told reporters Wednesday that he isn't optimistic about Briggs playing in Cleveland. There are three games left, so it doesn't look good, especially since he was thought to have a four-to-six week injury, and we're past that timeline. If they beat Cleveland, the Bears desperately need him next week in Philadelphia. The Eagles are the top rushing team in football with 2,061 yards, and the Bears are the worst rushing defense in football, having given up 2,041 yards. Briggs' absence could be key to making or missing the playoffs.


---

[+] Enlarge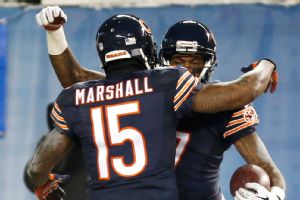 AP Photo/Charles Rex ArbogastNo matter who he covers on Sunday, the Browns' Joe Haden will have his hands full with Brandon Marshall and Alshon Jeffery.
Jeff Dickerson: Fiction. Hayden is a fine cornerback with 52 tackles, four interceptions and 18 pass break-ups this season, but Jeffery is on a tear with a combined 17 receptions for 333 yards and three touchdowns in the past two weeks. Hayden is 5-foot-11 and weighs 190 pounds. Jeffery stands 6-foot-3 and checks in at 216 pounds. Teams have tried to get physical this season with Jeffery, but his overall results speak for themselves: 75 catches for 1,193 yards and six touchdowns. Even if Hayden somehow stifles Jeffery on Sunday, the Bears can always just feature Brandon Marshall, who has 84 receptions for 1,090 yards and nine touchdowns. Good luck, Cleveland.

Jon Greenberg: Fiction. I'm not even sure Haden will cover Jeffery. The Browns might decide to sic him on Marshall. It's impossible to shut down both receivers, unless of course the Browns' defensive line punctures the Bears' pocket. But it's tough to stop Jeffery period, especially one-on-one. He's too athletic and nonpareil hands and reach. Look at his catches the past two weeks. When I told Bears cornerback Tim Jennings that Jeffery's back-corner end-zone catch at the end of the first half Monday night was one of the best catches I've seen in person, he said, "Better than last week?" These are the questions we have to answer as Jeffery's star shines.
December, 12, 2013
Dec 12
10:00
AM ET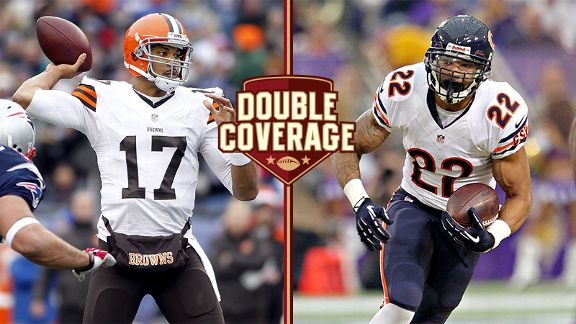 USA TODAY SportsJason Campbell has been steady for the Browns at quarterback, while Matt Forte's versatility poses a challenge for opposing defenses.
The
Chicago Bears
won a very important game over Dallas on Monday night that kept the team in the playoff hunt.
Chicago's offense under first-year coach Marc Trestman had a huge game, especially
Josh McCown
at quarterback. Trestman used to coach in Cleveland, and he once coached Cleveland hero
Bernie Kosar
at the University of Miami. He has been winning with McCown playing for
Jay Cutler
.
While the Bears fight for a playoff spot, the Browns fight to simply win a game. They've lost four in a row and seven of eight, including gut-wrenching losses the past two weeks to Jacksonville and New England. Cleveland is quarterbacked by
Jason Campbell
, the Bears' backup last season.
Bears writer Michael Wright of ESPN Chicago and ESPN.com Browns writer Pat McManamon look ahead to Sunday's game.
McManamon:
Mike, the Bears are fourth in the league in passing offense under Trestman. He came from Canada with the reputation as an offensive wizard and produced 45 points in a frigid December game. What does he do in the passing game and in the offense to get these results and this success?
Wright:
Pat, probably the most important thing Trestman and the offensive coaching staff have done is taught the importance of understanding the actual concepts of the offense as opposed to simply telling players where to go on any given play. The players know exactly what the offense wants to accomplish on a given play, and each player knows how they individually help the club to make the play work by carrying out their particular responsibilities. For instance,
Brandon Marshall
may not be the primary receiver on a certain play. But he'll know exactly why he needs to run a route at a particular depth to free up the No. 2 or No. 3 receiver underneath. As you know, every player knows what they're supposed to do on a particular play, but Trestman makes sure they know why, and that's played a significant role in the offense's success. And it's taught at every level, from the line to the running backs out to the receivers. That, to me, leads to a certain synergy that's paramount in offensive football.
Pat, I know the loss to New England was disappointing considering the Browns blew a 26-14 lead and the fact there were a couple of controversial calls down the stretch. But is there any feeling at all of encouragement about what the team might be able to do in the coming weeks after the way it played against the Patriots?
McManamon:
Any positive in a storm, Mike, and the Browns will take it. They point to the heart the team showed in bouncing back from a bad loss to Jacksonville, and to the fact that they did not quit after that loss. They also point to Campbell, who has had three incredible games and two very average ones. The one in New England was one of the incredibles. Finally, they point to
Josh Gordon
, who has done so many good things the past month.
These are all building blocks -- and good building blocks. But the problem with the Browns is they've given their fans nothing but building blocks since 1999, and since 2007 they have won 27 games -- total. Fans are sick of building, tearing down and rebuilding. They show loyalty and faith every time there is a restart. They're ready to really win and not just come close. Anything that happens in the final three games won't matter a whole lot.
Let's turn to quarterback, Mike. Campbell has been shockingly good in Cleveland. Did the Bears ever see this guy in Chicago? On Chicago's side, has McCown taken the job from Cutler permanently?
Wright:
They saw it, Pat. The problem is the Bears couldn't afford to keep Campbell. When the Bears brought him in, they paid him a $2 million signing bonus and a base salary of $1.4 million, and his cap number was $3.754 million. So when the Bears started making decisions in the offseason about some of the free-agent additions they needed to make, Campbell was more of a luxury than a priority. The Bears spent big to bring in left tackle
Jermon Bushrod
and tight end
Martellus Bennett
, and after losing linebackers
Brian Urlacher
and
Nick Roach
in free agency, they needed to add two more starters at linebacker. Remember, the Bears also placed the franchise tag on defensive tackle
Henry Melton
, which resulted in a cap hit of $8.45 million. McCown, at $840,000, was simply a cheaper option than Campbell.
Speaking of McCown, he's the first Bears quarterback to produce three consecutive 300-yard passing games. But he hasn't taken the starting job from Cutler. Trestman has made that very clear, and even McCown says that right now, he's simply playing his role until Cutler returns. So right now, the team has been on record on numerous occasions saying Cutler is the guy as soon as he's medically cleared to play.
Out here in Chicago, Campbell made his only start during a slaughter at San Francisco in which I'm not sure Cutler would have made a difference. How would you measure his play out there in Cleveland?
McManamon:
Surprisingly good. Perhaps shockingly good. Campbell had a good game against Kansas City, a very good game against Baltimore and an excellent game against New England -- along with so-so outings against Cincinnati and Pittsburgh when he was dealing a painful and unspecified rib injury. Campbell returned from a concussion to a lot of uncertainty. But he stepped in against New England and threw for 391 yards and three touchdowns. More importantly, he brought a sense of calm to the Browns' offense that was badly needed.
It's a bit of a mystery where this Jason Campbell has come from. He is not the same guy he was in his one start in Chicago, and he is far better even than when he was starting in Oakland. He still has limitations -- a strong pass rush should give him problems -- but to call him anything but a positive in Cleveland would not be fair to him.
Mike, Chicago's one weakness might seem to be its 2-4 road record. Can the Bears win on the road, and with a game following this one in Philadelphia, don't they pretty much have to win in Cleveland if they hope to make the playoffs? Even if it means playing on the road following a Monday night game?
Wright:
It's been more than a month since the Bears have won on the road (Nov. 4 at Green Bay), and they absolutely have to win Sunday to have any realistic shot of making the postseason. Because of their putrid 4-6 conference record, the Bears would lose out in any tiebreakers for an NFC wildcard. So Chicago needs to win the division to make it to the postseason. But right now, Chicago is a half-game behind the
Detroit Lions
, who swept the Bears this season. So they've got to win out, basically, and hope the Lions slip. If the Bears do manage to win at Cleveland, the road gets tougher at Philadelphia in a game that has been flexed to a night matchup. A win at Philadelphia would mark the team's first consecutive wins since September. But remember, Chicago still has to host the
Green Bay Packers
in the season finale Dec. 29. And by then, the Bears could be facing a Packers team with a healthy
Aaron Rodgers
back in the fold.
Pat, Josh Gordon has gone off over the past four games. What's he doing to opponents that makes him so difficult to handle, and how much of a focal point has he become to what the Browns are doing offensively now?
McManamon:
First of all, a little perspective on Chicago not winning a road game since Nov. 4. The Browns have won one game since Oct. 3, home and away.
As for Gordon, he's just an amazing physical presence, with size and sprinter's speed that lets him get away from defenders. He also has amazing strength, and has learned how to avoid jams and run routes. It is rare on a play that he is not open. Teams have refused to double-cover him, and they've paid. Bill Belichick had a week to prepare, gave the job of covering Gordon to
Aqib Talib
, and Gordon had the best game by any receiver against New England this season. The Browns lack a run game, and Gordon can't catch every ball. But he clearly has grown into option No. 1 on almost every pass play.
December, 12, 2013
Dec 12
8:00
AM ET
LAKE FOREST, Ill. -- As
Cleveland Browns
receiver
Josh Gordon
makes a run at the NFL record books,
Chicago Bears
defensive coordinator Mel Tucker expects his group to face a tall order containing him Sunday on the road.
Chicago held down
Dallas Cowboys
receiver
Dez Bryant
(two catches for 12 yards and a touchdown) on Monday night with
Tim Jennings
as the primary man in coverage, but Gordon presents perhaps a more formidable challenge.
Tucker sees big-play ability as Gordon's most significant attribute.
"He has a large catch radius. He's fast. He can take a 5-yard slant and turn it into a 60-yard touchdown," Tucker said. "Really, he's playing with a lot of confidence. The quarterbacks have confidence in him to go up and make plays. He can catch the ball in a crowd and win the contested one-on-one battle."
Gordon's eye-popping statistics over the past four games certainly support that. Suspended for the first two games, Gordon leads the NFL in receiving yards (1,400) and has racked up 774 yards over the past four games.
He currently averages 127.3 yards per game, and the NFL record for single-season average per game is 129 yards.
Browns quarterback
Jason Campbell
believes Gordon has hit his comfort zone.
"Coming into the season, I know there was a lot of trade talk and a lot of trade rumors. And with him missing the first two games of the season, I think he had a chance to really sit back and just look at things on the outside of what a great opportunity he has and what a great opportunity he's missing out on when he wasn't playing," Campbell said. "When he came back, he had a totally different mindset about playing in the NFL, a totally different mindset about his ability to make plays, and I think a lot of it is, once the trade rumor was also over with, I think he was able to relax and just start to play the game."
December, 11, 2013
Dec 11
3:55
PM ET
LAKE FOREST, Ill. -- After playing in a Monday night game against the
Dallas Cowboys
, the
Chicago Bears
go into the week of preparation for the
Cleveland Browns
with one fewer day to practice.
Bears coach Marc Trestman put the team through a walkthrough on Wednesday, and said the abbreviated week will force him to switch up the schedule to accommodate.
"There's a cost-benefit to this process of putting the guys out there and running them today, and working them out in our base football would inhibit them in our opinion because they wouldn't be fully recovered," Trestman said. "They won't even be fully recovered tomorrow because they normally aren't on Wednesday. So we have to combine the practices with our third-down and our base packages and things that are at the top of the list in terms of things we have to get accomplished."
During a normal week of practice, the Bears would use a Wednesday workout to install the first-down packages before going over special situations on Thursday such as third downs.
Special situations receive priority for the Bears on Thursday, but Trestman admitted "we won't get the opportunity to practice as much as our first-down" package because of the abbreviated schedule.
How that will manifest itself on Sunday remains to be seen. But it's clear the abbreviated schedule brought on by playing Monday night has affected the preparation.
Coming off the team's Monday night win over Green Bay on Nov. 4, the Bears received just six days to prepare for the Nov. 10 matchup against the
Detroit Lions
, and the club wound up losing that game 21-19.
But it's important to note that extenuating circumstances presented themselves in that game because quarterback
Jay Cutler
suffered a high ankle sprain in the second quarter that knocked him out for the second half.
It's also worth mentioning the abbreviated schedule could also prove detrimental in Cutler's bid to return this week from that ankle sprain. The Bears plan to put Cutler through a workout Wednesday to determine whether he's healthy enough to face the Browns.
"I think that with the workout we're going to give him today it's going to be a lot of the script that we'll have tomorrow, so he'd be able to work through it at full speed and then the two days -- Thursday and Friday -- I would consider that to be sufficient [prep time for Cutler]," Trestman said. "Today is Wednesday to us, but it's Tuesday to our players. We wanted to make sure they recovered fully from Monday night's game. Today will be spent in meeting, and in a walkthrough. We won't do any full-field work at all other than at the end of the walkthrough."
December, 11, 2013
Dec 11
3:44
PM ET
LAKE FOREST, Ill. --
Chicago Bears
head coach Marc Trestman is "not optimistic" that seven-time Pro Bowl weakside linebacker
Lance Briggs
will return from a fractured shoulder to play Sunday against the
Cleveland Browns
.
This would mark the seventh straight game Briggs has missed since he hurt the shoulder Oct. 20 in Washington.
Briggs
"Lance is still week-to-week," Trestman said. "We'll see where he is tomorrow with our trainers and see what they want to do with him.
"I'm not optimistic. We'll know a little more today and tomorrow. He did some running last week. Will that be upgraded to limited work in practice? We won't be in pads tomorrow. We'll be in shells. He was not in shells last week. We'll see what the trainers want to do and what he wants to do tomorrow."
When asked what is preventing Briggs from returning to the field, Trestman responded, "the healing of the bone."
Prior to 2013, Briggs had been a model of durability for the Bears, sitting out just four games due to injury in 10 NFL seasons. The defense has clearly suffered without Briggs, ranking No. 27 in total defense (381.5), No. 28 in points allowed (27.7) and No. 32 in run defense (157.0) going into Sunday's road game in Cleveland.
"Where Lance is right now is kind of to be determined," Bears defensive coordinator Mel Tucker said. "I'm not quite certain at this point. But the focus is on the guys that are available. The guys that can help us right now."
The Bears have started rookie fourth-round pick
Khaseem Greene
in place of Briggs the past six games, but while Tucker and the organization are high on the club's younger linebackers, asking first-year players to fill the void left by Briggs is virtually impossible.
"Lance is a playmaker in the run game and the passing game," Tucker said. "It's not just the intangibles that he brings in terms of leadership and experience and things like that, in confidence. But he can actually make plays. He can win one-on-one. He can get off blocks. He can run sideline to sideline. He can win one-on-one on running backs on blitzes and things like that. He's an excellent blitzer. In the pass game he's quick, very instinctive. He's quick to diagnose and because of ... his experience, there's not a whole lot of plays he hasn't seen at some point in time, so he's quick to recognize those things.
Those are just some of the things he brings to the table."