December, 21, 2013
Dec 21
9:00
AM ET
December, 20, 2013
Dec 20
5:41
PM ET
LAKE FOREST, Ill. – The franchise tag is not off the table for
Jay Cutler
.
Chicago Bears
general manager Phil Emery intimated in a recent chat on the Bears' official website that he would be reluctant to use the tag on Cutler, but Emery clarified on Friday the organization has not ruled out applying the tag to Cutler, who is scheduled to be an unrestricted free agent in the offseason, although the club's preference is to negotiate long-term deals with key players.
The projected non-exclusive 2014 franchise tag figure for quarterbacks is $16.2 million. Cutler is earning $8.970 million in the final year of his current deal.
[+] Enlarge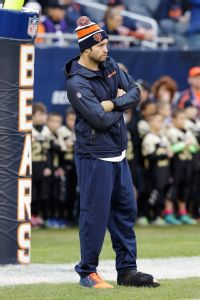 AP Photo/Nam Y. HuhInjuries have sidelined eight-year veteran Jay Cutler for a combined 12 games dating to 2010.
"I didn't say that I would rule it out," Emery told ESPN 1000's "Waddle and Silvy Show". "I said it's not the first thing we would think about in signing players that we like. If you put a franchise tag on a player, that's a player that you like. We like Jay. If you like a player, you want to move forward in a multi-contract year basis, not a short term."
Emery has used the franchise tag on running back
Matt Forte
and defensive tackle
Henry Melton
since 2012. In the case of Forte, the sides eventually settled on a four-year, $30.4 million contract, but the Bears were unable to reach an agreement with Melton, who counted $8,454.725 against the Bears' 2014 salary cap despite going on injured reserve in September.
There has been much public debate concerning what course of action the Bears will take with Cutler. Although the Bears have kept their plans hidden from the public, Emery has gone to great lengths to endorse Cutler. While Cutler's play and attitude can best be described as uneven since he arrived in Chicago via a trade with the
Denver Broncos
in 2009, under the guidance of first-year Bears head coach Marc Trestman, the starting quarterback has posted a passer-rating above 90.8 in six of his nine appearances.
"I've said it before: I'm convinced that Jay is a franchise quarterback," Emery said. "The rest of that as far as where we are going in the future, we'll work out that in the offseason. Certainly I'm pleased with Jay. I think he's grown in certain areas. When he's been healthy and been on the field this year, he's been playing at his highest level ever during the course of his career.
"I think he's improved in the leadership area. I think his demeanor has improved. I think the time off made him appreciate the great coaches that we have. He's told me that our coaches are on fire with their game-planning, execution and getting guys ready to play. The last three games that he played when healthy from start to finish, he's been over 100.0 in passer-rating. So we see a lot of good things out of Jay."
Cutler went 22-of-31 for 265 yards with three touchdowns and two interceptions in the Bears' 38-31 Week 15 victory against the
Cleveland Browns
, his first game back from a high-ankle sprain that sidelined him for four consecutive weeks. Cutler also missed one start this season because of a torn groin muscle.
However, Emery downplayed the notion that he would view Cutler's durability as a negative when the sides enter contract negotiations after the season. Injuries sidelined the eight-year NFL veteran for a combined 12 games dating to 2010. Cutler was also knocked out of the second half of the 2010 NFC Championship Game against the
Green Bay Packers
with an MCL sprain.
"I think (injuries are) a concern with any player," Emery said. "I've looked at other quarterbacks down through their careers, and everybody has had a season -- there have only been a couple exceptions of the top end quarterbacks -- that have had a year where they were down (injured). I think
Eli Manning
is one of them able to stay healthy throughout his career. They had the situation in Green Bay, so it happens.
"I don't think it's habitual, and I don't think he's injury-prone in any way. We've all seen those types of players that just can't seem to stay healthy; I don't see Jay as that. So I'm not more concerned with Jay in terms of his durability than I am with any player."
Emery also spoke highly of veteran backup quarterback
Josh McCown
, who completed 147-of-220 passes for 1,809 yards, 13 touchdowns and one interception (109.8 quarterback rating) in relief of Cutler. McCown delivered a 3-2 starting record. The Bears are expected to try to resign McCown in the offseason. The 11-year veteran signed a one-year deal with the Bears last April.
December, 20, 2013
Dec 20
3:59
PM ET
LAKE FOREST, Ill. – A season-ending injury to veteran
D.J. Williams
forced the
Chicago Bears
to install 2013 second-round pick
Jon Bostic
at middle linebacker, but the move could be temporary.
Bostic
Bears general manager Phil Emery said on ESPN 1000's "Waddle and Silvy Show" on Friday that Bostic's pure speed and ability to chase down plays from the back side makes him a candidate to possibly move to outside linebacker in the near future.
"He has made growth," Emery said. "I think our fans have seen him make some dynamic plays. The guy can run; there is no way you can deny that. He can close space and he is a striker. I would say he's second to
Lance Briggs
as being able to unload on you in space and knock you backwards. He loves football.
"He's definitely had some problems this fall or fitting in terms of his gap responsibility at times. All the things that he is seeing now at the speed he's seeing them are new to him. So that's the normal rookie adjustment.
"He's at middle linebacker; maybe in the future his best position might be at one of those outside spots where he is filling from the backside and able to use his unique talents to the best of his ability."
Bostic, who recorded the second-fastest time among linebackers at the 2013 NFL combine, has 64.5 tackles, one sack, one interception and 3.5 tackles for loss in eight starts.
December, 20, 2013
Dec 20
2:59
PM ET
LAKE FOREST, Ill. -- Much like the
Chicago Bears
' path to the NFC North title,
Lance Briggs
controls his own destiny.
The decision to play Briggs on Sunday night against the
Philadelphia Eagles
now rests solely in the hands of the seven-time Pro Bowler, after head coach Marc Trestman announced on Friday that Briggs has received the necessary medical clearance from team doctors to return to action for the first time since he fractured his shoulder on Oct. 10.
Trestman has been quoted on the record multiple times in the past couple of days saying he is "optimistic" that Briggs will be active against the Eagles, especially after the veteran linebacker had full participation in Friday's practice inside the Walter Payton Center.
[+] Enlarge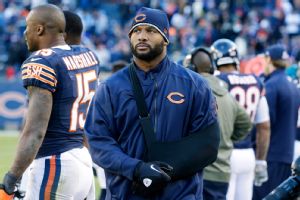 AP Photo/Nam Y. HuhLinebacker Lance Briggs, who last played Oct. 20 at Washington, has medical clearance to test his injured shoulder Sunday night against Philadelphia.
But Trestman stopped short of guaranteeing that Briggs will take the field against Chip Kelly's high-powered offense.
Why?
Though the odds seem favorable that Briggs will test out the shoulder Sunday night, likely on a limited snap count, it's hardly a slam dunk.
The average NFL fracture takes six weeks to heal. Briggs himself originally declared that he would miss only three-to-four around the time the injury occurred. But three-to-four weeks turned into eight weeks and seven missed games as Briggs experienced unexpected complications with the shoulder.
"Initially (I thought I'd be back sooner)," Briggs said on Thursday. "And then you get to the point where you get tested and your strength and everything isn't where it's supposed to be, or my bone is not healing the way it's supposed to. There was some talk of going on IR, but that didn't happen, and I'm here now. Now, I just want to play football."
Whenever a player contemplates going on injured reserve, that means the injury, in his mind, is serious enough to where it affects his ability to perform up to par on the football field. The fact Briggs strongly considered shutting it down for the season should not be overlooked.
Then there is the fear of re-injuring the shoulder.
Let's not be na´ve. Briggs is a business man. His contractual spats with the Bears have been highly publicized over the years. We all see the writing on the wall: the Bears are about to overhaul the defense in the offseason. Briggs, 33, is under contract with the Bears in 2014 for a total salary of $5.5 million, but the last thing any older veteran player wants is to enter an offseason hurt or in need of surgery.
The Bears aren't exactly sentimental when it pertains to contract negotiations or shaping the future roster -- see Brian Urlacher.
So Briggs has plenty of motivation to ensure that his shoulder is completely healed when the offseason rolls around.
However, it's obviously in the best interest of the Bears if Briggs plays on Sunday.
In the end, Briggs probably opts to knock off the rust and play a certain amount of snaps in Week 16.
But that decision could have far-reaching consequences.
Don't think for a second Briggs is blind to that.
December, 20, 2013
Dec 20
1:35
PM ET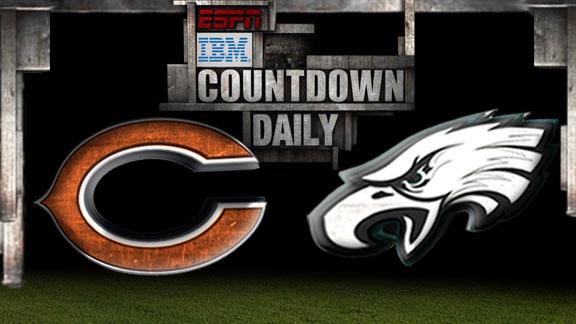 LAKE FOREST, Ill. -- Chicago Bears linebacker Lance Briggs cleared one hurdle Friday by receiving medical clearance to play Sunday at Philadelphia.
Whether he plays against the Eagles remains unclear, as coach Marc Trestman says Briggs will be listed as questionable.
"I'm very optimistic," Trestman said. "He practiced for three days. He's been cleared by the doctors. We'll list him as questionable up until game time. He'll work out before the game, and we'll see where he's at. But I wouldn't want to say that he's gonna play, he's gonna start. I think that's still 48 hours away. But certainly we began the week fully optimistic [and are] even more now since he's been cleared by the doctors."
Briggs participated fully during practice Friday after having worked in a limited capacity Wednesday and Thursday. Trestman indicated the decision on whether to play Briggs will depend largely on the linebacker's comfort level.
Out the past eight weeks with a shoulder fracture suffered Oct. 20 at Washington, Briggs expressed uncertainty Friday about his ability to be a difference-maker Sunday, saying, "I don't want to get out there and hurt us."
Trestman said he's unsure of the number of snaps Briggs would play if he's able to go and added that there would be no expectations about his level of production.
Chicago goes into Sunday's matchup ranked No. 32 against the run, and Philadelphia fields the league's top-ranked rushing attack (152.9 yards per game), led by LeSean McCoy.
Briggs had 75 tackles through the first seven games before his injury, and his stats include nine tackles for losses, two sacks, two pass breakups and two forced fumbles.
December, 20, 2013
Dec 20
9:30
AM ET
Here is this week's mailbag:
1. Huge Bears fan! We are upset that Charles Tillman is out for the year. Please tell me the Bears are bringing Peanut back next year. I have the Peanut Punch t-shirt and everything! -- Maria C., Mundelein, Ill.

Dickerson:
Maria, I've responded to several Tillman questions this year in the mailbag. I refuse to budge on my belief that Tillman is the greatest defensive back in Bears history. Since entering the league in 2003, Tillman is tied for fifth in the NFL in interceptions (36), tied for second in interception returns (8), second in forced fumbles (42) and fifth in passes defended (133). But I can definitely envision Tillman leaving the organization in the offseason. We've covered much of this before; Tillman is earning slightly over $8 million in 2013. What does he expect to make in a new deal? Are the Bears willing to pay that? What will the market be for Tillman in free agency?
As for my personal opinion: I'm pessimistic that Tillman will return. I predict he gets a better deal someplace else. It's a real shame that Tillman is not returning for the playoffs, if the Bears make it that far. He deserved a better send off, if in fact, this is the end. But heading into free agency health is important for any free agent, especially a cornerback who turns 33 years old in February. I don't blame Tillman for seeking a second opinion on his torn triceps and the course of action that subsequently followed.
2. JD, I know you're a Lovie Smith supporter; does Lovie get an NFL head coaching job next year? Lovie doesn't know offense; therefore he would never get a job in my book. What do you think is going to happen? Regards. Peter, Lake Bluff, Ill.
Dickerson
: Not sure I've ever been labeled a "Lovie Smith supporter," Peter, but I do respect Smith's body of work in Chicago. In nine seasons, Smith had an overall record of 84-66, won three NFC North titles and led the Bears to Super Bowl XLI. He is the third winningest coach in Bears history behind only Hall of Famers George Halas and Mike Ditka. Smith has faults, we all do, but he deserves another shot to coach an NFL team. Remember, the Bears finished 10-6 in his final year, so it's not like Smith left the organization in shambles. Smith has reportedly already interviewed for the Houston Texans' vacancy, and I would expect Smith to receive strong looks in Tampa Bay, Detroit and Dallas if those jobs open up. I'm not close enough to Smith to know who he plans to pitch as his offensive coordinator when he interviews with these teams, but if Smith can convince ownership that he is capable of making the correct hire on the offensive side of the ball; I believe it's a no-brainer that he is patrolling an NFL sideline in 2014.
3. Are any of Marc Trestman's assistant coaches in line for promotions either at Halas Hall or around the league? Keep up the good work. Bunch of my friends are traveling to Philadelphia. Any tips? -- Dev, Chicago
Dickerson
: Dev, I hesitate to offer up tips on Philadelphia because I've only traveled to the city three times. I did enjoy a Philly Cheesesteak sandwich at the Redding Terminal two years ago, so I might try and hit that spot Sunday around lunchtime. Philadelphia sports fans are intense. So keep your wits about you Sunday at Lincoln Financial Field.
As for this group of Bears assistant coaches: I read Peter King's report that the NFL is pushing minority candidates, including Bears defensive coordinator Mel Tucker, for head coaching jobs. I predict that Tucker will one day be either an NFL or high-level collegiate head coach. However, Tucker is likely a tough sell this year because the Bears rank No. 27 in total defense, No. 28 in points allowed and No. 32 in rushing defense. But let's see how Tucker fares next year with a revamped defense. His stock could be on the rise in 2014.
Quarterbacks coach Matt Cavanaugh stands out to me for the work he has done with
Jay Cutler
and
Josh McCown
. But Cavanaugh can't move in the Bears organization because Aaron Kromer, another assistant who deserves praise, has the title of offensive coordinator, and Joe DeCamillis is the assistant head coach/special-teams coordinator. However, I wouldn't be surprised if teams ask permission to speak with Cavanaugh in regards to offensive coordinator positions in the offseason. It's a job Cavanaugh has held before in the NFL, including during his first stint with the Bears from 1997-98.
Defensive backs coach Jon Hoke was rumored to be in the running for the Bears' defensive coordinator post last offseason before Tucker was hired. Hoke is a solid coach. He's been in the league since 2002 and also spent time in the collegiate ranks as the Florida Gators defensive coordinator.
Obviously, I can't predict the future, but there are coaches on this staff who could be attractive to other teams in the future.
4. Jeff, is there an unsung hero on the Bears roster that nobody is talking much about? I spent time searching for the under-the-radar guys. I know, I need to get a life! Help me! -- Clark S., Atlanta
Dickerson
: Bears kicker
Robbie Gould
this week on our radio show (shameless plug) described punter
Adam Podlesh
as one of those under-the-radar types. Podlesh was under pressure to keep his job after an uncharacteristically rough performance versus the
Detroit Lions
on Sep. 29. But Podlesh recovered and is close to his career averages in yards per kick (41.4), net average (38.5) and kicks dropped inside the 20 (24).
Other candidates include: wide receiver
Earl Bennett
, safety
Craig Steltz
, defensive lineman
Corey Wootton
and left guard
Matt Slauson
.
5. Jeff, talk me off the ledge. I'm down on Martellus Bennett. I thought the Bears were going get a lot more bang for their buck. Has Bennett been worth the money? Happy Holidays to you and your family. -- Steven H., Orland Park, Ill.
Dickerson
: Thank you, Steven, for the holiday wishes. The same to you and your family. Bennett has 59 receptions for 659 yards and five touchdowns through 14 games. Let's compare those numbers to Kellen Davis' production for the entire 2012 season: 19 catches for 229 yards, two touchdowns and countless drops. Bennett signed a four-year deal worth $20.4 million with $9.215 million in guarantees. He will earn $5.315 million in 2013. I realize Bennett fumbled last week in Cleveland, but for the majority of the season, he has been a sure-handed weapon in the passing game and a sturdy blocker. Tight end became a black hole for the Bears after they traded
Greg Olsen
to the
Carolina Panthers
in 2011 and released
Desmond Clark
. Bennett is the first legitimate threat at the position since Olsen and Clark left town. I doubt the Bears are experiencing buyer's remorse.
December, 20, 2013
Dec 20
3:00
AM ET
To squeeze out one or two more games at Candlestick Park beyond Week 16, the San Francisco 49ers need a minor miracle.
The Seattle Seahawks need only to win just one of their final two games to clinch the NFC West title and seize home-field advantage in the NFC playoffs. That would seal the 49ers' fate as a wild card, likely relegating them to the road the rest of the way. San Francisco needs to focus on beating the Atlanta Falcons on Monday night in what promises to be an emotional game to at least lock up a wild-card spot.
Candlestick Park, the NFL's third-oldest stadium and the home of the 49ers, will host its final regular-season game Monday night. The team moves to brand-new Levi Stadium in Santa Clara next season. There will be plenty of emotion on the field -- former San Francisco owner Eddie DeBartolo and several former players will be on hand to see if the current team can take care of business against the Falcons.
Speaking of the Falcons, what a difference a year has made in Atlanta.
Last season, the 49ers had to pull out a last-minute victory over the Falcons to advance to the Super Bowl. Since that contest, the Falcons have endured one of the greatest falls for a top seed since 1990, going from 13-3 to 4-10. The 2003 Oakland Raiders dropped to 4-12 after going to the Super Bowl as a No. 1 seed. The 2005 Philadelphia Eagles and 1999 Denver Broncos each dropped to 6-10 after being top seeds.
December, 19, 2013
Dec 19
7:57
PM ET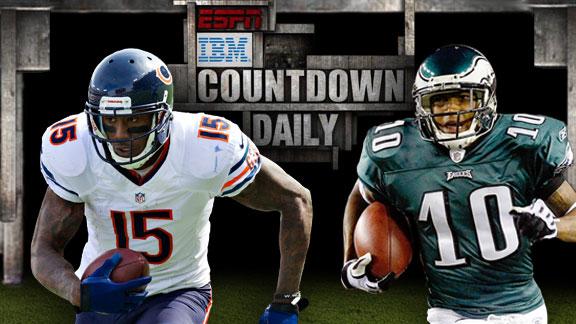 LAKE FOREST, Ill. -- It's nice to feel wanted. When you're a professional athlete, it's more than nice.
As Lance Briggs prepares to potentially return to the lineup Sunday night against the Philadelphia Eagles, look no further than Jay Cutler to see how quickly even a franchise player can go from coveted to castoff. For Cutler, an experienced and competent replacement suddenly made him seem expendable in the opinion of many. For Briggs, a depleted Bears defense only elevated the value of an already valued 33-year-old linebacker.
Still, while he was sidelined for eight weeks with a fractured shoulder, some wondered if perhaps Briggs could have returned sooner and, as the Bears sank to 6-6 and looked to be falling out of playoff contention, that maybe he saw no compelling reason to come back.
It has been the longest layoff of Briggs' 11-year career. Before this, he had never missed more than two games in a regular season. Seemingly shaking off the departure of longtime teammate and buddy Brian Urlacher, Briggs was leading the Bears in tackles with 64 when he was injured in Week 7.
But it wouldn't exactly be far-fetched to speculate that the new regime might not want to include the veteran in its restructuring plans.
Briggs semi-joked about his forced vacation.
December, 19, 2013
Dec 19
7:08
PM ET
Not that
Jay Cutler
ever thought he was immortal, but "the noise" coming from outside of Halas Hall regarding Bears coach Marc Trestman's decision to start Cutler over
Josh McCown
last week surely made the quarterback at least consider his own mortality.
That's why Cutler might be a dangerous proposition for opponents in the coming weeks.
"The guy's resilient, you have to understand that," Bears offensive coordinator Aaron Kromer said. "If you're watching that game, there are a lot of guys that would fold in the situation that he was in. Going into the game, if he's listening to any of the noise outside the building -- there was none of that in the building -- but outside, then going into the game and having [two] interception[s], and being able to fight back from that just shows his mental fortitude, and his toughness that he can fight back and play."
[+] Enlarge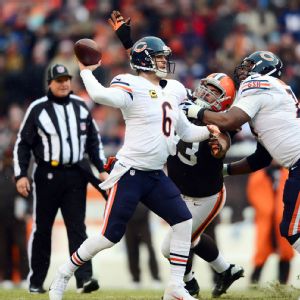 Andrew Weber/USA TODAY Sports"Last week was a tough week with everything surrounding it," Jay Cutler said.
For awhile, though, observers thought they were correct in their assessment and that maybe McCown was the better option for the Bears over the final three weeks of the season.
After all, McCown racked up nine touchdowns and only one interception in the four games prior to Cutler's return.
In his first game back at Cleveland, Cutler ended his first possession with an interception. Then, another pick in the second quarter returned 44 yards by
Tashaun Gipson
gave the Browns a 10-3 lead. Cutler woke up quickly afterward, however, and finished with 265 yards passing with three touchdowns and a passer rating of 102.2.
Over the past few days, multiple veterans -- who had long been told by Trestman that Cutler was the starter again as soon as he was healthy -- wondered how the call to make McCown the starter had grown so loud. Multiple reports prior to Sunday's game pointed to sources saying they were unhappy with the coach's decision to go with Cutler.
"The noise last week, as clearly as I can make it, it was the question of who should be playing quarterback," Trestman said. "Everybody has differences of opinion, and as I've said before football is about from a fan's perspective, from an outside-the-building perspective is everybody wants to be a decision maker, and that's the fun of it. There's time between each play and a week between each game, and it gives everybody a chance to talk about the game and it's a big part of it. That was the noise last week. Every week it's a little different. The first three weeks of the season, the noise was the Bears are going to be undefeated; that was the noise. Whatever happens during the week, you know it's not the veterans you worry about. It's the young guys who are new to the league and understanding that this is a long, long road."
But even Cutler, who is in the final year of his contract and wants to come back in 2014, admitted "the noise" affected him. McCown said the same after Sunday's game when explaining why he was more proud of Cutler after that outing than any other time they've worked together. McCown said he was affected by the raging debate, too, despite his best attempts "to block it out."
Asked if he feels more relaxed going into Sunday after all the pressure heaped on last week, Cutler said, "I do."
"Last week was a tough week with everything surrounding it, the implications of the game, having to walk into the media room and deal with you guys if we did lose," Cutler said. "All those things weigh on you."
But now, it's time for Cutler to make his own noise.
December, 19, 2013
Dec 19
4:59
PM ET
LAKE FOREST, Ill. --
Chicago Bears
linebacker
Lance Briggs
continued to take first-team repetitions in practice Thursday, but neither he nor coach Marc Trestman shed any light on the veteran's potential availability for Sunday's game at Philadelphia.
"We'll find out," Briggs said. "We'll find out soon; as soon as the doctors clear me."
Briggs
Sidelined for the past eight weeks with a shoulder fracture suffered Oct. 20 at Washington, Briggs worked in a limited capacity both Wednesday and Thursday. Trestman said at this point he "can't answer" whether Briggs will be cleared on time to face the Eagles.
"I can tell you he's going to practice tomorrow again, and it looks like we're moving the right direction," Trestman said. "I stand by being optimistic. You've always got to be cautiously optimistic because you don't know what the next day is going to bring. Based on the first two days of practice, we're really hopeful he'll be able to play on Sunday night."
Given Briggs' long layoff, it's reasonable to question how much he'll be able to contribute against Philadelphia's fast-paced offense. In addition to his work Wednesday and Thursday, Briggs took repetitions a week prior in an attempt to work himself back into cardiovascular shape.
If cleared to play, Briggs sees Sunday as being a situation where he's going to "strap it on and see what happens."
"I've been playing football for a long time and it just so happens that we're going against a team that runs 80 plays a game offensively so that'll be interesting."
Can Briggs make a difference after so much time away?
"I don't know," Briggs said. "I like to think I'm a guy who's going to get in his gap and when the opportunity's there, try to make it. Hopefully I can help the team. I don't want to get out there and hurt us. But at this point right now, these last couple games, the defense has been playing better and better. We reached a lot of goals defensively this last game -- held them to 17 points, had takeaways, and held them in check rushing the ball. That's something to continue to build on."
For Briggs, the most challenging aspect of being out of the lineup is "just feeling helpless, not being able to do anything: not able to run, not able to lift, not able to do anything, just heal," he said, "Let your body heal itself and that's been kind of tough."
Even if Briggs is ready to come back and play, Trestman isn't sure how much the linebacker will be able to contribute in terms of the number of snaps. Chicago goes into Sunday's matchup ranked No. 32 against the run, while Philadelphia fields the NFL's top-ranked rushing attack (152.9 yards per game), led by running back
LeSean McCoy
.
"I think that if Lance has a chance to play, I think that lifts our football team," Trestman said. "How much he'll play? I don't know. But the type of player he is, whatever that might be, I think that lifts our football team to some degree on Sunday night. That can only be a good thing for our football team if he is cleared to play and he has the opportunity to play whatever amount of snaps that he's able to play."
December, 19, 2013
Dec 19
4:41
PM ET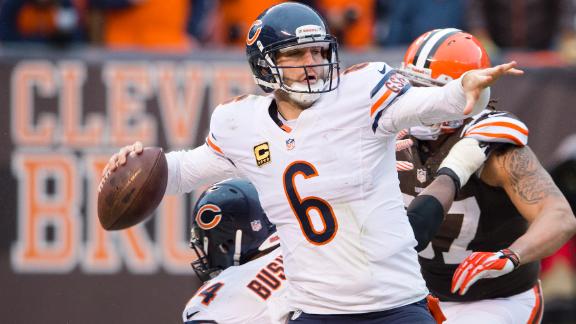 LAKE FOREST, Ill. -- Chicago Bears quarterback Jay Cutler acknowledged feeling pressure during his first start in more than a month Sunday thanks to the debate raging over whether he or Josh McCown should be the team's starter.
After bouncing back from a slow start and throwing three touchdown passes in a 38-31 win over the Cleveland Browns, Cutler said Thursday he feels "kind of at ease" going into Sunday's matchup against the Philadelphia Eagles, with the Bears (8-6) now solely in control of their postseason fate.
"I mean, I think it would be foolish just to lie and say we weren't aware of [the debates outside the building]," Cutler said. "That's unreasonable. Everyone's human in this building.
"Another reason to acknowledge it is [because] the guys did such a great job of handling it. Another reason you want to acknowledge it is we were able to hear it, deal with it in our own certain way and move on and get the job done on Sunday."
Still, Cutler conceded, "last week was a tough week with everything surrounding it."
"If we did lose that game, having to walk into the media room, and deal with you guys if we did lose -- all those things weigh on you," he said.
Apparently, Cutler didn't show outwardly what was weighing on him.
"There was a lot of noise around the decision that was made," coach Marc Trestman said. "But it wasn't reflected in his practices or his demeanor in meetings."
December, 19, 2013
Dec 19
3:15
PM ET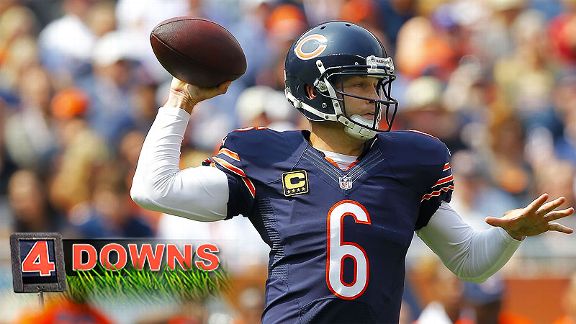 Dennis Wierzbicki/USA TODAY SportsCan Jay Cutler lead the Bears to a playoff berth?
With the Bears' defense continuing to struggle, what do
Jay Cutler
and the offense need to do to get a win over the Eagles Sunday night? Our panel weighs in on that and more:

Fact or Fiction: The Bears have to score more than 30 points to beat the Eagles.
[+] Enlarge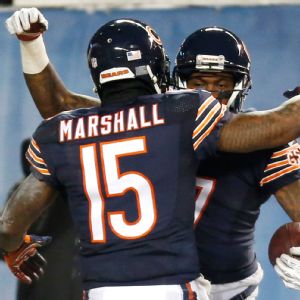 AP Photo/Charles Rex ArbogastAlshon Jeffery and Brandon Marshall have helped the Bears' offense put up some big numbers this season.
Jeff Dickerson:
Fact. Philadelphia is seventh in the league in points scored (26.0) and has the No. 1 overall rushing offense at 152.9 yards per game. Defending the run has been one of the Bears' greatest weaknesses this year. Even after holding the
Cleveland Browns
to fewer than 100 yards on the ground Sunday the Bears are still dead last in rushing defense (152.4). The Bears have done a better job defensively in recent weeks, but asking them to hold a powerful Eagles offense to fewer than 30 points is a stretch. This game on Sunday night has all the makings of a shootout.
Jon Greenberg:
Fact. My personal over-under for the Eagles is 27 1/2 points, give a Cutler pick-six or two. Last week, the Bears defense had a bit of a renaissance, only giving up three scoring drives -- a field goal and two touchdowns. Of course, that was the Browns and this is the Eagles. Here are some numbers to chew on: In five of the Eagles' eight wins this season, they've scored 30 or more points, while none of their opponents scored 30. In three of their six losses, opponents scored 30 or more. So 30 points is a pretty good barometer for a win or a loss.
---

Fact or Fiction: Matt Forte will have a better overall game than LeSean McCoy.

Jeff Dickerson:
Fiction. Don't get me wrong; Forte is a force with 1,200 rushing yards (seven touchdowns) and 66 receptions through 14 games. Forte is growing stronger as the season wears on with three consecutive 100-plus yard rushing games. But from a statistical standpoint, McCoy is even more dangerous. The Eagles tailback leads the NFL with 1,343 rushing yards and 1,850 yards from scrimmage, and has the luxury of taking on the league's dead-last rushing defense. The Bears will be hard pressed to hold McCoy below 150 yards on the ground. Forte's test is a little stiffer; Philadelphia is No. 16 versus the run.
Jon Greenberg:
Fiction. I don't know how the Bears are going to scheme McCoy, but the inclusion of
Lance Briggs
, if he plays as expected, will sure help. The Eagles offense is full of misdirection and as McCoy says, once the defenses figure out where he is with the ball, he's already in the secondary. The Eagles defense isn't fantastic either, so I think Forte will have a solid game, but I'm guessing the Bears go to the air more and Forte doesn't get as many carries as McCoy.
---

Fact or Fiction: If Jay Cutler struggles in the next two games, Marc Trestman should turn to Josh McCown.
[+] Enlarge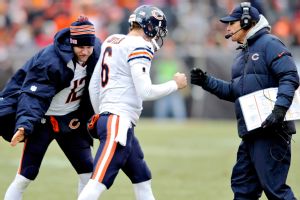 AP Photo/David RichardJosh McCown is unlikely to play again this season now that Jay Cutler is healthy.
Jeff Dickerson:
Fiction. The Bears have cast their lot with Cutler. There is no going back. Cutler is the guy for the rest of 2013 regular season and postseason, win or lose. If Bears were to bench Cutler for performance reasons, that would be the end for Cutler in Chicago. I don't believe the Bears want to or expect to go down that path. Unless Cutler gets hurt or the game is a major blowout, McCown is unlikely to see the field again this year.
Jon Greenberg:
Fiction. You can't coach the team like a sports talk radio caller. This wasn't even much of a decision. Cutler is the starter and he was going to start as long as he was healthy. That doesn't mean McCown isn't the safer option, because he is, but Cutler is their guy and if he's healthy, he'll play. Now if he's struggling because he's injured, I hope Trestman pulls the plug quicker than he did in the Detroit game. Otherwise, it's Cutler's time to win or lose.
---

Fact or Fiction: Lance Briggs is the most important player on the Bears defense.
[+] Enlarge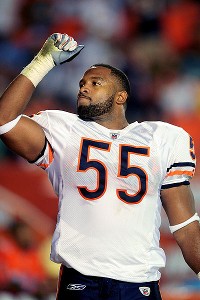 Mark J. Rebilas/USA TODAY SportsLance Briggs will be a big upgrade to the Bears linebackers when he returns to the field.
Jeff Dickerson:
Fact. Briggs is a seven-time Pro Bowl selection who remained at the top of his game (75 tackles, two sacks, two forced fumbles and nine tackles-for-loss) at the time of his injury. It's been mostly downhill for the Bears defense ever since Briggs fractured his shoulder in Washington on Oct. 10. His return to the field would be an enormous lift to the Bears as they fight to win the NFC North.
Jon Greenberg:
Fact. Right now he is, anyway. This defense isn't exactly chock full of keepers. And you can't have two rookies start in a linebacker group and expect to succeed. The game is too predicated on instinct and experience. In training camp,
Jon Bostic
, a cerebral and athletic young player, told me he was in awe of Briggs, who seemed to have a sixth sense on the field. Thanks to D.J. Williams' injury, Bostic has been thrown into the starting unit after barely playing in the beginning of the season. He can react and make plays, but he can't sniff out what's going to happen. While Briggs won't be in the best shape, he can make this group respectable the last two weeks just by being on the field in place of
Khaseem Greene
. I'm looking to see if Briggs forces a fumble this week. The Bears haven't had one since Week 4 when Briggs and
Corey Wootton
each forced one. As we know, turnovers are the key to this defense. Maybe Briggs will bring some of that spirit back to the defense.