May, 29, 2015
May 29
3:00
PM ET
The size of Jay Cutler's contract is still a hotly debated topic in Chicago nearly 17 months after the Bears awarded the quarterback a seven-year, $126.7 million deal with $54 million in guarantees.
While the Bears are now committed to Cutler as their quarterback in the fall, the guaranteed money left on Cutler's deal in 2015 and 2016 killed any hope of trading him in the offseason. The Bears did speak with the Tennessee Titans leading up to the draft, but Tennessee had no interest in assuming the contract ex-general manager Phil Emery gave Cutler on January 2, 2014.
So how player friendly is Cutler's contract compared to other NFL quarterbacks?
ESPN NFL Insider Mike Sando ranked the veteran quarterback deals around the league based on which ones are most appealing from a player standpoint.
Cutler's contract finished seventh on the list, according to Sando's calculations.
Four of the six quarterbacks ahead of Cutler have won Super Bowls.
The other two have each made four Pro Bowls and four playoff appearances.
Since entering the league in 2006, Cutler has been to the Pro Bowl (2008) and playoffs (2010) just one time.
Taking everything into consideration; a strong argument can be made that Cutler needed to be bumped up on Sando's list. Cutler's contract is extremely player friendly as it relates to his career NFL accomplishments.
May, 29, 2015
May 29
9:37
AM ET
Matt Forte is a good judge of talent when it comes to offensive coordinators.
The longest-tenured member of the Chicago Bears' offense, Forte has played for four different coordinators -- Ron Turner, Mike Martz, Mike Tice and Aaron Kromer/Marc Trestman – since he joined the club in 2008. In those seven years, Forte has experienced every twist and turn imaginable on offense; from the good (2013), to the bad (2012,) to the downright ugly (2014).
Enter Adam Gase, the former playcaller of the perennial AFC West champions Denver Broncos who followed John Fox to Chicago in January.
Forte's classroom and on-field introduction to Gase was slightly delayed due to the tailback's decision to miss the first phase of the voluntary offseason program to train in South Florida. But after working with Gase for the last month, Forte is convinced the Bears hired the right guy to lead the offense.
"Love Adam Gase," Forte said this week. "First impression is he's got a lot of energy. He's going to be good not only for this offense, but being able to coach Jay [Cutler] as well. Being high energy and keeping his head stable during a game when stuff happens. Coach Fox just talked about how you respond when events happen in a game, positive or negative. Whatever the response is, the outcome is going to be that."
No matter the coordinator, Forte's level of production remains unchanged. Forte leads the NFL in yards from scrimmage (11,431) since 2008, and last year, he became just the second player in league history to gain at least 1,000 yards rushing (1,038) and 100 receptions (102) in a single season.
Fox and Gase, however, have a history of using a running back-by-committee approach in the backfield. Forte played 90 percent of the Bears' offensive snaps in 2014.
How does Forte expect Gase to use him?
"I knew that the first day when I met Gase and we talked about that type of stuff when he first got hired," Forte said. "So [ I plan to be used the] same as I've always been; utilized in the running game and the passing game."
May, 28, 2015
May 28
9:20
AM ET
After the Chicago Bears released Ray McDonald on Monday following his first arrest of the week, ESPN.com colleague Kevin Seifert shed light on the NFL's club-remittance policy; a little known league rule designed to hold teams accountable for the conduct of their players.
Seifert explained that NFL teams can be fined a maximum of $150,000 if they have two players suspended for personal conduct violations or for testing positive to a banned substance. The league caps the fines at $500,000 if clubs have four or more players suspended.
Is this a strong enough deterrent for teams to avoid signing players with questionable character?
Should the league stiffen the penalties and hold clubs more accountable?
Bears team chairman George McCaskey said on Wednesday the topic of increased team punishment has not been discussed among owners.
"I'm honored to serve on the league's Conduct Committee," McCaskey said. "I haven't heard any discussion about that, either on the committee or among the membership. It might be something that would be worth the discussion [but] I don't know that there was any consensus on that issue at all."
The Bears already have one strike against them in the form of offensive lineman Eben Britton's four-game suspension for PEDs. The league has not ruled on McDonald yet, but the defensive end has been arrested twice this week of charges of domestic violence, child endangerment and violating a restraining order. The NFL has also not decided whether to punish McDonald for a December incident in which a female accused him of sexual assault.
Here is the entire club-remittance policy fine scale, courtesy of Seifert's story:
One suspension: no remittance due
Two suspensions: 15 percent of suspended players' base salaries during time of suspension, up to $150,000
Three suspensions: 25 percent of same, up to $250,000
Four or more suspensions: 33 percent of same, up to $500,000.
May, 27, 2015
May 27
10:00
PM ET
Associated Press
LAKE FOREST, Ill. -- John Siegal, an end who helped the Chicago Bears win three NFL titles in the 1940s and was their oldest former player, has died. He was 97.
The Bears said Wednesday that he died this week at his home in Harveys Lake, Pennsylvania.
Siegal spent his entire five-year career with the Bears and was selected to three Pro Bowls. He helped Chicago win NFL titles in 1940, 1941 and 1943, playing alongside Sid Luckman.
He also earned a dental degree from Northwestern and served in the Navy during World War II.
The team said his wife of 68 years died in 2009. They had three children, including a daughter who passed away in 2011. Siegal also is survived by three grandchildren and four great-grandchildren.
May, 27, 2015
May 27
9:35
PM ET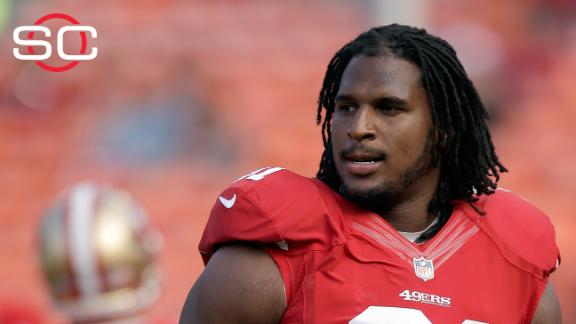 CHICAGO -- Police in California arrested former Chicago Bears defensive end Ray McDonald at 5:35 p.m. local time Wednesday for violating a restraining order, the Santa Clara Police Department said.
It marked McDonald's second arrest in less than 72 hours. On Monday, authorities booked McDonald on suspicion of domestic violence and child endangerment as a result of an early-morning altercation with his former fiancee, who also is the mother of his child.
Several hours after the alleged incident, the police located McDonald at the home of former teammate Justin Smith, where they placed the veteran defender under arrest.
The Bears released McDonald on Monday afternoon.
The restraining order McDonald is accused of violating Wednesday was issued as a result of Monday's case.
He posted $5,000 bail and was released from custody late Wednesday night, according to multiple media reports.
According to the Santa Clara Police Department, detectives learned around 2:52 p.m. that McDonald had violated the restraining order by being at a Santa Clara residence.
They later found McDonald at a local restaurant, where he was arrested without incident.
McDonald's attorney, Steve Defilippis, told ESPN's Josina Anderson on Wednesday night that McDonald was never served with a restraining order, although he was told to stay away from his former fiancee.
Defilippis said that before going to the house, McDonald was told the woman would not be there.
"Today my investigator contacted her and confirmed that she was in Santa Cruz," Defilippis said, "and Ray went over to the apartment to meet the investigator to let him in so that he could get photographs of this allegedly broken door, and lo and behold the cops show up and arrest him."
May, 27, 2015
May 27
6:44
PM ET
LAKE FOREST, Ill. – Highly regarded Chicago Bears lead contract negotiator Cliff Stein is assuming a slightly different role.
Multiple sources told ESPN.com on Wednesday the club is in the process of hiring a new front office employee from outside the organization to negotiate the majority of player contracts.
The Chicago Sun Times reported Wednesday evening the Bears are expected to hire former New Orleans Saints Salary Cap Analyst Joey Laine, who has ties to Bears general manager Ryan Pace.
Stein will remain the Bears' General Counsel, a title he's held since May 2007.
Over recent years Stein has developed the reputation as one of the league's top contract negotiators. The Bears annually are the first team to sign of all their draft picks, in large part because of Stein's efforts. Under Stein, the Bears have experienced no salary-cap issues of note despite awarding large contracts in the past five years to players such as quarterback Jay Cutler and defensive end Julius Peppers.
Stein joined the team in February 2002 as the director of player contracts and legal affairs.
May, 27, 2015
May 27
5:15
PM ET


LAKE FOREST, Ill. -- Matt Forte's offseason began in somewhat controversial fashion when the tailback opted to train in South Florida instead of attending the start of the Chicago Bears' offseason program.
In light of Forte's soon-to-be expiring contract; Forte's decision to miss Phase 1 of the voluntary program and the voluntary minicamp seemed to set the stage for a training camp holdout.
Why else would the 29-year old tailback choose to skip workouts with a new coaching staff in the building?
Well, Forte eventually put the speculation to rest and rejoined his teammates at Halas Hall in the middle portion of the offseason program.
Ever since returning to Halas Hall a couple of weeks ago, Forte has said all the right things in regards to the stalled contract talks with the Bears.
This was not always the case.
Remember, Forte's quest for a new deal in the summer of 2011 led to some bad blood between the running back and ex-general manager Jerry Angelo. Forte later signed a new four-year deal in July, 2012 after Angelo had been replaced by Phil Emery.
"You've got to be patient in these types of things and nobody's going to force anybody's hand on either side so you just have to be patient that's about the only thing I learned from the past," Forte said Wednesday. "The situation a couple years ago was being vastly underpaid; that's not the situation now, it's more of this year is more of just like lowering the cap number and trying to continue my legacy as a Bear and trying to retire that way. It happens to be whatever shakes out, whatever they think."
Forte is not scheduled to be underpaid in 2015.
At 29-years old, Forte can earn a maximum of $8.2 million dollars in the final year of his deal -- a fair sum of money for a running back of that age. Forte has zero incentive to not take the Bears' money, which is why he reiterated on Wednesday that he will not boycott training camp.
"As you can see I'm out here at OTAs and I don't have any injuries, I'm not nursing anything like that," Forte said. "So I'm pretty much healthy. So I feel like I can continue to play as long as I want to."
It really is unfortunate that Forte's age is such a talking point. He keeps himself in tremendous shape and showed no visible signs of decline last year when he led the Bears in receptions (102) and rushing yards (1,038). But the NFL is often unkind financially to older running backs.
"Nobody wants to play on a one-year deal, especially the uncertainty of how football is with how it goes," Forte said. "You just figure like a guy who's been there since Day 1, continues to put in hard work and has produced, you figure that that guy should be rewarded. But in this business that doesn't always happen."
After seven years in the league, Forte's business savvy is making him look like a very smart man this offseason.
May, 27, 2015
May 27
3:15
PM ET
LAKE FOREST, Ill. – Chicago Bears tight end Martellus Bennett continues to boycott the club's voluntary offseason program because of a contract dispute.
Bennett was a no-show at the Bears' organized team activity on Wednesday, the fifth consecutive week of offseason work that Bennett has missed.
ESPN NFL Insider Adam Schefter reported in April that Bennett would not report to any team without a new contract. Bennett has two years left on his existing deal.
In the meantime, first-round pick wide receiver Kevin White and fourth-round pick running back Jeremy Langford were excused on Wednesday to attend the annual rookie premiere event in Los Angeles.
May, 27, 2015
May 27
2:36
PM ET
LAKE FOREST, Ill. -- Former Pro Bowl running back Matt Forte confirmed on Wednesday that he will report to training camp on time despite the Chicago Bears' refusal to extend his contract.
"Yeah, [I'll report to camp on time without a new deal]," Forte said.
The 29-year-old Forte can earn a maximum of $8.2 million in 2015 after he led the team in rushing yards (1,038) and receptions (102) last year. He is tops in the league in yards from scrimmage (11,431) since 2008.
"Nobody wants to play on a one-year deal, especially the uncertainty of how football is with how it goes," Forte said. "You just figure like a guy who's been there since day one, continues to put in hard work and has produced, you figure that that guy should be rewarded. But in this business that doesn't always happen."
Forte reiterated that he's in good standing with the organization; although he does not expect to revisit contract talks with general manager Ryan Pace in the near future.
"We already visited it," Forte said. "All I can do is talk to them about it and they can say yes or no. They said we're not talking about that type of stuff right now, so all I can is play football. I've come to the realization that every run or catch that I may have might be my last in a Bears uniform, so if they don't want to re-sign me I'll have to play somewhere else then."
Forte participated in Wednesday's organized team activity after skipping the early portion of the voluntary offseason program to train in South Florida.
May, 27, 2015
May 27
1:55
PM ET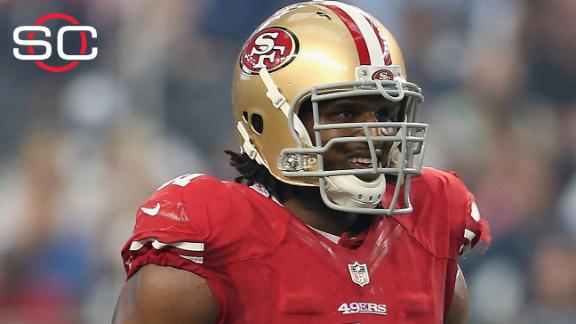 LAKE FOREST, Ill. -- Chicago Bears chairman George McCaskey voiced concern for former defensive end Ray McDonald's accusers Wednesday, but feels the organization has the proper system in place to handle players with questionable character.
McDonald was arrested Monday in California on suspicion of domestic violence and child endangerment. The Bears later released him.
"The overriding emotion for me was sadness," McCaskey said when asked his reaction upon hearing of McDonald's arrest. "Sadness for the child, for the child's mother and for the entire situation. Domestic violence is a vexing social problem. The NFL has had some high-profile cases, including this one, and the NFL, because it's a leader in a society, is called upon to take action, which we are doing. We're not going to do it by ourselves, but I think we have an opportunity to make an impact."
McCaskey admitted to feeling regret over how the McDonald situation unfolded after he gave Bears general manager Ryan Pace permission to sign the veteran player to a one-year deal in March despite knowing his past legal troubles while with the San Francisco 49ers.
"I've asked myself that question a lot: What more could I have done?" McCaskey said. "Is there somebody else we could have consulted with? Should I have taken more time to make a decision? I don't know. We thought we had a good structure, a good support system. We thought we had safeguards in place in case something like this happened."
"It was our decision, my decision ultimately, alone."
May, 26, 2015
May 26
9:30
PM ET
ESPN.com news services
SAN FRANCISCO -- The California Highway Patrol has released audio from the 911 call that led to the arrest of NFL defensive end Ray McDonald on suspicion of child endangerment and domestic violence.
A woman, who is identified as the mother of the alleged victim, tells a dispatcher that McDonald is drunk during a 911 call about 3:41 a.m. PDT Monday.
According San Jose Mercury News, McDonald violently broke through a bedroom door to get to his ex-fiancée and their infant daughter. The 6-foot-3, 290-pound lineman then tried to take the baby from her before leaving, according to the report.
McDonald was later arrested at a San Jose, California, home on suspicion of assaulting a woman who was holding the couple's baby.
The caller says she wasn't at the home but that her daughter told her to call police, according to the recording.
Later in the day, the Chicago Bears released McDonald.
The arrest follows a pattern of similar incidents.
McDonald's agent, Tom Condon, has not returned multiple calls seeking comment.
Information from The Associated Press was used in this report.