Chicago Bears:

2012 Coach's Big Decision
December, 29, 2012
12/29/12
1:30
PM ET
Chicago Bears
linebacker
Brian Urlacher
practiced on Friday, and coach Lovie Smith didn't sound 100 percent sure that the face of the franchise would play against the
Detroit Lions
. With so much on the line, if Urlacher is healthy enough to play, he should be out there.
But what if he gets in there, and two series into the game it appears Urlacher is hurting more than helping? That's a determination the Bears need to make as soon as possible with so much riding on this game.
December, 22, 2012
12/22/12
1:30
PM ET
The
Chicago Bears
find themselves playing playoff football a little earlier than they anticipated as they need to win the next two in order to get into the playoffs. So while it would be ideal to rest players such as cornerback
Tim Jennings
and defensive tackle
Henry Melton
for a potential postseason run, the Bears don't have that luxury because they need to win now.
However, if the Bears take control of the game early, they need to consider sitting Jennings and Melton as soon as possible for what should be a physical regular-season finale on Dec. 30 in Detroit.
Jennings and Melton are two of the club's best defensive players, and the Bears will need them in order to win at Detroit, and in the playoffs.
The Bears might also consider similar moves with players such as quarterback
Jay Cutler
, running back
Matt Forte
and receiver
Brandon Marshall
if they can find a way to take early control over the Cardinals.
As banged up as the Bears already are, they need to avoid further attrition. At the same time, they need to win at all costs, which is why it's important to dominate early.
December, 8, 2012
12/08/12
1:30
PM ET
The
Chicago Bears
haven't held a team to fewer than 100 yards rushing since Oct. 22, and if they plan on beating the
Minnesota Vikings
on Sunday, they've got to devote everything to shutting down
Adrian Peterson
, who is coming off a 210-yard effort.
Peterson has rushed for 947 yards and six touchdowns in his last six outings, and with
Percy Harvin
recently going on the injured reserve, the running back is Minnesota's only legitimate threat on offense. Playing without middle linebacker
Brian Urlacher
, the Bears need to utilize more run-stopping defenses, and provide more safety help in the box.
Although
Christian Ponder
is 4-1 at home this season, it's highly unlikely he'll beat the Bears through the air; even with Bears starting cornerback
Tim Jennings
out because of a shoulder injury. Ponder's average throw travels a league-low 6.2 yards down the field, according to ESPN Stats & Information, and the last time the teams played, he was 0 of 8 with an interception on throws of 10 yards or more down the field.
That's not going to beat you. Peterson will.
December, 1, 2012
12/01/12
3:00
PM ET
[+] Enlarge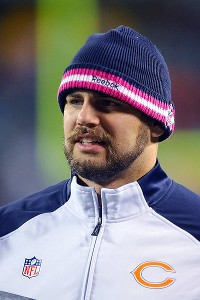 Dennis Wierzbicki/US PresswireThe Bears' Gabe Carimi will fill in at guard this week against the Seahawks.
One game shouldn't determine the future for
Chicago Bears
offensive lineman
Gabe Carimi
, who was drafted in the first round of 2011 originally to play tackle, but will start at left guard for the injured
Lance Louis
on Sunday against the
Seattle Seahawks
. Still, Carimi's performance in this outing could lead to the staff pondering whether guard is the spot for the second-year veteran moving into the offseason.
Offensive coordinator Mike Tice pointed to 2004 second-overall pick
Robert Gallery
as an example of a player drafted to play tackle, and eventually moved inside to guard. But it would be shortsighted for the Bears to seriously consider a similar move long-term for Carimi, who was demoted as the starting right tackle last week, if he plays well at guard against the Seahawks.
Carimi might serve as a temporary fix for the rest of the 2012 season, but beyond that he needs to be given another shot at right tackle.
November, 24, 2012
11/24/12
3:00
PM ET
[+] Enlarge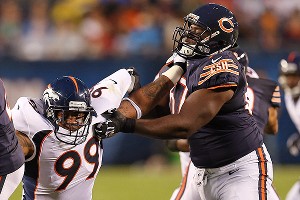 Jonathan Daniel/Getty ImagesChris Spencer will get another chance to start on the Bears offensive line against Minnesota.
A tenuous situation on the offensive line became potentially more unstable when the
Chicago Bears
made the decision to make changes at left guard and right tackle after last week's debacle against the
San Francisco 49ers
. So the club needs to put contingency plans in place just in case the new group struggles early on Sunday against the
Minnesota Vikings
.
By placing former starting left guard
Chilo Rachal
on the non-football injury list, the Bears eliminated one option up front as they now won't be able to turn to him if his replacement,
Chris Spencer
, can't get the job done.
November, 10, 2012
11/10/12
1:30
PM ET
Houston plays an aggressive high-pressure scheme under defensive coordinator Wade Phillips, which will put the Texans in man-to-man coverage on some passing downs that Chicago needs to take advantage of.
The difficult decision for offensive coordinator Mike Tice is how he'll decide between deploying extra personnel to protect
Jay Cutler
versus utilizing extra receivers in some routes to exploit Houston's high-risk schemes on the back end.
November, 3, 2012
11/03/12
1:30
PM ET
The
Chicago Bears
paid running back
Matt Forte
well when they signed him in July to a contract extension. So perhaps it's time to start using him, considering he's carried the ball 20 times or more in just two games all season.
Offensive coordinator Mike Tice blamed the club's four three-and-outs against the
Carolina Panthers
for Forte's lack of carries last weekend.
"When you're three and out, three and out, nobody's going to get a lot of touches," Tice said. "Fortunately (receiver)
Brandon (Marshall
) got some catches in the two-minute (offense) or he wouldn't have had many touches. We can't have the ball 23 minutes. We had been up in the 36-minute range (in terms of time of possession). When you're in the 36-minute range you've got plays. But when you have the ball 23 minutes, I don't think anybody's going to feel they had enough touches."
Maybe the best way to remedy that situation is to run the ball.
Forte ran the ball eight times in the first half of last week's game, but didn't take handoffs on back-to-back plays until the 3:57 mark of the second quarter when his 5-yard run gave him 14 yards total on the two attempts.
Quarterback
Jay Cutler
predicted Forte wouldn't "get the touches that he got last year" in 2012 because "there are not enough balls to go around."
But somehow the Bears need to find a way to get Forte involved. Ultimately, their success on offense depends on it.
October, 27, 2012
10/27/12
1:30
PM ET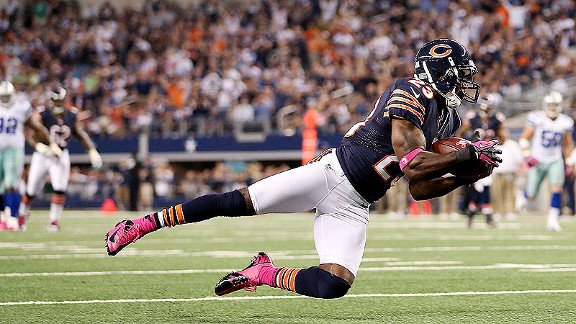 Ronald Martinez/Getty ImagesDevin Hester has 10 catches for 152 yards and a touchdown this season.
With
Alshon Jeffery
still out of the lineup, the
Chicago Bears
need to decide how much playing time to give to
Devin Hester
as opposed to
Earl Bennett
. Furthermore, the staff needs to determine how much increased repetitions for Hester could affect the Bears' return game.
Hester and Bennett put up similar numbers against the
Detroit Lions
, with the former catching three passes for 38 yards and the latter contributing 37 yards on three receptions.
But it might be more advantageous for the Bears to give Bennett the majority of the snaps on offense, so Hester can focus more on special teams. Hester played 61 snaps on offense against the Lions, while Bennett lined up for 39 snaps.
Maybe decreased snaps on offense would allow Hester to be more productive in the return game.
Special teams coordinator Dave Toub acknowledged Thursday that Hester needs to improve his decision making on punt returns. Against the Lions, Hester averaged five yards on one punt return and called for a fair catch on two, including one that Toub thought could have been returned for a touchdown.
Toub said the staff made sure to take into account how Hester's increased offensive snaps would affect him as a returner, which is likely one of the reasons the Bears used
Eric Weems
for one return.
Given that Bennett can be just as productive on offense as Hester, the team might need to put off the "Hester Package" a week and give Bennett the opportunity to pick up the slack offensively in Jeffery's absence.
October, 21, 2012
10/21/12
2:00
PM ET
Regardless of what transpires early on, offensive coordinator Mike Tice can't stray from the team's commitment to running the ball. That's what transpired during the
Chicago Bears
' 23-10 loss in prime time to the
Green Bay Packers
on Sept. 13.
[+] Enlarge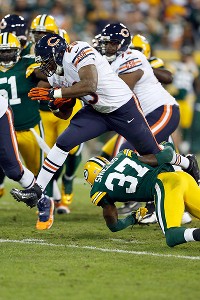 AP Photo/Paul SpinelliMichael Bush led the Bears with 54 yards, part of a season-low 94-yard rushing game in their loss to the Packers in Week 2.
Despite the Bears averaging 4.4 yards per attempt, they ran the ball just nine times in the first half before attempting to make up for the mistake in the second half with 14 more runs. By then, the damage had already been done as the Packers reeled off a 13-0 lead that forced the Bears into a passing game.
Tice can't afford to let a similar situation unfold against the Lions.
"I think there was a guy that was calling plays in Green Bay that didn't call the run enough," Tice joked. "I think that was a part of the problem. Hopefully he's not showing up this week."
For Chicago's sake, he can't. Tice knows the likelihood of hitting big runs isn't high against Detroit's 3-4 defensive front. He's also aware that explosive bursts aren't as important as displaying a real commitment to running the football.
"I do know it's hard to run the ball against some of the solid looks, the two three-techniques and under defenses. The two-gap teams, they're not gonna give you the explosive runs," Tice said. "This will be one heck of a challenge against this front. They give us problems. We have to be able to run the ball and mix it up."
October, 6, 2012
10/06/12
10:30
AM ET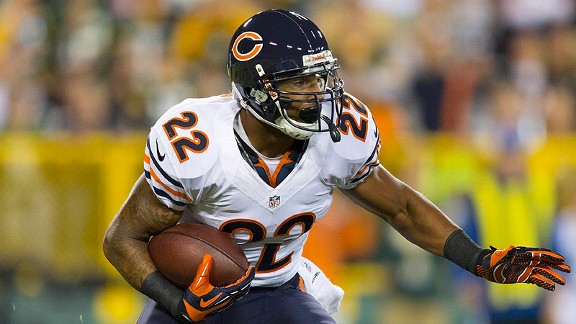 Jeff Hanisch/US PresswireThe Bears hope to keep Matt Forte's sore ankle from getting worse.
The Bears won't take the
Jacksonville Jaguars
lightly, regardless of their record. So it's doubtful the club plans to rest running back
Matt Forte
and defensive end
Julius Peppers
.
Obviously the objective is to win the game, and the best way to achieve that is to put the best players on the field against the Jaguars. So while it doesn't appear the team is inclined to sit Forte and Peppers, it's likely the Bears would strongly consider resting them if the team gains a sizeable advantage early in the game.
With an off week coming out of Sunday's contest and an extra day of preparation for the club's Oct. 22 matchup with the
Detroit Lions
on "Monday Night Football," surely the Bears would like to give Forte and Peppers plenty of time to recover from their injuries so they don't become nagging situations that last throughout the year.
The Bears will need to make a determination of when to pull Forte and Peppers, but what if the game remains a close affair that isn't decided until the waning moments?
Again, the objective is to win the game. So if the game is close, the Bears might be forced to just take their chances with Forte and Peppers and allow them to heal up as much as possible during the week off.
September, 28, 2012
9/28/12
9:42
PM ET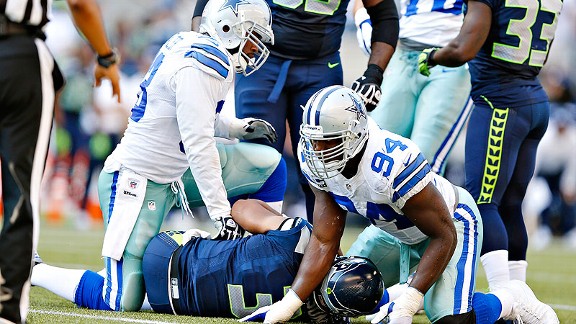 AP Photo/James D SmithDeciding when to help on DeMarcus Ware is a big decision for the Bears.
Left tackle J'Marcus Webb once again becomes part of the difficult decisions the Bears must make Monday night when they face the
Dallas Cowboys
.
Schematically, the Bears must pick when they choose to provide help for Webb, who squares off against Cowboys pass rusher
DeMarcus Ware
. If the Bears operate out of max protection on most passing downs, they can't send as many receivers out on routes. If they decide to leave Webb in one-on-one situations, the Bears run a greater risk of Ware coming off the edge and sacking
Jay Cutler
, which potentially could lead to turnovers.
September, 21, 2012
9/21/12
8:00
PM ET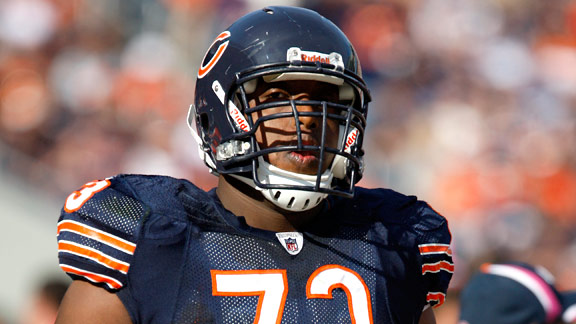 AP Photo/Nam Y. HuhThe Bears might not have a realistic alternative for J'Marcus Webb if they want to replace him during Sunday's game against the Rams.
Chicago Bears
left tackle J'Marcus Webb is out of chances. But if he struggles against the
St. Louis Rams
early, either coach Lovie Smith or offensive coordinator Mike Tice will have to make the call as to whether to pull the left tackle.

That could turn out to be a difficult decision to make for the coaches because it's not like several options currently exist on the roster.
The Bears could sub out Webb with
Chris Williams
, who lost out to Webb during the open competition for the starting job during training camp. Or the club could opt for
Jonathan Scott
, who was added on Sept. 10, and has started 28 games throughout his career at both left and right tackle with the
Detroit Lions
,
Buffalo Bills
and
Pittsburgh Steelers
.
The staff isn't certain Scott is ready to make a significant contribution, considering he's been with the team for fewer than two weeks. So if the Bears decide to make a switch at the position, it appears Williams is the most likely option to replace Webb.
Still, the Bears can't make a knee-jerk reaction to a rough start by Webb. That could result to even worse protection at the position.