Chicago Bears:

2012 Five Things We Learned
December, 23, 2012
12/23/12
9:25
PM ET
GLENDALE, Ariz. -- Here are five things we learned in the
Chicago Bears
' 28-13 victory over the
Arizona Cardinals
on Sunday:
1. The season lives on:
Did the Bears dominate the Cardinals? Not really. Does it matter? Not really. It was a game the Bears had to win thanks to the
Minnesota Vikings
defeating the
Houston Texans
, and they did. The Bears remain a team with a highly suspect and flawed offense that inspires little confidence, but their defense can still inflict some damage, coming up with two defensive touchdowns, three takeaways and four sacks in the win. It was a forgettable afternoon for the special teams, with the exception of the Cardinals' thwarted fake field goal, but generally speaking, that unit is going to perform at an acceptable level. To steal a phrase from the great Denny Green, "The Bears are who we thought they were." A slightly above average team that can beat up on lesser opponents but really haven't proven they can beat anybody good. But right now, that's OK. All that matters for this team is they make the playoffs, which remains an attainable goal despite their second half of the season slide. A win is a win. It sure beats the alternative. Can you imagine what a miserable week it would have been at Halas Hall had the Bears lost on Sunday?
December, 9, 2012
12/09/12
7:03
PM ET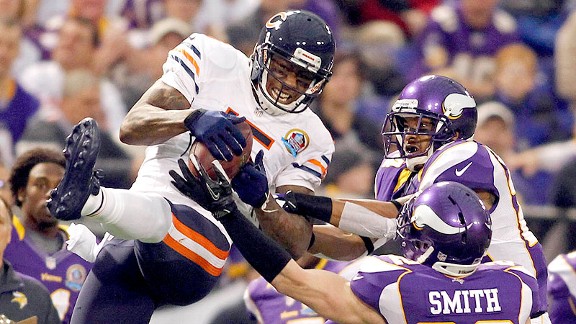 Bruce Kluckhohn/USA TODAY SportsBrandon Marshall continued his historic Bears season, setting a team record with 101 catches.
MINNEAPOLIS -- Here are Five Things We Learned in the
Chicago Bears
' 21-14 loss to the
Minnesota Vikings
on Sunday:
1. Hard to view the Bears as an 8-5 team:
The situation the Bears find themselves in after dropping four of their last five looks much more dire than their 8-5 record might indicate. Quite frankly, it looks as if the wheels are totally falling off. For one, the Bears continue to lose key players to injury as defensive linemen
Shea McClellin
(knee) and
Henry Melton
(shoulder), quarterback
Jay Cutler
(neck) and special team standouts
Sherrick McManis
(knee) and
Craig Steltz
(chest) all were unable to finish the game. Next up for the Bears: the
Green Bay Packers
, a team the Bears have beaten a grand total of one time since Cutler arrived in Chicago in 2009. Then two games on the road to end the year where anything could happen, especially that last week versus another NFC North rival, the
Detroit Lions
. Bears head coach Lovie Smith said on Friday that his team is in perfect position to finish out the season. I could not disagree more.
November, 26, 2012
11/26/12
9:32
AM ET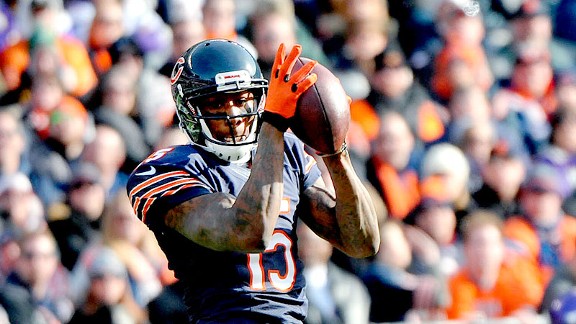 Rob Grabowski/US PresswireCalling Brandon Marshall the Bears' best receiver ever may not do justice to how good he is.
CHICAGO -- Here are Five Things We Learned from the Bears' 28-10 victory over the
Minnesota Vikings
:
1. Brandon Marshall is the greatest receiver in franchise history
: Alright, you probably already knew that, but it's nice to keep being reminded the Bears finally have an elite receiver on the roster. Barring some sort of freak injury or off-the-field setback, Marshall will shatter every Bears individual receiving record. He should pass two this year: most receptions in a season (
Marty Booker
, 100) and most single-season receiving yards (
Marcus Robinson
, 1,400). Before it's over, he'll have them all. Marshall already has caught 81 balls for 1,017 yards through just 11 games. Remember when a 50-catch, 750-yard year was a big deal for a Bears wideout? Marshall gets that in half of a season. Think 17 targets a game is too much? I don't.
November, 20, 2012
11/20/12
1:51
AM ET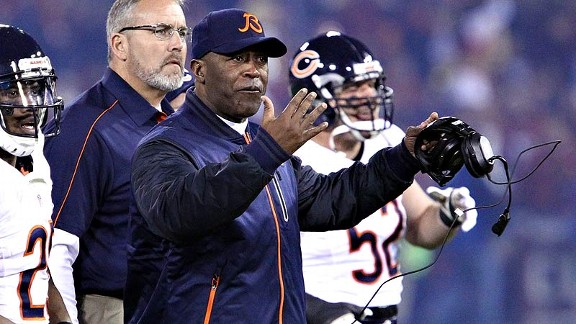 John J. Kim/Chicago Tribune/MCT/Getty ImagesLovie Smith's Bears will have to put their two-game slide behind them with the Vikings up next.
SAN FRANCISCO -- Here are Five Things We Learned following
Chicago Bears
' 32-7 loss to the
San Francisco 49ers
on Monday night:
1. Bears could be in trouble:
Their record still stands at 7-3, but Monday night's foundation-shaking loss raises serious questions about the Bears' ability to recover in time to face the NFC North rival
Minnesota Vikings
on Sunday Soldier Field. The Vikings game is huge for the Bears, but will they be able to shake off this awful loss to the 49ers, handle the short week and deal with all the normal distractions that come during a holiday week? The schedule doesn't get much easier with three division games over the next four weeks, so it's time for the Bears to put their cards on the table. Are they a good team that simply got to seven wins by beating up on weak opponents or are they in fact an average team that feasted on inferior competition? We'll know soon enough.
November, 12, 2012
11/12/12
2:12
PM ET
LAKE FOREST, Ill. -- Here are Five Things We Learned from the
Chicago Bears
' 13-6 loss to the
Houston Texans
:
1. Bears are not the best team in the NFL:
OK, that question got cleared up Sunday night. But just because the Bears lost to Houston doesn't mean they're about to go into some epic tailspin. Keep it in perspective: As poorly as the Bears played they only lost by seven points. If
Robbie Gould
makes that difficult 48-yard field goal and
Brandon Marshall
doesn't drop that long pass in the end zone, the Bears win. This team can still win games even if
Jay Cutler
is out for a week or two, basically because the defense is so good. Kudos to Houston for staying committed to the run, but it did take
Arian Foster
29 carries to reach 102 yards (3.5 average per rush). No doubt the bad weather hurt the Texans' offense, but the Bears deserve some credit for
Matt Schaub
's 42.9 quarterback rating and two interceptions. One loss does not define a season. At 7-2, the Bears are still in the upper echelon of the NFL. If they get a chance to meet the Texans later in the year, perhaps their starting quarterback will play the entire game. Who knows if that will change the outcome.
November, 5, 2012
11/05/12
7:00
AM ET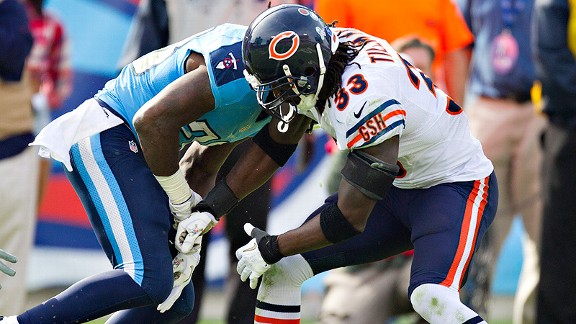 Wesley Hitt/Getty ImagesCharles Tillman continued to state his case for NFL Defensive Player of the Year with four forced fumbles on Sunday.
NASHVILLE -- Here are Five Things We Learned in the
Chicago Bears
' 51-20 victory over the
Tennessee Titans
on Sunday at LP Field:
1. Who needs the offense?:
On a serious note, the Bears will eventually need their offense to produce earlier in games, but that's an issue for another day. This game is once again about the defense and the records it seems to set on a weekly basis. Seven defensive touchdowns is an absurd amount for an entire season, much less through eight games, but the Bears defense keeps finding ways to score at a frantic pace, even if
Brian Urlacher
's trot to the end zone was a tad slower than some of the team's prior pick-sixes. Perhaps the only thing that can derail this defense would be a rash of injuries, which the Bears have avoided up until now, even though starting defensive linemen
Israel Idonije
and
Henry Melton
got a little banged up in the win. A healthy Bears defense in January makes this team a legitimate Super Bowl contender. I just don't know how that can be disputed after watching the veteran unit dominate for the first eight games. Sure, the schedule is about to get tougher, but the defense has taken on every challenge up to this point and won. Why should anybody expect that to change unless the stars begin to get hurt?
October, 29, 2012
10/29/12
7:00
AM ET
CHICAGO -- Here are five things we learned in the
Chicago Bears
' 23-22 victory over the
Carolina Panthers
at Soldier Field on Sunday:
1. Never count out the defense:
Let's face it, the Bears defense did not look sharp at times. Whether it was
Brandon LaFell
racing down the middle of the field for a 62-yard gain, the Panthers converting 10-of-19 (53%) of their third down opportunities, missed tackles or
Steve Smith
simply being Steve Smith, this was not one of the Bears defense's finer days. However, as usual, when the team needed a big play the defense was there to deliver, as
Tim Jennings
intercepted
Cam Newton
and ran it back for a touchdown in the fourth quarter. That marked the sixth defensive touchdown by the Bears this year, an absurd number for a season that's only seven games old. Even when the Bears aren't playing their best ball, the defense is still capable of making something happen.
[+] Enlarge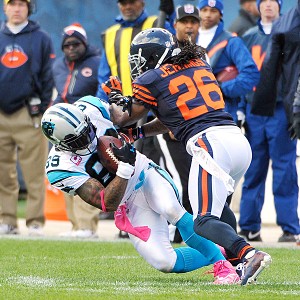 David Banks/Getty ImagesTim Jennings did a solid job of containing Panthers star receiver Steve Smith on Sunday.
2. Jennings is going to the Pro Bowl:
We kind of already suspected that Jennings might make his first Pro Bowl, but Sunday's two-interception performance put it over the top. Jennings has six picks over the first seven games after entering the season with seven lifetime interceptions. He also did an admirable job on Smith. There is no way to completely shut down Smith, who is still one of the game's great wideouts, but Jennings made him earn every one of his seven catches as the two squared off all over the field on Sunday. Jennings continues to make the Bears look like geniuses for re-signing him to a modest two-year contract in free agency, one of the best moves the organization made all offseason.
3. Jay Cutler can bring the Bears back:
Maybe it was due to Cutler's sore ribs or the consistent pass rush the Panthers were able to generate up front, but the Bears quarterback was a little off for most of the game, much like the rest of his teammates. But Cutler completed six of seven passes on the Bears final drive to help set up
Robbie Gould
's game winning field goal. That was huge. Cutler has always played well when ahead or when sparked by the defense, but here was a chance for the quarterback to rally the team when the chips were down. To me, this signified another step in the maturing process of Cutler as a quarterback. Throw out the pedestrian 186 passing yards and 83.3 quarterback rating, this was one of Cutler's best games because when the team turned to him to win a game, he delivered.
October, 7, 2012
10/07/12
10:56
PM ET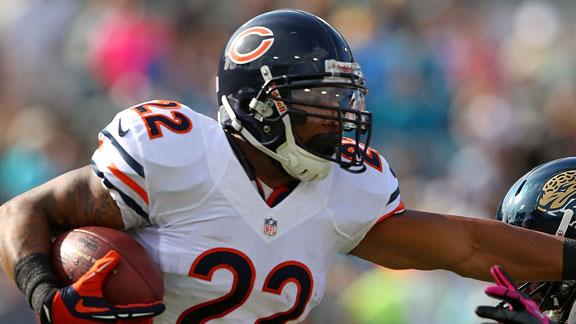 JACKSONVILLE, Fla. -- Here are Five Things We Learned in the
Chicago Bears
' 41-3 win over the
Jacksonville Jaguars
on Sunday.
1. The defense continues to save the day:
Where would this team be without the defense? The amount of sacks, turnovers and defensive touchdowns so far this year has been remarkable. Need a big play to jumpstart a sluggish Bears offense? Here's a
Charles Tillman
36-yard interception return for a score. Want to put an exclamation point going into the bye week? Here's
Lance Briggs
with another pick-six of his own. Tillman and Briggs are now the only two teammates to have each returned an interception for a touchdown in consecutive weeks. I've resisted calling this defense better than the 2006 unit that helped carry the Bears to the Super Bowl XLI, but I'm not sure how much longer I can hold out.
[+] Enlarge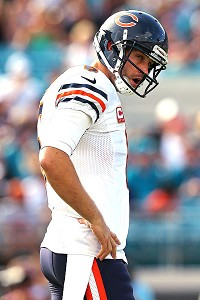 Mike Ehrmann/Getty ImagesJay Cutler has yet to prove that he can deliver under pressure this season.
2. The offense folds when the pressure is on:
What's going to happen when the Bears need
Jay Cutler
and the offense to win a game for them in the fourth quarter? Right now, that's impossible to answer, and it remains the biggest question mark on the table. Only when the defense gave the Bears a 13-3 late third-quarter lead (Tillman's pick-six) did Cutler and the offense wake up. Same story in Dallas. Same story versus St. Louis. When games are tight, it's the defense breaking through, then the quarterback follows suit. Cutler is one of the best quarterbacks in the NFL when he's playing with the lead, but how much longer can the defense continue to score? Eventually, he's going to have to win some games late if the Bears want to win a Super Bowl.
3. Charles Tillman could be the best Bears DB in history:
If he's not, then Tillman is certainly in the team photo. Look at the numbers: eight defensive touchdowns (No. 1 in team history), 32 interceptions for a cornerback (tied for No. 1 in team history), 30 forced fumbles (tied for No. 5 in the NFL since 2003), 131 career starts and eight seasons of 80-plus tackles. He can do it all. Not only that, Tillman plays hurt. He's gutted it out over the years despite a variety of injuries and still performs at a high level. Tillman's current deal expires after the 2013 season, but the way he's going, it seems reasonable to wonder if one more contract extension is on the horizon.
4. Bears need more out of Gabe Carimi:
The Bears' first drive in the third quarter was a nightmare for Carimi when he surrendered a sack and got whistled for false start penalties on back-to-back plays. That sequence of events came after Carimi got nailed for a holding penalty in the second quarter that wiped out a
Kellen Davis
12-yard gain. I firmly believe Carimi can be a very good offensive tackle in this league, but we just haven't seen it yet on a consistent basis. For all the grief
J'Marcus Webb
gets for his play on the left side, Carimi hasn't been much better on the right side. Carimi is a first round-pick. It's time he starts playing like one.
5. There is no doubting Michael Bush's athleticism:
I really haven't heard people question whether or not Bush is an all-purpose back lately. Most Bears fans have accepted the fact Bush is much more than a power back built for the red zone. But if you're still on the fence, get off it. Bush hurdled a Jacksonville defender on Sunday and kept running. Yes, 6-foot-1, 245-pound Michael Bush jumped clear over a guy in the open field. The Bears are at their best with
Matt Forte
(107 yards), but Bush (26 yards on four carries) still looks one of the best No. 2 tailbacks in the league every time he touches the football. The Bears are lucky to have him.
October, 2, 2012
10/02/12
9:48
AM ET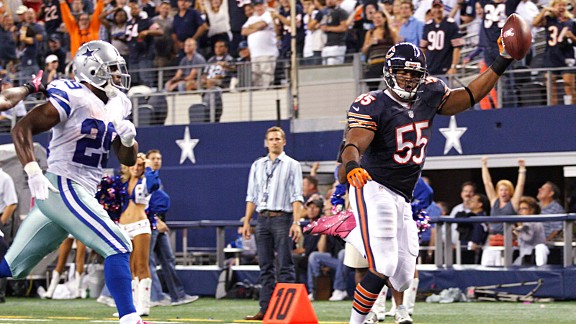 Ron Jenkins/Fort Worth Star-Telegram/Getty ImagesLance Briggs matched Charles Tillman's pick-6 with one of his own, a 74-yard return in the third quarter.
ARLINGTON, Texas -- Here are Five Things We Learned following the
Chicago Bears
' 34-18 rout of the
Dallas Cowboys
:
1. Opponents better not fall behind:
Good luck trying to overcome a second half deficit against this veteran Bears' defense. The Bears are now 53-10 under Lovie Smith when they lead at halftime. Quite simply, the Bears have always been a team built to hold a lead because of terrific special teams and an opportunistic defense that forces turnovers, sometimes in bunches. Since 2004, the Bears own a 45-9 record when they win the turnover battle, a feat that is easier to accomplish when the other team is playing from behind and therefore forced to pass more in an attempt to catch up. Four of
Tony Romo
's five interceptions came in the second half when Dallas went down 10 points. See the coincidence?
2. Mike Tice deserves a game ball:
Tice put together a solid game plan going into Monday night, one that featured a heavy dose of the run early that set up the pass later in the second half against a weary Cowboys' defense. Not only was it a balanced attack (28 pass attempts, 25 rushing attempts not including three Cutler scrambles) but the offense gave the necessary help to left tackle J'Marcus Webb to help slow down
DeMarcus Ware
. Elite players require extra attention. The Bears failed to devote the necessary resources to stop
Clay Matthews
, and they got burned. Lesson learned. Ware constantly was being double-teamed Monday night, and even though he still finished with a sack and forced fumble, he had little impact on the game. The Bears' passing attack also worked as
Brandon Marshall
worked the middle of the field and the sidelines. Tice also took the high road when it came to
Devin Hester
saying he wanted the ball more. Hester got his chances and capitalized, making a spectacular, diving 34-yard touchdown catch that swung momentum in the Bears' favor for good. After a two-week hiatus, the offense was back, due in large part to its coordinator.
[+] Enlarge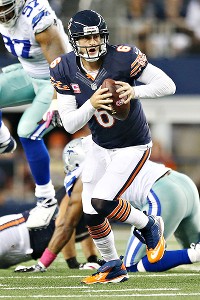 Matthew Emmons/US PresswireJay Cutler's 140.1 passer rating on Monday was the second-highest of his Bears career.
3. Jay Cutler rose to the ocassion:
Cutler could not afford to have three bad games in a row. He did not. In perhaps his finest game in recent memory, Cutler passed for 275 yards, two touchdowns and posted a quarterback rating of 140.1 in front of a national audience. He seemed to be in total command, especially in the second half when he simply picked the Dallas defense apart. How the Cowboys could leave Marshall, of all people, wide open for that final touchdown is inexcusable. Cutler had his way for most of the night, and even got helped out by tight end
Kellen Davis
for the first time this season. To sum it up, Cutler played like a franchise quarterback is supposed to play on Monday night, minus the regrettable snub of Tice on the sideline that was captured by television cameras. I'll say this for Cutler: he doesn't change who he is for anybody. At least he'll never be accused of being a phony.
4. Lance Briggs has speed to burn:
Be honest, did you know Briggs could run that fast before his 74-yard interception return for a touchdown in the third quarter? I only knew because I've had multiple players tell me over the years that Briggs is the type of athletic freak that could not work out for weeks, show up to run a 100-yard dash, and beat almost everybody on the team. That's just how it is. The guy is a great athlete, and an even better weakside linebacker. GM Phil Emery's decision to award Briggs a contract extension in the offseason was a stroke of genius. Briggs reported to camp in great shape and appears to be well on his way to earning his eighth straight Pro Bowl selection. While
Brian Urlacher
might be in the twilight of his career, the 30-year-old Briggs shows no signs of slowing down anytime soon.
5. Dallas is in trouble:
Good luck, Jason Garrett. From a Cowboys perspective, that's about as bad as it gets. From the defense losing sight of Marshall, to Romo tossing five picks, and to
Dez Bryant
absolutely killing his team over and over again with horrible mistakes, you get the feeling the Cowboys are going to be lucky to stay at .500 as they play four of their next five games on the road following their bye week. The Dallas fans were so numb in the second half they stopped cheering for first downs and long gains. Seriously, the stadium was silent. At times, you forgot the game was being played in Texas. Scanning the crowd and the pregame parking lots, there must have been well over 10,000 Bears fans in Cowboys Stadium on Monday night. And in the fourth quarter, it sounded like there were 50,000 Bears' supporters in attendance.