January, 3, 2013
1/03/13
2:46
PM ET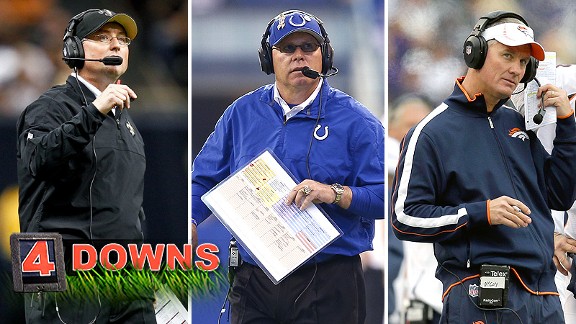 Getty ImagesInterest in Peter Carmichael, Bruce Arians and Mike McCoy -- among others -- shows the Bears are eyeing offensive coaches after three straight defensive head coaches.
Chicago Bears
general manager Phil Emery wasted little time beginning his coaching search, departing for Atlanta for interviews right after holding a news conference Tuesday to discuss his firing of Lovie Smith.
The process that has followed has been described as "fast, furious and thorough" by Emery, who is scheduled to interview
New Orleans Saints
offensive coordinator Pete Carmichael on Thursday.
Coming off three straight head coaches with defensive backgrounds, should the Bears go for an offensive mind this time?
Our panel weighs in on that and more:

Fact or Fiction: The Bears should hire a head coach with an offensive background.
Jeff Dickerson: Fact. Smith got fired for two reasons: missing the playoffs five out of the past six years and never fixing the club's stagnant offense. So if offense is the reason Smith was fired, it only makes sense for the Bears to hire a head coach with an offensive background. The Bears can still play good defense without Smith in charge. Lance Briggs, Julius Peppers, Charles Tillman and Tim Jennings all remain under contract, which tells me the defense isn't about to fall off the cliff, even if the scheme is tweaked by the new coaching staff. But I can't say the same about the offense. This group is in dire need of new leadership and direction, and a head coach with a working knowledge of how to successfully run an NFL offense will only hasten the transformation. Plenty of good defensive and special teams candidates are out there, but the Bears need to focus on the offense. And to do that they need a head coach who knows offense. That guy hasn't existed in Halas Hall since Mike Ditka. Wrap your head around that for a moment.

[+] Enlarge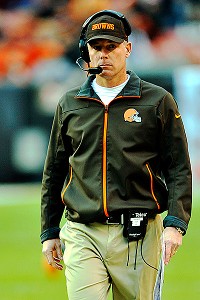 David Richard/USA TODAY SportsAn offensive background didn't help the Browns with coach Pat Shurmur, who was fired at the end of the season.
Michael C. Wright: Fiction. It doesn't matter. Even if the new coach calls his own plays, he'll still bring in an offensive coordinator. Although the trend seems to be going toward coaches with backgrounds on offense, we've seen defensive guys get it done such as Mike Tomlin, Bill Belichick and John Fox as well as special teams guys like John Harbaugh. Recently fired coach Pat Shurmur has an offensive background, as does Chan Gailey (fired), Andy Reid (fired) and Joe Philbin, who just finished 7-9 in his first season with the Miami Dolphins. So although folks tend to want the Bears to go with an offensive-minded coach, the club can easily make a mistake going that route. In addition to bringing in an offensive coordinator, the new coach needs a good defensive coordinator, too. As good as Chicago's defense has been, it's important to remember that it hasn't coached itself. The Bears need a coach that motivates players, has the ability to put together a top-notch staff, and possesses a vision for how he'll move the team forward. Those types of guys coach every phase of football. In fact, I like the idea of special teams coaches becoming head coaches because on every staff, they're the only people to actually touch every facet of the roster in doing their daily duties. It doesn't really matter what background the new coach possesses, as long as he can get the job done.


Scott Powers: Fiction. I'm not sold that a head coach has to possess an offensive coaching background to create an successful offensive team. What held the Bears back offensively over the years wasn't necessarily Smith, but rather their offensive personnel and offensive coordinators. Provide them a competent offensive line and an experienced offensive coordinator not named Mike Martz, and I think the Bears would have a chance. Whether Emery hires a head coach with an offensive background or not, it's still going to be vital to bring in an intelligent offensive coordinator and upgrade the offensive line.

Jon Greenberg: Fact. In the age of specificity, I'm all for a football coach with familiarity on both sides of the ball. But it would make sense to hire a coach who can think creatively and utilize the weapons the Bears possess. Really, though, without an improvement on the offensive line, there is no coach who could turn this group into a top-10 unit. If there's a coach out there with a defensive or special teams background who will make the right hires for the offensive side of the ball, hire him. But given the age and experience of the defense, and the need for a jump start on offense, the Bears should hire an offensively-oriented coach.