Chicago Bears:

2013 Bears draft preview
April, 24, 2013
4/24/13
10:59
AM ET
ESPNChicago.com concludes its Bears draft preview series with a look at the defensive ends.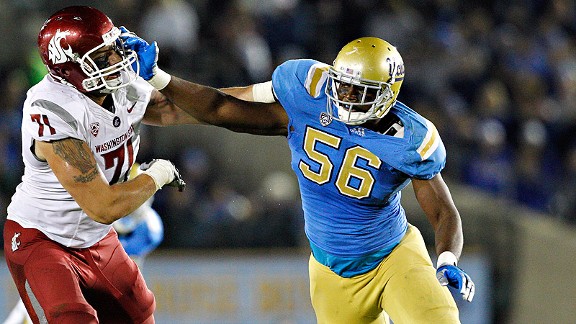 Icon SMIThe versatility of UCLA's Datone Jones might interest the Bears.
Defensive end is a premium position.
A team can never have too many quality pass rushers, and that's the main reason it would be a mistake to dismiss the idea of the
Chicago Bears
drafting a defensive end.
It would be premature to speculate about
Julius Peppers
' future in Chicago beyond 2013, but he does carry a projected $17.383 million cap hit in 2014 and $19.683 cap hit in 2015. Eventually the Bears will look to replace Peppers, although it should be mentioned that the veteran defensive end is said to have embraced the manner in which Marc Trestman runs the team, a style much different from the way former head coach Lovie Smith operated.
It could be argued that certain veterans, perhaps even Peppers, got lazy under Smith's system. The Trestman era has been a shock to the system for some of the veterans because unlike the old regime, meetings and practices are conducted at a very quick pace, leaving no time for wasted activity during the day. There is a strong chance that a motivated Peppers could put up big numbers for the Bears in 2013, which could obviously play a role in delaying his departure.
On the other side of the defensive line, this a big season for
Corey Wootton
and
Shea McClellin
. Wootton needs to capitalize on a strong 2012 and prove to the Bears he can stay healthy and is deserving of a contract extension. McClellin and his 5-7 pounds of added muscle need to prove to a skeptical football city that he was worthy of being selected No. 19 overall in the 2012 NFL draft.
The Bears need more out of McClellin than 2.5 sacks (his rookie year total). Expect McClellin to see a boost in playing time. What he does with the increased snap count is anybody's guess.
The Bears also signed veterans
Turk McBride
and
Kyle Moore
to compete for jobs at training camp.
Next 10:
Rufus Johnson
, Tarleton State, 6-5, 272;
Michael Buchanan
, Illinois, 6-6, 255;
Malliciah Goodman
, Georgia, 6-4, 265;
William Gholston
, Michigan State, 6-6, 281;
David Bass
, Missouri Western State, 6-4, 262;
Devin Taylor
, South Carolina, 6-7, 266;
Joe Kruger
, Utah, 6-6, 269;
Mike Catapano
, Princeton, 6-4, 271;
Brandon Jenkins
, Florida State, 6-3, 251;
Tourek Williams
, Florida International, 6-3, 260.
Grade:
B
Analysis:
Although the Bears have more pressing needs, there is a chance they invest a pick at defensive end, especially if they trade out of No. 20. If the Bears move back in the first round then a player such as UCLA's
Datone Jones
might interest general manager Phil Emery, because Jones can play either end or tackle and possesses the kind of versatility the Bears covet. There might also be a sleeper the Bears select in the late rounds or attempt to sign as an undrafted free agent.
April, 21, 2013
4/21/13
5:01
PM ET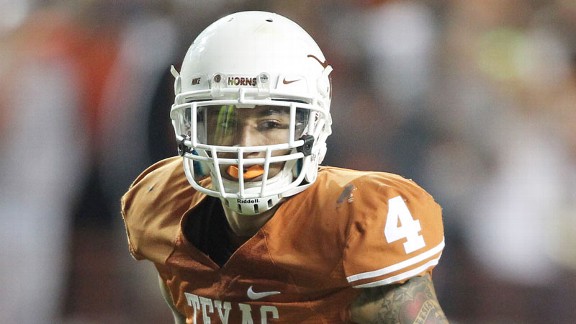 Tim Heitman/USA TODAY SportsEven a top safety like Texas' Kenny Vaccaro may not catch the Bears' eye this draft day.
ESPNChicago.com continues its Bears draft preview series with a look at the safeties.
For eight straight years, the
Chicago Bears
have drafted a safety.
In only one of former general manager Jerry Angelo's nine seasons at the helm of the organization, 2004, did the Bears fail to address the position via the draft, and new boss Phil Emery continued the tradition last spring when he used a third-round draft choice on Oregon State's Brandin Hardin, who spent his rookie year on injured reserve after an underwhelming training camp.
In theory, the Bears probably don't need to add another safety to the mix, after the club signed free agents
Tom Zbikowski
and
Tom Nelson
to compete with
Craig Steltz
,
Anthony Walters
and Hardin for roster spots behind incumbent starters
Chris Conte
and
Major Wright
.
April, 20, 2013
4/20/13
9:30
AM ET
ESPNChicago.com continues its Bears draft preview series with a look at the kickers.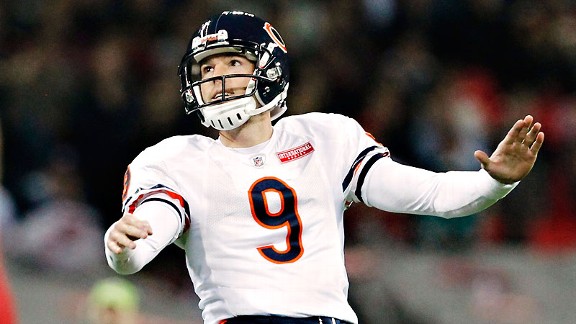 AP Photo/Matt DunhamRobbie Gould made 21-of-25 field goals for the Bears last season.
The
Chicago Bears
have grown accustomed to having one of the best groups of kicking specialists in the league.
2013 figures to be no different.
Former All-Pro
Robbie Gould
is recovering from a season-ending hamstring injury but expects to be 100 percent long before the Bears report to training camp on July 25. Before he got hurt, Gould connected on 21-of-25 field goals last year and led the Bears with 96 points. The eight-year veteran shows no signs of slowing down and figures to be a candidate for a new contract before his contract expires at the end of next season.
Punter
Adam Podlesh
got off to slow start in 2012 after he suffered a preseason hip flexor injury, but he eventually rebounded and finished the year with an average of 42.0 yards per punt and a net average of 39.4 yards. Don't be surprised if Podlesh has his best year in a Bears' uniform this season under the direction of new special teams coach Joe DeCamillis. Podlesh and DeCamillis worked together while the two were members of the
Jacksonville Jaguars
organization, and DeCamillis was so fond of the punter, he helped convince the Jags to spend a fourth-round pick on Podlesh coming out of the University of Maryland in the 2007 NFL Draft.
Rounding out the trio of Bears' specialist is long snapper
Patrick Mannelly
, arguably the best and most consistent at his position for over a decade.
Grade:
C
Analysis:
The Bears are in the market for camp legs. Last year's second-team punter,
Ryan Quigley
, is off the market after he signed a free agent deal with the
New York Jets
. Another former training camp punter,
Spencer Lanning
, is expected to compete for the
Cleveland Browns
starting job. The Bears signed kicker Austin Signor on Friday after he participated in the three-day minicamp, but the team usually carries at least two camp legs in training camp. Expect another kicker or punter to be signed following the draft.
April, 19, 2013
4/19/13
4:24
PM ET
ESPNChicago.com continues its Bears draft preview series with a look at the defensive tackles.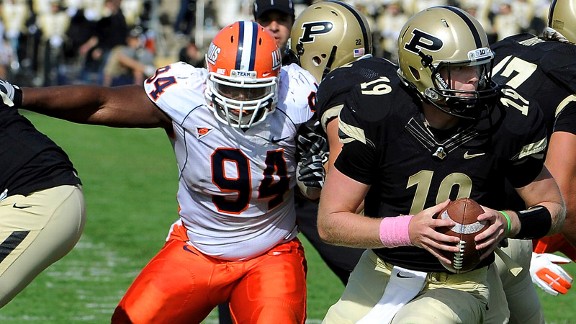 Zumapress/Icon SMIIllinois defensive tackle Akeem Spence figures to be a mid-round draft pick.
The
Chicago Bears
' decision to apply the franchise tag to Pro Bowler
Henry Melton
eliminated the need to pursue a starting-caliber defensive tackle in free agency, but the idea of adding another interior defensive lineman via the draft seems plausible.
With Melton and former second-round pick
Stephen Paea
already in place to anchor the first-team, the Bears re-signed
Nate Collins
to a veteran minimum contract deal and recently picked up former
Detroit Lions
defensive tackle
Andre Fluellen
to provide depth after the Bears released
Matt Toeaina
. Defensive tackle
Amobi Okoye
also remains unsigned.
Under former general manager Jerry Angelo, the Bears routinely used high draft picks on defensive tackles, selecting such players as Paea (2011),
Jarron Gilbert
(2009),
Marcus Harrison
(2008),
Dusty Dvoracek
(2006) and
Tommie Harris
(2004). The Bears always placed an emphasis on speed, not size, in the old defensive system run by ex-coach Lovie Smith, so it will be interesting to see if the philosophy changes with new defensive coordinator Mel Tucker calling the shots.
Next 10:
Jordan Hill
, Penn State, 6-1, 303;
Montori Hughes
, Tennessee-Martin, 6-4, 329;
Josh Boyd
, Mississippi State, 6-3, 310;
Bennie Logan
, LSU, 6-2, 309;
Everett Dawkins
, Florida State, 6-2, 292;
Nicholas Williams
, Samford, 6-5, 309; T.J. Barnes, Georgia Tech, 6-6, 369;
Kwame Geathers
, Georgia, 6-6, 342; Cody Grissom, South Florida, 6-2, 306; Mike Purcell, Wyoming, 6-3, 305.
Grade:
B
Analysis:
Until Melton is locked up to a long-term deal, the Bears need to be serious about searching for his replacement. The jury is still out on Paea, whom the Bears moved to nose tackle his rookie season, despite the fact he was billed as a three-technique coming into the league. Paea started 14 games last season and finished with just 2.5 sacks. However, on a positive note, Paea made it through the regular season in relative good health, a major improvement from his rookie campaign.
Reserves Collins and Fluellen possess certain pass-rushing traits, but defensive tackle is still considered a need. Unless the Bears are sold on one of the early-round prospects, there seems to be a couple potential mid-round prospects that could entice the Bears later in the draft.
April, 19, 2013
4/19/13
3:11
PM ET
ESPNChicago.com continues its Bears draft preview series with a look at the quarterbacks.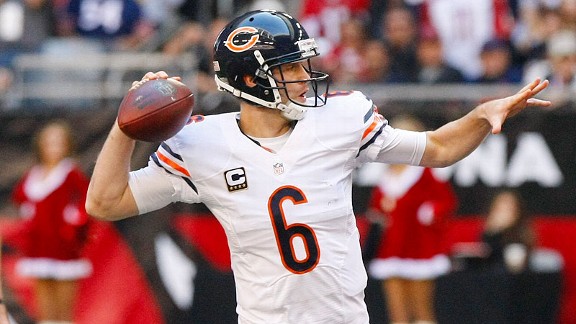 AP Photo/Rick ScuteriWith Jay Cutler entering the final season of his contract, drafting a quarterback might make sense for the Bears.
Pre-draft visits and formal meetings at the NFL combine and various college all-star games indicate the Bears aren't looking to use a pick on a quarterback.
Then again, maybe the team's perceived lack of interest in the position could be viewed as a smokescreen.
As it stands now, the Bears could go into the season with three quarterbacks on the roster in
Jay Cutler
,
Josh McCown
and
Matt Blanchard
. Having lost
Jason Campbell
in free agency, the team could certainly get by with McCown as the primary backup to Cutler.
But given Cutler's uncertain status with the Bears long term, the club should at least start preparing for the possibility of starting the 2014 season with a new quarterback at the helm, whether it's a free agent or developmental player acquired in this year's draft. Cutler enters the final year of his contract in 2013, and there's no guarantee the team will feel inclined to extend him after the season.
Interestingly, new coach Marc Trestman -- a noted quarterback guru -- and general manager Phil Emery have used measured responses throughout the offseason when questioned about Cutler. Emery once called Cutler a "franchise quarterback," but the coach wouldn't shower such effusive praise.
"I'm excited to coach Jay," Trestman said at the NFL combine. "I've had a couple of opportunities to talk with him on multiple levels, and (I'm) excited to work with him in all facets of the game. I really am. He's an extremely bright guy. He loves football. He's got a great skill set. So we've got to work hard to provide him the resources (we) can to maximize his ability, and that goes into everything we're doing in all three phases with the personnel department and with our coaching staff."
The Bears added protection along the offensive line this season in new starting left tackle
Jermon Bushrod
and guard
Matt Slauson
, and nabbed yet another receiving target for Cutler in tight end
Martellus Bennett
, which shows the team's commitment to building around the quarterback so he can succeed.
Now it's Cutler's turn.
The next 10:
11.
Sean Renfree
, Duke, 6-3, 219; 12.
Ryan Griffin
, Tulane, 6-4, 216; 13. Jordan Rogers, Vanderbilt, 6-1, 212; 14.
Colby Cameron
, Louisiana Tech, 6-2, 212; 15.
Marqueis Gray
, Minnesota, 6-3, 240; 16.
Alex Carder
, Western Michigan, 6-2, 220; 17.
Brad Sorensen
, Southern Utah, 6-4, 229; 18. James Vandenburg, Iowa, 6-3, 226; 19.
Ryan Aplin
, Arkansas St., 6-1, 199; 20. Dane Krist, Kansas, 6-4, 232.
Position grade:
C-
Analysis:
During the team's marathon interview process to find a new head coach, multiple sources mentioned Emery wants the new head man to get after Cutler from a motivational standpoint to coax the best from him. Last season when the team struggled offensively, resulting in part of the firing of Lovie Smith and the majority of his staff, multiple members of that staff described the quarterback's relationship with coaches and players as tumultuous.
When Cutler suffered a concussion in the first half of the team's loss to the
Houston Texans
on Nov. 11, multiple members of the former staff hoped Campbell would step up and perform well enough to relegate the starter to a backup role. But in Campbell's lone start the following week at San Francisco, he suffered six sacks and tossed two interceptions during a 32-7 pounding. The drama that took place in 2012 won't be tolerated this season under Trestman, who mentioned that Cutler realizes at this point in his career -- which coincidentally is the final year of his contract in Chicago -- his own mortality in the NFL. So under new direction, Cutler should flourish and play perhaps the best football of his Chicago tenure in 2013. Still, the team needs to be thinking about the future at quarterback.
April, 17, 2013
4/17/13
9:08
AM ET
ESPNChicago.com continues its Bears draft preview series with a look at the running backs.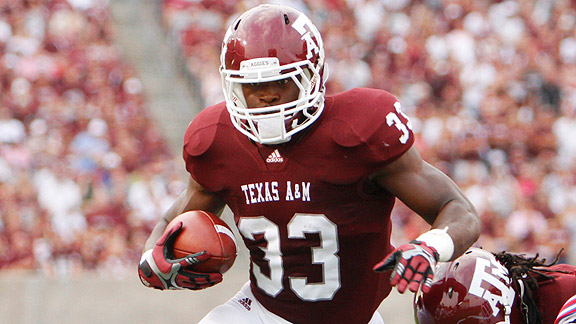 Thomas Campbell/US PresswireTexas A&M's Christine Michael might have the most talent of any running back in the draft.
Despite
Matt Forte
's standing as one of the NFL's best and most versatile backs, the
Chicago Bears
have shown some interest in multiple players throughout the pre-draft process, but it's unknown whether the team plans to add at the position through the draft.
The Bears spent time with UCLA's
Johnathan Franklin
at the Senior Bowl, and Texas A&M's
Christine Michael
at the East-West Shrine game, and it's believed there's legitimate interest from the team in the latter. During the Bears' marathon meetings with prospects at the NFL Combine, they sat down with Nevada's
Stefphon Jefferson
and also spent time with SMU's
Zach Line
at the East-West.
Interestingly, all possess widely differing styles. So if the Bears choose a running back, he'll likely come in playing a complementary role to Forte and backup
Michael Bush
.
Michael possesses, arguably the most overall talent of any back in the draft. But injuries throughout his college career and questions about discipline and attitude appear to have pushed his stock down to the point at which he could become a third- to fifth-round pick. Michael runs the 40-yard dash in the 4.4 range, and registered a vertical leap -- which Bears general manager Phil Emery has said is the most important predictor of a player's potential explosiveness on the field -- of more than 40 inches at the NFL combine.
Franklin, meanwhile, is considered a locker room leader type who is solid in almost every facet at the position.
Jefferson isn't expected to be drafted because of his 4.7 speed, but it's difficult to overlook the fact he racked up 1,883 yards rushing in 2012, his first season as the starter at Nevada. Line also projects to be a late-round pick or a free agent. At 6-foot, 232 pounds, Line could take on a situational role in the NFL as an h-back, short-yardage back or fullback, who would also contribute on special teams.
The next 10:
11.
Miguel Maysonet
, Stony Brook, 5-9, 209; 12.
Knile Davis
, Arkansas, 5-11, 227; 13.
Stepfan Taylor
, Stanford, 5-9, 214; 14.
Joseph Randle
, Oklahoma State, 6-0, 204; 15.
Kenjon Barner
, Oregon, 5-9, 196; 16.
Jawan Jamison
, Rutgers, 5-7, 203; 17.
Zachary Stacy
, Vanderbilt, 5-8, 216; 18. 18.
Spencer Ware
, LSU, 5-10, 228; 19.
Cierre Wood
, Notre Dame, 5-11, 213; 20.
Rex Burkhead
, Nebraska, 5-10, 214.
Position grade:
C-
Analysis:
Forte received his deserved and long-awaited contract extension just before the start of last year's training camp, and he rewarded the team with his second 1,000-yard rushing season in three years, in addition to producing his fifth consecutive year in which he gained more than 1,400 yards from scrimmage. Still, something seemed amiss with the rushing attack, in part because of inconsistent play from the offensive line, not to mention a run-pass ratio of 470 to 485.
While Forte appears to be in good standing with the Bears, it's interesting the team so far has shown some interest in at least four running backs with varying styles during the pre-draft process. If the Bears add at this position in the draft, it would be a complementary back to Forte and Bush.
April, 16, 2013
4/16/13
10:41
AM ET
ESPNChicago.com continues its daily Bears draft preview with a look at the receivers.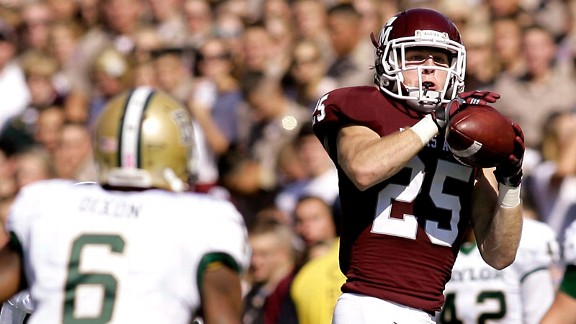 Brett Davis/US PresswireTexas A&M's Ryan Swope had 161 catches for 2,120 yards and 19 touchdowns over his last two seasons.
The
Chicago Bears
lost any semblance of a speed element for their 2013 offense at receiver when
Johnny Knox
was forced to retire, and the club decided
Devin Hester
should focus on returns.
So it's reasonable to expect an infusion of speed into the receiving corps for what could be a dynamic offense in 2013, provided the club finds an explosive target in the draft to complement
Brandon Marshall
and
Alshon Jeffery
. Still, general manager Phil Emery stressed that speed isn't necessarily the determining factor in any decision the team plans to make at that position.
"Anytime you lose a player (Knox) of that quality and that kind of speed, it does impact you," Emery said. "We'll look at all avenues in terms of finding somebody that can add to that mix of wide receivers. I would say specifically (the goal is) to find the best player that can help us (regardless of speed)."
The Bears are believed to be interested in Texas A&M's
Ryan Swope
(161 catches for 2,120 yards and 19 touchdowns over his last two seasons), who possesses 4.3 speed in the 40-yard dash to go with a concerning history of concussions. Emery attended Texas A&M's 29-24 upset victory at Alabama in which Swope caught 11 passes for 111 yards and a touchdown.
Tyrone Goard
of Eastern Kentucky could also draw interest from the Bears, which met with him formally at the East-West Shrine game. Projected to be a late-round pick, Goard, possesses the ability to stretch the field but like Swope, has suffered concussions. The Bears have also shown some interest in projected late-round pick
Eric Rogers
of Cal Lutheran.
The club was present at Rogers' Pro Day on March 11.
The next 10:
11.
Aaron Dobson
, Marshall, 6-3, 210; 12.
Markus Wheaton
, Oregon State, 5-11, 189; 13. Da'Rick Rogers, Tennessee Tech, 6-2, 217; 14.
Josh Boyce
, Texas Christian, 5-11, 206; 15. Ryan Swope, Texas A&M, 6-0, 205; 16.
Denard Robinson
, Michigan, 5-10, 199; 17.
Marquise Goodwin
, Texas, 5-9, 183; 18.
Tavarres King
, Georgia, 6-0, 189; 19.
Aaron Mellette
, Elon, 6-2, 217; 20.
Kenny Stills
, Oklahoma, 6-0, 194.
Position grade:
B
Analysis:
The one-two punch of Marshall and Jeffery should be deadly in the new offense of coach Marc Trestman provided the latter can stay healthy. Jeffery produced an impressive NFL debut (three catches, 80 yards and a touchdown), but missed six games because of injuries. With Hester likely out of the picture in the slot, the club's options there include
Earl Bennett
and
Eric Weems
. Bennett possesses dynamic run-after-catch ability and chemistry with quarterback
Jay Cutler
, but injuries have hampered his production over the last two seasons.
What the club lacks in the receiving corps at this point is a speed element that would draw off some of the extra coverage that Marshall sees on an every-game basis. By adding a speed receiver to play in the slot, the Bears can keep safeties honest, so to speak. The Bears fully expect to field an explosive offense under Trestman. Emery started that process with the acquisition of tight end
Martellus Bennett
, who will threaten defenses down the seams. A new slot receiver to go with Bennett could open things up for the entire offense. The question, however, is whether the team sees that as a need position considering some of the holes in the roster in other areas.
April, 15, 2013
4/15/13
4:07
PM ET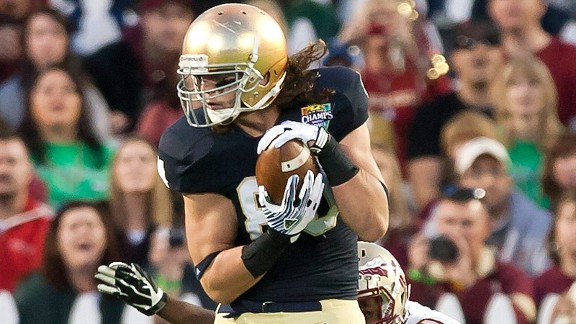 Cal Sport Media/AP ImagesTyler Eifert, the top tight end in the draft, might be hard for the Bears to pass up if he is still there at No. 20.
ESPNChicago.com continues its daily Bears draft preview series with a look at the tight ends.
The acquisition of veteran
Martellus Bennett
in free agency should have alleviated the need to add a tight end in the upcoming draft, but apparently the
Chicago Bears
might not stop there, judging from their interest in Stanford's
Zach Ertz
.
According to sources, the team is genuinely interested in Ertz as a second tight end. So, if there's interest in Ertz from the Bears, the club is surely also eyeing the draft's top prospect:
Tyler Eifert
of Notre Dame.
"Obviously, you see the Patriots with the two tight ends and how they utilize that," Eifert said. "An offense like that would be beneficial to me personally. I'm lucky to be coming in at a time where the type of tight end that I am is being used quite a bit in the passing game, but (I'm) also a guy that can stay in the game on every down and can also block (and) create matchup problems in the passing game."
With the roles of tight ends expanding around the NFL, and many teams utilizing more two tight end formations to exploit matchups in passing and running situations, it makes sense the Bears would consider adding another vertical threat to the equation. But would the Bears do that at the peril of not filling other perceived needs at linebacker, defensive tackle and along the offensive line?
It's a possibility, given the emphasis of the team to add an impact player, regardless of position.
"Last year we were in a very similar spot, and we had about seven players on the board that we felt good about, and we took one of them. I'm assuming now working through this process that that number will probably be seven to 10 that we feel good about," Bears general manager Phil Emery said. "We'll find the best player that can help us win now; the one that has the biggest impact now."
The next 10:
11.
Joseph Fauria
, UCLA, 6-7, 259; 12.
Matt Furstenburg
, Maryland, 6-3, 242; 13.
Nick Kasa
, Colorado, 6-6, 269; 14. Jake Stoneburger, Ohio State, 6-3, 252; 15.
Mychal Rivera
, Tennessee, 6-3, 242; 16. MarQueis Gray, Minnesota, 6-3, 240; 17.
Kyle Juszczyk
, Harvard, 6-1, 248; 18.
Jack Doyle
, Western Kentucky, 6-5, 254; 19.
Justice Cunningham
, South Carolina, 6-2, 258; 20. D.C. Jefferson, Rutgers, 6-6, 255.
Position grade:
C+
Analysis:
Bennett's presence makes it less likely the Bears will use their first-round pick on a tight end, but Emery hasn't built a long enough track record to indicate whether he'll go against the conventional thought of adding a player at a position of need. New Bears tight ends coach Andy Bischoff has been vocal about the changing nature of the tight end position, and the need for the club to add a dynamic player at the position that can exploit defenses all over the field. Eifert and Ertz possess those qualities. Certainly, the Bears will be in the position at 20 to draft one of them. The club could also explore the possibility of moving back to a position late in the first round or early second, where they could still land a player such as Ertz. According to sources, at least one tight end is among the seven to 10 prospects the club is considering with its first-round selection.
April, 15, 2013
4/15/13
3:15
PM ET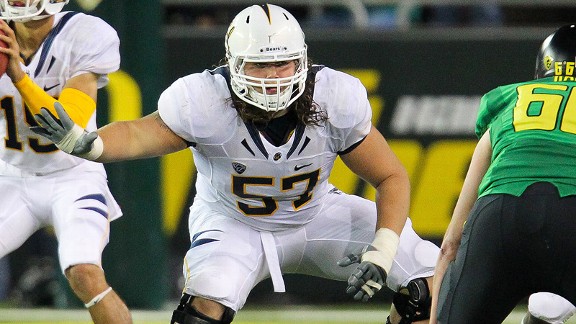 Steve Conner/Icon SMICal's Brian Schwenke moved to center last season and was first team all-Pac 12.
ESPNChicago.com continues its daily Bears draft preview series with a look at the centers.
The
Chicago Bears
brought in California center
Brian Schwenke
on Wednesday for a pre-draft visit, lending credence to the notion the club plans to at least explore the option of adding the eventual successor to veteran
Roberto Garza
in the draft.
Projected to be a second- or third-round selection, Schwenke (6-foot-3, 314 pounds) is widely considered to be the No. 2 prospect at the position behind Wisconsin's
Travis Frederick
. Schwenke projects perhaps as the better option for the Bears because of his versatility. At California, Schwenke started his career at guard, where he started 24 games from 2010-11, before shifting to center in 2012, a position in which he earned first-team all-Pac 12 recognition.
At the Senior Bowl, Schwenke played all three inside offensive line positions during the week leading into the game, and his stock rose, according to several scouts in attendance.
"That's what people are saying," Schwenke said at the NFL combine. "I don't really pay attention to what people are saying often. But my agent and everybody's saying that it was a good experience for me, and it did me well. I just played my game. I don't know what (the scouts) saw in me that they didn't see in the season. But I just played how I normally play, and had fun doing it."
With Garza entering the final year of his deal, which will pay $1.75 million in 2013, the Bears know it's time to start looking for the veteran's heir apparent. But the Bears won't invest in the position with a first-round pick, and the club doesn't have a third-rounder because of the trade for receiver
Brandon Marshall
.
It's unlikely a rookie would unseat Garza in 2013, but the team could knock out two needs with one selection with a player such as Schwenke. First, the club would obviously add Garza's eventual replacement. At the same time, the addition would beef up the competition for one of the starting guard positions, where
Gabe Carimi
,
James Brown
, and Williams are competing for the spots opposite the recently-acquired
Matt Slauson
.
The next 10:
11.
Dalton Freeman
, Clemson, 6-4, 286; 12.
Mario Benavides
, Louisville, 6-2, 279; 13.
James Ferentz
, Iowa, 6-1, 289; 14.
Mike Golic
, Notre Dame, 6-4, 294; 15.
Sam Schwartzstein
, Stanford, 6-2, 290; 16.
Matt Smith
, Kentucky, 6-4, 295; 17.
Eric Kush
, California (Pa.), 6-4, 304; 18.
Kyle Quinn
, Arizona, 6-3, 288; 19.
Ryan Turnley
, Pittsburgh, 6-5, 310; 20.
Skyler Allen
, Ohio, 6-2, 286.
Position grade:
B
Analysis:
Garza enters the final year of his contract, and with him just turning 34, it's likely the Bears think it's now time to start looking toward the future at the position. The team recently signed
Taylor Boggs
, who signed with the
New York Jets
in 2011 as an undrafted free agent, but hasn't yet played in an NFL game. At this point, he appears to be more of a developmental prospect than a potential contributor in 2013. Outside of Garza and Boggs, the only other option on the roster at the position is veteran
Edwin Williams
, who is listed as a guard/center, but has never logged a start at center. So it's safe to say the Bears are eyeing the position in the draft perhaps in the second round or later. Look for the team to try to add a center of the future in this year's draft.
April, 13, 2013
4/13/13
9:00
AM ET
ESPNChicago.com continues its daily Bears draft preview series with a look at the guards.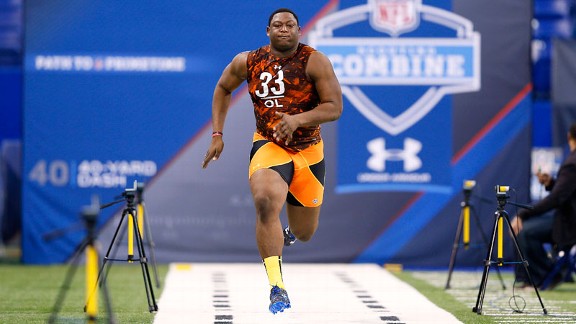 Joe Robbins/Getty ImagesValdosta State standout right guard Edmund Kugbila could be an option for the Bears in the fourth or fifth round.
Adding at offensive tackle increased the number of candidates for one of the starting guard positions, and the acquisition of former
New York Jets
veteran Matt Slausen solidifies at least one side of the line at guard.
Still, there's a good chance the Bears could explore adding another player to at least compete for a starting job, and there appears to be no shortage of talented candidates available in this year's NFL draft. Issues at offensive tackle in recent years have garnered the most publicity, but the loss of three players (Chilo Rachal, Lance Louis and Chris Spencer) that combined for 24 starts in 2012 leaves little left in the cupboard at the position.
"What you want in an offensive lineman No. 1 is production," Bears general manager Phil Emery said in February. "You want guys that produce consistently, and you call those guys starters. You're looking for guys that have the size, mass, strength and quickness to accomplish that at the NFL level."
The loser in the battle for the starting job at right tackle between J'Marcus Webb, Gabe Carimi and Jonathan Scott could add at least one more candidate to the mix for one of the guard spots. But it's likely the Bears will add at least one player at guard to increase the competition at the position.
According to a source, the club held a private workout with former Valdosta State standout right guard
Edmund Kugbila
, who moved to the states from Ghana in 2000. Kugbila graded out at 93.8 percent last season in 14 starts, and didn't give up a single sack in helping his school win the Division II national championship.
Projected as a fourth- or fifth-round pick, Kugbila will need to make the adjustment from blocking out of a two-point stance in Valdosta State's spread attack, to working out of a three-point stance in the NFL. There are also concerns about Kugbila's history of concussions.
The next 10:
11.
Alvin Bailey
, Arkansas, 6-3, 310; 12.
Earl Watford
, James Madison, 6-3, 300; 13.
Travis Bond
, North Carolina, 6-6, 329; 14.
J.C. Tretter
, Cornell, 6-5, 307; 15.
Garrett Gilkey
, Chadron State, 6-6, 318; 16.
Chris Barker
, Nevada, 6-2, 305; 17. Edmund Kugbila, Valdosta State, 6-4, 217; 18.
Stephane Milhim
, Massachusetts, 6-4, 314; 19.
Ryan Seymour
, Vanderbilt, 6-4, 297; 20.
Oscar Johnson
, Louisiana Tech, 6-5, 331.
Position grade:
B+
Analysis:
Offensive tackle gets the most publicity, but guard appears at this point to be the most concerning position on the offensive line going into the 2013 season. The addition of Slausen should solidify one of the starting spots. But of the six players to start games at the guard positions for the Bears last season, just three -- Edwin Williams, James Brown, and Carimi -- will be back this season. Of those three, Brown, an undrafted rookie in 2012, started the most games (three) last season. While promising at times he didn't exactly inspire faith that he could be the long-term solution at one of the guard spots.
The team's most consistent player at guard in 2012, Louis bolted for the
Miami Dolphins
in free agency. Rachal, who started eight games at left guard last season, recently signed with the
Arizona Cardinals
. Veteran Chris Spencer, who started five games at both guard positions in 2012, signed with the
Tennessee Titans
. So look for the Bears to give guard some attention at some point during the draft. New offensive coordinator Aaron Kromer has shown a knack for developing lesser known talent along the offensive line.
April, 12, 2013
4/12/13
4:08
PM ET
ESPNChicago.com kicks off its Bears draft preview series with a look at the offensive tackles.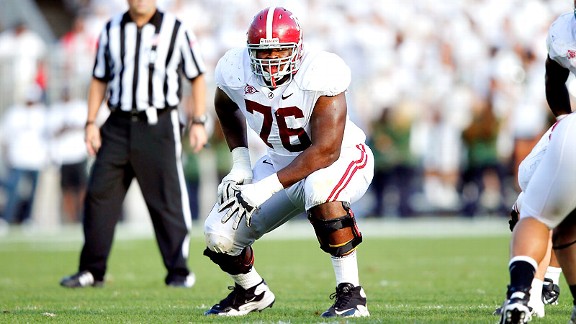 Joe Robbins/Getty ImagesIf Alabama's D.J. Fluker is available at No. 20, he might be hard to pass up for Bears GM Phil Emery.
By their actions, the
Chicago Bears
changed the team's rhetoric going into this year's draft from the tune it sang headed into 2012 under former coach Lovie Smith.
In the months preceding the 2012 draft, the Bears opted against bringing in a left tackle during free agency.
"That would be saying we don't feel comfortable with our left tackle," Smith said at the time.
The new coaching regime, under Marc Trestman apparently, doesn't care about sending the wrong message. The club made that clear in March, when it signed former
New Orleans Saints
offensive tackle
Jermon Bushrod
to the richest contract in team history (five years, $35.9 million with $17.7 million guaranteed) for an offensive lineman. The deal forces former starting left tackle
J'Marcus Webb
into a situation in which he'll compete for a starting job on the right side against
Gabe Carimi
and
Jonathan Scott
. At the time of the Bushrod acquisition, general manager Phil Emery said the move gave the team flexibility for the upcoming draft.
But that doesn't guarantee the Bears won't feel the need to add at tackle, a position which has woefully underachieved in recent years, culminating in
Jay Cutler
absorbing an average of 37 sacks in four seasons at the helm; 20 more than the average during his first three years prior to landing in Chicago.
"The offensive line class has strength in the front end when you look at it from tackle, guard and center," Emery said. "There are a number of players who could be in the mix as starters."
If one of those prospects falls into the club's lap at 20, chances are it pounces given the premium the Bears seem to be placing on adequately protecting Cutler.
[+] Enlarge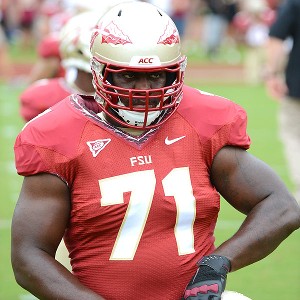 Courtesy of FSU Sports InformationThe 6-foot-5, 310-pound Menelik Watson of Florida State is a good athlete who is light on his feet for his size.
According to sources, the Bears have already brought in or scheduled pre-draft visits with mainly offensive linemen and linebackers. While it's unclear whether the team plans to add yet another tackle to the mix, it's worth noting that Webb and Scott's contracts expire in 2013, while Carimi -- who could be in for a fight just to make the team, and is set to earn $1.016 million this season -- comes up on the end of his deal in 2014.
The next 10:
11.
Jordan Mills
, Louisiana Tech, 6-5, 316; 12.
David Quessenberry
, San Jose State, 6-5, 302; 13.
Reid Fragel
, Ohio State, 6-6, 308; 14.
Tanner Hawkinson
, Kansas, 6-5, 298; 15.
Emmett Cleary
, Boston College, 6-7, 316; 16.
John Wetzel
, 6-7, 315, Boston College; 17.
Braden Brown
, 6-5, 310, Brigham Young; 18.
Nick Becton
, 6-5, 323, Virginia Tech; 19.
Vinston Painter
, 6-4, 3-6, Virginia Tech; 20. Jamaal Johnson-Webb, 6-5, 313, Alabama A&M.
Position grade:
B+
Analysis:
The acquisition of Bushrod definitely strengthens the offensive line, by forcing Webb to compete for a job at right tackle. But none of the competitors on that side of the line have shown any consistency over a sustained period, which wouldn't make it a bad idea for the Bears to add even more competition at right tackle through the draft.
Webb and Scott are set to enter the final year of their contracts, while Carimi will make the largest base salary ($1.016 million) of his contract -- which runs through 2014 -- in 2013; making him a candidate to be cut if he doesn't perform. Several players capable of starting as rookies such as Alabama's
D.J. Fluker
, and Florida State's
Menelik Watson
could be available late in the first round. While it's unlikely the Bears draft an offensive tackle at No. 20, the talent expected to be still available there could prove too tempting to pass on.