Chicago Bears:

2013 Free agency preview
March, 11, 2013
3/11/13
4:18
PM ET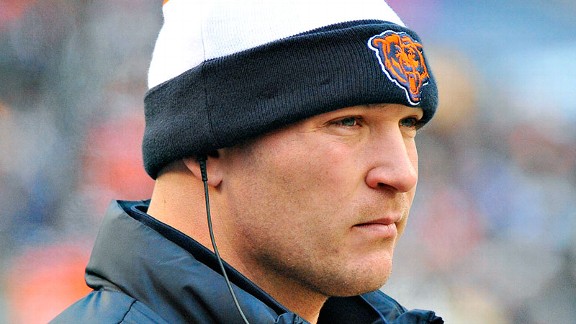 Rob Grabowski/USA TODAY SportsVeterans are going to be look at how the Bears handle Brian Urlacher's situation.
It was all quiet on the
Brian Urlacher
front after the middle linebacker's agents reportedly submitted a contract proposal to the Bears on Thursday evening.
With the Bears plagued by limited salary cap space, both sides will need to be creative to get this deal done. But make no mistake: every defensive veteran on the squad is paying close attention to how the Bears handle the Urlacher situation.
With a massive leadership void on offense, the loss of Urlacher could be a damaging blow to the locker room. But the real issue is whether the Bears still think Urlacher can play at a high enough level to help the defense in 2013. If the answer to that question is "yes," then it would be wise for both sides to find common ground, and do so quickly.
Here's a list of the Bears unrestricted free agents, and their prospects for returning in 2013:
Nick Roach, linebacker
: He has generated substantial interest since the NFL's legal-tampering period commenced late Friday evening. Eight have expressed interest in Roach potentially filling their respective voids at either strong side or middle linebacker, and unless the Bears make a late push before the official start of free agency at 3 p.m. CT on Tuesday, Roach is expected to field several concrete offers.
February, 12, 2013
2/12/13
2:08
PM ET
ESPNChicago examines unrestricted free agents by position that might interest the Bears.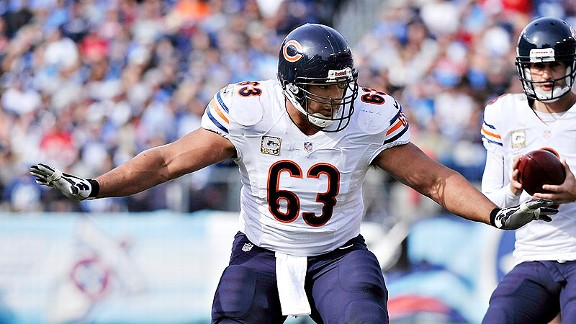 Frederick Breedon/Getty ImagesThe Bears will have to start looking for a successor at center to Roberto Garza, who will be 34 next month.
Roberto Garza
enters the final season of a two-year extension signed in November of 2011. But he'll be 34 in March, leaving the
Chicago Bears
to ponder the possibility of life after the center, which played well enough in 2012 to be considered one of the most underrated performers on the club's wildly inconsistent offensive line.
The new coaching staff plans to clean up issues up front through a combination of tightening up technique and new additions. Garza certainly gives the Bears a strong foundation on which to build in 2013, but the team needs to acquire his eventual successor.
Based on the current free agent market, the best way to do that will be through the draft or by sifting through the current roster, which includes candidates such as
Edwin Williams
,
Lance Louis
and pending free agent
Chris Spencer
, who played center for most of his career before switching to guard with the Bears.
Garza graded negatively in five of the 16 games, and according to Pro Football Focus, gave up five sacks, one quarterback hit, and eight pressures in 1,071 snaps. Not exactly an all-Pro performance, but the Bears can win with that if they can get Garza's level of consistency from all five players on the offensive line.
February, 8, 2013
2/08/13
1:32
PM ET
ESPNChicago examines potential unrestricted free agents at positions of need for the Bears.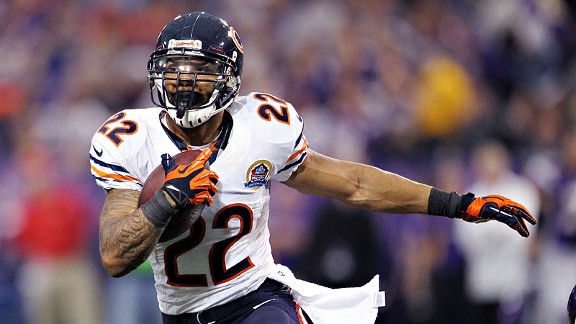 Brace Hemmelgarn/USA TODAY SportsMatt Forte topped 1,000 yards rushing for the third time in his five-year career.
Free agency previews: S | CB | DT | DE | G | WR | TE | QB | LB | OT »
The
Chicago Bears
invested heavily in their ground game last offseason when they awarded lucrative contracts to
Matt Forte
(four years, $30.4 million, $17.1 million guaranteed) and
Michael Bush
(four years, $14 million, $7 million guaranteed), only to see both players have relatively modest seasons amid talk that neither was used enough.
Forte managed to eclipse 1,000 rushing yards (1,094) for the third time in his five-year NFL career, but his average yards-per-carry fell from 4.9 to 4.4, and he also set career-lows in receptions with 44 for 340 yards. However, Forte remains one of the top all-purpose backs in the league and should be one of the key offensive pieces moving forward under new Bears coach Marc Trestman.
Injuries seemed to limit Bush, who dealt with shoulder and rib issues during his first season in Chicago after a successful four-year stint with the
Oakland Raiders
. But even when Bush was healthy last season, he did little more than provide the Bears with an effective and powerful goal-line back.
Bush views himself as much more than simply a battering ram in the red zone, but he only carried the ball 114 times and caught nine passes in 13 games. In Bush's final year in Oakland, he ran the ball 256 times and had 37 receptions while starting nine of the Raiders' 16 regular season games. Everybody knew Bush came to Chicago to back up Forte, but Bush probably believed he would see more action in the Bears' backfield when he signed.
With Forte ($7.175) and Bush ($3.550) scheduled to eat up a combined $10.725 million in salary cap space in 2013, the Bears' only objective this offseason might be to upgrade at the No. 3 running back spot, although options do exist internally.
February, 7, 2013
2/07/13
10:47
AM ET
ESPNChicago examines potential unrestricted free agents at positions of need for the Bears.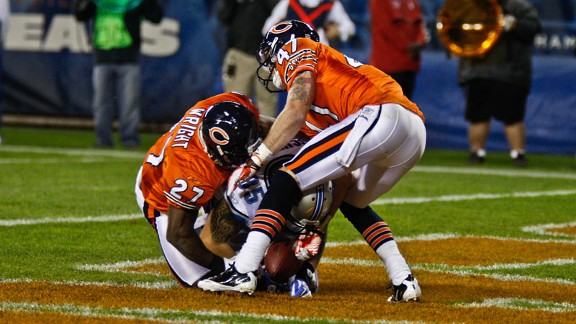 MRQ/Icon SMIChris Conte and Major Wright finally stabilized the safety position for the Bears in 2012.
Bears free agency previews: CB | DT | DE | G | WR | TE | QB | LB | OT »
For the first time in recent history the safety position isn't a liability or cause for concern as the team heads into the offseason coming off a strong 2012 campaign with
Major Wright
and
Chris Conte
as the starters.
So don't expect a push from the Bears in free agency to upgrade the position. The team likely won't even look to bolster depth considering the expected returns of 2012 third-round pick
Brandon Hardin
and veteran
Craig Steltz
, who both landed on the injured reserve last season, along with two-year veteran
Anthony Walters
.
[+] Enlarge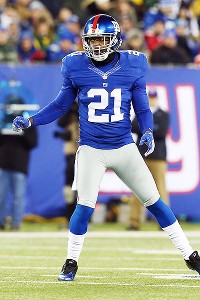 Jim McIsaac/Getty ImagesKenny Phillips could give the Bears some veteran insurance at safety.
Hardin sat out his entire rookie season after suffering a neck injury during the preseason while Steltz played 13 games before a chest injury ended his season. Walters, meanwhile, showed promise in limited action, which included one start in the final game in place of Conte.
Backup
Troy Nolan
represents the lone free agent among Chicago's group of safeties, and the club's plans for him at this point remain unknown. Because of the depth of the position, it's not necessarily imperative they bring him back.
The situation now seems unheard of given the struggles in the past at safety.
Going into the 2012 season, the Bears had switched up starting personnel at safety under Lovie Smith 56 times. In 2011, the Bears utilized eight combinations at safety. But that all changed last season with Wright and Conte lining up alongside one another for all but the final game that Conte was forced to miss because of a hamstring injury.
The duo had shown promise before, starting six games together in 2011, with the team picking off eight passes and giving up four touchdowns while holding opposing quarterbacks to a passer rating of 68.9. Wright and Conte added durability to the mix in 2012, and the results showed.
February, 6, 2013
2/06/13
12:15
PM ET
ESPNChicago examines potential unrestricted free agents at positions of need for the Bears.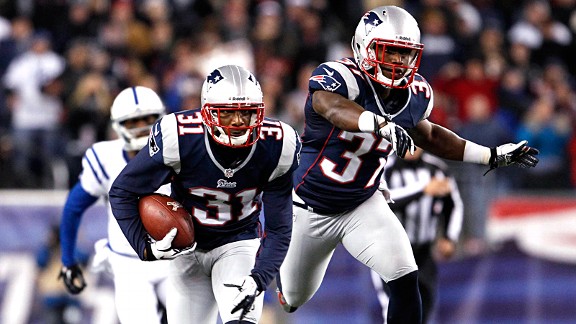 David Butler II/US PresswireIf the Patriots are hesitant to re-sign Aqib Talib, he might make sense for the Bears.
Bears free agency previews: DT | DE | G | WR | TE | QB | LB | OT »
With veterans
Charles Tillman
and
Tim Jennings
coming off Pro Bowl seasons, cornerback is one of the Bears' strengths heading into the 2013 season.
Tillman, who turns 32 this month, is worth every penny of the $8 million ($7.950 million base salary, $50,000 workout bonus) he is scheduled to pocket next fall. In fact, the discussion should turn to whether Tillman deserves another contract extension sometime in the offseason. His numbers speak for themselves. Tillman tied for the single-season NFL record with 10 forced fumbles, while finishing second on the Bears in tackles (93) and passes broken up (15) and third in interceptions (3) -- Tillman's 33 career picks rank No. 3 in Bears history.
February, 5, 2013
2/05/13
3:16
PM ET
ESPNChicago examines potential unrestricted free agents at positions of need for the Bears.
Jonathan Daniel/Getty ImagesDefensive tackle Henry Melton had a team-high 24 quarterback pressures this season.
Bears free agency previews: DE | G | WR | TE | QB | LB | OT »
The
Chicago Bears
experienced a youth explosion at the defensive tackle position in 2012 with starters
Henry Melton
and
Stephen Paea
coming into their own, which bodes well for the team's future provided they can re-sign Melton in free agency.
A pending free agent, Melton tied for third in the NFL among defensive tackles with a career-high six sacks in 2012 on the way to his first Pro Bowl nod. Paea, meanwhile, bounced back from an injury-riddled rookie season to start 14 games in which he posted 30 tackles, 2.5 sacks and eight quarterback pressures.
So if the Bears bring back Melton, who is expected to command a hefty salary, they don't need to dip into the free-agent market for anything other than depth at reasonable costs.
[+] Enlarge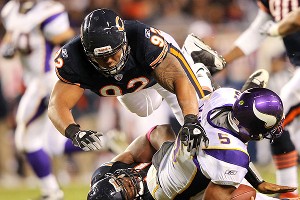 Jamie Squire/Getty ImagesStephen Paea started 14 games in 2012 after an injury-riddled rookie season.
A scheme change also isn't expected to take place up front, given new defensive coordinator Mel Tucker's experience coaching 4-3 units in Jacksonville. Under Lovie Smith, the Bears preferred a penetrating, pass-rushing under tackle (Melton) to pair with a run-stopping nose tackle (Paea). But when Tucker worked in Jacksonville, the Jaguars wanted more size and run-stuffing capability from the DT spot.
Given the talent already on hand, Tucker likely won't change much. But eventually the Bears might begin to utilize the DTs in a more traditional sense, as opposed to what the club did in Smith's Tampa-2 scheme.
Should the Bears choose to look internally for depth at defensive tackle, they've got the option of trying to re-sign veterans
Nate Collins
and
Amobi Okoye
(unrestricted free agent), players both familiar with the system. A restricted free agent, Collins missed the first six games of last season, but made valuable contributions (13 tackles, three pressures) once the Bears placed him in the rotation. Tucker also is familiar with Collins from their time together in Jacksonville.
Okoye, meanwhile, spent the first 11 games of last season with the Bears, but played in six contests, contributing three tackles and a sack before the club waived him in November. Two weeks later, the Bears brought back Okoye because of a rash of injuries along the defensive line.
It's likely the Bears would consider Collins more of a priority to bring back for next season than Okoye.
Matt Toeaina
is also an option, but the club must consider his future given the significance injuries played last season in limiting his production. Signed through 2013 and due a roster bonus of $290,000, Toeaina started in Week 1, but was inactive for 10 of the next 12 games. Toeaina returned to action on Dec. 9, and contributed three tackles in a loss at Minnesota. He missed the next week before finishing the last two games on the injured reserve.
February, 4, 2013
2/04/13
4:19
PM ET
ESPNChicago examines potential unrestricted free agents at positions of need for the Bears.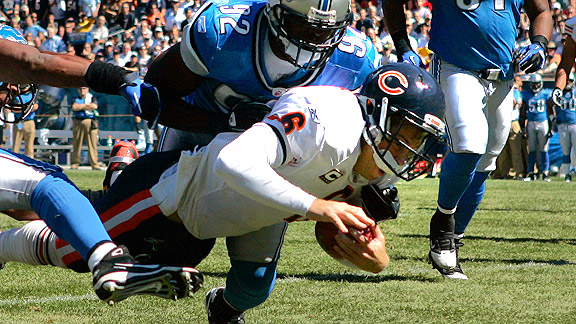 Jerry Lai/US PresswireCliff Avril had 9.5 sacks last season for the Lions.
Bears free agency previews: G | WR | TE | QB | LB | OT »
A team can never have too many pass rushers.
Veteran defensive end
Julius Peppers
remains the crown jewel of the
Chicago Bears
' edge rushers, even though he recently turned 33 years old and carries a $16.383 million cap number in 2013. It would be difficult to convince even the most casual observer that the Bears would better off without Peppers next year, despite the amount of money he ties up from a salary cap standpoint. Peppers is still effective and his team-high 11.5 sacks prove that.
With that in mind, the question now becomes whether the Bears need to prioritize finding another complement to Peppers, or if that player is already on the roster.
[+] Enlarge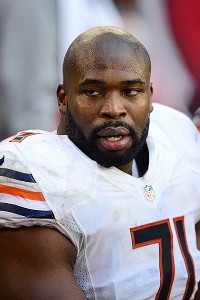 Mark J. Rebilas/USA TODAY SportsWill Israel Idonije be back for a 10th season with the Bears?
The Bears have a decision to make regarding
Israel Idonije
, who is an unrestricted free agent again this offseason after signing a one-year, $2.5 million deal last March. Entering his 10th NFL season, Idonije had 7.5 sacks in 2012, the second-highest total of his career, even though he bounced inside to defensive tackle in the nickel package as the season wore on.
Idonije, 32, also brings a certain amount of intangibles to the table that should not be overlooked. A former finalist for the Walter Payton Man of the Year Award, he's spent nearly his entire professional career in Chicago, a community he has served well off the field through the various efforts of his successful charitable foundation. As is the case in most negotiations, it could come down to money. If Idonije fields longer and more lucrative offers in free agency, then perhaps he leaves. But if the Bears can somehow find a way to lock him up to a contract similar to the one he agreed to last offseason, it makes sense for the Bears to seriously consider bringing him back for at least one more season, especially when you consider how few impact veteran pass rushers are expected to be available in free agency.
Regardless of what happens with Idonije, fourth-year defensive end
Corey Wootton
is coming off a breakout season and should be in a position to challenge for a full-time starting job, depending on what the club does in free agency. As we
noted last month
, Wootton (7.0 sacks) earned a significant raise for next year based on his play and the defense's overall performance.
January, 31, 2013
1/31/13
1:09
PM ET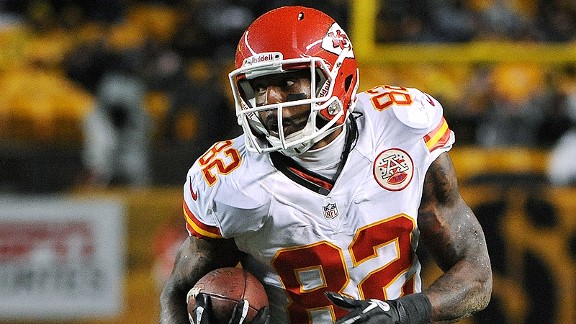 George Gojkovich/Getty ImagesBears GM Phil Emery is familiar with Dwayne Bowe after spending three years in Kansas City.
Bears free agency previews: TEs | QBs | LBs | OTs »
The
Chicago Bears
already have a significant amount invested at wide receiver next season with a combined $11.650 million in salary cap space between
Brandon Marshall
($9.3 million) and
Earl Bennett
($2.350 million) and the second-round pick the club used last year on
Alshon Jeffery
.
But while Marshall remains one of the best in the game, Bennett and Jeffery have both dealt with their share of injuries, which raises the question of whether the Bears need to protect themselves by grabbing another moderately priced wide receiver in the offseason.
[+] Enlarge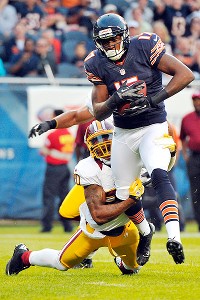 Rob Grabowski/US PresswireAlshon Jeffery caught 24 passes for 367 yards and three touchdowns in 10 games as a rookie.
Devin Hester
is under contract for one more season, but he completely fell off the map last year, especially on offense where he appears to have zero chemistry with quarterback
Jay Cutler
. Maybe the Bears keep Hester for the sake of the return game, but it seems like a long-shot that he will be asked to contribute much on offense. With Lovie Smith and Darryl Drake no longer in the building, Hester would probably benefit from a fresh start in a new NFL city. But that's an issue the Bears have yet to address.
Eric Weems
is signed through 2014, but he also seems to do his best work on special teams.
It would be wonderful to see
Johnny Knox
return to the field after the horrific spine injury he suffered late in the 2011 season against the
Seattle Seahawks
, because Knox is exactly the type of down-the-field vertical threat the Bears missed last year in the passing game.
Although Knox is determined to make a comeback and continues to work toward resuming football-related activities, it's still unknown if Knox will ever play again, which makes it difficult to count on him to fill a role in 2013. Knox is officially a free agent after his original rookie contract expired at the end of the regular season.
The wildcard in this group might be 6-foot-1
Joe Anderson
, the second-year man out of Texas Southern who made an impact on special teams late last season with a couple of big hits. Anderson carries himself with a certain confidence, that should serve him well when he tries to win a roster spot next summer in training camp.
But looking at the unit as a whole, and given the injury concerns surrounding Bennett and Jeffery, the Bears could be in the market for another receiver in either the draft or free agency. If the Bears go the veteran route, here is a look at some of the projected unrestricted free agent wideouts, in no particular order.
January, 30, 2013
1/30/13
10:51
AM ET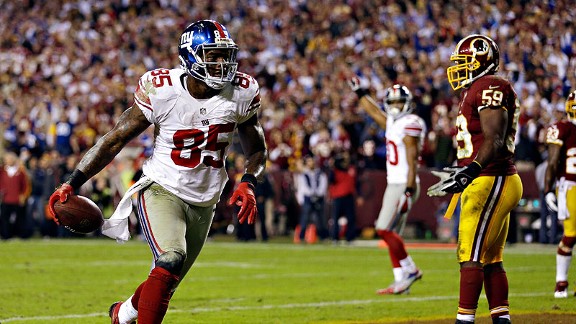 Rob Carr/Getty ImagesIf the Giants let Martellus Bennett hit the open market he figures to get a lot of attention.
The
Chicago Bears
need a tight end capable of working the middle of the field who can catch the ball on a regular basis. But it doesn't appear that person is on the team's roster.
It would be viewed by many as an upset if
Kellen Davis
sees the second year of the contract he signed with the Bears last offseason that calls for a base salary of $2.4 million in 2013. Davis just isn't the dependable threat in the passing game the Bears need at tight end. He had far too many drops last year as he struggled to stay upright whenever he had to turn his body to make a catch or run up field.
[+] Enlarge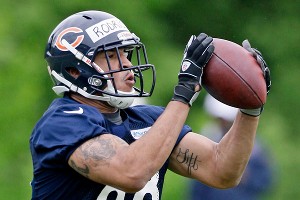 AP Photo/Nam Y. HuhWill Evan Rodriguez emerge as a dependable receiver in his second season?
That needs to be fixed.
Further down the depth chart are accomplished blocker
Matt Spaeth
, developing pass-catcher
Kyle Adams
, and 2012 fourth-round pick
Evan Rodriguez
, who spent his rookie year lining up roughly 10-12 snaps per game at the hybrid H-Back position. The Bears' reserves are more than capable to handle their respective roles, but the team has been lacking a front-line tight end since the previous regime decided to trade
Greg Olsen
to Carolina in the summer of 2011.
In a twist of bad luck, there are a handful of talented tight ends slated to be restricted free agents, led by
Dennis Pitta
, who had a breakout year for the
Baltimore Ravens
with 61 catches for 669 yards and seven touchdowns in the regular season. Pitta also has two postseason touchdown receptions for the AFC champions.
Acquiring restricted free agents is much trickier because teams have a right to match any offer sheet the player signs, and depending on the tender amount, teams can be due compensation in the form of draft picks if they decide not to match the offer.
The Bears are in desperate need of an upgrade and will no doubt investigate and consider all the available options. If they decide to address the issue in free agency, here is a list of some of the projected unrestricted free agent tight ends.
January, 29, 2013
1/29/13
11:28
AM ET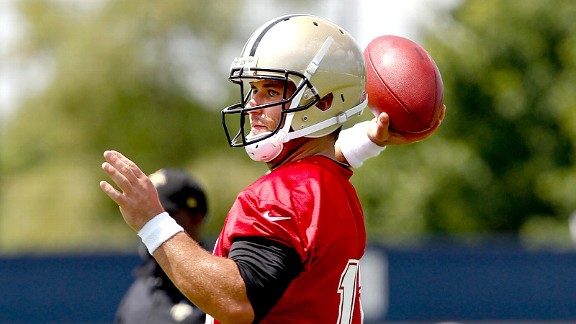 Derick E. Hingle/US PresswireNew Bears offensive coordinator and offensive line coach Aaron Kromer is familiar with Saints backup QB Chase Daniel.
There are two
Chicago Bears
quarterbacks under contract:
Jay Cutler
and Matt Blanchard. That will change at some point in the offseason when the Bears fill out the back end of the quarterback depth chart either via free agency or the draft.
The Bears could also decide to bring back one, or both of the veteran reserves they had at the end of last season in
Jason Campbell
and
Josh McCown
, both of whom are scheduled to be unrestricted free agents.
[+] Enlarge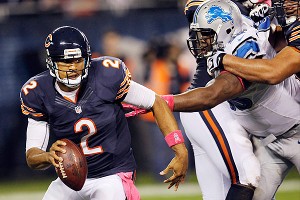 AP Photo/Charles Rex ArbogastA second year of Jason Campbell could be an option for the Bears.
The Bears signed Campbell to a one-year deal last offseason worth a total of $3.5 million ($2 million signing bonus, $1.4 million base salary, $100,000 workout bonus) in order to better protect themselves in the event Cutler missed any time due to injury, which he did.
Campbell took over for a concussed Cutler at the beginning of the second half of the Bears' home loss to the
Houston Texans
, then got the call to start the following game in San Francisco. The 49ers game was a debacle, but it's difficult to blame it all on Campbell, considering his two offensive tackles spent much of the night on their backs. Campbell finished the season completing 32-of-51 passes for 265 yards, two touchdowns, two interceptions and a passer rating of 72.8, not exactly the kind of numbers that will excite teams in need of a starting quarterback, although it is possible Campbell could find a better opportunity and more playing time elsewhere in free agency.
But the laid back and reserved Campbell certainly did not make any enemies during his one-year stint in Chicago, so if the Bears decide they can't upgrade the No. 2 spot, another season with Campbell isn't a horrible option.
McCown brings tremendous value to a roster because of his personality, experience and willingness to impart his wisdom onto others. There is no doubt in my mind that McCown will be an NFL coach one day when his playing career is officially over. But with any veteran back-up, the issue always comes back to money. It is much more expensive to pay the veteran minimum to a guy like McCown with 10 accrued NFL seasons than it is to carry a younger player on your roster, even if it would be more beneficial to the team to keep the older player. McCown can also still play if necessary, which he showed last season in the preseason finale versus the
Cleveland Browns
.
If the Bears choose to add another veteran quarterback, not named Campbell or McCown, here are some of the options expected to be available in free agency, in no particular order.