Chicago Bears:

2013 Free-Agent Review
February, 15, 2014
2/15/14
8:00
AM ET
Money:
Signed a one-year, $840,000 contract on Nov. 2.
Jeremiah Ratliff
eventually collected $395,294 in 2013 from the
Chicago Bears
. The deal contained no signing bonus or guaranteed money.
[+] Enlarge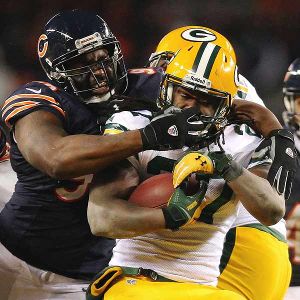 Dennis Wierzbicki/USA Today SportsDefensive tackle Jeremiah Ratliff's role with the Bears for 2014 is unknown at the moment, given his age, health and contract desires.
Stats:
Ratliff was active for five games and started the final four. He finished the year with 14.5 tackles, 1.5 sacks and one tackle-for-loss. Ratliff's snap count gradually increased as the season wore on after he missed an entire year with a groin injury.
2013 role:
Ratliff joined the Bears in November after he convinced the club he would be physically ready to play in 2013. Ratliff spent his first three weeks in Chicago on the gameday inactive list, but contributed up front in each of the last five games. The Bears viewed Ratliff as a three-technique defensive tackle in last year's scheme.
The good:
Ratliff made a good impression in a short period of time. Although he sat out an entire year due to the groin problem, he had a couple of impact plays. Conditioning was Ratliff's major issues, not skill. He is a four-time Pro Bowl selection. Ratliff did nothing to hurt his chances of re-signing with the Bears if the organization feels he can stay healthy and will agree to a short deal for around veteran minimum dollars.
The bad:
Ratliff is 32 years old with a history of injury. The older a player gets, the more it costs a team to keep him on the roster, even if it's a veteran minimum contract. Ratliff didn't exactly light the world on fire during his five-game audition with the Bears, although he certainly was better than most of the other defensive linemen on the field.
2014 role:
Unknown. Ratliff is scheduled to be an unrestricted free agent. The Bears already stated their desire to get younger on defense, so Ratliff doesn't fit that mold. But he proved last year he can still play at a reasonably high level. It's unclear what kind of interest he will attract on the open market. Again, that could be the deciding factor in his negotiations with the Bears.
February, 14, 2014
2/14/14
9:00
AM ET
Money:
D.J. Williams
signed a one-year deal last March that paid a base salary of $900,000 with a maximum value of $1.75 million.
Stats:
Produced 27 tackles, including two for lost yardage, one quarterback pressure, two sacks and forced a fumble in six games.
[+] Enlarge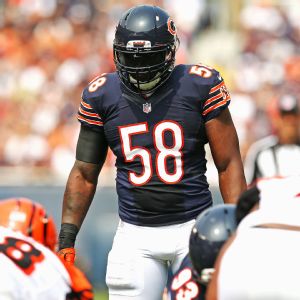 Jonathan Daniel/Getty ImagesLinebacker D.J. Williams played in just six games this season -- the lowest total in his NFL career.
2013 role:
Signed as the replacement at middle linebacker for future Hall of Famer
Brian Urlacher
, Williams projected to be a potential steal in free agency because of his superior speed and athleticism, and joined the team as the starter. But Williams missed nearly all of training camp and the preseason due to a strained calf, which caused him to get off to a slow start at the beginning of the regular season.
The good:
The strained calf during the preseason slowed Williams initially, and he didn't appear to be in ideal shape at the beginning of the season. But once Williams worked himself into the mix, the linebacker made plays reminiscent of his days with the
Denver Broncos
.
Prior to joining the Bears, Williams had produced 90 tackles or more in five of the previous six seasons. The belief early on was that the addition of Williams and veteran
James Anderson
to play alongside
Lance Briggs
would upgrade the linebacking corps.
"D.J. Williams came in and provided leadership in terms of his motor, his effort and his physical[ity]," Bears general manager Phil Emery said. "Cannot understate when players make plays and they make impact tackles, impact plays on any side or area of the game, they become leaders."
Williams also played a key role in the development of rookie second-round pick
Jonathan Bostic
, who would end up starting nine games.
The bad:
The calf injury at the start of camp set back Williams for the early part of the season. Then with four minutes left in the third quarter of a 27-21 over the
New York Giants
on Oct. 10, Williams tore a pectoral muscle that would put him out for the rest of the season. That situation represented the third season-ending injury for a Chicago defensive starter, and forced the club to play Bostic in the middle for the duration.
Prior to the injury, Bears coach Marc Trestman said, "I saw
D.J. Williams
blowing up piles and running with speed to the ball." But Williams missed five tackles over the first six games.
2014 outlook:
Williams' future in Chicago appears to be shaky at this point, with Emery saying the club wants to infuse youth on the defense through free agency and the draft. Williams will be 32 at the start of the 2014 season, but still possesses the physical attributes to be a dynamic playmaker.
So at this point, the Bears haven't ruled out bringing back Williams. Perhaps it bodes well for the veteran that Emery that at some point it might be best to take advantage of Bostic's run-and-hit skillset by moving him to an outside linebacker spot. That would leave open a spot in the middle for Williams.
"I like the team chemistry. I like the coaching staff. I like the energy of the city," Williams said. "Hopefully if things work out right, I'll be back here. I love our defense. It's simple, but we play fast and just downhill."
When the rest of the team packed up to leave for the offseason, Williams stayed behind to continue rehabilitation at Halas Hall. Williams needs to gain medical clearance to play before the team can seriously ponder bringing him back for 2014. The linebacker believes he's still capable of producing at a starter's level.
"I know I still have a good amount of years left in me," he said. "I still have talent. If I don't end up here, I'll end up somewhere else, though I would love to end up here."
February, 13, 2014
2/13/14
8:00
AM ET
Money:
Signed a one-year deal for $950,000 that also included a $200,000 signing bonus and $100,000 workout bonus. Anderson took up $1.25 million worth of salary cap space in 2013.
Stats:
Anderson became the first Bears player other than
Brian Urlacher
and
Lance Briggs
to lead the team in tackles since
Barry Minter
in 1999. The eight-year NFL veteran made 129.5 tackles and a career-best four sacks. Anderson registered 7.5 tackles for loss, three pass breakups, 10 quarterback pressures and one fumble recovery.
[+] Enlarge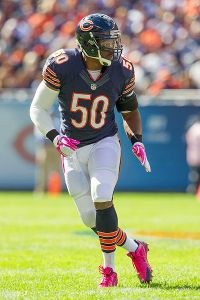 Jeff Lewis/Icon SMIJames Anderson could be seeking a multiyear deal after leading the Bears in tackles last season.
2013 role:
Anderson was the only veteran linebacker to start all 16 games. He lined up on the strong side in the Bears' base defense, but remained on the field in the nickel package and became the defensive signal-caller after Briggs suffered a shoulder fracture on Oct. 20. Anderson, new to the defensive scheme, played his best football before Briggs and
D.J. Williams
were lost to injuries. He finished the year with 14 tackles in two of the final three games against the
Cleveland Browns
and
Green Bay Packers
.
The good:
Anderson began the season with tackles for loss in three of the first five games. He meshed well with Briggs and Williams. Anderson's four sacks tied for second on the team with
Shea McClellin
. The linebacker recorded a minimum of 10 tackles in six different games. Anderson's even-keeled personality seemed to play well in the locker room with his teammates. His production (129.5 tackles) exceeded the modest one-year deal he signed in free agency. Anderson stayed healthy for the entire year.
The bad:
Because of his lack of familiarity and experience within this particular defensive scheme, Anderson was unable to offer much assistance to rookies
Jon Bostic
and
Khaseem Greene
when the two rookies were obviously struggling to be in the correct spot after being pressed into action. Despite Anderson's impressive statistics, he was part of one of the worst run defenses and front-sevens in Bears' history.
2014 role:
Unknown. Anderson is scheduled to be an unrestricted free agent. He is probably seeking a multiyear deal after taking a one-year contract to join the Bears. Anderson was not part of the group of players the Bears re-signed at the conclusion of the regular season. The market could dictate whether Anderson returns to Chicago.
February, 12, 2014
2/12/14
8:00
AM ET
Money:
Signed a one-year deal last March worth $815,000, which included a $100,000 workout bonus with $200,000 of his $715,000 base salary guaranteed.
Matt Slauson
parlayed that into a four-year deal in January that included $4.9 million guaranteed, which can max out at $13.2 million.
[+] Enlarge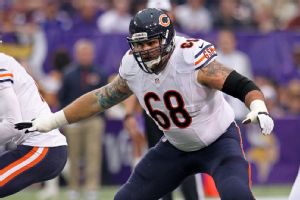 Brace Hemmelgarn/USA TODAY SportsMatt Slauson was nearly flawless protecting Bears quarterbacks in 2013 and has set the bar high on the offensive line.
Stats:
None, but as one of four new starters on the offensive line, Slauson played a major role in the club setting several franchise marks on offense.
2013 role:
Slauson joined Chicago coming off a 2012 season in which he didn't give up a sack with the
New York Jets
and became an immediate starter for the Bears at left guard. Slauson left the Jets seeking a more secure future and earned one moving into 2014 by becoming one of Chicago's most consistent performers on the offensive line.
"I told him when he came in that it was our intent to reward him if he did well, and we want him to be a Bear for the longer future," general manager Phil Emery said. "Matt certainly deserves that future with the Bears."
The good:
Slauson surrendered just two of Chicago's 30 sacks on the season which rank as the club's fewest since 2008 and the second fewest for the Bears in seven seasons. Slauson was also responsible for two quarterback hits and 15 pressures. Somewhat of a technician, Slauson was flagged just three times all season with one of those penalties being declined. Slauson also served as a mentor for the younger players on the offensive line such as rookies
Kyle Long
and
Jordan Mills
.
Emery called Slauson "A key part of our offensive line improvement. Matt is exactly what we were looking for in an offensive guard in this season; big, long-armed, physical, tough, smart, big anchor point for our quarterback to be able to step up when he has pressure. Can't say enough about him in terms of leadership and fit with this group, and toughness and physical[ity] he brings to the group. When you're a defender and you line up against Slauson, at the end of the day, you know you played a football game."
Bears quarterback
Jay Cutler
called Slauson "constant."
"Every single day he's grinding," Cutler said. "He was able to show Kyle [Long] what it takes to be a successful guard in the NFL. Kyle was able to see it firsthand on film and be able to talk to him on a daily basis. Matt, I think he enjoyed doing it, being a semi-coach for Kyle and the young guys. I was really excited to hear that he's gonna be here four more years protecting me."
The bad:
There's not much, but the Bears did run the football behind Slauson 70 times in 2013 and averaged just 3.61 yards per attempt. So that number could improve. Slauson also joined the Bears coming off a 2012 season in which he didn't allow a sack but gave up two in 2013. So yes, that number is still low. But Slauson has set the bar high in terms of expectations for his performance.
2014 outlook:
The addition of Slauson helped to provide the type of stability along the offensive line in 2013 that the club hadn't seen in several years. So the decision to sign him to a four-year deal in January was a smart move on the part of the Bears, and moving forward, durability shouldn't be an issue for Slauson. With Slauson in the mix, the Bears were one of just three teams to start the same five offensive linemen in all 16 games. What's more is Slauson wanted to remain with the Bears for the next several years rather than test the market in free agency in 2014.
"I don't want any part of that," Slauson said. "I love Chicago. I want to be here. My family really likes it hear. I have always said that was a part of the reason I came here. If I get the opportunity to stay, I'm going to jump all over it."
February, 11, 2014
2/11/14
8:00
AM ET
Money:
Signed a four-year contract worth $20.4 million with $9.215 million in guarantees ($4.5 million signing bonus). Bennett will earn a total of $4.9 million in 2014 and is scheduled to count $6.025 million against the Bears' salary cap in the second year of his deal.
Stats:
Bennett finished the season with career highs in receptions (65) and receiving yards (759) and tied his all-time best mark with five touchdown catches. Bennett's 65 grabs ranked fourth on the Bears and No. 8 in the NFL amongst tight ends. His 759 receiving yards were the third highest total on the team and ninth amongst tight ends in the league.
Bennett
2013 role:
Bennett spent the entire year as the unquestioned No. 1 tight end on the Bears' roster. He technically started 15 games, but Bennett played an extremely high number of snaps every single week. The tight end proved to be the Bears' third or fourth option on offense, sharing touches with receivers
Brandon Marshall
and
Alshon Jeffery
, and tailback
Matt Forte
. Bennett lived up to almost all of the expectations placed upon him after the Bears moved so quickly to sign him last offseason.
The good:
Compared to the Bears' 2012 starting tight end,
Kellen Davis
, Bennett looked like Kellen Winslow Sr. in his prime. Bennett immediately turned tight end from a position of severe weakness to a position of strength. The six-year veteran began the year with a bang when he hauled in three touchdown passes over the first two games, including the game-winner versus the
Minnesota Vikings
in Week 2. He displayed a willingness to fight for additional yards after receptions, even if he occasionally landed on his head as a result of the going to extra mile. Bennett's quirky and eclectic personality played well with the media. He was never a distraction and seemed to be extremely happy and comfortable in his new surroundings.
The bad:
Bennett never missed a game or complained about injuries, but he did fight through a variety of physical ailments that possibly curtailed his effectiveness to a small degree. There were weeks in the season when Bennett failed to factor much into the offense. He had five games where he caught two or fewer passes, but the Bears also had a variety of weapons for the quarterback to choose from.
2014 outlook:
Bennett figures to pick up where he left off in 2013. Expect the tight end to again be one of the top four options on offense from week to week. Bennett would benefit from a stronger No. 2 tight end behind him on the depth chart. Perhaps that is an area the Bears address in the draft or in free agency. At 26 years old, Bennett, who turns 27 in March, should be entering the most productive phase of his NFL career.
February, 10, 2014
2/10/14
8:00
AM ET
As Chicago eyes free agency next month, we'll take a look back at the top players from the 2013 class of free agents, how they performed in their first year with the Bears and their prospects for 2014. Here we look at offensive tackle
Jermon Bushrod
:
Bushrod
Money:
Signed a five-year contract worth a little more than $35.965 million that included $17.715 million in guarantees.
Stats:
None, but as one of four new starters on the offensive line, Bushrod helped the Bears set a franchise record in yards (6,109) as the club finished with a 4.9 sack percentage on 609 drop backs, which ranked as the club's sixth-lowest sack percentage since 1982, when sacks became an official statistic.
2013 role:
Of all the free-agent offensive linemen available, Bushrod had allowed the most combined sacks, hits and hurries, but he still represented an upgrade over the inconsistent
J'Marcus Webb
. Bushrod became an immediate starter on the offensive line, and protected the blindside of quarterback
Jay Cutler
in addition to helping his position group adjust to the new blocking schemes brought to the club by coach Marc Trestman and offensive coordinator Aaron Kromer, who the tackle had previously worked with in New Orleans. A Pro Bowler in 2012, Bushrod started all 16 games at left tackle for the Bears.
The good:
Chicago surrendered just 30 sacks, which ranks as the club's fewest since 2008 and the second fewest for the Bears in seven seasons, and Bushrod played a major role in that. On the season, Bushrod was responsible for four sacks, and that number perhaps could have been greater when taking into account the Bears now utilize an offense designed to get the ball out of the quarterback's hands quicker. Perhaps one of Bushrod's greatest accomplishments in 2013 came in helping the rest of the offensive line learn the team's new blocking schemes because of his experience working with Kromer in New Orleans. Bushrod was slightly better than average in pass protection. But when Chicago ran the ball behind Bushrod over left tackle, it averaged 5.03 yards per attempt, which ranked as 12
th
in the NFL.
The bad:
In addition to the four sacks Bushrod surrendered, he also allowed nine hits and 42 quarterback pressures. By comparison, in 2012 Webb gave up seven sacks, five hits and 30 hurries. But Webb's salary wasn't near what the Bears paid to land Bushrod. So he's got to perform at a level commensurate to what the Bears are paying. In addition, Bushrod tied with tight end
Martellus Bennett
for the team lead in penalties (seven). Luckily for the Bears those penalties resulted in only one stalled drive. Five of the flags were called for holding (three) or false start (two). Bushrod's 2013 season was an improvement over what he did in 2012, but not by much. In 2012, Bushrod gave up four sacks, eight hits and 45 hurries.
2014 outlook:
Bushrod is set to count $7.3 million against Chicago's salary cap in 2014. So while he didn't play horribly in 2013, he needs to play at the level he's being paid: as an elite pass-protector. Bushrod knows that, and should improve in Year 2 with the Bears as the offensive line continues to develop chemistry. Down the stretch of 2013, Bushrod displayed signs of improvement. Over the last five games of the season, he surrendered a sack, two hits and six pressures after giving up a sack, three hits and 20 pressures in the five games previous. So perhaps Bushrod can carry that momentum into 2014 because he'll certainly need to for the Bears to improve upon a strong 2013 campaign in the first year of Trestman's offense.