December, 9, 2014
Dec 9
4:25
PM ET
One day after being discharged from Northwestern Memorial Hospital, injured Bears receiver
Brandon Marshall
spent time Monday doing "The Brandon Marshall Show" on ESPN 1000.
Here are a few quick-hitting snippets from his hour-long segment:
[+] Enlarge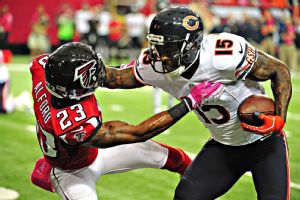 Scott Cunningham/Getty ImagesOn his Monday radio show, Brandon Marshall called this season "one of the most stressful years ever."
You're out for the season. What are your plans now?
Marshall:
I've got to really sit back, really think some things through, and really digress a little bit, do some self-assessment because I'm at a loss for what really happened this year. I'm getting older. I want to win. Just got to figure out what the heck is going on here.
Will that involve going back to Halas Hall to sit down with the coaches or general manager Phil Emery?
Marshall:
I learned a long time ago they don't listen to us. So for me, I always sit down with the coaches at the end of the year; just to go through an assessment to see where I was, how I can help the team better. So I'll do what I normally do. I'm sure that will come up in conversation. But they don't listen to us. For me, I want to win. I want to win here in Chicago. So I do want to hear like, what the heck are we going to do moving forward because this is unacceptable.
Are you going to do some soul searching?
Marshall:
Well, I'm not going to do any soul searching. I just want to hear thoughts from other people, like what is going on? What happened? Even like for me, besides three games, 2 ½ games I can really say I really wasn't in it because of my ankle. But as far as production, my production is at a career low, and that's unacceptable. I just don't get it. I don't understand it. I want to be able to do more for the team. So I want to figure out moving forward how can I do more? How can I help? That's ridiculous. I'm used to catching 100 balls and really leaving a fingerprint on the game, each game, like dominating. I just didn't feel like I was a part of that this year. So that sucks.
What have you looked at?
Marshall:
You look at our offense on paper and how we're built, we shouldn't be in this situation. But we are. And it's been that way for a long time. I can't see myself going through another year like that. This is one of the most stressful years ever. So I think we have everybody we need to turn it around. But I want to hear from the other guys, like how can we do that?
What will you do from now until the end of the season?
Marshall:
The reason I'm out today is if I'm at home, I'm sitting down. So this gives me an opportunity to walk around. [Doctors] told me every time I get an opportunity to walk around and just move a little bit, that's why I'm doing it. So I'm going to do that when I need to, but pretty much throughout the day, I'm just going to sit at home and rest. I'm sure I'll make it in [to Halas Hall] a couple times before the year is over.
What is the time frame for recovery?
Marshall:
The doctors said it's four to six weeks, maybe eight weeks. They said that about my ankle. I was supposed to be out four to six weeks and I played the next week. I'm really intrigued by the human body and what it's capable of doing. I'm really a fan of that mind-over-matter thing. So even though I'm on the IR, I'm going to push myself this week to see if this were the Super Bowl or something this week, would I be able to make it out there on the field? I want to see how my body responds to this whole procedure and this whole deal as if I was still going out there to play. I'm going to take some notes.
Well, isn't a collapsed lung a little different than an ankle sprain?
Marshall:
Well, the lung, it recovers faster than the break. There are reports out there that
Tony Romo
is playing with some ribs and things like that. There are other guys who have played with it. So I guess what we're waiting on is the lung. But the ribs are all about pain tolerance.