Chicago Bears:

Chicago Bulls
October, 3, 2013
10/03/13
5:03
PM ET
LAKE FOREST, Ill. -- The last time
Jay Cutler
tossed three or more interceptions in a game (Sept. 13, 2012), the
Chicago Bears
would proceed to run off a string of six consecutive wins.
Prior to that, he threw four picks in a 2010 loss to Washington, with the Bears running off five straight starting the next week to win the division and advance to the NFC Championship. So naturally, with Cutler coming off a three-interception (four total turnovers) nightmare in last week's loss to the
Detroit Lions
, the assumption is the Chicago Bears could be on the verge of something big starting with Sunday's game against the
New Orleans Saints
.
Cutler certainly hopes so.
[+] Enlarge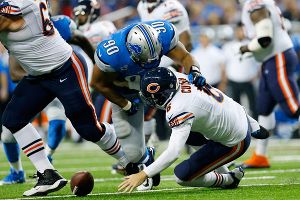 AP Photo/Paul SancyaThe Lions will be looking for Ndamukong Suh to give the defense a spark on Sunday against Dallas.
"I hope you're right. It's gonna happen," Cutler said. "What you don't want to see is three turnovers, three turnovers, three turnovers, consecutive weeks like that. If you can minimize those, you're going to be in a better place, obviously."
The staff hasn't lost faith in Cutler's ability to get the Bears there.
"There were three good performances [to start the season] and one, as we said, he would want back," Bears coach Marc Trestman said. "But he's been unflappable in practice. I just think it's the unflappability and the emotional stability of just being able to move on to the next play and isolating that play as the only one that really is important, and then forgetting about it and moving on."
But Cutler hasn't yet caught amnesia regarding the performance at Detroit last week, one in which he completed 57.4 of his passes for a passer rating of 65.6. Cutler admitted that feelings of accountability for what transpired against the Lions have affected his preparation for the Saints in a way that gives him the mentality that he must "take care of the ball" because "we can't give them free opportunities."
"Sometimes it's hard to walk back into that locker room and know that, 'Hey, I was responsible for four turnovers,' and you put your team in that position," Cutler said. "It makes you feel bad because I thought the defense played their butts off. Offensive line did a great job. It just brings everything into perspective of how it important it is; how important my job is of taking care of the ball, and making sure I put ourselves in a position to win each week."
Tight end
Martellus Bennett
doesn't "think Jay needs to bounce back from anything" when the Bears host the Saints, and isn't concerned about Cutler's mistakes from last week lingering. After all, the Bears trailed 30-13 at halftime last week yet still had a chance to tie the score in the final minute despite Cutler committing four turnovers.
Cutler finished the prior three games before the loss at Detroit with passer ratings of at least 90.8, while completing at least 63.6 percent of his throws.
"He did a great job toward the end of the game. He threw three touchdowns," Bennett said. "He bounced back very well. I'm not really worried about it."
Offensive coordinator Aaron Kromer isn't concerned either and mentioned Cutler "has improved his mechanics a bunch" since the start of the season, but against Detroit the club got "in that situation [where] you're throwing it 40 times straight" and "once you turn it into an al-passing game, no one is going to have success."
Cutler, meanwhile, remains acutely aware of the situation he put the Bears in last week (although the first interception to
Louis Delmas
wasn't the quarterback's fault), and knows what needs to be done for the offense to continue progressing.
Cutler said the Bears are "definitely better" now than the team has been in the past with new offenses.
"I don't know what Marc's expectations were. But if we limit turnovers last week I think we're in a lot better spot," Cutler said. "The Pittsburgh game [in Week 3], we didn't have the production we wanted, but it was a different type of ballgame. In the first two [games], we made plays in the fourth quarter and were pretty efficient. If we keep heading in that direction I think we'll be all right."
September, 29, 2013
9/29/13
5:51
PM ET
DETROIT -- Observed in the locker room after the
Chicago Bears
'
40-32 loss
to the
Detroit Lions
:
Stunt issue:
Reggie Bush
busted big gains almost every time the Bears used what they call a "power" stunt. A stunt is when defensive linemen alter the path of their rush in a coordinated fashion to confuse offensive linemen, which, in turn, makes them more difficult to block. According a player in the locker room, the Lions capitalized nearly every time the stunt was called, and that caused Chicago to abandon the call entirely.
Bennett
The player suspected that former Bears defensive end
Israel Idonije
, now with Detroit, tipped off the Lions about what they were doing.
"He totally knows our defense," the player said.
Paea in boot:
With the Bears recently placing
Henry Melton
on injured reserve, the sight of
Stephen Paea
wearing a walking boot seemed shocking. Paea wore the boot as a precautionary measure, he said, and characterized the injury as "minor turf toe."
Paea could show up on next week's injury report, but he's doesn't anticipate missing time.
Bennett makes rounds:
Tight end
Martellus Bennett
walked around shaking hands with all his teammates after the game and telling them "good job." Bennett said he does it after every game to enhance camaraderie in the locker room.
September, 4, 2013
9/04/13
12:27
PM ET
LAKE FOREST, Ill. -- The
Chicago Bears
knew at the end of last season the team desperately needed a massive overhaul on the offensive line. Mission accomplished. General manager Phil Emery tackled the issue of improving the line by investing significant resources in both free agency and the NFL draft en route to acquiring left tackle
Jermon Bushrod
, left guard
Matt Slauson
, right guard
Kyle Long
and right tackle
Jordan Mills
-- leaving veteran center
Roberto Garza
as the lone holdover from 2012.
[+] Enlarge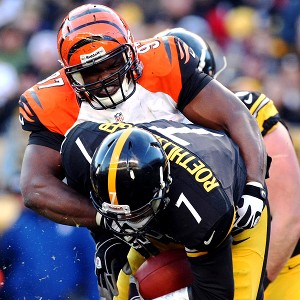 Jason Bridge/USA TODAY SportsCincinnati's Geno Atkins should prove to be a tough assignment for rookie Kyle Long in his first regular-season start.
This new-look group will be put to the test immediately in Week 1. The
Cincinnati Bengals
come to town Sunday with arguably one of the top defensive lines in the NFL, led by the game's premiere three-technique defensive tackle
Geno Atkins
, who inked a lucrative five-year contract extension after he led all interior defensive linemen last season with 12.5 sacks to go along with a team-high 15 tackles for loss.
As a unit, the Bengals' defensive line recorded 43 sacks last season and helped the defense rank sixth in fewest yards allowed.
This should present a terrific challenge up front for the Bears, especially for the Long/Mills rookie right side of the offensive line. Atkins told the Chicago media during a conference call on Wednesday that he was impressed by Long's performance in the preseason after the first-round pick won the starting job outright. The Atkins-Long matchup is expected to be one of the most intriguing battles on Sunday.
"He's big and he's physical, very aggressive and a strong player," Atkins said. "And by watching him, you can tell he likes to get after defensive linemen. He likes to get off, be aggressive and show his strength."
Atkins also praised Bears tailback
Matt Forte
, who averaged 9.9 yards per carry on 15 rushing attempts behind the offensive line in the preseason. Forte is expected to be a focal point of the Bears' offense in Week 1.
"He's very, I want to say, shifty," Atkins said. "He likes to cut back, so, I mean, he's very explosive. If you give him a cutback lane, he will take it back and make you pay. To me, that makes him a dynamic player.
They've got tons of playmakers like
Jay Cutler
, Forte and
Michael Bush
. The offensive line is pretty stout. They're a big group. And
Brandon Marshall
. They're already loaded, so we just have to get after them."
December, 31, 2012
12/31/12
1:48
PM ET
CHICAGO --
Chicago Bulls
coach Tom Thibodeau said Monday he was saddened by the firing of Chicago Bears coach Lovie Smith.
October, 23, 2012
10/23/12
5:00
PM ET
DEERFIELD -- Add the
Chicago Bulls
to the growing list of people impressed by the
Chicago Bears
this season -- especially their defense and quarterback
Jay Cutler
.
"I love the way (their defense is) playing," Bulls coach Tom Thibodeau said Tuesday morning as his team prepared for a preseason contest against the
Oklahoma City Thunder
. "They were great last year, they're great this year. I don't know much about football, but I enjoy watching them play."
October, 19, 2012
10/19/12
5:20
PM ET
LAKE FOREST, Ill. --
Chicago Bears
wide receiver
Earl Bennett
missed practice on Friday due to an illness but is expected to return to the practice field over the weekend, according to Bears head coach Lovie Smith.
The Bears are counting on Bennett, along with
Devin Hester
, to assume a larger role in the passing game Monday night since rookie wideout
Alshon Jeffery
has already been ruled out of the Lions game because of a fractured hand.
May, 7, 2012
5/07/12
11:23
AM ET
So what could we possibly have done to deserve this sentence of six months in professional sports hell? Which of the sporting gods did Chicago offend to bring about this karma? I grew up accepting the Cubs were cursed, but not the Bears and Bulls, too. Since November, though, a one-two punch to the civic groin has left us face down and semi-conscious in an alley. The Blackhawks won the Stanley Cup in June of 2010; then seven months later the Bears advanced to the NFC Championship game. Looked like smooth sailing. Maybe Jay Cutler spraining his knee was a tip-off we were about to enter a nuclear winter.
Read the entire column.
December, 10, 2011
12/10/11
2:21
PM ET
DEERFIELD, Ill. -- Not surprisingly,
Chicago Bulls
center (and University of Florida alum)
Joakim Noah
is a massive fan of
Denver Broncos
quarterback
Tim Tebow
, also a former Gator.
"Timothyyyy!" Noah said proudly after Saturday's practice. "We got to show Timothy a little love here. For all the haters out there, you know the guy is kicking ass. Making me very proud to be a Gator boy."
[+] Enlarge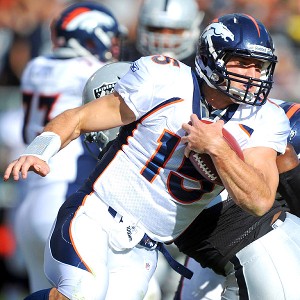 Kirby Lee/Image of Sport/US PresswireAs he prepares to lead the Broncos against the Bears, Tim Tebow has at least one fan in Chicago -- the Bulls' Joakim Noah.
Noah has followed Tebow's career closely since the pair were in school together at Florida.
"It's a beautiful story," Noah said. "He is who he is. There's no lie about who he is. He's comfortable."
Noah admits that the two don't see eye-to-eye on certain issues, but the Bulls center appreciates that Tebow stays true to his values.
"Me personally, I have completely different beliefs than him," Noah said. "But at the same time I respect the fact that he speaks his truth. He speaks his truth and he's a warrior. He's a winner. At the end of the day, his teammates respect that."
Noah said he didn't know Tebow very well during their time in Gainesville, but that didn't stop him from gaining respect for the quarterback.
"I had a class with him," Noah said. "The guy is the real deal. He's a very humble guy. And somebody who, his teammates love him. They battle for him every night. He might not throw the ball great, and that's all anybody wants to talk about, but at the same time, people really underestimate the fact that his guys really go to bat for him. And it was the same way at Florida. And I can see it, it's the same way with his team in Denver."
When asked whether Tebow had ever tried to cheat off of him on a test, Noah couldn't help but smile.
"Nah, that's not his style," Noah said. "I was the cheater on the test. He wasn't cheating on too many tests."
Noah was asked whether he had heard his friend
Charles Barkley
's comments that he would be cheering for the Bears when they play Tebow's Broncos on Sunday because he was "Tebowed out."
"I want to make a personal plea to
Lance Briggs
,
Brian Urlacher
, Mr.
[Julius] Peppers
, please stop the madness," Barkley said Friday on "The Waddle & Silvy Show" on ESPN 1000. "I'm just so tired ... I like Tim Tebow. He seems like a good kid, and I wish him success, but I am Tebowed out. So this is my personal plea for you three guys, please stop this madness."
Noah said he had not heard the comments and wasn't fazed by what Barkley had to say.
"That's Chuck's opinion," he said. "I'm not [tired of the Tebow talk]. "I'm a Gator boy. I love the Tebow talk."