Chicago Bears:

Interceptions
October, 5, 2014
10/05/14
7:59
PM ET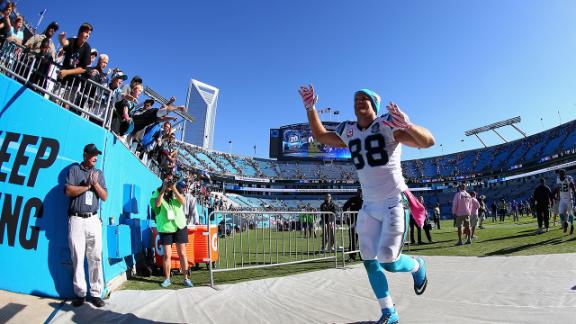 CHARLOTTE, N.C. --
Jay Cutler
stuffed a hand in one pocket at the podium and readied for the storm of questions about to rain down in the visitors' locker room at Bank of America Field in the aftermath of the
Chicago Bears
giving one away.
Leading 24-21 in the fourth quarter on Sunday, Chicago watched its advantage disintegrate as a result of committing turnovers on back-to-back possessions over a span of 1 minute, 39 seconds. Carolina converted those turnovers into 10 points en route to a
31-24
triumph. The giveaways serve as a small snapshot for what appear to be larger issues for Chicago's supposedly vaunted offense, which has been outscored 34-3 in the second half of its past two outings -- both losses.
"Pretty frustrating," Cutler said. "There were many opportunities for us to close this out offensively. We put our defense in a bad spot. I thought they played really well given the circumstances and some of the field position we put them in. Offensively, a lot of that is on me. We've just got to play better."
Chicago stormed to a 21-7 lead with 10:51 left in the second quarter when Cutler hit
Alshon Jeffery
for a 25-yard touchdown, and at that point it looked as though the Bears might run away with the game.
Then halftime hit, which for the Bears these past two weeks is akin to disaster.
The Bears ripped Carolina for 235 yards in the first half, but managed just 112 yards in the second half with two turnovers and a third-down conversion rate of 16.7 percent. Going into Sunday, the Bears had turned over the ball only once in the fourth quarter through the first four outings, yet managed to do that on back-to-back possessions to throw away this contest.
"I think that we've struggled at times, and that's the thing we've got to focus on. We've had a lot of very consistent moments, and then we've gone inconsistent," coach Marc Trestman said. "We have the last two weeks, certainly in the second half. So it's something that we've got to continue to work on and get better at. We still haven't put four quarters together. We've put some good quarters together, but we haven't put four quarters together yet."
Cutler has led nine second-half drives over the past two weeks with three drives ending with interceptions. One drive concluded with a turnover on downs, while three more ended with punts. Two other drives finished with fumbles, including
Matt Forte
's with 4:29 left to play which set up
Cam Newton
's game-winning 6-yard touchdown pass to
Greg Olsen
.
Forte said the offense needs to develop "a mindset" that will help it to finish games, and admitted "we've got to stop" turning over the ball.
"It's not like we're out there being careless with the football," he said. "Sometimes balls get tipped and guys make good plays out there. They get paid to play football, too. In my case, especially in a crucial situation like that, I can't let go of the ball."
You can't throw interceptions, either. Forte's fumble came after Cutler was intercepted by
Thomas DeCoud
on an attempt down the middle of the field intended for
Santonio Holmes
.
Cutler said the ball "just got away from me," adding that "high and over the middle of the field is never good. It happened twice today."
For Chicago to reverse what's becoming a disturbing trend of futility in the second halves of games, that needs to stop, and the team needs to find a way to adjust offensively to the opponent's halftime adjustments.
October, 23, 2012
10/23/12
12:38
AM ET
CHICAGO -- One defensive adjustment the
Chicago Bears
made on Monday night was to incorporate veteran cornerback
Kelvin Hayden
into their nickel package. With
Charles Tillman
shadowing Detroit's star wideout,
Calvin Johnson
, all over the field, Hayden gave the Bears a better option to play outside at cornerback when the team was in nickel and Tillman was forced to cover the 6-foot-5 Johnson in the slot.
Hayden started 47 regular-season and five postseason games at cornerback since he entered the league in 2005.
"I really didn't ask questions behind it," Hayden said. "I knew I was going to get a little more reps but they didn't say how many. I think I played pretty well. I was on the details. I had one little catch on me that I could have done a better job on but I think everything was good."
Although Hayden played significant snaps in the 13-7 victory, the Bears' normal starting nickel back,
D.J. Moore
, still saw the field, but primarily on third downs.
"It was a personnel thing," Moore said. "They didn't want Calvin Johnson to slam me and then run a slant route and be running in the end zone. So it was just one of those things."
Despite limited playing time, Moore did record his second interception of the year when he picked off Detroit quarterback
Matthew Stafford
late in the fourth quarter. The two share a history as Moore and Stafford got into a fight on the field last year at Solider Field which resulted in both players getting fined and Moore being ejected from the Bears win.
Moore said he did not speak to Stafford before or after the game to iron out their differences.
"Nah, but we never talked before," Moore said. "As long as I keep playing him, my career interceptions will keep going up."
Moore now has 10 interceptions over the last two-plus seasons. The former fourth-round pick out of
Vanderbilt
is in the final year of his original rookie contract and is scheduled to reach free agency next offseason.
November, 20, 2011
11/20/11
11:05
PM ET
CHICAGO -- After a game that typified his position, and perhaps his career, cornerback Charles "Peanut" Tillman eyed his button-down pursuers warily with his red-tinted contact lenses.
"You guys waiting for me?" he asked a group of reporters in the locker room, as he put on his black Hugo Boss jeans, Gucci belt and Gucci shoes. "I can't sneak away?"
Tillman likes to be difficult with the media. It's the everyday defense he plays, the Don't-Cover-Me.
"The only reason I talk to y'all is because they make me," he said with a half-smile after the Bears' convincing 31-20 victory over the San Diego Chargers, their fifth consecutive win. "I'm only doing this because [Bears PR guy Scott] Hagel keeps making me talk to y'all."
Tillman had a game to forget or remember, depending on your take. Do you believe in the journey or the destination? Do you grade on perfection or embrace the redemptive nature of the game?
Read the entire column.
March, 21, 2011
3/21/11
7:36
PM ET
NEW ORLEANS -- We caught up with Bears general manager Jerry Angelo on Monday at the NFL owners meetings. In this wide-ranging interview, Angelo spoke about quarterback Jay Cutler, the lockout, the NFL draft, the team's plans for free agency and some of the potential options for replacing recently-departed defensive tackle Tommie Harris:
Now that the NFL has officially locked out the players, and teams can't be in contact with them, how are the Bears proceeding?

Jerry Angelo:
They educated us long before the lockout happened. We were all hoping we wouldn't get to this point, but we're going on. Like I said at one time, 'Business as usual'. We're confident that we're gonna be back and going. Hopefully, it's gonna be sooner than later. No more than that. We have plenty enough to do to keep us busy; the draft if nothing else. You know, we still have to look at free agency. So there's a lot on our plate. There are a lot of players in free agency. So that's a lot of players to get through. So in some ways the additional time helps to some degree.
This team considers the under tackle position very important. How does Henry Melton fit in as a potential player to fill the role vacated by Tommie Harris?

JA:
Well, he made improvement. He played a goodly amount. Obviously, the plan is for him to play more, and hopefully be the starter. He's still a work in progress. But everything we saw this past year, in particular during the season, we liked. He just kept getting a little better, a little better. The arrow's going up. We feel, physically speaking, he's got everything you want in terms of size, speed, toughness. That's not any question. Now it's just a matter of learning the position and that will come with the repetition of more play. We feel real good. No guarantees, but everything we look for he has. That's the good thing. He has shown that at some point or another.
Looking at the draft, are there areas that you've maybe moved beyond, maybe eliminated. Or are you still open to every position?

JA:
You like to say you want to take the best player available. You still have to fill your needs. In the event the draft comes before free agency, that might alter our thinking somewhat. I'm sure it will. But we feel this year -- from our perspective -- is a very good year for offensive linemen. You have to play the course based on what it gives you. Right now, the linemen are good, particularly the defensive linemen. It was good last year. It's good again this year. There are a number of offensive linemen -- I don't think they're necessarily bell cows like there are on the defense -- but it's still a good number of quality players.
The thing that creates the biggest challenge in this draft [is] there's probably about four positions that we would look at and say it's not up to par as what normal drafts would give you. That will be the biggest challenge: how does that affect the draft as a whole with teams and how they assess it? Maybe some teams won't see it that way. But as we're going through our evaluation process we're seeing probably more positions where it wasn't to the level that you'd like it to be or maybe that you'd see year in and year out.
[+] Enlarge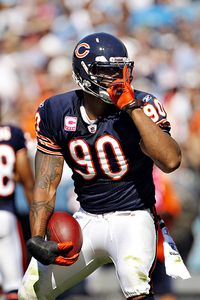 AP Photo/Nell RedmondLast offseason the Bears made a splash in free agency by adding Julius Peppers.
You landed the most coveted free agent last year in Julius Peppers. Once free agency starts, could you see this team doing something like that again?

JA:
Last year was a different situation. Usually you don't see players of that caliber come on the marketplace. So we have a plan. I think our plan is sound. But we also, when something presents itself, we want to have the ability to make a move. So we're not so much in cement with anything. I always say this: 'the cement has already been laid, but it's not dry.' So until we know what the prospects are out there…am I saying that we'll come out and have a big splash in free agency? No, I'm not saying that. In this type of situation, there are so many players. There's maybe two or three that people would say are special, and there are probably a dozen paid like they're special. But they're not special based on the value of their position.
Last year, we saw a special player [in Peppers] who played a special position that fit our scheme. So in our minds, that was the right thing to do. Do I see that happening in this free agency market? I don't really see that at this point. But again, until we know what's out there for sure… And we have a lot of coaching changes. How does that play into free agency, players being released after teams access [their needs], in particular if it comes after the draft? [There are] just too many moving parts right now. Everybody is just kind of doing their guesswork. But you have to prepare for as many scenarios that might be presented. That's the art of this. That's what you have to be able to do: be prepared to act, and not react. It's much more challenging this year.
Having such a veteran roster, is this team better equipped to weather a work stoppage or major delay?

JA:
I would say yes, given that our staff is intact, given that we have a veteran team as compared to some, absolutely, particularly those [teams] that have new staffs. As I said in my [season ending] interview, if we had to play [today] we could line up with 21 starters in our minds, and feel comfortable with those players at their positions. So that's a pretty good starting point given the dynamic that some teams will have to deal with.
You haven't had a first-round pick in a couple of years, and that's one of the criticisms you've endured -- that you don't hit on those first-round picks. Having all your picks this year, do you feel any different or extra pressure to draft well?

JA:
No. They can't beat up on the first-round picks from the last couple of years (laughing) because of the obvious reasons. But we feel real good. Our formula to draft well is very, very sound. I'm very comfortable with our philosophy and how we look at the draft. I wish you could be educated more about the things that we see that you aren't privileged to see, and how that impacts our evaluation. There are a lot of things that come into affect with the draft, at least from our standpoint. Picking at 29th, obviously it's hard to think that we're gonna hit a home run at 29; very hard to do. If you try to do it, you may. But if you don't, what are you left with? I think that's important because when we look at any draft, we want to come out with four starters. Naturally, you would want to use those first four picks to say that. You want to keep your eye focused on [whether you can] win with a player. We're very focused on that. Naturally, when you're at the top you're gonna get a player who has more glitter to him. He probably has a pretty good floor, too. We really want to get the player with the most talent, with the best floor.
Do you need that player to contribute right away?

JA:
From my perspective, we'd like to think they can contribute. They're going to get play time, they're going to dress on Sunday. That will then be determined based on when we get into camp, hopefully we're going to have a good offseason, too, and then we'll see where it goes. I think [the expectation for the picks to contribute right away is] realistic. These kids are coming out well prepared. I don't think that's unrealistic at all.
[+] Enlarge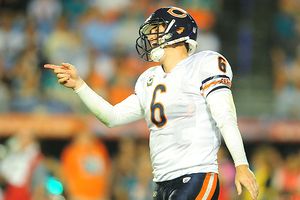 Mark J. Rebilas/US PresswireThe Bears think Jay Cutler can make a big leap forward in his second year in their system.
This isn't an interview without a Jay Cutler question (Angelo laughs). With you guys being prohibited to speak to Cutler, are you worried about whether he'll get to spend sufficient time working to clean up some of his mechanics, for which he's been widely criticized?

JA:
Anything he needs to get better at is coachable. It's very coachable. I don't see anything [that can't be fixed]. I'd rather have a guy with a lot of talent, [who] needs some cleaning up so to speak, than have a guy that's picture book with mechanics, but he doesn't have the talent necessarily to do the job. Jay has done, will continue to do everything in his power to be the best that he can be. It's important to him. He's got excellent coaching. There's some things that all players have to work on to get better at, him included. I don't come away feeling apprehensive or skeptical in terms of where he's going. He was in a new system last year with a lot of new faces, particularly on the offensive line. And we wouldn't have done what we did last year without him.
There's usually a big jump between Year 1 and Year 2 in a new offensive system, right?

JA:
I'm hoping we see that big jump, and there's no reason to believe that we won't. We're all expecting to see that, and for the reasons you're saying. We had new coaches, a new system. [On the] offensive line, we were playing musical chairs with the last position you want to play musical chairs with, [and he was] still getting familiar with the wide receivers. So we added some pieces. We went through some growing pains. But I really thought we handled a lot of things well given the rollercoaster we were on, particularly early in the season. I really think that we did build a good base, and we're gonna build from that base going into next year.
Where does tight end Greg Olsen fit in this offense after having seen how he'd perform under Mike Martz's system in 2010?

JA:
I think he'll be more prominent this year, not that he didn't have a role last year. But I think you'll see a lot more things more consistently because of the familiarity that our coaches have with him. I know how much talk there was about, 'Does he have a fit at all?' We felt good because of the fact that we know the person, how important football is [to him]. He's got talent. Any good coach, or any good system I've ever been around always finds a way to accentuate the best players. I felt we did that. I expect him to take a big jump next year. There's no reason to believe he won't. I really thought he improved his overall game, in particular his blocking, too.
Can you give us an update on some of your free agents such as Olin Kreutz and Anthony Adams?

JA:
I can't really get into that right now. So it's a moot point. When everything gets resolved, we'll have our game plan. We certainly like our players.
How confident are you in this lockout being resolved quickly?

JA:
I can't speak. I'm not in the negotiations. I'm confident that both parties see the big picture. We've got a great game, and our players want to play as much as we want them to play. So we're moving forward, and at some point we'll be playing football again. I do know that. We're all hoping it's sooner than later.
Can Matt Toeaina play that under tackle role?

JA:
He has played it. It's free agency. There will be other players to look at. [Toeina] can [play that role]. Marcus Harrison can play that role. We signed a player in the offseason -- Tank Tyler -- who has played that role. So we have some people that we feel can do that. When a guy's a free agent, obviously, you don't know for sure. So we have to plan with the players that we have presently. We're OK. Like I said, we'll just see.
November, 7, 2010
11/07/10
5:21
PM ET
[+] Enlarge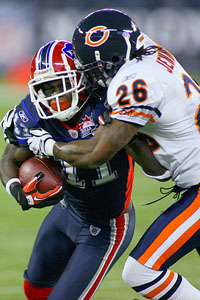 Rick Stewart/Getty ImagesTim Jennings tackles Bills receiver Roscoe Parrish after a reception on Sunday.
TORONTO -- Bears cornerback
Tim Jennings
didn't pull any punches when breaking down his fourth-quarter interception and subsequent 39-yard return that set up the game-winning touchdown.
"I was most definitely beat on that play," Jennings said Sunday, after the Bears' 22-19 victory over the Bills in Toronto. "It was a man-to-man call, and [
Steve Johnson
] ran a double move. I just wanted to use my safety as help so I stayed on the outside because I had inside help. He threw it inside, so I was able to run up under him and make a play on the ball.
"I had to play it kind of aggressive, because I didn't want to give up the hitch route, so I played the first move. He ran the double move and it was a great play call, but I just played my fundamentals, stayed outside and he threw it where I could make a play on the ball."
The timing of the turnover was critical, especially since the offense had just gone three-and-out with the Bears trailing, 19-14.
"We were on the sideline and knew we had to go out there and make a play to get our offense the ball back," Jennings said.
October, 24, 2010
10/24/10
6:36
PM ET
CHICAGO -- The body-language police couldn't dissect
Jay Cutler
's every move, and legitimately issue indictments about him playing things too cool in the wake of a horrid four-interception outing in Sunday's 17-14 loss to the
Washington Redskins
.
Clearly, this one hurt Cutler deeply.
"We let a game get away from us. The defense, they have every right to be mad at us," said Cutler, clearly humbled by the experience. "[The defense is] the reason we have four wins. Offense has got to get up to their level. We blew that game, and most of that falls on my shoulders."
Read the entire story
.
August, 26, 2010
8/26/10
12:44
PM ET
[+] Enlarge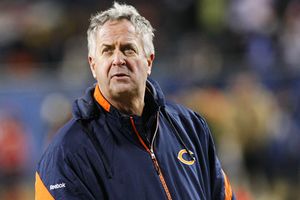 AP Photo/Charles Rex ArbogastThe Bears seem to feel they're much better prepared than they were last season under Ron Turner.
LAKE FOREST, Ill. -- They didn't necessarily rip former offensive coordinator Ron Turner, but some of the Bears obviously weren't always in agreement in 2009 with the direction the offense was taking.
Bears quarterback
Jay Cutler
said assignments are more clearly defined in the club's new offense, led by Mike Martz.
"Things are a little clearer offensively for us, assignment wise, what we need to get done," Cutler said. "Sometimes things were a little gray last year when we had to make some stuff up on the run. Here it's very much in granite. Here's what you have to do. You have to be here at this time. You got to do this or do that. If you do that the play will be successful."
Cutler indicated that with more clear-cut direction in the new offense, he'll be less likely to throw interceptions, which was a problem last season when the quarterback led the league with 26.
Asked whether the new offense will lead to fewer picks, Cutler didn't hesitate.
"Absolutely," he said. "Whenever everybody knows exactly what they're supposed to do on every given play, no matter what the defense does, the front is, or the coverage is … Mike [Martz] does a great job of preparing everybody for whatever look [we'll see], and giving answers. [If] he doesn't have an answer for that play, he's not going to call [it]."
Receiver
Devin Aromashodu
, who caught 14 passes for three touchdowns over the final three games, said he was too busy trying to execute his assignments to notice problems last season in Turner's offense.
"There may have been some [ambiguity in Turner's system]; I couldn't tell you for sure," Aromashodu said. "I just went out there, the coaches called the plays, and I did what they said to do."
For Aromashodu, Martz's offense is actually more difficult than Turner's due to all the responsibilities that fall on the receivers.
"You have to know a lot more," Aromashodu said. "There's a lot more responsibility for the receivers. It's all on us. It's definitely a more fun receiver-friendly offense. I'm enjoying it."
August, 16, 2010
8/16/10
6:58
PM ET
BOURBONNAIS, Ill. -- Bears rookie quarterback
Dan LeFevour
rang up the pick meter during Monday's practice, throwing six interceptions on his first day of operating with an increased workload.
Given extra repetitions because of a shoulder injury to backup quarterback
Caleb Hanie
in the preseason opener, LeFevour, understandably, struggled, tossing two picks apiece to linebacker
Brian Iwuh
and reserve cornerback
Corey Graham
and one to
Josh Bullocks
.
[+] Enlarge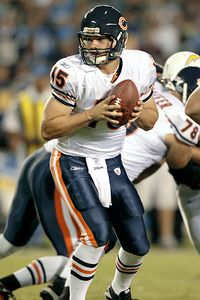 AP Photo/Gregory BullBears rookie quarterback Dan LeFevour is seeing more reps with Caleb Hanie sidelined.
"You can see there were a few mistakes out there," LeFevour said after practice. "I've got plenty to learn. It's challenging, obviously, as a rookie coming in learning a new offense, going under center; all those things. But those are excuses. I've just got to keep learning, take everything that coach [Mike] Martz, and [quarterbacks] coach [Shane] Day say, and just try to put it to work and take advantage of my reps."
As it was, Chicago's defensive players took advantage Monday of LeFevour's extra reps. As practice broke for the day, Bears coach Lovie Smith walked over to offer the rookie some words of encouragement.
"He just said, 'Keep getting better every day. You just can't get down about mistakes. Just keep coming back, keep fighting, because that's what this is all about,'" LeFevour said. "I'm gonna make mistakes, I know that. I'm not gonna be perfect right away. I've just got to keep going at it."
Despite LeFevour passing for just 21 yards on 2-of-10 completions for a 39.6 passer rating (Bears receivers dropped three of his passes) in the club's preseason opener at San Diego, Smith expressed optimism about the rookie quarterback's prospects.
"He's like most rookies. Right now he's getting a little bit better every rep he gets," Smith said. "I thought he did some good things in the game. For your first action in the NFL, that's a tough situation to be in. The guy gets a little bit better each day."
A record-setting quarterback at Central Michigan, LeFevour said he knew his rookie year would "be humbling."
"[It's] a little frustrating, obviously," he said. "But I've got to keep my head up. I'm getting some good opportunities. It's a different game. It's a notch up. It's a different speed; new terminology, new routes. All those things kind of go in together. So this isn't my fifth year in a system like I was in college. I've got to do as well as I can and just keep learning."
Temperature: 78 degrees
Heat index: 77 degrees.
Camp battle focus: reserve linebacker
If the Bears decide to keep the best 53 players, then seven linebackers should make the final roster.
That list includes newcomer Brian Iwuh, who returned to practice Monday for the first time in nearly two weeks, after suffering a knee injury and ankle sprain on the fifth day of training camp.
[+] Enlarge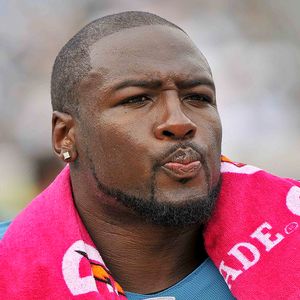 Fernando Medina/US PresswireBrian Iwuh has caught on quickly with the Bears after four years in Jacksonville.
"It felt good, but I still got to trust myself more out there," Iwuh said. "I got to trust [my knee] and try to play hard on it. A couple more practices of me playing well, and getting in shape, it will help my confidence and my knee will get back to football shape."
Iwuh appeared strong Monday, intercepting two passes in team drills from the weak-side linebacker spot.
Smith took notice, adding that he's been pleased with Iwuh's production for quite some time.
"It was good," Smith said of Iwuh's return on Monday. "He was making those types of plays before he went down with an injury. Brian's a good football player. You want guys to perform and make plays. He made a couple [of interceptions] today."
Iwuh's real value is on special teams though, where he'll be needed to bolster a unit that struggled on kickoff coverage in the preseason opener. Over the course of four seasons in Jacksonville, Iwuh recorded 61 special-teams tackles, and is considered a potential four-phase contributor with the Bears.
"I always feel like I can help out on special teams because I have a lot of experience and came from a good special-teams group down in Jacksonville," Iwuh said. "I take a lot of pride in my special teams. I did in Jacksonville, and I know they do here in Chicago. I think I can bring some of that pride here and help make this a better special teams unit.
You always feel the urgency in training camp. I'm new to the team, trying to make a statement because I want to be here and I love the organization. I just want to prove myself, go out there and earn a spot on this team."
Observation deck
August, 11, 2010
8/11/10
12:37
PM ET
Chicago Bears quarterback Jay Cutler didn't take offense that a local newspaper is keeping a daily chart of his training camp interceptions, and he has a message to fans worried after he threw 26 picks last year.
Read the entire story.