June, 18, 2014
6/18/14
6:10
PM ET
LAKE FOREST, Ill. --
Chicago Bears
coach Marc Trestman and players on the offensive side of the ball recognized a degree of saltiness this offseason from the defense throughout organized team activities and mandatory minicamp.
That's a positive sign, sure. It's also meaningless.
During a workout in training camp last August, tight end
Martellus Bennett
and cornerback
Kelvin Hayden
tangled in a skirmish eventually joined by several members of the defense. The defense was salty back then, yet finished with a sour, punch-drunk taste on its tongues at the conclusion of 2013 as it tumbled to the bottom of the NFL rankings in part, due to injuries, becoming the team's weakness after so many years of being its strength.
[+] Enlarge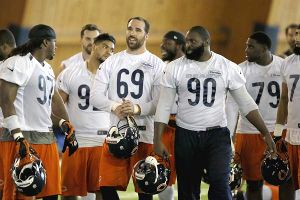 Charles Rex Arbogast/AP PhotoThe Bears, armed with Jared Allen, Willie Young and Jeremiah Ratliff, are working to prevent a repeat of 2013's poor defensive performance.
"We're practicing with an edge," Trestman said of the defense after Wednesday's workout inside the Walter Payton Center. "You can't play in the National Football League without being tough and having an edge and having a saltiness to your demeanor. We want to get to that point where we're consistently doing that. We're certainly seeing it from the offensive side. Our practices without pads are highly competitive. We're getting better. When
Jermon Bushrod
has to play against
Jared Allen
every day, and
Jordan Mills
has to play against
Lamarr Houston
every day, or
Willie Young
, that's pretty competitive. Then you've got [Jeremiah] Ratliff inside and the guys that are working inside. I think the mentality starts with how we sell it."
But no matter how that's peddled or packaged, it's for naught without results.
The Bears allowed the most points (478) last season in franchise history, the most total yards (6,313) and rushing yards as injuries cost the defense a combined 55 games last season, and that's not accounting for the unit losing defensive lineman Turk McBride to a ruptured Achilles and Sedrick Ellis, who made an impulse decision to retire before the start of training camp.
On the way to failing to prevent opponents from scoring fewer than 20 points all last season, the Bears relied on young and unheralded players such as
David Bass
,
Jonathan Bostic
,
Khaseem Greene
,
Isaiah Frey
and
Landon Cohen
to play significant roles as injuries took a toll.
At the conclusion of that disaster, Bears defensive coordinator Mel Tucker met with Trestman and general manager Phil Emery to determine how they could prevent a repeat of 2013.
"I laid out my vision for the group and what I thought needed to be done, and it was in line with what they thought as well," Tucker explained. "So it was just a matter at that point of putting the pieces together from a staff standpoint and from a player standpoint, and then going to work. They have confidence in me to get that done, so that's what we're doing."
It's also why Emery and Trestman made it a priority to provide Tucker what he needed to succeed. The Bears added Houston, Allen and Young in free agency to shore up the depleted defensive line, in addition to re-signing
Jeremiah Ratliff
and drafting
Will Sutton
and
Ego Ferguson
. On the back end, the Bears used a first-round pick on cornerback
Kyle Fuller
, re-signed
Charles Tillman
and
Tim Jennings
, drafted safety
Brock Vereen
and signed three more safeties in
Ryan Mundy
,
M.D. Jennings
and
Danny McCray
.
Understanding that the roster turnover would add several newer veterans and younger players, the Bears replaced linebackers coach Tim Tibesar and defensive line coaches Mike Phair and Michael Sinclair with Reggie Herring, Paul Pasqualoni and Clint Hurtt, all noted for their abilities as teachers.
"I've known coach Pasqualoni for a while and we've [done clinics] together and spent some time together talking football, so I really knew what he was all about. In terms of the front we want to play a certain way, we want to align a certain way, we want to use our hands a certain way, there's a certain way we want to play blocks to make sure we can control the line of scrimmage, and make the plays we need to make," Tucker explained.
"So that's important and we're on the same page there. Coach P[asqualoni], first and foremost is a great person, but he's a hard-nosed, tough guy, no-nonsense guy. Coach Herring is a guy I've seen coach over the years, and I know what he's all about. He has a tremendous amount of experience, and knows from being in a 4-3 and a 3-4, he knows how we want our backers to play, the technique and fundamentals and how we fit in the run game; how you have to play these zone schemes that we're seeing. You know the run game in the NFL right now is zone plays: inside and outside zones; hard zone, flat zone, and it's not just isos and powers. We have to understand, and we do understand that from a front seven standpoint, we've got to get our hands on guys, we've got to play blocks on the linebackers, we've got to be square, we've got to shuffle, mirror, fill and fall back, period; regardless of whether we're in Cover 2 or Cover 3 or whatever we're in. That's how we're going to play. So we understand that as a group and we coach them that way, and I think the players are responding to that."
That's apparent at recent practices, but we're also talking about workouts in shorts and helmets where contact is limited due to rules of the collective bargaining agreement. Still, Allen believes the defense will start to take shape quickly, and pointed out that offseason work such as minicamps provide an indication of what the fully-developed picture might be at the end of training camp.
"We don't have that much time. Once we get in training camp, when you get pads on within a week you're gonna understand if a guy's gonna fit into what we're trying to do. And then that's on the coach to put the right pieces together," Allen said. "I'm excited. It's just getting that energy. We have a good offense. I know what I expect from that offense because I've played against it. I expect them to put points up. So for me, it's getting the defense to match that. It's making guys understand that the time is now. We have an opportunity. When you play defense with a good offense, it makes it fun."
Saltiness, apparently, plays into that too if utilized correctly.
"These guys, they care about football. They want to be great," Trestman said. "They know to win in this league you've got to play with an edge. Salty helps as long as your fundamentals and techniques are right. Tough guys without system doesn't work very good. It all goes together. That's what makes great defenses. We think we've got the ability to do that and the right guys to do it. We'll see. We've got a lot of work to do."
June, 16, 2014
6/16/14
10:55
AM ET
The
Chicago Bears
convene one last time before taking a break as they await the start of training camp in July with Tuesday's beginning of a three-day minicamp at Halas Hall.
Here are some storylines to keep an eye on at minicamp:
Palmer
Palmer's injury situation:
Jordan Palmer
strained a pectoral muscle on his throwing side during organized team activities, calling it "a nothing injury," while saying it's "more frustrating than anything." Still, the injury resulted in the team taking a cautious approach with Palmer during OTAs. The quarterback should be out on the field Tuesday taking repetitions at minicamp, which is important considering Palmer is in the beginning stages of what should turn out to be an interesting competition for the primary backup gig behind
Jay Cutler
.
Palmer came into the offseason as the favorite to win the job because, while not impossible, it's not likely that rookie
David Fales
would unseat the veteran for the No. 2 job. Chicago's signing of veteran
Jimmy Clausen
, however, adds intrigue and increased competition to the situation. So Palmer needs to heal in order to be 100 percent ready for perhaps the most important competition of his NFL career. He's got to be cautious, however, and not rush back into action. After minicamp concludes, Palmer will have plenty of time to heal up. So if Palmer feels any discomfort in that strained pectoral muscle, he shouldn't hesitate to shut it down.

Clausen
Clausen's repetitions/performance:
If Clausen gains a level of command with Chicago's playbook, he'll be a formidable competitor to Palmer, Fales, and
Jerrod Johnson
for the primary backup job. Clausen basically took a crash course in the team's system during organized team activities. But Clausen should be well-versed enough in the offense by now to really be able to show what he can do. It's likely the staff gives Clausen plenty of reps throughout this three-day minicamp, and he needs to make the most of them.
The Bears signed Clausen because they liked his experience, football smarts, and mental toughness. During Clausen's workout for the team, he threw an accurate ball with plenty of spin on it. Now, he'll need to show those attributes consistently enough to give the staff confidence that he can be a legitimate contender for the No. 2 job.
With five quarterbacks already on the roster, it wouldn't be a surprise to see the Bears let one go after minicamp.
Cutler
Cutler's command of the offense:
Cutler is expected to speak to the media after Tuesday's session, and we should be able to get a feel for how comfortable he's become operating Marc Trestman and Aaron Kromer's offense. Cutler performed well last season, which marked his first year playing in that system. So in Year 2, Cutler should be pretty much an expert at executing the scheme. In addition to the experience gained in 2013, Cutler worked diligently throughout the offseason with his teammates on offense to sharpen execution. Cutler has also worked hand in hand with Trestman and Kromer to further develop the playbook based on what he's comfortable doing, and what the offense as a whole does well. That should translate into more efficient execution.
So how Cutler operates during minicamp will be watched closely; especially competitive the periods of practice, which pit the starters on offense and defense against one another.
Brock Vereen:
A fourth-round pick from Minnesota, Vereen made the most of his reps during OTAs as veterans
Chris Conte
and
Craig Steltz
were sidelined with injuries. Vereen took all the first-team reps at free safety opposite free-agent acquisition
Ryan Mundy
during the club's last OTA open to the media, with
M.D. Jennings
and
Danny McCray
taking the second-team reps.
"I wouldn't say [I'm] shocked [about taking reps with the starters], but I know nothing is set," he said. "I'm just coming in and working hard. If that gets me on the field, then so be it. It's really starting to slow down for me out there. Now, I'm able to react rather than to have to think about it."
That bodes well for him. Vereen played almost every position in the secondary at Minnesota, but the Bears believe he's best suited to play free safety in the NFL. The club likes Vereen's versatility, and believes he's got the acumen, desire and football intelligence to quickly become a viable contributor.
Revamped front seven:
The additions of
Lamarr Houston
,
Jared Allen
, and
Willie Young
in free agency, the selections of
Ego Ferguson
and
Will Sutton
, and
Shea McClellin
's switch from defensive end to linebacker means there's quite a few moving parts in Chicago's revamped front seven. How it all meshes will be a major factor in the success of the entire defense.
Jeremiah Ratliff
and
Stephen Paea
figure to be the team's starters at defensive tackle in minicamp with Houston and Allen manning the end spots. The starters at linebacker will likely be
D.J. Williams
in the middle with
Lance Briggs
and
Jon Bostic
playing the outside spots. More than likely, the Bears will go into the 2014 season with aforementioned as the starters in the front seven.
But players such as Ferguson, Sutton, Young and McClellin will take on key roles as rotational and situational contributors. McClellin is currently competing with Bostic for the starting job at Sam linebacker, but has also taken reps in the middle. If he's unable to win a starting job at linebacker, he'll still likely be used quite a bit as a pass-rusher in sub packages, as will Young. Ferguson and Sutton probably won't start, but they'll be counted on to take almost as many reps as Ratliff and Paea.
It will be interesting at minicamp to watch how the chemistry develops with all the new players in the front seven, as well as how the staff deploys them.
June, 13, 2013
6/13/13
5:34
PM ET
LAKE FOREST, Ill. – Here are some observations from the
Chicago Bears
' final minicamp workout of the offseason:
• The Bears wrapped up the three-month long offseason program without their projected two starters at wide receiver ever sharing the field together for an extended period of time. Offseason hip surgery limited four-time Pro Bowl wideout
Brandon Marshall
to individual work at the end of OTAs last week and one day of minicamp, while a tight hamstring kept
Alshon Jeffery
off the field Tuesday and Wednesday. Jeffery did return on Thursday but only participated in limited individual drills.
"I think we turned it into a positive," Trestman said. "We got a great look at some of the young guys. They were ready to step in. We had very few, if any, mental errors there. They were running full speed and we were catching the football when we had the opportunity. So it was good for them to get the reps and get the reps against our top players on defense. Those are all good things.
June, 13, 2013
6/13/13
5:30
PM ET
LAKE FOREST, iLL. --
Chicago Bears
coach Marc Trestman invited former NFL quarterback
Rich Gannon
to Halas Hall during minicamp to speak to the team and work with its quarterbacks. Watching
Jay Cutler
up close for the first time, Gannon said the Bears signal caller "has a lot more talent than I ever had at that position."
Gannon worked with Trestman during stops in Minnesota and in Oakland in 2002, when the quarterback was named the NFL's Most Valuable Player.
Gannon said the key for Cutler and Trestman is to gain a high level of trust in one another.
June, 13, 2013
6/13/13
5:29
PM ET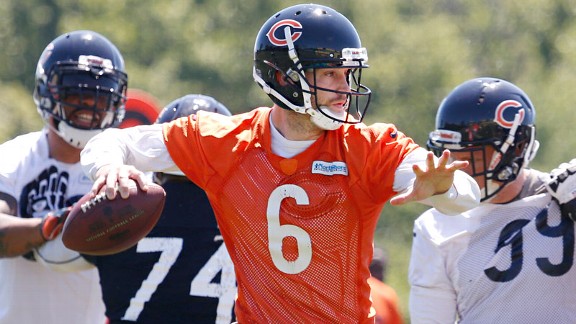 AP Photo/Nam Y. HuhThe Bears want Jay Cutler to get rid of the ball quicker in Marc Trestman's offense.
LAKE FOREST, Ill. -- The
Chicago Bears
spent the entire offseason program working with quarterback
Jay Cutler
on ways to get rid of the football in a more timely manner.
In an effort to speed up Cutler's release time, Bears coach Marc Trestman kept a verbal running clock on the practice field every time Cutler or the other two quarterbacks on the roster dropped back during 7-on-7 or 11-on-11.
Trestman wanted to drill into Cutler's head the importance of making quick decisions, as opposed to sitting in the pocket patting the football while waiting for a play to develop down the field. Cutler has always been considered a quarterback who prefers reaction over anticipation.
"I just want them to have a sense of urgency up there making the calls, assessing the defense, those types of things," Trestman said Thursday. "We'll have a clock in training camp so it will be easier on the voice. But I want them to get to the line of scrimmage. It's like any other quarterback in the league, time is of the essence. We've got a lot of work to do before the snap. It's the same everywhere. We just want to make sure we have that sense of urgency with every single play."
June, 13, 2013
6/13/13
3:01
PM ET
LAKE FOREST, Ill. -- The
Chicago Bears
wrapped up their three-day mandatory minicamp Thursday without defensive tackle
Stephen Paea
and safety
Tom Zbikowski
, who were both excused by the team for personal reasons.
[+] Enlarge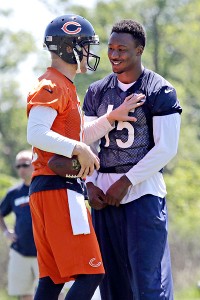 AP Photo/Nam Y. HuhBrandon Marshall sat out most of minicamp but coach Marc Trestman says he should be ready for training camp.
In addition, the Bears practiced without receivers
Brandon Marshall
(hip),
Alshon Jeffery
(hamstring) and
Marquess Wilson
(hamstring) and safety
Major Wright
(undisclosed). Marshall and Wright participated during the individual portions of practice, but the staff held them out when the team broke into full team work.
Bears coach Marc Trestman said all the injuries are minor and each of the players will be ready in July for training camp.
"We came out of (minicamp) pretty much injury-free," Trestman said. "(There were) a couple of nicks; nothing where guys won't be available as we start training camp."
The team held out Jeffery as a precautionary measure for the second consecutive practice after the second-year receiver suffered a minor hamstring injury last week during organized team activities. Marshall and Wilson also missed their second straight practice.
Marshall participated in the first day of minicamp, but the Bears want to proceed with caution as the receiver recovers from offseason arthroscopic hip surgery.
"There was no plan," Trestman said of the team's approach to Marshall's recovery during the minicamp. "We just kind of took it as it has come during the days. We've left it up to Brandon to assess his body and where he is. We thought it was best collectively to keep him out of practice as much as we could, and we did. He'll be back ready to go next month."
With the starting receivers and Wilson out of action, the Bears gave the first-team repetitions to
Earl Bennett
and
Joe Anderson
, along with
Eric Weems
when the team executed three-receiver sets.
Jeffery caught 24 passes for 367 yards and three touchdowns in 10 games last season, but missed a total of six weeks because of a fractured hand and arthroscopic knee surgery. Marshall, meanwhile, is coming off a team record-breaking campaign in which he hauled in 118 balls for 1,508 yards and 11 touchdowns.
Paea, meanwhile, was excused because he "had a family issue, nothing serious," Trestman said. Zbikowski's excused absence for personal reasons was "nothing out of the ordinary," according to the coach, who added, "He had a very good reason to leave, and I let him go."
June, 12, 2013
6/12/13
4:38
PM ET
LAKE FOREST, Ill. -- With the Stanley Cup finals set to start Wednesday night,
Chicago Bears
coach Marc Trestman said there's plenty his team can learn from the Chicago Blackhawks, who face the Boston Bruins in Game 1 of the series at the United Center.
"I was just talking to some of the guys about the way the Blackhawks have handled their success throughout the season. It's the constant, daily mindset of just trying to get better. That's what you're hearing from their players," Trestman said. "They're a hard-working team. I've watched them play in person and on TV.
"You know, you can learn from the way they've built their team and how they've responded, not only to their success, but also to the periodic adversity they had throughout the year. So as professionals, coaches and athletes, we can learn from them and their success. I think we do watching them play."
June, 11, 2013
6/11/13
4:18
PM ET
LAKE FOREST, Ill. --
Chicago Bears
wide receiver
Alshon Jeffery
was relegated to being a spectator Tuesday during the club's first day of minicamp due to a minor hamstring injury he suffered at a prior offseason workout.
[+] Enlarge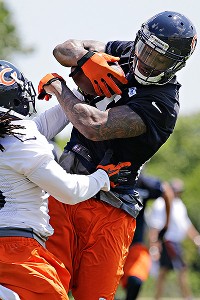 AP Photo/Nam Y. HuhBrandon Marshall had close to full participation during the Bears' minicamp Tuesday.
Jeffery's on-field absence allowed second-year wideout
Joe Anderson
to get more reps with the first team.
"[Jeffery] ran a go-route the other day and made a great play out there and just tweaked it a little bit," Bears coach Marc Trestman said. "We're just going to be as cautious as we can. We're trying to get out of here with every player being healthy, and keeping our team as safe as we can amidst the competition that you see going on out there."
Jeffery caught 24 passes for 367 yards and three touchdowns in 10 games last season, missing a total of six weeks due to a knee injury and a fractured hand.
While Jeffery rested his hamstring, fellow wide receiver
Brandon Marshall
participated almost fully during Tuesday's session. Marshall took part in team drills Tuesday in front of the media for the first time this offseason. The Pro Bowler was limited to individual work last week at the Bears' final organized team activity as he continues to work his way back from offseason hip surgery.
June, 10, 2013
6/10/13
6:18
PM ET
The
Chicago Bears
wrap up offseason work starting Tuesday with a three-day veteran minicamp at Halas Hall.
The team doesn't convene again until July 25 at training camp.
Let's take a look at a few things to keep an eye on during this three-day minicamp.
Who will participate:
Given that this minicamp is mandatory, players without excused absences are subject to fines from the team. So look for the entire roster to show up minus rookie first-round pick
Kyle Long
, who won't be able to attend. A possible starter at guard, Long won't be eligible to attend due to an NFL rule that prohibits draft picks and college free agents from participating in offseason work until after final exams at their respective schools.
April, 18, 2013
4/18/13
4:02
PM ET
LAKE FOREST, Ill. – Travel-related issues caused by recent storms in the Chicagoland are believed to have forced a handful of
Chicago Bears
players to miss the final day of the club's voluntary three-day minicamp on Thursday, including Pro Bowlers wide receiver
Brandon Marshall
and defensive tackle
Henry Melton
.
June, 13, 2012
6/13/12
5:50
PM ET
LAKE FOREST, Ill. --
Chicago Bears
special teams coordinator Dave Toub clarified
Devin Hester
's role on kickoff returns Wednesday in the wake of the club adding former Pro Bowl return man/wide receiver
Eric Weems
to the roster in free agency.
Weems signed a three-year contract with the Bears on March 14 after spending the previous five seasons in Atlanta where he posted consecutive 1,000-yard return seasons (2009,10) on kickoffs for the Falcons.
[+] Enlarge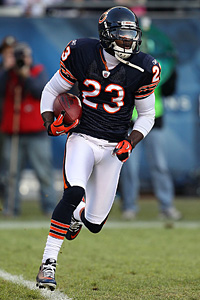 Jonathan Daniel/Getty ImagesDevin Hester will still be the Bears' go-to guy on kickoff returns.
"[Hester's] still our No. 1 kickoff returner," Toub said. "So when we need a big one Devin is going to be in there. We have the luxury of having Eric Weems, so there will be times when we have them both back there. We'll kind of trick people as to who exactly is going to get the ball… we'll kind of move one guy up late. We'll also try to make them kick it away from Devin, maybe he can get the ball to Weems at times. There will also be times when just Weems is back there with a fullback. He's definitely a luxury for us. [Weems] can take it to the house, I mean he's scored touchdowns [on kickoff returns] and went to the Pro Bowl before.
"We're fortunate to have him."
Weems is expected to contribute in several phases of special teams, not just in the return game. Toub believes Weems can help replace 2011 Pro Bowl selection
Corey Graham
, who left the Bears in the offseason to sign with the
Baltimore Ravens
.
"That's the good thing about him; he's a good returner but he's also a good cover guy," Toub said. "He's here because he's a good cover guy. He's a No. 1 gunner. He's done a good job in that role.
"The other guy who's going to pick up a lot of slack is
Blake Costanzo
. He was a really good pickup for us. Those two guys were our No. 1 free agents on special teams and we got them both. They're both really good additions."
May, 11, 2012
5/11/12
2:58
PM ET
Chicago Bears
receiver
Alshon Jeffery
went down with leg cramp in the team's first rookie minicamp workout on Friday.
Trainers came out to stretch out Jeffery, but the 6-4, 229-pound second-rounder out of South Carolina couldn't continue and was taken off the field for precautionary reasons. He's expected to be fine.
"[He was just] cramping up," Bears head coach Lovie Smith said. "Guys do a lot of working out on their own, but it's not like when you come here and work out. I really liked what Alshon did earlier in practice, for most of the practice really. I didn't see him drop a ball. He's got great hands, is a big target and really liked the way he came in. He's going to be a good football player for us."
Offensive coordinator Mike Tice also was impressed with Jeffery.
"I saw him make a few plays over there in the one-on-ones," Tice said. "Back in the day, we called that 'picking peanuts.' He was picking peanuts off some guys' heads it looked like to me. So I think he's gonna have the ability for us to make plays.
"You could tell he has some explosiveness about him. You could tell he has some ball skills. That's why we drafted him so high. You can tell that he's gonna be a playmaker for the Bears for 2012, and hopefully for many years to come."