Chicago Bears:

Soldier Field
November, 21, 2014
11/21/14
8:00
AM ET
When:
1 p.m. ET, Sunday
Where:
Soldier Field, Chicago
TV:
Fox
The records scrub away some of the shine for Sunday's matchup at Soldier Field between the
Tampa Bay Buccaneers
and
Chicago Bears
, but the storylines involved remain interesting for what should be a competitive contest.
First off, there's the obvious with Lovie Smith coming to town to coach against his former team, which is led by former Bears backup quarterback
Josh McCown
. But even with the Bucs owning a 2-8 record, they're just two games out of first place in the NFC South.
The Bears, meanwhile, are looking to win back-to-back contests for the first time this season since Weeks 2 and 3.
Remember, the Bears fired Smith after a 2012 season in which he led the team to a 10-6 record. The club hasn't recorded a double-digit win season since, and doesn't appear to be on the way to doing it this year, either.
Bears reporter Michael C. Wright takes a look at the matchup with Buccaneers reporter Pat Yasinkas:
Wright:
Pat, the Buccaneers are coming off a big road win at Washington, and I've long thought they were a much more talented team than the record indicated. Obviously, it's probably too late to save the season. But how's the atmosphere out there coming off this win, and what's the next step for the Bucs?
Yasinkas:
The atmosphere is a lot better than you would expect from a 2-8 team. That's mainly due to the fact the Bucs are only two games behind Atlanta and New Orleans in the NFC South. And, you're right, this is a talented team. If the Bucs can put that talent together down the stretch, they could end up being a playoff team. It may sound crazy, but they're not far off the pace in the NFC South.
I thought last year's strong finish by Chicago would carry over into this season. But it hasn't. What's gone wrong for the Bears?
Wright:
Where do I start? I think people put too much faith in the offense, expecting it to perform at the same level or better than it did in 2013. But what folks don't understand is the Bears sort of caught teams by surprise last season because opponents didn't know exactly what to expect out of a Marc Trestman offense. Opponents adjusted in 2014 to what the Bears put on film in 2013, and they've had trouble coming up with a sufficient counterpunch. On the other side of the ball, the Bears revamped the front four, but haven't received the production commensurate with the investment. The Bears miscalculated what the staff would be able to get out of the linebacking corps, which has struggled, not to mention the secondary.
Surely, there's quite a bit of disappointment about Tampa Bay's record, especially when considering how the Bucs have squandered fourth-quarter leads five times this season. Why haven't the Bucs been able to hold leads, and overall, what's the thought out there regarding the job done so far by former Bears coach Lovie Smith?
Yasinkas:
The Bucs have had their share of disappointing losses. They've blown five fourth-quarter leads and the reasons for that are collapses by the defense and an inability by the offense to protect a lead. That has been very disappointing and you can make a strong case that the Bucs should have a much better record than they do. Fans aren't very pleased with what Lovie Smith has done so far. He has been stubborn, sticking to a Tampa 2 defense that may be antiquated and an offense that's conservative. But the Washington game was a good example of what "Lovie Ball" can be when it works properly. Smith's record isn't very good, but he's not on the hot seat. Ownership believes he can show some promise down the stretch and turn things around with another offseason.
There has been a lot of talk about
Jay Cutler
's future in Chicago. Does he have one?
Wright:
Boy, that's a good question that I'm not sure I can answer at this point. Obviously with the contract, Cutler is sort of handcuffed to the team for the next couple of seasons. But if Cutler doesn't improve down the stretch, I could see the Bears looking for ways to cut ties (a trade perhaps?). The Bears gave Cutler a $126.7 million contract, and he certainly hasn't produced at the level you'd expect a player making that type of money. So if the arrow isn't pointing up for Cutler at the conclusion of the season, it certainly wouldn't surprise me if the Bears entered 2015 with an open competition at the position or looked to trade him in the offseason.
Speaking of quarterbacks, when Josh McCown left Chicago to sign with the Buccaneers, it seemed like an ideal match, especially when considering how he performed in 2013 as the fill-in for Cutler. Can you give me a rundown as to why has McCown struggled this season?
Yasinkas:
McCown admitted recently that he was pressing too much in the first three games. He was trying to make something happen out of nothing and that led to some mistakes. But McCown got five games to sit back and watch while he dealt with a thumb injury. In the past two games, he has been much more efficient. The Washington game was similar to what he did in Chicago last year. If he can continue to do that the rest of the season, the Bucs will be very happy.
I know it's only Year 2, but this league doesn't have much patience anymore. Is Marc Trestman on the hot seat?
Wright:
Similar to Cutler's situation, I think it all depends on how the team performs down the stretch. At this point, I don't think general manager Phil Emery is inclined to fire Trestman in part because of the investment in Cutler. Prior to Trestman's arrival, Cutler had played for three different offensive coordinators in three different systems over four seasons. So for Emery, gaining some level of stability for Cutler was important, which is what the GM believed he did in bringing aboard Trestman and offensive coordinator Aaron Kromer. Remember, the Bears signed Cutler to a seven-year contract, and Emery doesn't want his quarterback playing in yet another system for another coach. So unless the Bears totally nose dive over the last six games, Trestman's job is safe. Certainly, there will be scapegoats let go at the conclusion of the season regardless of what happens. But I don't think Trestman is on the hot seat. He'll get another season unless things go totally awry.
October, 19, 2014
10/19/14
3:50
PM ET
CHICAGO -- A few thoughts on the
Chicago Bears
'
27-14 loss
to the
Miami Dolphins
at Soldier Field.
What it means:
The Bears fell further out of the NFC North race with the
Green Bay Packers
appearing to be on the way toward extending their division lead with a win over the
Carolina Panthers
. The Bears now will travel to New England to face a Bill Belichick-coached Patriots squad that will have extra prep time heading into next week's matchup at Gillette Stadium. The Bears remain winless at home, which is especially concerning since they will play five of the last seven at Soldier Field.
Stock watch:
Strongside linebacker
Shea McClellin
returned to the lineup after missing the last four games due to a broken hand, but the defense may have fared better without him. McClellin proved to be a liability against both the run and pass. He slipped and fell trying to cover
Charles Clay
on the tight end's 13-yard touchdown in the first quarter.
Then, on a crucial fourth-and-1 in the third quarter, McClellin failed to disengage from a block as
Ryan Tannehill
ran to his side for a 30-yard gain to set up Lamar Miller's 1-yard touchdown.
Jay Cutler turnovers:
Fans like to say "Cutty does it." Well, he certainly did in the loss to the Dolphins, turning the ball over twice. It's no coincidence the Bears have lost every game in which Cutler has committed a turnover. Cutler tossed two interceptions in each of the team's three losses heading into Sunday's game, and he committed two more turnovers (an interception and a fumble) against the Dolphins.
Bears coach Marc Trestman, offensive coordinator Aaron Kromer and Cutler have all talked extensively about turnovers being the deciding factor in all of this team's losses, yet the quarterback continues to give away the ball. It has to stop.
Game ball:
Defensive tackle
Jeremiah Ratliff
racked up a career-high 3.5 sacks in the first half alone and contributed seven tackles. Ratliff's 3.5 sacks against the Dolphins matched his 2010 season total. Ratliff hasn't made more than two sacks in a season since 2011, which is impressive for a player who had missed three of the last four games recovering from a concussion suffered in Week 3.
What's next:
The Bears head to Halas Hall on Monday to do some light weightlifting and recovery work. They won't begin preparation for the
New England Patriots
until Wednesday.
March, 5, 2014
3/05/14
12:40
PM ET
CHICAGO -- Chicago Mayor Rahm Emanuel is exploring whether to add thousands of seats to Soldier Field.
The preliminary proposal would add 5,000 seats. The stadium that's home to the
Chicago Bears
has a capacity of 61,500 people for football games and 63,500 for other events. Emanuel tells the Chicago Sun-Times the lack of seating hurts efforts to attract high-profile events.
He has made it clear in recent years that he would like to see a Super Bowl in Chicago even though there are two big hurdles standing in the way -- the size of the stadium and the brutal winters.
The proposed expansion would still leave Soldier Field short of the league's 70,000 capacity requirement, and unless Chicago builds a dome or retractable roof, there's not much it can do about the weather. The league generally holds the Super Bowl in a warm city or a covered facility, although it made an exception this year with the game at the 82,500-seat MetLife Stadium in East Rutherford, N.J.
The NFL caught a break with the game-time temperature a rather balmy 49 degrees after snow and cold gripped the New York area in the week leading up to the Super Bowl. The
Seattle Seahawks
then plowed through
Peyton Manning
and the
Denver Broncos
43-8 to capture their first championship.
Would the league consider holding a Super Bowl in a cold city with no dome, particularly if the stadium seats fewer than 70,000?
February, 20, 2014
2/20/14
2:57
PM ET
INDIANAPOLIS -- Former
Chicago Bears
coach Lovie Smith spoke with local media at the NFL combine on Thursday for the first time since the team fired him, and displayed a sense of humor when grilled about his termination.
"I strongly recommend if you get fired, take the year off like I did and it will help you an awful lot," Smith jokingly said.
After spending the entire 2013 season out of football, Smith, in January became the head coach at Tampa Bay. Since coming into the new job, Smith said he hasn't run into any surprises, and credits the experience gained in Chicago, where he served nine years as head coach of the Bears.
[+] Enlarge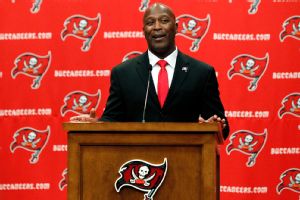 Kim Klement/USA TODAY SportsFormer Bears coach Lovie Smith led Chicago to two NFC title games and a Super Bowl in nine seasons. He became Tampa Bay's head coach in January.
Smith led the Bears to the playoffs three times during his tenure, and the club appeared in two NFC Championship Games and a Super Bowl, but failed to reach the postseason in five of his last six years.
"Whenever you've had a chance to be somewhere for nine years, the next place should be easier," Smith said. "There hasn't really been anything that's caught me off guard or anything like that. Having the year off helped. [I] had a chance to evaluate everything I believe in, I came to some of the conclusions that I thought."
Obviously one of those was to remain classy. Smith refused to go into his personal thoughts about being fired in Chicago. Asked if he received a fair shake with the Bears, who fired him on Dec. 31 of 2012 as the club came off a 10-6 season, Smith quickly said, "It's a Bucs life for me now; my focus is definitely on that."
"I've worked at a lot of different places in the past. If you'd like to talk about Big Sandy [Texas] High School, I used to work there, too," Smith added. "Great experience there. I'm excited about Tampa and what we're doing. I've had the opportunity to work at a lot of great places. Chicago was one of them."
With Smith out of football, his former defense in Chicago fell on hard times. Last season, the Bears gave up the most yards (6,313), points (478), and rushing yards (2,583) in franchise history. During Smith's tenure, Chicago's defense consistently performed among the league's best in most statistical categories.
Smith couldn't point out anything specifically that explained Chicago's defensive demise in 2013, but the coach expressed confidence in the group bouncing back this upcoming season. The Bears host Smith and the Buccaneers in 2014.
"Every year is a different year. That group of guys have played pretty good defense in the past, and I don't know exactly what happened this year," Smith said. "But sometimes you have bad years for whatever reason. I know there are some warriors on that team that I'm sure will come back hard this year."
February, 4, 2014
2/04/14
10:46
AM ET
Another Super Bowl is in the books, and now comes the inevitable speculation -- perhaps wishing by Bears fans -- about the NFL holding the big game in Chicago.
According to this
story by The Associated Press
, Chicago Mayor Rahm Emanuel has begun lobbying NFL commissioner Roger Goodell on behalf of the Bears for the opportunity to host the Super Bowl in 2019. The next three Super Bowls are already set, while the 2018 field of potential hosts has been narrowed to Indianapolis, Minneapolis and New Orleans, meaning the next shot at another cold-weather Super Bowl is 2019.
In May 2010, the league's owners voted to hold the game in the New York area, and for the most part, the game -- despite a lopsided 43-8 Seattle victory -- was seen as a success, possibly setting the stage for another cold-weather venue. Goodell, according to The Associated Press story, was noncommittal when asked about the possibility of another cold-weather Super Bowl.
"We know there's interest in other communities hosting the Super Bowl," Goodell said. "I think the ownership, we'll all sit back and review that when we're doing. But we have a very aggressive process in how to select cities. The ability to host a Super Bowl is more and more complicated, more and more complex, because of the size of the event and the number of events. So the infrastructure's incredibly important. We're well over 30,000 hotel rooms needed to host the Super Bowl. So there's some communities that may not even be able to do it from an infrastructure standpoint, but we know the passion's there."
Especially in the city of Chicago, where this subject has been broached by the mayor on numerous occasions. Emanuel has said Chicago would "be a perfect place to have a Super Bowl." The city successfully hosted NATO's 2012 summit.
"First of all, we've always been good enough to host the Super Bowl," Emanuel said back in 2012.
But as Goodell has pointed out, infrastructure comes into play. Soldier Field's capacity of 63,500 would need to be evaluated in Chicago's potential bid for a Super Bowl. MetLife Stadium, which hosted Sunday's Super Bowl, holds 82,500.
"Capacity is always an issue," Goodell said in 2012 during a news conference to honor Soldier Field as the first NFL stadium to receive certification by LEED (Leadership in Energy and Environmental Design). "Obviously, not everyone can get into the stadium, but they want to be a part of the event. We know the great passion [for] football here in Chicago. It's one of the things we'll look at if there's interest in hosting here."
The interest certainly exists, but Chicago will have to fight off other potential cold-weather venues such as FedEx Field (Washington), Gillette Stadium (New England), Lincoln Financial Field (Philadelphia) and Sports Authority Field at Mile High (Denver).
July, 11, 2012
7/11/12
4:50
PM ET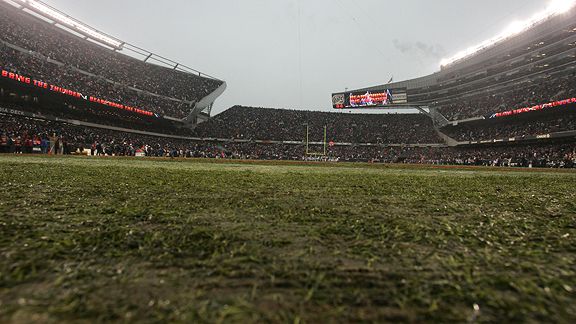 Scott Boehm/Getty ImagesSoldier Field CEO Mike Kelly has been working with experts from the east to improve the sod.
CHICAGO -- Chicago Park District general superintendent and CEO Mike Kelly said Wednesday the park district had done research to improve Soldier Field's sod and he doesn't expect the
Chicago Bears
to have any problems with the playing surface this season.
The quality of the field, which is also used for high school football games, concerts and more, has been a concern for football players in the past. Many players, including several on the Bears, have said the field is among the worst in the NFL, especially when the weather gets severe.
A year ago, the Bears had to cancel their Family Fest because the playing surface was deemed unsafe.
"The irony last year when we had the family night even with the sod, that sod actually was the longest-performing sod we ever had in my 10 years at the park district," said Kelly, who announced Wednesday that Soldier Field would host a college hockey doubleheader on Feb. 17, 2013. "It really depends on the weather. So if you get a lot of rain, and they're playing on the rain, it gets chewed up faster. We've been working a lot with experts from out East on the way we grow grass here. I think we've made a lot of changes for better."
Kelly said the type of sod they use for Soldier Field is the key to the improvement.
"The single biggest thing we learned is Illinois soil is very clay based, and the best natural grass grown in the world is sand based," Kelly said. "There's no sand-based sod farms in Illinois, so we've really had to sort of configure. It's a little bit of an art and a little bit of a science on trying to improve the grass out here. As I tell any reporter who asks me, I know more about sod now than I ever certainly thought I would. Soldier Field will perform nice for the (hockey) game, and it will perform top notch for the Bears."
Kelly also expected this year's Bears' Family Fest to go off without a hitch on Aug. 3.
"(The field) will be fine," Kelly said. "It will be perform. It will perform well. We argue still we're the best northern-climate stadium certainly in American that can perform, grow grass as the best you can in October, November, December."
September, 25, 2011
9/25/11
4:40
PM ET
Soldier Field struck again Sunday as the
Chicago Bears
hosted the
Green Bay Packers
, although for a brief moment.
Some type of metal object seemed to be sticking out of the field, which was recently resodded. Time was called with 2:44 left in the second quarter for what the referee described as a "dangerous situation."
The situation was resolved and play resumed shortly.
August, 14, 2011
8/14/11
12:02
AM ET
CHICAGO -- Bears linebacker
Brian Urlacher
once called it a joke.
Perhaps that's why quarterback
Jay Cutler
laughed after the team's preseason-opening win over the Bills once questions were asked about the turf at Soldier Field, which was saturated by rains throughout much of the night.
"It was, I don't know. It is what it is," Cutler said, laughing. "I don't think it's going to change so we're just going to play on it."
Cutler jokingly poked fun at the field in the postgame press conference, but it seemed to get decent reviews from the players in the aftermath of the game.
Often criticized over the years by the Bears and players around the league, the surface at Soldier Field became a concern recently after the team was forced to cancel the practice part of its annual "Family Fest" because of field conditions.
Soldier Field general manager Tim LeFevour explained then that the problem arose when the grounds crew didn't apply enough water to the natural grass field, which they like to keep dry and hard to help the Bears take advantage of their team speed.
Heavy rains pelted the area much of Saturday, resulting in groundskeepers keeping the field covered with a tarp until approximately 5:30 p.m. Reviews seemed to be positive, despite the rain.
Receiver
Roy Williams
said the "field wasn't bad at all" during the first half, adding that he's "looking forward to November, December to see how it really is. But today it wasn't bad."
Fellow receiver
Johnny Knox
agreed. The turf held together well enough for Knox to return a kickoff 70 yards in the first quarter.
Earlier in the week Bears president Ted Phillips said he had been in contact with the Bills and the NFL about the condition of the field, and that both were assured the surface would be in top shape.
"It was pretty good," Knox said. "I didn't get a chance to see it when we didn't practice [during Family Fest], but it felt pretty good out there."
August, 13, 2011
8/13/11
6:30
PM ET
CHICAGO -- Eight days after unacceptable field conditions forced the
Chicago Bears
to cancel the practice part of "Family Fest" at Soldier Field, stadium workers removed the tarp around 5:30 p.m. in advance of the preseason opener versus the
Buffalo Bills
.
The field was covered due to rain in the area throughout most of Saturday.
At first glance, the playing surface appears to be in decent shape, as players began to take the field for warmups around 5:50 p.m. The seams on the field that were visible during "Family Fest" seem to be corrected.
"Field wasn't bad," Roy Williams said during the first half. "It wasn't bad at all. I'm looking forward to November, December to see how it really is. But, today it wasn't bad."
August, 11, 2011
8/11/11
12:52
PM ET
Chicago Bears president Ted Phillips said Thursday that he's been communicating with the NFL and Buffalo Bills to assure them that Soldier Field turf conditions will be safe for Saturday's preseason game.
Read the entire story.