October, 17, 2011
10/17/11
8:49
AM ET
Benched, then later placed on the inactive list for the club's win Sunday over the Minnesota Vikings, Chicago Bears safety Chris Harris plans to formally request permission to seek a trade Monday with hopes the club can move him by the Tuesday trade deadline, according to a source familiar with the situation.
Read the entire story.
August, 4, 2011
8/04/11
4:30
PM ET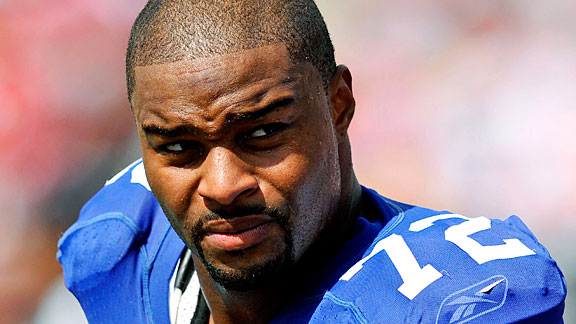 Fernando Medina/US PresswireOsi Umenyiora had 11.5 sacks and 10 forced fumbles for the Giants last season.
BOURBONNAIS, Ill. -- Should the Bears go after
Osi Umenyiora
? Probably, since he would make a nice complement to
Julius Peppers
. Should they give up what it would take to acquire him? Absolutely not.
Here's a quick rundown to catch you up on the situation. Because Umenyiora is seeking a new deal to replace his contract -- which has two years and $7.1 million remaining on it -- the Giants gave his agent Tony Agnone permission to seek out a trade earlier this week. But the Giants quickly rescinded it when the agent couldn't find a partner willing to surrender a first-round pick.
Obviously, the Bears were likely included among the teams to which Agnone shopped his client, and if that's the case, general manager Jerry Angelo made the right call in not giving up a first-round pick for Umenyiora.
While his numbers from last season -- 11.5 sacks and 10 forced fumbles -- definitely make him an enticing option to pair with Peppers, a first-round pick might be -- scratch "might be" --
is
too much for the Bears to pay.
The Giants reportedly lowered their asking price Tuesday to a second-rounder.
But keep in mind that Angelo has said he's no longer in the business of trading away draft picks, and for good reason. The Bears are still playing catch-up for the picks they gave up in the trade for quarterback
Jay Cutler
. Before drafting offensive tackle
Gabe Carimi
in April, the Bears -- as a result of the Cutler acquisition -- hadn't picked in the first round since 2008.
While Umenyiora -- like Peppers -- possesses the explosive first step that makes tackles weak in the knees, great balance, and excellent range, he's not exceptionally physical when teams run right at him, and that last trait isn't one that's coveted by a Bears team intent on stuffing the run first.
He'll run down quarterbacks, for sure. Ask Cutler, who saw Umenyiora three times on a nine-sack half last October that resulted in the quarterback leaving the game with a concussion.
But is he worth the Bears giving up a first-round pick? No. Draft picks -- especially first-rounders -- are like gold to GMs around the league, which is why it's so rare that they're given up easily.
Let's also remember that Umenyiora underwent ACL surgery a few years back, and is coming off offseason hip surgery, which makes prospects for a long-term deal (that's likely what the Bears would have to offer) somewhat shaky.
If the Giants want to talk about acquiring the third-round pick the Bears acquired in the
Greg Olsen
trade for Umenyiora, that's a subject definitely worth discussing.
But if the asking price remains a first- or second-round pick, the Bears would be wise to pass on Umenyiora.
July, 28, 2011
7/28/11
11:41
AM ET
It's interesting the Chicago Bears made more noise from an NFL agent's email than an actual transaction through the early stages of free agency.
Read the entire story.
June, 30, 2010
6/30/10
8:41
AM ET
[+] Enlarge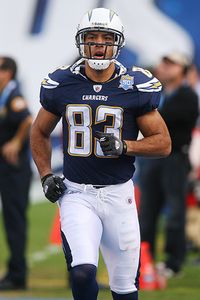 Icon SMISan Diego Chargers receiver Vincent Jackson may be on the trading block.
An apparent logjam at receiver hasn't deterred the
Chicago Bears
from holding internal discussions about the possibility of upgrading the position.
ESPN NFL insider Adam Schefter posted on his Twitter account Wednesday morning that the Bears are among three teams -- which includes the
Washington Redskins
and
Seattle Seahawks
-- that have "debated making a run" at
San Diego Chargers
receiver
Vincent Jackson
, a restricted free agent, in the midst of a potentially long holdout.
Jackson is coming off consecutive 1,000-yard receiving seasons, in which he also led the NFL in average yards per catch. Desiring a long-term deal believed to be in line with the salaries of the league's five highest-paid receivers, Jackson reportedly plans to stage an extended holdout until after Week 10 this season.
Chicago's internal discussions about the possibility of adding Jackson are interesting, considering what it likely would have to pay the receiver in terms of salary, and what it would have to give up to consummate a trade with the Chargers. Brandon Marshall's trade from the
Denver Broncos
to the
Miami Dolphins
may have set the framework for a potential Jackson trade.
The Dolphins traded away two second-round picks for Marshall. So it's likely the Chargers, who reportedly are listening to trade offers, would seek similar value for Jackson, 27.
At 6-foot-5, Jackson appears to be an ideal weapon for the Bears to add to Jay Cutler's arsenal. Jackson averaged 17.2 yards per reception last season, and caught nine touchdown passes.
It would be interesting to see how Jackson would fit into Chicago's new offense, which relies on timing and route precision. In addition, if the Bears somehow pulled off a trade for Jackson, who would he bump out of the starting lineup between
Devin Hester
-- who said on his Twitter page recently that he's working with former Rams receiver
Isaac Bruce
-- and rising second-year man
Johnny Knox
?
General manager Jerry Angelo has said this offseason that the Bears, who spent lavishly in free agency, aren't looking anymore to bolster the roster by giving up high draft picks. Apparently, he's reversed field on that stance, or at the very least, is simply doing his due diligence.
Either way, this adds a little excitement to arguably the dullest portion of the NFL offseason. So stay tuned. Even if the Bears aren't able to acquire Jackson, it will be interesting to see how this story develops.
April, 28, 2010
4/28/10
4:30
PM ET
[+] Enlarge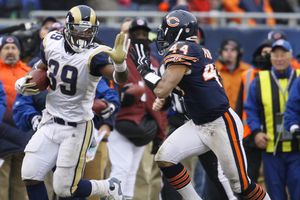 AP Photo/M. Spencer GreenKevin Payne should get a chance to compete for playing time with the St. Louis Rams.
For about half the 2008 season,
Kevin Payne
looked like the Chicago Bears' best defender.
Coming off a shoulder injury that severely cut short his rookie campaign, Payne appeared extremely comfortable playing in the box at strong safety while veteran
Mike Brown
started at free safety. But by the midway point of the season, it became apparent Brown had lost a step, so the Bears decided to flip the two players, and Payne never seemed to recover. Although he still finished his sophomore season with 129 tackles and four interceptions, Payne's limitations when dropping back in coverage became evident.
In 2009, Payne opened up the regular season as the starting free safety, then promptly lost his job after the
Green Bay Packers
'
Greg Jennings
torched Payne and
Nathan Vasher
for a game-winning 50-yard touchdown reception. The 2007 fifth-round pick ended up up starting five games, but he clearly fell out of favor with the coaching staff. Payne became even more expendable after the Bears drafted
Major Wright
and traded for
Chris Harris
within the past week.
Payne, who was traded to the
St. Louis Rams
on Wednesday, was said to be in great shape this offseason, and should be given a chance to compete for playing time with the Rams, who still need to figure things out with O.J. Atogwe. Payne is a decent player -- he can really deliver a hit –-- but St. Louis must find a way to utilize his strengths, something the Bears at times failed to do.
April, 27, 2010
4/27/10
3:12
PM ET
[+] Enlarge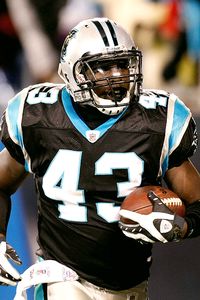 Kevin C. Cox/Getty ImagesThe return of Chris Harris helps clarify the Bears' picture at safety.
One of the toughest things in life is admitting a mistake.
We can all agree, the decision to ship safety
Chris Harris
to the
Carolina Panthers
in 2007 was a massive blunder by the
Chicago Bears
, maybe one of the worst in the post-Super Bowl era.
Not only was Harris, a 2005 sixth-round pick, coming off two productive seasons, he was made expendable, in the Bears' minds, by eventual bust
Adam Archuleta
, who was acquired in a trade with the
Washington Redskins
. This egregious misevaluation of talent is the main reason Lovie Smith has been unable to find any stability at safety over the last three seasons.
However, the Bears are trying to make amends, after reacquiring Harris from Carolina on Tuesday in exchange for linebacker
Jamar Williams
.
After being shipped to Carolina, Harris quickly became one of the Panthers' most popular players, forcing eight fumbles in 2007, while intercepting three passes last season in 13 games. Always well-liked in the locker room during his early years in Chicago, Harris returns at a critical time for the Bears' defense, since the safety picture remains clouded. The hope is for third-round selection
Major Wright
to eventually start at free safety, but there are no guarantees in the NFL, especially when projecting the progress of a rookie.
Harris played both safety spots during his first stint with the Bears, but all indications point to Harris lining up at strong safety in 2010.
"You have to be interchangeable at free safety and strong safety because anything can happen, you got to be able to play both spots," Harris said Tuesday on "The Afternoon Saloon" on ESPN 1000. "But I love playing strong safety, I love being in the box. I think that's one of my strengths, playing down in the box, being a physical player."
What this means for
Craig Steltz
,
Danieal Manning
and
Josh Bullocks
is unclear. Those three, plus Wright and Harris are the top five safeties on the roster. Perhaps Manning returns to his role as nickel back, although
Tim Jennings
and
D.J. Moore
have been working at that spot during voluntary offseason workouts. The Bears may decide to keep Steltz at free safety until Wright is deemed ready -- if that happens -- and use Manning and Bullocks extensively on special teams. Or maybe Manning and Bullocks get a shot to compete at free safety.
Obviously, there's still some fluidity attached to the safety situation, but at least now, one starter is penciled in: Harris. He made some mistakes during his first two years in the league -- as many young players do -- but adding Harris significantly upgrades the defense. If Harris is healthy and over knee issues that some in Carolina felt limited his range, the Bears are one step closer to ending their three-year playoff drought.
April, 9, 2010
4/09/10
11:49
AM ET
[+] Enlarge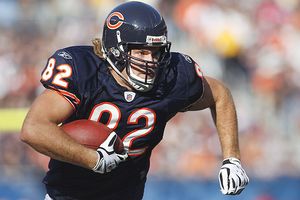 Jerry Lai/US PresswireGreg Olsen refutes the notion he's not a good blocking tight end.
Chicago Bears
tight end
Greg Olsen
finally responded to speculation that his days in Chicago may be numbered because he's not a good fit in Mike Martz's system.
The Bears hired Martz as their offensive coordinator during the offseason, and no tight end under Martz has caught more than 38 passes in a season. Olsen led the Bears with 60 catches in 2009, but his blocking has been suspect.
So when the Bears brought in tight end
Brandon Manumaleuna
, who's known as a strong blocker, Olsen's future with the Bears seemed murky.
There were reports that Olsen was unhappy with his situation on the Bears.
"So far I have a great feeling about my role this year," Olsen
tweeted
Friday. "I have no desire to play anywhere but in Chicago.
Read the full story.
April, 1, 2010
4/01/10
12:16
PM ET
Seattle Seahawks guard Rob Sims plans to sign his one-year, $1.101 million restricted free-agent tender Thursday, hoping to speed up his chances for a trade, according to a source.
The Seahawks recently informed Sims he was being shopped and they were hoping to get three teams involved. The Chicago Bears and Detroit Lions have expressed interest in Sims and, according to a source, the Philadelphia Eagles might also be interested.
Click here to read the entire story.