LAKE FOREST, Ill. -- Every Bears fan on the planet should remember the last meeting against Arizona, since the 2006 Monday night thriller marked the first time the franchise overcame a 20-point second half deficit.
[+] Enlarge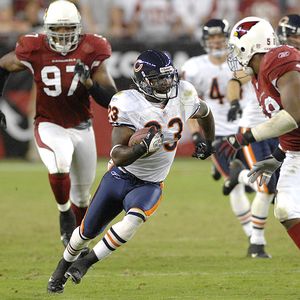 Al Messerschmidt/Getty Images
Devin Hester returns a kick 83 yards for a game-winning touchdown against the Arizona Cardinals on Oct. 16, 2006.
Rex Grossman tossed four interceptions, but got bailed out by two defensive scores by Mike Brown and Charles Tillman, and a Devin Hester 83-yard punt return that capped the comeback.
"It was a long time ago," Lance Briggs said. "It was one of those defining moments. That, to me, will always be one of the best games I ever played in."
And who can forget the infamous postgame meltdown by then Arizona head coach Denny Green.
"That just made it that much better," Briggs responded. "All those beer commercials."
Adewale Ogunleye was inactive for that game because of a hamstring injury, but still recalls the magnitude of the victory.
"To sit there and watch us come from behind was pretty big," Ogunleye said. "That kind of turned some things around for them as a team."
It's not like the Bears were struggling heading into that game. They were 5-0, but it showed their defense and special teams were good enough to win without any contribution from the offense. I miss the old days.