Bears excel at making excuses
November, 3, 2010
11/03/10
5:53
PM ET
LAKE FOREST, Ill. -- No big deal, everything's good, it's just minor.
[+] Enlarge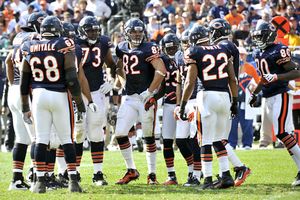 Rob Grabowski/US PresswireThe Bears' offense has underwhelmed in recent weeks.
As usual, the Bears acknowledged problems on offense when they convened Wednesday for practice coming off the bye week, but continued to embrace the all-too-familiar mantra that everything will be fine provided mistakes are corrected.
"Everyone just needs to keep believing in the system, and get the details right," quarterback Jay Cutler said. "We've talked about just being more consistent. There's flashes on film of us doing everything right, and things going accordingly. Then there are other things when there is one little breakdown. This offense, more than anything, is going to take all 11 guys on the same page doing what they're supposed to do."
Yet the team hasn't displayed any propensity to manufacture such conditions through the first seven games, which casts doubt about its ability to do so over the final nine games when the schedule stiffens significantly. Playing against a winless Buffalo team Sunday in Toronto gives the Bears a chance finally find a sustained groove, offensively.
Still, other than what's been said ad nauseam over the past several weeks about correcting "the little things" or "tighten[ing] up some things", not one member of the organization has given any real insight -- outside of the obvious -- about what can be done to shore up the numerous facets of this offense in desperate need of repair.
There's Cutler, who has thrown twice as many interceptions (6) as touchdowns (3) during his past four outings while failing to post a passer rating better than 69.4 in exactly a month. Offensive coordinator Mike Martz says "everybody does that though. He'll be fine."
There's the rushing attack, featuring a pair of runners in Matt Forte and Chester Taylor receiving a combined $9 million in guarantees, yet they've each logged double-digit carries in the same game just once all season.
Then there's the protection issues and inability to consistently open rushing lanes on an offensive line that has lined up with four -- likely to be five by Sunday's game with the return of Roberto Garza -- combinations of starters this season.
Let's not forget the team's largely pedestrian group of receivers, who -- despite Martz's supposedly high-octane offense and Cutler's skill set as a passer -- have produced just one 100-yard individual performance all season.
Still think everything's just fine?
"Every minor thing Mike [Martz] has talked about, [Mike] Tice has talked about, that every coach has talked about [needs to be fixed]," Cutler said. "I talked with Mike [Martz] for a while. We talked about the first seven games. Like I said, I think we're making a lot of headway offensively. It's just minor little things -- details, turnovers, red zone -- typical things that make you lose ball games."
Typically, though, 'minor little things' don't 'make you lose ball games', as the quarterback suggested. Bears opponents have scored 24 points off their turnovers. Meanwhile, blown opportunities in the red zone have resulted in six scoreless drives in goal-to-go situations, and a scoring average of 3.3 points on 20 total drives from inside an opponent's 20.
"Last week we evaluated a lot of what we've been doing," Bears coach Lovie Smith said.
Whether the club concocted appropriate solutions remains the most pressing issue, and Sunday's game against an inferior opponent won't provide definitive answers. Those come after the meeting against the Bills, when the Bears host Minnesota, and travel to Miami before coming back home to face Philadelphia.
Asked whether the club found some of the needed answers over the bye week, Martz stayed true to the Bears' seasonal theme of nonchalance.
"No, got a little rest, though," Martz said. "It was good."