Bears: Lynch run won't happen vs. us
January, 13, 2011
1/13/11
5:50
PM ET
LAKE FOREST, Ill. -- The
Chicago Bears
expressed a not-against-us sentiment in discussing the possibility of
Seattle Seahawks
running back
Marshawn Lynch
pulling off a repeat of his dazzling 67-yard run in the fourth quarter of his team's win over the
New Orleans Saints
in the wild-card round.
[+] Enlarge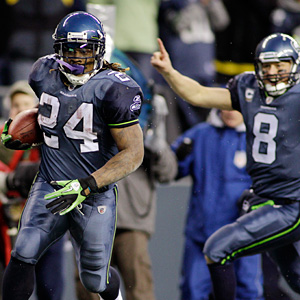 AP Photo/Ted S. WarrenMarshawn Lynch's remarkable 67-yard touchdown run against the Saints on Saturday was aided my numerous missed tackles.
While complimentary of the effort and magnitude of the run, the Bears don't expect Lynch to pull it off again Sunday when the teams meet at Soldier Field in the NFC divisional playoffs.
"Excuse me?" linebacker
Lance Briggs
said when the topic was first broached.
Asked what would happen if eight Bears missed tackles on a run -- similar to what transpired on the Lynch play -- linebacker
Brian Urlacher
took a more comical outlook, saying, "he'd probably score," before explaining how his team could prevent such a thing.
"The thing we do is we run to the football," Urlacher said. "If there's missed tackles, there are guys coming to hopefully tackle him if that does happen. It was a good run, but [there were] a lot of missed tackles on [Lynch's] play."
Indeed. At least eight Saints made contact with Lynch during the run.
"When I look at it, I [think], 'Man, I had a lot of help,'" Lynch said. "There were about four or five blue jerseys in front of me. Matt [Hasselbeck] and Sean [Locklear] were right there behind me. So it was like they built a wall, kind of like a little force field around me to make sure nobody took me down."
Bears defensive coordinator Rod Marinelli wasn't surprised. That doesn't mean the team's mentality on defense becomes any more intense than it's been all season against the Seahawks.
"[Lynch is] [a] downhill [back], he's physical," Marinelli said. "We know that. He's a good back, no question about it. We play good backs every week. But it comes down to us. We have to tackle well, pay our gaps, work as a team and swarm the ball."
Marinelli didn't even want to ponder what he'd tell the defense if it missed as many tackles on one play as the Saints did last week on Lynch's run.
"Let's get the first one," he said.