4 Downs: Could McNabb have won here?
December, 21, 2011
12/21/11
12:45
PM ET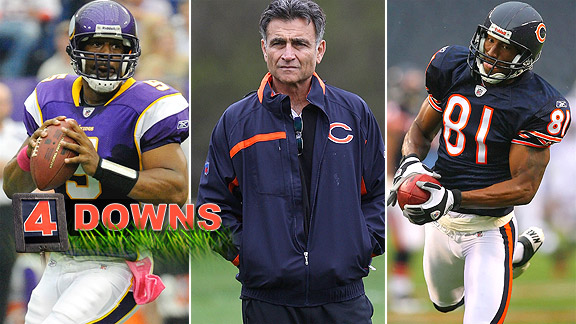 Getty Images/US PresswireLots of things to talk about with the Bears, unfortunately they're mostly negative.
The
Chicago Bears
' playoff hopes are on life support, their quarterback situation is a disaster and they travel to face a
Green Bay Packers
team angry after their first loss of the season. Other than that, it's shaping up as a Merry Christmas for the Bears.
Our Four Downs panel weighs in on the Bears' predicament:

Fact or Fiction: Donovan McNabb or Brett Favre would have won at least one or two of the last four
Jeff Dickerson: Fact. Forget about Favre. He last played in an NFL game in 2010, so he was never an option, even though he privately expressed interest in speaking with the Bears after Jay Cutler got hurt. McNabb is another story. He started games for the Vikings this year, and I'm quite confident he could have won at least one of these last four games, especially the one versus Kansas City. Failing to take a chance and sign McNabb seems like a costly mistake in hindsight.

[+] Enlarge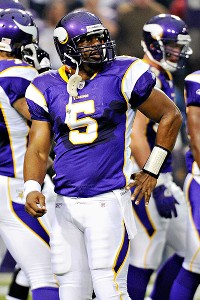 Hannah Foslien/Getty ImagesHe may have struggled in Minnesota, but there's little doubt Donovan McNabb could have won one of the last four games.
Michael C. Wright: Fact. Nobody wants to hear that, but it's absolutely true. Let's look at this realistically. Aside from the beatdown at the hands of Seattle, the Bears were in the position to win games against Oakland, Kansas City and Denver. You can't convince me that McNabb wouldn't have won at least two of those three games. Despite Favre's age, I think he could've won at least one of those outings. So say what you want about those guys being over the hill. But the Bears made the mistake of not seriously considering how much experience could have factored into all of this. The team got too hung up on Martz's complex offense. If it's so complicated it cuts off the talent pool, change it. The Bears chose the system over the players, and honestly, I haven't seen near as many "systems" win football games as I have players. It's the whole Jimmys and Joes vs. X's and O's argument. I think we now know which side wins.

Melissa Isaacson Fact. Considering that one victory in the last four Bears games is not that high a standard, yes, I think one of the two -- even out of shape and not exactly in their prime -- could have eked out a victory against the Chiefs or Seahawks, maybe even Denver or, given the momentum at the time, Oakland. Did I advocate for either of the two at the time? No. But in hindsight, one victory -- which probably would not have been good enough for a playoff berth anyway -- doesn't sound like a tall order for a professional or even formerly professional quarterback.

Jon Greenberg: Fact. I think you could take Brett Favre off his tractor, dress him in tight Wranglers, and he'd still be better than Caleb Hanie. Yeah, yeah, the offense is too difficult. Football is football and two veterans like those could've figured something out. As lousy as McNabb has been the last two years, he's still better than Hanie. I'm not saying the Bears erred by not signing McNabb or trying to lure Favre out of retirement, the timing wasn't good, but let's not pretend they couldn't be better than Hanie.


---

Fact or Fiction: Jerry Angelo's legacy will list not having a good No. 2 quarterback as his biggest mistake.
Jeff Dickerson: Fiction. Angelo has won four division championships during his tenure as Bears general manager, so let's not make it sound as if there were no positives during his tenure. That's unfair. But if you're looking to pinpoint the biggest mistake; that would be evaluating college players leading up to the draft. There have been way too many misses over the years, particularly in the early rounds. However, I stand by Angelo's decision to begin the year with Hanie as the No. 2 quarterback. The problem was failing to sign an accomplished veteran (McNabb) later in the season.

[+] Enlarge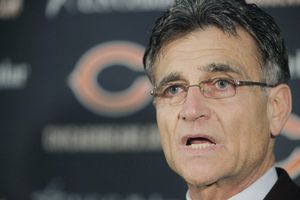 AP Photo/M. Spencer GreenHe's made some good moves, but not having a reliable back-up quarterback was one of Jerry Angelo's biggest mistakes.
Michael C. Wright: Fact. Absolutely, it will, right next to the lack of receivers, refusal to budge in the Matt Forte negotiations, and his decisions to not address issues on the offensive line in a timely manner. Having covered the NFL for a long time, I've never seen a collapse this significant. All of it can be traced back to this team's personnel decisions. I'd be lying if I didn't admit that Angelo's free-agent acquisitions have helped this team. But it's been minimally. And get this: Angelo signed Sam Hurd to a deal -- counting the receiver's signing bonus -- that would pay $1.985 million in 2011. Meanwhile, Forte is making $600,000 and begging for a fair-market deal. Not to get too slang here, but where they do that at?

Melissa Isaacson: Fact. But only because he has done it on a number of occasions (though it was obviously most glaring this season). Angelo's biggest mistake, however, is not so easy to narrow down with the number of draft missteps (i.e., Cedric Benson, Marc Colombo, Michael Haynes, Dan Buzuin); offensive line, defensive secondary and wide receiver woes and general bungles. It might not even be his biggest mistake this acquisitions (see: Roy Williams and Brandon Meriweather) but ok, I'll go along with it.

Jon Greenberg: Fiction. I think his failure to surround Jay Cutler with a better offensive line and one legit go-to receiver are far more egregious wrongs. I know we're provincial here, but there are plenty of lousy backups out there. That's not to say Angelo shouldn't be judged for this obvious mistake, but I think the dearth of pass-blocking linemen and game-breaking wideouts is worse. You have to plan for success as well as failure. Angelo did neither well.


---

Fact or Fiction: The fallout from the Sam Hurd arrest impacted the Bears on Sunday
Jeff Dickerson: Fact. Sam Hurd was an excellent special teams contributor. Right now, you've got several rookies contributing on special teams who really have no business being on the field. Hurd was also the personal protect on punt, an important job in the grand scheme of things. So his loss hurt the Bears on the field versus Seattle. Plus, the whole idea that an accused drug dealer was your teammate for the last five months probably affected some of the players. The whole thing was a major distraction at a time when the Bears simply could not afford another distraction. Hurd didn't cause the loss, but he contributed to it.

[+] Enlarge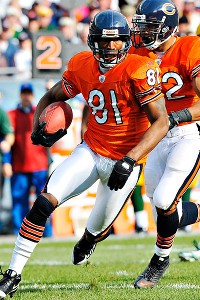 Rob Grabowski/US PresswireSam Hurd wasn't on the field Sunday, but his arrest may have played a role in the Bears' loss.
Michael C. Wright: Fact. Interestingly, a former Bears player called the day after the Hurd arrest and predicted this would happen. He said to watch the game closely to see if the Bears would make huge mistakes on what should be routine plays. That's exactly what this team did. Once the whistle blows and the players get in between the lines, off-the-field distractions aren't an issue. But where the Hurd arrest came into play in this is in the team's preparation. The fallout from the Hurd arrest hit Halas Hall on a Thursday, which is one of the heavy days of a team's preparation for an opponent. So Hurd affected the cerebral element of this team's preparation. On Thursday and Friday, the Hurd arrest was the talk of the locker room. Players were even asking reporters for details about the arrest. So don't think for a minute that this didn't impact the product on the field Sunday.

Melissa Isaacson: Fiction: Impossible to prove. I may still be persuaded to believe it, however, if not for the fact that the Bears, in their current form, were fully capable of losing to Seattle with the week running smoothly. That said, it was the last thing they needed.

Jon Greenberg: Fiction. I'm sure it didn't help the team's focus during the week, but the writing was on the wall well before we found out Sam Hurd was trying to relive "The Wire." Hurd was the one who got caught up in the "trap game." The Bears just stink without Cutler.


---

Fact or Fiction: Nathan Enderle should start at Lambeau.

Jeff Dickerson: Fiction: If Cutler can't go, start Josh McCown and bring in Enderle if things get out of hand. Enderle wasn't a first round pick. He's not the quarterback of the future. He's a fifth-rounder who's never taken a real NFL snap. Don't throw the guy to the wolves and ruin his confidence moving forward. I agree Enderle should play some this year, just not in the first half at Lambeau Field. And that's how it looks like it's going to play out judging from practice this week.

[+] Enlarge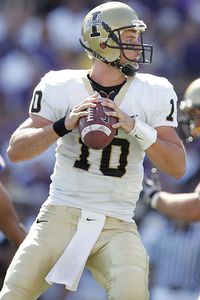 Joe Nicholson/US PresswireNathan Enderle's last significant action was with the Idaho Vandals.
Michael C. Wright: Fiction. My belief is you're conceding the season if you go this route. Look, Enderle is a rookie and shouldn't be given his first action in an environment such as Lambeau Field. That could be overwhelming for a rookie who hasn't yet played in a regular-season game, and damaging for his psyche. The Bears are still in contention for a postseason berth, and until they're out of it, they should be doing everything they can to capture a victory. That means the team should go with the quarterback that gives them the best chance to win. If they truly believe Enderle is that guy, then go with him. But I don't think the Bears are thinking along those lines. Now, if the Bears lay an egg at Lambeau on Sunday, which would put them out of the playoff hunt, I think the team should then see about taking a look at Enderle.

Melissa Isaacson: Fiction: I'd rather see Josh McCown considering that there is little to no chance Enderle will be in the running for back-up duties next season. And throwing in the rookie on national TV Christmas night feels cruel and unusual. McCown was signed presumably to go in if Hanie couldn't do the job. The Bears obviously waited a little long on that one, but let's see him in action already and let Enderle get some time against Minnesota.

Jon Greenberg: Fact. Why not? We've all seen enough of Hanie to know he's not the answer. Starting Josh McCown isn't the answer either. The Bears drafted Enderle for a reason, I assume. You can always replace him with Hanie, if it doesn't work out, which I'm assuming it won't. Heck, I'd like to see Adam Podlesh at quarterback. Maybe he can provide a Hanukkah miracle.