Pressure on line to allow offense to thrive
September, 5, 2012
9/05/12
8:25
PM ET
LAKE FOREST, Ill. -- Until proven otherwise in live, sustained action, the offensive line of the
Chicago Bears
remains arguably the team's chief concern for the 2012 season headed into Sunday's opener against the
Indianapolis Colts
.
[+] Enlarge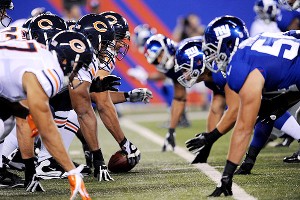 Joe Camporeale/US PresswireThe Bears can only do what the offensive line can handle, according to quarterback Jay Cutler.
That's not a fact lost on quarterback
Jay Cutler
, who said "we can only do as much" on offense "as they can handle."
"Up front, the guys know there's some pressure on them because (running back)
Matt Forte
can run if we give him holes. If I can get the guys the ball on the outside and we hold up enough time, we can make some good plays," Cutler said.
The Bears flashed the propensity to do so in the two preseason games played with Cutler under center. Although Cutler competed just 47.1 percent of his passes, he didn't throw an interception, and wasn't sacked while averaging 6.4 yards per completion in addition to playing a significant role in the top four receivers (
Brandon Marshall
,
Devin Hester
,
Earl Bennett
, and
Alshon Jeffery
) each averaging at least 11.5 yards per catch.
Realistically, though, Cutler likely remained sack-free in part, because of the lack of game planning by opponents. At the same time, the Bears didn't game plan either. So while Cutler sees his sack-less preseason as "a positive," he said "we also have to understand that this is real now."
"They're gonna be scheming ways to attack our offensive line, and attack our offensive scheme," Cutler said. "So it's gonna be a little bit different intensity level out there."
Although the scheme employed by offensive coordinator Mike Tice emphasizes protecting Cutler with fewer five-man protections and shorter drops, there's only so much the system can do for the offensive line, which has struggled over the past three seasons. Ultimately, it's up to that unit to do its job, which is why Cutler believes the five up front hold the responsibility for either capping or raising the capabilities of the entire offense.
"If they can only block three-step drops, we can only throw three-step passes," Cutler said. "We're limited to what they can do, and as of now they've been holding up really well."
It's debatable how long the solid protection can last, or whether it even really exists since the offensive line hasn't yet in 2012 seen sustained live action.
But it appears the club -- even with Mike Martz as the coordinator -- started trending toward improved protection in 2011 considering 18 of the 23 sacks Cutler suffered that season came in his first five games.
So although the staff built a new scheme that emphasizes protection even more than in the past, Cutler said the Bears can't lean too heavily on the scheme or change the way it plans to call the game because of questions concerning whether the offensive line can adequately protect him.
"We've got to go at (the Colts). We're not gonna sit back and second-guess ourselves on what we can call and what we can't call," Cutler said. "We're gonna go into it feeling good and confident that we can protect it, protect me, and open holes for Matt, and we'll take it from there."
First, the Bears need to find the foundation on which to build the attack: the ground game. Through the first three preseason games -- contests in which the team actually played starters -- the Bears averaged just 59 yards on the ground, and ranked No. 31 in the league in rushing over those three outings.
Tice pointed to run blocking as an area in which the offensive line needed to improve prior to the opener, while Forte admitted it takes time for that aspect of the game to jell because of all the dynamics involved.
Tice admitted he's not exactly thrilled about where the offensive line stands, but he's excited about the unit's prospects, adding that his confidence in the group's ability to protect Cutler is "really good."
"I think we have given up four sacks in the last three games against some good fronts. We certainly didn't run it more than we threw it. We threw it more, so we had some good tests," Tice said. "We had some teams that blitzed some, and we played a couple of road games; had a good road game in New York. I don't feel good about where we're at yet. But I feel good about where we're going."