Four Downs: Minimal dropoff with Bostic?
October, 17, 2013
10/17/13
9:00
AM ET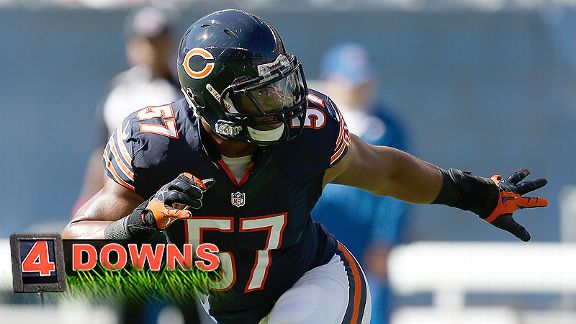 AP Photo/Scott BoehmJon Bostic will make his first NFL start on Sunday against the Redskins.
While veteran
D.J. Williams
recovered from a calf strain that kept him out of the preseason, many clamored for rookie
Jon Bostic
to win the middle linebacker job. Now with Williams shelved for the season because of a torn pectoral muscle, Bostic is getting his chance.
What can be expected of the second-round pick who has played almost entirely on special teams to this point? Our panel weighs in on that and more:

Fact or Fiction: The Bears won't lose much with rookie Jon Bostic taking over for the injured D.J. Williams.
[+] Enlarge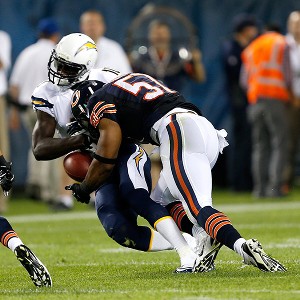 AP Photo/Scott BoehmRookie Jon Bostic showed his hard-hitting style in the preseason.
Jeff Dickerson:
Fiction. The Bears were pleased with Williams at middle linebacker. The veteran shook off the rust that plagued him in the first couple of weeks to record, by the team's count, 35 tackles, two tackles for loss, two sacks and a forced fumble. Williams is the fifth-leading tackler on the team after six games, even though he was primarily used as a two-down linebacker, coming off the field in nickel situations. Williams is an experienced and savvy veteran. Bostic is a rookie. There are going to be bumps in the road. He is extremely athletic and has shown an ability to make big plays, but at his core, he is still a rookie. Bostic will make mistakes. The Bears just hope those mistakes don't result in touchdowns. The Bears always viewed Bostic as a future starter, but the plan was for Williams to handle middle linebacker in 2013. Now that plan is null and void and the team will have to adjust. Bostic is a good option, but he's not the best option. At least, not this season.
Jon Greenberg:
Fiction. Everyone was excited in the preseason because Bostic is athletic and knows how to play in an aggressive, takeaway-hungry defense. But this is about more than storylines and draft status. Bostic lacks Williams' experience in the NFL. That's a pretty simple statement, but it's the real issue. Bostic can't learn experience, that intuition you earn by playing in enough games to let muscle memory take over. Bostic told me in training camp about watching
Lance Briggs
with admiration, as the veteran knew exactly where the play was going. Bostic doesn't have that yet, and the Bears have to hope he's a quick learner so he can realize the right fits between the gaps. Williams knew them. After missing the entire preseason, he slid right in without missing a beat.
---

Fact or Fiction: The Lions are a bigger threat to the Bears in the division than the Packers.
[+] Enlarge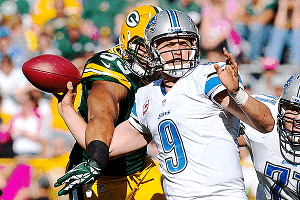 Jeff Hanisch/USA TODAY SportsThe Packers handed the Lions one of their two losses this season.
Jeff Dickerson:
Fiction. The road to the NFC North title still runs through Green Bay. Until the Bears prove they can beat the Packers, Marc Trestman's team cannot be considered one of the NFC's elite.
Jay Cutler
is having a solid season, but he needs to defeat Green Bay to truly get over the hump. Cutler has one victory over the Packers since he arrived in Chicago in 2009, and if the Packers don't commit a staggering number of penalties that 2010 night at Soldier Field, Cutler would be winless against the division foe. This is still Green Bay's division. The Lions like to run their mouths, but that franchise has accomplished next to nothing. The Bears have a great shot to knock off Detroit in November at Soldier Field. But can they do the same against the Packers? That remains the larger unanswered question.
Jon Greenberg:
Fiction. Both are threats, of course, but the road to the division goes through Green Bay. Detroit obviously has the edge on the Bears, but they still have to win at Soldier Field. The Bears need to take one of two against the Packers this season. And if Cutler can just play a clean game in Green Bay in two weeks, that will exorcise some of his demons with the NFC North titans. Cutler needs to aim for the Packers.
---

Fact or Fiction: Marc Trestman's system is most responsible for Cutler being sacked only nine times this season.
[+] Enlarge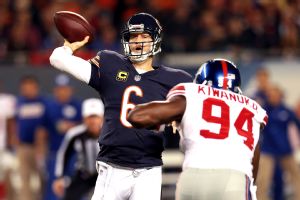 Jonathan Daniel/Getty ImagesJay Cutler has been sacked nine times this season, tied for second-fewest in the NFL.
Jeff Dickerson:
Fiction. Trestman's desire that Cutler get rid of the ball in a timely fashion definitely helps. But to attribute the improved pass protection primarily to the system is unfair. The Bears are simply better up front. Why it took the organization so long to assemble a good offensive line is beyond me, but general manager Phil Emery accomplished in one offseason what the previous administration failed to do in the post-Super Bowl years of 2007-2012. Let's give some credit to
Roberto Garza
,
Jermon Bushrod
,
Matt Slauson
,
Kyle Long
and
Jordan Mills
for keeping Cutler upright. Aaron Kromer also deserves a mention. Although Trestman runs the offense, Kromer controls the offensive line and has played an important role in developing the two rookies on the right side. Cutler himself has done a nice job avoiding the rush, and the receivers also play a role in protection. This has been a collective effort since the start of the season. If it continues, the Bears' offense will only get better.
Jon Greenberg:
Fiction. Of course his play calling, getting the ball out quicker and such, is a big factor, but you can't discount the play of the offensive line and Cutler's trust in his receivers. While coaching is a bigger factor in the NFL than in the other major professional sports, the guys on the field are still the ones who have to execute. For most of the first six games, Cutler has had time to throw because his linemen, and additional blockers, have held up their end. It helps that Cutler isn't locking in on one player or one option. Kromer has certainly helped there, too, but give credit where credit's due here.
---

Fact or Fiction: The Bears will beat the Redskins if they hold Robert Griffin III in check.
[+] Enlarge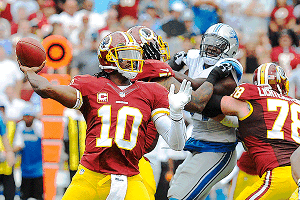 AP Photo/Richard LipskiHaving to dig out of deficits all season, the Redskins and QB Robert Griffin III have been especially pass-heavy on offense.
Jeff Dickerson:
Fact. The Bears are just a better team. However, Griffin remains a wild card. I have a ton of respect for RG III and the way he returned to the starting lineup only eight months after suffering a serious knee injury that required surgery. But he just doesn't quite look the same this season. As a rookie, he was a dynamic multipurpose threat. This year he's been more of a pocket passer with a 59.8 completion percentage and 80.4 passer rating. There is always a chance RG III has a big game against a shaky Bears defense. But if the Bears keep RG III in check, it's hard to imagine the Redskins doing enough to win the game, even with it being at FedEx Field.
Jon Greenberg:
Fact. Griffin showed more athleticism last week, albeit in a loss to Dallas, but he's scary because of his arm, not just his legs. With time Griffin is still very, very dangerous. And the Bears' defense is giving quarterbacks time with a flaccid pass rush. With their ballhawks in the secondary, the Bears need to force him into some quick decisions, and they especially need to force him into some third-and-long situations.
Julius Peppers
, for one, needs to make an impact this week.