Chicago Bears:

2012 NFL Free agency
April, 12, 2012
4/12/12
11:16
AM ET
In the relief and euphoria of his
long-awaited contract extension
, linebacker
Lance Briggs
described the
Chicago Bears
' offseason as
"a miracle"
and one that "on paper" has put him on the Bears' best team since he arrived in 2003. So as long as we're talking about ideal scenarios, we should consider what could be next for the NFC North's most active team this offseason.
Urlacher
Forte
From a contract perspective, at least, the Bears have at least two significant issues to address. One is a resolution to their increasingly stark standoff with tailback
Matt Forte
. The other is the expiring contract of linebacker
Brian Urlacher
.
Forte has not signed his franchise tag tender of $7.74 million for 2012, and without an injury waiver he'll be ineligible to participate in offseason workouts. ESPN's Adam Schefter reported this week that Forte won't sign anything until he agrees to a long-term contract extension, which makes it quite possible the Bears won't see him again for a while.
One way or the other, someone will have to budge if Forte is going to be on the field when training camp begins at the end of July. By most accounts, the sides aren't close.
"He knows what his value is, and I think we all know what his value is," Briggs said, adding that he supports Forte's current stance.
Urlacher, meanwhile, is in the final year of a deal the Bears upgraded and extended in the summer of 2008. He'll earn $7.5 million in base salary with an opportunity earn a $500,000 workout bonus. It's hard to imagine the Bears doing anything other than extending him until they deem him unfit to play, and so his situation becomes a matter of timing more than anything.
Will the Bears let Urlacher play out the season with the understanding he will get a new contract next winter? Or will they move to extend sometime in the next five months before the 2012 season begins? For obvious reasons, players prefer security rather than waiting, especially for someone like Urlacher, who has no desire to play elsewhere.
"I think the Bears will do right by him," Briggs said. "He's coming off a great year. Hopefully we can play until we're 49 years old, if that's possible."
Hey Lance, we're talking about the ideal scenario, not fantasy.
March, 20, 2012
3/20/12
2:30
PM ET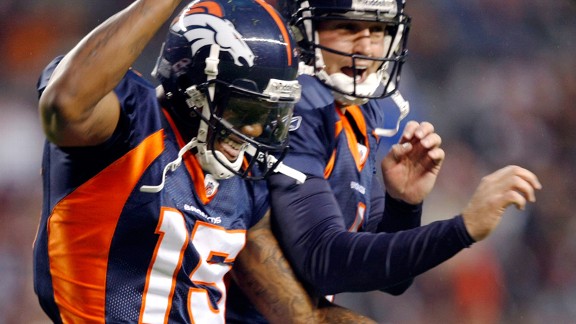 AP Photo/David ZalubowskiBrandon Marshall, left, and Jay Cutler, now reunited in Chicago, were regularly on the same page during their time together in Denver.
Having already been suspended for insubordination,
Brandon Marshall
figured he had nothing to lose. So after agreeing to a national television interview during his tumultuous 2009 season with the
Denver Broncos
, Marshall placed a large photograph of himself and quarterback
Jay Cutler
on his living room wall -- in clear view of the cameras.
Was there any better way to symbolize his displeasure with the Broncos -- and tell the world he wanted out of Denver -- than a reminder of the trade that sent Cutler to the
Chicago Bears
a few months earlier? "I was like, 'hey, let's make a statement,'" Marshall told ESPN 1000 earlier this year.
Most of our coverage on the Bears' acquisition of Marshall has focused on his previously boorish behavior and
a recent incident outside a New York City nightclub
. That's too bad, because it pushed to the background two stunning years Marshall and Cutler had with the Broncos, and it has overshadowed what, by all accounts, is the kind of football relationship that most teams only dream of assembling.
So consider this post our own blatant and staged attempt to shift the focus to football, if only for a moment while we await further news on Marshall's role in the nightclub fracas.
In 31 games together with the Broncos from 2007-08, Cutler and Marshall combined for 206 receptions, 2,590 yards and 13 touchdowns. They were so locked in that by 2008, Cutler targeted Marshall on 179 passes in 15 games. That's the highest number over the past four years in the NFL, as the first chart shows.
But to hear Cutler and Marshall tell it, their wild production was not just the product of a strong-armed quarterback and a prototypical big receiver.
"His physical abilities are second to his mental side of the game," Cutler told EPSN 1000 in January. "I've never been with a receiver that understands the game, understands why we're doing certain things [like Marshall]."
Despite their limited time together, Cutler has thrown more touchdown passes to Marshall (14) than any teammate in his career. The same is true for Marshall. Although the Bears' offense differs schematically from the Broncos', new offensive coordinator Mike Tice has traditionally allowed quarterbacks and receivers flexibility to freelance when prudent.
More than anything, that's where Cutler and Marshall figure to make their hay in 2012 and beyond -- with unspoken adjustments and collective instincts.
"It's hard to find that and sometimes it's once in a lifetime," Marshall said. "... When you take two guys and put them on the field together and they have that chemistry, that's what's almost impossible to find. I can't explain it."
Describing their past time together in the present tense, Marshall said, "We will line up there and we'll get a coverage and he will just look at me and I'll know exactly where he wants to adjust my route on. You don't find that.
"It got to a point where coaches, they didn't know what we were doing so we'll install a whole play and they'll give us a play on the front side and put me on the back side and they'll tell us just do what you all do and just make it work. We had a lot of freedom in our offense, and we made it work and the chemistry was great. It was something special."
It's a little early to project another 100-connection season between Cutler and Marshall, but I think it's safe to say they are capable of production levels unseen in Chicago in a decade or more. (At least by a Bears team.)
The Bears' streak of nine consecutive seasons without a 1,000-yard receiver is the longest in the NFL. Their last statistical season of note came from
Marty Booker
, who caught 97 passes for 1,189 yards in 2002.
Marshall has caught at least 81 passes in all five of his full-time seasons. In their history dating back to 1932, the Bears have had six receivers catch 80 passes in a season.
Even in today's unprecedented era of passing, it takes a lot for a quarterback/receiver duo to rack up a huge season. Health, complementary players and pass protection are all important factors.
But the chemistry that Cutler and Marshall claim to have -- and is borne out by the statistics -- is the rarest of commodities. We have a chance to watch something special from two presumably matured personalities still in their physical primes. When it's over, maybe the photograph above the fireplace will be more than just a prop.
March, 13, 2012
3/13/12
6:06
PM ET
In the absence of information about -- and access to -- the
Chicago Bears
' new general manager, many of us
took the logical step
in classifying his philosophy. Like
Green Bay Packers
general manager Ted Thompson, Phil Emery spent most his professional career as a scout, beating the bushes around the country for college players. So it wasn't a bad guess to think Emery would be more likely follow Thompson's mantra of minimal free-agent activity while building his team through the draft.
[+] Enlarge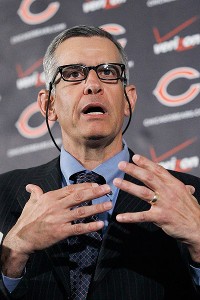 AP Photo/Charles Rex ArbogastPhil Emery's actions spoke loudly on Tuesday, acquiring Brandon Marshall and re-signing Tim Jennings.
And then Emery went and pulled off the highest-profile surprise in recent offseason memory Tuesday,
giving up two third-round draft picks
to acquire receiver
Brandon Marshall
from the
Miami Dolphins
. He also re-signed cornerback
Tim Jennings
to
a two-year deal
and
was working to sign
veteran
Jason Campbell
as the Bears' new backup quarterback.
OK then.
The comparison still works if you remember that Thompson signed cornerback
Charles Woodson
and defensive end
Ryan Pickett
to bolster those positions early in his tenure. Only after two drafts with the Packers did Thompson begin backing away from the free-agent market.
We have no idea what the long-term future holds for Emery's stewardship of the Bears. He hasn't uttered a word in public
since his Jan. 30 introductory press conference
, and probably as a result, both the Marshall courtship and the interest in Campbell came as complete surprises.
But Tuesday demonstrated the Bears have a bold thinker sitting in their Halas Hall trigger seat. Recognizing his team's biggest need, Emery acquired a better player than the top free agent available. (I would take Marshall over
Vincent Jackson
. You?) Knowing his team needed a better situation behind
Jay Cutler
, Emery is trying to sign a player who has been considered starting-quality by every team he's played for.
The Bears didn't get the first visit with defensive end
Mario Williams
, a big point of our discussions the past few days, and it's not clear if they have interest. Williams is already visiting the
Buffalo Bills
. But in a matter of minutes, Phil Emery replaced a void of information with a flood of action that spoke volumes about the way he will manage the Bears. Reporters and fans might not like being in the dark, but no one can argue with Tuesday's results.
March, 12, 2012
3/12/12
2:01
PM ET
The question has arisen in our SportsNation chats, in the mailbag, on Twitter and Facebook. And each time you've asked if the
Chicago Bears
would pursue free agent defensive end
Mario Williams
, my answer has been the same. It's hard to imagine the Bears committing to a sky-high priced defensive end when they already have defensive end
Julius Peppers
signed to a deal that calls for cap numbers increasing from $12.4 million this season to $19.7 million in 2015.
[+] Enlarge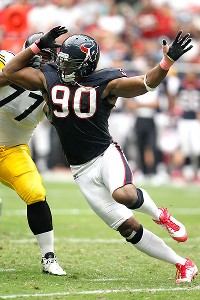 AP Photo/Tom DiPaceMario Williams could form a fearsome pass-rushing tandem with Julius Peppers, if the Bears were to land the free agent.
There's nothing wrong with having two elite defensive ends, even if they account for upwards of 30 percent of your total cap space, as a Peppers-Williams pairing might. But the Bears would appear to have too many other needs -- receiver tops among them -- to afford that luxury. But in this reasoned column,
Dan Pompei of the Chicago Tribune
considers the issue from another perspective.
Pompei: "It's true the Bears would have an inordinate investment in their defensive ends if they signed Williams. But collecting pass-rushers didn't hurt the Super Bowl champion Giants. The Lions have quite a group, too. As the subjects of the A&E series "Hoarders" might attest, you can't have too much of a good thing -- especially pass-rushers, and especially given the defensive and team philosophies the Bears subscribe to. A defensive end's value is much greater than that of a wide receiver to the Bears. It's true a great quarterback can make his receivers better. On the other side of the ball, it's the end who makes his teammates better. Many teams have won big without star receivers. Few have won without a pass rush that keeps quarterbacks up at night and down during games."
The Bears will have between $20 million and $25 million in cap space to work with, but I'm not ready to change my mind yet on how they should use it. I'm also not convinced that new general manager Phil Emery will be a front-line player on the free agent market.
But I reserve the right to change my mind, and as a result your thoughts are welcome in a very special offseason edition of Have at It. Let me know if you would be in favor of the Bears pursuing and signing Williams, even at the expense of other positions on their roster, and we'll circle back on the issue Tuesday morning while we're killing time and waiting for the 4 p.m. ET start of free agency. Have at It.