Chicago Bears:

2012 NFL Training Camp
August, 14, 2012
8/14/12
3:15
PM ET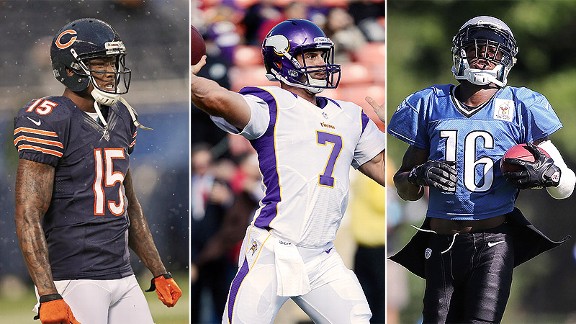 Getty ImagesFinal training camp thoughts: Chicago is excited about Brandon Marshall, Christian Ponder has started to embrace his role as a leader, and Titus Young has been a training camp star.
We came, we saw, we conquered.
Veni, vidi, vici
and all that stuff. Yes, CampTour'12 wrapped up late last week, ending a stretch of spending 11 days at four NFC North training camps over a 15-day period. I took three flights, logged 938 miles on the NFC North blogmobile and limited my Jimmy John's/Chipotle intake to an average of one ingestion per day.
You can find everything I produced on location
through this handy one-stop link
, and the four Camp Confidential posts
are all grouped here
.
This division looks every bit as tough as we thought it was before the tour began, and I figure it's going to take 12 regular-season victories (or more) to win it. With that in mind, let's wrap up CampTour'12 with, well, 12, final thoughts and semi-behind-the-scenes observations from my time abroad.
1. The Chicago Bears' risk-reward:
Our pre-camp discussion centered around the Bears' improvement and possible eclipse of the
Detroit Lions
in the standings. After seeing them in camp and in the context of the rest of the division, I still think the Bears are a really good team. But I also think they run the biggest risk of imploding among our top three teams. Already, two offseason decisions to stand part have left them vulnerable. Left tackle
J'Marcus Webb
has not yet demonstrated the progress expected of him, and middle linebacker
Brian Urlacher
's now surgically-repaired knee has drawn genuine concerns about his health over a 16-game season. Those are two huge positions on this team, and neither have a credible alternative at this point.
2. Genuine excitement:
It was fascinating to watch longtime Bears employees and observers during receiver
Brandon Marshall
's first full-pads practice Aug. 1. Marshall made the kinds of plays that only a true No. 1 receiver makes, including some fancy sideline footwork at the end of a 35-yard pass from
Jay Cutler
. Several people gushed that Marshall will prove the team's best skill-position player since Walter Payton. A glance at recent Bears history suggests that's a sound judgment by default. I didn't see Marshall do anything that we haven't seen, say,
Calvin Johnson
do in this division. But it's been forever since the Bears have had someone do it in their uniform.
[+] Enlarge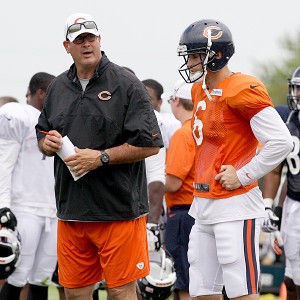 AP Photo/Nam Y. HuhMike Tice seems more relaxed with the Bears than when he was at the helm in Minnesota.
3. Tice games:
I told Bears offensive coordinator Mike Tice that he seemed less frantic and more chill than he was during his time as the
Minnesota Vikings
' head coach. "I still have my moments," Tice said in words that proved prophetic. Since then, he has reached deep into his bag of tricks to cajole better play from Webb, putting him in a yo-yo personnel rotation and playing him for almost all of the preseason opener. When he was the Vikings' coach, Tice once pulled fans into a non-contact drill to demonstrate mistakes to starting linemen. On another occasion, he required linemen to practice with their hands tied together to emphasize footwork. Sometimes those tactics work. Sometimes they don't.
4. Concussion impact:
I wouldn't be surprised if we look back at this summer as the moment concussion treatment -- not just concussions themselves -- began impacting the game. Already, we've seen the Lions and
Green Bay Packers
acknowledge they are taking a much more deliberate approach to putting players back on the field after they've been concussed or if they are even suspected to have suffered a concussion. Front-line players including
Greg Jennings
,
Marshall Newhouse
and
Amari Spievey
missed the preseason opener because of them.
5. Traffic nightmare:
Would you believe that the worst traffic in the NFC North is in the NFL's smallest market? Some of the key roads surrounding Lambeau Field have been torn up for months, including Oneida St. and Hwy. 41 near Lombardi Ave.. I pray to the construction gods that everything is finished by next month. Based on the amount of holes, gravel roads and lane closures I saw, I'm not optimistic. All I can say is to arrive early and often.
6. Camp routine:
Because of the new collective bargaining agreement, players were on the field once a day in three of our locales. The only team coming close to two-a-day practices were the Vikings, whose first workout was a 60-minute, half-speed walk-through. Veterans like the Packers'
Jeff Saturday
were thrilled with the reduced wear-and-tear. Privately, others noted that coaches filled the time once set aside for a second practice with additional meetings. "Some really tedious days," one player said. Said another: "Sometimes the grass is not always greener, you know?"
7. Imagination movers:
The Packers lead the division with unique drills and sideline gizmos. For years, they've had sideline speakers set up to broadcast the ravings of special teams coordinator Shawn Slocum. This year, they added a set of red and green lights that flash exactly 2.5 seconds after the ball is snapped in team drills. In essence, they are designed to simulate the quarterback's head clock. I also saw offensive linemen catching passes from a JUGS machine and tight ends doing a basketball-like drill where they weaved the ball around their ankles and through their legs.
8. Ponder charisma:
Vikings quarterback
Christian Ponder
seems to have made some strides as a pocket passer. But I can say without a shred of doubt that Ponder has mastered the more ethereal parts of NFL quarterbacking. He has taken ownership of a young roster and moves easily between the inevitable cliques that develop. He is just as likely to share a laugh with fellow second-year player Kyle Rudoph as he is veteran receiver
Jerome Simpson
, a newly-signed free agent. I watched him call team staffers by name and treat them with genuine respect. Ponder has some work to do on the field, but he has the makings of a franchise pillar off of it.
9. Defensive dilemma:
Much of the camp discussion surrounding the Vikings has centered around Ponder and the changes they've made to the offense. But the Vikings have just as much, if not more, work to do on defense. There are at least four positions -- nose tackle, middle linebacker and both safety spots -- where the presumed starter remains completely unproven. The
San Francisco 49ers
gashed them for 260 rushing yards in the preseason opener.
10. Eye-opening:
Someone asked me along the trail to name the best NFC North player no one has heard of. The first two names to come to mind are both on the Lions' roster. You've no doubt heard of receiver
Titus Young
, but probably for the wrong reasons after his offseason fight with safety
Louis Delmas
. Young has been a training camp star, twisting and turning over defensive backs in every drill I watched. From a physical standpoint, Young can be a star. The other was defensive end
Willie Young
, who got elevated reps because of
Cliff Avril
's holdout and
Kyle Vanden Bosch
's knee injury. Willie Young is a high-energy, full-effort pass-rusher who has to get on the field more substantially this season.
11. Redshirt season?:
Perhaps the most notable sign of the Lions' roster strength is that their top two draft picks might get a quasi-redshirt season, assuming the players in front of them stay healthy. Offensive lineman
Riley Reiff
isn't going to beat out left tackle
Jeff Backus
and probably not right tackle
Gosder Cherilus
, either. And receiver
Ryan Broyles
has been limited all summer because of residual soreness from knee surgery. At best, he will be the Lions' No. 4 receiver when he does get on the field.
12. Serious bid'niss:
I realized how serious this NFC North race would be shortly after returning from CampTour'12. Check out
this photo tweeted by Chris Jenkins of The Associated Press
. It shows Saturday,
Cedric Benson
and
Reggie Wells
in Packers uniforms. These three are the kind of veteran free agents the Packers turned away from for years under general manager Ted Thompson. This season, Thompson has loaded up on a relative scale. In this division, this year, there is no time to wait for development. Answers are needed now.
July, 27, 2012
7/27/12
12:52
PM ET
BOURBONNAIS, Ill. -- In this era of the NFL, most training camp competitions can be placed into one of two categories. Sometimes the winner can be preordained, either by a player's status or a coach's preference. Other times, a camp battle is an admission that the team has no credible option at the position.
Our job is to figure out where to place the
Chicago Bears
' ostensible competition at left tackle, a position important enough to scuttle the Bears' Super Bowl hopes if they make a bad decision.
J'Marcus Webb
opened the Bears' first training camp practice with the first team, and my strong impression after spending some time here Thursday is that he is the favorite for the job.
Offensive coordinator Mike Tice strongly disputed that notion after practice, saying that Webb and
Chris Williams
will split time with the first team throughout training camp. Tice said it will be a "dogfight" and added: "I'm not going to put up with any crap from those two guys as far as turning guys free and having them hit the quarterback."
[+] Enlarge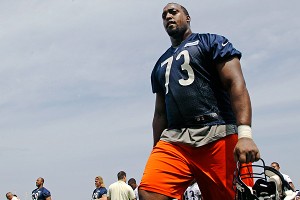 AP Photo/Nam Y. HuhIt appears J'Marcus Webb is the early favorite to win the Bears' left tackle job.
Please understand that all of this represents an educated opinion based on watching Tice operate for more than a decade, beginning when he was the
Minnesota Vikings
' offensive line coach. I think Tice takes great pride in identifying and cultivating little-known offensive linemen, whether it was Vikings center
Matt Birk
(a sixth-round draft pick) or guard
David Dixon
(a former practice squad player). Webb, a seventh-round pick in 2010, fits that mold. Williams, drafted in the first round two years before Tice arrived in Chicago, does not.
If I had to guess, I would say Williams' role in this competition is to ensure Webb does not take the position for granted. Tice didn't tell me that or even hint at it, but it's worth noting what he said when I asked him why he is working so closely with the offensive line even in his new role.
After spending two years as the Bears' offensive line coach, Tice said: "I've always been under the impression that the third year is the key year for an offensive lineman. If you look at it …
Lance Louis
in his third year. [Louis did not play in his rookie year of 2009.] J'Marcus Webb is in his third year. All of a sudden you've got these guys that should blossom, if we've done it right and we are right. I want to be a part of that."
Webb won't start at left tackle if he makes the volume of mistakes he did in 2011, whether it was 15 accepted penalties or a series of mental errors that led to sacks. But sometimes the threat of losing a job, real or perceived, is all that's required to level out a player's performance.
If things go the way the Bears seemingly envision it, Webb will respond positively to the competition and become a long-term building block of the Bears' offense.
"No pressure, right?" Webb said, laughing. "It's definitely a big year. It'll be my third year, and my third year with coach Tice. We're definitely looking forward to it."
I won't try to evaluate how Webb performed Thursday, especially on a day when players where wearing shorts and the entire offense was shaking off a clear layer of offseason rust. It might not be Webb's job to lose, but I wouldn't be the least bit surprised if he were the starter when the Bears open the season Sept. 9 against the
Indianapolis Colts
.
You might think I've mis-categorized this competition. I suppose you could argue that having two presumably evenly-matched left tackles, one of the game's most difficult positions, means the Bears don't have anyone who could be an effective starter.
I can't rule out the possibility. The Bears can't afford for that to be the case, not after standing pat at the position this offseason. But there was a reason they didn't acquire a left tackle. Webb is their guy. I think.