Chicago Bears:

2012 Week 5 coverage
October, 7, 2012
10/07/12
8:33
PM ET
JACKSONVILLE, Fla. -- The best way to describe the
Chicago Bears
' effort on defense this season is record-breaking.
[+] Enlarge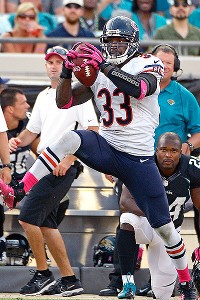 AP Photo/Phelan M. EbenhackCharles Tillman turned in his second straight game with an interception return for a touchdown.
For the third straight week, the Bears' defense rescued its sluggish offense. Cornerback
Charles Tillman
and linebacker
Lance Briggs
became the first teammates in NFL history to each return interceptions for touchdowns in consecutive games.
Tillman's pick six off of an errant pass thrown by Jaguars quarterback
Blaine Gabbert
at the 5:04 mark of the third quarter increased the Bears' lead to 13-3. It also permanently swung the momentum in favor of the Bears.
"I felt like I had good coverage on No. 14 (
Justin Blackmon
) and once the ball is in the air it's free, right?," Tillman said. "I'm greedy. Greed is good in our profession, so I just try to go get it. Like I said, the defense did a great job blocking. All those 10 guys got me in that end zone. The star of our defense is our defense because they are the ones that got me in the end zone because they set up their blocks. So I credit that to them."
Tillman now holds the Bears franchise record with eight defensive scores (seven interception returns, one fumble return) and is tied
Donnell Woolford
for the most interceptions by a cornerback in Bears history with 32. The veteran defender has also forced 30 career fumbles, tied for fifth-most in the NFL since 2003 and the most by an NFL defensive back during that time. Tillman is one of two NFL players since 1991 (
Brian Dawkins
) to have recorded 30 interceptions and 30 forced fumbles.
Although he says the accomplishments don't mean much now, Tillman believes the milestones will have more significance to him later in life.
"They mean nothing right now," Tillman said. "I think when I retire and it's all said and done I can look back and say, 'Wow, those are some pretty cool stats,' " Tillman said. "Right now, I'm having fun. Just trying to have fun and take it one game at a time."
"The guy just does everything you want a cornerback to do," Bears coach Lovie Smith said. "He's got great size, plays hard, got good hands, he'll tackle, and he has an uncanny knack for taking the football away. We like having him on our football team."
October, 7, 2012
10/07/12
7:39
PM ET
October, 7, 2012
10/07/12
7:02
PM ET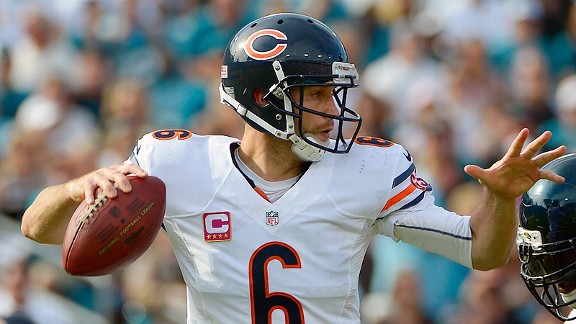 AP Photo/Phelan M. EbenhackJay Cutler passed for 292 yards and two touchdowns against the Jaguars on Sunday.
JACKSONVILLE, Fla. --
Jay Cutler
threw an interception, and completed just 50 percent of his passes for a passer rating of 45.8 Sunday as Chicago's offense sputtered to a 3-3 halftime tie with the
Jacksonville Jaguars
at EverBank Field.
Through the rough start, though, he never worried.
"The thing is, on the sidelines there's no panic for us offensively," Cutler said. "If we're (in a game where the score is) 3-3, if we're 7-10, if we're close (and) we're in it, the defense is going to give us more opportunities. So we just have to keep grinding away, keep talking football (and) figure out what plays we like, what plays we don't like because that defense is going to create turnovers. They're going to get three-and-outs. We're going to get more opportunities."

October, 7, 2012
10/07/12
6:14
PM ET
JACKSONVILLE, Fla. -- The
Chicago Bears
scored 38 second-half points to turn a competitive 3-3 affair at the half into
a 41-3 slaughter
on the strength of two
Jay Cutler
touchdown passes and a pair of defensive touchdowns from
Charles Tillman
and
Lance Briggs
.
Over the past six days, the Bears have racked up four defensive touchdowns, with Tillman and Briggs chipping in two apiece dating back to the club's Monday night victory over the
Dallas Cowboys
.
Four of the club's TDs against the Jaguars came in the fourth quarter alone.
Let's look at this thing a little closer.


What it means:
The Bears accomplished their goal of going into their week off with a 4-1 record, and will be tied with the
Minnesota Vikings
for the division lead. In addition, the Bears extended their NFC North lead over the
Green Bay Packers
to two games. Such a lead could come in handy down the stretch.
Slow start for Cutler:
Cutler completed 10 of 20 passes for 110 yards and an interception to go with a passer rating of 45.8 in the first half as the Bears sputtered on offense, converting just 2 of 7 on third down.
But the quarterback rebounded to throw a pair of fourth-quarter touchdowns to
Alshon Jeffery
and
Brandon Marshall
.
As Cutler caught fire, his passer rating improved to 88.8 as he hit Jeffery for a 10-yard touchdown early in the fourth quarter on a slant route defended by Jaguars cornerback
Rashean Mathis
, and later a 24-yard scoring strike to Marshall. By the 12-minute mark of the fourth quarter, the Bears had improved their third-down conversion rate to 50 percent.
Cutler finished the game having completed 23-of-39 for 292 yards.
Carimi's struggles continue:
Gabe Carimi played a major role in the club's squandering what should have been a touchdown drive in the third quarter with a couple of false-start penalties that moved the team from the Jacksonville 3 to the 13, and forced it to settle for
Robbie Gould
's second field goal of the day.
The Carimi false starts came during a drive in which he also gave up a sack to Austen Lane for a 5-yard loss.
Deja vu:
In what looked like a repeat of Chicago's win over the Dallas Cowboys, cornerback Tillman and linebacker Briggs returned their second interceptions for touchdowns in six days courtesy of Jaguars quarterback
Blaine Gabbert
. The Bears have proved that when the defense scores, good things happen.
Since 2004, the Bears own a 21-5 record when the defense scores a TD. The Bears are 18-2 under those circumstances over the past seven seasons.
Tillman scored Chicago's first touchdown with 5:04 left in the third quarter to give the Bears a 13-3 lead after Gould's extra point. The INT came on what might have been a communication mishap between Gabbert and receiver
Justin Blackmon
.
Tillman now has 32 career interceptions, with seven returned for touchdowns. Tillman's seven TDs go down as the most defensive touchdowns in franchise history.
Briggs' score came in the fourth quarter on a 36-yard return.
Here's a breakdown of Chicago's defensive touchdowns since 2004: 30 TDs total; 23 interception return TDs, 7 fumble return TDs; 26 games in which the defense scored a TD.
More sacks:
Jacksonville's offensive line for the most part kept the defensive line of the Bears in check until the second half, when Briggs and
Corey Wootton
(two sacks) dropped Gabbert to run up the club's season sack total to 18.
Considering the Jaguars started off the game converting 4-of-8 on third down, the Bears applied the pressure at just the right time.
Briggs' sack in the third quarter marked just the second by a player not on the defensive line. Interestingly, 15 of the team's sacks have come from the defensive line. Briggs and strongside linebacker
Nick Roach
are the only players that aren't members of the defensive line to nab sacks.
What's next:
Plenty of rest for the Bears, who will take off Monday and Tuesday before returning to Halas Hall on Wednesday. The Bears are idle this week, and don't return to action until they face the
Detroit Lions
in a Monday night matchup at Soldier Field on Oct. 22.