Chicago Bears:

2013 NFL Free Agency
April, 10, 2013
4/10/13
10:00
AM ET

If nothing else, two relatively minor decisions this week serve as an important reminder that the
Chicago Bears
never replaced center
Olin Kreutz
after
his final season with them in 2010.
Former guard
Roberto Garza
has done his best to make it work at the position, but most people would agree that guard is his best position. (
Pro Football Focus
has made him one of their lowest-ranked centers in each of the past two seasons). He is also 34 and entering the final year of his contract.
So it's worth noting, at least, that
the Bears signed
free agent center Taylor Boggs on Tuesday and are hosting California guard/center Brian Schwenke on
a visit Wednesday
. The Bears don't necessarily need to find a new center for 2013, but much like
their short-term transition at middle linebacker
from
Brian Urlacher
to
D.J. Williams
, it is time to construct a longer-term plan.
In this case, of course, the Bears have some flexibility. If they find in training camp that they have another starting-caliber center on the roster -- be it Boggs, a draft pick or another free agent -- Garza could conceivably move back to guard. The Bears signed free agent
Matt Slauson
presumably to replace the departed
Lance Louis
, but there is still one guard position without an obvious starter.
As we've discussed before, the best time to initiate a transition is before it's immediately necessary. It appears the Bears are looking to take that intermediary step now.
April, 8, 2013
4/08/13
12:16
PM ET
New
Chicago Bears
linebacker
D.J. Williams
didn't officially
sign his contract until last Thursday
, and I've finally gotten a look at the specifics via ESPN Stats & Information resources. The structure of Williams' one-year, $1.75 million deal further confirms that the Bears don't view him as a long-term replacement for
Brian Urlacher
.

The contract does not include any guaranteed money. Williams' base salary is $900,000, and there are two sets of roster bonuses that will pay him $23,437 for every game he is on the 53-man roster and another $23,437 each time he is on the game-day 46-man roster. So if he is active for all 16 games, those roster bonuses would total $750,000.
There is also a $100,000 workout bonus tied to offseason work.
There are reasons why Williams was available for such a relative bargain. Most notably, he only played seven games last season for the
Denver Broncos
because of a pair of suspensions. But the Bears still got what
Matt Bowen
,
writing for ESPN Insider

, suggests will be a 2013 upgrade over Urlacher because of Williams' "short area change-of-direction skills and speed to the ball."
As with any business, NFL teams don't want to make any more of a financial commitment than they have to. In Williams' case, the only thing the Bears are required to do is devote a low salary-cap figure ($1.328 million).
And as we noted earlier Monday
, the Bears are hosting a potentially longer-term answer at the position in Kansas State's
Arthur Brown
. The Bears have kept all options open.
March, 22, 2013
3/22/13
10:42
PM ET
»
NFC Eight in the Box
:
East
|
West
|
North
|
South
»
AFC
:
East
|
West
|
North
|
South
A look at whether each NFC North team has been a winner or a loser in free agency.

Chicago Bears:
A hot start in free agency netted left tackle
Jermon Bushrod
and tight end
Martellus Bennett
. The Bears had been trying for five years to find a genuine left tackle, and Bushrod's arrival should boost the faith of quarterback
Jay Cutler
. Bennett, meanwhile, gives the Bears the kind of pass-catching tight end they once had in
Greg Olsen
. But Bushrod and Bennett accounted for most of the salary-cap space the Bears had budgeted to use, and now they are nibbling the edges. Overall, however, the Bears improved two important positions, making them winners in free agency.

Detroit Lions:
The NFC North's most active offseason team has added three new starters in running back
Reggie Bush
, defensive end
Jason Jones
and safety
Glover Quin
. Bush will have a big impact on balancing the explosiveness in the Lions' offense, and Quin will pair with the returning
Louis Delmas
to give the Lions their best safety duo in recent memory. The Lions have improved as many positions as they could have given their tight salary-cap situation.

Green Bay Packers:
It's difficult to win when you don't play, and general manager Ted Thompson is notoriously reluctant to compete financially in the market. He allowed receiver
Greg Jennings
to sign with the
Minnesota Vikings
and didn't make a good enough offer on running back
Steven Jackson
. But the Packers have made the playoffs in four consecutive seasons by following a similar approach. These days, their focus is on saving enough salary-cap space to re-sign quarterback
Aaron Rodgers
and linebacker
Clay Matthews
. The Packers won't find two players better than that on the free-agent market.

Minnesota Vikings:
In essence, the Vikings traded receiver
Percy Harvin
for Jennings, along with a first-, third- and seventh-round draft pick. They won't replace Harvin's unique skill set, but that's not a bad recovery. The Vikings are also in a better spot at backup quarterback with
Matt Cassel
rather than
Joe Webb
. But they don't have a middle linebacker after bidding farewell to
Jasper Brinkley
, and they remain thin at cornerback after releasing
Antoine Winfield
. The Vikings remain a work in progress this offseason. They haven't won or lost yet.
March, 22, 2013
3/22/13
1:18
PM ET
The
Cleveland Browns
weren't expected to re-sign Ben Watson, but many thought the team would address tight end early in free agency. It became obvious that the position wasn't a priority as the team passed on
Brandon Myers
and
Dustin Keller
. There were even reports of the Browns getting close to signing
Fred Davis
, but nothing has materialized.
The Browns settled on
Kellen Davis
, a free agent from the
Chicago Bears
. According to the
Akron Beacon Journal
, Cleveland signed Davis to a one-year deal.
The addition of a tight end like Davis doesn't preclude the Browns from taking a tight end in the draft or going with
Jordan Cameron
as the starter. Davis, a two-year starter for the Bears, is considered an underachiever. He has size, athleticism and strength but it hasn't translated on the field. Davis is a solid run-blocker who was a productive red zone target in 2011. Then, in 2012, he caught 19 passes and two touchdowns.
By the Browns signing Kellen Davis and not Fred Davis, the best pass-catching tight end on the roster is Cameron. A fourth-round pick in 2011, Cameron has 26 receptions in limited playing time over the past two seasons.
In other news, the Browns also signed a Falcons free-agent cornerback, but not the one everyone was expecting. While
Brent Grimes
remains unsigned, Cleveland picked up
Chris Owens
, who struggled at times as a backup for Atlanta. Owens lost his nickelback job last season and served as the Falcons' dime back (fourth corner). Over his four-year career, he's made 11 starts and has three interceptions.
March, 21, 2013
3/21/13
10:13
AM ET
Brian Urlacher
's appearance
Thursday on "Mike and Mike in the Morning

"
included a now-familiar rundown of his failed contract negotiations with the
Chicago Bears
. But Urlacher also made several comments that mesh with
our original discussion about his departure from the team
: That the Bears ultimately made him an offer that might have been fair in pure market terms, but one they had to know he would refuse.
Indeed, Urlacher said had suspected for weeks that the Bears didn't want him back and said their public statements to the contrary were "lip service."
"It got a little personal there at the end," Urlacher said, "just because I think I have so much passion for the team. I wanted to be a Bear. I wanted to play here, finish my career here. I think that's what made me mad, too. The Bears kept saying, 'We want to make Brian a Bear, retire a Bear,' blah, blah, blah. It was a lip service in my mind. They said that, but they never acted on it. It was like they had a handbook on how to handle the situation that they all passed around over there."
Urlacher also said: "I told my agent, 'I just don't think they want me back. Lovie [Smith is] gone. New head coach. New general manager. I just don't feel like they're probably going to want me back.' We had some talks going on, so there was a little bit of hope. But I never had a real solid feeling that I would go back there."
The accusation is significant. In essence, Urlacher is saying the Bears decided they didn't want him back, but went through the motions of a contract negotiation to create the impression that they made an effort to retain him. They even went so far as to have coach Marc Trestman say repeatedly that he wanted him back on the field.
If that was indeed the case, it didn't work.
[+] Enlarge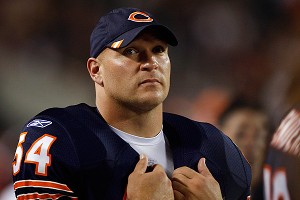 Jerry Lai/US PresswireLongtime Bear Brian Urlacher, slowed by knee and hamstring injuries last season, will be 35 in May.
According to the Chicago Tribune
, the Bears' $2 million offer -- which already represented a 75 percent pay cut from 2012 -- wasn't fully guaranteed. The Bears could have released him before training camp and owed him a total of only $500,000.
Again, you could find plenty of cold-thinking NFL contract negotiators who would agree with the Bears' assessment of Urlacher's market value. From a detached and unemotional standpoint, you can make a quite reasonable argument that it was time for the Bears to move on. Urlacher was slowed by knee and hamstring injuries last year, will be 35 in May and is at his best in a defense the Bears won't be running in 2013.
But when you're talking about a franchise icon, the rules aren't quite as clear. Feelings would have been hurt no matter how the Bears proceeded. The Bears tried to slow-burn Urlacher's departure out of respect for him, but in the end he grew suspicious and is now hammering the franchise in public forums.
Quite frankly, the only smooth path to an NFL divorce is for a player to retire. More often, players want to continue their careers beyond the plans of their original team. Urlacher said Thursday that he wants to play another two or three years, and that left the Bears with several dicey choices. None of them were right or wrong. But one thing is clear: The one they chose didn't sit well with the player.
March, 20, 2013
3/20/13
7:09
PM ET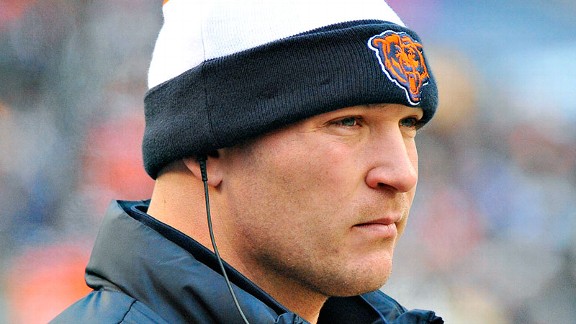 Rob Grabowski/USA TODAY SportsThe Chicago Bears and Brian Urlacher failed to reach an agreement on a new contract.
PHOENIX -- The
Chicago Bears
' chairman wanted
Brian Urlacher
back
in 2013
. So
did the Bears' coaching staff
. So why did the team announce Wednesday evening that it was
unable to reach a contract agreement with Urlacher
, presumably ending his 13-year tenure with the team?
Let's go back to the place
we started this conversation in January
. If there were ever a time to make a clean break from a franchise player, it's during the kind of transition the Bears are experiencing. The arrival of new coach Marc Trestman, and the breakup of a defensive scheme that extended back almost a decade, provided a logical and relatively controversy-free departure point for an icon in the twilight of his career.
The way I see it, if you're going to have a transition year, you might as well pile on as many of the changes as you can for the foreseeable future. A "transition year" doesn't necessarily have to be a "rebuilding year," but the Bears were already going to be dealing with change in 2013. The faster you deal with it, the quicker you can move forward.
If anything, I've been surprised at how far the Bears took this process. I envisioned them emerging from their pre-combine organizational meetings and informing Urlacher they would be moving on. Clearly, however, Trestman and his staff got a look at the Bears' depth -- or lack thereof -- and realized there could be some short-term pain associated with Urlacher's departure. Earlier Wednesday, I wondered if Trestman wanted Urlacher back to serve as a quasi-mediator between the new coaching staff and the locker room upon which he held a solid grip.
Coaches, of course, are trained to value today and tomorrow -- not next year and beyond. It's the job of the Bears' front office, and especially general manger Phil Emery, to consider the bigger picture. And it's clear, no matter what might be said publicly, that the Bears wanted to jump-start the process of rebuilding a linebacker corps that has remained largely intact for years.
How do you navigate the complex issue of nudging out a franchise icon who still wants to play, while also juggling the short-term desires of the coaching staff and the wishes -- detached or otherwise -- of ownership? You make an offer that you're pretty sure will be refused.
I'm not a mind-reader. I can't tell you for sure that Emery followed that a strategy that has been used many other times in NFL history. But the outside clues sure do suggest it. Urlacher, in fact, told
Vaughn McClure of the Chicago Tribune
that he received a take-it-or-leave-it one-year contract offer worth a maximum of $2 million.
You and I might agree that's a reasonable value for a middle linebacker with a balky knee and 13 NFL seasons of wear on his body. But it represented about a 75 percent pay cut from Urlacher's 2012 compensation, a drop that few Hall of Fame players would agree to. Urlacher
told the Tribune it was "a slap in the face."
For context, consider that the
Baltimore Ravens
paid now-retired middle linebacker
Ray Lewis
$4.95 million to play his 17th and final season in 2012.
And before you bring it up, let's not blame the Bears' tight salary-cap situation for this decision. Urlacher's cap figure wouldn't have been any more than $2 million in 2013 under that offer. If they wanted, the Bears could have used any number of salary cap tricks to maintain that figure while offering Urlacher more cash. They didn't. They wanted him back only on the terms of a clearance sale -- if at all.
Let's be clear: There will be short-term pain that will follow this decision. The Bears must replace not only Urlacher but also strong-side linebacker
Nick Roach
, who signed with the
Oakland Raiders
, at the same time.
In a best-case scenario, the Bears will open the season with one of the draft's top middle linebackers -- perhaps Georgia's Alec Ogletree or even Notre Dame's Manti Te'o -- in the starting lineup. It might take several offseasons to reassemble a credible group of starting linebackers.
In the end, the Bears had ignored this pending transition long enough. Ideally, they would have had an heir on the roster already to take Urlacher's job. Now, they have an urgency that no NFL team prefers. But if not now, when? The urgency would only increase.
March, 18, 2013
3/18/13
11:19
AM ET
PHOENIX -- We've passed through the first week of NFL free agency, and league news probably will come at a slower pace over the next few days here at the plush Biltmore Resort. But one of the biggest news stories of the offseason still hangs over us: The future of
Chicago Bears
linebacker
Brian Urlacher
.
The sides are in enough of a contract stalemate that word leaked last week that Urlacher
had discussed his status
with the
Minnesota Vikings
, whose 2012 middle linebacker --
Jasper Brinkley
-- has departed via free agency. While I don't expect Urlacher to join receiver
Greg Jennings
as NFC North defectors, I do think it's far from settled that he will return to the Bears.
[+] Enlarge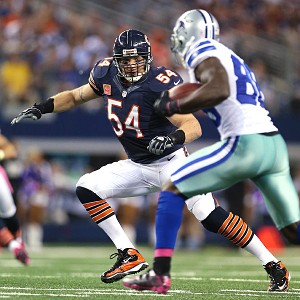 Matthew Emmons/US PresswireBrian Urlacher is at a contract impasse with the Chicago Bears.
The issue is important enough that I figured it was worth speaking to Bears chairman George McCaskey about it. As he walked the Biltmore halls, McCaskey said he personally hopes Urlacher returns but made clear the decision lies with general manager Phil Emery.
"As a fan," McCaskey said, "of course you want him back. He's been the face of the franchise. He's been an outstanding player, a Hall of Fame career. But I've tried to assure Bears fans since I became chairman that I don't involve myself in player personnel decisions unless there is a question of character. Of course, there is no question about Brian's character. So you have to leave that to the pros, the guys that make the evaluations, and hope for the best."
Urlacher's future isn't just a "player personnel decision." It's a franchise decision, and one that needs careful handling from all angles -- perhaps even a rare involvement from ownership. But I understand why McCaskey isn't inserting himself. If he makes an exception and orders Emery to re-sign him, he would leave Emery and the rest of the front office wondering when the next exception is coming. To maintain the wall he has advertised to fans, McCaskey has no other choice.
If I had to guess, I would assume the Bears have attached a value to Urlacher's return and are sticking to it. That financial figure is almost assuredly much lower than the $7.5 million he earned last season, and that's why the sides are where they are. This one is too murky to call. Stay tuned.
March, 13, 2013
3/13/13
3:59
PM ET
The dust began settling Wednesday for the
Chicago Bears
following their triumphant dive into free agency. After signing left tackle
Jermon Bushrod
(five years, $39.5 million) and tight end
Martellus Bennett
(four years, $20 million), the Bears cut ties with three veterans and watched a fourth begin taking visits elsewhere.

Tight ends
Kellen Davis
and
Matt Spaeth
, along with defensive tackle
Matt Toeaina
,
will all be set free.
Their departures will carve out a modest salary-cap savings, a little over $5 million, but it's still fair to ask how much more the Bears can do this offseason given their financial constraints.
"We are up against the cap," general manager Phil Emery
told reporters
. "There isn't a lot of wiggle room."
Whether it was genuine or for the consumption of agents, Emery painted a limited picture of the Bears' future action.
Emery:
"Are we going to be able to go out and sign in the UFA market a starting guard? No."
As a result, linebacker
Nick Roach
planned a visit
to the
Oakland Raiders
. Meanwhile, middle linebacker
Brian Urlacher
's future remains in limbo.
"We've approached him about coming back," Emery said. "As far as working it out, that's an ongoing process."
As with most things, free agency is a give and take. The Bears have taken two of the best players off the market. As a result, they'll have to give in other areas. That's usually how it works.
March, 12, 2013
3/12/13
7:32
PM ET
Three years of horrendous pass protection have finally compelled the
Chicago Bears
to address their offensive line. According to ESPN's Adam Schefter and others, the Bears have agreed to terms with free agent
Jermon Bushrod
, who spent his first six seasons with the
New Orleans Saints
.
Bushrod
Bushrod has been named to the Pro Bowl the past two seasons and gives the Bears their first legitimate left tackle since John Tait retired after the 2008 season. A patchwork journey that included Orlando Pace,
Chris Williams
,
Frank Omiyale
and most recently
J'Marcus Webb
-- Oh, the memories! -- led the Bears to pay what will likely be a premium price to lock down the position. (Update: Bushrod received a five-year deal worth $35.9 million.) The Bears chose Bushrod over fellow free agent
Jake Long
, presumably because offensive coordinator Aaron Kromer coached him in New Orleans.
Kudos to Kromer, coach Marc Trestman and general manager Phil Emery for recognizing and finally acting on such an obvious liability. We've spent so much time discussing the state of the Bears' offensive line, and their annually unreasonable requests of former line coach Mike Tice to patch it together, that it feels surreal to acknowledge such a significant move.
Webb presumably will be given a chance to compete at right tackle, the position where he began his career and where 2011 first-round draft pick
Gabe Carimi
has flopped.
In 40 regular-season games over the past three seasons, Bears quarterback
Jay Cutler
has absorbed 113 sacks -- the highest per-game percentage in the NFL and the third most in raw sack numbers among quarterbacks during that stretch, according to ESPN Stats & Information. Cutler's shove and verbal harangue of Webb in Week 2 last season was but one illustration of his frustration with the Bears' pass protection over his tenure.
The Bears still have work to do, even after signing Bushrod and tight end
Martellus Bennett
. Right guard
Lance Louis
remains unsigned, as is left guard
Chris Spencer
. The Bears want Louis back but will need to find a replacement for Spencer. It's also a bit scary to know that the top two candidates to play right tackle are both previously deposed starters. And let's not forget that center
Roberto Garza
has always been considered a stopgap replacement for
Olin Kreutz
, not necessarily a long-term replacement.
But left tackle is by far the most important position on the offensive line. The Saints didn't have the salary-cap space to keep Bushrod, and quite frankly I don't know how the Bears did, either. That's a discussion for another day. In the end, the Bears decided to stop their five-year charade at the position and have finally addressed it in a substantive way. Can you believe it?
March, 12, 2013
3/12/13
12:29
PM ET
So here is an interesting intra-division scenario emerging in the final hours before the NFL free-agent market opens. The
Minnesota Vikings
have to this point failed to re-sign right tackle
Phil Loadholt
, who now appears to have generated significant interest from the
Chicago Bears
, according to
Brad Biggs of the Chicago Tribune
.
The development tells us two things. First, the Vikings are nearing a deadline for keeping intact the offensive line they believed they had established for the long term last season. Second, the Bears are serious about addressing their offensive line -- so much so that they would spend relatively premium money, perhaps more than $5 million annually -- to replace the player they drafted in the first round just two years ago.
Yes, if the Bears land Loadholt, the best-case scenario for
Gabe Carimi
would seem to be competing for a starting guard position. There have also been multiple reports, including this one from
Alex Marvez of Fox Sports
, that connect the Bears and free-agent left tackle
Jake Long
. Loadholt figures to be a more affordable option if the Bears want a starting tackle in free agency.
The Vikings already had more than enough salary-cap space to sign Loadholt, but it's worth noting they created more Tuesday morning by restructuring the contract of tight end
John Carlson
. (
Tom Pelissero of 1500ESPN.com
has details.)
Again, these are the types of exciting/agonizing moments that the free-agent deadline brings. I really don't think the Vikings want to lose Loadholt, given their lack of an internal replacement, and they certainly don't want to see him strengthen one of their division rivals. I wouldn't be surprised if we have a resolution on this one by the end of Tuesday.
March, 12, 2013
3/12/13
12:28
PM ET
The pace is starting to accelerate as free agency draws closer, so let's touch on a few developments before heading off into our SportsNation chat.
The Minnesota Vikings re-signed receiver Jerome Simpson to a one-year contract, giving him a second chance after a disappointing season in 2011, according to
ESPN's Adam Schefter
. He caught 26 passes for a 10.3-yard average and no touchdowns in 12 games, all while battling a murky back injury of uncertain severity.
With that said, the Vikings have no choice but to be in receiver collection mode after trading Percy Harvin on Monday. By default, Simpson is the most established receiver on the Vikings' roster. I expect the team to continue in this mode throughout the offseason as it attempts to assemble a functional and reasonably deep group on the fly.
According to multiple reports,
beginning I believe with
Mike Garafolo of USA Today
, Detroit Lions place-kicker Jason Hanson decided this week to return for another season. There have been no contract negotiations of yet, but the guess is the Lions want Hanson back as well.
The Green Bay Packers issued a second-round tender
to cornerback Sam Shields and a low tender to center Evan Dietrich-Smith,
as we noted earlier
. But they won't make offers to three other restricted free agents: tight end Tom Crabtree and linebackers Robert Francois and Frank Zombo, according to the
Green Bay Press-Gazette
. It's possible all three players could re-sign for deals less than the lowest tender value, which is $1.323 million, but for now they'll be able to test the market.
Finally, for now, I would suggest that perhaps
the biggest slam dunk of free agency is the widespread notion that the Lions are the top candidate to sign running back Reggie Bush. There is every possibility that a team could jump out after the deadline and trump the Lions, but as of the moment I feel relatively confident that a deal will be worked out.
Before you ask, I'm not certain how the Lions will account for Bush from a salary-cap perspective. But the widespread speculation about the obvious connection between the sides is legitimate.
March, 7, 2013
3/07/13
3:20
PM ET
By the end of this offseason, it's quite possible that we'll set an NFC North blog record for discussions about inside linebackers. The
Chicago Bears
need a long-term replacement for
Brian Urlacher
, the
Minnesota Vikings
' starter (
Jasper Brinkley
) is a pending free agent, the
Green Bay Packers
might be looking for help at inside linebacker, and the draft's most recognizable name is Notre Dame linebacker
Manti Te'o
.
To that end, it's worth noting where the inside linebacker class stands, at least in the eyes of ESPN analysts Mel Kiper Jr. and Todd McShay. Kiper Jr. updated his list of the five best players

at each position this week, while McShay released his third mock draft.
McShay had two inside linebackers in his mock: Georgia's
Alec Ogletree
to the
New Orleans Saints
at No. 15 and Te'o to the
Baltimore Ravens
at No. 32. Kiper's top five, on the other hand, looks this way:
Te'o
Ogletree
LSU's Kevin Minter
Florida's Jonathan Bostic
North Carolina's Kevin Reddick
Ogletree is considered the most talented inside linebacker in the draft, but has experienced two significant off-field issues in the past year, a drug suspension and a drunken-driving arrest. Obviously, Kiper Jr. thinks those issues will hurt him more than McShay does. Minter didn't impress teams at the NFL scouting combine with his time of 4.81 in the 40-yard dash at 246 pounds.
It makes you wonder if one of our teams would have a chance to draft a top-five inside linebacker in the bottom half of the second round. These assessments will change once again now that pro days have begun, but that's where things stand at the moment.
February, 6, 2013
2/06/13
2:30
PM ET
This is the time of year for wild and unreasoned speculation on NFL free agency, and so I want to forward you two important posts from our ESPN.com Insider staff. One is a thorough ranking of available players from
longtime executive Bill Polian

, now an ESPN analyst. The other is a list of 10 players to stay away from,
according to Khaled Elsayed of Pro Football Focus

.
Both require Insider subscriptions to be read in full, but I'll do my best to sneak you some morsels over the next couple weeks. In cross-referencing the posts, there are two names that I've been getting questions about in regards to NFC North teams,
including during Monday's SportsNation chat
.
The first is running back
Reggie Bush
, whom
Jason in Milwaukee
wrote would be "a match made in heaven" for the
Green Bay Packers
. Polian and Elsayed both provide reasonable sobriety to that excitement.
Polian:
"He's a name, but at this stage in his career, he's a third-down guy."
Elsayed:
"[T]he same old problems prevail, as he averaged just 2.06 yards after contact per carry [in 2012], a number that was better than only five backs with more than 100 carries. He just isn't a convincing runner between the tackles, teasing us with the idea he will be and then being quick to bounce the ball outside."
It's true that a player of Bush's receiving skills would be productive in the Packers' offense. But what would help the team more, in terms of balance, is a physical running back who can move piles and get yardage on his own. Bush will never fit that description.
The second player is left tackle
Jake Long
, who has been an elite player but is coming off two years that most agree were not as good as his first three. I can't count how many people have suggested the
Chicago Bears
pursue him in free agency, even if it is to play right tackle. Here is part of what both analysts wrote about Long:
Polian:
"His reputation will make him an A player, but he is an injury and age concern to me. He is turning only 28 to start next season, but he already has played 74 games, making a long-term deal a risk."
Elsayed:
"If you judge a left tackle by his work in pass protection, Long has gone from ranking first in our pass blocking efficiency stat in 2009 and 2010 to 13th (2011) and what would have been 14th (2012) if he had have played enough snaps to qualify."
Again, this is silly season in the NFL. It's tough to intelligently match teams with free agents when you realize that many of the players on these lists will be re-signed and thus taken off the market before free agency begins. Some Packers fans are eyeing Bush and many Bears fans are zeroed in on Long, but we don't know yet whether the teams themselves share those sentiments or would even have the opportunity to act on them if they did.