Chicago Bears:

2013 NFL Week 2 Double Coverage
September, 13, 2013
9/13/13
8:05
AM ET
Good morning, here are some Bears Essentials, as the team prepares to host the Minnesota Vikings on Sunday at Soldier Field:
-- Maybe you missed it, but during an interview on "In Depth With Graham Bensinger", which airs Sunday on WMAQ-TV NBC Chicago, former Bears linebacker
Brian Urlacher said he likely would've signed the contract
that maxed out at $2 million had the team been more candid during negotiations.
Sounds to me like Urlacher has had some time to reflect on the whole ordeal, and although he claims to not miss football, I think at least a small part of him wants to be a part of what's taking place now with new head coach Marc Trestman at the helm.
-- Vikings team reporter Ben Goessling and I preview the matchup between
Minnesota and Chicago
, and give our predictions. Spoiler alert: we both picked the same team to win.
-- Bears right tackle Jordan Mills was listed at No. 8 on
Mel Kiper Jr.'s NFL Rookie Rankings
. Mills tried hard to play it cool at first, but he was smiling ear to ear while talking about how much he respects Kiper and the fact the draft guru placed him among the top 15 rookies.
-- Rick Telander says Bears quarterback
Jay Cutler has way too much on his plate right now
to be worrying about calling Urlacher. This is one of the smarter takes on the situation.
-- ESPNChicago.com's Jeff Dickerson and Jon Greenberg debate four questions during the sites weekly
Four Downs feature
. Dickerson doesn't believe in Cutler just yet, and made that abundantly clear in answering the question of whether the quarterback will make fewer mistakes this season in Marc Trestman's offense.
Here's what Dickerson wrote:
"
Fiction. Can't make that assumption based off just one week. Cutler had an excellent performance in Week 1, and if he consistently plays at that level, the Bears are in great shape. But it's too early to tell. Cutler is still prone to making bad decisions. Remember, he lit up the Colts last season in Week 1 with 333 passing yards, two touchdowns and one interception. The next week in Green Bay he tossed four picks and posted a quarterback rating of 28.2."
You write the truth, Dickerson. I agree for right now. One game is not a large enough body of work to make a definitive judgement.
-- Speaking of Cutler, CSNChicago.com's John "Moon" Mullin ponders whether the quarterback is
becoming a clutch player
.
September, 12, 2013
9/12/13
12:00
PM ET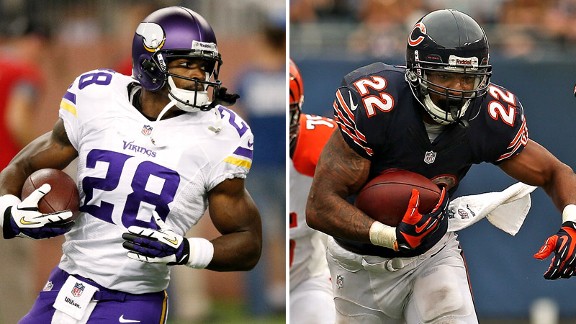 Getty ImagesAdrian Peterson, left, and Matt Forte present all sorts of challenges for opposing defenses.
Minnesota running back
Adrian Peterson
gutted Chicago for a team-record 104 yards in the first quarter and a pair of touchdowns to ruin a 10-catch, 160-yard performance by
Brandon Marshall
while sparking a Vikings 21-14 victory the last time these teams met.
Peterson already appears to be in midseason form, judging from the 78-yard touchdown reeled off on his first carry of the season in last week's Minnesota loss to the
Detroit Lions
, and that's a scary proposition for a Bears defense that admittedly missed tackles it shouldn't have in Week 1 against the
Cincinnati Bengals
.
"You can't really put your guys in a situation where you have a lot of one-on-one tackles," Bears linebacker
James Anderson
said. "If you watch that guy, he'll make the first guy miss. He'll run through tackles. The more guys we can get to the ball, the better chance we'll have."
The Vikings, meanwhile, face a new Bears offense that emphasizes protecting the quarterback and getting the ball quickly out of the quarterback's hands. That philosophy can wreak havoc on Minnesota's pass rush, which features
Jared Allen
,
Brian Robison
and
Everson Griffen
. The Lions neutralized Minnesota's rush on Sunday by throwing screens to
Reggie Bush
.
ESPN.com's Vikings reporter Ben Goessling and Bears reporter Michael C. Wright discuss the matchup.
Ben Goessling
: The Vikings' defense definitely starts with their pass rush -- and we saw Sunday how much this defense can struggle when opponents are able to get rid of the ball before Allen, Robison and Griffen can get to the quarterback. But if I'm a Bears receiver, I'm making sure I know where second-year safety
Harrison Smith
is located. He's got a nose for the ball (he ran two interceptions back for touchdowns as a rookie) and, as
Calvin Johnson
learned last year, he isn't afraid to make big hits. Smith will take some chances at times, but he's smart enough and fast enough to recover if he's a bit out of position. He looks like a force at safety, and the Bears will have to deal with him for a while.
Speaking of the pass rush, though, the Lions might have given the Bears a recipe for neutralizing it by throwing as many screens as they did to Bush. Can we expect to see the Bears use
Matt Forte
the same way?
Michael C. Wright
: The Bears have always worked the screen game with Forte with plenty of success. With the Lions experiencing some success against the Vikings in Week 1, it's now obviously on film and something the Bears will likely attack. But don't look at Forte as merely a screen guy. He's versatile enough to split out wide as a slot receiver, and on numerous occasions in recent years he's burned defenders deep on the wheel route. In the opener against the Bengals, the Bears targeted Forte six times, with him coming down with four receptions for 41 yards, including a 24-yard completion.
So in answering your question, yes, the Bears will use Forte on screens. But I don't anticipate it being a major part of the game plan. Forte ran 19 times for 50 yards last week and the team isn't happy about that performance. Improving the rushing attack is a major point of emphasis this week for the Bears.
How much would you say
Christian Ponder
has grown as a quarterback from last season?
Goessling
: It's hard to say. He made some throws on Sunday that suggested he was gaining confidence -- he threw downfield more than we ever saw last year -- but especially on his second interception, he looked like the same tentative, mechanical quarterback we've seen in the past.
Greg Jennings
has been outspoken about how Ponder can be a good quarterback if he learns to anticipate throws and trust himself, and it still hasn't seemed like Ponder has figured that out. He'd better show some progress quickly, though. The Vikings have
Matt Cassel
on the bench, and with Leslie Frazier trying to earn a new contract, he might not be able to remain patient with Ponder forever.
In fairness to Ponder, though, his offensive line didn't play well in front of him on Sunday. In fact, a group that's typically solid looked as bad as it has in some time.
Julius Peppers
is coming off a bad game, too.
Who's got the edge as he and
Matt Kalil
both look to get back on track?
Wright
: Honestly, I like Peppers in this matchup. Peppers worked against a backup left tackle on Sunday in
Anthony Collins
. But I don't think people gave Collins enough credit for his performance. Collins is an athletic player (former basketball player) and probably one of the most athletic tackles Peppers will face this season. Couple that with the fact Bengals quarterback
Andy Dalton
got rid of the ball quickly and it's easy to see how Peppers didn't register anything on the stat sheet.
Remember this, though: Peppers is coming off back-to-back seasons in which he's posted 11 sacks or more. Peppers certainly doesn't appear to be slowing down, but at the same time, the defensive end didn't register a sack in either of the two games last season against Minnesota.
With
Percy Harvin
out of the picture, outside of Peterson, who is the guy the Bears need to take notice of on defense?
Goessling
: We could see more of
Cordarrelle Patterson
this week. The Vikings traded back into the first round to get the receiver in the draft, and they think he has many of the same skills that Harvin has. They didn't use him much in Detroit, which was a little perplexing, but if they need a spark on offense, getting the ball to Patterson in the open field might be the quickest way to get it. The Bears also know plenty about Jennings from his days in Green Bay. Ponder targeted him more than any other receiver last week, and though he missed Jennings with a couple of throws, it wouldn't surprise me if Jennings quickly becomes the focal point of the Vikings' passing game.
Peterson is coming off an odd game; he ran 78 yards for a touchdown on his first carry, but the Lions stacked eight men in the box and held him to 15 yards on his next 17 carries. How will the Bears fare against the reigning MVP?
Wright
: That's difficult to answer because the Bears have been up-and-down against Peterson over the years. For the most part they've handled him. In 2011, Chicago limited Peterson to 51 yards in the only game they faced him. But then last season, Peterson hit the century mark in both games, including 104 yards in the first quarter when the teams met in December. Chicago's front four of
Henry Melton
, Peppers,
Stephen Paea
and
Corey Wootton
should fare well. But the linebacker position, particularly the middle linebacker spot, is the most concerning.
D.J. Williams
is playing in the middle as the replacement for
Brian Urlacher
. But he missed virtually all of training camp and the preseason with a calf strain and wasn't cleared to practice until the week of the Bengals game. Frankly, Williams looked as if he were running with concrete blocks on his feet against Cincinnati. Conditioning was definitely an issue for Williams and will likely be again Sunday when the teams meet. The Bears are pretty adept at stopping the run (they held Cincinnati to 63 yards), but Peterson is a special back. I don't think the Bears can totally shut him down.