Chicago Bears:

2013 training camp

August, 9, 2013
8/09/13
10:02
PM ET
CHARLOTTE, N.C. -- Here are a few quick thoughts from Chicago's 24-17 loss to the
Carolina Panthers
on Friday in the preseason opener:
What it means:
There's still work to do on both sides of the ball. What's most important is the team came out of the game relatively injury free while still managing to get in some much-needed work.


On offense, the protection was somewhat inconsistent, which led to a sack of
Jay Cutler
, who also tossed an interception on the group's first play of the game.
"It was an unfortunate start," Cutler said. "I have to put the ball on Alshon's [Jeffery] other shoulder. We had some good stuff after that; we had some bad stuff. Typical preseason game. We just have to take a look at it and get better next week."
The first team managed to gain just three first downs in three series, but there's no denying that outside of the interception, Cutler was pretty much on target with his throws.
Cutler completed 6 of 8 passes for 56 yards and finished with a passer rating of 54.2.
"Well, other than the pick we had, we moved the ball a little bit," Bears coach Marc Trestman said. "We got a few throws in. Jay made some great throws. We caught some slants in contested throwing areas. We got a few runs in. Matt [Forte], got a couple of catches, moved the ball around. Certainly didn't do what we wanted or up to our expectations. But other than the first play and the one sack -- we've got work to do."
Defensively, the bad news was the group gave up one touchdown trying to defend a short field created by Cutler's interception, combined with a pass-interference penalty on
James Anderson
on the next play as he tried to cover former Bears tight end
Greg Olsen
. The Anderson penalty put the Panthers at the Chicago 4. Three plays later,
Cam Newton
hit
Brandon LaFell
for a 3-yard touchdown at the 10:14 mark to give the home team an early lead.
The good news is the defense put points on the board with
Jon Bostic
's 51-yard interception return at the 6:09 mark of the first quarter. Bostic filled in for injured starting middle linebacker
D.J. Williams
(calf) and while it's too soon to definitively gauge his performance (that comes after film study), the showing appeared promising.
"There were a lot of things we could do better," linebacker
Lance Briggs
said. "There were some things we did well. When we put on the tape, we'll all evaluate the things to improve on. All in all, when you are getting turnovers in the game that is very big."
Injury update:
Long-snapper Pat Mannelly suffered injured ribs when he was blindsided on a punt in the first half. The severity of that injury wasn't immediately known. Team officials took defensive tackle
Henry Melton
back into the locker room in the first quarter, where he was diagnosed with a concussion. He'll have to follow the NFL's new concussion protocol before he's allowed to practice again. It is possible Melton could be back on the field for Chicago's next practice at training camp, but unlikely given his importance to the defense. There's no need to rush him back into action.
Webb of inconsistency:
J'Marcus Webb
performed inconsistently in 2012 at left tackle, and his move to the right side for 2013 wasn't promising in the first preseason game.
During Chicago's third series of the night, Carolina defensive end
Charles Johnson
blew past Webb on the outside. In his attempt to recover, Webb overstepped outside, and Johnson cut back inside to sack Cutler along with
Kawann Short
.
Don't count out Webb just yet though. It's only the first preseason game.

Second-team sloppiness:
Josh McCown
zipped a near perfectly thrown ball to tight end
Fendi Onobun
in the end zone for what should have been a touchdown in the second quarter, but he dropped the pass. On the next play, running back
Armando Allen
fumbled after catching a pass from McCown, with
Anderson Russell
recovering for Carolina at the Panthers' 12.
Onobun has struggled to catch the ball throughout the preseason, but seemed to come on in recent practices after the team had brought in
Leonard Pope
to compete for the job. The Bears rave about his consistency, but the truth is Onobun needs to be more consistent at catching the ball if he expects to make the 53-man roster at the end of camp.
Lopsided time of possession:
Both teams played the majority of the first quarter with starters on the field on both sides of the ball, and the Panthers dominated time of possession. Carolina was 2-of-5 on third-down conversions, while the Bears finished 0-for-2 in that category. The Panthers held the ball for 9 minutes, 31 seconds in the first quarter, and the Bears held possession for 5 minutes, 29 seconds.
Bostic time?
Not yet, but the rookie definitely showed why the Bears made him their second-round pick in the draft. In addition to the 51-yard interception return for a touchdown, Bostic was credited for two tackles and a pass breakup. He's probably not ready to take over D.J. Williams' starting job in the middle, but his play should definitely raise the comfort level of the coaching staff if the rookie is forced to play in a pinch.
Bostic wasn't the only rookie to show promise. Fourth-round pick
Khaseem Greene
came into the game during the team's third defensive series and contributed two tackles, including one for lost yardage.
Frey maintains:
Second-year veteran
Isaiah Frey
maintained the momentum he's been riding throughout training camp practices with a solid outing in his first preseason game. Frey took over at the starting nickel corner when
Kelvin Hayden
suffered a season-ending hamstring injury. The youngster hasn't disappointed.
Virtually every day of practice at training camp, Frey has made a head-turning play, whether it's an interception or a pass breakup. Against the Panthers, Frey nearly picked off a
Derek Anderson
pass in the second quarter.
Briggs makes calls:
With
Brian Urlacher
now out of the picture, Briggs has taken on the responsibility of making the club's defensive calls. Briggs said it went well.
"It went smooth. I got the call, called it out to teammates, they heard it, they received it, and they played the play," Briggs said.
What's next:
The Bears receive a day off on Saturday, before hitting the practice fields at Olivet Nazarene University on Sunday for the final week of training camp. Chicago hosts the
San Diego Chargers
on Thursday night at Soldier Field for the second game of the preseason.
August, 2, 2013
8/02/13
7:30
PM ET
By
wrightmc
| ESPNChicago.com
BOURBONNAIS, Ill. -- The
Chicago Bears
never disclosed results of the MRI exam on the hip of defensive end
Corey Wootton
, but said Friday the injury isn't serious and his recovery is "day to day."
"We'll monitor it," Bears coach Marc Trestman said. "The feeling coming out of today is that he's getting better. We'll let [head athletic trainer] Chris [Hanks] monitor it, and he'll be out here when he gets the OK to do that."
Wootton was one of eight players held out of Friday's workout, a group that included receiver
Brandon Marshall
(hip), cornerback
Charles Tillman
, linebacker
D.J. Williams
(calf), and offensive tackles
Jonathan Scott
(knee) and
Jermon Bushrod
(calf), as well as defensive ends
Julius Peppers
and
Jamaal Anderson
(knee).
Marshall, Tillman, and Peppers received a day of rest. Although Marshall continues to recover from offseason arthroscopic hip surgery, Trestman said the receiver's day off from practice Friday was a part of the plan.
"We were going to go three days on and one day off," Trestman said. "We did that the first week. We decided to go three days on, today off, so he could work tomorrow night, which will be a shorter practice. It's something I think he wanted to do as well as to practice tomorrow. Right now, we expect that he will. He's feeling good, and we'll continue to go forward with the plan."
Wootton, meanwhile, has struggled to stay healthy throughout his career, especially his first two seasons. A third-year player, Wootton produced a breakout season in 2012, posting seven sacks and becoming a full-time starter. Wootton also stood out through the first week of training camp, and appeared to hold the advantage over
Shea McClellin
in the derby for the starting job opposite Peppers.
Wootton became the third defensive lineman to suffer an injury since the Bears arrived at camp Thursday. The Bears terminated the contract of veteran
Turk McBride
after he suffered a ruptured Achilles on Monday in the second practice in full pads of camp. Anderson also sat out Thursday.
The club also lost defensive tackle
Sedrick Ellis
at the start of camp when he decided to retire rather than report with the rest of his teammates.
August, 2, 2013
8/02/13
2:43
PM ET
BOURBONNAIS, Ill. -- Forget about a Pro Bowl encore for
Chicago Bears
defensive tackle
Henry Melton
.
"I just want to win," he said. "If I'm doing my thing, I feel like the defense is going to thrive off of me and we've got a chance to win some games."
A fifth-year veteran, Melton earned Pro Bowl recognition for the first time in his career in 2012, after ranking No. 3 among defensive tackles in sacks (six) to go with a pair of forced fumbles. Since 2011, Melton ranks second in the NFL in sacks (13) behind Cincinnati's
Geno Atkins
(20).
Having played the majority of his career for minimal salaries, Melton now will earn $8.9 million fully guaranteed in 2014 as the club's franchise player. So the financial security is there. Now it's time to for him to help lead the defense in a bid for a title, which could prove more difficult with a new head coach in Marc Trestman and a new defensive coordinator in Mel Tucker.
So far, progress on defense has been good, Melton said.
"We're just working through some kinks, like every team is doing right now; trying to be as perfect as possible," he said. "There's not a whole lot (of change in the defensive system under Tucker). We're not going to change something that's been working. (Tucker has) gone back, looked at all the film, looked at some things that have hurt us, and he's just trying to improve off of it."
August, 2, 2013
8/02/13
2:21
PM ET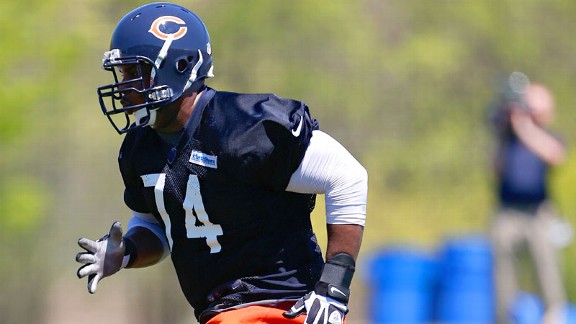 AP Photo/Scott BoehmJermon Bushrod's return from a strained right calf is uncertain.
BOURBONNAIS, Ill. --
Chicago Bears
left tackle
Jermon Bushrod
shed the walking boot covering his strained right calf on Friday, but how the team proceeds remains "a day-by-day" process, he said.
"I'm coming along," Bushrod said. "As you can see, I'm out of the boot, which is a good step, a step forward. I'm trying to get back as soon as I can, but I don't want to mess it up anymore."
Considering Bushrod is recovering from the first calf injury he's sustained over a six-year career in the NFL, his status for the Aug. 9 preseason opener at Carolina remains in question. The team prefers to take a cautious approach regarding Bushrod's return to minimize the risk of a setback.
July, 15, 2013
7/15/13
10:18
AM ET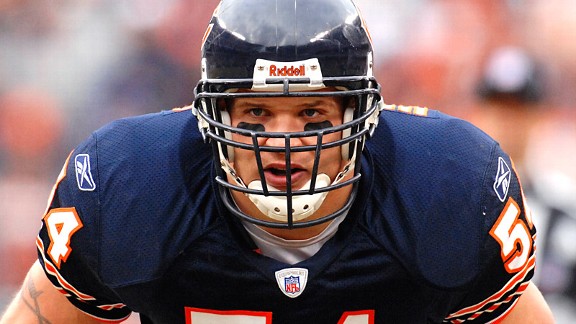 Al Messerschmidt/Getty ImagesThe Bears might miss Brian Urlacher's presence on the field, but they might be better as a linebacking corps.
The initial shock of
Brian Urlacher
's absence quickly vanished once the
Chicago Bears
started on-field workouts during the offseason, and despite the linebacker's tremendous contributions over the years, it's unlikely the team will miss him much once the season starts.
A little insensitive, perhaps, but that's the reality of a transient NFL.

Besides that, the linebacking corps may have become a better unit with the subtraction of Urlacher paired with the additions of athletic veterans such as
D.J. Williams
and
James Anderson
along with rookies Jonathan Bostic and
Khaseem Greene
. But what about the defense as a whole, which goes into the season without Lovie Smith or Rod Marinelli, the architects of the unit, and Urlacher, the quarterback of the defense?
It's easy to compare the numbers between Urlacher and the departed
Nick Roach
with Anderson and Williams, who appear at this point more suited to play the run-and-hit style Tucker likes in his linebackers, while giving the team more potential than Urlacher and Roach as pass rushers.
Over the past three years, Urlacher and Roach combined for 5.5 sacks, while Williams and Anderson came together for 15.5 sacks. It's worth noting that with Smith, the Bears didn't utilize linebackers extensively to blitz. It's also noteworthy that Williams and Anderson produced 10 more sacks than Urlacher and Roach over the past three years despite playing in a combined eight fewer games.
Williams played in just seven games in 2012 as a result of multiple suspensions, but produced 10.5 sacks in 2010 and 2011, in addition to 164 tackles.
Even with Williams playing just seven games, he and Anderson posted 106 more tackles than Urlacher and Roach from 2010-12.
Still, the numbers don't illustrate the intangibles Urlacher brought to the team. Urlacher's ability to bring players together, his immense knowledge of the defense and the NFL, his all-Pro past, which likely came in handy when articulating to younger players the expectations for how to play defense as a Chicago Bear. Those are the qualities this defense will miss most with Urlacher not on the field.
It's unknown whether that absence will prove detrimental, but it doesn't appear that will be the case.
With established veterans such as
Lance Briggs
,
Charles Tillman
,
Julius Peppers
, and
Tim Jennings
, the Bears already own a strong nucleus with up-and-coming players sprinkled in such as
Henry Melton
and
Chris Conte
. The team certainly revamped the linebacking corps, but the team made sure to do that with two more established vets in Williams and Anderson.
So for the fans, yes, the absence of Urlacher might hurt. For the team, though, it should be business as usual.
July, 11, 2013
7/11/13
10:35
AM ET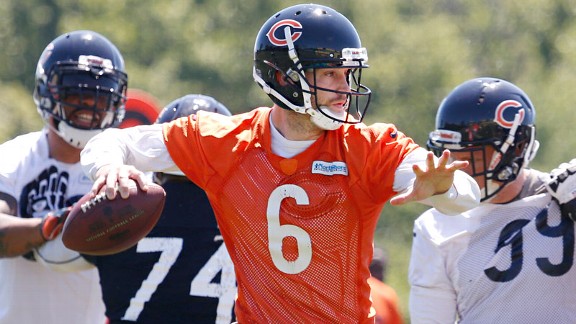 AP Photo/Nam Y. HuhJay Cutler faces another new offense, and if history is a judge, he should pick it up quickly.
Editor's note: Michael C. Wright and Jeff Dickerson will preview the top storylines heading to the Bears training camp.
Balls thudded to the grass. Quarterbacks and receivers seemed out of synch sometimes. The defense feasted on interceptions.

That's what transpired for the
Chicago Bears
at organized team activities and minicamp. Fortunately for the team, the offseason is the time for such miscues. However, once the team hits the field for training camp in Bourbonnais, the margin for error starts to shrink significantly.
So as the team prepares for its 12th training camp trek to Olivet Nazarene University, one burning question seems to be whether the Bears can absorb the new system of Marc Trestman and offensive coordinator Aaron Kromer sufficiently enough to operate productively once the Sept. 8 opener rolls around against the
Cincinnati Bengals
.
Recent history indicates the Bears will be up to the challenge.
Last season, when the Bears switched from the offense of Mike Martz to the system of Mike Tice, quarterback
Jay Cutler
completed only 1 of his first 10 passes in the season opener before catching fire and hitting 11 of his next 12 throws. The Bears stomped the Colts 41-21 in last year's opener with Cutler completing 21 of 35 for 333 yards and two touchdowns. The Bears started the fourth quarter with a 34-14 lead.
When the Bears transitioned into Martz's system from the offense utilized by former coordinator Ron Turner in 2010, Cutler threw for 372 yards and two TDs -- including a 28-yard pass to
Matt Forte
with 1:32 left to play -- as the club defeated the
Detroit Lions
19-14.
So the move to Trestman's precision and timing-based West Coast scheme should come with relatively few hiccups. In fact, it wouldn't be much of a stretch to expect the Bears to put forth one of their best performances offensively in a season opener in recent history in 2013, given Trestman's reputation for attacking defenses, his ability to groom quarterbacks, and the fact the team is stocked with successful veteran players at most of the key positions.