Chicago Bears:

2013 Week 11 BAL at CHI
November, 17, 2013
11/17/13
9:47
PM ET
CHICAGO – Had the outcome been different Sunday, the
Chicago Bears
' season-high 13 penalties would have been a central storyline, instead of a footnote.
Before the
23-20 overtime victory
over the
Baltimore Ravens
, the Bears had committed just 40 penalties this season, with the previous game high of six occurring in the club's Week 5 loss to New Orleans.
[+] Enlarge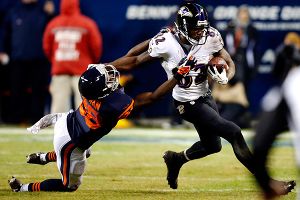 AP Photo/Charles Rex ArbogastZack Bowman's horse-collar tackle on Torrey Smith extended the Ravens' game-tying drive.
Cornerback
Zack Bowman
had the most difficult time with the officials on Sunday, flagged a total of five times (one of the penalties was declined). The most costly of Bowman's infractions came on the Ravens' final drive of regulation, when the cornerback – starting in place of the injured
Charles Tillman
– was called for a horse-collar penalty while tackling receiver
Torrey Smith
after a 6-yard completion on third-and-10. Bowman's mistake gave Baltimore 15 yards and a fresh set of downs, and the Ravens ultimately drove down the field and kicked a game-tying field goal with three seconds left on the clock.
"After the play [Smith] popped up and told me that I had his jersey [and that it wasn't a horse collar]," Bowman said. "But hey, it is what it is. You just have to move on to the next play and keep going. It's a close call and you just can't worry if they make the call or don't make the call. You just have to move on to the next play.
"Look,
Tim Jennings
told me to keep playing aggressive. He told me that he'd rather see me play aggressive then not play aggressive. I just kept playing. I wasn't [going to] worry about the officials; I wasn't worrying about the calls. If they throw the flag, they throw it; if they don't, they don't. I can't worry about what the officials do; I can just focus on what I need to do."
Bears coach Marc Trestman expressed his unhappiness with the club's lack of discipline at the very beginning of his postgame news conference.
"We had too many penalties," Trestman said. "Too many pre-snap penalties today that really inhibited our ability to function as well as we'd like to."
The Bears' players made no excuses for the overwhelming number of miscues, but it is likely the weather conditions Sunday played a role in the amount of infractions committed by both teams. Baltimore was flagged five times for 46 yards.
The penalties are "obviously something we need to work on," Bears right guard
Kyle Long
explained. "When the wind is howling in and out of your helmet you can't hear anything. Also, your vision is all messed up [with the moisture], so you have to take that all into consideration. But at the end of the day we just need to move forward."
Defensive end
Corey Wootton
added: "It was tough. We can't make any excuses, but sometimes different people get fooled by the center movement and all the head-bobs. But really, we just have to stay poised. And the most important thing is that we need to stay onside."
November, 17, 2013
11/17/13
9:35
PM ET
CHICAGO -- As strong winds whipped debris around Soldier Field and rain plummeted in sheets,
Josh McCown
scanned the stadium, and allowed himself a brief moment to feel envy.
"You look across the field at [
Baltimore Ravens
quarterback]
Joe Flacco
, and look on the sideline and
Jay [Cutler]
is over there, and I'm like, 'Can I borrow somebody's arm?'"
[+] Enlarge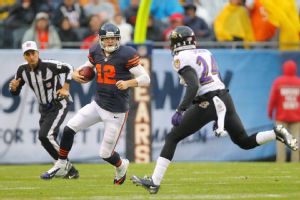 Dennis Wierzbicki/USA TODAY SportsJosh McCown won't entertain the notion of becoming the Bears' full-time starter beyond Jay Cutler's return to health.
No need to. As it turns out, McCown's arm worked just fine Sunday in leading the Chicago Bears to a
23-20 overtime victory
over the Ravens to stay right in the thick of the fight for the NFC North crown. In just his second start of the season, McCown was 19-of-31 for 216 yards and a touchdown to finish with a passer rating of 92.9.
During the decisive drive in overtime, McCown completed two of three passes for 57 yards to engineer a 60-yard drive spanning seven plays capped by
Robbie Gould
's game-winning 38-yard field goal. The Bears gained the largest chunk on that drive with 43-yard completion to
Martellus Bennett
to give Chicago a first down at the Baltimore 22.
"Obviously [Bennett] won the game for us with that," receiver
Brandon Marshall
said. "It doesn't come down to one play, but that was huge for us. [McCown] has been awesome for us. You can't ask for a better guy to lead the huddle."
Just before the offense took the field in overtime, McCown gathered the team in the huddle and gave them an impassioned speech, telling the players about the situation being one of those "rare opportunities to do some special things." Some of McCown's teammates joked about the quarterback being "geeked up" in the huddle for the final drive.
"[He was like,] 'You're gonna be able to tell your grand kids about this one,'" Bennett said, laughing. 'Finish strong and you're gonna make a play. It's gonna be a story.' I don't know if I want to talk to my grandkids about football."
McCown admits he doesn't "know if I'm talking to them as much as I'm talking to myself" when making such a speech in a key moment. Doing that, McCown said, "puts me at ease" because it reminds the quarterback, 'Hey, Josh, you don't have to press. That's Brandon Marshall right there. That's
Roberto Garza
. That's
Jermon Bushrod
. That's Martellus Bennett.' It's just a reminder to myself to try to keep everything calm and allow those guys to work."
That's precisely what McCown did after a rocky start. The Bears moved the ball just 15 yards in their first drive with McCown completing one of two passes, in addition to taking a sack. McCown completed one of two in Chicago's second drive for only 1 yard. Then, at the 4:51 mark, game officials delayed the game due to inclement weather.
The delay lasted 1 hour, 53 minutes. Although it helped the Bears regroup, McCown missed on both of his attempts on Chicago's next drive once play resumed.
McCown completed 10 of 20 passes for 84 yards in the first half with a passer rating of 61.2. Then, in the third quarter, the Bears didn't throw the ball at all because of the windy conditions.
"[Bears coach Marc Trestman] and I got together and talked about it, and then just said, 'Let's be smart with the way we approach this quarter, and if we can find a way to pound the rock a little bit, get through this quarter and let things flip, maybe we can then take our shots,'" McCown said.
Once the Bears switched sides in the fourth quarter where McCown could throw with the wind, the quarterback completed five of six passes for 68 yards and a 14-yard touchdown to
Matt Forte
on a screen pass. On the play, Baltimore gave the Bears a look they had hoped to see during the week of preparation for Sunday's game. So McCown checked to the screen pass, and Forte did his part by making linebacker
Daryl Smith
and cornerback
Corey Graham
miss. He dragged a helmetless
James Ihedigbo
on the way to the end zone.
"I'm just really proud of the way our football team rallied around Josh today," Trestman said. "The way Josh handled the huddle, took care of the football and did his job, that was important."
Filling in for starter
Jay Cutler
, McCown has now thrown for 754 yards, completing 60 percent of his passes for five touchdowns, no interceptions and a passer rating of 100.0. For McCown, that's how a backup quarterback should perform when the starter is out of commission.
So while it may be tempting to ponder how the Bears might fare with McCown as the full-time starter, that's not something he's even remotely considering.
Does McCown now feel like the starter?
"No. I've said this over and over again. I'm the backup quarterback on this team. The way that I serve my team is to play when the starter is not healthy," McCown said. "Jay's our starting quarterback. There's no doubt about that. Hopefully whenever Jay's healthy, we're still in the position to get everything we want to accomplish done when he takes back over. That's my mindset."

November, 17, 2013
11/17/13
6:18
PM ET
CHICAGO -- A few thoughts on the
Chicago Bears
' 23-20
overtime win
over the Baltimore Ravens at Soldier Field:

What it means:
Only the tiebreaker from Detroit sweeping Chicago keeps the Bears from leading the division. So Chicago's win over the Ravens coupled with Detroit's loss to the
Pittsburgh Steelers
puts the Bears back in serious contention for a legitimate shot at winning the NFC North.
Second-guessing Marc Trestman:
With possession at the Baltimore 2-yard line thanks to a defensive holding penalty on
Jimmy Smith
in the second quarter, Chicago called three consecutive passes that fell incomplete, leading to the Bears settling for a 20-yard field goal that made the score 10-3 in favor of the visitors. The calls seemed a little questionable given where the Bears were on the field. After throwing incomplete to
Brandon Marshall
and
Tony Fiammetta
on first and second down,
Josh McCown
tossed another incompletion to Marshall. On the play, it appeared McCown could have taken advantage of a mismatch on the outside with tight end
Martellus Bennett
lined up against a Baltimore cornerback.
In the fourth quarter, the Bears elected to punt instead of trying to convert a fourth-and-1 at the Baltimore 44 that would've allowed them to run more time off the clock to preserve a win in regulation. With a little more than a minute to play and the Ravens in the red zone, Trestman also elected not to burn any of his timeouts. Had he called a couple, the Bears may have had time to mount a potentially game-winning drive after
Justin Tucker
's tying 21-yard field goal.
Bass bailout:
Despite the squandered opportunity from the 2 in the second quarter, Bears reserve defensive end
David Bass
bailed out the offense on the first play of Baltimore's ensuing possession just 12 seconds later. Midway through his rush, Bass tipped a
Joe Flacco
pass intended for
Vonta Leach
back into his own hands and romped 24 yards for the touchdown to tie the score at 10.
Coming into the game, the Bears held a 24-2 record since 2005 when they've scored a defensive touchdown, including 10 consecutive wins under those circumstances. Now they're 25-2 with 11 in a row.
Defensive letdown:
Even after Bass' potentially game-defining play, the defense slumped on Baltimore's next possession, allowing Flacco to go 5-for-5 for 47 yards on a drive capped by a touchdown pass to
Torrey Smith
. Defensive end
Julius Peppers
added to the letdown with a 15-yard penalty for hitting Flacco as the quarterback attempted to slide on a play during the drive. Peppers appeared to slip on the play, which led to the contact.
Season high in a half:
The Bears committed seven penalties for 61 yards in the first half alone, which was enough to set a season high for penalties and penalty yardage. The most the Bears had been penalized before Sunday was six times for 43 yards in an Oct. 6 loss to New Orleans.
The Bears only topped that by finishing with 13 penalties for 111 yards. Normally, that gets you beat.
What's next:
The Bears review film of Sunday's game on Monday before taking the day off Tuesday and beginning preparations Wednesday for the first of back-to-back road games starting with the
St. Louis Rams
.