Chicago Bears:

2013 Week 13 CHI at MIN
December, 1, 2013
12/01/13
8:50
PM ET
MINNEAPOLIS -- Here are five things we learned in the
Chicago Bears
' 23-20
overtime loss
to the
Minnesota Vikings
:
1. Bears seasons continue to unravel in the Metrodome
: Fittingly, the Bears' final game in the Metrodome turned out to be a complete disaster. That might sound a bit dramatic, but when you factor in the importance of the game with all the opportunities the Bears were given to win it, this is one of the most painful losses in recent memory. The Bears have won just two games in this old and run-down building since 2002, with several of those defeats altering the outcome of the season -- and that includes Sunday's overtime thriller. With the
Detroit Lions
now holding essentially a two-game lead over the Bears in the NFC North with four left to play, you have to wonder if the Bears ruined their chances to make the playoffs. As far as the Bears are concerned, they can't tear this place down fast enough.
2. Bears' botched overtime field goal attempt
:
Robbie Gould
has made so many clutch kicks for the Bears in his nine-year career that I completely understand why Marc Trestman felt confident with Gould from 47 yards with 4:12 left in overtime. But Trestman's decision to kick the ball on second-and-7 from the Vikings' 29-yard line was curious. Coaches tend to attempt game-winning kicks before fourth down to guard against a possible bad snap, but the Bears have the best long snapper in the NFL,
Patrick Mannelly
. So that rationale doesn't make a ton of sense.
Matt Forte
was also averaging 5.2 yards per carry on Sunday. Why not hand him the ball a couple of times to give Gould a shorter kick? Forte fumbled the ball last week in the first quarter in St. Louis, but he's generally pretty careful with the football. In the end, Gould missed the kick. That's the bottom line. But Trestman had an opportunity to help out one of his players win the game for the team, and he failed to pull the trigger.

3. Josh McCown did his job
: McCown made his share of mistakes versus Minnesota, but he passed for 355 yards and two touchdowns for a 114.9 quarterback rating. That means McCown is 120-of-184 for 1,461 yards, 9 touchdowns and 1 interception on the season. That's a passer rating of 103.6. I know we mention this every week, but what McCown has done in 2013 is remarkable. It's a pity the Bears went only 2-2 when McCown started. He played well enough for the team to win every game he appeared in. As McCown gracefully moves aside for
Jay Cutler
to return, likely next Monday night versus the
Dallas Cowboys
, one has to marvel at how efficient McCown looked since entering the mix when Cutler tore his groin muscle in Washington. We spent a lot of time in the preseason wondering if Cutler could be the next
Rich Gannon
, a former quarterback that tasted an inordinate amount of success with Trestman later in his career. This might sound crazy, but maybe the next Rich Gannon is actually McCown. That's not to say that McCown is a better player than Cutler, but you have to wonder what McCown, 34, could accomplish with a full season running this system.
4. Defense played hard; results were the same
: The Bears' defense showed some fight on Sunday, aggressively stacking the box in an attempt to slow down Minnesota's star tailback,
Adrian Peterson
. Strong safety
Craig Steltz
, who filled in for the injured
Major Wright
, made several key stops and led the team with 12 tackles, while
Julius Peppers
ignited the pass rush with 2.5 sacks. The return of nose tackle
Stephen Paea
and the debut of defensive tackle
Jeremiah Ratliff
seemed to help the defensive line, but in the end, Peterson still rushed for 211 yards and veteran reserve quarterback
Matt Cassel
came off the bench to pass for 243 yards and one touchdown. Individual improvements are great, but collectively, it was the same old story for the Bears on defense.
5. Alshon Jeffery is in rare company
: Outside of Matt Forte in 2008, Jeffery is the Bears' best offensive draft choice since the 1980s produced the likes of running back Neal Anderson, left tackle Jimbo Covert and quarterback Jim McMahon. Bears general manager Phil Emery hit a home run when he moved up in the second round to grab Jeffery out of South Carolina in 2012. Jeffery broke his own single-game franchise record for receiving yards with 249 on 12 catches, including two impressive touchdown receptions. Jeffery is now over 1,000 receiving yards on the season. He has some of the strongest hands in the NFL. He can do it all. The future seems full of all kinds of exciting possibilities for the Bears and Jeffery in this offense.
December, 1, 2013
12/01/13
8:47
PM ET
MINNEAPOLIS – An emotional
Robbie Gould
expressed frustration over missing a potential game-winning 47-yard field goal with four minutes remaining in overtime of the
Chicago Bears
'
23-20 loss
to the
Minnesota Vikings
.
Gould
Gould was present with his wife for the birth of the couple's first child early Sunday morning in the Chicagoland area, then proceeded to travel and join his teammates for their important NFC North clash.
"There is no excuse at all," Gould said. "My wife did awesome. There were a lot of lessons in one day. It was one of the greatest days of my life, and I'm happy for my wife and my little boy. Sorry I couldn't do it for my teammates like I did for my wife. It's hard to swallow. We're in a playoff hunt. I love my teammates just like I love my wife and my baby, and I just didn't do it today.
"I didn't come through for my teammates in the end. I had two chances today to get it done. It's very unlike me, but there are no excuses for it. I didn't have it. I missed it. I wasn't nervous, I just missed."
Gould finished the game 2-for-4 on field goal attempts, although one of the kicks was from 66 yards at the end of regulation. One of the most accurate kickers in NFL history, Gould has just three misses this season.
December, 1, 2013
12/01/13
6:18
PM ET
MINNEAPOLIS -- A
23-20
overtime heartbreaker of a loss to the
Minnesota Vikings
on Sunday didn't eliminate the
Chicago Bears
from playoff contention. But it certainly made the road beyond the regular season much more difficult to navigate.
[+] Enlarge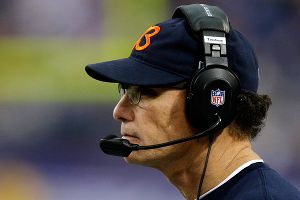 AP Photo/Jim Mone"We know Detroit won, and we know what our record is," Bears coach Marc Trestman said. "There's certainly a lot of football to be played."
Marc Trestman wasn't ready to concede Chicago's season could be over after watching his team fall to 6-6, one game back in the NFC North of the
Detroit Lions
, who pounded Green Bay on Thursday. In fact, Trestman plans to speak to his team on Monday about how this loss doesn't effectively end their season.
"There are some historical points of view that show that it doesn't," Trestman said. "We've got a long season left. We've got four games to go. There was a sign of a team that played very well today at times. We just didn't play well enough all the time. There's clearly evidence that we can move forward here, and I'm always going to feel that way."
The Bears dropped their second consecutive game to fall to 3-6 against NFC opponents. Of all the likely contenders for the two wild-card spots, Chicago holds the worst conference record. Wild-card contenders such as Philadelphia, Carolina and San Francisco possess conference records at or well above .500. Arizona, at 7-5, is 4-5 against conference opponents.
The situation signals that Chicago's best chance to make the postseason is to win the NFC North. Heading into Sunday's game, the Bears were tied for first in the division. Their loss, coupled with the season sweep by Detroit, essentially puts the Bears two games behind the Lions.
"We know Detroit won, and we know what our record is," Trestman said. "There's certainly a lot of football to be played. I think our guys will come back on Monday night [against the
Dallas Cowboys
] excited to play and ready to go. I'm proud of our team with the effort and the level of intensity they played with throughout the game and the overtime. We've got to move on from there."
In the quiet locker room, it seemed that would be difficult at best. Even left tackle
Jermon Bushrod
admitted the team would "mope just for one day about this one."
"It hurts," Bushrod said. "We needed it. We needed it. We needed it to stay tied for first. Now we need a lot more help and we need to win out. We needed to win out anyway. But we just needed this game."
Defensive end
Julius Peppers
was confident the Bears could move on from Sunday's heartbreaker.
"We're not kids here," Peppers said. "We're grown men. So we're just gonna come back to work. We're going to put in the same work we did this week and we're just gonna try to get it done next week."

December, 1, 2013
12/01/13
4:45
PM ET
MINNEAPOLIS -- A few thoughts on the
Chicago Bears
'
23-20 overtime loss
to the
Minnesota Vikings
:

What it means:
The Bears fell farther behind the
Detroit Lions
in contention for the NFC North title with the loss to the Vikings. Based on the way the season is shaping up, and Chicago's NFC record (3-6), the Bears need to win the division for a chance to advance to the postseason. Chicago's prospects for a wild-card spot look dim.
Jeffery on fire:
Second-year receiver
Alshon Jeffery
produced his second 200-plus-yard outing of the season against the Vikings, hauling in 12 receptions for 249 yards and two touchdowns. Jeffery's 80-yard touchdown 52 seconds into the third quarter made him the club's first 1,000-yard receiver of the season and marked the first 1,000-yard season in his NFL career.
Mixed reviews for revamped front:
Jeremiah Ratliff made his Chicago debut and
Stephen Paea
rejoined the lineup coming off a turf-toe injury. Their presence in the lineup allowed the Bears to utilize some creativity that yielded results in the pass-rushing department, but much of the same against the run.
Paea and
Corey Wootton
lined up inside at tackle with
Shea McClellin
and
Julius Peppers
playing the defensive end spots. Ratliff entered with 10:57 left in the first quarter and nearly sacked
Christian Ponder
on his first snap. That extra inside presence allowed the Bears to move Wootton outside to play opposite Peppers. At times, the Bears even used Peppers inside next to Ratliff with Wootton and McClellin at the end positions. The diversity helped the Bears snuff out Minnesota's first three drives with sacks, two from Peppers and one other sack split between Paea and nickel corner
Isaiah Frey
.
Against the run, however, Chicago continued to struggle. The Bears experienced success early against
Adrian Peterson
. But the running back broke the century mark early in the third quarter and finished with a season-high 211 yards.
Milestone:
Matt Forte
took a handoff in the first quarter and reeled off a 16-yard gain to move into second place in franchise history in yards from scrimmage. Forte passed Neal Anderson to take second place behind Walter Payton, who gained 21,264 yards from scrimmage from 1975 to '87. Forte rushed for 120 yards and caught two passes for 31 yards.
What's next:
The Bears take the day off from practice on Monday and Tuesday before beginning preparations Wednesday to host the
Dallas Cowboys
at Soldier Field for a Dec. 9 matchup on "Monday Night Football." With the Cowboys having played on Thanksgiving, the Bears will be facing a well-rested team.
November, 29, 2013
11/29/13
12:00
PM ET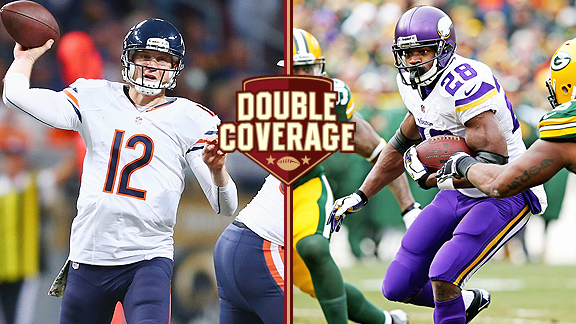 Getty ImagesJosh McCown has a successful history against Minnesota, but Adrian Peterson is gaining traction.
The last time the
Chicago Bears
and
Minnesota Vikings
met, the Bears' touchdown with 16 seconds left gave them a 31-30 victory that put Chicago at the top of the NFC North and sent Minnesota home, just two weeks into the season, with grave concerns about its ability to put a team away.
Eleven weeks later, the two teams are still more or less in the same spot. The Bears are tied for the NFC North lead with the
Detroit Lions
, and could take the outright lead this week if they beat the Vikings and the
Green Bay Packers
knock off the Lions on Thanksgiving Day. The Vikings, meanwhile, blew their fourth last-minute lead of the season on Sunday, when the Packers forced overtime in a game that eventually ended in a tie.
With the Bears playing for first place -- and the Vikings trying to recover some dignity -- on Sunday at Mall of America Field, ESPN.com Vikings reporter Ben Goessling and Bears reporter Michael C. Wright got together to preview the game:
Ben Goessling:
The Vikings might have some bad memories from Week 2, but they also have bad memories of
Josh McCown
. Ten years ago, as a member of the
Arizona Cardinals
, McCown threw a last-second touchdown pass that kept the Vikings out of the playoffs on the final play of the 2003 season. What's he doing so well in his latest stint as a starting quarterback?
Michael C. Wright:
McCown says it's a combination of factors such as where he is in life right now (he's 34), the lessons he has learned from being in the league so long playing behind guys such as
Jon Kitna
and
Kurt Warner
, and the fact he has been with the Bears since they implemented this new offense. When McCown first signed with the Bears in 2011 and was forced to play, he came in basically cold. Now, McCown has just as good of a handle on the offense as starter
Jay Cutler
because he had some input with Bears coach Marc Trestman when the system was being installed. McCown obviously doesn't possess the cannon of an arm that Cutler has, but he makes up for that with a quick release and strong anticipation skills. McCown really has excelled at not getting outside of himself, and allowing his weapons --
Matt Forte
,
Brandon Marshall
,
Alshon Jeffery
and
Martellus Bennett
-- to do the majority of the work. But McCown is also being careful with the ball and not taking chances by throwing into coverage as Cutler might.
After watching film from Chicago's loss to the Rams when they gave up 109 yards to
Benny Cunningham
and allowed an average of 8.9 yards per carry, do you think
Adrian Peterson
is more or less licking his chops thinking about what he might be able to do?
Goessling:
He certainly should be. Peterson had a season-high 146 yards on 32 carries (also a season-high) on Sunday in Green Bay, and though he's dealing with a groin injury, he looked like he was running harder against the Packers than he was able to the week before against Seattle. The other guy the Bears might need to keep an eye on is
Toby Gerhart
, who ran eight times for 91 yards against the Packers and provided a nice change of pace when the Vikings gave Peterson a break. They could look to use Gerhart a little more this week; he's a good downhill runner who's obviously not as shifty as Peterson, but who can do some damage to a tired defense. The Vikings ran the ball more effectively last week than they had all season, and Peterson has had plenty of big days against the Bears before.
As the season has played out, it looks like the Bears have had a similar problem to the Vikings' on their defensive line, which isn't getting the same kind of pressure it used to. Why have the Bears had so much trouble getting to the quarterback?
Wright:
The No. 1 reason is simply injuries. The Bears have used nine different combination of starters in the front four alone having lost defensive tackles
Henry Melton
and
Nate Collins
for the season, in addition to playing without defensive tackle
Stephen Paea
and defensive end
Shea McClellin
for stretches. With so many newcomers such as
David Bass
and
Landon Cohen
, the Bears lack experience up front and, most importantly, they haven't played with a set lineup long enough to develop any level of chemistry.
Julius Peppers
is the only member of Chicago's defensive line to start in the same spot for every game, and he has been largely ineffective, although he came alive in the team's win over the
Baltimore Ravens
on Nov. 17 and notched multiple sacks (2) for the first time since December of last season.
How's Leslie Frazier's job security looking, and will it have an effect on how this team plays down the stretch?
Goessling:
The Vikings are still playing hard for Frazier, and players say they believe he's the right man to lead them. You need look no further than how they battled the Packers last Sunday to see that. But will it save his job? I'm not so sure. The Vikings picked up Frazier's 2014 option, but didn't give him a contract extension after he took the Vikings to the playoffs last season, so if he were to come back they'd either have to let him coach into the last year of his deal or give him a new contract after a disappointing season. Either one of those moves would be a gamble on the Vikings' part, so if Frazier stays, it will be because he has proved to ownership that he's still the man to lead the Vikings forward. And if he does stay, I have a hard time seeing his offensive and defensive coordinators -- Bill Musgrave and Alan Williams -- joining him for another season in Minnesota. Somebody's going to have to pay for this season, I'm guessing.
Cordarrelle Patterson
first made his mark for the Vikings in Week 2 against the Bears, and now he's seeing a bigger role in their offense. As much trouble as the Bears had with
Tavon Austin
last week, could Patterson be in line for a big day on Sunday?
Wright:
Patterson and Austin are much different players, and from this vantage point, Patterson doesn't appear to be as elusive out in space as Austin. Austin ripped the Bears for a 65-yard touchdown run early on last Sunday. But for the most part, the Bears held him in check, limiting him to two catches and one 24-yard kickoff return. Patterson's best chance to hurt the Bears would probably be on special teams where he already stung them in Week 2 for a 105-yard kickoff return for a TD. But on offense, Patterson probably won't be as impactful because Chicago's cornerbacks -- even backup
Zack Bowman
-- should be able to hold their own against him fairly well. Remember,
Tim Jennings
is a Pro Bowl player and Bowman is experienced and matches up well with Patterson in terms of size.
What's going on with Minnesota's red zone offense? The Vikings' numbers in that area haven't looked very good over the past two games.
Goessling:
They certainly haven't been very good there, and they could have won last Sunday if they'd scored more than two TDs in five red-zone trips. This is where I think not having tight end
Kyle Rudolph
hurts the most; he'd become a reliable red zone threat for
Christian Ponder
last year and this year before fracturing his foot. The other problem is, with less space to work, Ponder has to be more decisive and do a better job of getting the ball out quickly. Those aren't his strong suits, though I should note he made a sharp throw to the back of the end zone in overtime on Sunday that could've won the game if Patterson had been able to hang onto it after
Davon House
got just a piece of it. When the Vikings are inside the 10, they've always got Adrian Peterson to rely on, but when they need to throw the ball, they're definitely missing Rudolph.