Chicago Bears:

2013 Week 6 NYG at CHI
October, 11, 2013
10/11/13
2:31
AM ET
CHICAGO -- The Bears missed out on a scoring opportunity in the first quarter of their
27-21 win
Thursday night over the
New York Giants
when they elected to go for a fourth down instead of taking what would have been a chip-shot field goal for
Robbie Gould
.
The three points the Bears bypassed could've come back to haunt them had the Giants scored a touchdown on their fourth-quarter drive that ended at the Chicago 26 on
Tim Jennings
' interception at the 10. But Bears coach Marc Trestman felt confident about the call.
[+] Enlarge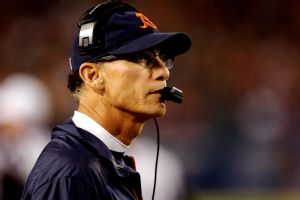 Jonathan Daniel/Getty Images"We were hoping to score a touchdown, obviously," Bears coach Marc Trestman said of a failed fourth-down conversion.
"I did. I did," Trestman said. "We were hoping to score a touchdown, obviously."
Instead,
Jay Cutler
's short pass to
Brandon Marshall
fell behind the receiver, who got his hands on the ball, but appeared to have three defenders in the vicinity. The incompletion came on fourth-and-2 from the New York 4, and was made possible by
Zack Bowman
's interception and 24-yard return.
"I felt our defense was in a place that if we didn't make it, they'd have to go the distance," Trestman said. "If we did [make it], we could get some energy on Zack's interception. Didn't happen that way. The good part about it [is] we bounced back. We came back on what was really our official first drive, went down and scored."
But only after Jennings picked off an
Eli Manning
pass on New York's ensuing drive that was intended for
Rueben Randle
, and returned it 48 yards for a touchdown to put the Bears up 7-0 after the extra point.
Prior to the failed fourth-down conversion, the Bears had converted 80 percent of fourth-down attempts through the first five games, which represented the best percentage in the NFL.
"Yeah, yeah, we talked about [the possibility of going for it on fourth down] this morning," Cutler said. "[I] like the call. We've just got to get it in front of 'B' a little more. Maybe we'll get the first down there and maybe he breaks the first tackle and gets in. [I] like the confidence doing it at home, and we started a free possession for us."
October, 11, 2013
10/11/13
2:02
AM ET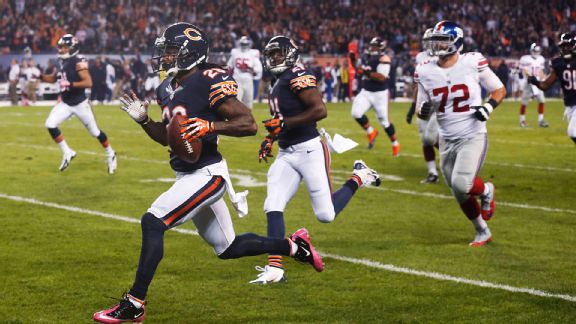 AP Photo/Charles Rex ArbogastTim Jennings' first interception he returned for a TD. His second one preserved the Bears' win.
.
CHICAGO -- In the past, clinging to a six-point lead with 5:21 left and the opposing team taking possession at its own 11-yard line, it would have seemed almost certain the
Chicago Bears
would hold on to win.
Yet that wasn't the feeling Thursday night at a tense Soldier Field, and likely won't ever be this season with the way Chicago's defense continues to struggle.
During that frantic sequence,
New York Giants
running back
Brandon Jacobs
broke loose for 14 yards on first down. Three plays later,
Eli Manning
hit
Hakeem Nicks
for an 11-yard gain. Two more running plays picked up 25 yards, and by the 2:02 mark, the Giants had advanced all the way to the Chicago 35.
"It wasn't pretty out there," said cornerback
Tim Jennings
, arguably the game's most valuable player. He preserved Chicago's
27-21 victory
with an interception at the Bears' 10-yard line with 1:54 remaining, and he had put a touchdown on the board in the first quarter with a 48-yard interception return.
"We got off to a fast start. We didn't finish strong, though. We've got to go back and figure it out. We didn't play well. Of course we're happy with the win. But just going back and watching, it's not going to be a pretty thing to watch. It's a learning tool. We'll get something out of it."
The Bears certainly need to.
Chicago captured its 10th consecutive victory in a game in which it scored a defensive touchdown. Since 2005, the Bears are 24-2 when they score on defense. It's an impressive statistic. But the primary objective on defense is to stop the opponent from scoring -- something Chicago hasn't done all season.
The Bears are allowing 26.8 points per game, and haven't yet limited an opponent to fewer than 21 points. Since 2010, the Bears are 15-6 when they hold teams to 17 points or fewer. During that span, when they allow 18 points or more the Bears are 18-15.
"Our guys, we missed some tackles," Bears coach Marc Trestman said. "We didn't make some plays, certainly, we need to make down the road here."
Jacobs finished the game with 106 yards and two touchdowns, marking the third time an opponent rushed for 100 yards or more against the Bears.
The Giants came into the game with the NFL's lowest conversion percentage (26.2) on third down, yet skyrocketed that number up to 64 percent against the Bears. Manning completed four passes for gains of 20 yards or more, including two connections for 30-plus yards.
"We've got to work on third downs," Bears linebacker
Lance Briggs
said. "Third downs have been the bane of our defense this year."
[+] Enlarge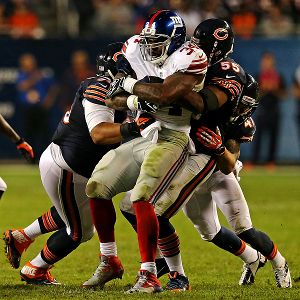 Jonathan Daniel/Getty ImagesThe Bears struggled to bring down Giants running back Brandon Jacobs all evening long.
Injuries, too. Already hurting up front due to season-ending injuries to Pro Bowl defensive tackle
Henry Melton
and
Nate Collins
, the Bears also played Thursday night without starting defensive tackle
Stephen Paea
, who missed his second consecutive game, and Pro Bowl cornerback
Charles Tillman
.
Chicago's starting front four featured defensive end
Corey Wootton
inside at tackle alongside
Landon Cohen
, who joined the team on Sept. 29, as well as defensive ends
Julius Peppers
and
Shea McClellin
.
By the time the Giants attempted to mount their late rally, the Bears had already lost two more starters: linebackers in
D.J. Williams
(chest) and
James Anderson
(back)
"You're right about these injuries," safety
Major Wright
said. "But it's the NFL? What do you expect?"
Obviously not what observers in the past had become accustomed to from a Bears defense in a crucial situation with advantageous field position. But in the end, Chicago's defense found a way to seal the victory thanks to two interceptions from Jennings and another from
Zack Bowman
, who filled in for Tillman.
"We want to be out there on that field around that time," Wright said. "We've got some special players, and any time during a game, we can get a turnover -- by anybody. We knew something was gonna happen, and it was Tim."
But the truth is, the Bears can't always rely on that.
October, 11, 2013
10/11/13
1:15
AM ET
CHICAGO –
Chicago Bears
kicker
Robbie Gould
accepted responsibility for triggering a verbal confrontation with teammate
Devin Hester
during the first half of the Bears'
27-21 victory
Thursday night over the
New York Giants
.
Hester
Gould
NFL Network cameras caught Gould and Hester exchanging words on the Bears' sideline after New York's
Jerrel Jernigan
returned a Gould kickoff 46 yards with 5:12 remaining in the second quarter. In the video footage, Hester appeared to be the aggressor in the confrontation, but Gould said in the locker room after the game that he was to blame for the incident, citing his below-average kickoff as the catalyst for the argument.
"I love Devin like a little brother," Gould said. "It was just [that] my emotions got in the way. I was at fault. I was the wrong party in that. I love him like a brother. Once it was over, it was over.
"I let my emotions get the best of me. I'm a competitor just like he is. We both want to win. I don't want to put my teammates in a situation where I hit a [bad] kickoff like I did. There are no hard feelings. It's like a fight with your little brother."
Gould approached Hester on the sideline and patted him on the shoulder after Hester returned the opening kickoff of the second half 28 yards.
"We're just trying to get better and trying to pump each other up," Hester said. "Everything is cool, most definitely."
Gould and Hester each reached milestones in the win against the Giants.
Hester passed Glyn Milburn to become the franchise's all-time leader in kickoff-return yards (4,643), returning three kicks for 73 yards on Thursday night. And Gould's 52-yard field goal in the third quarter marked the 12th consecutive field goal he's made from 50-plus yards, which ties Minnesota's
Blair Walsh
for the longest streak in NFL history. Gould also connected on a 40-yard field goal and is a perfect 10-for-10 on the season.
"Devin got a record tonight, I got a record tonight," Gould said. "We both had really good games. I'm happy at how well he did tonight and for his record. It's pretty impressive. There are no hard feelings. Like I said, it's like a fight with your little brother."
October, 11, 2013
10/11/13
12:58
AM ET
CHICAGO -- Observed in the locker room after the
Chicago Bears
'
27-21 victory
over the
New York Giants
:
Williams
Injured linebackers:
Dressing at adjacent lockers, linebackers
D.J. Williams
and
James Anderson
wondered about their future availability, as both suffered injuries that forced them out of action. Williams, who sustained what the team called a chest injury, said he won't speak to the media "until I find out what's wrong with me." Anderson said he won't know the extent of his back injury until Monday.
Push-broom mustache:
Bears tackle
Kyle Long
grew a mustache that resembled the business end of a push broom for the game in honor of defensive tackle
Nate Collins
, who suffered a torn ACL and is out for the season. "The mustache, it represents the sorrow I feel for not being able to see my buddy Nate Collins on the field every day," Long said. "I've spoken to him in regards to the facial hair, and he likes it and he appreciates it." Long considers Collins a brother. His actual brother,
Chris Long
, a defensive end for the
St. Louis Rams
, is Collins' best friend. Chris and Collins were roommates at the University of Virginia.
Added message:
Typically, the last two words on the dry-erase board in the locker room are "Bear Down." That message was again there Thursday, followed by "Be a Monster."
October, 10, 2013
10/10/13
11:26
PM ET
CHICAGO -- A few thoughts on the
Chicago Bears
'
27-21 victory
over the
New York Giants
on Thursday night at Soldier Field.

What it means:
The Bears snapped a two-game skid, putting them in prime position to move to 5-2 at the bye if they handle business on Oct. 20 against the Redskins.
Stock watch:
Cornerback
Tim Jennings
wins the MVP of this game. He put points on the board with a pick-six in the first quarter, and sealed the win with another interception with 1:54 left to play.
Questionable call
:
Zack Bowman
put the Bears in ideal field position when he picked off
Eli Manning
, who was being pressured by
Isaiah Frey
on the nickel blitz, and returned the ball 24 yards to the New York 12. Chicago could have taken an early lead less than three minutes into the game, but Bears coach Marc Trestman elected to try to convert a fourth-and-2 from the Giants' 4, with
Jay Cutler
's pass falling behind
Brandon Marshall
, who appeared to have three defenders in the vicinity. Prior to that incompletion, the Bears had converted 80 percent of their fourth-down attempts this season, which represented the best percentage in the NFL. But in that situation -- the team's first drive of the game -- why not take the three points? Luckily for Chicago, on New York's ensuing drive, Jennings picked off Manning and returned it 48 yards for a TD to put the Bears up 7-0 after the extra point. The return touchdown marked Jennings' second of the season.
Marshall erupts:
During the NFL Network's pregame show, Marshall called himself a "caged lion," in anticipation of New York's struggling defense. "I want the ball; I want it a lot," Marshall said. "You go two or three games getting two or three catches, and you look at the defense we're going against … they have to pay." They did, and dearly. Marshall, who had expressed frustration about his lack of receptions earlier in the week, caught nine passes for 87 yards and two TDs.
Speaking of pick-sixes:
The Bears are now 24-2 in games since 2005 in which they scored a defensive touchdown, including 10 consecutive wins under those conditions. It seems unfathomable a team could rely so heavily on turnovers to change the tide of games, but the Bears have proven consistent at it. They've got it down to a science.
What's next:
Some much-needed rest for the Bears, who held out
Charles Tillman
and
Stephen Paea
from this game. They'll play only one game in the next 24 days: on Oct. 20 when they travel to Washington before the bye.