November, 1, 2013
11/01/13
12:00
PM ET
On the day former
Chicago Bears
coach Lovie Smith got the job, he said that one of his priorities was to beat the
Green Bay Packers
.
First-year Bears coach Marc Trestman made no such promises about this rivalry, but it goes without saying that he's eager to end Chicago's six-game losing streak to the Packers.
The last time Chicago beat Green Bay was on Sept. 27, 2010, on "Monday Night Football." The teams meet again in prime time Monday night at Lambeau Field.
ESPN.com's Packers reporter Rob Demovsky and Bears reporter Michael C. Wright break down the matchup.
Rob Demovsky:
We all know how much Smith wanted to beat the Packers. He stated as much the day he got the head coaching job. What has Trestman's approach to this rivalry been like?
Wright
: Rob, my man, you know that rivalries have to cut both ways in terms of wins and losses for it to be truly considered a rivalry. Counting the postseason, the Bears have lost six in a row and nine of the last 11. So, if anything, this is more Green Bay dominance than a rivalry. But the interesting thing about Trestman is he's a guy who likes to compartmentalize everything. He looks at today rather than the past or the future. So while it sounds cliché, Trestman is looking at the Packers as just another opponent on the schedule. That's just the way Trestman likes to operate, and I think for him it sort of makes things easier.
I keep looking at Green Bay's sack numbers, and I'm a little surprised the club is still in the top 10 in sacks with
Clay Matthews
out the last three games and other key members of the defense missing time. What is Dom Capers doing over there schematically to keep up the production?
Demovsky:
I figured when Matthews broke his thumb, Capers would have to blitz like crazy. Now, he's picked his spots, but he hasn't gone blitz-happy like I thought he might. However, he has been sending different pass-rushers to keep offenses off guard. One game, against the
Baltimore Ravens
, linebacker
A.J. Hawk
came a bunch and sacked
Joe Flacco
three times. Also, they've finally found a defensive lineman with some rush ability in second-year pro
Mike Daniels
. Three of his team-leading four sacks have come in the past two games.
As long as we're on the topic of quarterbacks, in 2011, backup
Josh McCown
played a halfway decent game against the Packers on Christmas at Lambeau Field, but he threw a couple of interceptions. What do you expect from him this time around as he starts in place of the injured
Jay Cutler
?
[+] Enlarge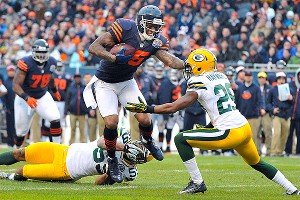 Rob Grabowski/USA TODAY SportsThe Packers have limited Brandon Marshall to 8 catches for 80 yards in their past two meetings.
Wright
: Believe it or not, I expect little to no drop-off from McCown in this game. The biggest difference between now and then is that in 2011, McCown joined the team in November, fresh from a stint as a high school football coach in North Carolina, and four weeks later became the starter. So he basically came in cold and still played relatively well. This time around, McCown has become immersed in the offense from the ground level, when Trestman first came on board, and even had some input as the team constructed the scheme. In fact, during the offseason, McCown was holding film sessions with all the club's new additions to teach everyone the new offense. So he's got complete mastery of the offense just like Cutler, which is why McCown came in against the Redskins and the offense didn't miss a beat. Obviously, McCown doesn't possess Cutler's arm strength. But he'll make up for that deficiency with anticipation. I'm quite sure the Bears won't scale down the offense to accommodate McCown at all, because they don't need to. So I expect McCown to play well. I'm just not sure Chicago's offense can keep up with Green Bay's in what I expect to be a high-scoring game.
Speaking of high scoring, the Packers put up 44 points on the
Minnesota Vikings
. How is Green Bay handling the preparation process for the Bears?
Demovsky
: Well, they certainly don't have as much time as the Bears do, considering the Bears are coming off their bye week. But the Packers have gotten themselves into a rhythm. They've won four in a row after their 1-2 start and look like a different team than they did the first three weeks of the season. Mike McCarthy probably doesn't get enough credit nationally, but show me another coach who has stared injuries in the face and hasn't blinked. What other team could lose playmakers like
Randall Cobb
,
James Jones
,
Jermichael Finley
and Matthews and still keep winning? That's a testament to the program he has established here. You can argue with some of his in-game coaching decisions, but you can do that with every coach. What you can't question, though, is the team's preparation.
The Bears, obviously, have had their share of injuries, too, losing Cutler and linebacker
Lance Briggs
. What's a bigger loss -- Cutler to the offense or Briggs to the defense?
Wright
: Well, Cutler's replacement is a veteran in McCown who has plenty of experience and a ton of weapons surrounding him on offense, while rookie
Khaseem Greene
will likely fill in for Briggs on a bad defense that will also feature rookie
Jon Bostic
in the middle. From my vantage point, losing Briggs is much more significant. The Bears have already proved to be horrible against the run (ranked 25th), and that issue certainly won't improve with two rookies at linebacker and a defensive line decimated by injury. It's also worth noting that Briggs made all the defensive calls and served as somewhat of a coach on the field for Bostic. Given that Green Bay seems to be running the ball so well, the current situation with Chicago's front seven could be devastating.
Now that the Packers are running the ball so well, how has that changed the way the offense is called? It seems Green Bay runs well regardless of which running back they line up in the backfield.
Demovsky
: It's remarkable -- and even a bit stunning -- to see
Aaron Rodgers
check out of a pass play and in to a run play at the line of scrimmage. That kind of thing hasn't happened around here in a long, long time -- probably not since
Ahman Green
was piling up 1,000-yard seasons nearly a decade ago. Teams no longer can sit back in a Cover-2 look and dare the Packers to run. Because guess what? The Packers can finally do it. It also has given the receivers more one-on-one opportunities, so it's helped the passing game, too. Right now, this offense almost looks unstoppable.
If the Packers keep playing like this, they might be tough to catch in the NFC North. What are the Bears' prospects for staying in the NFC North race until Cutler and Briggs return?
Wright:
To me, this game is the measuring stick for making that determination. But I'm not really confident about Chicago's chances, and that has more to do with the team's struggling defense than Cutler's absence. There have been conflicting statements made about Cutler's recovery time frame. Some teammates think he'll be ready to return by the time the Bears face Detroit on Nov. 4, while Trestman said the plan is to stick to the minimum four-week time frame prescribed by the doctors. Either way, if the Bears lose to the Lions you can kiss their prospects for the playoffs goodbye. The Bears might be able to afford a loss to the Packers because they'll face them again on Dec. 29. But a sweep by the Lions kills Chicago's chances to me because just from what we've seen so far, it appears one of the wild cards will come out of the NFC North with the other coming from the NFC West. Obviously it's too early to predict that, but that's the way things seem to be shaking out.
Without two of his top receivers and tight end Finley, Rogers still hit 83 percent of his passes against the Vikings. Is that success a product of the system, a bad Minnesota defense, or is Rodgers just that good at this point?
Demovsky
: The more I see other quarterbacks play, the more I'm convinced it's Rodgers. For example, seldom-used receiver
Jarrett Boykin
makes his first NFL start two weeks ago against the
Cleveland Browns
, and he ends up with eight catches for 103 yards and a touchdown. How many catches do you think he would have had if he were playing for the Browns that day? Their quarterback,
Brandon Weeden
, completed only 17-of-42 passes. That's not to minimize what Boykin did or what players like
Jordy Nelson
do week in and week out, but Rodgers is special, and special players elevate the play of those around them. Look at what
Greg Jennings
has done since he left for the Vikings. Now tell me the quarterback doesn't make the receiver, not vice versa.
Speaking of receivers, other than
Anquan Boldin
, who lit up the Packers in the opener at San Francisco, they've done a solid job shutting down other team's No. 1 receivers -- most recently Jennings and Cincinnati's
A.J. Green
. How do you think the Bears will try to get
Brandon Marshall
involved against what has been a pretty good Packers secondary?
Wright
: This question brings me back to the 2012 massacre at Lambeau Field on Sept. 13. The Packers bracketed Marshall with two-man coverage, and the Bears struggled tremendously. Shoot, cornerback
Tramon Williams
caught as many of Cutler's passes as Marshall, who finished the game with two grabs for 24 yards. Obviously, this offensive coaching staff is a lot different than last year's group. So the Bears will go into this game with a lot more answers for that coverage. I definitely see McCown leaning on Marshall and trying to get him involved as early as possible, but the only way he'll be able to do that is for the Bears to establish the rushing attack with
Matt Forte
so the quarterback can operate off play action. When the Bears go to Marshall early, expect to see a lot of short passes that will enable the receiver to gain some yardage after the catch.
Over the years, Green Bay has been pretty successful at limiting the impact of return man
Devin Hester
. So I was a little shocked to see the Packers give up a kickoff return for a touchdown to
Cordarrelle Patterson
. As you probably know, Hester is coming off a pretty strong return game against the Redskins. Do you think the Packers fix the problems they encountered last week, and minimize Hester's impact?
Demovsky
: Part of the Packers' problem on special teams has been that all the injuries have created a trickle-down effect. Here's what I mean: On the kickoff coverage until they gave up the 109-yard return to Patterson, they lined up six rookies, two of whom weren't even on the opening day roster. The Packers always have feared Hester, as they should, and in various games in recent years have shown they'd almost rather kick the ball out of bounds than give him any return opportunities. He's one of those special players who make rivalry games so entertaining.
September, 14, 2012
9/14/12
1:53
AM ET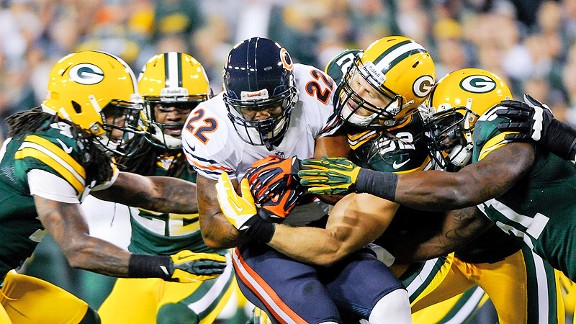 Benny Sieu/US PresswireThe Packers defense forced four turnovers, had seven sacks and limited Chicago to 168 total yards.
GREEN BAY, Wis. -- Yes, the
Green Bay Packers
were miffed in the days and hours leading up to Thursday night's divisional showdown with the
Chicago Bears
. No, it had little to do with Bears quarterback
Jay Cutler
's
challenge to their defensive backs
. The issue was much larger than that, and it goes all the way back to March 13 -- the day the Bears made their surprise trade for receiver
Brandon Marshall
.
"We thought it was kind of funny," cornerback
Charles Woodson
said, "that all of a sudden they were the team to beat because they got a couple new guys."
So it was with great delight that Woodson and his defensive teammates tore up the Bears' offense in a
23-10 victory
at Lambeau Field. It wasn't because Cutler had wished them "good luck" this week if they tried to play press coverage against Marshall and rookie
Alshon Jeffery
. It was the larger notion that Marshall's arrival had elevated the Bears to a level where they would challenge the Packers' supremacy in this division.
As a result, this game had an edge rarely seen in what is normally a friendly rivalry. The Packers got under Cutler's skin early, sacking him on the Bears' first play from scrimmage and ultimately forcing him into
one of the worst games of his career
. They sacked Cutler seven times, including 3.5 by linebacker
Clay Matthews
, and intercepted him four times. Cornerback
Tramon Williams
grabbed two of those interceptions, but even more notably, he blanketed Marshall for almost the entire game.
The Packers left the Bears' hype in ruins, limiting them to 168 total yards and 11 first downs in 57 plays. Woodson, for one, appeared quite satisfied afterward to have challenged the Bears' narrative.
"Their offense didn't look any different to me," he said. "We know those guys. We've played them a lot. They didn't look much different. They just have some new players."
The primary newcomer, Marshall, didn't see a single pass thrown his way until Williams slipped in coverage with 8 minutes, 59 seconds remaining in the third quarter. Wide open for a touchdown, Marshall dropped the ball in the end zone.
Williams said Cutler's words this week didn't get him "out of whack" but made clear that "guys wanted to come out and put on a good performance, and we did that."
[+] Enlarge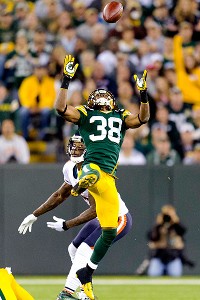 Jeff Hanisch/US PRESSWIREGreen Bay cornerback Tramon Williams grabs one of his two interceptions.
Said Woodson: "Tramon is a tremendous player, and he helped us dominate today."
Indeed, Bears coach Lovie Smith said there were plays called throughout the game for Marshall "that we couldn't get off."
This was as complete of a defensive game as I've seen the Packers play in some time, even dating back to the elite level they played during portions of their 2010 Super Bowl season. They limited tailbacks
Matt Forte
and
Michael Bush
to 85 yards on 21 carries, putting the Bears' offensive line in the unenviable position of pass-blocking against rushers highly motivated to reach Cutler. As a result, the Packers' blitz was highly effective. Defensive coordinator Dom Capers sent an extra rusher on 13 of Cutler's 35 dropbacks, according to ESPN Stats & Information. They sacked him on four of those blitzes and recorded interceptions on two others.
Most importantly, I thought, the Packers' defense got after it in a way that permeated the entire game. Cutler was hit a total of 12 times, frustrating him to the point that he was screaming at his offensive linemen and even kicked Woodson after a third-quarter blitz. Bears left tackle
Gabe Carimi
was penalized 15 yards in the second quarter after retaliating to a shove from Packers linebacker
A.J. Hawk
, and Bears players protested loudly when Packers cover man
Rob Francois
roughly shoved returner
Devin Hester
out of bounds.
You could see the tension on both sides of the ball, and even Packers quarterback
Aaron Rodgers
gestured angrily and screamed at receiver
James Jones
after a fourth-quarter interception put the Bears in position for their only touchdown. (Rodgers said afterward he and James were "not on the same page" on the play call.) The Packers' best offensive player Thursday night might have been tailback
Cedric Benson
, who helped set the physical tone by grinding out 81 tough rushing yards.
"There was definitely words out there," Packers cornerback
Sam Shields
said. "You could tell Cutler was getting frustrated. We know what Cutler does. We were just out there as a defense trying to take advantage."
Matthews, meanwhile, now has six sacks in two games this season after abusing Bears left tackle
J'Marcus Webb
all night. Matthews said he hopes the performance "becomes our theme for this defense and this team."
Yes, the Packers revealed Thursday night how amused they were by the Bears' new status as media darlings. But were you expecting their defense to be the group that realigned our thoughts on that? I'm not sure I was. So it goes. That's, as they say, why they play the games.
January, 17, 2011
1/17/11
7:12
PM ET
Admit it, you can't get enough of the pre-game hype concerning the Chicago Bears' matchup with the
Green Bay Packers
in the NFC championship game.
So here at ESPNChicago.com, we decided to feed the beast, kicking off a week of extensive coverage before one of the year's biggest games. Here's a potpourri of remarks from the Packers about Sunday's game against the Bears:
[+] Enlarge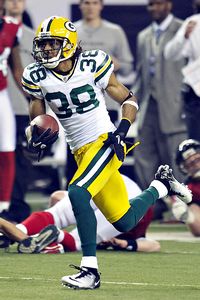 Dale Zanine/US PresswirePackers cornerback Tramon Williams returned an interception for a touchdown against the Atlanta Falcons on Saturday.
CORNERBACK TRAMON WILLIAMS

How would you describe the Packers defense?
Williams:
Relentless. We just finished watching the film. And as a [defensive back] you don't get to see the front seven doing their job because you are in coverage all the time. But when you come back and watch film and see the way those guys are playing up front, it's crazy. They've done a great job up there and kind of made our job easy in the back end.
How different will it be to play the Bears a third time?
Williams:
It's not going to be much different. It's one of those deals to where you know someone so good that you know the game is going to be a battle. It's going to come down to the small details. When you play a team like that, you may not feel that you have to put in as much studying because you feel you know that team. But you don't take that approach. You have to go back in, pay attention to more details, and kind of go into
Chicago Bears
locker room and see [whether you] can understand their players like they understand it. That's something that my coach just finished telling me that he's going to do, detailing this work like that. That's something that our defense has been doing, detailing their work all year. I think that's what made us play the way we've been.
CENTER SCOTT WELLS

What's it like to be the favorite after being considered underdogs most of the season?
Wells:
No, we're going in this week, we're playing the Bears. Huge rivalry game. We have a lot of respect for them. I think they do for us as well. We're focused on what we have to do to go in there and get the win.
What's the biggest challenge to neutralizing the Bears defense?
Wells:
For us, we want to be a two dimensional offense, want to run the ball and pass the ball effectively. They use the front four, and two -- mainly [linebackers
Lance] Briggs
and
[Brian] Urlacher
-- and I guess all three of their linebackers to create penetration up front, try to funnel things up to their linebackers to eliminate explosive gains in the run game. So our key is going to be to eliminate that penetration, create some seams and try to be a two dimensional offense.
How much does the rivalry between the teams factor into this matchup?
Wells:
For one, I think it's great for the fans. It's a huge rivalry game. There's some great history between these two teams. So we're familiar with them. They're familiar with us. So the preparation's really going to go back to trying to evaluate what we do and controlling what we do going into this game and being at our best effort to go out there and get the win.
How much mutual respect is there involved in this rivalry?
Wells:
I think there's a lot of respect with that. But when it comes game time, there's some hatred and emotions that come up. You want to beat your opponent. The fact that we see them twice a year, you know, they see us, and they're always tight games. Our fans and their fans are so close geographically, I think adds to it. So there's as far as a rivalry goes -- yeah, there's some hatred there as far as the rivalry goes, but at the same time there's mutual respect in the fact that the games are so close, they're so physical, and there's outstanding players on both teams.
[+] Enlarge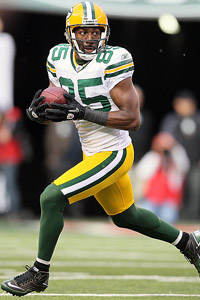 Jim McIsaac/Getty ImagesPackers wide receiver Greg Jennings says the Bears have the fastest defense he's faced this season.
RECEIVER GREG JENNINGS

How aware of this rivalry were you growing up?
Jennings:
Honestly, I didn't become aware of it until I got here. I could have cared less for the Bears, and should I say the Packers, too? I really didn't watch either the Packers or the Bears. I was a
Barry Sanders
follower. So whatever Barry did, I knew everything he did. But once I got here, I started to understand how in depth the rivalry was and how important it was to not only the players, the organization, but to the fans.
Are there any advantages or disadvantages to playing a team three times?
Jennings:
Well, there are advantages and disadvantages. But the number one thing, I'll go with the disadvantages first. There are tons of disadvantages, just basically because they know you inside and out. You know them inside and out. But at the same time, you can flip that and that's an advantage at the same time. Obviously we know those guys. They know us. There's nothing that they're going to do different that we're going to be like, 'Oh my gosh, where did that come from?' And there's nothing that we're going to do that says, 'wow we didn't prepare for that.' They know what we are. They know how we operate. And we know who they are. We know how they operate. Obviously we've played them twice already. Two close games, two games that could have gone either way. And here we are again, when it really counts this time. Well, it really counted the last time we played, too.
Are the Bears the fastest defense you've faced all season?
Jennings:
I would have to say yes. They do a great job of flowing to the ball. Obviously a lot of those guys, veteran guys, savvy guys. So they know what it takes to get wins. And that's why they're in the position they're in as well. Obviously what they bring to the table defensively is pretty much the ground and the foundation of their team.
LINEBACKER A.J. HAWK

Where does Devin Hester rank among the most elusive guys you've faced?
Hawk:
He's right at the top of the list, I would say. For sure. He can do everything. Once he gets the ball in his hands, he's tough to stop. Tough to get down. He does a great job of especially returning punts. When he gets the ball, he might make a few moves, make the first guy miss. He gets vertical quick. When a guy does that, as you've seen against us, he got one earlier this year on us. They can crease you pretty quick and he can get in the end zone fast.
What will it be like to face the Bears a third time?
Hawk:
It will be good. That's why I think it's going to be a great matchup, just because there's no secrets. They're not going to do anything new. We're probably not going to do anything new. It's going to be football. It's going to be up to the guys on the field, I think. I think coaches can sit back and sometimes try to complicate things and come up with new schemes and crazy situations, but when it comes down to it, it's the guys on the field that are playing the game. For us, we know each other so well that it's fun. It's football. This is how it should be. In Chicago, cold weather game. Big rivalry. It's going to be a good one.
What do you see from Bears quarterback Jay Cutler right now?
Hawk:
I mean, I think he's the type of guy that his teammates, I can tell, I think they love having a guy like Jay Cutler, because he brings a lot of energy and big-play capability to the field. I think he's done a really good job all year of kind of capitalizing on the defense's mistakes. He seems like he just has great command of the offense, great command of the game. That's what you want out of a quarterback. Everyone knows he has a huge arm and can make all the throws, but I think he's really whoever he's working with over there -- I think they're doing a great job. He's just growing into being a great quarterback.