Chicago Bears:

Aaron Kampman
March, 2, 2010
3/02/10
6:46
PM ET
CHICAGO -- Here are three things to watch as we approach the start of free agency late Thursday night.


[+] Enlarge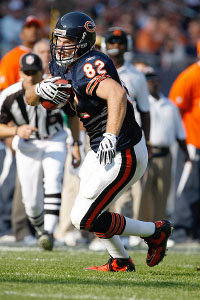 Scott Boehm/Getty ImagesBears tight end Greg Olsen is rumored to be on the trading block.
1. Greg Olsen: It's no secret Olsen is rumored to be on the trading block -- quite possibly by his own design. I still think Olsen is a tremendous talent who could really help the Bears, but if he's that desperate to leave town and the Bears could get a second-round pick in return, Jerry Angelo would be foolish not to pull the trigger. Plus, if Angelo does this favor for Olsen, maybe Drew Rosenhaus could help the Bears land another one of his clients: Antrel Rolle. That's pure speculation on my part, but don't be naive enough to think that sort of politics doesn't occur in free agency. If Olsen is dealt, the Bears would be wise to start working on an extension for Desmond Clark, who has only one year left on his deal. If the Bears are concerned about Clark's durability, we should point out the veteran started 67 straight games heading into 2009. The Bears are interested in free agent Brandon Manumaleuna -- first reported by the Chicago Tribune -- who would fit in nicely with Clark and Kellen Davis in the event Olsen is the one to go.


2. Julius Peppers vs. Aaron Kampman: Even though he's coming off an ACL injury, I'd still take Kampman over Peppers in this free agent market. Kampman will be less expensive, and his signing would provide the Bears with more flexibility to address other positions like safety, running back and maybe offensive line. But more important than money, Kampman is a guy with something to prove. He was the forgotten man when the Packers switched from a 4-3 to a 3-4 defense last year, a decision he likely detested but never complained about publicly. That shows me character. Nothing against Peppers -- a fantastic athlete -- but I would never commit huge coin to somebody who takes plays off. If the Bears can get Peppers at a reasonable price, I'm all for it. But if they have to break the bank, then they should take a pass.


3. Safety: If the Bears can land Rolle, great. If they can't, Ryan Clark is the next best option in my opinion. Not only is Clark a ferocious hitter, he's a winner who played next to one of the greatest safeties in the game: Troy Polamalu. It'll be tough to pry Clark out of Pittsburgh, but he beats the alternatives -- Michael Huff, Jermaine Phillips or Kerry Rhodes. As for strong safety; are the Bears really committed to Danieal Manning? They've toyed around with Manning so much over the years, it's tough to believe he'll be given a fair shot to play in the box. Before deciding to give Manning the low tender, the Bears did offer the defensive back a new two-year deal, but that's still not a guarantee he's in their future plans. Let's see if there's a team out there willing to give up a third round pick to sign Manning. Would the Bears match the offer sheet? Given the depth at the safety position in this upcoming draft, my guess would be no.
February, 24, 2010
2/24/10
11:08
AM ET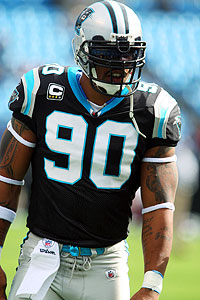 Brian Utesch/US PresswireWould Julius Peppers be the cure for the Bears' defensive ills?
Upgrading their pass rush is one of the Chicago Bears' offseason priorities, and Carolina Panthers defensive end Julius Peppers will be their main target, according to a report on NFL.com.


Citing a league source, NFL.com's Jason La Canfora reports that the Bears are gearing up for "a major run" at Peppers, and the Green Bay Packers' Aaron Kampman also could be an option.


The 30-year-old Peppers, who has 81 sacks in eight seasons, figures to be one of, if not the biggest name on the free-agent market this offseason. The Panthers announced on Tuesday that they will not put the franchise tag on Peppers, almost certainly ending his time in Carolina and making him a free agent.


After watching the Bears trade for Jay Cutler last season, ESPN.com NFC North blogger Kevin Seifert says anything is possible at Halas Hall.
January, 26, 2010
1/26/10
4:52
PM ET
Q:I've had a couple of frustrating years watching football, being a Notre Dame fan and a Bears fan. I can't believe how bad our defense has been in Chicago. Do you think it's time to look in a different direction on defense other than running the Tampa 2? It seems to me teams have figured it out and we are too ignorant to see that. -- Josh Perando, Baltimore


[+] Enlarge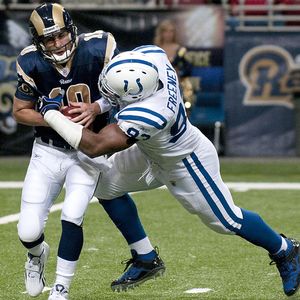 Scott Rovak/US PresswireAn effective cover 2 defense is a lot easier to run when you have a ferocious pass rusher such as the Colts' Dwight Freeney.
A: Indianapolis should prove to everybody that certain elements of the Cover 2 defense still work when the front four is able to pressure the quarterback. That's what separates a team like the Colts from the Bears. Indianapolis starts Dwight Freeney (13.5 sacks) and Robert Mathis (9.5 sacks) at defensive end, whereas the Bears have struggled to apply constant pressure up front for the past three seasons. It also doesn't hurt that the Colts have a huge playmaking safety in Antoine Bethea (four interceptions), while Lovie Smith has endlessly shuffled players in and out of the safety.


Smith is accurate when he talks about the scheme still being sound, but you must have the proper personnel on the field for it to operate properly. Isn't that the basic definition of coaching? Are the Bears putting their players in the best position to succeed on defense? Many would say no, and that's tough to argue.


Q: Doug Plank? Why is his name not being mentioned/highlighted/screamed when talking about the open Bears defensive coordinator position? -- Michael, Orange County, Calif.


A: Although Plank was a successful head coach in the Arena Football League, he was only an assistant defensive backs coach with the Jets. Going from that rank to NFL defensive coordinator seems like a pretty big jump, especially since Plank was just fired by Rex Ryan. It's also tough to say if Plank has any knowledge of the system Smith runs here in Chicago, because obviously, that's going to play a huge role in who gets the job. Plank was a great player in Chicago, but I view him as a long shot to join this Bears coaching staff.


Q: So I read a while ago that Brian Billick was on the list for possible offensive coordinators. What is going on with that now? Is he still on the list? -- Joel, West Hartford, Conn.


A: Billick would be a major coup for the Bears, but he probably is waiting for a head-coaching opportunity somewhere in the future. I can't say for sure, but perhaps the idea of leaving a secure television gig for the Bears isn't all that appealing to the former Ravens head coach. Billick is also fairly close with Ron Turner, so who knows what he really thinks about the Bears' organization? On the other hand, Billick did work with Bears offensive line coach Mike Tice in Minnesota, and knows the offensive personnel because of his work in the media. Again, it's probably a long shot, but if Billick was actually interested, the Bears would be foolish to pass him up.


Q: Why not make a push for Bill Cowher? I had heard it was rumored he wanted the job. Lovie can fire all of the coordinators he wants, but his ineffectiveness, and "safe" play-calling (go for it once on fourth down please!) is what continually has hampered the Bears. -- Mark Milbourn, Tucson, Ariz.


A: Obviously, Cowher is out of the equation for 2010. There is no chance the Bears pay the remaining two years left on Smith's deal, then sign Cowher to a monster contract -- especially since there could be a work stoppage in 2011. However, Cowher would be a strong candidate to take over next year if Smith gets fired, but that's a long way off. Think of it this way; the Bears can't even find coordinators for 2010, do you really think they've planned ahead for a possible hire in 2011?


Q: With a couple of the Bears' defensive ends becoming free agents this year, do you believe it would be wise for to pursue Aaron Kampman? I think he a quality end in a 4-3 scheme, he rushes the passer well and is equally impressive in run defense. Not to mention he could fill a leadership role on the defensive line, which if you ask me, we have been lacking. -- David Janklow, Lacey, Wa.


A: This is a tricky subject on many levels. First, Kampman is recovering from a torn anterior cruciate ligament, so he could theoretically wait until he's fully recovered to sign a deal, which may not be until the summer. It would make sense from a financial standpoint for Kampman to show teams he's healthy before accepting any sort of contract.


Secondly, Green Bay may still choose to apply the franchise tag to Kampman, which would take the Bears out of the running. Now, let's say (1) Kampman is not tagged, and (2) fully recovers from the ACL injury in time for training camp, then yes, he would be a guy to target. It was obvious last season Kampman is not cut out to be an outside linebacker in a 3-4 defense, but he recorded a combined 37 sacks the previous three years playing end in a 4-3.


The Bears desperately need someone to rush the passer, and Kampman has a proven track record of success in that department. However, since 2010 will probably be an uncapped year, it's impossible to predict what kind of price Kampman will demand on the open market if healthy. But to answer your question, I think Kampman would be a major upgrade for the Bears' defense, and should be pursued if available.